These Cajun Shrimp Tacos are healthy & absolutely delicious. Loaded with fresh lettuce, bell peppers, scallions, cilantro, Jalapenos, onions, salsa & lots of sour cream fresh dill sauce. Make this terrific easy shrimp tacos for a taco Tuesday or just to catch up with a light meal. Whatever, may be the case my Video recipe will make these shrimp tacos more fun for you to make!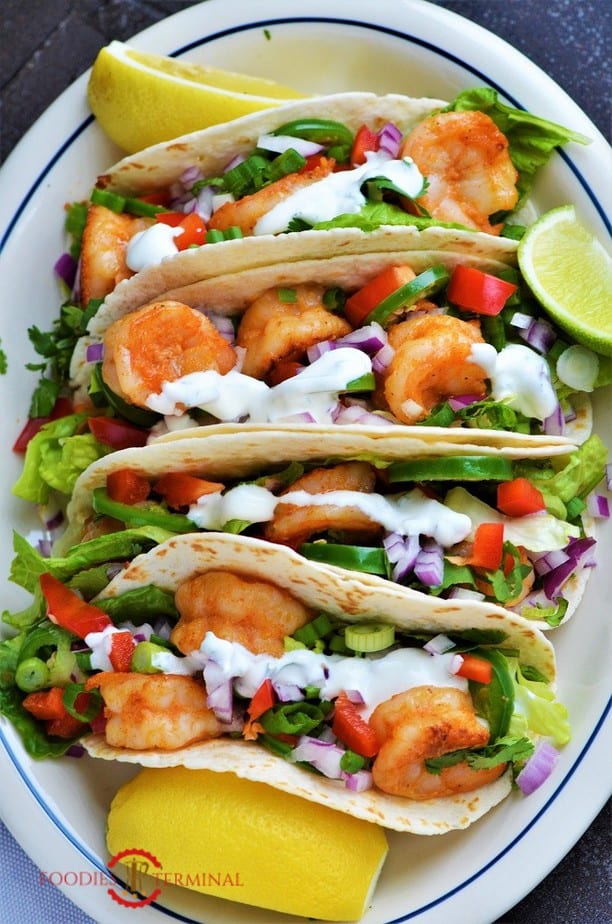 Cajun Shrimp Tacos (Video)
We love Shrimp, tacos & Mexican food!
This easy Cajun Shrimp Tacos is just the perfect way to combine both shrimp & tacos in one recipe with lip smacking Cajun seasoning.
Make this healthy Shrimp tacos for lazy weekdays, when you don't want to spend a hell lot of time in the Kitchen.
The best part of this easy Mexican Tacos recipe – well, you can chop your veggies well ahead of time & store them in the fridge for taco days.
And tacos taste best when you stuff them with fridge staples like lettuce, tomatoes, sour cream sauce, shredded cheese, cabbage slaw etc.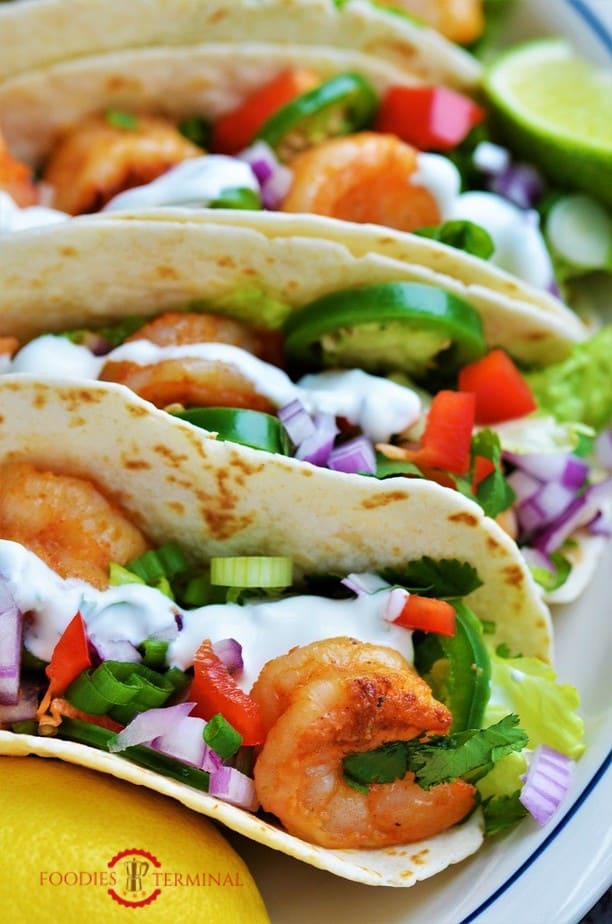 FAQs – Cajun Shrimp Tacos (Video) | Healthy Shrimp Tacos
What are Tacos
Tacos are a fantastic traditional Mexican food that's made with corn or wheat tortillas that are folded & stuffed with a variety of fillings & sauces.
You can either choose a meat filling like pork, chicken or beef.
Or a seafood filling like shrimps or fish. Yes, tilapia make fantastic tacos too! I'll be bringing on the recipe for you guys soon. Stay tuned.
To make tasty Mexican style tacos you need a few very colorful toppings like avocados, bell peppers, onions, jalapenos, shredded cheese, corn & salsas.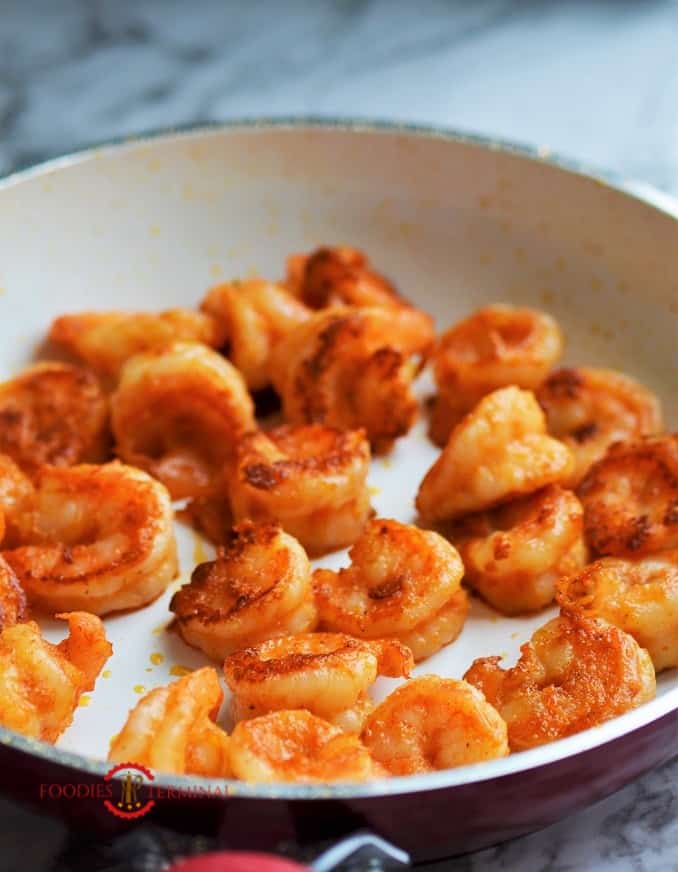 How to make Cajun Shrimp
It's insanely easy to make Cajun Shrimp.
Take de-shelled & clean shrimp in a clean bowl. Throw in the seasonings. Cajun seasoning is the star ingredient here.
Mix well to coat the shrimps uniformly. Heat your favorite skillet over high heat.
Throw in the shrimps & fry away with butter. Frying over high heat is the key for the best Cajun shrimp.
Because the high heat lends a gorgeous color to the shrimp quickly without over cooking them & without making them rubbery.
Wait for the shrimps to change into a lovely pink color & acquire a light golden brown crust.
Voila! Cajun shrimp is ready.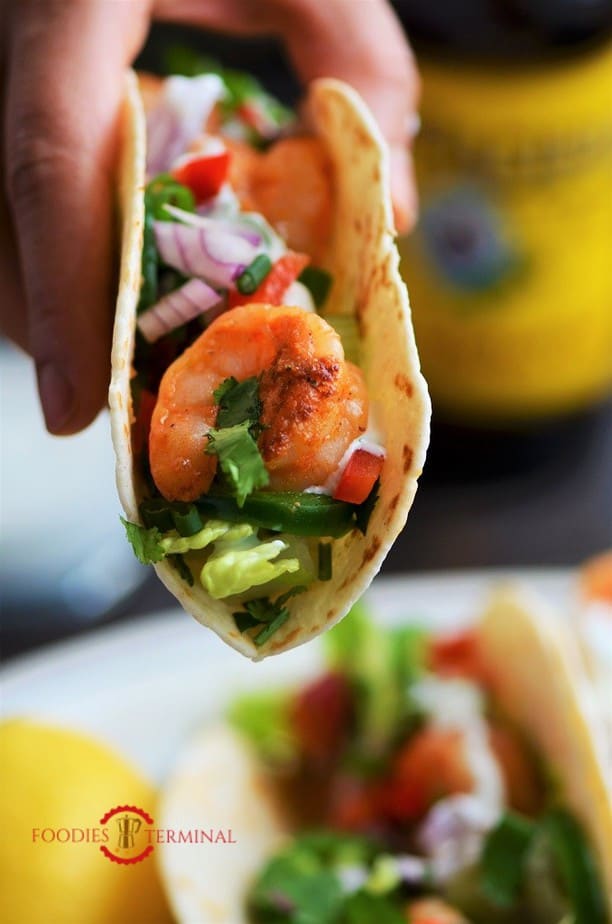 What's in the seasoning for Cajun Shrimp Tacos
I used a very simple seasoning for the Cajun shrimp Tacos recipe here.
Cajun Seasoning (store bought).
Onion powder.
Garlic powder.
Paprika Powder.
Salt.
Crushed black pepper.
Lemon Juice.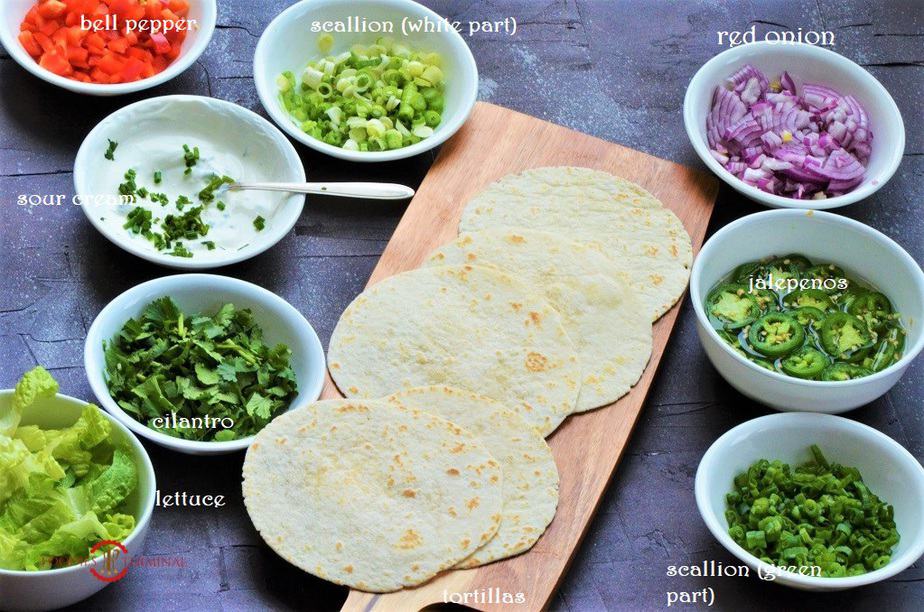 What goes with Cajun Shrimp Tacos
Drink: We always vote for Chilled Beer. But red wine doesn't taste bad either.
Guacamole.
Black Bean Salsa.
Sour Cream sauce with fresh chopped dills. (We love that & lots!)
Avocado + cherry tomatoes salad with vinaigrette.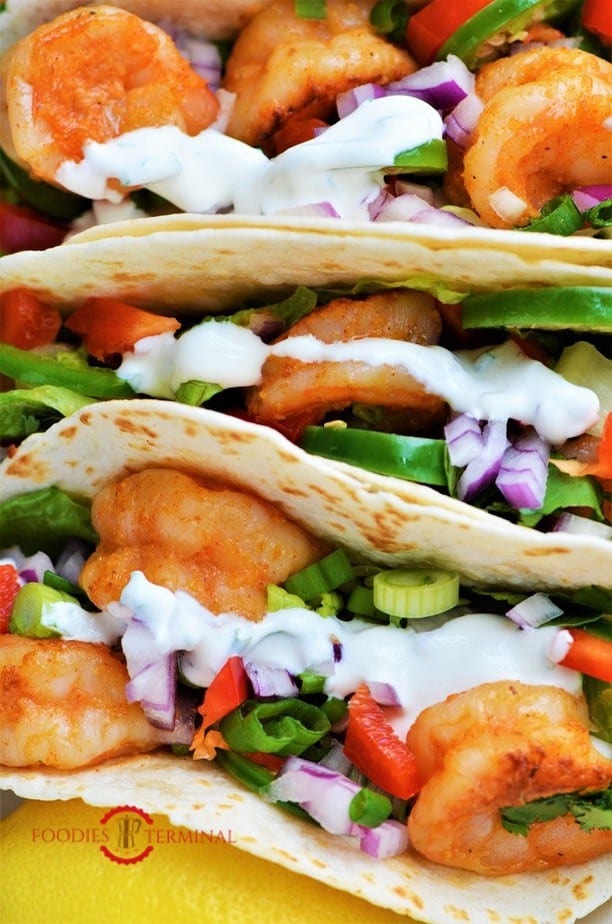 Fantastic Topping Suggestions for Shrimp Tacos
We generally customize the toppings for the tacos according to the available staples from our fridge.
And for today's recipe Cajun Shrimp Tacos, we chose the following:
Chopped Romain Lettuce. (You can use Ice-berg lettuce too)
Chopped scallions.
Jalapenos dipped in a quick home-made vinaigrette. (recipe included)
Chopped red onions. (You may use the white onions as well)
Chopped cilantro.
Sour cream sauce with fresh dill leaves.
Tomato Salsa (Store Bought)
Chopped red bell peppers.
You can also add these:
Chopped avocado (Oopsie I forgot to add them, they were in my fridge!)
Shredded Mexican cheese or cheddar cheese.
Chopped tomatoes.
Hot sauce.
Corns.
Black Bean Salsa.
Yes, these are the few extra taco toppings I can think of right now.
If you fancy some more special toppings in your Cajun shrimp tacos do share your ideas with us in the comments below.
Btw, you can try blackened shrimp tacos too, they taste yummy!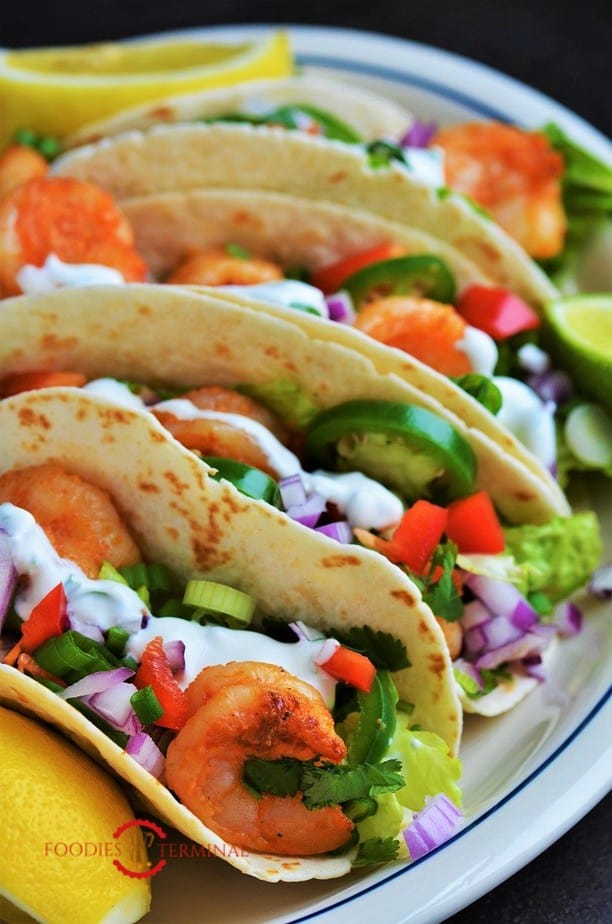 5 Tricks to make the best Cajun Shrimp Taco
Choose the best shrimp you can afford. We went with Jumbo frozen shrimps.
Marinate the shrimps with the seasoning for at least 10 mins! This adds flavor. Let the shrimps marinate while you chop the veggies.
Assemble the tacos only when you are ready to eat. The tortillas become soggy if left with filling for a long time.
Always prepare the Cajun shrimp over high heat for that gorgeous crust & taste.
Sour cream sauce with fresh chopped dill is a must in this shrimp taco recipe. Do not miss it!
Extra Tip : And never eat your tacos with a knife or fork, let your hands get dirty here…Lol!
Hope you try this Easy Cajun Shrimp Tacos recipe! Let me know in the comments below if you tried them or if you have any questions.
Love Easy recipes, try these from Foodies Terminal!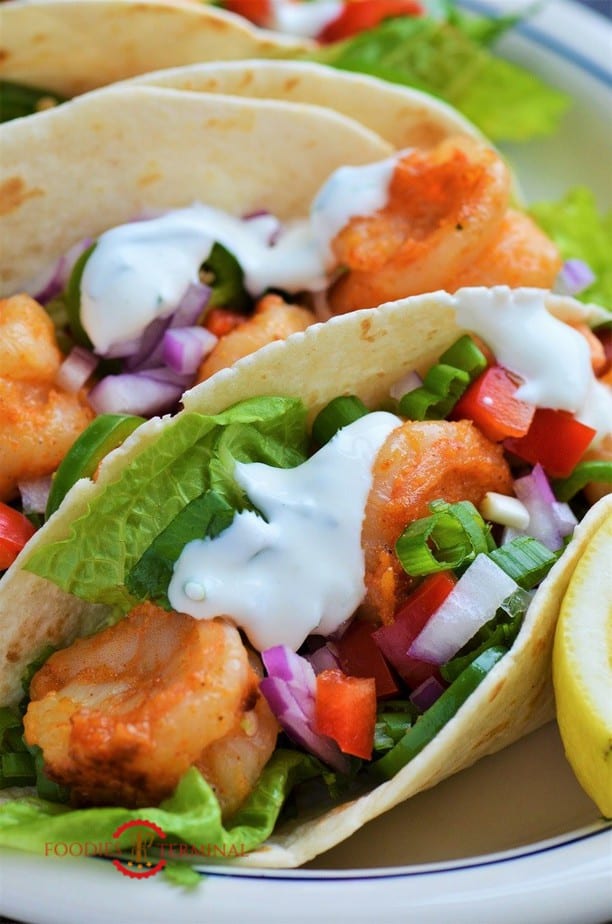 DID YOU TRY THIS RECIPE? Do Not forget to give a STAR (*) rating! Just click on the STARS on the recipe card below to rate.


How to make Cajun Shrimp tacos (Video) | Healthy Shrimp Tacos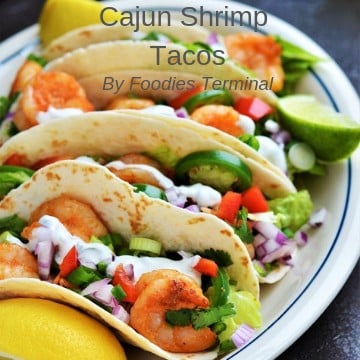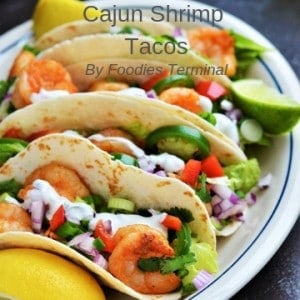 Cajun Shrimp Tacos (Video) | Healthy Shrimp Tacos
Print Recipe
Pin
Rate
Cajun Shrimp tacos are just so easy to make with home-made cajun shrimps & lots of color full fridge staple veggies fillings. These shrimp tacos are a perfect grab & go meal. Quick, easy & efficient.
Ingredients
For the Taco Fillings or toppings
6

small taco shells

1/2

cup

Jalapenos

(diced into rings)

1

cup

Lettuce

(roughly chopped)

1/2

cup

roughly chopped cilantro

(also known as coriander leaves)

1/2

cup

roughly chopped bell pepper

1/2

cup

roughly chopped red onion

1/3

cup

scallions roughly chopped

(green leafy part)

1/3

cup

scallions roughly chopped

(white part (near the root))
For the Sour Cream Sauce
4-5

tbsp

sour cream slightly diluted & lightly whisked with a fork

(you may use more according to your taste)

2

tbsp

finely chopped dill

1

tsp

finely chopped Chives
Extra Sauces
Hot Salsa according to taste
Want more Recipe Videos?
Check out our Youtube channel!
Instructions
How to make the Cajun Shrimp
In a clean bowl add the cleaned Shrimps & add all the seasonings. Mix well. Marinate for at least 10-15 mins! Do this while you chop the veggies.

Fry the marinated shrimps with butter over high heat on a skillet until lovely pink color, & lightly golden brown. Set aside.
How to make the sour cream sauce
Take the sour cream in a small bowl. Add a few tablespoons water & give it a good whisk with the help of a fork. It should have a sauce thick like consistency & not runny.

Add chopped dill, chives & salt and mix well. the sauce is ready.
How to assemble the Cajun Shrimp Tacos
Lightly toast the tortillas if you want to or you may totally skip doing so.

Grab one tortilla (refer the video). Arrange all the toppings (all the veggies) one by one within the fold of the tortilla, except the sauces & shrimps.

Next, place the cajun shrimps. About 4 in each tortilla & top them with scoops of sauces. Both sour cream sauce & the hot salsa sauce.

Serve immediately & Enjoy!
Notes
Assemble the tortillas only when you are ready to eat or serve. Otherwise when left with the fillings for sometime they become soggy.
We loved lightly toasted tortillas. If you want you may skip doing so.
You may toast the tortillas either in a micro-oven or on a skillet.
Measuring cup used, 1 cup = 240 ml & 1 teaspoon = 5 ml.
PLEASE NOTE: Nutrition values are my best estimates. If you rely on them for your diet or special diet, use your preferred nutrition calculator!
Nutrition Facts
Cajun Shrimp Tacos (Video) | Healthy Shrimp Tacos
Amount Per Serving (1 taco)
Calories 230
Calories from Fat 90
% Daily Value*
Fat 10g15%
Sodium 640mg28%
Potassium 144mg4%
Carbohydrates 21g7%
Protein 15g30%
* Read our privacy policy – Calorie information is provided as a courtesy only and should be leveraged as an estimate rather than a guarantee.Percent Daily Values are based on a 2000 calorie diet.
Nutrition
Serving:
1
taco
|
Calories:
230
kcal
|
Carbohydrates:
21
g
|
Protein:
15
g
|
Fat:
10
g
|
Saturated Fat:
4
g
|
Polyunsaturated Fat:
1
g
|
Sodium:
640
mg
|
Potassium:
144
mg
|
Sugar:
1
g
If you try this recipe or any other recipe from this blog, let us know! Leave a comment, rate it! Hearing from you is what makes my Day!
Follow us on Facebook & Pinterest.
Tag a photo on Instagram.

Pin it for Later