This is the BEST Aloo Gosht you'll ever make in your Instant Pot- guaranteed! An ultimate comfort food that'll never disappoint you! Juicy, falling off the bones tender Mutton cooked with potato chunks in a deeply flavored, rich and spicy, curry sauce. Regular pressure cooker options also included.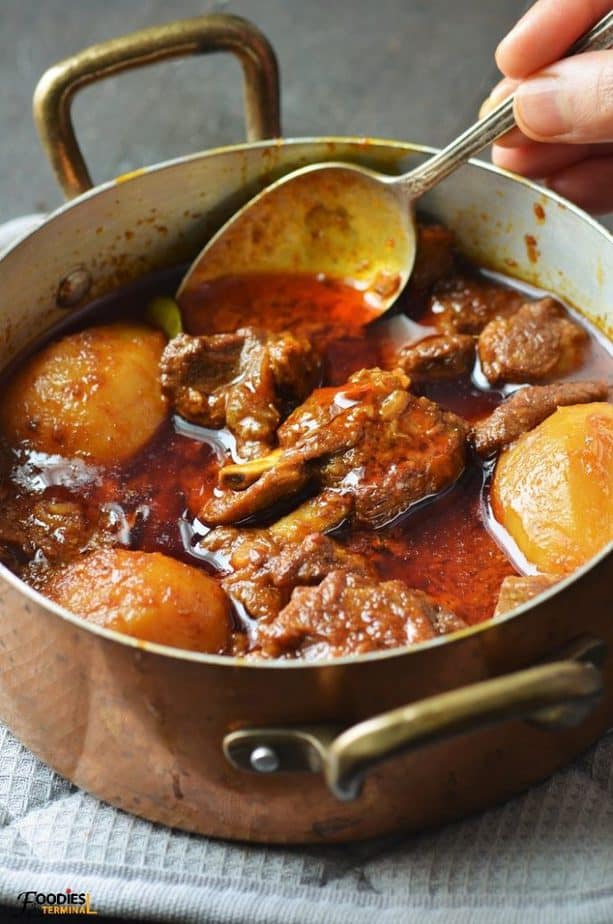 Degi Aloo Gosht Pakistani Style
This Aloo Gosht is not like any other mutton and potato curry, it's not boring and not complicated either.
The beautifully brownish, slightly reddish, golden soupy brothy Salan with a layer of oil floating on the top will make your mouth water. It has COMFORT FOOD written all over it.
Tastes heavenly with rice, roti, poori and paraths. Drench your rice or dunk those rotis, this Lahori Style Aloo Gosht will please you in every way.
There are a few secrets to the curry sauce today and a few techniques that makes this Aloo Gosht Recipe a bomb.
I will share them all. So, don't miss any part of today's blog post 🙂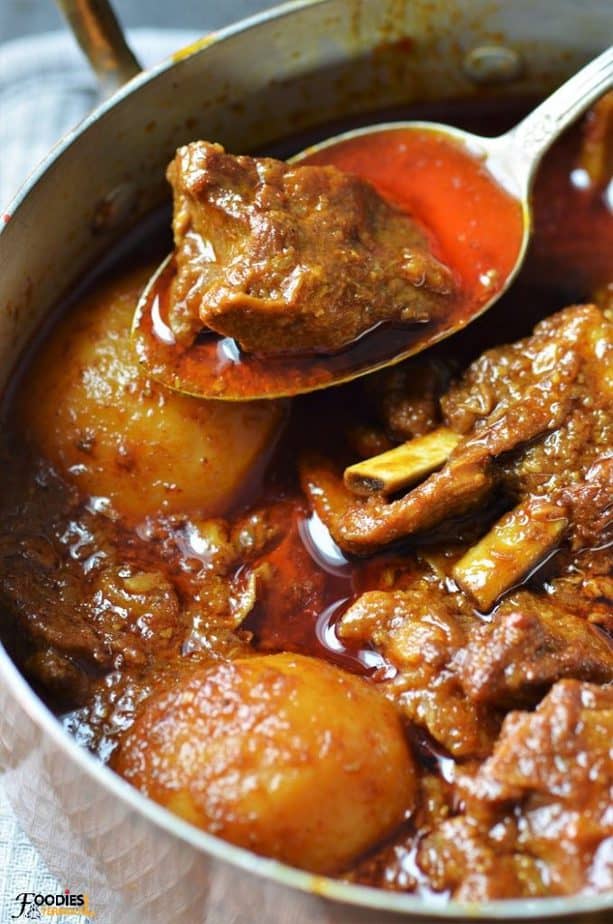 Bid goodbyes to those boiled water kind of brothy shorbas or muddy gloopy Aloo Gosht so very unappetizing consisting of dull mutton and potatoes.
Learn to cook Aloo Gosht like a PRO 😉
Because this Pressure cooker Aloo Gosht is a dish where you have everything just right, well balanced and perfect. Starting from the meat, to the potatoes, to the masala and the oil.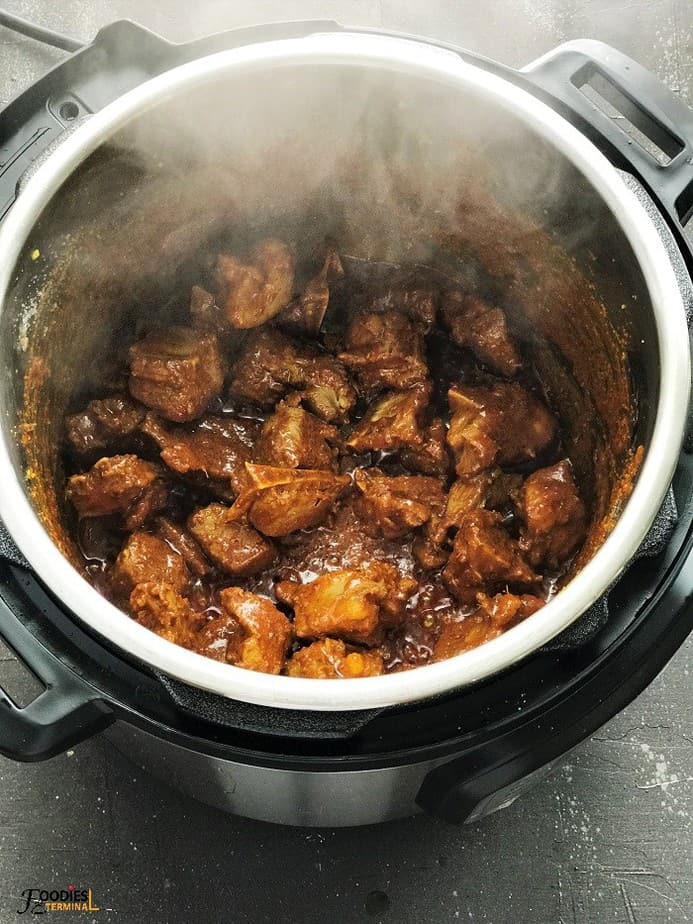 This is one of those recipes that will leave a lasting impression in your mouth, heart & soul. It's unforgettably good.
And a Mutton Lovers' true paradise, so very addictive.
The Pakistani Aloo Gosht recipe also happens to be a freaking easy recipe, spicy, rich and absolutely aromatic with a lingering taste that will force you to make the recipe again and again and again!
What is Aloo Gosht?
Aloo Gosht is a Mutton Curry that's cooked with either goat or lamb meat and potatoes in a spicy, beautifully rich & deeply flavored curry sauce. Imagine stewed meat with potatoes in a rich, fragrant and deeply flavored broth.
Aloo Gosht recipe is quiet popular and a loved dish all over Pakistan.
Aloo = Potato
Gosht = Mutton (Goat or lamb)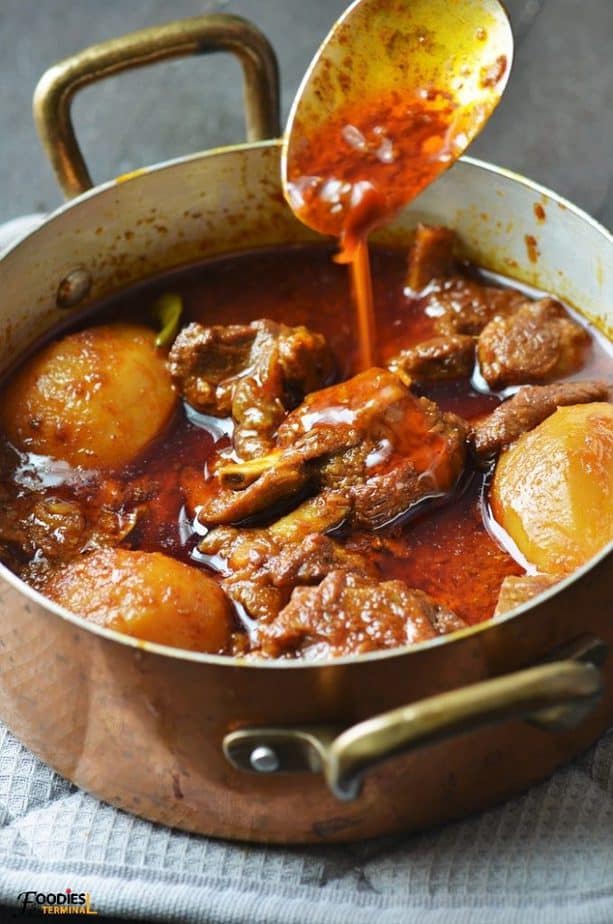 Aloo Gosht Recipe Pressure Cooker
There's nothing like an authentic Aloo Gosht recipe. It's an elusive term because every family has their own secret recipes and own traditional way of making the dish.
Some love a soupy broth, however other's prefer the dish not so soupy. A few recipes use Birista (fried onions) and yogurt while, other's cook the gosht with raw onions and tomatoes.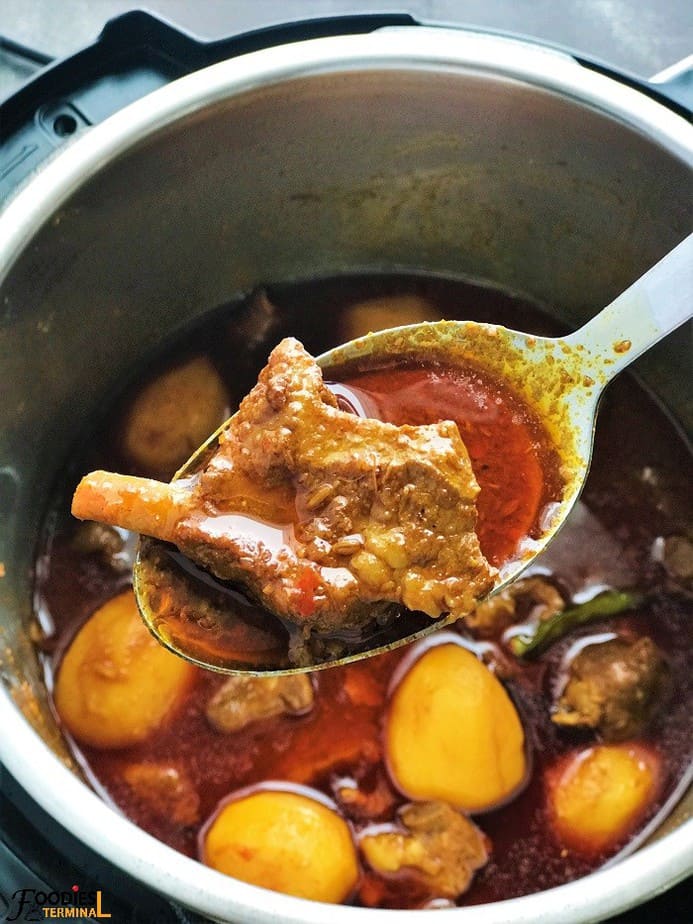 There are variations of Aloo Gosht and no two recipes are similar. Than, there are the good ones and the not so good ones 😛
However, there's only one thing that matters and that is a "Good Aloo Gosht" which must and mustn't have the following traits -
A thin layer of floating oil on top of the broth is a must. That doesn't mean a greasy curry with boat loads of oil. It means the correct art of Bhunofying (frying) the masalas, adding liquid at the right time, cooking the correct way.
A good Aloo Gosht must also have a lovely, brownish, reddish and golden hue.
It mustn't have onions staring back at you through the shorba or mutton broth.
Mustn't contain raw smelling under-cooked masalas.
Must not have traces of half-cooked tomatoes that sinks at the bottom of the shorba.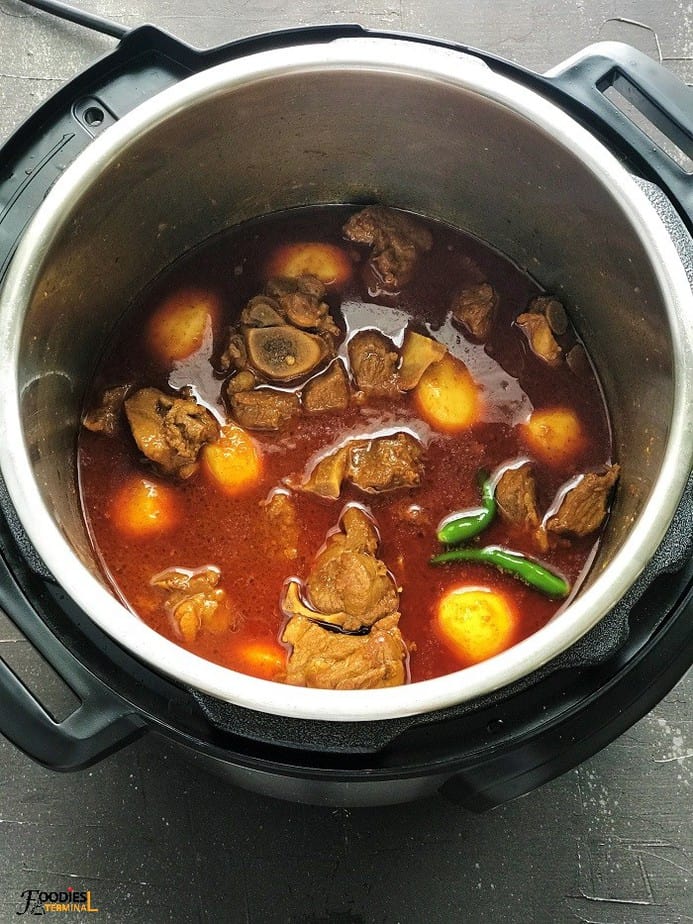 If cooked in an iron vessel the color of the shorba will be much darker.
If an Aloo Gosht recipe lacks the right traits and shows the wrong traits than stay away from that recipe because it's a complete failure and a disaster.
But, is it so simple? Let's see....
Aloo Gosht Recipe Ingredients
Mutton on the bones: I used goat meat. You can use Lamb meat also.
Potatoes: I used whole peeled small potatoes (not baby potatoes). You can use baby potatoes as well as large potatoes halved.
Spices: Red Chili Powder, Deggi Mirch or Kashmiri red chili powder, garam masala powder, roasted cumin powder that's coarsely ground (this is very important), coriander powder, turmeric powder.
Ginger Garlic Paste: Try my home-made ginger garlic paste recipe from the blog. It will last you the longest without turning green. Tips, tricks & a video included in that post.
Birista Paste: Deep fried onion paste. This one is very important in today's recipe. Do not sub it with raw onions.
Yogurt.
Whole green chilies from Indian or Pakistani grocery stores (optional). And do not sub it with Jalapeno or Serrano Peppers. If you do not have it handy skip using it but do not sub with other varieties.
Mustard oil or ghee.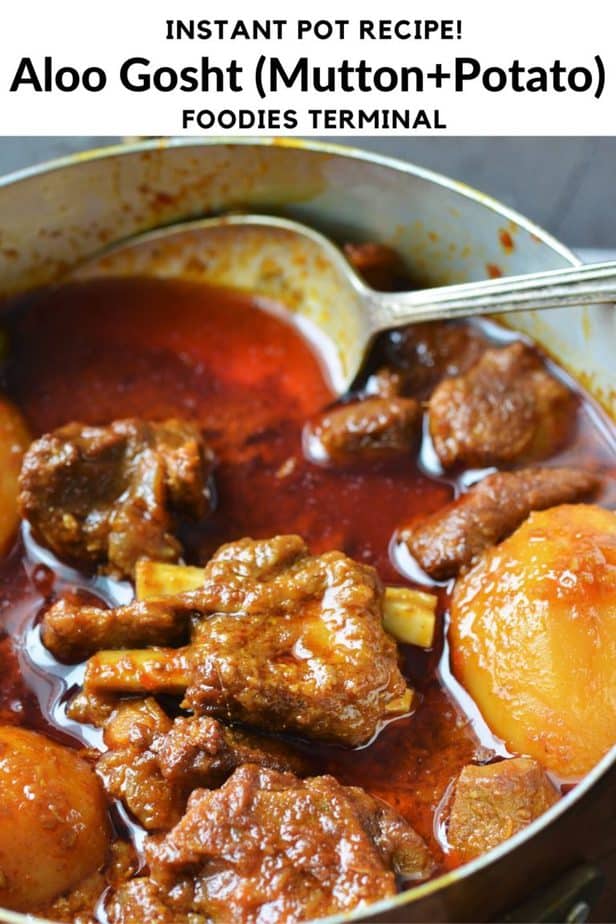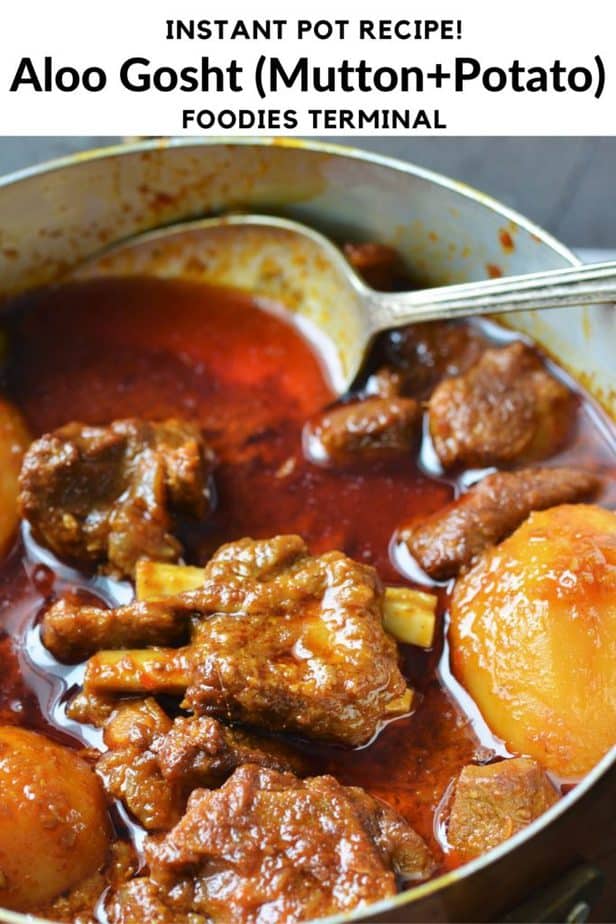 Browse Instant Pot Recipes for FREE!
Get access to a HUGE list of easy Instant Pot Recipes from FOODIES TERMINAL!
Instant Pot Aloo Gosht - Foodies Terminal Tips
How to make Aloo Gosht? Step by Step
Step #1 Fry the mutton until opaque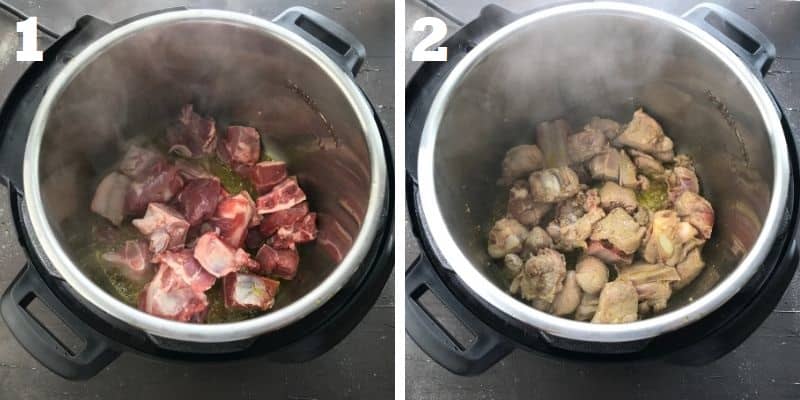 Set the Instant Pot on SAUTE and keep it on NORMAL. Add oil and fry the mutton until opaque.
Step #2 Fry mutton with aromatics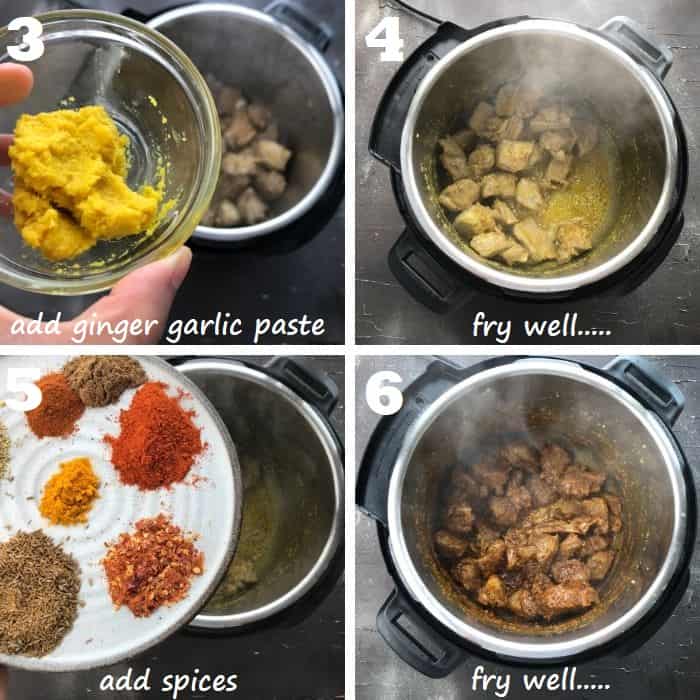 Next, add ginger garlic paste and fry until the raw smell disappears.
Immediately add the dry spices and keep on frying until the spices are nicely roasted and oil begins to ooze out.
Things might get sticky at this stage so fry the mutton with splashes of water to prevent the spices from getting burnt.
You'll have a well roasted bhuna meat with a rich dark color at the end of the process.
Step #3 Add Curd and Birista Fry well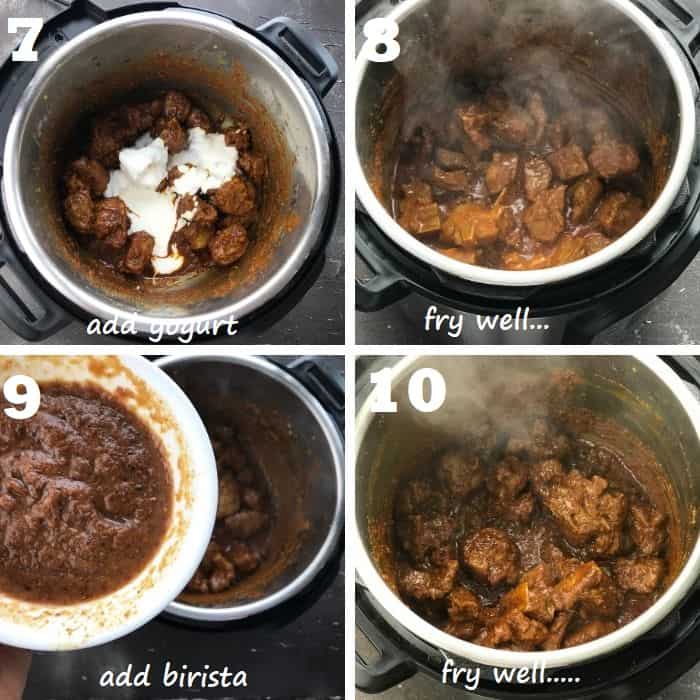 Turn off the Instant Pot, allow it to cool down a bit.
Than add the yogurt, mix well. This will prevent the yogurt from curdling.
Turn back the SAUTE and set it again on NORMAL. Fry the mutton along with the yogurt until you see streaks of oil appearing.
Next, add the birista, mix well and fry well for about 2-3 mins.
Step #4 Pressure Cook Aloo Gosht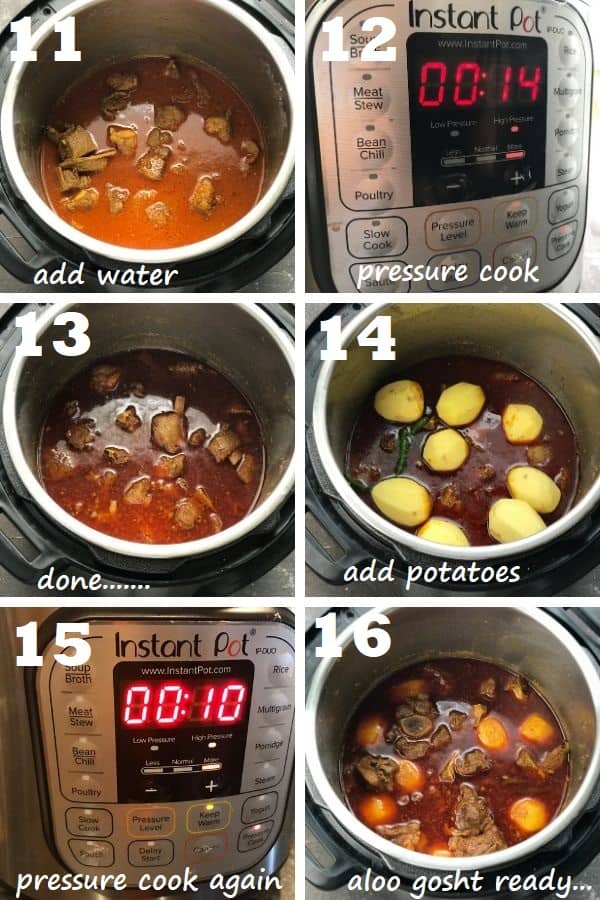 Now, add water and de-glaze the pot very well so that there are absolutely no bits and crumbs stuck at the bottom of the pot.
CANCEL the SAUTE mode and PRESSURE COOK on HIGH for 14 mins followed by a quick pressure release.
Add the potatoes and the green chilies and PRESSURE COOK again on HIGH for another 10 mins followed by 5 mins natural pressure release.
Release the rest of the pressure manually, open the pot and serve the Aloo Gosht hot with rice or Chapathi. Enjoy!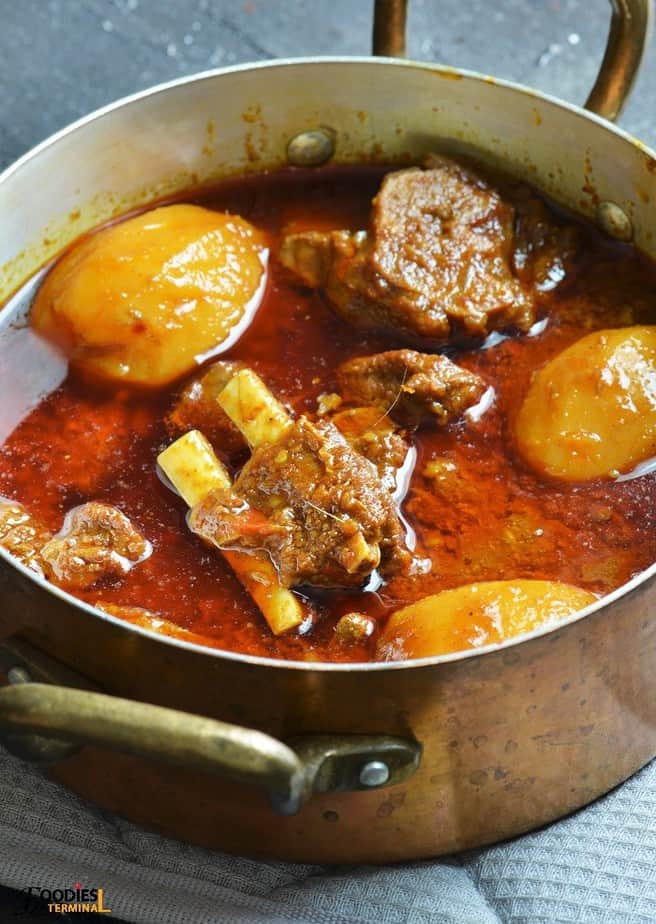 How long can you store Aloo Gosht?
You can store Aloo Gosht for 7 days in the fridge in air tight containers.
You'll notice a thick solid layer on top of the dish. That's the meat fat that solidifies in cold temperatures. However, it melts and liquefies once you re-heat the gosht.
The recipe freezes very well too and lasts for upto 2 months. However, the potatoes might becomes a little mushy if you freeze the recipe along with the cooked potatoes.
Thaw overnight in the fridge and re-heat like any normal gravy either in the microwave oven or on the stove top.
Love Mutton? Try these easy Mutton Recipes from Foodies Terminal.
---
---
---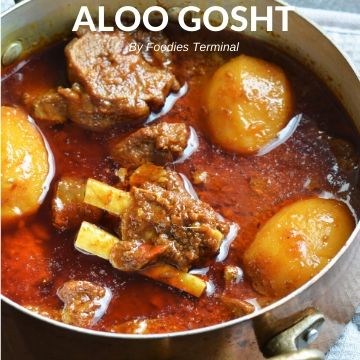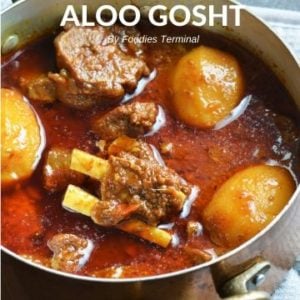 Aloo Gosht
Print Recipe
Pin
Rate
Aloo Gosht is a quick and easy mutton and potato curry that's deeply flavored with spices, yogurt and birista. Instant Pot Aloo Gosht tastes amazing with both rice and chapathi.
Ingredients
750

gms

mutton on the bones cut into 1" pieces

(1.65 pounds, I used baby goat meat)

½

cup

yogurt

(whisked or beaten)

1

cup

Birista made into a thick paste with few tablespoons water

(Read NOTES below "How to make Birista")

1.5

tbsp

Ginger Garlic Paste

8

whole

small potatoes peeled and rinsed

⅓

cup

Extra Virgin Mustard Oil

(you can use more or less oil according to your preference)

5

green chilies slit
Water
2.5

cups

water

(it's a personal choice add more for soupy gravy or less for a thick gravy. )
Want more Recipe Videos?
Check out our Youtube channel!
Equipment Used
Instructions
Set the Instant Pot on SAUTE and keep it at NORMAL mode. Add oil, when the oil becomes moderately hot gently add the mutton pieces and fry them stirring continuously.

When the meat changes its color and becomes opaque add the ginger garlic paste and fry well until the raw smell of the ginger and garlic completely disappears. Scrape the bottom of the steel pot occasionally with the spatula while frying the meat.

Next, add all the dry spices and fry well until the spices are well roasted, until the raw smell completely disappears and until oil begins to ooze out. This is very important. If you do not fry well your gravy will lack color and taste flat and bad. At this stage, things will get sticky and so keep on frying with intermittent splashes of water. The short splashes of water will prevent the masalas from getting burnt. Don't worry about the sticking part, it boosts the flavors of the dish. Just keep on scraping the bottom and keep on adding splashes of water.

After frying for quiet sometime you'll notice streaks of oil appearing and you'll notice a lovely, dark and gorgeous colored meat well coated with buna masala (roasted spices). This is exactly what we want. Refer the VIDEO.

Press the CANCEL button and turn off the Instant Pot. Allow the steel pot to cool down a bit , say approximately 5 mins. Than, add the beaten curd and mix well with the Bhuna mutton. the yogurt won't curdle and you'll have a fantastic smooth silky textured gravy.

After mixing the yogurt well with the bhuna mutton turn back the SAUTE mode and fry for sometime unitl the yogurt is well roasted and you begin to see streaks of oil appearing.

Now, add the Birista paste and keep on frying until you see streaks of oil appearing. It won't take much time as birista is already fried onions made into a paste. You may add splashes of water if things get sticky.

Add water and de-glaze the steel pot of the Instant Pot very well with the help of your spatula. You need to scrape off slightest of bits and crumbs that's stuck at the bottom of the pot.

Once, de-glazing is over CANCEL the SAUTE mode and close the lid of the Instant Pot. Seal the Valve and press the PRESSURE COOK button and set it on HIGH for 14 minutes.

Once, the cooking cycle is over the Instant Pot will begin to beep. Do a quick pressure release and open the lid.

Add the potatoes + green chilies and close the lid again and seal the Valve. PRESSURE COOK on HIGH for 10 mins.

Once the cooking cycle is over the Instant Pot will begin to beep. Wait for natural pressure release (NPR) for 5 mins and than release the rest of the pressure manually.

Open the lid and serve the Aloo Gosht hot. Enjoy!
How to make Aloo Gosth in Pressure Cooker?
Use a regular pressure cooker instead of an instant pot. Follow until STEP 8 over medium high heat.

Pressure cook on medium heat until 5-6 whistles. Do a quick release.

Open the pressure cooker and add the potatoes and the chilies.

Pressure cook again for 3-4 whistles. Wait for natural pressure release and than open the pressure cooker. Adjust the amount of liquid according to your preference. Enjoy!
Notes
Measuring Units Used, 1 cup = 240 ml & 1 teaspoon = 5 ml.
Something about the amount of Water: 2.5 cups water = Semi soupy gravy which is what today's recipe is. If you want soupy, brothy, runny gravy adjust the amount of water accordingly and same rule applies for a thicker gravy. The amount of liquid in the recipe is totally your personal choice, adjust accordingly.
Mature Goat: Increase the cooking time. Mature goat meat requires longer cooking time to reach the tender falling off the bone stage. I generally cook mature goat meat for 35-45 mins on HIGH followed by natural pressure release.
Something about OIL: Just like the amount of liquid you may control the amount of oil in this dish. Add more or less according to your personal preference. However, a little more oil always makes a delicious meat dish. 
STORING TIPS: Lasts for 7 days in the fridge and upto 2 months when frozen.
RE-HEATING TIPS: Thaw over night in the fridge and than re-heat just like any other gravies - Microwave oven or on the stove top. You may also add a spalsh of water to get things going as the dish thickens with time.
If adding large potatoes halved adjust the pressure cooking time. 
BEST POTATOES for the recipe: If you are in the USA choose Yukon Gold, Idaho or organic golden potatoes. Avoid Russet potatoes. Russets have quiet a rep of getting mushy in gravies.
BIRISTA RECIPE: Making Birista is easy. Here's how you can do it: Make uniform thin onion slices, make sure the slices are of same thickness, this will result in even browning of the onion. Next, gently rub the onion slices with the help of your fingers just to separate out each slice. Dab them with a kitchen towel to soak up the excess moisture. Now, in a heavy bottomed saucepan add enough oil for deep frying. Set the heat to medium and allow the oil to become hot. Gently release the onion slices and fry them until golden brown in color. Do not over crowd otherwise the onions won't evenly cook or brown and do not increase the heat, keep it at medium or medium low. Once, done bring out the fried onions or Birista with the help of a slotted spoon and place them on kitchen towel or on a fine sieve so that the excess oil drains out. Repeat the process until you are done frying all the onion slices. The Birista is ready. Use them in recipes according to instructions.
I used small whole organic golden potatoes and hence, cooked them for 10 mins on HIGH pressure.
Do not have access to Goat Meat? Sub it with lamb meat.
Do not use fat free or low fat special yogurts. If using greek yogurt do dilute it with few tablespoons water to resemble a regular variety.
Fry each ingredient very well until you see streaks of oil appearing. I cannot stress this enough in all my recipes. The frying technique or Bhunofying helps develope a rich taste, deepens the flavors of the dish, brings out the color of the spices, and makes the dish mouthwatering good. If you fry less or do not want to fry until the oil oozing stage your dish won't taste good or look good. Expect a boring curry with dull colors, very meh and unappetizing! Choose or decide wisely 😀 
Nutrition
Calories:
454
kcal
|
Carbohydrates:
5
g
|
Protein:
40
g
|
Fat:
30
g
|
Saturated Fat:
6
g
|
Cholesterol:
126
mg
|
Sodium:
190
mg
|
Potassium:
684
mg
|
Fiber:
2
g
|
Sugar:
2
g
|
Vitamin A:
791
IU
|
Vitamin C:
1
mg
|
Calcium:
88
mg
|
Iron:
5
mg