Crispy Air Fried Tofu is certainly the best crunchy tofu bites that you'll ever make with fewer ingredients & a super smart kitchen gadget – Your Air fryer. These tofu bites are crispy from outside and soft from the inside. And they taste just so good when you dip them in soy sauce or sweet chili sauce, that a small bowl will always be so less! Make these air fried tofu for a quick snack or to top your salads by following my step-by step recipe.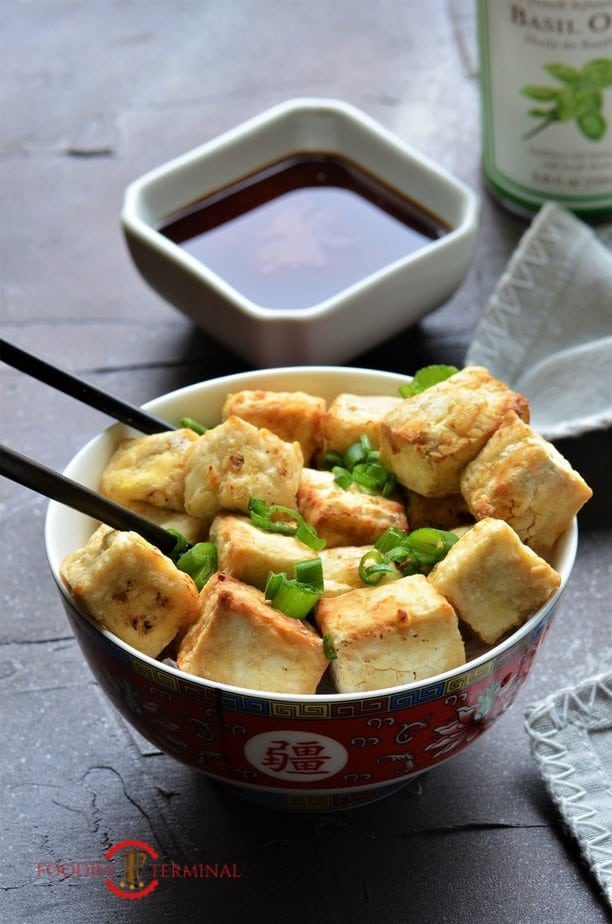 Crispy Air Fried tofu is Vegan, gluten free & oil free (oil is optional)! If you fit into any of these special diet parameters do not miss today's recipe. It's insanely easy.
If you are just like us who cares for only tasty food, no special diet chart to tick you'll love these crispy tofu bites because they are just exactly what we always want – TASTY!
We love quick recipes & quicker even sounds better 😀
This crispy air fried tofu is just that – ready in a snap, healthy & packed with such awesomeness.
If you are a tofu lover or just want to learn a few simple tofu recipes you'll always love this vegan air fried tofu with restaurant style crunch.
So, guys make your evening Netflix show time more fun with these crispy air fried tofu bites! And keep a bottle of sweet chili sauce handy, you can thank me later 🙂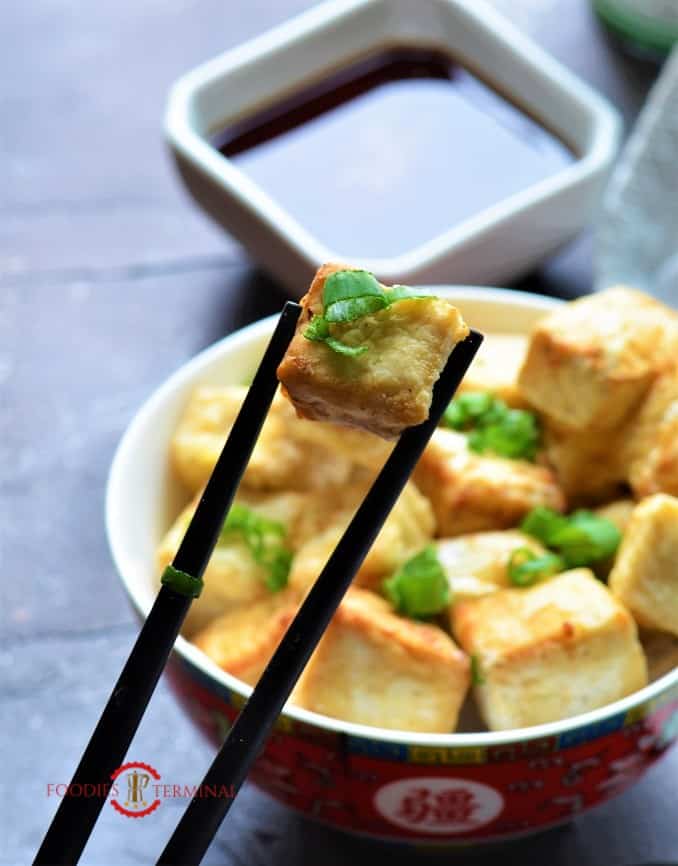 FAQs – Crispy Air Fried Tofu – Vegan, Gluten-free, Oil-Free
What is Tofu, Exactly
Tofu is a staple in Asian cuisine, invented in China some 2000 years ago & than spread to the rest of the world.
Tofu is made from Soy beans & thus, it's also know as bean curd.
The Soy milk is curdled & coagulated with salts, acids & enzymes. The curdled soy milk chunks are then made into slabs after pressing & extracting the liquid.
Click here to see to how Tofu is made.
It's a popular protein packed food in the world of Vegans & vegetarians & forms their staples for it's ultra versatility.
And in the non-vegan world it's another delicious food that picks up great flavors extremely well.
Types of Tofu
Silken: Very Soft, falls apart easily when not handled properly. Ideal for smoothies, egg replacements, texture enhancer.
Regular : Medium (good for soups), Firm (good for scrambled tofu, stir fry), Extra-Firm (holds shape extremely well – best for grilling baking).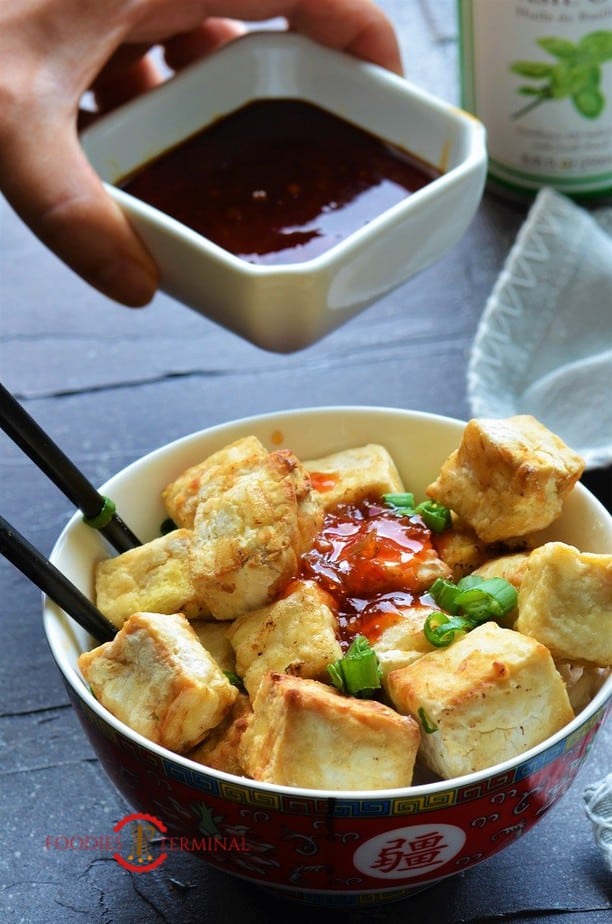 What is Air Fried Tofu
Air Fried Tofu is Tofu that's cooked in an air fryer.
There is no single recipe of air fried Tofu.
You can make tons of simple tofu recipes in your air fryer, with various different seasonings like – tofu wings or Mongolian tofu, air fryer tofu steaks, crispy air fried tofu bites etc.
Not a single air fryer tofu recipe will bore you because each one of them taste different & unique.
Today's recipe of crispy air fried tofu is perhaps the easiest tofu recipe that you will ever make in your air fryer.
Rub the tofu cubes with few drops of sesame oil, basil oil & soy sauce, roll them on a bed of cornstarch & later air fry them to that perfect out of the world crispiness!
If you want you may totally skip drizzling those few drops of oil, it will still retain every bit of flavor.
Throw them on your regular salads, or eat them as such dipped in your favorite sauces.
Or always in a hurry ? Grab these quick crunchy tofu bites & indulge on a healthy snack.
Whatever may be the case these crispy tofu recipe is so much fun to eat & make.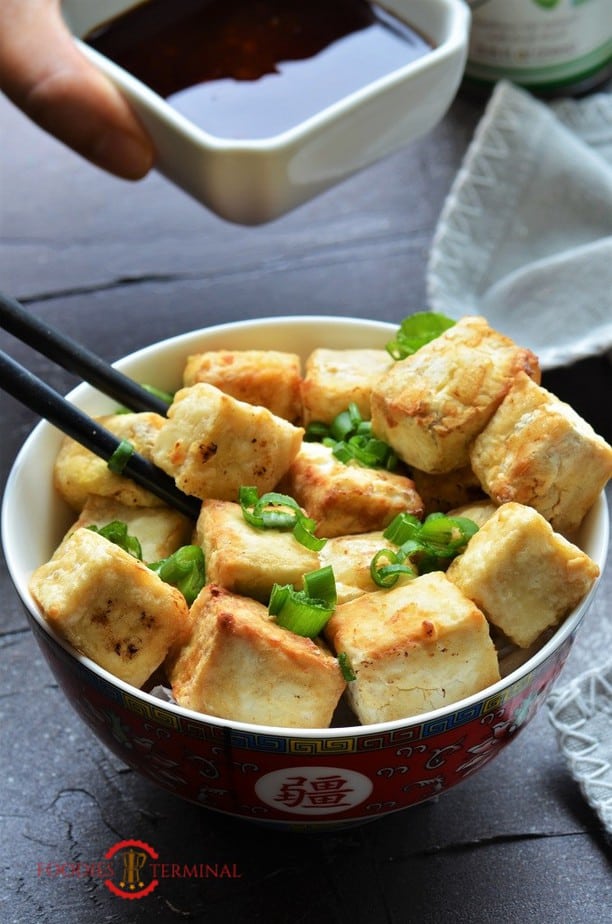 5 Ingredients for this simple tofu recipe
Though you may go completely oil free & choose only 3 ingredients but just in case you want to add that extra bit of drama here's the things we love to put in our air fryer tofu.
Tofu : Extra Firm.
Seasoning: Sesame oil (optional), basil oil (optional), soy sauce.
Coating: Cornstarch.
Left over tofu – Store it
In case you don't want to use up the whole block of tofu at one go. Here's how to store uncooked tofu:
Store left over tofu in a clean filtered water bed in an air tight container in the refrigerator.
It keeps good for 7 days if you change the water daily – keeps the tofu moist & fresh.
Or if you have not drained the water from the original packet store the tofu pieces submerged in the water in the fridge. Cling wrap the packet tightly.
Yes you can freeze them too! Freeze them on a baking sheet on a tray, when frozen store them in an air tight freezer safe container. Thaw in the fridge, squeeze the moisture & cook.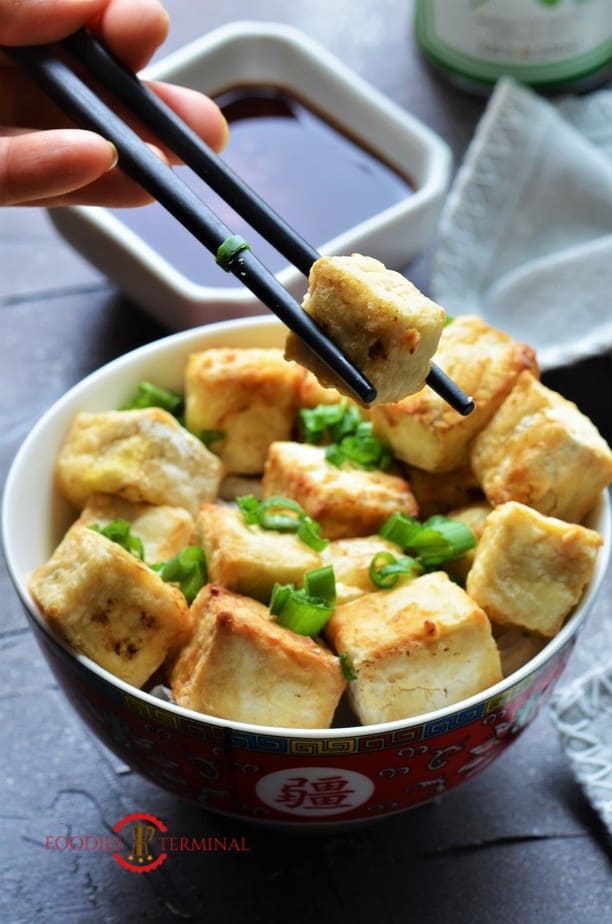 Extra Crunch Secret
It's that one life saver ingredient that add the restaurant style crunch & crispiness to the air fryer tofu bites – Corn Starch! And it's vegan too.
Do not try to sub it with any other ingredient like all-purpose flour. You won't get the same result.
Top 3 tricks to Crispy Air Fried Tofu
Here are the most important hacks for your air fryer tofu success.
Though this air fried tofu recipe might seem extra simple & easy but it might get a little tricky at one point – the addition of cornstarch.
More cornstarch = Cakey tofu bites!
Less cornstarch = No crunch in tofu!
Single coat of cornstarch is a must. Lightly coat or toss the tofu pieces with cornstarch or sift the cornstarch over the tofu bites lightly.
Press the Tofu block! Yes squeeze out excess moisture completely.
Air fry them for no less than 20 mins at 370 F. Remember every air fryer is different so if you feel that you need to cook it little more to get that perfect crunch, just cook the tofu a little more.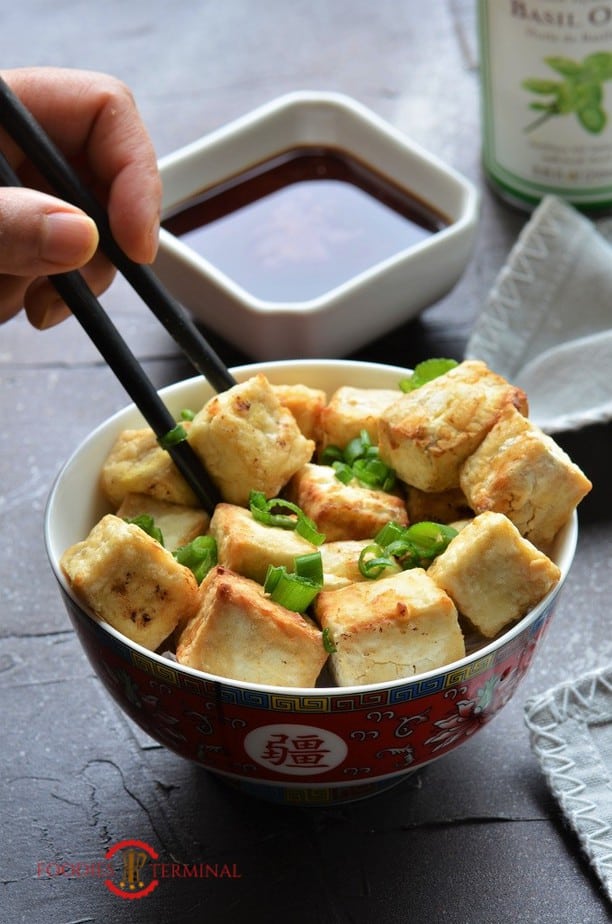 Easy Tofu Marinade
You may marinate the tofu for today's recipe or ditch the step altogether if you are in a hurry.
For the easy tofu marinade add soy sauce, drizzle sesame oil & basil oil (both oils are optional). Voila you are all set to indulge on a plate full of healthy snack.
Love your Air Fry? Try these from Foodies Terminal
Step By Step Method – Air Fried Tofu
Begin by squeezing out the excess water from the tofu block & than cut into 1/2 inch cubes.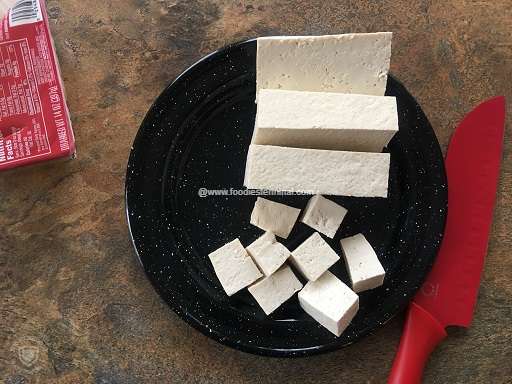 Rub little soy sauce, a few drops sesame oil & basil oil (both oils are optional). If you want you may rest the marinated tofu for 20 mins.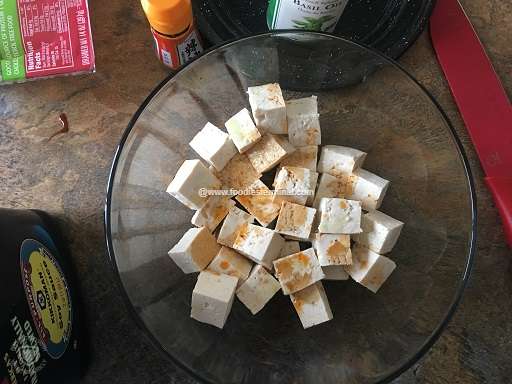 Lightly coat the tofu with corn starch. Just single coating is enough. You have sieve the cornstarch over the tofu and than give them a shake for a thin coating.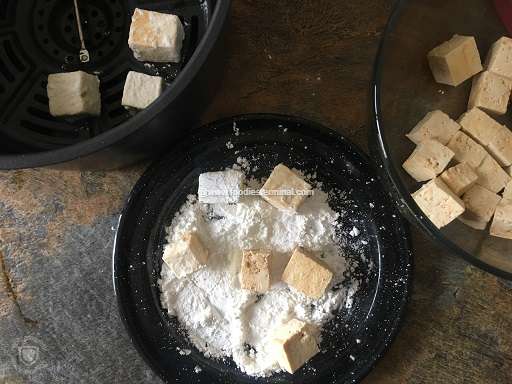 Air fry the corn starch coated tofu bites at 370 F for 20 mins. Serve hot with your favorite sauce.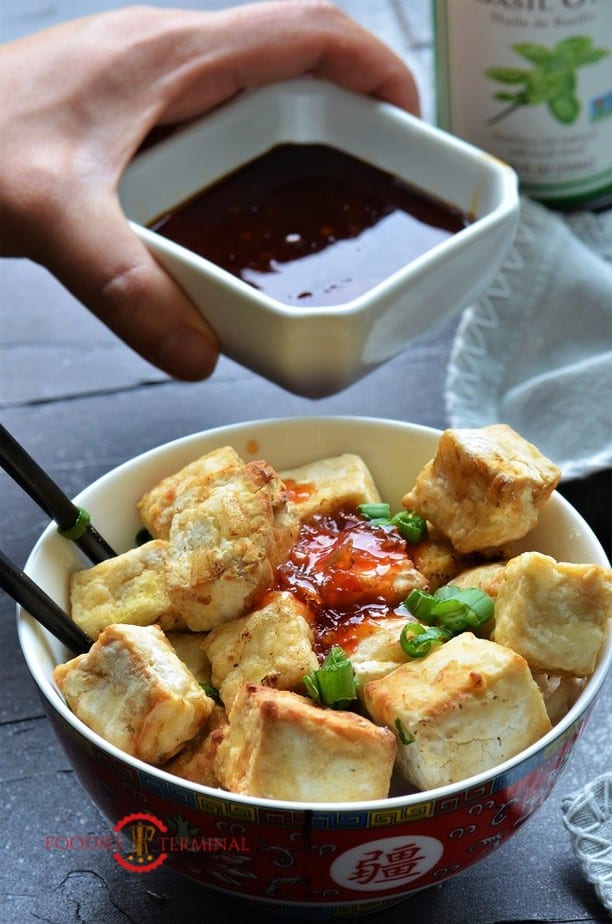 DID YOU TRY THIS RECIPE? Do Not forget to give a STAR rating! Just click on the STARS on the recipe card below to rate.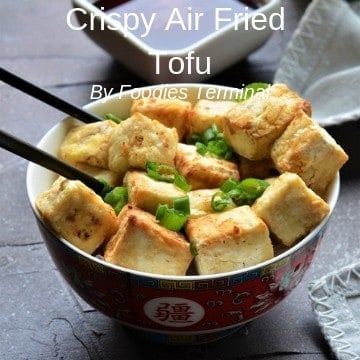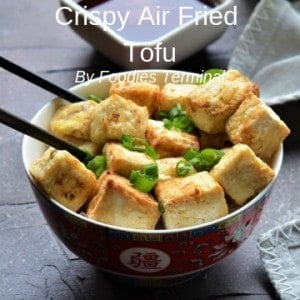 Crispy Air Fried Tofu Bites
Print Recipe
Pin
Rate
Crispy Air Fried Tofu is an easy & quick tofu bites recipe that's perfect for snacking or to top salads. These crispy air fried tofu has the right amount of crunch & soft interior & tastes so good when dipped in sweet chili sauce.
Want more Recipe Videos?
Check out our Youtube channel!
Instructions
Begin by pressing the tofu with the help of your palm to extract the excess moisture completely. 

With the help of paper kitchen towels dry out any excess moisture from the tofu block.

Make about 1/2 inch cubes. Add the soy sauce, drizzle the sesame oil & the basil oil. Gently mix & let it sit for 15-20 mins. NOT mandatory step, you may skip. I skipped too!

Sift the cornstarch on the tofu cubes and toss them gently so that there's a thin single coating of cornstarch on the tofu cubes. 

Air Fry them at 370 F for 20 mins. Give them a good shake mid way that's after 10 mins.
Notes
Just single coating of cornstarch is a must. A container with a lid & a sifter helps. Sift the cornstarch on the tofu bites & gently shake the container with the lid on to coat the tofu bites.
If accidentally you add a little more cornstarch try to dust it off or else if you find it midway while air frying. Than, spray some oil and air fry the rest. 
This will make them crispy rather than chalky.
Every sir fryer is different so if you feel that 20 mins is not enough for the crunchiness do cook for a couple of mins more.
Nutrition Facts
Crispy Air Fried Tofu Bites
Amount Per Serving
Calories 109
Calories from Fat 27
% Daily Value*
Fat 3g5%
Sodium 296mg13%
Potassium 282mg8%
Carbohydrates 11g4%
Protein 8g16%
* Read our privacy policy – Calorie information is provided as a courtesy only and should be leveraged as an estimate rather than a guarantee.Percent Daily Values are based on a 2000 calorie diet.
Measuring cup used, 1 cup = 240 ml & 1 teaspoon = 5 ml.
Air Fryer used = 4 quart
PLEASE NOTE: Nutrition values are my best estimates. If you rely on them for your diet or special diet, use your preferred nutrition calculator!
Nutrition
Calories:
109
kcal
|
Carbohydrates:
11
g
|
Protein:
8
g
|
Fat:
3
g
|
Sodium:
296
mg
|
Potassium:
282
mg
|
Sugar:
6
g