Ooohhhlaalaaaaa! These chicken wings are to die for – hot, spicy and absolutely the copycat version of my most favorite chain Buffalo wild wings! Non- fried version with a secret sauce!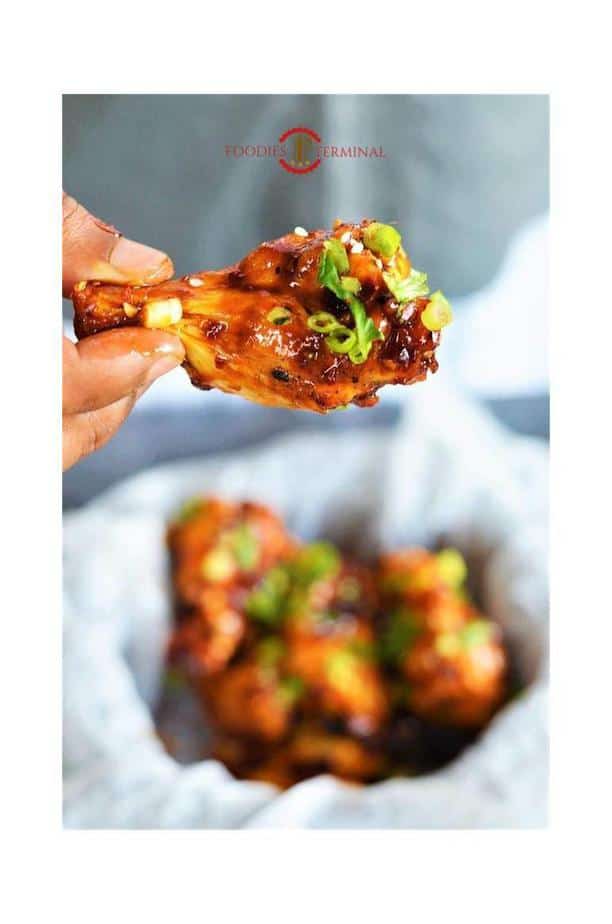 Add some zing and a whole lot of flavors to your chicken wings crazy soul with these spicy and super tasty *copycat* Buffalo Wild Wings version of chicken wings! They are as tasty as chicken wings should be and as spicy and aromatic as Asian Zing Chicken wings must be. The taste will bowl you out, just make sure to make a huge batch, otherwise, you will end up fighting for every single piece, just as we did. Nope, this is not me talking it's my bad experience and I am still very angry on Hubbs for his mean attitude of sneaking on my chicken wings, I made a small batch of 6 pieces and I will regret this forever, lesson learned! So, dear readers learn from my mistake and make a huge batch, if you don't want any chicken wings infused turmoil in your life!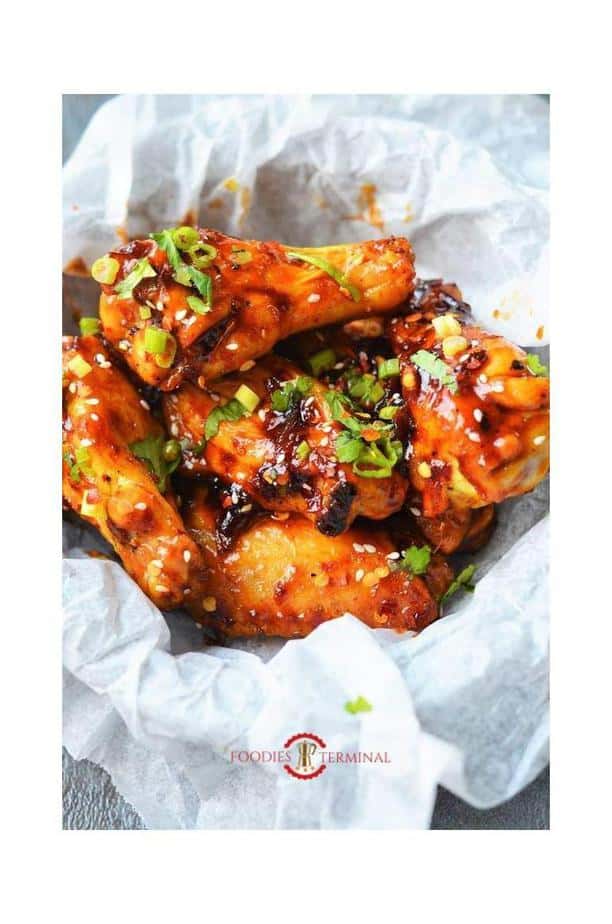 Buffalo wild wings is my favorite chain for Chicken wings, be it rain or shine, catching up with old pals, they have to happen within the premises of Buffalo Wild Wings, chit-chat with friends accompanied by a huge variety of chicken wings on the table is a complete bliss. Their chicken wings are so good, I mean you will be unquestionably hooked to their taste and you will desperately wait to pay them innumerable visits in the recent future! The secret sauces they use and their exquisite taste just cannot be described in the dictionary words.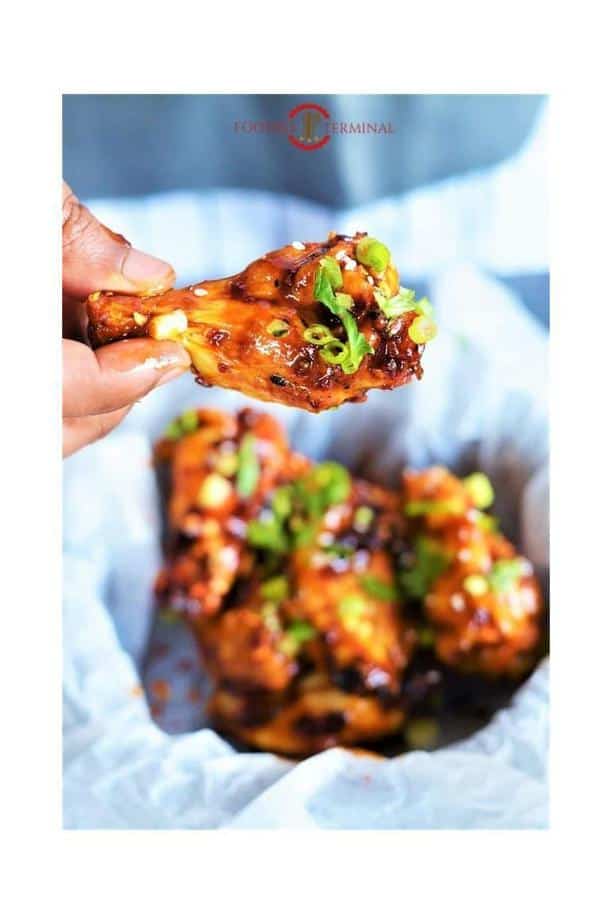 I was waiting for a very long time to recreate their chicken wings in my own kitchen. With several trials and errors, I ended up with this rockstar, Buffalo wild wings Asian zing chicken wings that were delicious to the power infinity. I had hit the jackpot after inventing the secret sauce, the best sauce in the whole wide world! Insanely delicious, divine taste oozing out from the layers of the cute chicken winglets. One of my friends wanted to lick the screen after seeing these pictures…Lol! It was definitely a eureka moment for me and I jumped with joy, hugged Hubbs, danced around the house with the plate of the new invention- Jeez yes, I did all these crazy things just for my Asian zing chicken wings that are an absolute Copycat version of the Chicken wings maestro – Buffalo Wild Wings!. The spice level is 5 out of 10. If you don't have a spicy appetite than you are most welcome to reduce the chili level in the Asian zing chicken wings recipe, they will still be super tasty.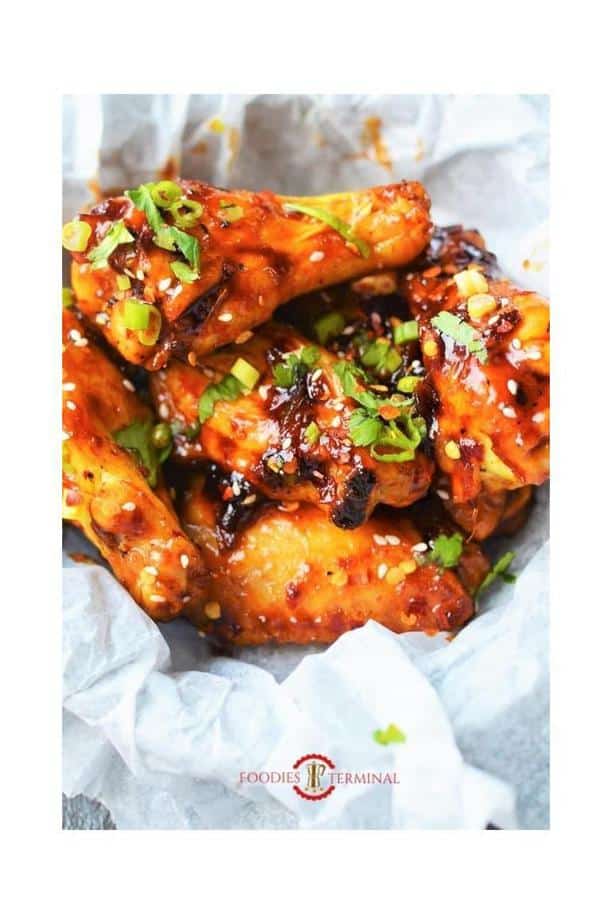 If you seriously need some chicken wings in your life that are more inclined towards spicy taste than you should definitely try your hands on this super quick and easy recipe that demands no deep frying! Marinate, Bake, Prepare the sauce, mix. Does that sound simple enough? Why delay make them for the monotonous weeknights, or get-togethers or your upcoming parties and be the rockstar of your party! Your guests will stick around till the last piece of chicken wings last if they ever last at all, Yes, I am serious this time, Lol!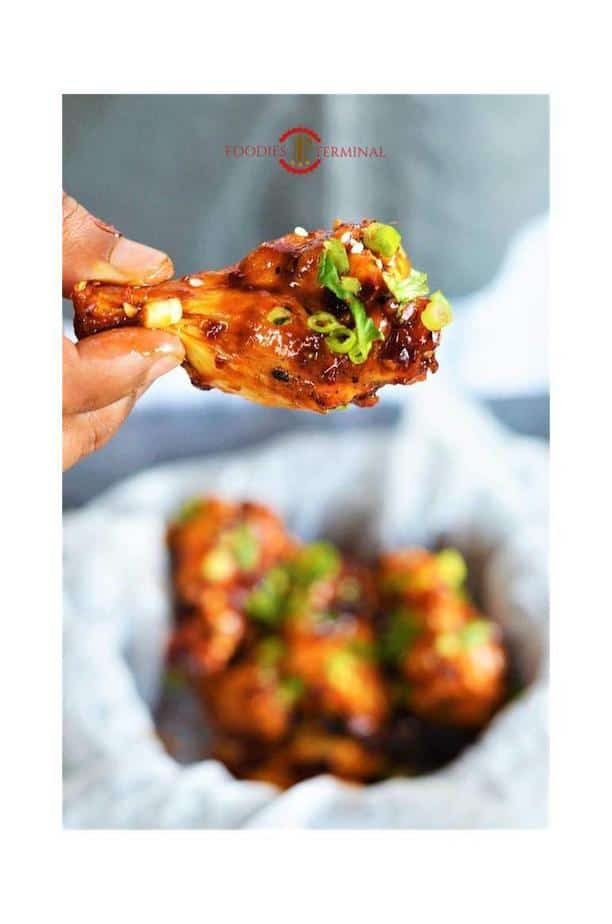 Now I myself need a large batch of this Buffalo wild wings Asian zing chicken wings in my life. While I am off to prepare my batch here's the recipe for you. Let me know dear readers how many you devoured and did you end up fighting for the last piece!! I am waiting…waiting… waiting!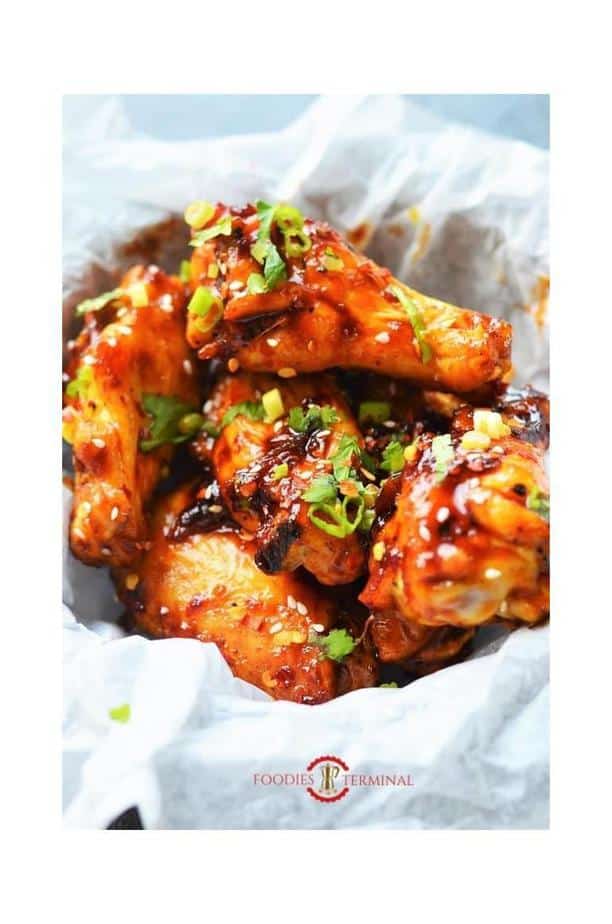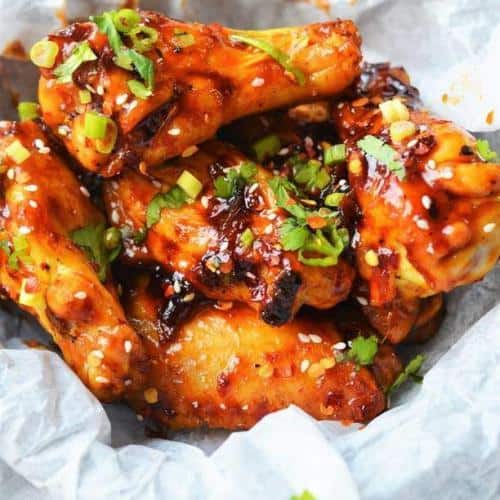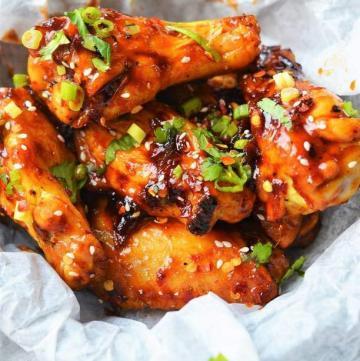 Copycat* Buffalo Wild wings | Asian Zing Chicken Wings Recipe | Buffalo Wild Wings Asian Zing Chicken Wings | Quick & Easy Chicken Wings Recipe
Print Recipe
Pin
Rate
Ooohhhlaalaaaaa! These chicken wings are to die for - hot, spicy and absolutely the copycat version of my most favorite chain Buffalo wild wings! Non- fried version with a secret sauce!
Ingredients
6 piece chicken winglets.

2 cloves of garlic crushed.

1/2 teaspoon ginger juliennes.

1/2 teaspoon crushed dried red chili flakes.

Crushed pepper according to taste.

1 teaspoon chopped cilantro leaves for garnish(optional)

1 teaspoon chopped scallions for garnish(optional)
Want more Recipe Videos?
Check out our Youtube channel!
Instructions
1. Take the chicken winglets in a clean bowl and massage the winglets with salt and pepper.

2. Pre-heat the oven at 425 degrees F.

3. Place the Chicken winglets on a baking sheet and bake both sides for 15 minutes each.

4. In another bowl add the soya sauce, rice vinegar, rice wine, sriracha sauce and mix well until fully incorporated.

5. Heat your favorite skillet or pan on medium flame and add the sesame oil, make it hot.

6. Gently add the crushed garlic and ginger julienne to the hot oil and saute for few minutes until fragrant.

7. Next add the dried crushed red chili flakes and saute for a few minutes.

8. Pour the prepared sauce into the pan, increase the heat and keep on stirring until it thickens and becomes like a syrup.

9. Now add the grilled chicken winglets into the pan and toss it until fully coated with the sauce. Continue this on low flame.

10. Next garnish your Asian zing Chicken wings with freshly chopped cilantro leaves, scallions, and a few white sesame seeds.

Enjoy!
PIN IT!