This Chingri Bhapa is irresistible! Tiger prawns steamed in a spicy mustard, poppy seeds & coconut milk sauce with oodles of mustard oil & hot green chilies. You can make this Bengali style Prawn Bhapa in Instant Pot, Stove top, Microwave Oven & Oven. All methods shared in the post.
Love Easy Instant Pot recipes? Browse the entire collection of easy Instant Pot Recipes from Foodies Terminal.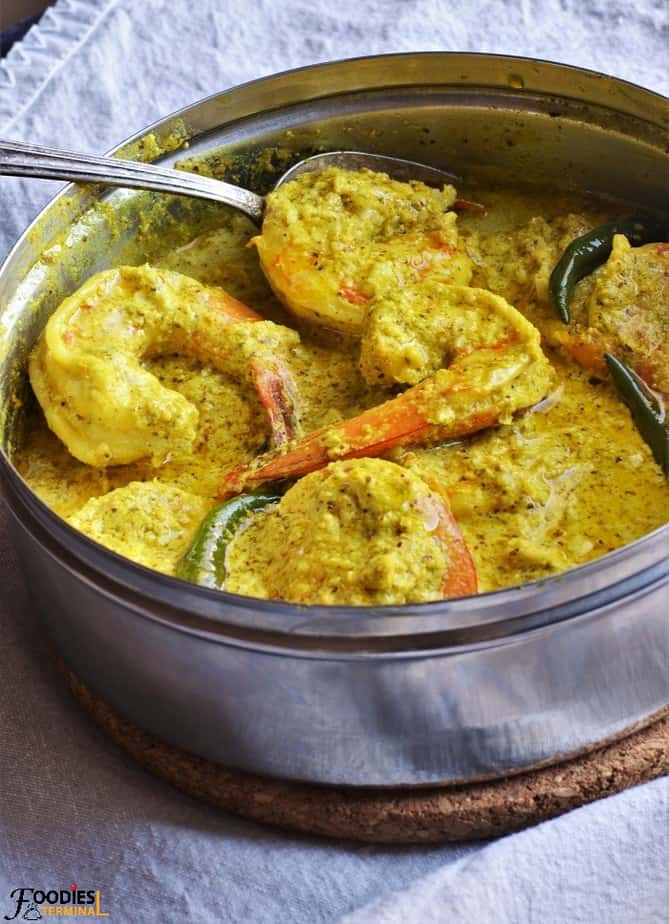 Shorshe Chingri Bhapa with Coconut
Before you Proceed: Brush up this mini Bengali to English translation, because I'll be using these terms quiet a bit 😀 Shorshe = Mustard, Posto = Poppy seeds, Narkel or Narkol = Coconut, Bhapa = Steamed, Chingri = Prawn or Shrimp.
Today's Shorshe Posto Narkol Chingri Bhapa is one of the easiest Indian style Prawn recipe that involves no active cooking at all.
All you have to do is blend a few ingredients to make paste, mix them all together along with Colossal, tiger or jumbo prawns, drizzle oil, throw in green chilis, mix everything and than steam it whichever way you want – Instant Pot, Microwave Oven, Oven or stove top.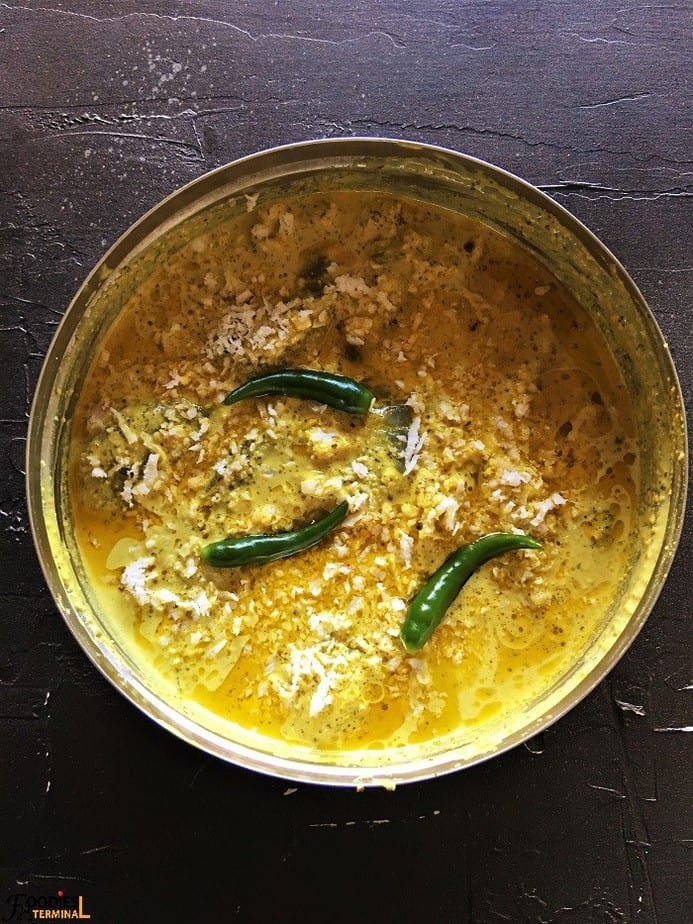 If you can by all means go for fresh wild caught Prawns for amazing flavor.
However, frozen Tiger, Jumbo or Colossal prawns equally make this Chingri Maach Bhapa equally delicious. I used Colossal frozen prawns for today's recipe.
Likewise, you can use cleaned & de-veined prawns with head and shell intact. Or if you don't love to suck through prawn shells than use de-shelled Prawns with head removed. I leave it on you to choose.
Chingri Bhapa is an excellent way to satiate your urgent prawn cravings and to fix a quick lunch or dinner for your family.
Don't worry about the pungency of the mustard, I'll share a few tips to tame it down.
No worries if you do not stock poppy seeds or do not love it's taste. You can skip Poppy in this Bhapa Chingri with coconut recipe with a blink of an eye.
Prawn Bhapa minus the Poppy seeds will taste different but in a good way of course 😀
Mop it all up with piping hot white rice & don't forget that afternoon siesta 😀 Life's good!
Narkel Chingri Bhapa – Ingredients
Ingredient Measurements are provided below on the Recipe Card.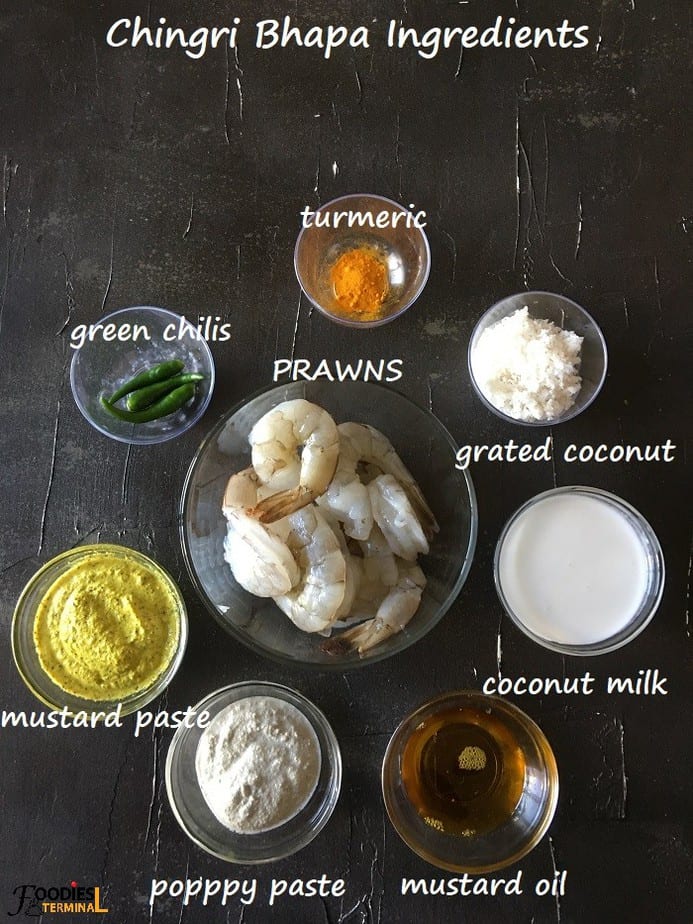 Prawns: Choose fresh, de-veined or frozen Colossal, Jumbo or Tiger Prawns. You may remove the skin and the heads. However, you may keep them intact. I used frozen Colossal Prawns, skin removed and heads too.
Mustard: Yellow and Black varieties ( Rai or Sarson in Hindi). Add both or sub the yellow with the black variety as well.
Poppy Seeds: Known as Posto & Khas Khas in Indian language. You can skip it altogether & add coconut flesh paste instead. Read NOTES on the Recipe card below.
Coconut Milk: Use full fat coconut milk. I used store bought but you can make yours at home by grating or grinding fresh coconut flesh and than squeezing out the milk. Sub coconut milk with Yogurt. Quanity mentioned on the RECIPE CARD below.
Grated coconut: Use frozen or fresh.
Turmeric Powder.
Oil: Mustard Oil.
Green Chilis.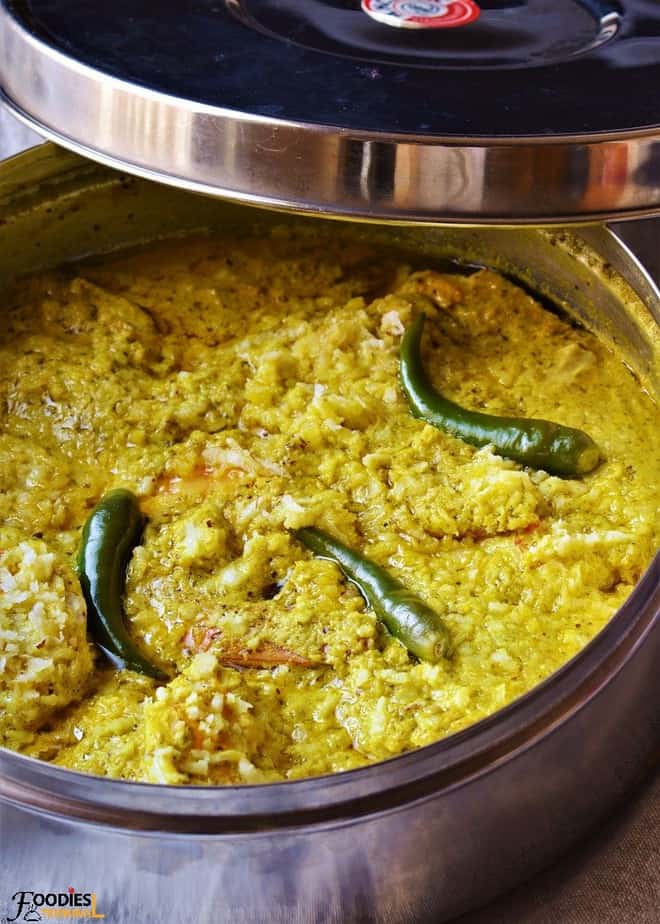 Summary: Mustard is added for a reason in the Bhapa Chingri recipe, in fact it's that star ingredient that makes this recipe happen. We love it's pungency & feel that mustard without a bit of a kick is no mustard at all! Hence, 30 mins mustard soaking time comes into play. It mellows down the extra hot kick from the mustard without ruining it's intense flavors & without completely killing it's pungency. DO NOT SOAK MUSTARD OVER NIGHT.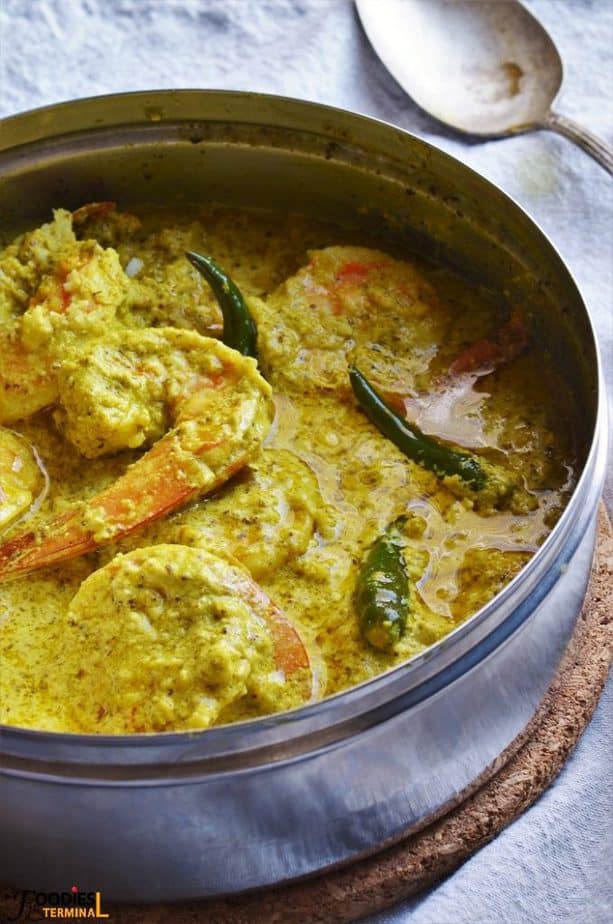 Bhapa Chingri with Coconut – Tips & Tricks
Use Tiger, Colossal or Jumbo Prawns for Best result and flavor: They do pack a punch, are meaty, dense with better aroma, taste & juiciness. Avoid smaller size prawns, they won't taste good.
Soak the mustard & use both yellow & black seeds: Tame the pungency of mustard by soaking the seeds in water for at least 30 mins before grinding. Yellow mustard seeds will also help balance the heat of the black mustard seeds.
Do not skip the coconut milk & grated coconut: Coconut certainly takes the Prawn Bhapa recipe a notch up. Imagine delicate flavors, subtle coconutty aroma & oh so good creaminess. You are going to get all of these. However, people with hut issues or coconut allergy may sub it with yogurt (Read NOTES below).
Add the Poppy seeds paste or Posto: The combo of mustard & posto or poppy paste is incredibly good. Use it to enjoy the best of best flavors.
Drizzle that raw mustard oil once the steaming is done: To be precise this is the icing on the cake. The raw fragrance of that extra pungent mustard oil ties up the steamed up flavors. Fluffy hot rice is all you need to wipe this Narkel Chingri Bhapa clean.
Do not steam the Prawns for a long time: Longer cooking time will make the prawns chewy and firm.
How to make Bhapa Chingri?
Steps in words below pics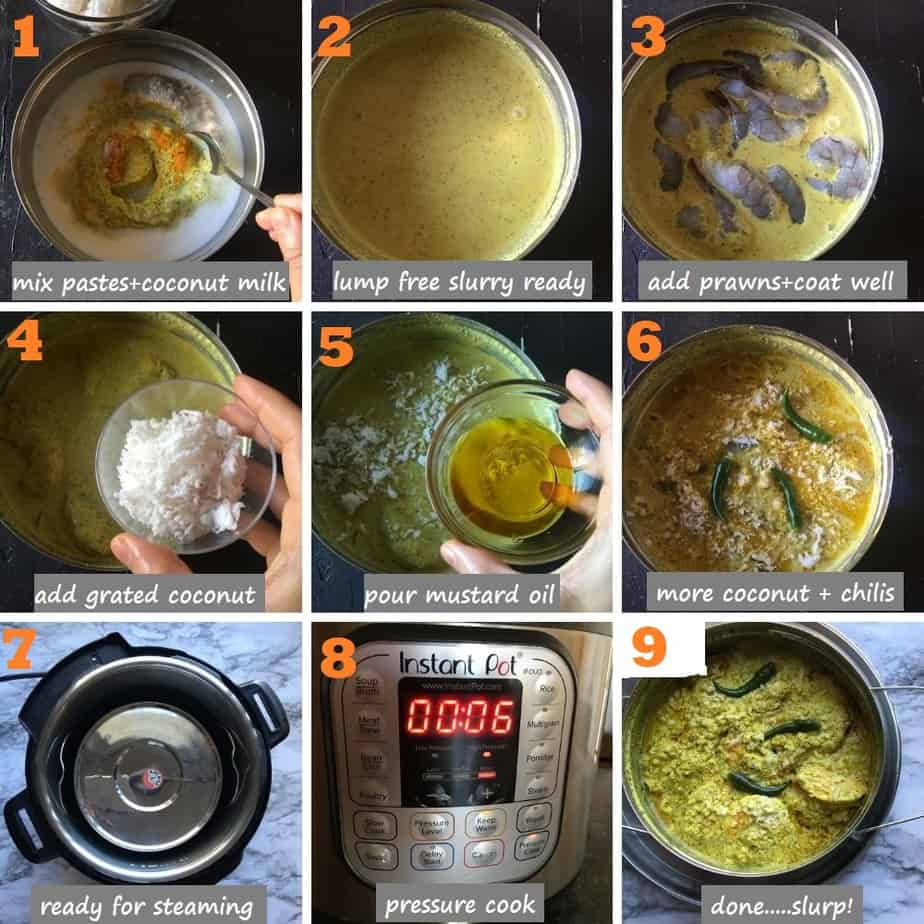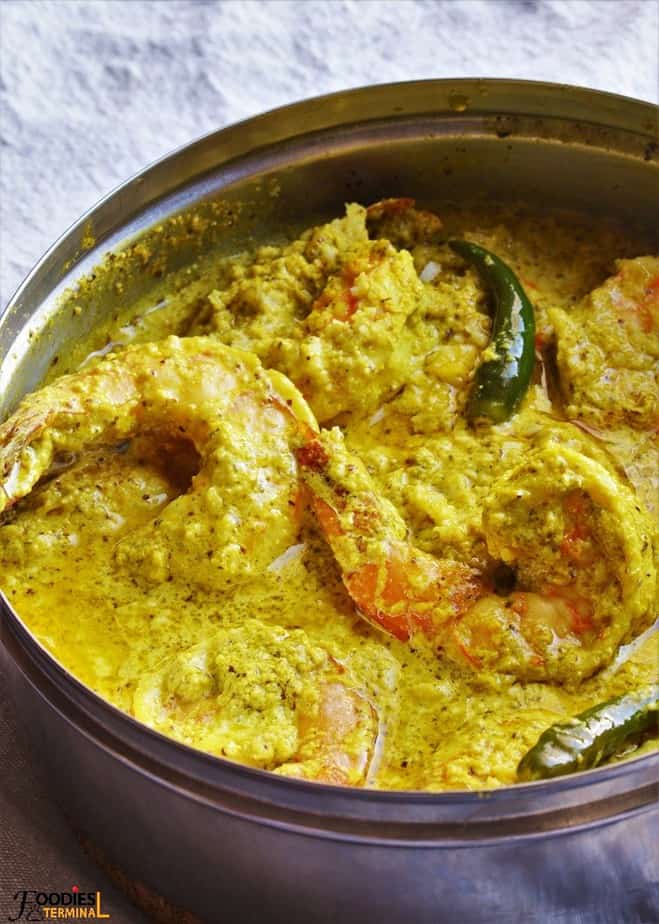 Time needed: 30 minutes.
How to cook Chingri Bhapa in Instant Pot?
Add ingredients in a stainless steel tiffin box

Add the poppy seeds paste or posto, the mustard paste, coconut milk, salt & turmeric powder in a stainless steel tiffin box and mix well.

A smooth slurry is ready

The sauce should be completely smooth and lump free. Check for the salt at this stage.

Next, add the Colossal Prawns.

Add the washed & cleaned colossal prawns in the slurry and mix well so that all the prawns are coated well with the sauce.

Add grated coconut

Good amount of grated frozen or fresh coconut goes in. Just layer it on top of the sauce coated prawns.

Pour mustard oil

Drizzle generous amount of mustard oil.

Layer more grated coconut & chilis

And close the lid of the tiffin box. It's ready to be steamed.

Prep the Instant Pot

Add water to the inner pot, insert the trivet and gently place the tiffin box on the trivet.

Pressure cook

Close the lid of the instant pot, pressure cook on HIGH for 6 mins.

When done drizzle more mustard oil & serve

Once the cooking time is up bring out the tiffin box and open it carefully. Drizzle raw mustard oil & serve hot.
Love Prawns or Shrimps? Try these easy Prawns or Shrimps recipes from Foodies Terminal.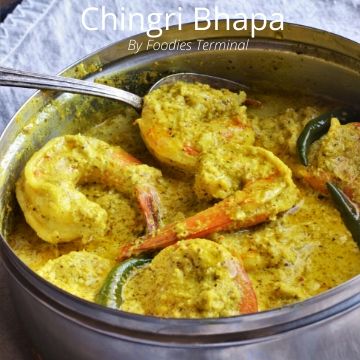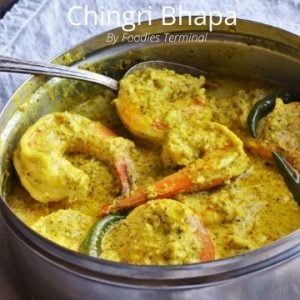 Chingri Bhapa
Print Recipe
Pin
Rate
Make this easy Bengali Style Chingri Bhapa for a quick lunch or dinner. Prawns Bhapa with coconut is basically colossal prawns steamed in a mustard, poppy & coconut based sauce. You'll love this Bhapa Chingri with fluffy white rice.
Want more Recipe Videos?
Check out our Youtube channel!
Instructions
How to make the Mustard paste or Shorshe Bata?
If you do not prefer extra hot mustard than do soak the seeds together in water for 30 mins. This process tames the pungency of mustard without making it completely flat. However, if you do love pungent mustard skip the soaking part completely.

Drain the soaked mustard and add them into a blender jar along with 5 green chilis, 1/2 tsp turmeric powder and 2-3 tsp water (just enough to grind). Blend into a smooth paste. You'll still have a few mustard hulls left, but that's ok, it's the beauty of mustard. Set the mustard paste aside.
How to make the poppy seeds paste or posto?
Add the poppy seeds in a blender jar. Dry grind them frist and than add few tsp of water and grind them again to a coarse paste. DO NOT do a fine paste. Set aside.
How to make Chingri Bhapa?
Some prawn facts are shared in the NOTES below, read them. 

Begin by washing and cleaning the prawns well. Remove the skins, de vein them and keep the tail intact. I used cleaned, de veined frozen colossal prawns with heads removed. So, I just removed the skins and washed them a few times under running tap water. However, you may keep the shells intact.

Bhapa Chngri needs to be steamed so you need to gather a stainless stell tiffin box with a secure lid.

In the tiffin box add the mustard paste, poppy paste, coconut milk, turmeric powder, salt to taste and mix every well until a smooth slurry forms.

Add the prawns into the slurry. Mix together to coat the prawns well.

Next, layer 1/2 of the mentioned grated coconut and pour mustard oil on top of the coated prawns. Gently mix everything.

Layer the remaining grated coconut and throw in the rest of the green chilis. Secure the lid of the tiffin box. It's ready for steaming.

Pour 2 cups water in the inner pot of the Instant Pot and place the steel trivet inside the inner pot. Gently place the tiffing box. Close the lid of the Instant Pot, seal the valve and PRESSURE COOK on HIGH for 6 mins.

After 6 mins when the Instant Pot begins to beep. Wait for Natural pressure release for 6 mins and than release the rest of the pressure manually by moving the valve from the SEALING to the VENTING position.

Open the lid carefully, allow the hot water to cool down a bit, the trivet is very hot at this stage. Once the steam has escaped from the hot water. Carefully bring out the trivet along with the tiffin box. 

Open the lid of the tiiffin box, drizzle some more mustard oil on top of the Chingri Bhapa and enjoy it with some white hot rice.
Bhapa Chingri in Microwave
Use a microwave safe bowl for the recipe instead of a stainless steel tiffin box.

Follow until STEP 6. Cover the microwave safe bowl with the help of a cling film. Microwave on HIGH for 5 mins. Drizzle more mustard oil. Serve hot enjoy!
Bhapa Chingri in Pressure Cooker
Follow until STEP 6. Than, Set a pressure cooker over medium heat. Pour about an inch or two of water & bring it to boil. Carefully lower the tiffin box inside the pressure cooker. The water should be half way the base of the tiffin box and shold never reach the lid. Throw away any excess water. Close the lid of the pressure cooker and cook until 2 whistles or for 15 mins if it's a whistle free pressure cooker. Turn of the heat, manually release the rest of the pressure. Serve hot enjoy!
Bhapa Chingri in Oven
Make the recipe in an Oven safe bowl. and cover it with an aluminum foil. Follow until STEP 6.

Pre Heat oven at 240 C. Bake for 20-25 mins. Remove the bowl. Allow the prawns to rest for 5 mins without opening the aluminum foil cover. Serve hot enjoy!
Prawns Bhapa on the stove top
Follow until STEP 6. Use a stainless stell tiffin box.

In a deep bottomed pot or kadai add about 1-2″ water and bring it to boil.

Lower the tiffing box gently. The water level should reach upto half way to the base of the tiffin box. Discard any excess water. Cover the pot or the kadai and steam the Bhapa chingri for 15 mins. Turn off the heat. Allow the prawns to rest for 5 more mins in pot. Bring the tiffinx out from the pot. Serve hot enjoy!
Notes
Measuring Units used, 1 cup = 240 ml & 1 teaspoon = 5 ml.
Instant Pot Used = 6 quart DUO
Replace Instant pot with a regular pressure cooker or a deep bottomed pot to make the recipe on the stove top.
Poppy Seeds alternative? Replace it with the same amount of coconut flesh paste. Grind the fresh coconut meat in a blender until a smooth paste forms. Use it.
Yellow Mustard alternative? Replace yellow mustard with the same quantity of black mustard seeds. The recipe will have a slight more mustard kick but in a good way of course.
Coconut milk alternative? Use whole milk yogurt instead and use 1/2 cup. If using Greek yogurt dilute and whisk it with 2 tbsp. water and than use it.
Want to avoid both poppy seeds paste and the coconut meat paste? Use coconut cream and a good 3 tablespoons.
Can Use: Frozen Tiger, Colossal or Jumbo Prawns. Heads and shells kept intact but deveined and cleaned. Heads and shells removed and deveined, cleaned.
Cannot Use: Smaller Prawns, frozen semi cooked prawns (the ones that are pink or orangish in color instead of gray).
DONT'S: Avoid steaming the prawns longer they will become chewy and firm. Avoid using make ahead mustard paste from the fridge or mustard powder.
DO'S: De vein & take the gut out from the prawns (the long black string like thing), wash the prawns very well. If using Poppy paste coarsely grind it, not a fine paste ever. It should have texture left.
Storing Tips: Store it in air tight container for 3 days in the fridge. 
Serving Ideas: Hot white fluffy rice is the best combo.
Re Heating Tips: Low heat on the stove top or microwave loosely covered. 
NOTE: After day 1 in the fridge the taste of the mustard in the sauce begins to fade away. The taste of the sauce will mellow down and won't remain the same as fresh cooked version.
Pin it for Later!