This Chingri Macher Malai Curry also know as Prawn Malai Curry will knock your socks off! That dripping sauce, the meaty prawns, the fewer spices is enough to make it that one popular sought after curry. Sauteed Jumbo Prawns slow simmered in an extremely fragrant sauce whose main ingredient is coconut milk. You can never go wrong with a piping pot of this Bengali style Prawn Malai Curry + steaming white rice.Watch the Video recipe & step by step Chingri Macher Malai Curry & get to know the authentic way to cook it.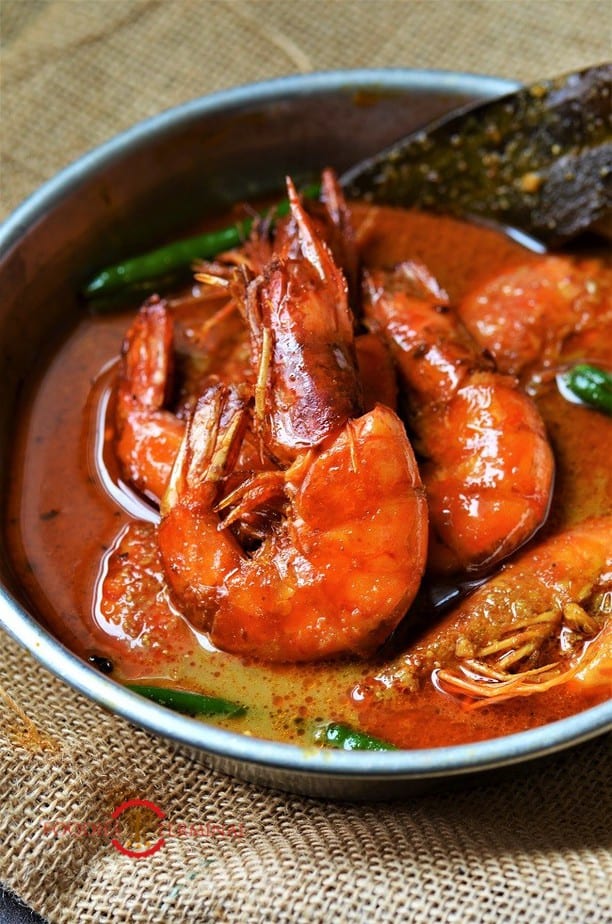 Chingri Macher Malai Curry
This Prawn Malai curry is not something that's included in everyday menus because it's rich.
But it definitely makes it's delicious way to mark special occasions, proud achievements, home-coming, birthdays, bachelorette party, Wedding party, all kinds of other parties & often cooked for someone special, be it that much loved uncle or aunt visiting family or a daughter coming home.
We here at Foodies Terminal need no reasons to make this epic Prawn Malai Curry, it often finds its way in our weekend lunch menu & weeknight dinner menus 😉
You may check out some awesome easy seafood recipes from Foodies Terminal like this Doi Maach Recipe, Instant Pot Tilapia Fish Curry, Fish Tikka Recipe with Salmon, Shrimp Patties Recipe with Aioli, Kakrar Jhal (Best Bengali Crab Curry), Cajun Shrimp Tacos Recipe.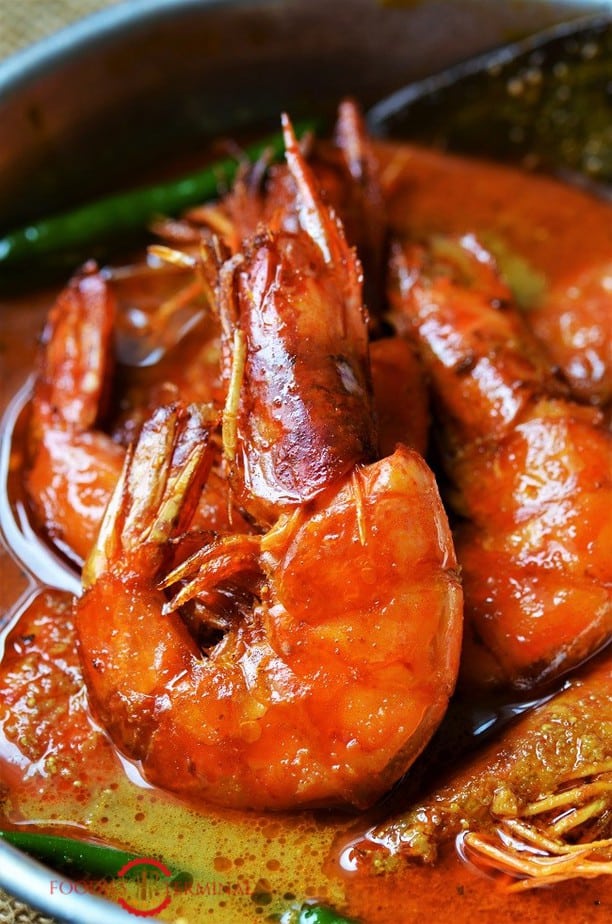 What is Chingri Macher Malai Curry or Prawn Malai Curry?
Chingri Maach = Prawn or Shrimp
Malai Curry = Creamy curry & in this recipe the creaminess comes from mainly the coconut milk.
Chingri Macher Malai Curry is also known as Prawn Malai Curry & it's a traditional Bengali recipe that's cooked with sauteed Tiger prawns or lobsters in a creamy coconut milk based sauce that has fewer spices.
Tiger prawns aka "Bagda Chingri" & Lobsters aka "Golda Chingri" are the two most sought after varieties of chingri for this Bengali style Malai curry recipe.
It's very easy to ruin a traditional Prawn Malai curry recipe. Use more spices & onion and you'll end up with a messed up curry that's no where close to the taste of it's authentic counterpart!
The trick is to go easy with the spices & the onion. Read on to know more about the recipe.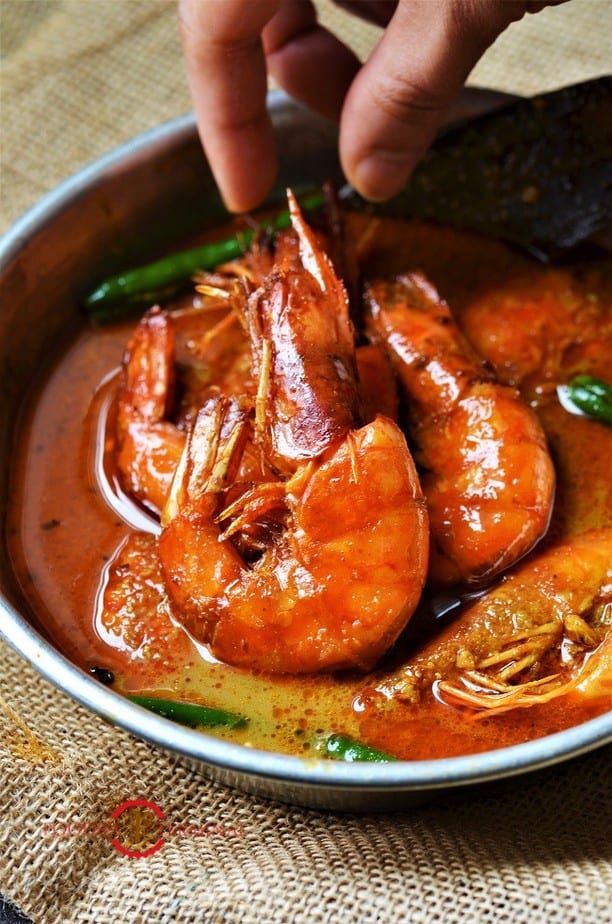 Best Prawns to use for Chingri Macher Malai Curry
Always choose fresh Tiger Prawns (Bagda Chingri) or Lobsters (Golda chingri) for best results.
The taste of fresh prawns with the head intact is the heart of this traditional Chingri Macher Malai curry recipe. Fresh Chingri will give you the best of best flavors.
But, if you are like me settled somewhere where fresh prawns are difficult to trace than you are left with no good option but to choose head-less frozen prawns.
In that case, I would recommend you to choose wild caught Tiger prawns or colossal prawns for best flavor.
In the USA, where we live we get fresh colossal prawns in the Asian markets. You'll find the same in today's Chingri Macher Malai Curry recipe.
We also do get Lobsters in the regular American stores but they are a different variety unlike the ones available in the Indian fish markets.
The exo-skeleton of the lobsters here is so hard & tough it's difficult to cut open, clean & than cook!
We avoid them by all means. But, if you find an easier way to crack open the exoskeleton of the Videshi Lobsters you may definitely use them 😀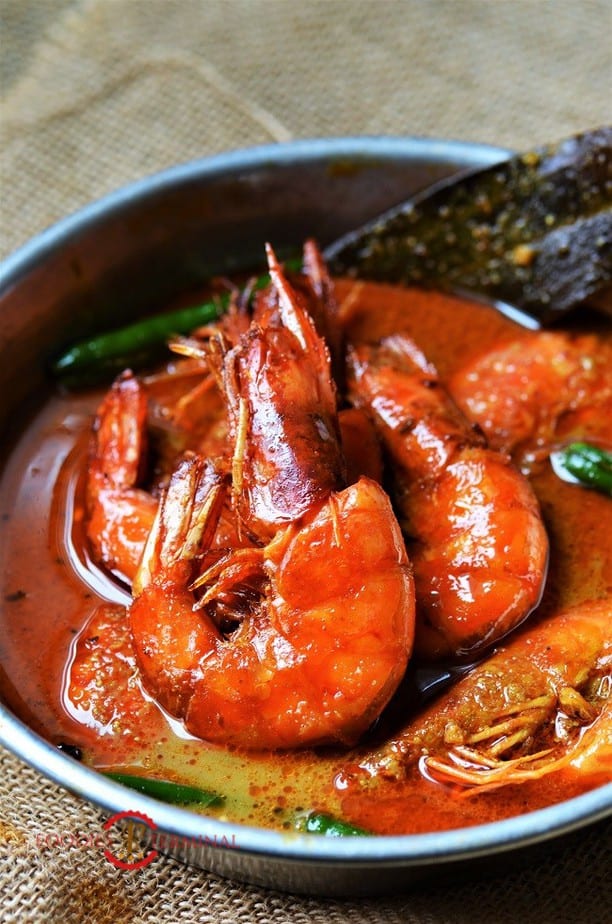 Chingri Macher Malai Curry Ingredients
To make an authentic Bengali style Chingri Macher Malai Curry Recipe these few ingredients are a must: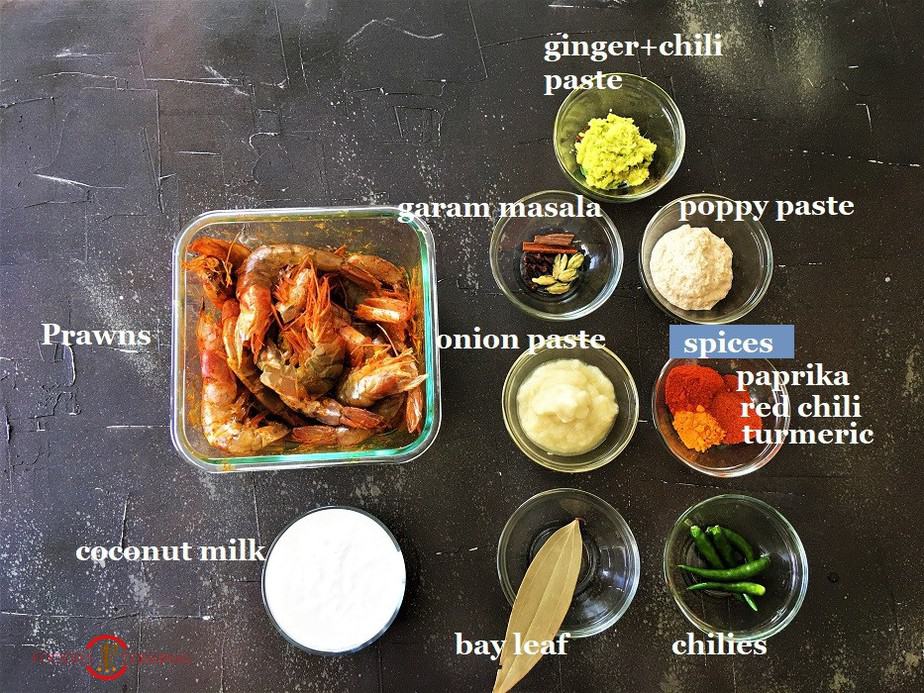 Tiger Prawns or Lobsters: Fresh & head intact ones are the best choice.
Coconut Milk: Fresh works best. If going with canned ones the thicker the creamier the better.
Spices: Turmeric powder, Red Chili powder, Paprika powder or Kashmiri red chili powder (totally optional).
For Tempering: Green cardamom, cinnamon, cloves, Bay leaf, green chilies (optional).
Pastes: Onion, Ginger + green chili, White poppy seeds.
6 Tips to make the best Prawn Malai Curry
Choose fresh Prawns, head intact: The deliciousness of this malai curry preparation solely depends on the prawns & max taste comes from it's head. So, the secret to a delicious Malai curry is the fresh prawns with head intact.
If choosing frozen prawns, grab wild caught: If fresh prawns are a rare thing in your area, choose frozen, shell intact & always go for wild caught. It's mentioned on the frozen packets.
Shallow Fry the Prawns: This is a must step. DO NOT skip & do not be tempted to release raw prawns to the gravy. You may leave the shell intact while frying or just keep the head intact & take the shell off the body. I always love cooking chingri macher Malai curry with fresh tiger prawns with both head & shell intact. We love sucking the shell drenched in the creamy gravy 😉 Just a bonus tip I provided here 😀
Fresh Coconut milk tastes best: It's a fact & no denying it here! So, if you have some extra time to extract fresh coconut milk than use that in this curry, you'll find the difference. Otherwise choose the best organic canned coconut milk that's thick & creamy. I used canned coconut milk in today's recipe.
Less is more here: Use less spices, less onion.
Do not over fry the onion: Over frying the onion will totally ruin the curry. So, fry the onion over medium low heat.
How Long can you store Chingri Macher Malai Curry?
Chingri Macher Malai Curry keeps good in the fridge for 3 days without any taste distortions. Store it in an air tight container for best results.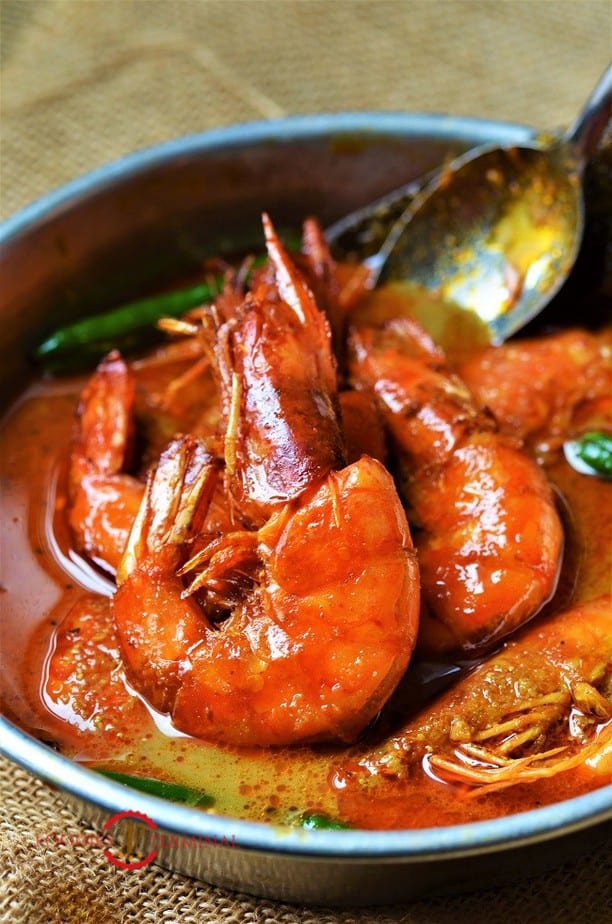 Can you freeze Prawn Malai Curry?
Yes, you can freeze Prawn Malai curry for upto 1 month. Follow these steps:
Use frozen prawns for best results.
The frozen prawns should be headless.
Use portion sized containers to store.
Use canned coconut milk to cook the Bengali style Malai curry.
After thawing the malai curry you may find a layer of water on the top. Drain that before reheat the Prawn Malai curry.
What to Serve with Prawn Malai Curry?
Prawn Malai Curry tastes best with Steaming hot white rice. We don't know any other way to enjoy it 😉 But, if you love pairing it with something else other than rice do share your ideas in the comments below.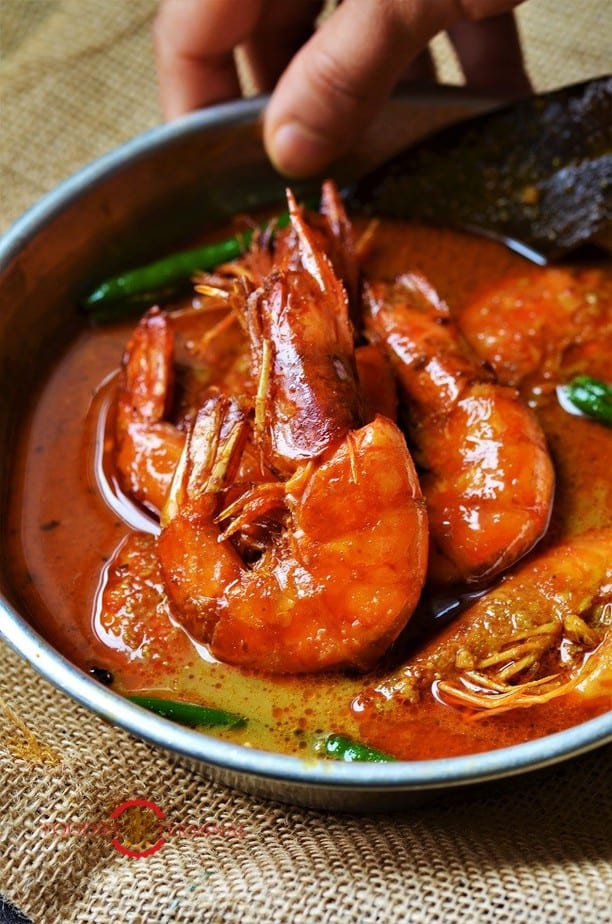 How to make Chingri Macher Malai Curry or Prawn Malai Curry? Step by Step
Steps in words below pictures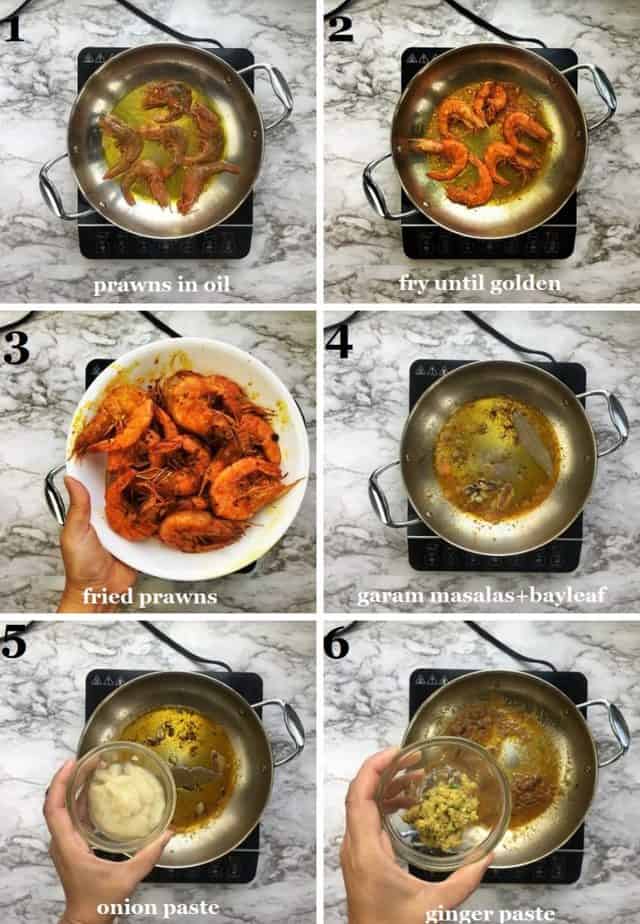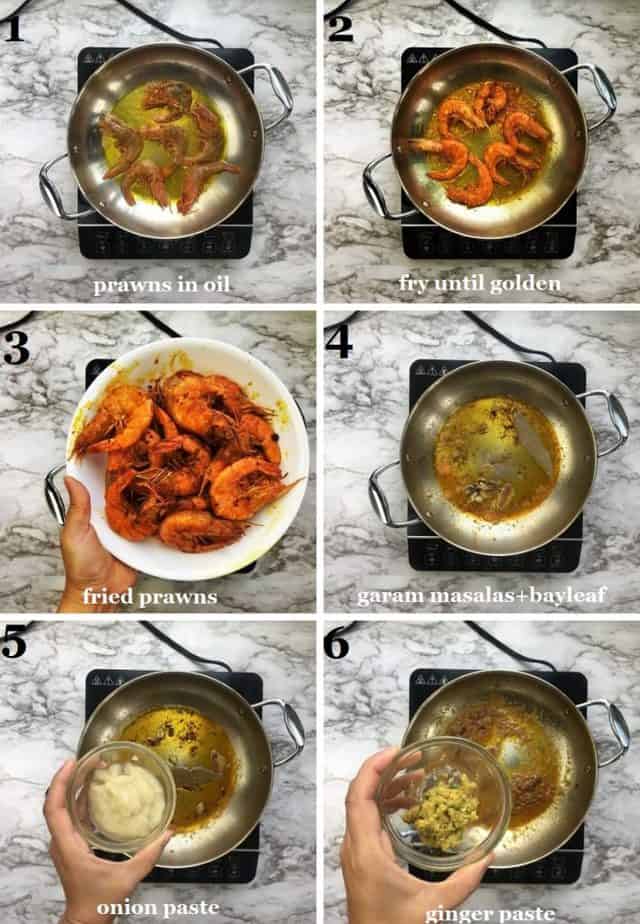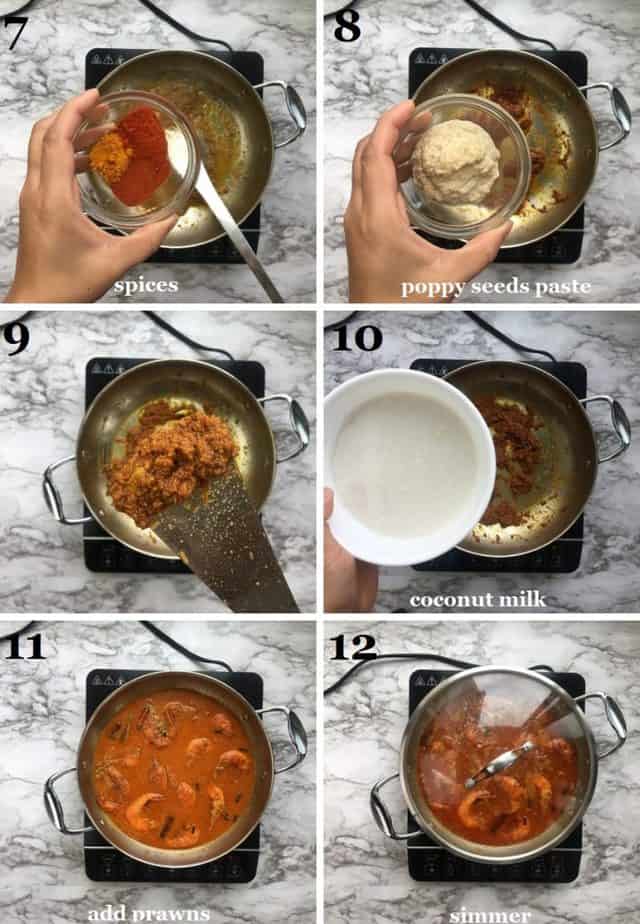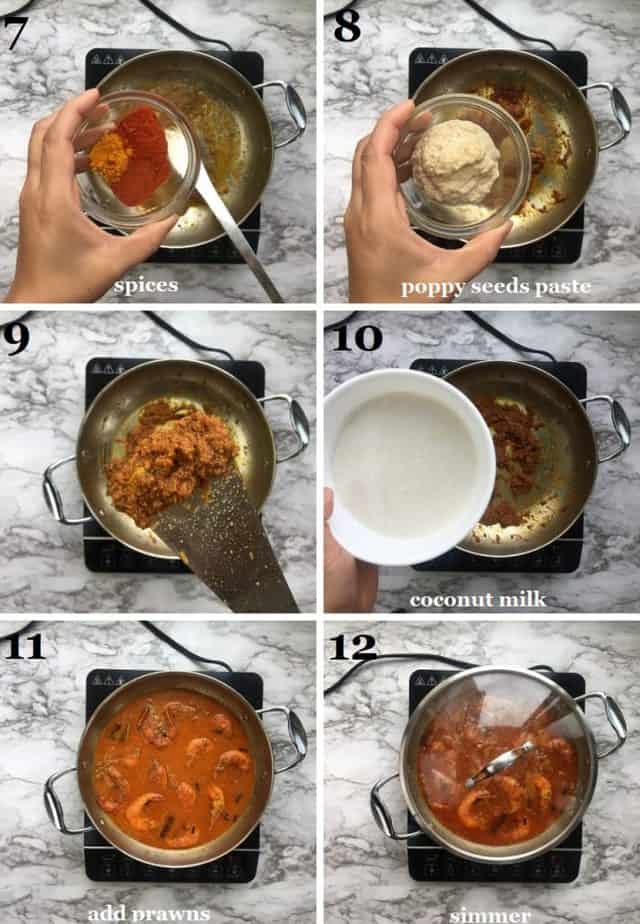 Clean, Wash & fry the Prawns
The heart & soul of this Prawn Malai curry is the prawns with head intact. there's so much taste & flavor that comes from the head of these quirky Arthropods 😀
I always love to get my hands on a fresh batch of Wild caught Tiger Prawns.
Begin by cleaning the Prawns, here's how to clean Prawns. Smear them with turmeric powder & salt. Shallow fry until golden. Use medium heat.
Prep the Malai Curry Sauce
In the same oil (Prawn fried oil) temper the whole garam masala & bay leaf until fragrant. Turn down the heat from medium to low. Allow the oil to cool down a bit before releasing the onion paste.
Saute the onion paste until the raw smell disappears. Indian cooking is all about sauteing or as we say Bhuna the masala well. There's no shortcut to it, if you skip you will never get that authentic taste.
Add the ginger+chili paste. Saute & kill the raw smell followed by the spices.
Mix well & allow them to blend with the pastes & become aromatic. It Should take you about 2 mins.
You need to give each & every ingredient sometime to get sauteed and hence, a lot of stirring but that's so worth it for a curry so freaking yummy 😉
Dump that gorgeous poppy paste & bhuna (saute) well. Pour the creamy coconut milk, whisk. Simmer for 2 mins.
Pro Tip: Never release onion paste in hot oil. It might get burnt & leave a bitter taste in the gravy.
Cook the Prawn in the Malai Curry Sauce
As you see that lovely layer of oil floating on the top of the curry add the shallow fried prawns and simmer covered for just 3-4 mins.
Serve that luxuriant Chingri Macher Malai Curry aka Prawn Malai Curry with steaming white rice.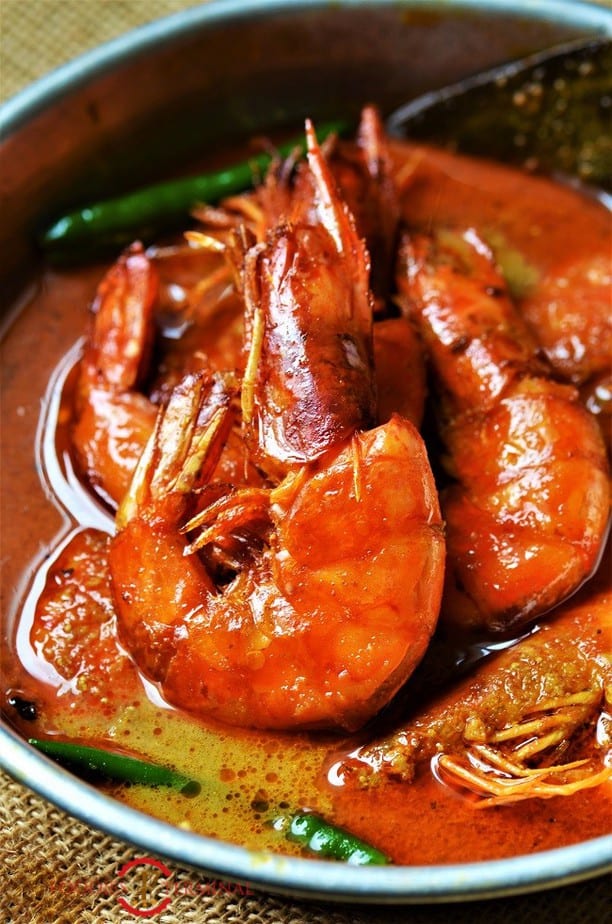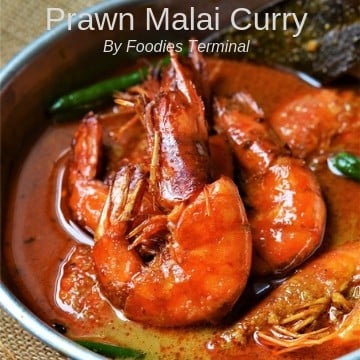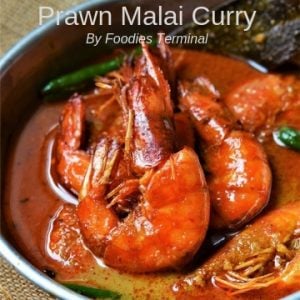 Chingri Macher Malai Curry
Print Recipe
Pin
Rate
Chingri Macher Malai Curry is a traditional Bengali recipe that's cooked with sauteed tiger prawns or lobsters in a mildy spiced coconut milk based curry sauce. It's also known as Prawn Malai Curry & is best relished with white rice.
Want more Recipe Videos?
Check out our Youtube channel!
Instructions
De-vein, clean & wash the tiger prawns. Do not discard the heads, you may also keep the skin intact.

Pat the cleaned prawns dry with the help of a paper towel. And smear with a pinch of turmeric powder & salt. Set aside.

Heat half of the mustard oil over medium flame. When the oil is moderately hot gently release the prawns and fry them over medium flame until pink. Set aside once done.

In the same skillet add more oil if need be. When the oil becomes moderately hot throw in the whole garam masala and the bay leaf. Crack the green cardamoms before adding to the oil otherwise they may burst. Allow them to sizzle for a few seconds.

Next, bring down the flame to the lowest setting and allow the oil to cool down a bit (1-2 mins). Gently release the onion paste, stir briskly & fry until the oil oozing state is reached. Increase the flame to medium while frying the onion paste.

Now, add the ginger + green chili paste and saute until the raw smell of the ginger completely disappears.

Add the spices, saute until well roasted, aromatic & oil starts to leave the sides of the pan.

Now add the white poppy seeds paste. Saute until the masalas are well roasted & the poppy seeds paste is fragrant. The masala will become darker, well roasted and very fragrant at this stage.

Add the coconut milk. Stir to mix everything well. Add salt & sugar. Mix well. Cover & simmer for 5 mins at medium low.

Finally, add the shallow fried prawns, cover & simmer for 3-4 mins at low heat.

Serve hot with hot rice. Enjoy!
Notes
Nutrition Facts
Chingri Macher Malai Curry
Amount Per Serving
Calories 285
Calories from Fat 117
% Daily Value*
Fat 13g20%
Cholesterol 315mg105%
Sodium 1075mg47%
Potassium 321mg9%
Carbohydrates 11g4%
Protein 27g54%
* Read our privacy policy – Calorie information is provided as a courtesy only and should be leveraged as an estimate rather than a guarantee.Percent Daily Values are based on a 2000 calorie diet.
Nutrition
Calories:
285
kcal
|
Carbohydrates:
11
g
|
Protein:
27
g
|
Fat:
13
g
|
Saturated Fat:
2
g
|
Cholesterol:
315
mg
|
Sodium:
1075
mg
|
Potassium:
321
mg
|
Fiber:
3
g
|
Sugar:
4
g
Pin It For Later!