Doi Maach recipe is a traditional Bengali fish recipe that requires minimal cooking & minimal prepping. You'll have lovely juicy, tender pieces of fish slow simmered & absolutely doused in a yogurt based sauce with minimum spices. Result? Dinner ready in 20 mins! This recipe is perfect for those busy weeknights or anytime of the year because it's insanely easy to make & is damn delicious. Learn how to make perfect Bengali style Doi Maach recipe Step by step & watch the video recipe too.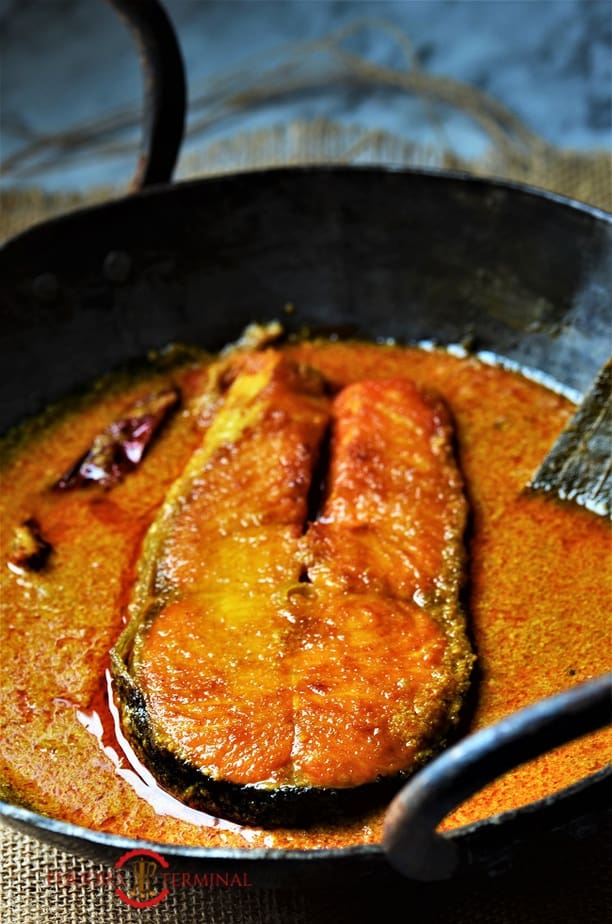 Doi Maach in Bengali Style
This Bengali fish curry won't break your back or jeopardize your whole day's schedule & you'll have dinner ready in 20 mins.
It's an answer to those super busy weeknights when you crave traditional but pressed for time.
And if you are a sea food fanatic just like us you'll have a party in your mouth when you have the first morsel of hot rice mixed with the gravy of Doi Maach.
Light, yummy & a mildly fragrant sauce that has a lingering faint aroma from the whole gram masalas, just adds so much depth & complexity to the gravy. It allows the juicy fish shine through all the time.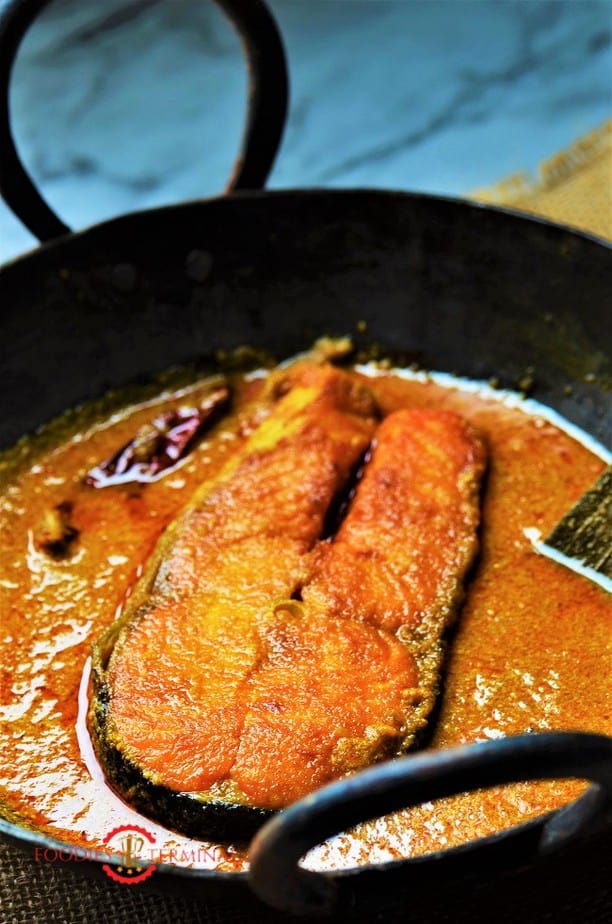 Don't worry a bit if you live far away from home just like me & can't hunt down fresh steaks of Rui or Katla.
Cook it with Salmon as I did today because the pairing of yogurt & Salmon is a happy pairing.
We don't get decent Rohu & Katla in the USA all the time and we always end up choosing Salmon for this Bengali style fish curry.
Salmon is just so appropriate for this recipe because it's naturally a fatty fish which is exactly what this recipe demands. Few days back I made this easy Fish Tikka Masala with Salmon too, & Oh boy! it packed a punch!
I love incorporating fish in our regular diet & feed my family a complete healthy food.
Fish is a healthy choice loaded with essential nutrients, gets cooked in a snap & so delicious like these crispy Fish Fingers & this Fish Finger sandwich. A perfect candidate for lunchboxes. Don't you think so? 
Let us know your thoughts in the comments below!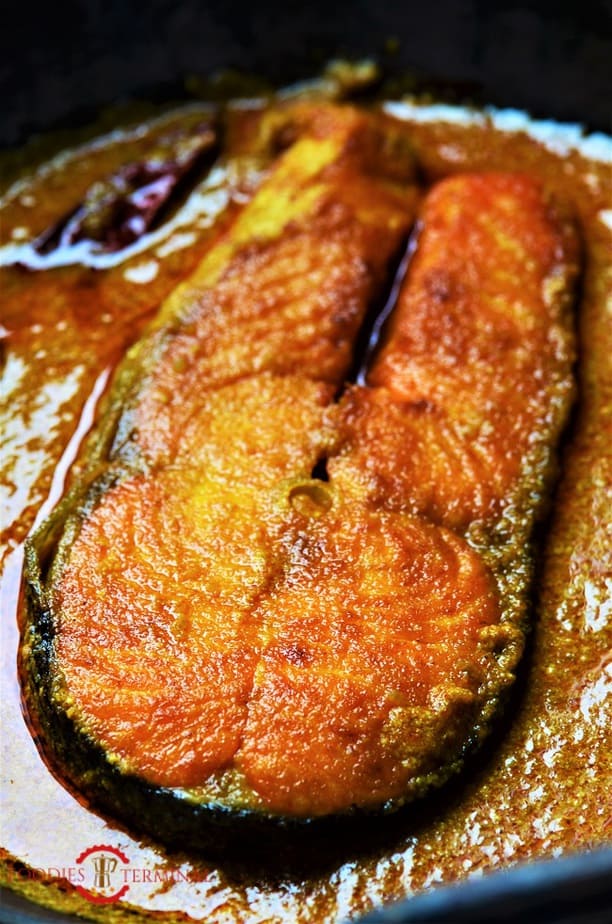 Doi Maach Recipe – FAQs
What is Doi Maach?
Doi = Yogurt
Maach = Fish
Doi Maach is a popular, much loved traditional Bengali fish curry recipe that's cooked with fresh pieces of fish steaks slow simmered in a mild, light yogurt based sauce.
Generally, locally caught fresh water fishes like Rohu & Katla are used to cook this Bengali traditional recipe because these fishes are readily available in the local fish markets.
Henceforth, these local caught fresh varieties make their way to the daily menu in a Bengali household.
A traditional recipe of Doi Maach calls for very basic, minimal ingredients & shallow frying of the fish.
Garlic & turmeric are optional ingredients & so is the onion paste & the ginger paste. We do cook an even lighter gravy with just yogurt, onion juice & ginger juice.
Pro Tip: For an even lighter Doi Maach gravy skip adding the onion paste, ginger paste & totally omit the garlic from this recipe. Instead whisk in about 1/4 cup onion juice (grated & squeezed) & 1 tbs ginger juice with the yogurt. Add it to the oil (not hot oil, NEVER). Simmer.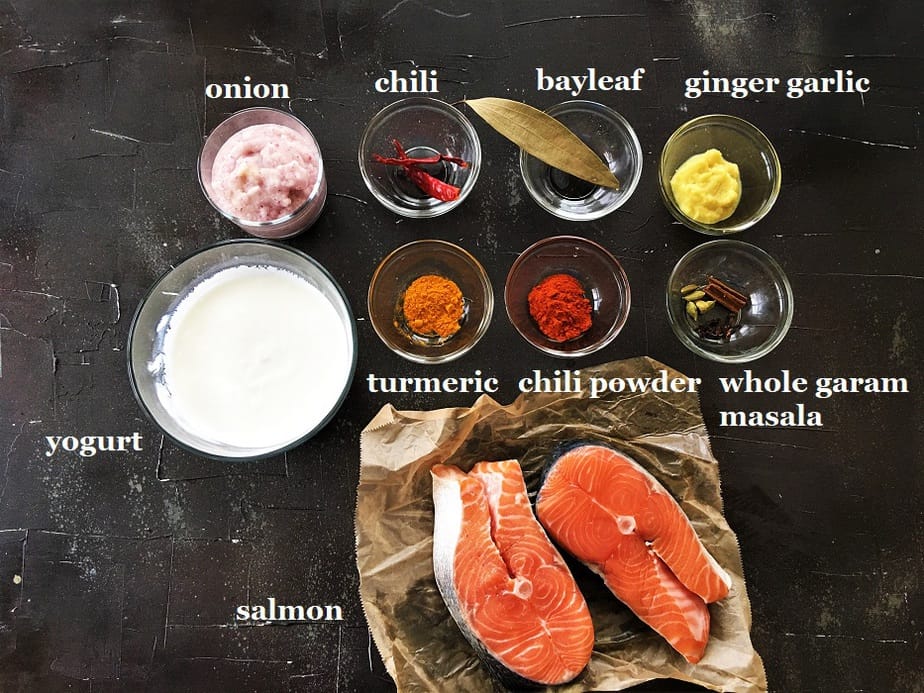 What are the ingredients for Doi Maach?
For a traditional Bengali style Doi Maach recipe you'll need the following ingredients:
Mains: Fish steaks (Bone in or Boneless, your choice)
For the Sauce: Yogurt, onion, ginger & garlic (optional).
For tempering: Dried Bay Leaves, Whole garam masala ( green cardamom, cinnamon, cloves)
Spices: Turmeric & red chili powder (both are optional).
Oil: Canola oil or Mustard oil.
Pro Tip: If using Greek yogurt for this recipe, dilute it with water to make it like regular yogurt consistency. You can also use home-made yogurt for today's recipe.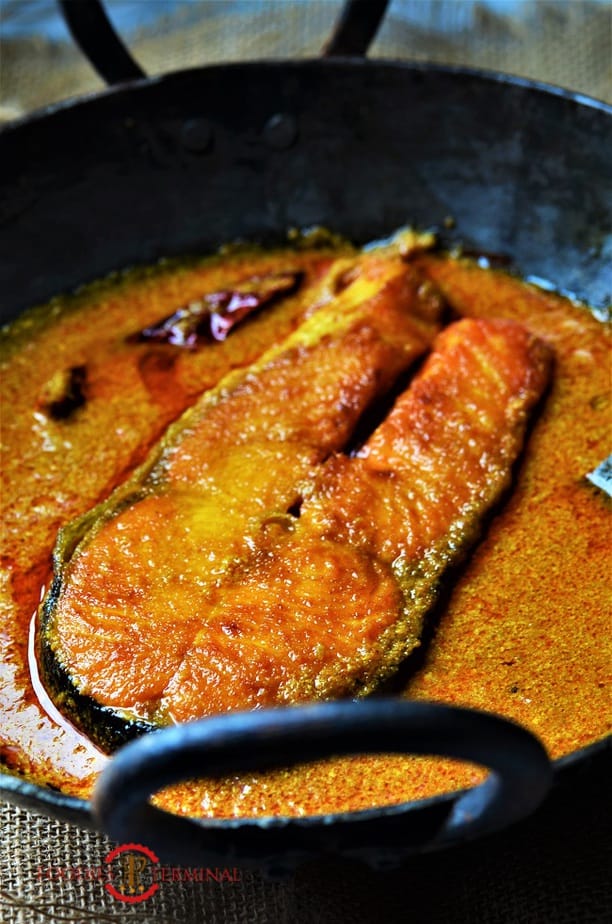 What are the best fishes to cook Doi Maach recipe?
Best fishes to use when in India:
Rohu or Rui.
Catla or South Asian Carp.
Bhetki or Barramundi or Asian Sea Bass.
Hilsa
Best Fishes to use when in abroad:
Salmon.
Bronzini or Mediterranean Sea Bass.
Black Bass.
Trout.
If you love cooking Doi Maach with any other fishes other than the ones mentioned above do let us know in the comments below. We would love to expand our list 😉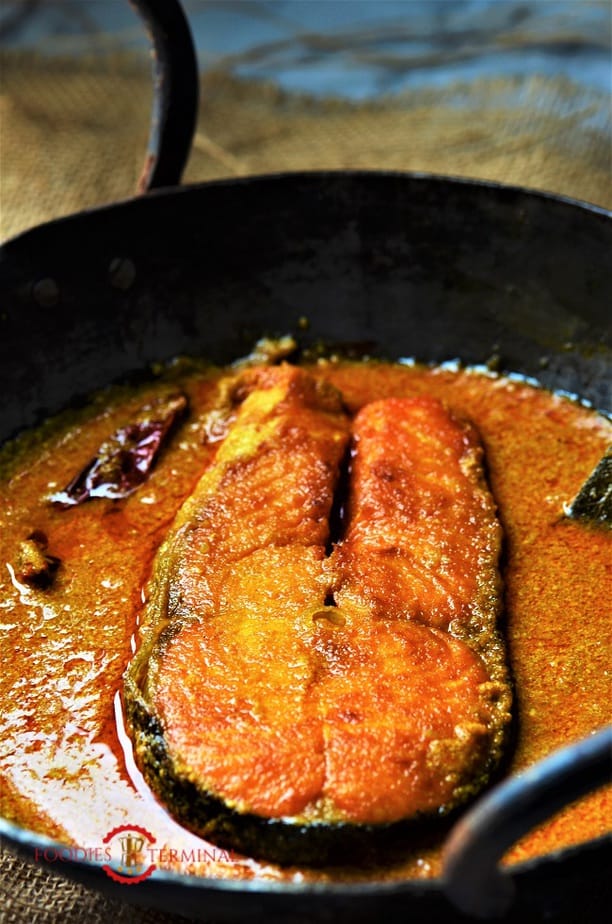 6 tips to make the best Doi Maach
Shallow Fry the Fish steaks: Yes, this is important for today's recipe because this guarantees super juicy & tender fish pieces in the gravy.
Dilute the yogurt: Never use thick yogurt or else you'll end up with an overwhelming and over powering taste in the gravy that'll shadow the taste of fish. The consistency of the gravy should be on the runny side but not watery.
Never add yogurt in a hot pan: This is very important. If you add yogurt to a hot pan it will split & ruin the gravy. Turn the flame to the lowest setting possible before adding yogurt or if you are a beginner in cooking it's better to turn off the flame. Add the yogurt, mix well & than switch on the flame & resume cooking.
Never add onion paste to smoking hot oil: Yes, your gravy will turn bitter because the onion paste will burn and leave a bitter taste. To prevent this from happening always add the onion paste at medium or medium-low flame.
Sugar is the key: Add a little sugar because it'll enhance the taste by manifold & balance the tanginess from the yogurt. After all, it's a that mildly sweet sauce that makes a Doi Maach recipe perfect.
Do not Change Pans: Use the same pan and the same oil (that you used to fry the fish steaks) to prepare the sauce. Using the fish fried oil & deglazing the pan will add depth & complexity to the Doi Maach. It will be elevate the taste manifold.
Pro Tip: Turmeric powder & red chili powder are optional ingredients simply added for color & heat. You may skip both. In that case you will have a white or creamish gravy.
How to cook Doi Maach – Step by Step
Steps in words below the pictures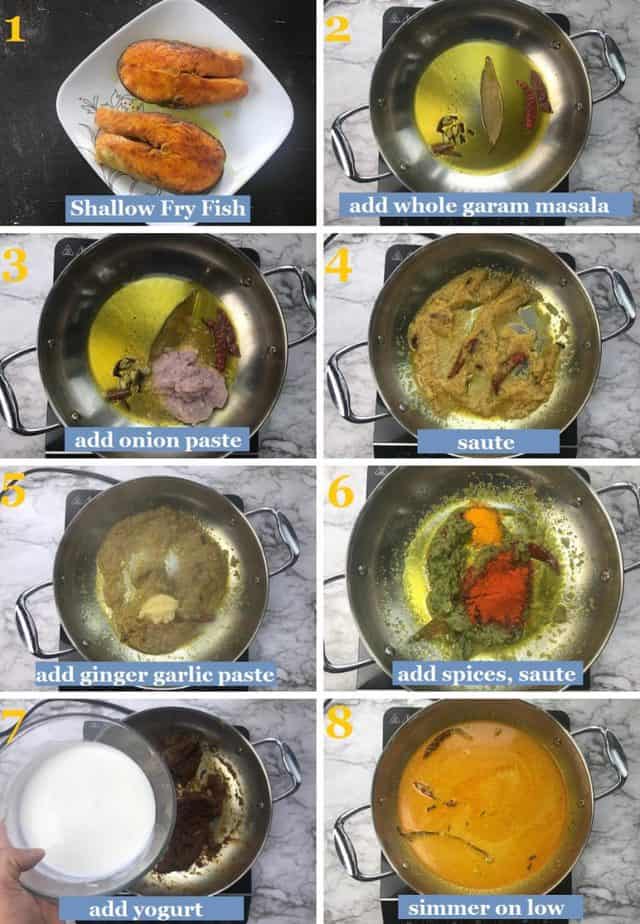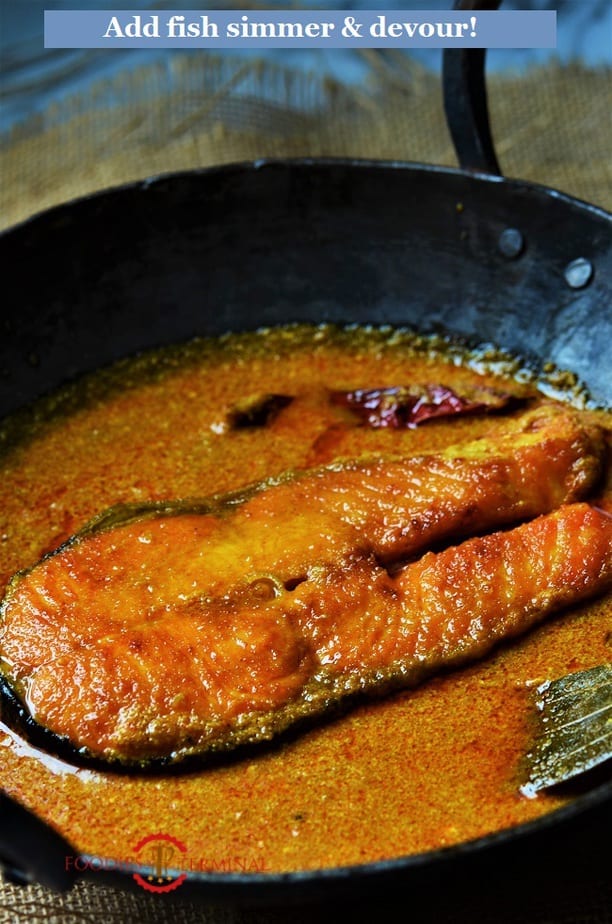 Bengali Style Doi Maach recipe steps explained in words
Little bit mild sauteing and 5 mins of simmering at low temperature is all you need to do for today's Doi Maach recipe.
Begin by shallow frying the fish & than tempering the garam masalas in the same pan.
Lower the heat to the minimum setting & add the onion paste. This is a MUST DO otherwise you'll end up with a bitter sauce, believe me that happened to be so many times during those initial days of mastering the art of cooking 😀 😛
Sweat off the onions until the pungency vanishes, add the ginger garlic paste, saute until the raw aroma begins to faint.
Add the spices if you want to or else you may totally skip them. In that case you will end up with a white gravy. I love the color from the turmeric & the heat from the red chili powder (also the color ;). Just mix!
Lower the heat to the lowest setting or if you are a beginner in cooking it's better to turn off the flame at this stage (VERY IMPORTANT).
Add the yogurt, mix vigorously. Pour water. Simmer & cook.
I love adding the shallow fried fish steaks to the simmering sauce just before serving. Simmer it for max 2 mins & serve immediately.
That way the fish doesn't become overcooked, dull & super soggy. It soaks up the right amount of sauce & plumps up with extraordinary tenderness.
Pro Tip: Lower the heat to the lowest possible setting before adding the onion paste & the yogurt. The onion won't burn & leave you with a bitter sauce. And the yogurt won't split.
Check out these seafood recipes from Foodies Terminal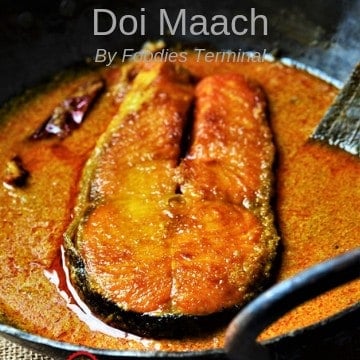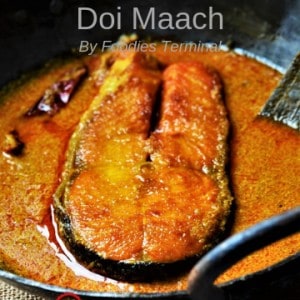 Doi Maach Recipe
Print Recipe
Pin
Rate
Doi Maach recipe is a mild, slightly sweet, delicious traditional Bengali fish curry cooked in a yogurt based sauce with minimum spices. It tastes best with hot steaming rice.
Want more Recipe Videos?
Check out our Youtube channel!
Instructions
Begin by cleaning the fish pieces thoroughly under running tap water. Drain excess water. 

Smear turmeric & salt on the cleaned fish steaks. Set aside.

Heat oil over medium high heat & release the fish steaks gently in the hot oil. Be very careful while doing so fish splutter a lot. Lightly fry both sides of the fish steaks. Set aside.

In the same pan add some more oil and temper it with the whole garam masalas (cardamom, cinnamon & cloves), bay leaf & the dried whole red chilies.

Next, reduce the flame to the lowest settings, allow the oil to cool down a bit. Than, add the onion paste, saute until the raw smell of the onion begins to mellow.

Add the ginger garlic paste, the turmeric powder, red chili powder, salt & sugar. Saute until the raw smell of the ginger garlic paste begins to faint.

It's time to add the yogurt. Before adding it to the pan, add a few teaspoons of water to the yogurt and whisk it to a smooth & pourable consistency.

Next, lower the heat to the lowest settings or turn off the heat before adding the yogurt to the pan. Adding yogurt to the hot pan might split it if not stirred quiet vigorously & almost instantly.

Add the yogurt & mix briskly. Pour some water according to your liking. Adjust the salt & sugar. Mix well. Cover & simmer the gravy at low heat.

When ready to serve add the shallow fried fish steaks to the gravy. Simmer for about 2 mins & serve hot with piping white rice.
Notes
SERVING IDEAS: You can't go wrong when you serve Doi Maach with steaming hot white rice. If you are not much of a rice lover try dunking in some hot Chapatis (Indian flat bread).
STORING SUGGESTIONS: It keeps in the fridge for 5 days with no taste distortions 🙂 Go beyond the 5th day mark at your own risk 😀 😉
DO NOT CHANGE PANS: Yes, use the same pan & the same oil that you fried the fishes. Deglaze the pan while sauteing the onion paste, those brown bits of fish skin when scrapped off from the pan add so much flavor, taste & intensity to the fish curry. I changed pans in the video because I could not accomodate those huge fish steaks with the sauce in the same pan that I used for frying the fish.
FISH SWAPS: I used Salmon steaks. You may use Katla, Rohu, Bhetki, black bass, trout or bronzini.
Each salmon steak that I used weighed almost 300 gms. So, though it's only 2 steaks that I used for cooking todays recipe it can completely satisfy and satiate 4 people easily.
Nutrition Facts
Doi Maach Recipe
Amount Per Serving (150 g)
Calories 215
Calories from Fat 103
% Daily Value*
Fat 11.4g18%
Sodium 674mg29%
Carbohydrates 18.5g6%
Protein 9.4g19%
* Read our privacy policy – Calorie information is provided as a courtesy only and should be leveraged as an estimate rather than a guarantee.Percent Daily Values are based on a 2000 calorie diet.
Nutrition
Serving:
150
g
|
Calories:
215
kcal
|
Carbohydrates:
18.5
g
|
Protein:
9.4
g
|
Fat:
11.4
g
|
Saturated Fat:
2.6
g
|
Sodium:
674
mg
|
Fiber:
1
g
|
Sugar:
6.1
g
Pin it for Later!