Chicken 65 Recipe - The tangy, spicy and deliciously red Chicken 65 dominates the Indian appetizer menu across the globe. The racy flavors of Chicken 65 are hard to forget. Read through the recipe to discover how surprisingly it is easy and quick to make this Chicken 65 recipe in your kitchen with Instant Pot.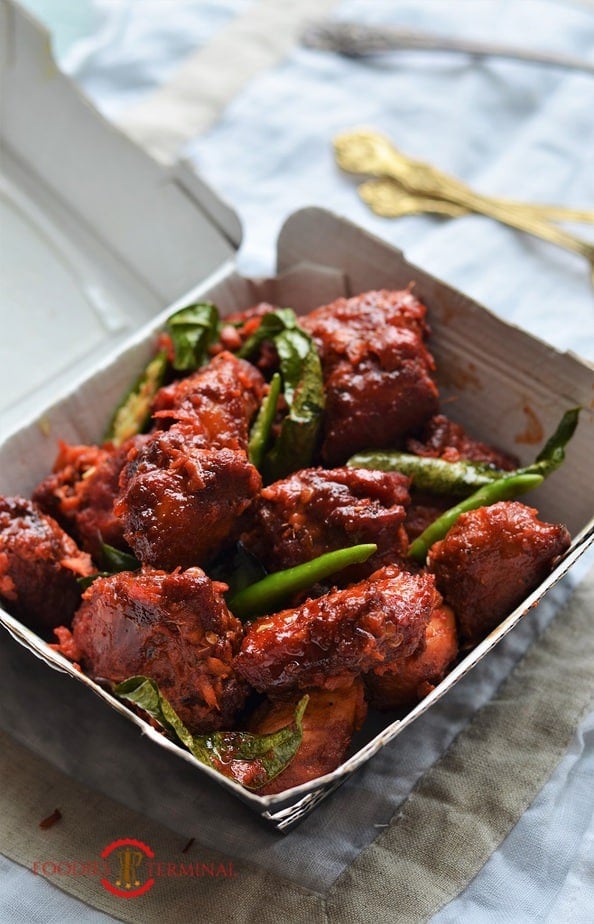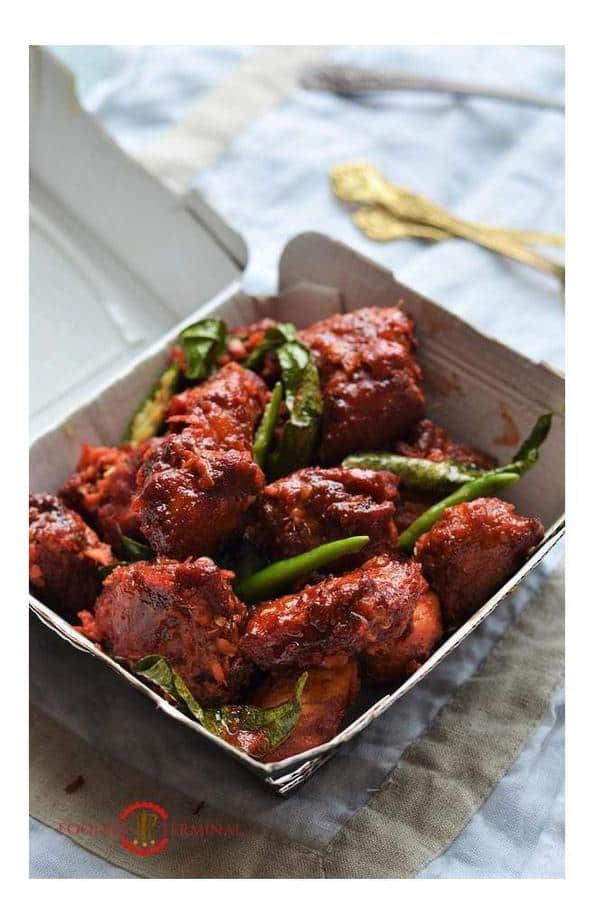 [toc]
Chicken 65 or Chicken Sixty Five amazing facts:
What is Chicken 65 or Chicken Sixty Five ?
Chicken 65 is one of the most popular Indian chicken recipes. It is an appetizer or entree recipe originating in South of India. Basically it is deep fried small (bone in our bone out ) pieces of marinated chiken sauted in super tangy chilli garlic sause.
Which is the best chicken 65 recipe ?
Keep in mind, there is an endless number of ways to cook Chicken 65 & no two recipes are the same. All of them are awesome regional diversity of indian Chicken 65 recipes. Checkout most popular variations:
Karnataka Chicken 65 Recipe variation:
The recipe from Karnataka uses lots of freshly grated coconut to garnish the dish.
Hyderabadi Chicken 65 Recipe variation:
Andhra people love their Chicken 65 spicy & hot, they skip the frying part as well. Instead, they love to cook their tender pieces of Chicken 65.
Tamil Nadu Chicken 65 Recipe variation:
The Tamil Nadu version is similar to the version originating from Kerala with just slight variations. They use fennel seeds & lots of peppercorns to prepare the ground masala used to cook the Chicken 65 recipe.
Where is Chicken 65 origin?
The roots of the invention of the fiery hot Chicken 65 Recipe is related to the Hotel Buhari in Chennai, Tamil Nadu. Back in 1965, a gentleman named A.M.Buhari invented this supreme entree recipe of Chicken 65. Source Wiki.
When A.M.Buhari was asked in an interview regarding the nomenclature of Chicken 65, he evidently said it's a pure spur of the moment decision.
What is the meaning of 65 in Chicken 65 ?
Chicken 65 - a baffling name! It's an inquisitive recipe name that leaves people with curious questions! Isn't it? At some point in your life, you too have wondered, "Why the name Chicken 65?"
I have heard and read many theories. Believe me each of make sense and are interesting to know.
Here is a list of theories explaining the meaning of 65 in Chicken 65:
For preparing chicken 65, a whole chicken was cut into 65 small pieces.
For the Chicken 65 recipe, 65 different kinds of spices were used.
In a military canteen in Chennai, the spiced up chicken recipe was always served as 65th item in the menu. North Indian soldiers, not being able to read Tamil, just ordered Chicken 65.
For making a spicy Chicken 65 recipe, 65 chilies were used for a whole chicken.
The recipe was invented in the year of the 1965.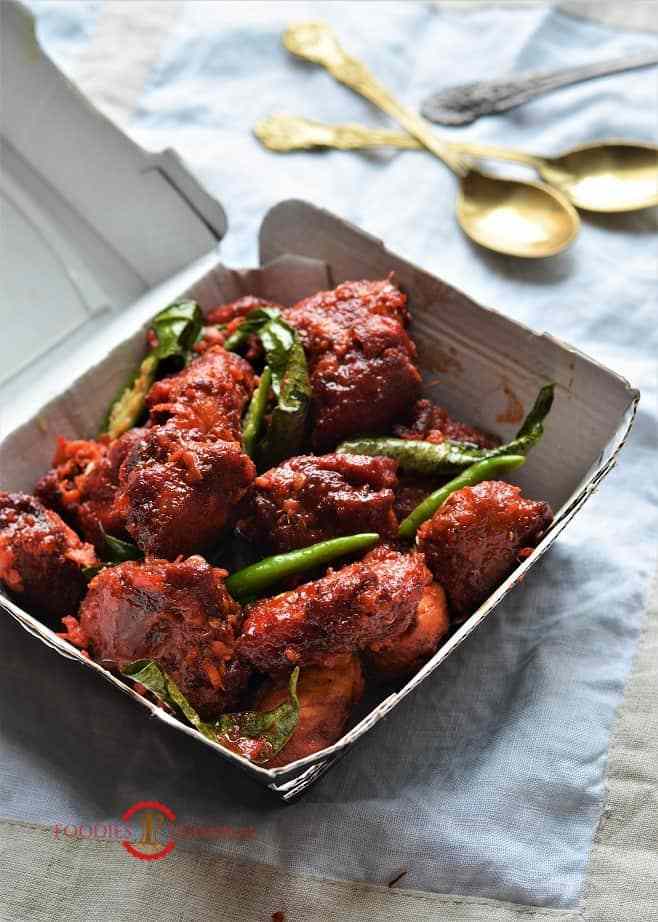 What are the ingredients of Chicken 65 ?
Chicken.
Yogurt.
Egg.
Ginger & Garlic (paste and chopped).
Corn flour or cornstarch.
Indian Spices ( Turmeric powder, Kashmiri red chili powder or paprika powder, Crushed black pepper powder, Garam masala powder, Dried whole red chili, Red chili powder)
Indian Herbs ( Curry leaves, Green Chilies )
Sause (Tomato Ketchup, Chili garlic sauce or any hot sauce)
Beet Juice ( for red color)
Lemon juice.
Is Chicken 65 Keto ?
This Chicken 65 recipe is not keto. But, you can easily convert it to keto. This is how:
Keto-fy Chicken 65
Replace the cornflour with coconut flour.
Replace the yogurt with sour cream.
Increase the amount of lemon juice or vinegar to achieve the tartness of the replaced yogurt.
Skip the sauces while stir frying.
Is Chicken 65 Gluten free ?
Every Chicken 65 recipe may not be gluten-free, it's because of the tomato sauce or tomato ketchup. The Chicken 65 restaurant style that I cooked here is definitely a gluten-free recipe because most of the tomato ketchups available in the USA are gluten-free & Cornstarch contains no gluten.
If you want to make your Chicken 65 restaurant style a gluten free one than do use gluten free tomato ketchup & sauce, rest assured corn-starch contains no added gluten!
Can you freeze Chicken 65 ?
Yes, you can. This recipe is perfectly freezable & keeps good for 1 month!
I prefer to freeze them in portion size zip lock bags. That way it's quiet easy to take the individual portions out from the freezer, thaw & re-heat.
You may either freeze the deep fried chicken pieces or you may even freeze them after sauteing them with the sauces. If you decide on the latter just skip adding the green chilies. However I prefer to thaw & then saute mine with the sauces, green chilies & curry leaves. But, it's just me 🙂
Chicken Sixty Five Recipe or Chicken 65 Recipe
Step-by-Step methods for Chicken 65 Recipe
Cut the chicken pieces into 1 " cubes. Set aside.
Grate the beet root & extract its juice by squeezing it with the help of your palm. The beet juice gives a wonderful rich red color to the dish.
To the bowl containing the chicken pieces add yogurt, ginger garlic paste, turmeric powder, red chili powder, kashmiri red chili powder, garam masala powder, lemon juice, salt, cornstarch, crushed peppercorns, & egg. This is for the marinade.
Mix everything well so that all the chicken pieces are nicely coated with the marinade. Set aside for at least 30 minutes.
Next, set the Instant pot to the "saute" mode and set the saute mode to the "more" heat option (refer to the pic). You can do this by pressing the "saute" button itself.
Pour sufficient oil in the Instant pot for deep frying the chicken pieces and allow it to become hot in the saute mode.
When the oil becomes hot gently release the marinated chicken pieces in the hot oil.
Fry the chicken pieces in batches until golden & crisp. Set aside.
Press the "cancel" button & carefully pour the excess oil in a separate container leaving behind around 5 tablespoons oil in the pot.
Switch on the Instant Pot on "saute" mode and set it to "normal" (refer to the pic).
When the oil becomes hot gently release the curry leaves & dried whole chili ( I skipped dry whole chili) and allow them to sizzle for a few seconds.
Finally, add the chopped ginger, garlic & the slit green chilies and saute for a few mins.
In the meantime while sauteing the ginger and garlic prepare a quick sauce for stir-frying the deep fried chicken pieces. Whisk together yogurt, ketchup, freshly made beet juice, and chili garlic sauce or any chili sauce or hot sauce.
Gently pour the prepared sauce to the oil & stir for a few seconds.
Next add the deep fried chicken pieces to the sauce and keep frying for a few mins until all the chicken pieces are well coated with the sauce.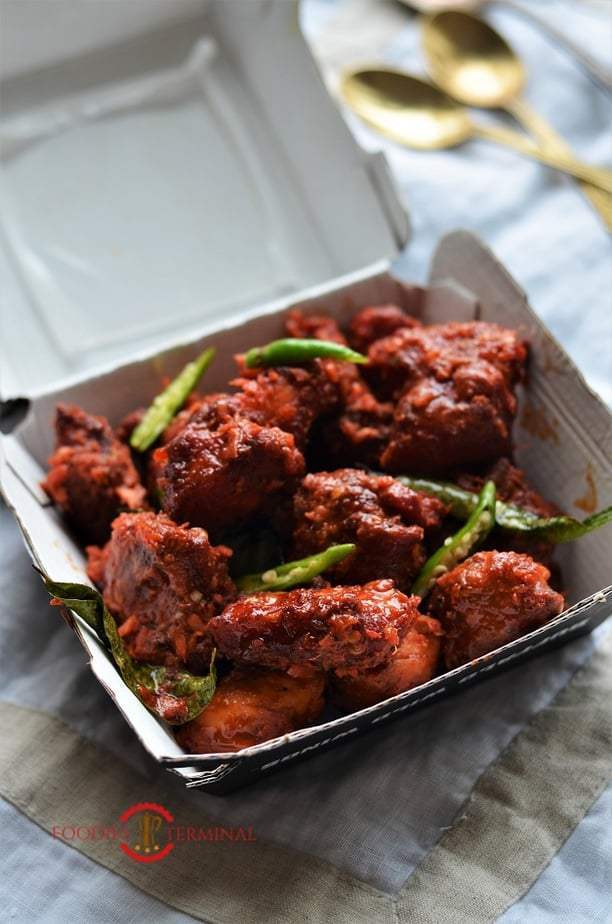 If you try this recipe or any other recipe from this blog, let us know! Leave a comment, rate it! Hearing from you is what makes my Day!
Follow us on Facebook & Pinterest.
Tag a photo on Instagram.
Amazing Chicken Starter Recipes from Foodies Terminal
Measuring cup used, 1 cup = 240 ml & 1 teaspoon = 5 ml.
DID YOU TRY THIS RECIPE? Do not forget to give a STAR (*) rating. Just click on the stars on the Recipe Card below to rate!
Recipe card for Chicken 65 Recipe in Instant Pot
Pin It for Later!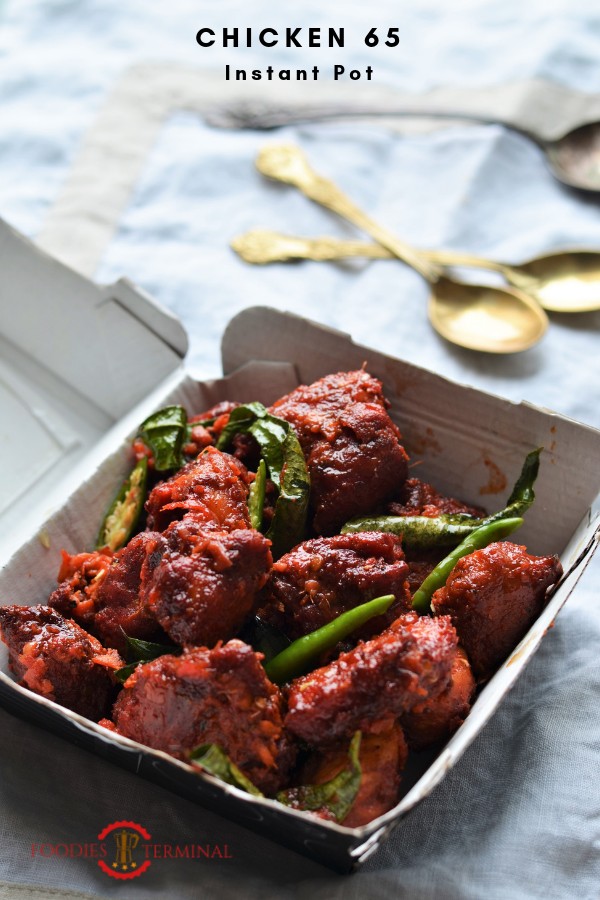 Expert tips from Foodies Terminal
Tips for Chicken 65 Gravy Recipe
The gravy consistency is totally an individual preference. In a cup of warm water add 1 tbsp of cornflour and mix it well. In the end , slowly mix the cornstarch water with the Chicken 65 on low heat until desired consistency is achieved, and then simmer for 5 mins.
Tips for Chicken 65 Dry Recipe
Honestly, dry does not mean dry. In all the variations tried by Foodies Terminal , we did find using yogurt 9 ( included in the recipe ) helps a lot to preserve the flavors from spices and keep the chicken tender.
How to prepare or buy Chicken 65 masala or
Chicken 65 masala powder ?
You can buy Chicken 65 masala in any Indian Store. But take my words, the basic Indian spices does just fine. Follow the spices mix in the recipe and you will be surprised by how basic flavors do magic in Indian recipes.