Chicken Chapli Kabab also known as Peshawari Kabab is absolutely tender chicken keema meat infused with such flavorful spices & given a flat disc shape resembling a patty. Make these minced chicken Kabab easily on a skillet with drizzles of oil. A perfect candidate for barbecue parties these Chapli Kabab just melts in the mouth every single time.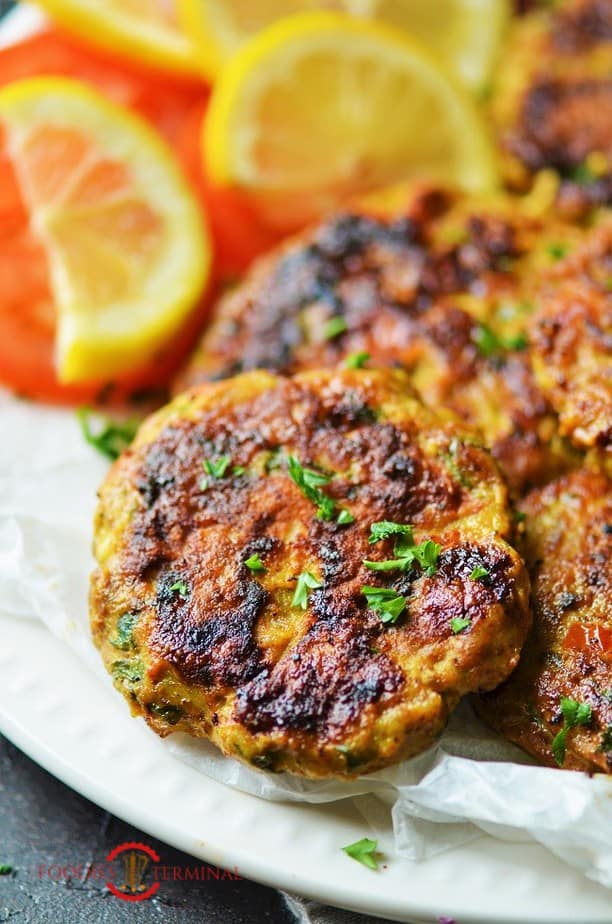 Chapli Kabab Recipe Video
Chapli Kabab with Chicken Keema
You are so on time for this super easy, extra quick & extremely delicious flat as a disc Chicken Keema Kabab recipe known as Chapli Kabab or Peshawari Kabab.
This Mughlai influenced Pashtun style Chicken Chapli Kababs will get you hooked.
These patty shaped kababs are can't-stop-at-one kind – versatile, extraordinarily delicious & so easy that even if you have no experience with cooking you can still make them successfully once you go through this post.
Chicken Keema combined with mild spices, cilantro and onion & given a flat patty shape. They are then shallow fried on a skillet until golden. This is exactly what a Chapli Kabab is.
Result is absolutely tender flavor infused juicy meat bite after after. So irresistible and so good & so flaky.
You can also use lamb or beef keema to make a chapli kabab.
Peshawari Kabab is the heart and soul of Peshawar, the present day north-west Pakistan.
These Chapli Kababs almost rules the whole region of Khyber. A much loved street food that's been served by 2,000 delicious Kabab houses in the area of Peshawar.
Make them at home with just a few pantry staples.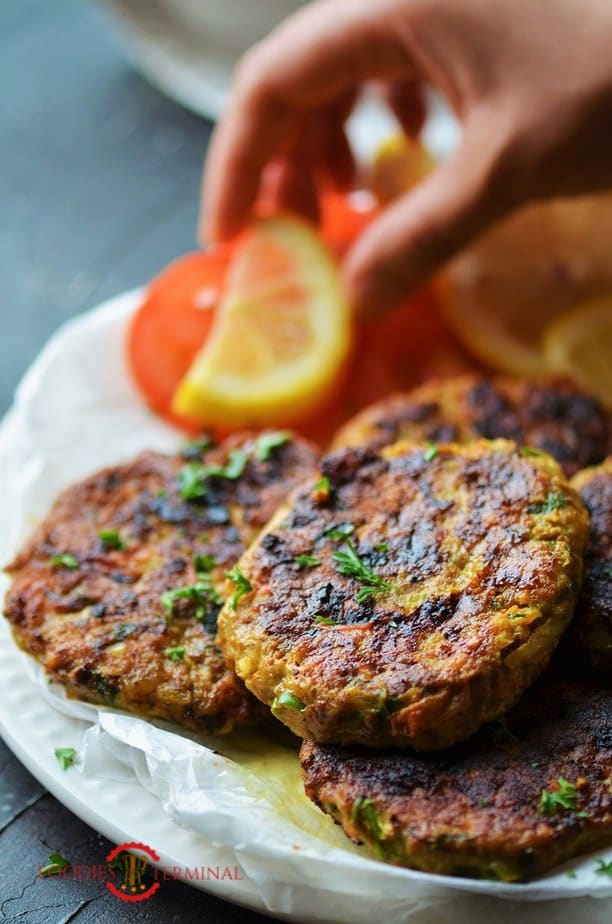 What is Chapli Kabab?
Chapli Kabab is a popular minced meat Kabab that's cooked in Pashtun style and resembles a disc shaped patty. It's cooked with either beef, lamb or chicken keema that's flavored with few oriental spices.
Chapli Kabab originates in Peshawar, which is at present north-west Pakistan. Hence, it is also known as Peshawari Kabab.
These Kababs are locally shallow fried on a large tawa (Indian flat iron skillet) but you may also deep fry them or cook on a grill.
In Pashto, Chapli = Chaprikh or Flat. Hence, the name Chapli Kabab which means a flat Kabab.
Peshawari Kabab Ingredients
This is the full list of ingredients that you'll need to make Peshawari Kabab: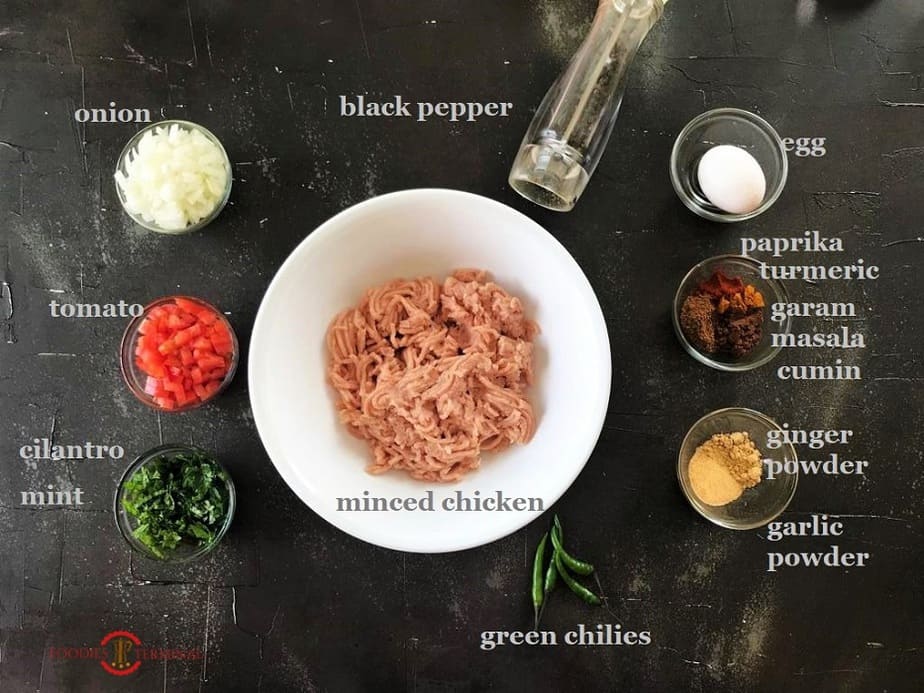 Chicken Keema or Chicken Mince: Finer the better.
Spices: Paprika, garam masala, cumin powder, turmeric powder & black pepper powder. The spices will pack a robust punch. So irresistible.
Tomatoes: Choose juicy ripe tomatoes for best flavors & not excessive tang.
Roughly chopped Mint + Cilantro: The Mint is the star in today's recipe. Never ever think of skipping it. It's so typical of Afghani Peshawari Kabab recipe that makes it complete.
Onion: Chop them finely for best results. You can use either white onion or red onion.
Ginger + Garlic powder: If you do not have powders add ginger & garlic paste.
Green Chilies: These Kababs are best served spicy. And you get that heat & kick from the Indian green chilies. But, you may omit them if you hate spicy food.
Egg: In this recipe egg is a must. It boosts the fat content of the meat & make the kababs so juicy & tender.
7 Tips to make the Best Chicken Chapli Kabab
These are a few things you need to take care in order to tame this recipe.
Choose a fine paste like consistency Chicken Keema: There should not be any large pieces of granulated meat in the minced chicken. It should be completely smooth.
Skip Lean Chicken mince: Some amount of fat is very essential in this Afghani Chapli Kabab recipe. The fat will make the Kababs tender, moist & juicy. If the chicken keema is lean add some extra fat (the white soft oily part) from regular chicken meat. Process the keema + the extra fat in a food processor.
Do not skip the egg: The egg is so so important in a Peshawari Kabab recipe. This is because the egg adds tons of fat in the meat making the kababs super juicy & tender. Specially if the chicken mice is super lean the egg will help to add so much essential fat to the recipe.
Never forget the mint leaves: The fresh chopped mint adds a burst of flavor that's so typical of any Chapli Kabab. I would not recommend skipping it under any circumstance.
Pop the Chapli mix in the fridge: This is so important, so do not skip it even if you are in a hurry. After mixing all ingredients with the chicken keema allow it to rest for 30 mins in the fridge. This will help to firm up the chicken mince & you can easily shape up all the patties. This trick helps every single time!
Moisten your palms, SUPER IMPORTANT: The Peshawari Kabab mix is sticky and soft. Don't worry, it has to be this way. Do not add breadcrumbs. Instead moisten your plam with drops of water or oil & shape the Kababs. You'll find it so easy to shape them this way!
Always Shallow fry over medium heat: Medium heat is just so important for this recipe. It allows the Kababs to cook slowly & uniformly keeping them so juicy & moist.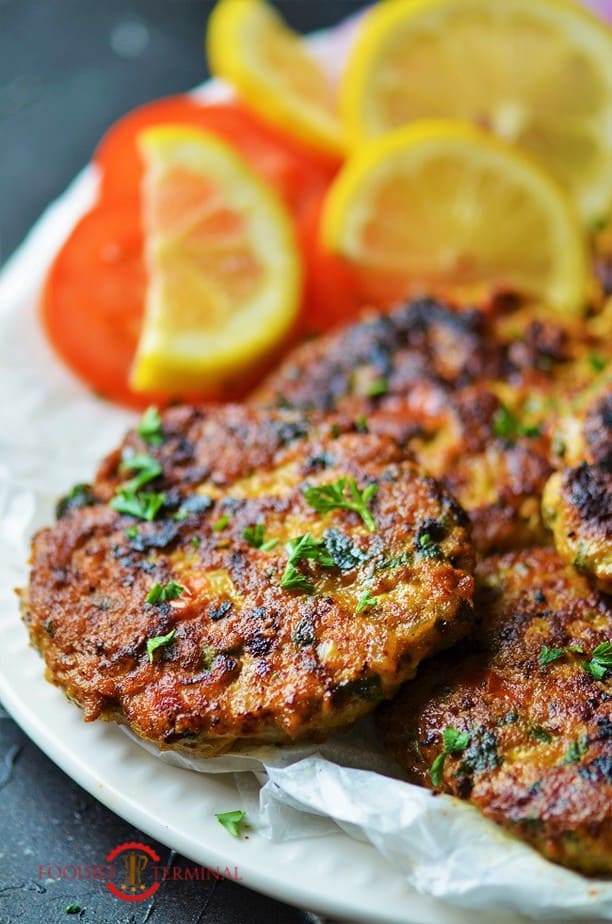 How to make Chapli Kabab soft?
Making soft, juicy, tender chicken Chapli Kabab is easy!
You need to spot the finest chicken mince with some amount of fat in it. If the Chicken mince is grainy or chunky just process it a couple of times in your food processor.
Mix the ingredients very well with the chicken mince with your hands. Do not knead or press. Just mix well.
Cook it at the right temperature & that is of course medium heat. High heat will dry out the Kababs making them stiff & chewy.
Keep them covered: Keep the Chicken Chapli kababs covered lightly once they are completely cooked. This will help to lock the juices & prevent the cooked meat from drying out.
How to prevent Chapli Kabab from breaking?
The minced chicken mixture for Chapli Kabab or Peshawari Kabab is sticky & soft.
You can prevent the Kababs from breaking by popping the chicken mince mixture for 30 mins in the fridge before shaping the patty.
Once you are ready to shape the patty wet your palms with few drops of water or by rubbing some kind of oil.
Shape the Kababs & place them directly in moderate hot oil on a skillet.
These Kababs are tender & fragile when raw, so it's wise to avoid shaping them all, keeping them on a plate & than shallow frying them.
Palm to skillet journey is the best bet to prevent your Peshawari Kababs from falling apart on you 😀 😉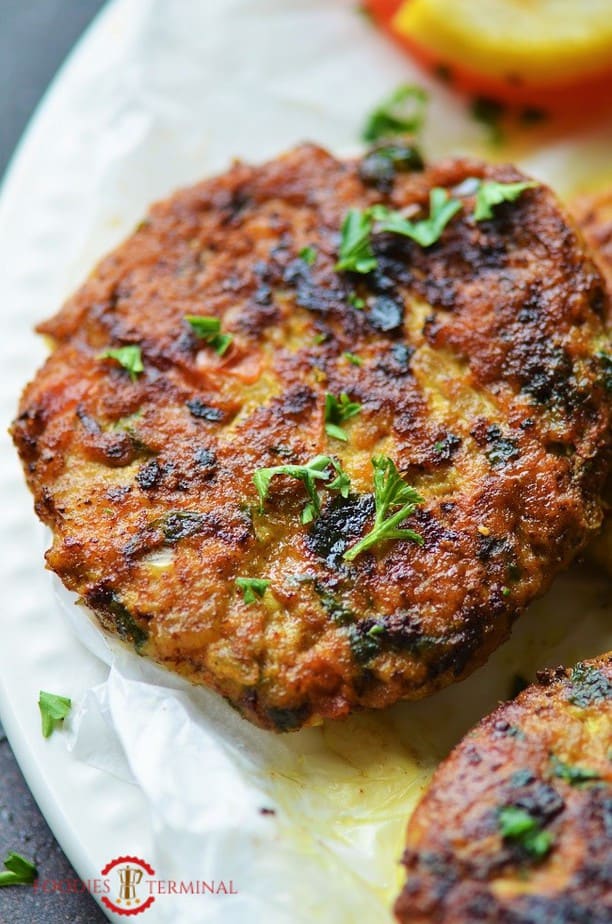 What to serve with Chapli Kabab?
Peshawari Kabab goes well with sliced tomatoes, onions & lime wedges.
You may also serve them with Naan, a special rice dish known as Kabuli Pulao, plain pulao or wrap them up along with sliced juicy tomatoes, onions & chutney of your choice.
We love Chapli Kabab a weired way though & eat ours with Hummus & a simple tomato onion salad 😛 😀
How to freeze Chapli Kabab?
Yes you can for 1.5 months!
Chicken Chapli Kabab recipe is freezer friendly when you store them the right way.
And here's exactly how you can do that and extend there Freezer life:
Layer a baking tray with parchment and place the kababs in a single layer without touching each other or over crowding.
Pop this tray in the freezer & allow the Kababs to freeze completely.
Take out the tray and place the frozen kababs in freezer safe bags & pop the bag in the freezer. Keeps good for 1.5 months!
The above is the smartest way to store them because you won't ever end up with a big mound of frozen kababs pathetically sticking to one another!
This way the Chicken Chapli kababs won't stick to one another because they are frozen individually. Hence, you can thaw as many kababs as you want according to your need.
How to store Chapli Kabab?
You can store Chapli kabab in the fridge for 7 days!
Store them in an air tight container.
Easy Chicken Appetizers that are BOMBS! 😉 Check them out below!
How to make Chicken Chapli Kabab? Step by Step
Steps in words below pictures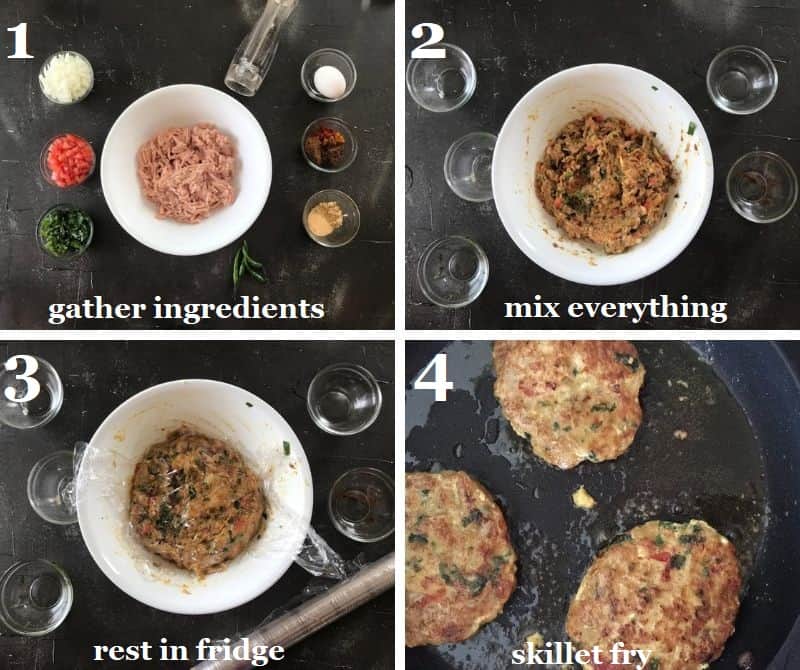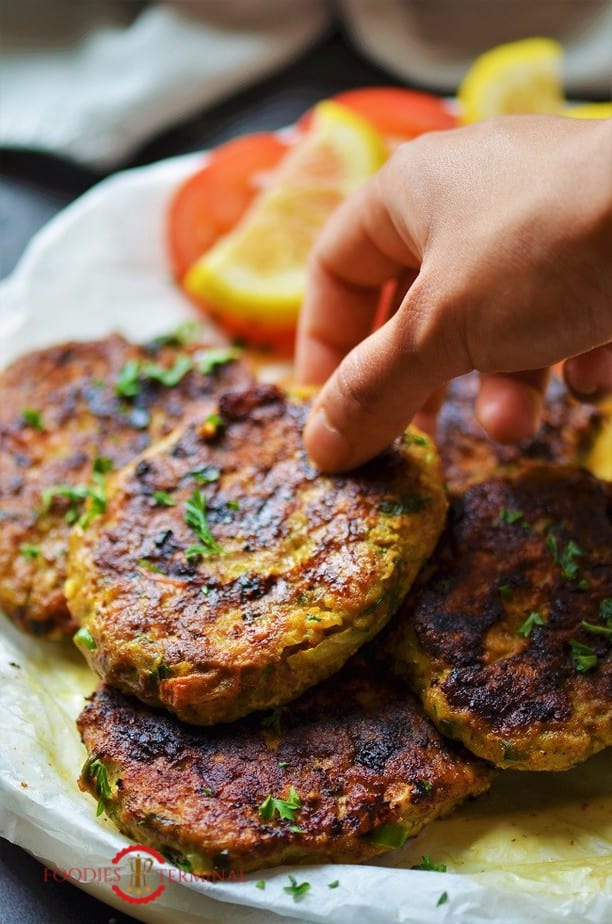 How to make Chicken Chapli Kabab? Step by Step
Gather all ingredients

It's always a good idea to gather the ingredients at one place when a recipe demands more than 3-4 ingredients.
This step always helps me not to miss out any ingredient 😀

Mix

Throw in each and every ingredient in the bowl containing chicken mince.
Mix everything well so that each ingredient gets uniformly distributed in the chicken mince.
Do not over mix & do not be tempted to knead the chicken keema.

Cover & pop in fridge

Now, cover the chicken chapli kabab mixture with the help of a cling film and pop it in the fridge and allow it to rest for at least 30 mins or more.

Form Patty Shape & Shallow Fry

Next, scoop out a lemon size ball, grease your palm with water or oil and gently pat to give it a patty shape.
Shallow fry over medium heat until golden & crispy from both sides.
Watch the Video Recipe for more details.
Top Kababs from FOODIES TERMINAL you must not miss!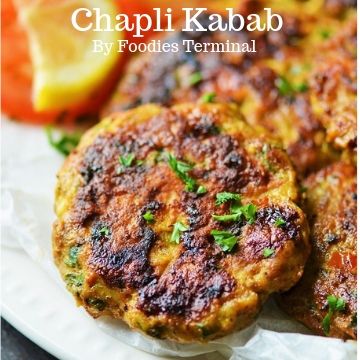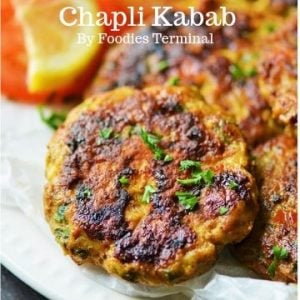 Chicken Chapli Kabab
Print Recipe
Pin
Rate
Chicken Chapli Kabab made with chicken keema or chicken mince is juicy, tender & full of flavors. These patty shaped chicken chapli kabab comes together under 30 mins with minimal ingredients & lesser effort. A perfect appetizer to feed a crowd, snack anytime or to pack some in the picnic basket.
Want more Recipe Videos?
Check out our Youtube channel!
Instructions
Take the chicken mince or keema in a clean dry bowl.

Next, add all the ingredients and mix very well with your hand. Do not knead or over mix.

Cover the mixture with a cling film and pop it in the fridge for at least 30 mins.

Grease your palm with oil or wet it with few drops of water.

Place a skillet over medium heat and pour oil about 1-2 tbsp oil for frying a batch of chapli kababs. Allow the oil o become moderately hot.

In the meantime scoop out about 1 big lemon sized chicken keema mixture and shape it into a patty by pressing gently with your fingers. Refer the video below.

When the oil becomes moderately hot slide in the patty shaped chicken chapli Kabab to the hot oil. Fry over medium heat until golden on both sides. It should take you about 10 mins or a little more.

Fry 3-4 kababs in a single batch. Do not overcrowd.
Notes
Measuring cup used, 1 cup = 240 ml & 1 tablespoon = 5 ml
Use finer chicken mince.
You can prepare the chicken chapli kabab keema mix 1 day prior & store it in the fridge.
DO NOT shape the patty shaped kababs all at once & keep them on a plate. They are fragile and might break. It's better to shape them & put them directly on the skillet.
To keep the chicken Chapli kababs moist & juicy do cover them lightly & store them before serving.
Nutrition Facts
Chicken Chapli Kabab
Amount Per Serving
Calories 105.5
Calories from Fat 36
% Daily Value*
Fat 4g6%
Cholesterol 54.2mg18%
Sodium 484.3mg21%
Potassium 140mg4%
Carbohydrates 2.8g1%
Protein 13.6g27%
Vitamin A 275IU6%
Vitamin C 4.7mg6%
Calcium 25mg3%
Iron 0.9mg5%
* Read our privacy policy – Calorie information is provided as a courtesy only and should be leveraged as an estimate rather than a guarantee.Percent Daily Values are based on a 2000 calorie diet.
Nutrition
Calories:
105.5
kcal
|
Carbohydrates:
2.8
g
|
Protein:
13.6
g
|
Fat:
4
g
|
Saturated Fat:
0.8
g
|
Polyunsaturated Fat:
0.5
g
|
Monounsaturated Fat:
1.7
g
|
Cholesterol:
54.2
mg
|
Sodium:
484.3
mg
|
Potassium:
140
mg
|
Fiber:
1.1
g
|
Sugar:
0.2
g
|
Vitamin A:
275
IU
|
Vitamin C:
4.7
mg
|
Calcium:
25
mg
|
Iron:
0.9
mg
Pin it for Later!