Chicken Seekh Kabab Recipe is packed with Kabab goodness. You'll have succulent Chicken keema flakes melting in your mouth with every single bite, not meaty, the right amount of seasoning that won't overwhelm you & the soft fragrance of a few Indian spices. Learn how to make the best chicken seekh kabab step by step on a tawa or griddle.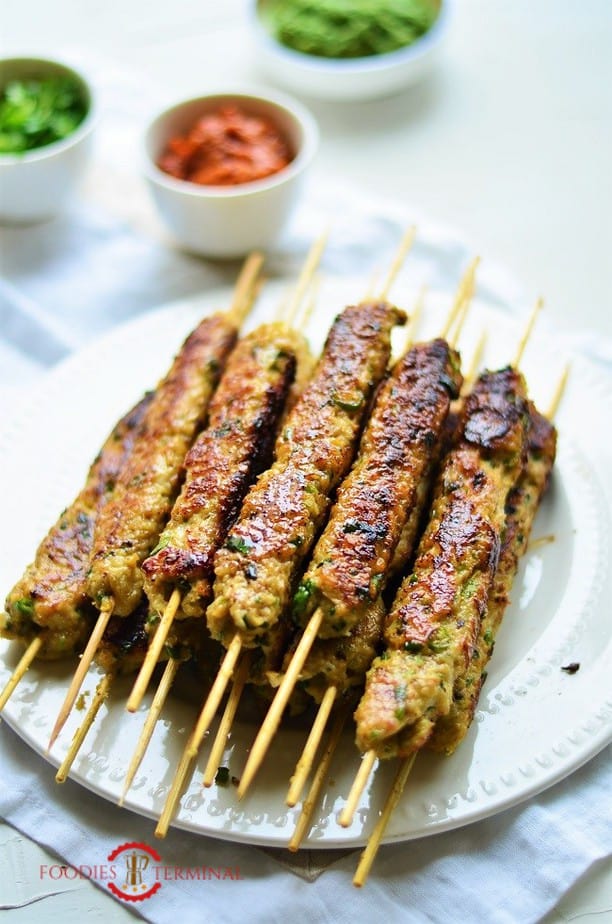 Chicken Seekh Kabab
If Kabab makes you happy than you are in a very happy place 😀 😉
If you are a frequent visitor of this blog you probably know by now that how much we love making & eating Kababs, kebobs, kefta, Kebab, kebob kefta, sheekh, boti, achari, reshmi you name it. Many more coming up from all over the world.
I can never get tired of making & eating Kababs from every corner of the world. Are you with me? Share your thoughts in the comments below.
Today's Chicken Seekh Kabab is a much loved recipe that took me a while to make it "Kabab perfect" with the right texture, notes & taste 😀
And I am so excited to share with you all the tips, tricks, disaster alerts and everything I faced while making this recipe one perfect one.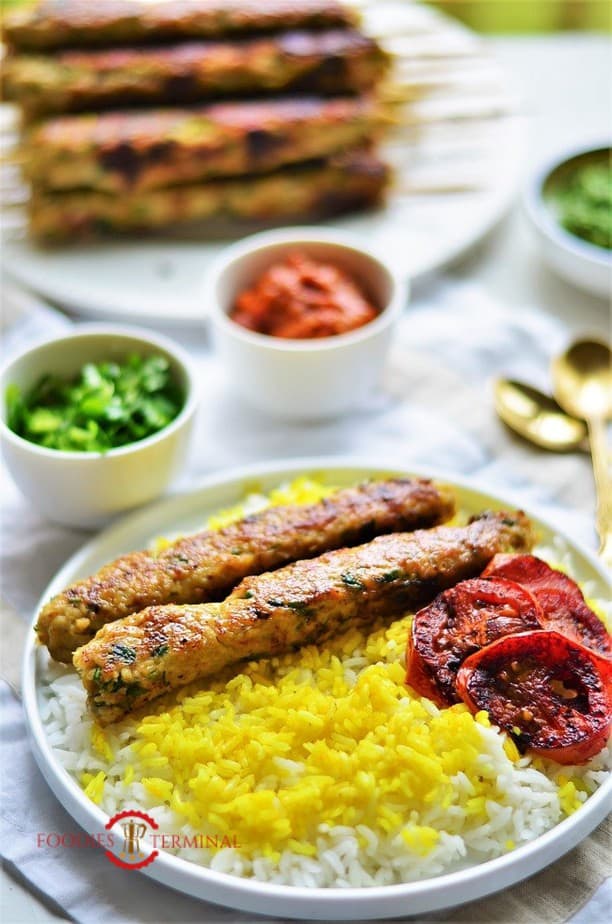 What is Chicken Seekh Kabab?
Chicken Seekh Kabab is made with minced chicken also known as Chicken keema that's seasoned with spices, a binding agent & than skewered into cylindrical shapes which are pan roasted until golden, oven baked, deep fried or even grilled.
The specialty of a good & perfect chicken seekh kabab is it's tender juicy & flaky texture. A good Chicken keema kabab is never meaty at all!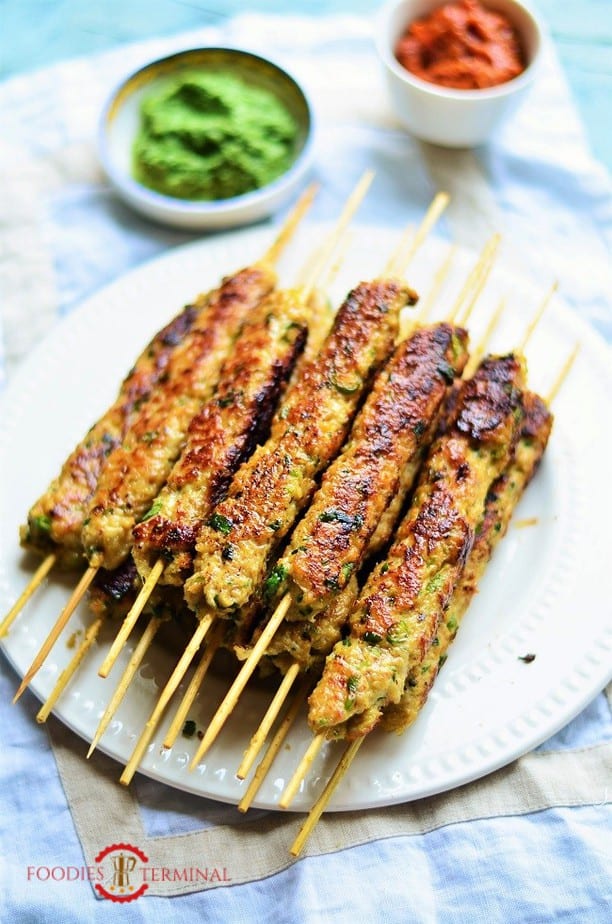 Recipe Ingredients
This is what you'll need to make a batch of tender juicy Chicken Keema Kababs on a tawa or griddle:
Chicken Keema or Chicken Mince with fat: Fat in the minced meat is essential to prevent the kababs from getting stiff. If you do not find a good keema with fat here's what you can do. You may add a little extra chicken fat from the regular chicken meat (the white soft part) to the keema. Don't forget to cut the fat into small pieces before adding it to the keema.
Eggs: It's a binding agent & also makes the skewers so tasty.
Bread Crumbs: A binding agent too & an excellent resource to make the chicken seekh kabab recipe airy. In one word it adds volume making the kababs light & airy.
Ginger Garlic paste
Grated Onion: Grate the onions & squeeze out the extra moisture. Not squeezing them will result in a gooey chicken keema mix. And it would be impossible to shape them into kababs. They'll be a sticky mess.
Spices: Coriander powder, cumin powder, garam masala powder, red chili powder or chopped green chilies. Chilies are optional, I didnot add any in today's recipe because my 5 years old son can't tolerate heat from chilies. But, you can totally add them to make the recipe a spicy one. All the mentioned spices add a subtle flavor to the kabab.
Roughly chopped Cilantro (Dhaniya patta): Makes the kabab more flavorful.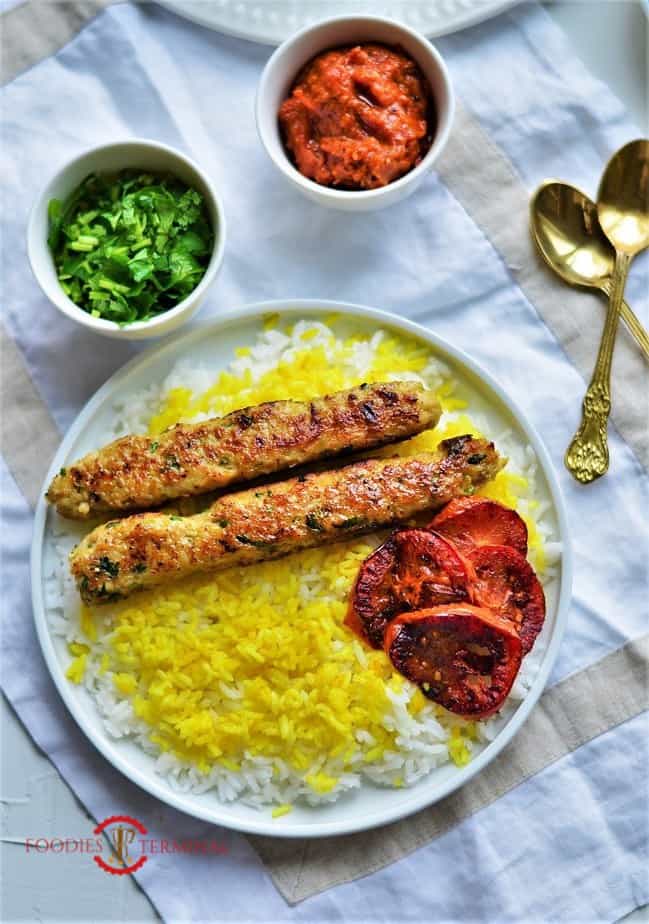 How to make Chicken Seekh Kabab soft and Juicy?
This is the most tricky part in any Kabab recipe. You go wrong here & you end up with a complete kabab failure.
Seekh Kababs seems to be the easiest ones to make but on the contrary they are the toughest ones to nail!
I'll share some wonderful tips & tricks today so that you don't end up with sausages when you expect the end result to be tender, juicy, flaky Kababs 😀 😀 Sausages are meant to be dense & meaty and not Kababs 😉 😛
I shared a few handy tips in my Mutton Seekh Kabab Recipe post too, don't miss them, they are super helpful.
Prepping the meat right & cooking it at the right temperature are two most important factors leading to good kababs. Like this Chicken Boti Kabab, Achari Chicken Tikka & Chicken Reshmi Kabab recipe.
You know how to do it right & you get terrific results. You mess up the above mentioned factors & there's no way of restoring those super stiff, meaty kabab, that looks smooth, are super dense & pathetically meaty 🙁
I had been there so many times and I learned it the hard way.
No thank you I don't want them on my plate 😀
So, here's what I learned with several failures, trials & errors. Follow these tips to make the chicken seekh kabab super soft, juicy, not meaty & make your efforts worth it 😉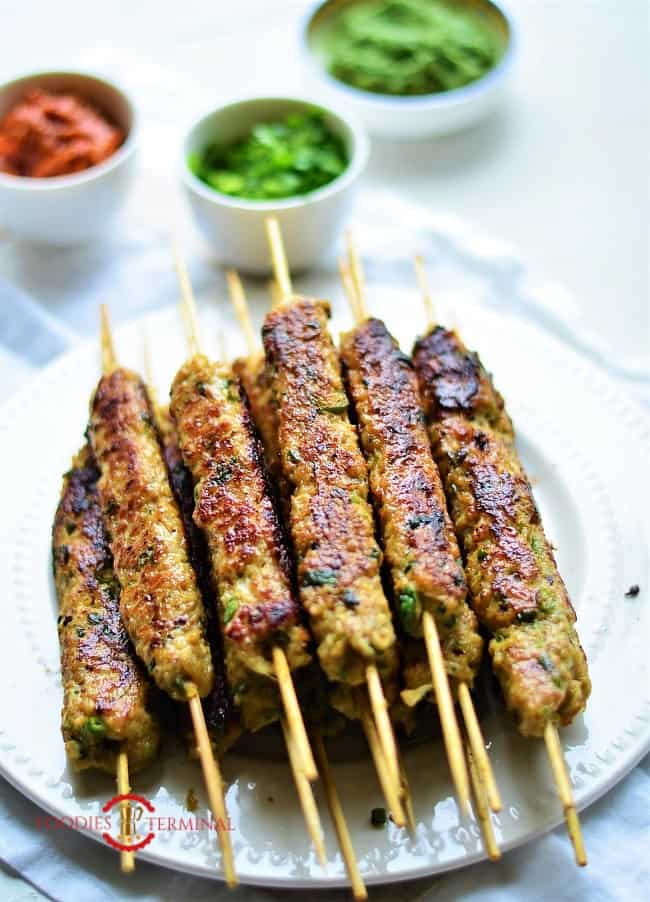 Fat containing minced chicken or chicken keema is the key: Use Chicken keema or Minced chicken with little extra fat. That extra fat will help to keep the kabab tender & juicy. Stay away from lean meat that is completely stripped of fat.
Never over cook or over fry a Kabab: Over cooking strips off moisture making it into a dry lump of meat. Medium heat is your best friend for today's chicken Seekh Kabab recipe made on tawa. If you choose to deep fry the kababs avoid releasing them to smoking hot oil. The oil should be moderately hot. Deep fry them over medium heat as well.
Never Knead or over mix the chicken keema: Never do this while mixing the rest of the ingredients with the minced chicken meat. Just mix everything. No kneading business here & no over mixing for a long time. It will make the kababs stiff & meaty.
Pro Tip: See those neat bamboo skewers in the pic. They are not burnt at all. Soak them in water for 10-15 mins before skewering the meat. They won't burn.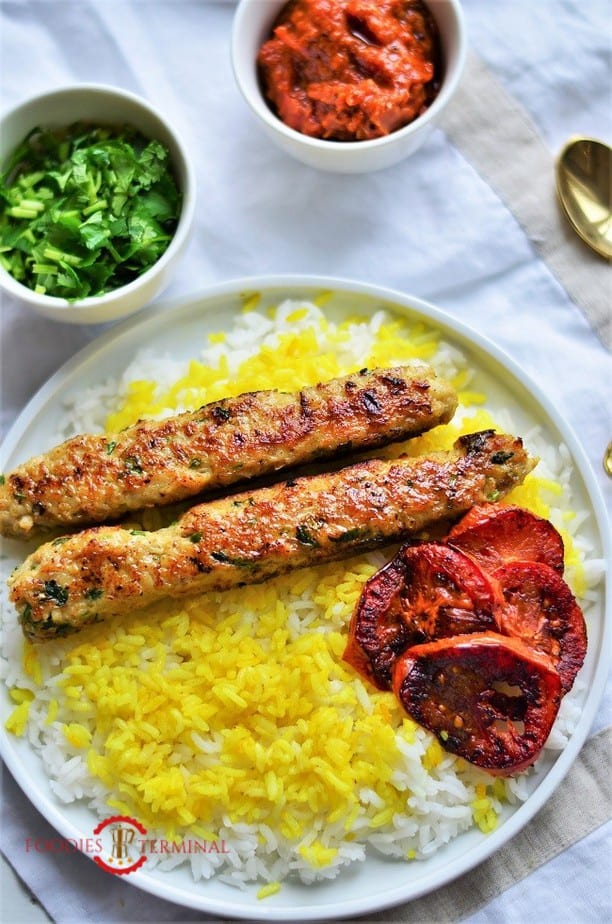 Tips to keep the Kababs tender & Juicy for a long time
The trick is to immediately cover the Chicken Keema Kababs once they get fully cooked.
Here's what gives me the best results:
Once the Chicken Keema Kababs are all well cooked. Transfer them on a clean dry plate or container.
Arrange them on a single layer. Avoid over crowding by all means.
Cover the Kababs loosely with an aluminum foil or cling wrap.
Why cover them loosely? When you cover the chicken minced kababs loosely you'll have just the right amount of air circulation that won't dry our the kababs, will not sweat them off. It will help to keep lock the juices & keep them nice & juicy.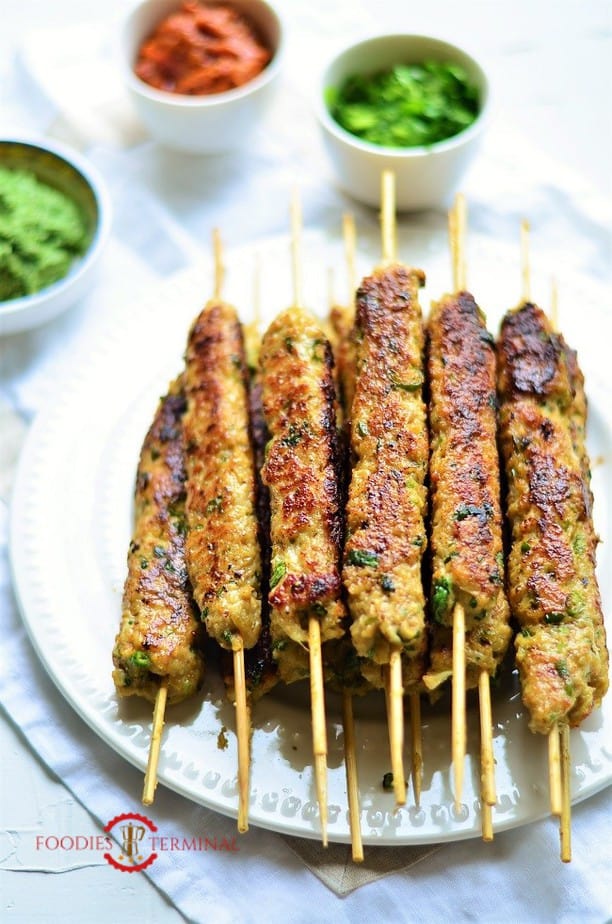 Serving Tips
We always love to make a complete meal out of any kabab recipe that we make. And this Chicken seekh kabab too found it's way to make a very satisfying meal.
You too can serve them the way we did. Serve them on a bed of saffron rice or just plain white basmati rice accompanied by some roasted tomatoes.
We always love to complete our Chicken Keema Kabab meal with a chilled glass of Kokum Sharbat.
Or dunk them in a spicy cilantro chutney & devour for a satisfying snack or appetizer.
You can even wrap them in tortillas & make yourself a quick grab and go lunch.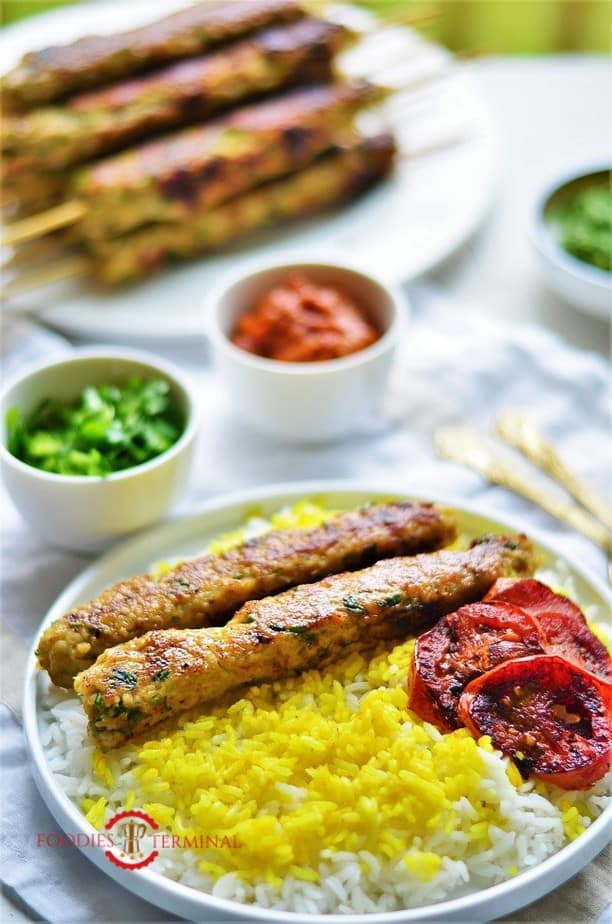 How can you store Chicken Keema Kabab?
You can store them in an air tight container in the fridge for 7 days. I've never tried freezing them but you can always try and see if it works for your family 🙂
How to make Chicken Seekh Kabab on Tawa? Step by Step
Steps in words below the pictures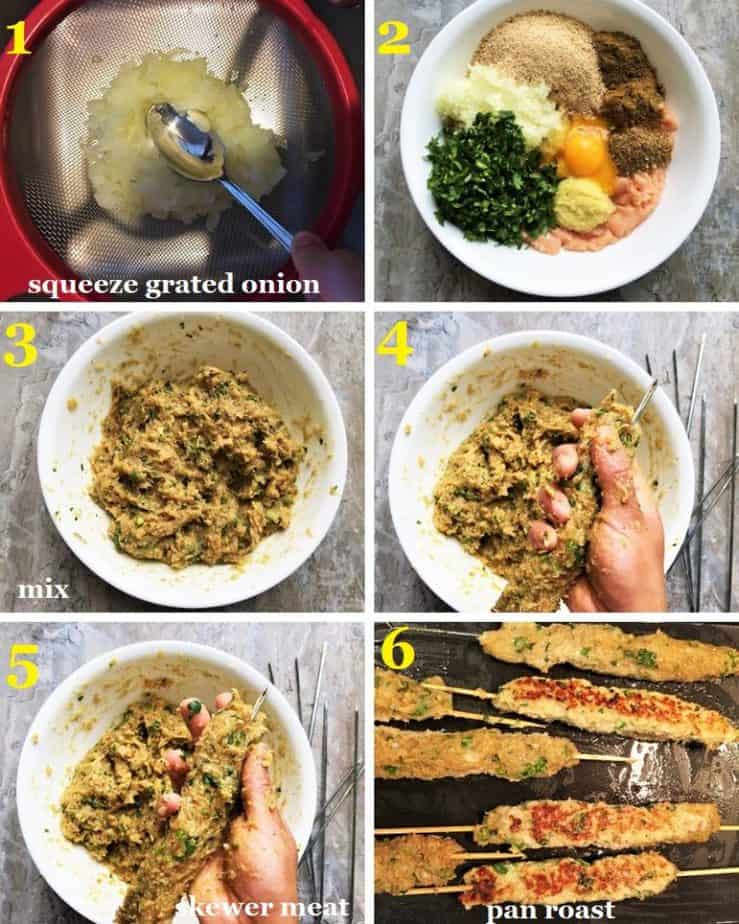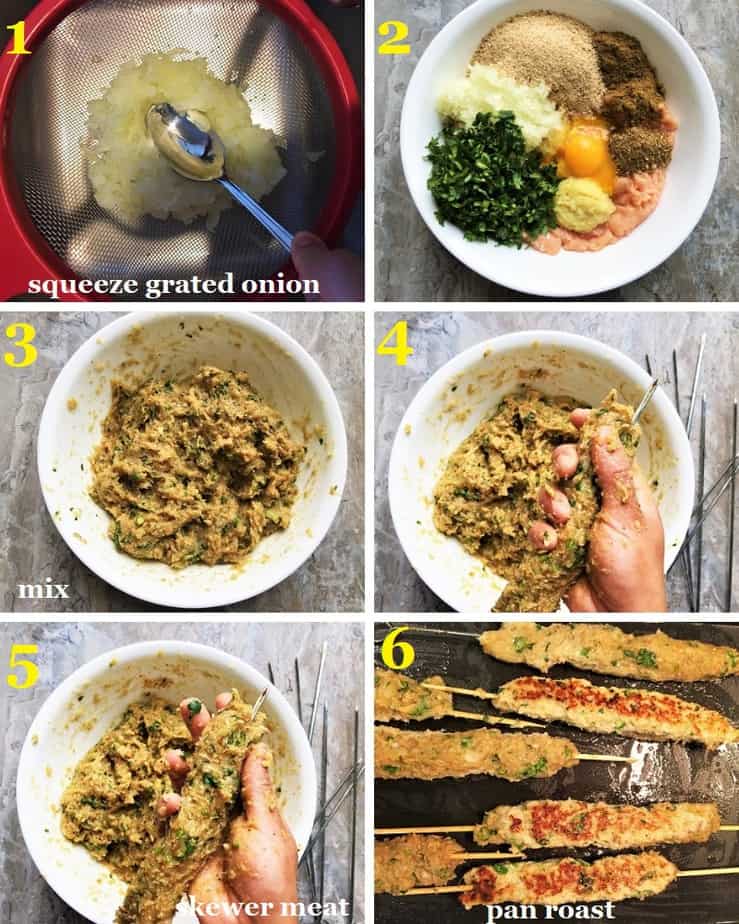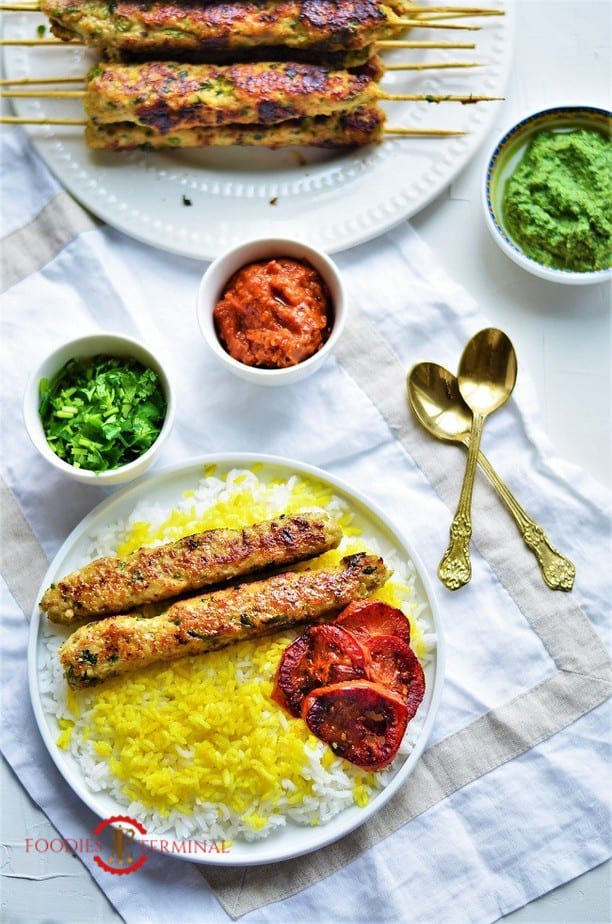 Grate the onions & squeeze out the juice completely. Set aside.
In a dry bowl add all the ingredients and just mix gently with the minced chicken or chicken keema working with your fingers. Do not over mix.
Wet your palm & skewer the meat in the skewers. Form a cylindrical shape around the skewers by gently pressing the keema mix with your fingers. If the meat sticks on your palms, just drizzle a few drops of water on your palm.
Pan roast the chicken seekh kabab over medium heat rotating the skewers from time to time. 15 mins is all you need for a well cooked tender chicken seekh kababs.
Pro tip: There should not be any trace of water on the cilantro leaves. Make sure to completely dry them after washing them well.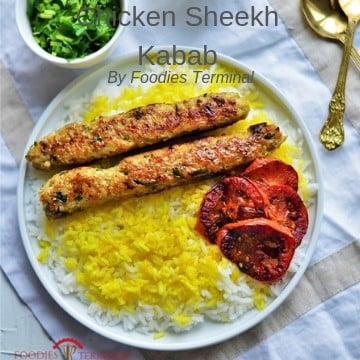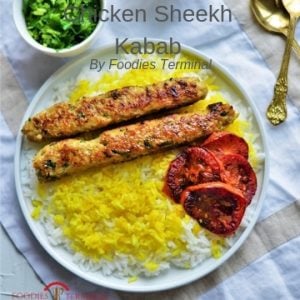 Chicken Seekh Kabab Recipe
Print Recipe
Pin
Rate
Chicken Seekh Kabab is a tender, juicy, delicate Chicken Kabab made with subtly flavored chicken keema or chicken mince. These chicken skewers make a fabulous party appetizers & gets ready super fast. Make them easily on a griddle or tawa with just drizzles of oil.
Want more Recipe Videos?
Check out our Youtube channel!
Instructions
Grate the onions first & squeeze out the juice completely. You may do it easily with the help of a sieve or sifter & a spoon. Place the grated onion on the sieve and press with the spoon to drain out the juice.

Add all the ingredients in a dry bowl and mix gently working with the help of your fingers. DO NOT knead or over mix.

Take one skewer at a time from the water you soaked them in. And skewer the meat all the way up to the tip of the skewer stopping at about 1"-2" from the tip. Refer the pic.

Gently press the meat with the help of your fingers and give it a cylindrical shape all around the skewer. Set aside. Repeat this step until you are done skewering the meat in the skewers.

Brush oil on a griddle or tawa and set it over medium heat. Place the skewered meat along with the skewers on the tawa or griddle and cook until golden on all sides. Rotate them from time to time so that all the sides get cooked properly.
Notes
If you find that the chicken mince became a little sticky after mixing in everything just add some more bread crumbs. 1 tsp at a time.
Wet your hands while shaping the kababs. They won't stick to your palm.
Soak the bamboo skewers in water for 10-15 mins before skewering the meat. This will prevent them from burning.
VERY IMPORTANT: Squeeze out the juice from the onion completely. And there should not be any trace of water in the cilantro leaves too.
You may halve or double, triple the measurements of this recipe.
Adjust the spices according to your taste oreference. We love a subtle flavored Kababs and hence do not use a lot of spices. We love the natural flavor of the meat to shine through the kabab recipe.
If you love spicy Kababs add chicli powder or chopped green chilies. Chop them fine.
You will get approximately 12-14 Chicken Sheekh Kabab Skewers.
If you have some extra time just pop in the Kabab mixture in the fridge & allow it to rest for 1-2 hrs. This will help you to handle & shape the Kabab easily.
Measuring cup used, 1 cup = 240 ml & 1 teaspoon = 5 ml.
Nutrition Facts
Chicken Seekh Kabab Recipe
Amount Per Serving (1 skewer)
Calories 110
Calories from Fat 54
% Daily Value*
Fat 6g9%
Cholesterol 53mg18%
Sodium 280mg12%
Potassium 334mg10%
Carbohydrates 1g0%
Protein 10g20%
Vitamin A 1600IU32%
Vitamin C 0.8mg1%
Calcium 9mg1%
Iron 0.6mg3%
* Read our privacy policy - Calorie information is provided as a courtesy only and should be leveraged as an estimate rather than a guarantee.Percent Daily Values are based on a 2000 calorie diet.
Nutrition
Serving:
1
skewer
|
Calories:
110
kcal
|
Carbohydrates:
1
g
|
Protein:
10
g
|
Fat:
6
g
|
Saturated Fat:
2
g
|
Cholesterol:
53
mg
|
Sodium:
280
mg
|
Potassium:
334
mg
|
Fiber:
1
g
|
Vitamin A:
1600
IU
|
Vitamin C:
0.8
mg
|
Calcium:
9
mg
|
Iron:
0.6
mg
Pin It For Later!