Mutton Seekh Kabab recipe will blow your mind with extraordinary flavors, juicy minced mutton that melts away in your mouth. And it's not greasy like the take-outs, gives you the freedom to go all organic & grass-fed options while choosing the minced meat. And it's definitely the easiest recipe you'll ever try, no tandoor or oven required, just a handy Tawa or griddle is all that you need.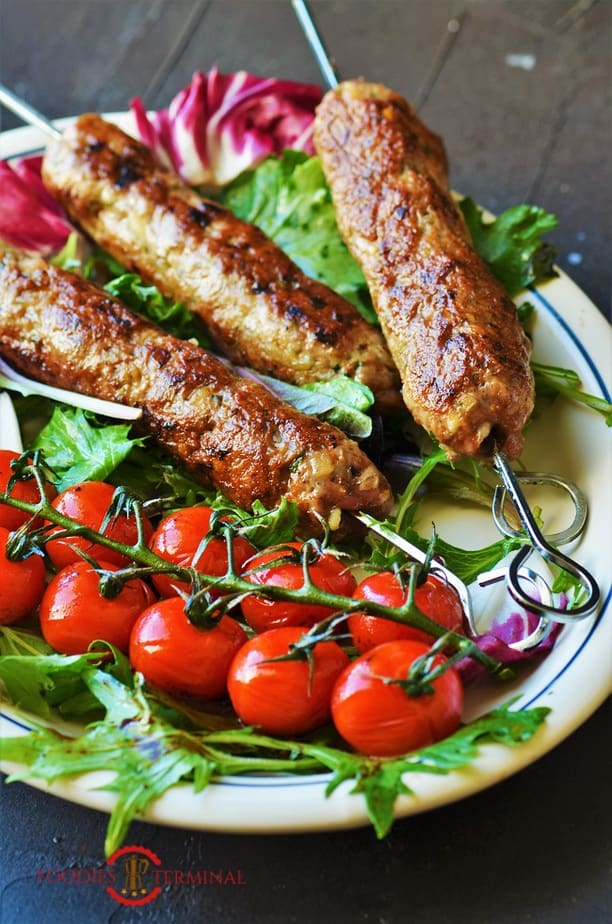 Mutton Seekh Kabab
These mutton seekh kabab recipe is outrageously delicious, skewered and pan roasted until just done. Perfect for a gathering, brunch, picnics, movie nights, lazy nights, a relaxing house party or a boozy night 😀 😉
You can even throw in this Easy Mutton Kofta Curry to your party to make it snazzy 😉
You name it and these wonderful melt-in-the-mouth mutton seekh kabab recipe has the capacity to tick all those boxes JUST right 😉
I used ground lamb but you can use minced goat too.
If you are looking for easy appetizers to kick start a party or hunting down make-ahead appetizer ideas for that upcoming potluck than don't miss out this seekh kabab recipe.
Pack some extras because they will fly from the plate 😉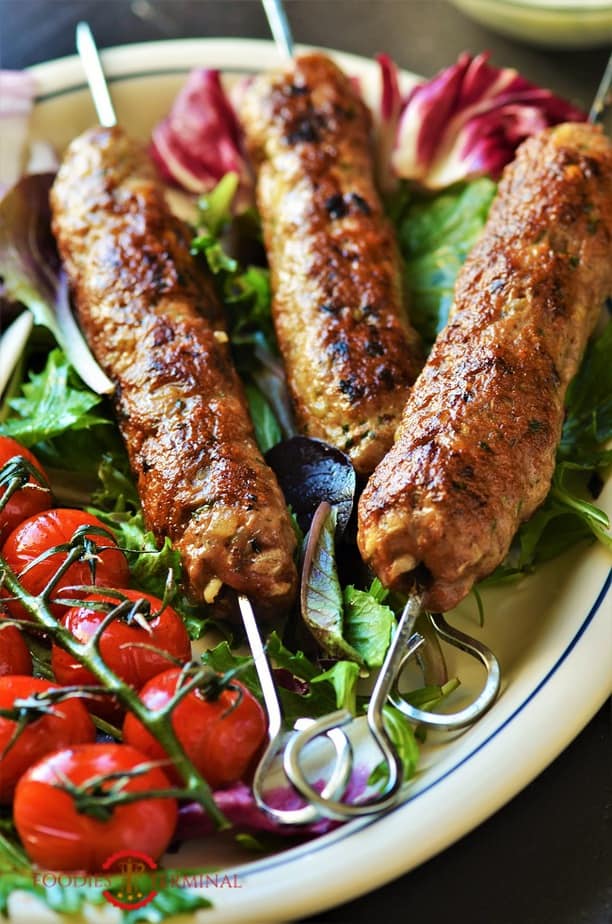 Mutton Seekh Kabab Recipe on Tawa – FAQs
What is Mutton Seekh Kabab?
Mutton Seekh Kabab is ground or minced mutton (goat or lamb meat) that's mixed & flavored with few aromatic spices & herbs, skewered and cooked on a Tawa or griddle with minimum oil until just done.
It's melt-in-the-mouth texture, simplistic ingredients that promises extraordinary flavor & taste sets it apart from all other complex appetizers.
Traditionally mutton seekh kababs is prepared in a tandoor but in today's busy lives people choose an oven to either bake them or roast them simply on a flat hot metal plate like a tawa or griddle over the flame.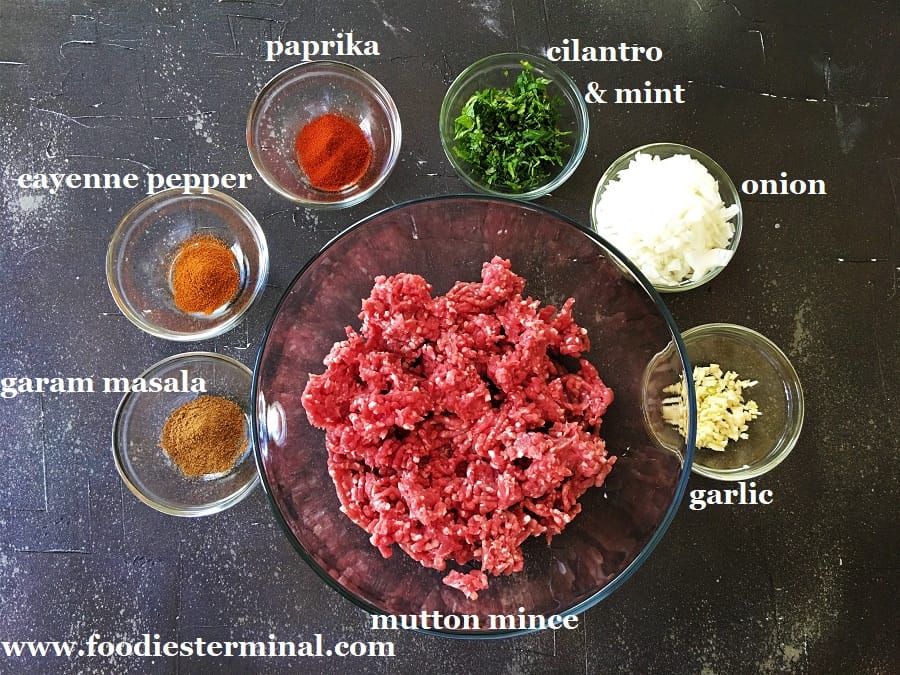 What's in a Mutton Seekh Kabab, anyway (Ingredients)?
I promise you that this recipe of Mutton seekh kabab made without oven doesn't have a laundry list of ingredients.
Perhaps you have everything that you need in your pantry. Check them out.
Meat: Minced Lamb or Goat.
Herbs: Cilantro & Mint. This combination is such a happy pairing for a mutton kabab. Especially if you choose to go with minced lamb do not skip the mint. Mint & Lamb mince is like match made in heaven. You may also add flat leaf parsley (I didn't add any though).
Spices: Paprika, Garam Masala, Cayenne pepper or red chili powder. The garam masala or all-spice is a must here. That faint aroma that lingers for quiet sometime with every bite you take comes from garam masala, that subtle flavor takes the mutton kabab to a notch up. And cayenne pepper or red chili powder will lend a certain kick to the shish kebabs. Add more if you love more heat. However, today's recipe is not on the spicier side, so I did not add lots of cayenne pepper.
Must: Onion, Garlic. They add so much flavor, texture & intensity to the tender kababs. Do not skip them.
Fat: Ghee or Canola oil or Olive oil.
Pro Tip: You may also use grated onion too instead of finely chopped onion. Just be prepared to shed some tears 😉 😀 In that case squeeze the grated onion to drain out the excess juice. This will prevent the kababs from becoming sloppy. They will hold shape & won't fall apart from the skewer.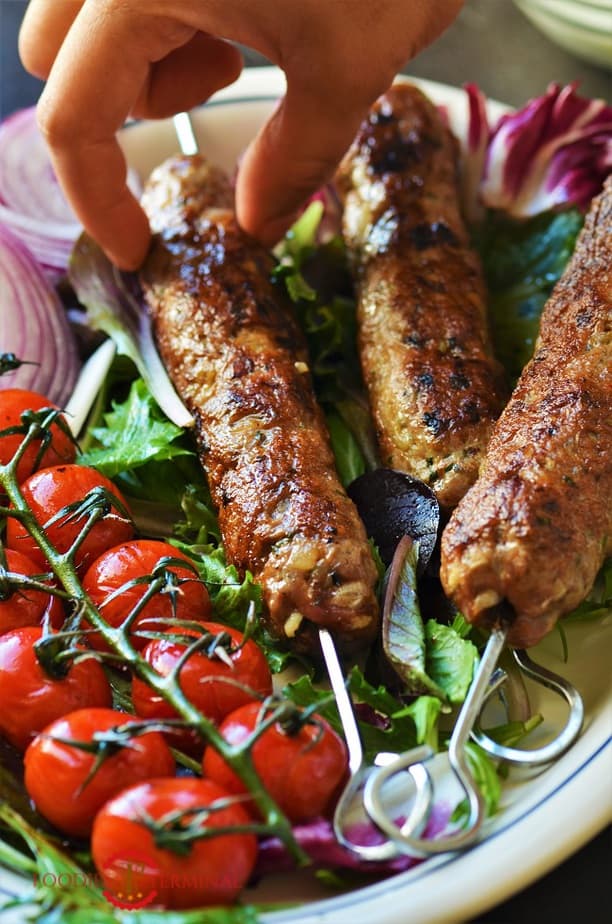 The best cut of meat for mutton seekh kabab recipe
Whether you are looking to mince the meat at home or ask your local butcher to do the job always pick a shoulder cut (both for lamb and goat).
A shoulder cut works best for minced meat kebabs because it has enough fat & hence, doesn't dry up when cooked over high heat.
It holds shape & sticks together. Thus, you don't need an egg to bind everything together. A shoulder cut minced meat kebab stays super juicy, moist & soft.
I tried making minced lamb shish kebabs using minced lamb leg meat & using this same recipe but I was not very happy with the results.
Because the kebabs were not that juicy, they were more on the dry side. So, steer clear from minced leg meat if you want juicy & tender kababs.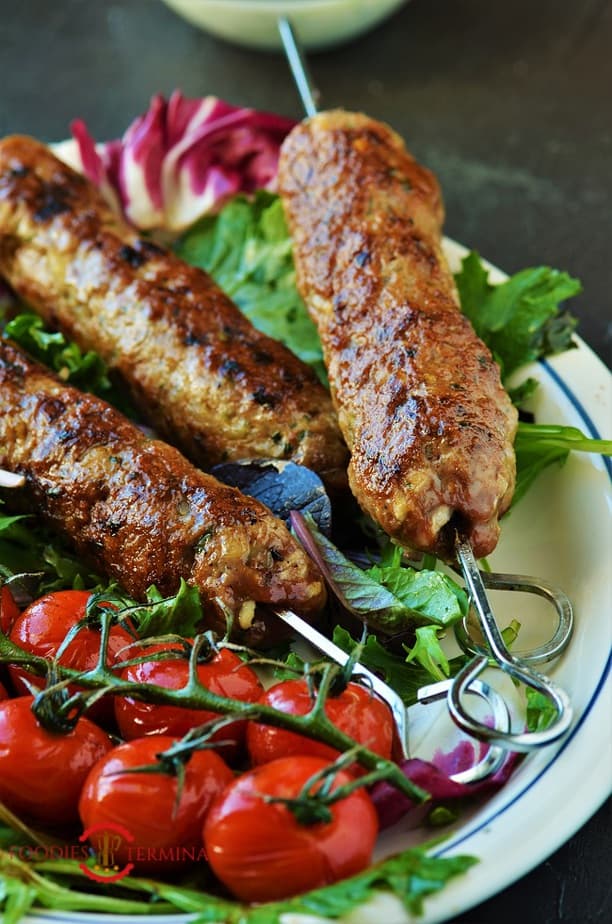 And if you are like me who entirely depends on pre-packaged minced meat from the super markets than you might never have a clue which cut of meat has been used!
But, I've a little tip to share – in case you choose a pre-packaged minced meat always choose the one that has those white freckles or spots. Gosh! I am very bad at explaining 😛 😀
Those white freckles are fat and that's what exactly you need in your minced kebab meat. Steer clear from LEAN MEAT.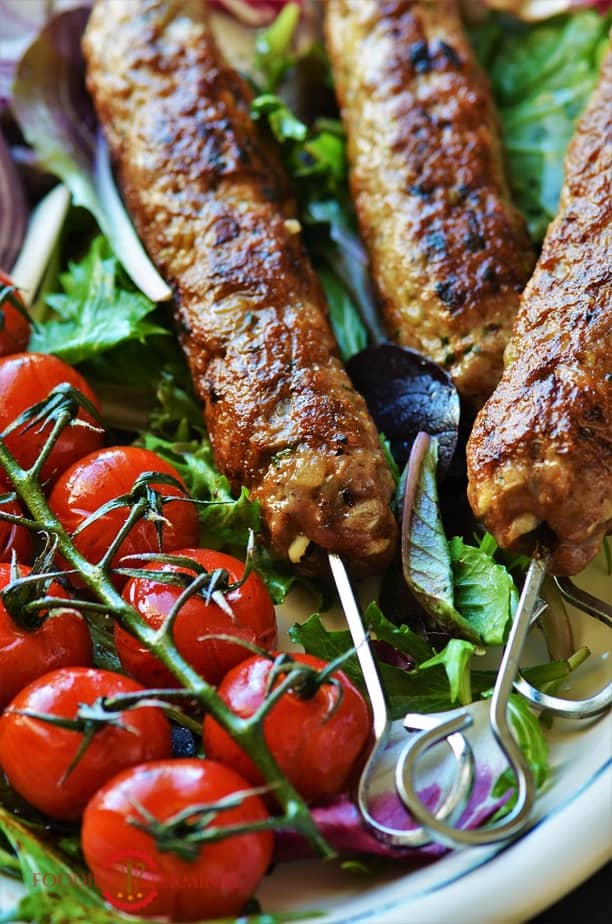 Can you freeze Mutton Seekh Kabab recipe?
Kababs taste best when eaten fresh, hot and straight out from the tawa or griddle dipped in Tzatziki sauce or mint cilantro chutney.
But, if you are really pressed for time or want to make-ahead this recipe you surely can.
Do not freeze the kababs, but you surely can freeze the marinaded minced kabab meat.
I love freezing them in freezer safe bags. When ready to serve I thaw them first and than skewer the meat and pan roast them. This hardly takes me 15 mins from start to finish.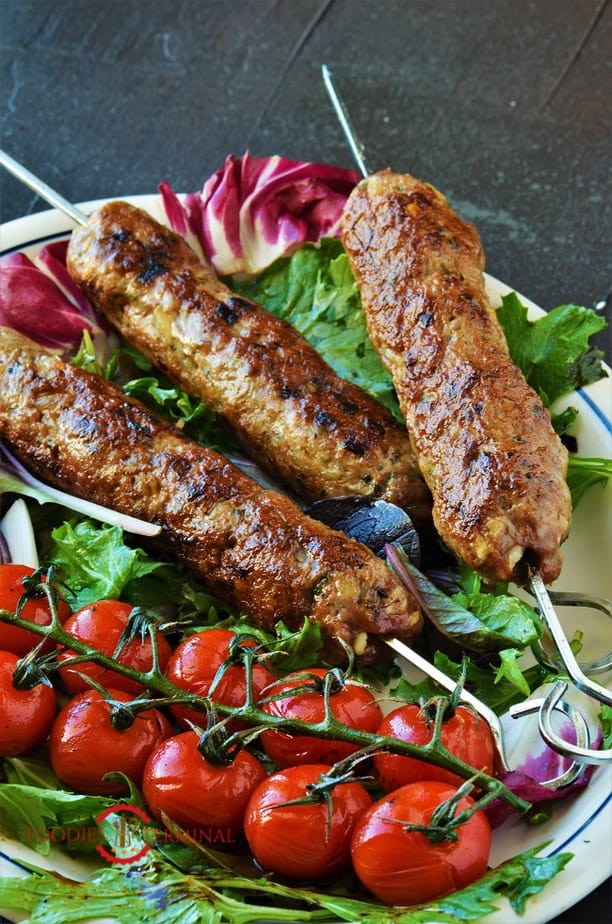 How long can you store the mutton seekh kabab in the fridge?
The mutton seekh kababs last about 5 days in the fridge. But, I warn you that when reheated they have a tendency to become stiff slightly.
4 tips – How to make Mutton Seekh Kabab soft and Juicy?
Choose shoulder cut mutton mince: A shoulder cut meat has enough fat to hold the minced meat in place & makes the kababs extra soft, juicy & lends that melt-in-the-mouth texture. Absolutely desirable!
Do not over-mix the minced lamb/goat meat: Over-mixing or lots of kneading will lead to stiff and very tight kebabs. They will have a bite to them and will be meaty. We want our mutton seekh kababs to be tender, to hold shape but not fall apart and not meaty at all.
Mixing gently works wonders: You just need to mix the onions, garlic, herbs & spices gently with the meat working with your fingers. Avoid kneading & avoid the food processor by all means. Wear gloves if you hate messy hands.
Cook over medium-high heat: Cooking the mutton seekh kabab over medium-high heat seals the juices of the meat & keeps it tender & soft.
Pro Tip: If you plan to serve the Mutton seekh kababs say after 30 mins, keep the hot kababs lightly covered with an aluminum foil. They will stay moist & tender.
How to make Mutton Seekh Kabab – Step by Step
Steps in words explained below the pictures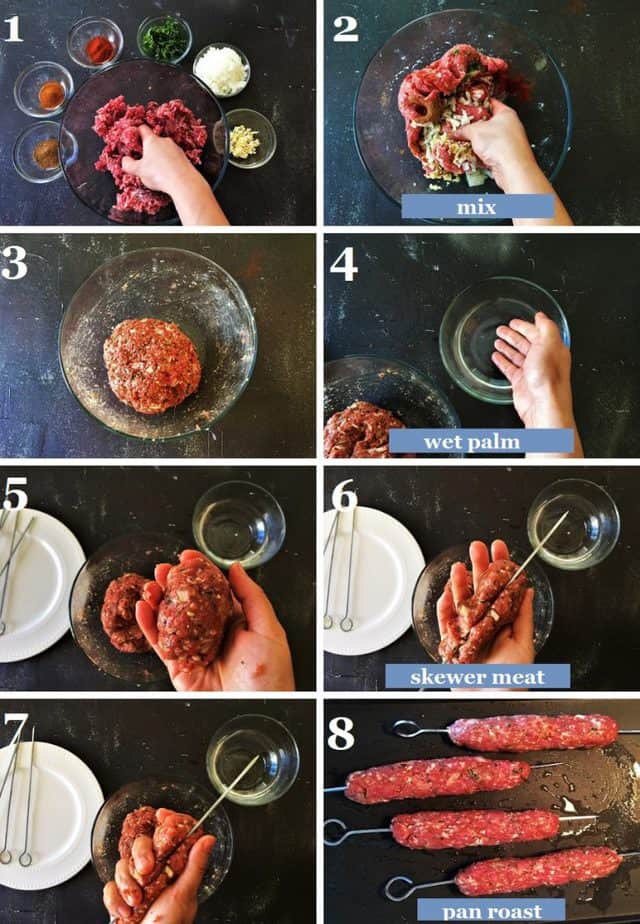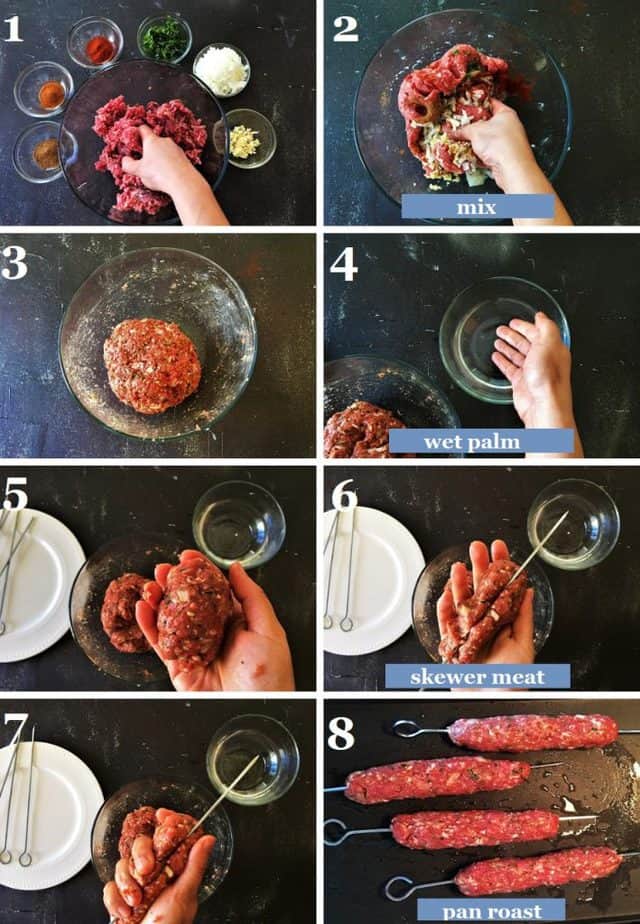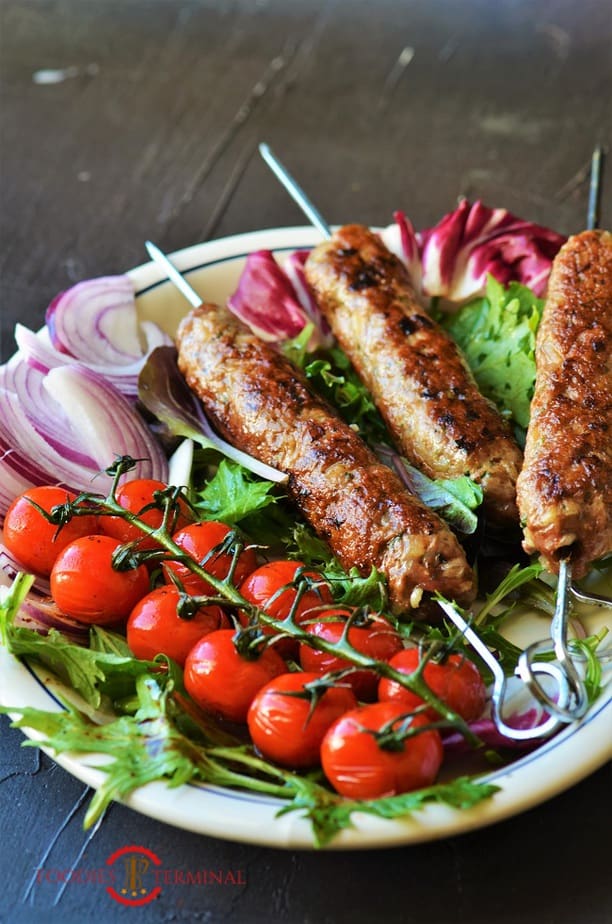 Getting the minced meat ready
Mix all the ingredients with the minced lamb gently working with your fingers. Kneading the lamb mince will make the kababs meaty & stiff.
I love eyeballing & scoop out a handful to get the meat up on the skewer & yes, I love messy hands while working in the kitchen 😉 If you hate it wear gloves by all means.
I love greasing my palm with little water before shaping the kababs. This helps to easily slide off the minced meat from palm to the skewer.
Shaping the Mutton Kabab
Just a handful of the meat & one skewer is all you'll need to begin shaping your first mutton seekh kabab.
Begin by pressing the minced lamb gently all around the skewer. Working from the bottom of skewer to the tip. Form a cylinder (refer the picture collage). Repeat this step with the rest of the mutton keema & the skewers.
Pan Roasting the Kabab
When done. Heat up your griddle or pan over medium high heat.
Brush oil and roast the kababs on all sides until golden. Don't forget to bast with oil while you roast them.
Serve hot with lots of Tzatziki sauce or mint cilantro chutney or make a meal out of it. (ideas share in the recipe card below).
Pro Tip: For easy & quick shaping of the kabab just moisten your hand with little water. If you choose to use bamboo skewers soak them in water for 10 mins. This will prevent them from burning in the heat.
Try these Appetizers from Foodies Terminal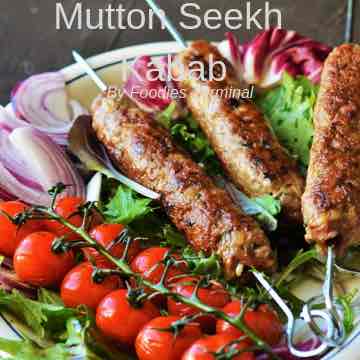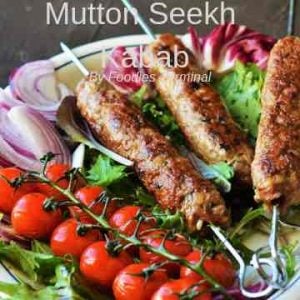 Mutton Seekh Kabab Recipe
Print Recipe
Pin
Rate
Mutton Seekh Kabab Recipe is so easy to make on a tawa or griddle with a few basic pantry staples. These mutton keema kababs are terrific party appetizers, picnic food & backyard barbecue party food. Tender, juicy, melt-in-the-mouth delicious minced mutton in every bite, that's exactly what you'll have.
Ingredients
600

gms

minced lamb or goat

(1.32 pounds )

1

tbsp

Finely Chopped Garlic.

1/3

cup

Finely Chopped Onion

(or grated & drained onion)

1/3

cup

roughly chopped cilantro + mint

1/2

tbsp

Paprika

1/2

tbsp

Cayenne Pepper

1/2

tbsp

Garam Masala Powder

3

tbsp

Canola Oil
Want more Recipe Videos?
Check out our Youtube channel!
Instructions
Begin by gathering all the ingredients first. 

Mix all the ingredients with the minced meat, working with your fingers. You need to just mix in the stuffs and not knead at all. Set aside.

Scoop out the minced meat, about handful , eyeballing should be your best friend here. And skewer the meat going all the up on the skewer, working gently with your fingers, and pressing the meat to form a cylindrical shape. Repeat this step until you are all done with skewering the minced meat.

Once done, heat your Tawa or griddle over medium high heat. Brush oil generously and place the skewered meat along with the skewers on the griddle. Cook until slightly golden, basting with oil (on all sides).

Serve hot with lots of Tzatziki sauce or mint cilantro chutney. Enjoy!
Notes
SERVING SUGGESTIONS: Eat the mutton seekh kababs as such dipped in loads of Tzatziki sauce or mint cilantro chutney for a fantastic quick appetizer. You may also make them into a complete meal this way –  eat them with a simple Rice pilaf, lay them on bed of spring salad leaves accompanied by pan roated cherry tomatoes (just the way I served), stuff them into a wrap.
DO NOT KNEAD: Just mix all the ingredients with the minced mutton gently working with your fingers. This will ensure a tender, juicy & melt-in-the-mouth kabab.
WET YOUR PALM: You can avoid messy hands while skewering the kababs by wetting your palm slightly with water. The minced meat won't stick all over.
Nutrition
Calories:
112
kcal
|
Carbohydrates:
4.5
g
|
Protein:
13.3
g
|
Fat:
4.2
g
Pin it for Later!