This Mutton Kofta curry made with minced Lamb is different because it's made with the juiciest, tender koftas or meatballs ever & in a spice-free curry sauce! It'll certainly rock your dinner time. Because it's also easy, quick & efficient to make. The tender, juicy Lamb meatballs are air fried to skip on huge calories, they are then simmered in a tomato based creamy sauce for a complete meal. These mutton koftas are freezable & so is the curry sauce. This quick one-pot Lamb Kofta Curry is also Paleo, Gluten free, Nut free & Dairy free.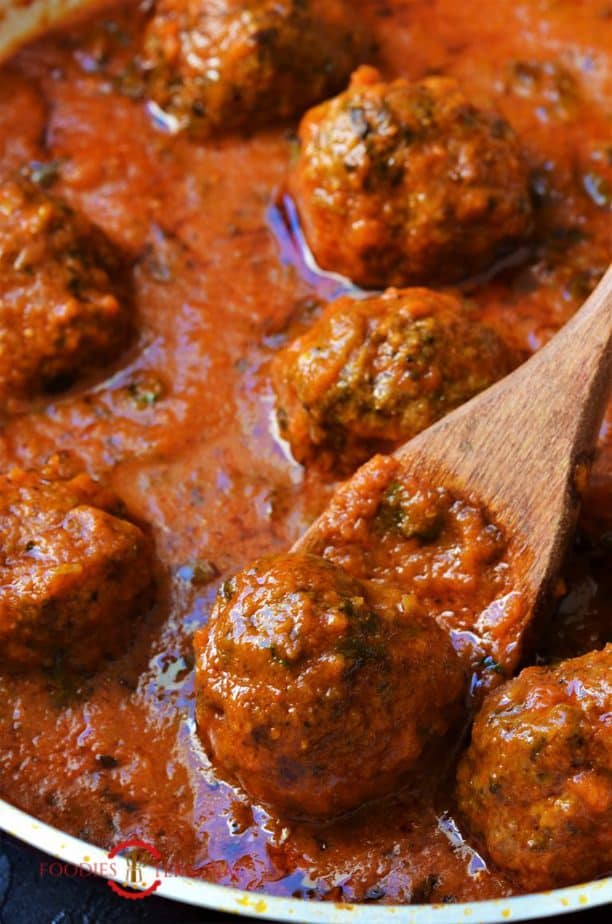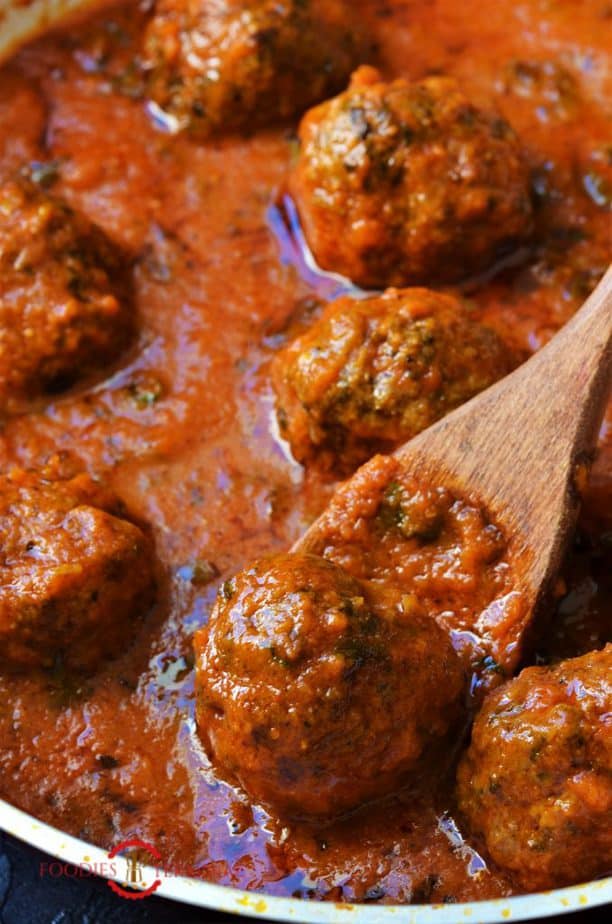 Mutton Kofta Curry
The juicy, tender, incredibly fragrant lamb meatballs or koftas (in hindi) are the show stoppers in todays Mutton Kofta Curry recipe.
And when the Plump & juicy mutton keema koftas are air fried instead of deep frying you certainly manage to chase off so much more calories.
Yes, you can bake them too but air frying is efficient because it'll save you time.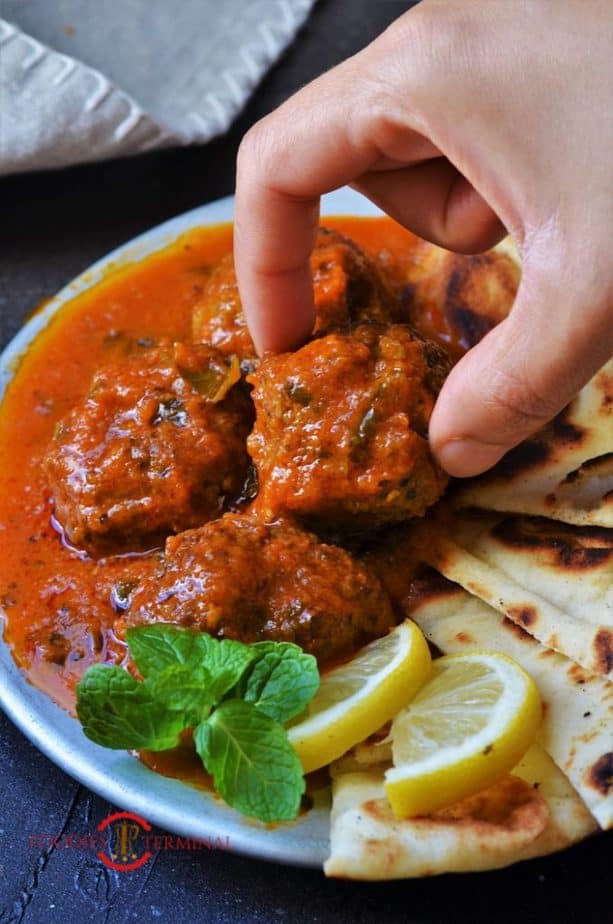 There are a few tips & tricks that you need to keep in mind for soft, tender, juicy & plump mutton meatballs every single time. I'll share them all.
And the curry sauce, yes, I made it super easy for you guys so that you can just whip it up all in less than 20 mins ( prep time + cook time).
And if you have these juicy lamb meatball wonders already in your freezer, just take them out & dump them straight in the slow simmering sauce. A fantastic hot dinner served in no time.
In case you are wondering about the thawing part, let me tell you, that the mutton keema koftas (lamb mince meatballs) does not require thawing. They will thaw in the hot simmering sauce & soak in all the flavors.
I know it's so much better right? Even we love smart recipes 😉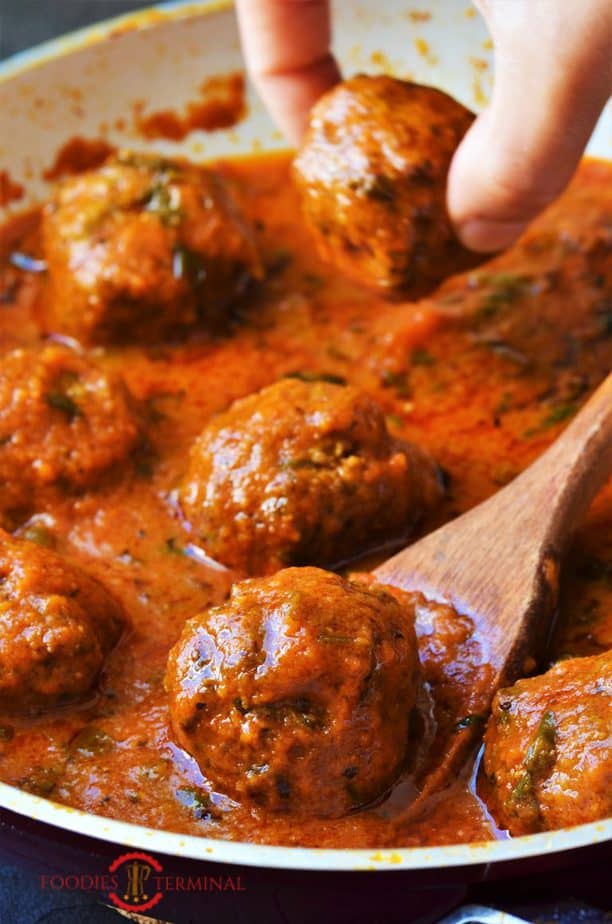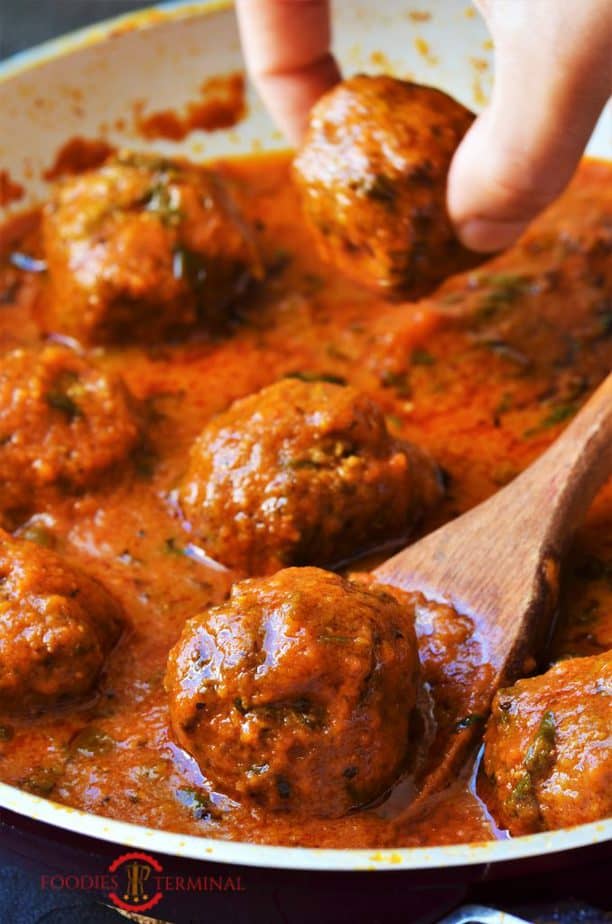 Mutton Keema Kofta Curry – FAQs
The best meat for mutton kofta curry
You may use either use lamb mince or goat mince for making the meatballs or koftas. Both work well.
Lamb mince is easily available in almost all American grocery stores whereas you may buy goat mince from an Indian butcher shop.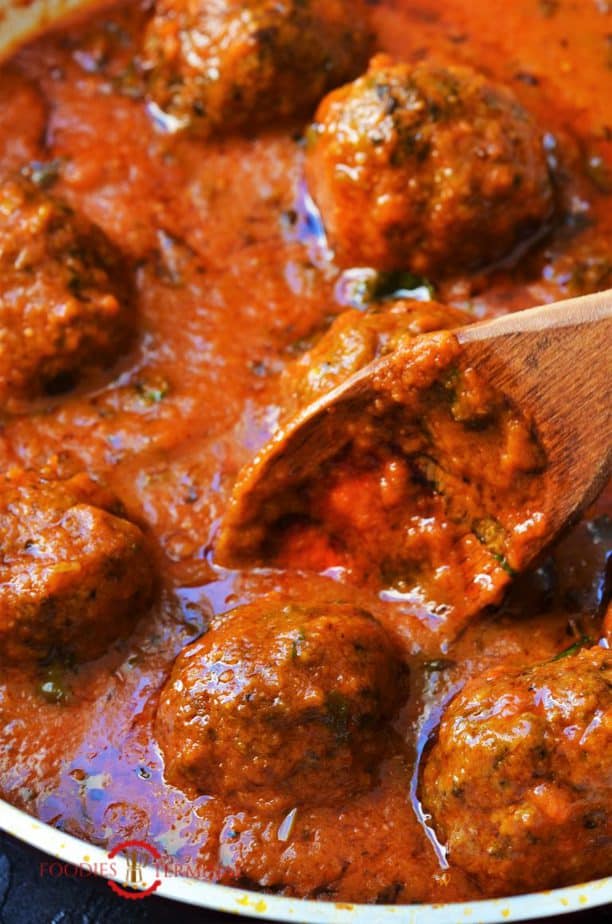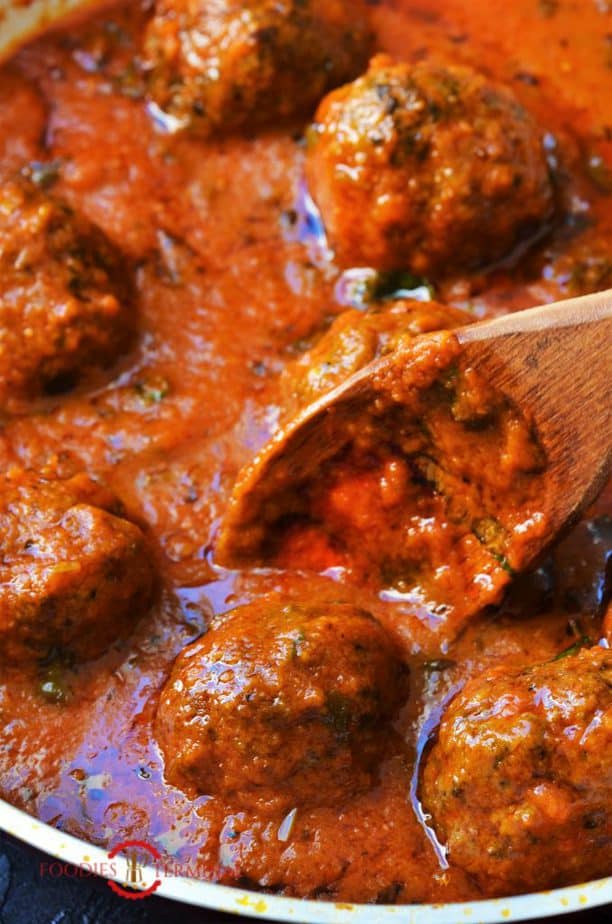 5 Tips for making tender, juicy Mutton Koftas every single time
Follow these easy tips & tricks to make plump, juicy, tender mutton koftas every single time.
A good kofta or meatball is never stiff & hard like a canon ball! They are soft, juicy & tender even without the curry sauce. Here's what you need to do to achieve just that –
No water in the minced meat. If you decide to wash the meat. Allow it to dry completely (strain the washed meat & spread it on a flat surface) before making the koftas.
Finer meat = tender mutton koftas. Mashing the meat well is the key to success. After adding the seasonings or before adding them mash the meat very well with your fist. You may even choose a food processor.
Add breadcrumbs or soaked mashed bread. Yes, when you add one of these to the mutton keema they will make the mutton keema koftas tender. The air pockets in the bread fluff up & make the meatballs soft. Soak the bread pieces in water or milk. We prefer milk.
The seasoning should have no water. For instance, if you choose to season the keema or minced meat with herbs, than wash & dry them before chopping & adding them to the keema.
No over baking, over frying the mutton keema koftas. They become stiff & hard when over cooked.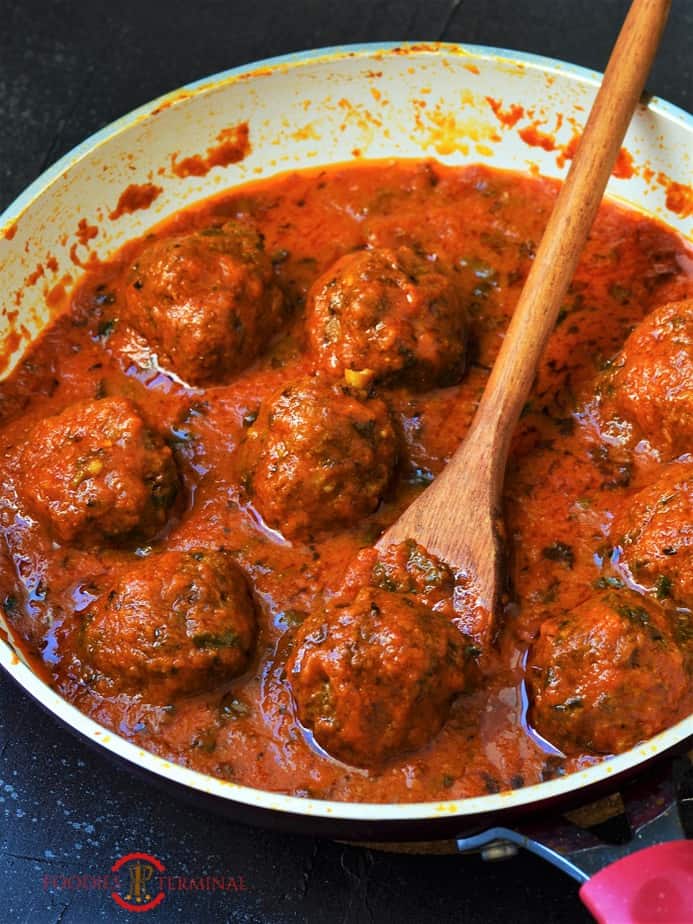 Secret to best Spice-free curry sauce for Mutton Kofta curry
The sauce definitely plays a very important roll in this mutton keema balls curry recipe because the koftas will imbibe so much flavor & aroma from the sauce.
You just need to get it right & make it the best. You surely can, & you'll be just so proud of yourself when you make this curry sauce because it's –
Super Easy.
Contains only 4 ingredients.
Damn tasty.
Under 20 mins recipe.
Quick steps – Roast & simmer.
Spice free!
And the secret ingredient for this non-stereotypical, very different, delicious curry sauce is –
Roasted Bell Pepper.
Roasted Garlic.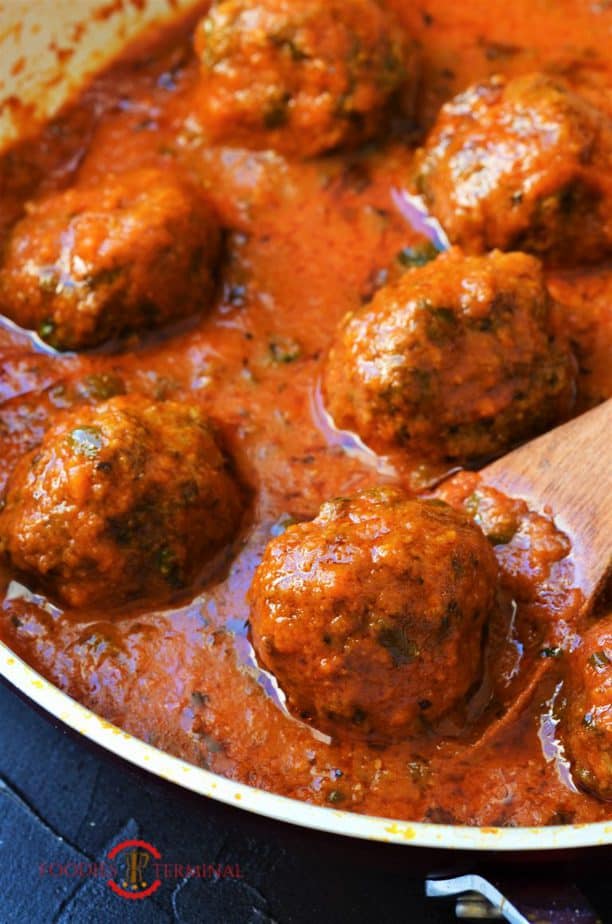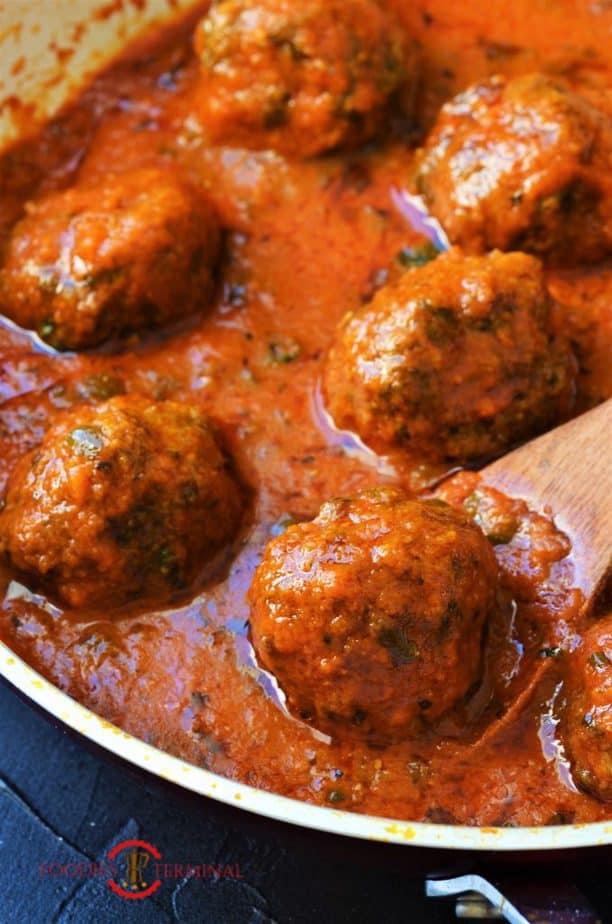 I roasted them in my handy dandy air-fryer. Now, that you know why I am a huge fan of this incredible invention. Because it's handy, solves my kitchen problems & gives me much more free time 😀
You may pan roast or oven roast them too.
Once, you are done roasting the bell pepper & the garlic you are almost 90% done with todays curry sauce.
Now, blend together the canned tomato puree, canned diced tomatoes, the roasted bell pepper & garlic.
Add olive oil or butter in a skillet & simmer the sauce for 5 mins on medium low flame. Add the mutton koftas, cover & simmer another 5-6 mins. Enjoy!
Pro Tip: Roast the bell pepper & garlic, use canned tomatoes for best flavor & always simmer the sauce in medium low or low flame for best results.
What goes in a Mutton Keema Kofta Curry?
You'll make today's recipe in 2 stages. First you'll make the mutton keema koftas & next you'll make the curry sauce and simmer the lamb koftas in the curry sauce.
That way the keema koftas will soak in all the flavors & aromas from the curry sauce & become so much more flavorful.
Here's what you'll need –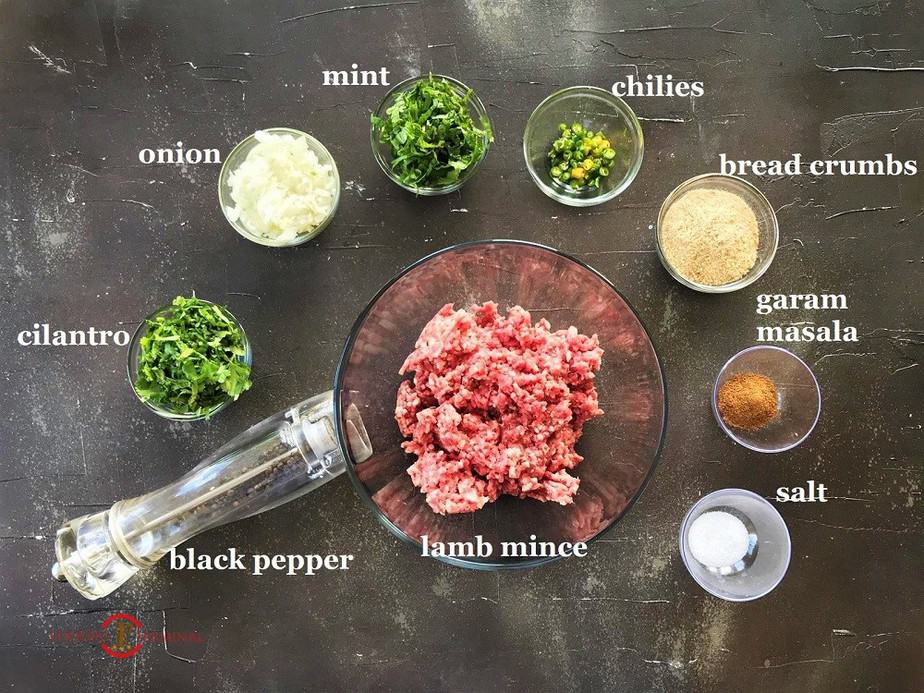 Ingredients for the Mutton Koftas:
Meat: Lamb Mince or Goat mince.
Herbs: Cilantro, Mint.
Spices: Crushed pepper, Garam Masala.
Important: Bread Crumbs or Soaked bread mashed. We used bread crumbs.
Rest: Grated or finely chopped onion, finely chopped green chilies (you may use cayenne pepper or red chili powder or minced Jalapenos)
Ingredients for the Curry Sauce:
Main: Tomato puree, canned diced tomato.
Rest: Roasted yellow or orange bell pepper, roasted garlic, butter.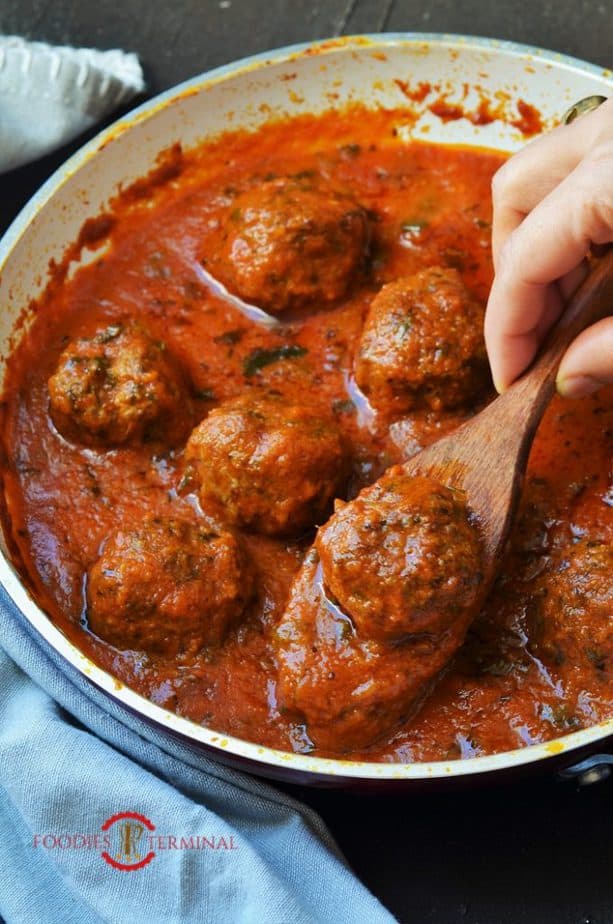 How long can you store mutton (lamb) kofta curry in the fridge?
Fridge Option: You can store the Mutton Keema kofta curry in an air tight container for 4 days in the fridge!
It does keep good beyond the 4 days mark, but the flavor starts to fade.
Freezer Option: This curry is a fantastic candidate for the freezer. You can store them for 1 month (just the curry sauce or together). And you can store the meatballs as such for 2 months.
You may store the lamb meatballs & the curry sauce separately or you may store them together.
We love storing them separately – the mutton keema koftas in freezer safe bags & the curry sauce in freezer safe containers. We love dumping them in a pot, & simmering together just before serving.
What to serve with mutton kofta curry recipe?
This mutton kofta curry tastes best with basmatic rice, Naan & Spaghetti.
Plain boiled quinoa, Moroccon couscous and even tortillas are good options too.
Love curries? Check these out from Foodies Terminal
How to make mutton (lamb) kofta curry – Step By Step
Steps explained in words below the pictures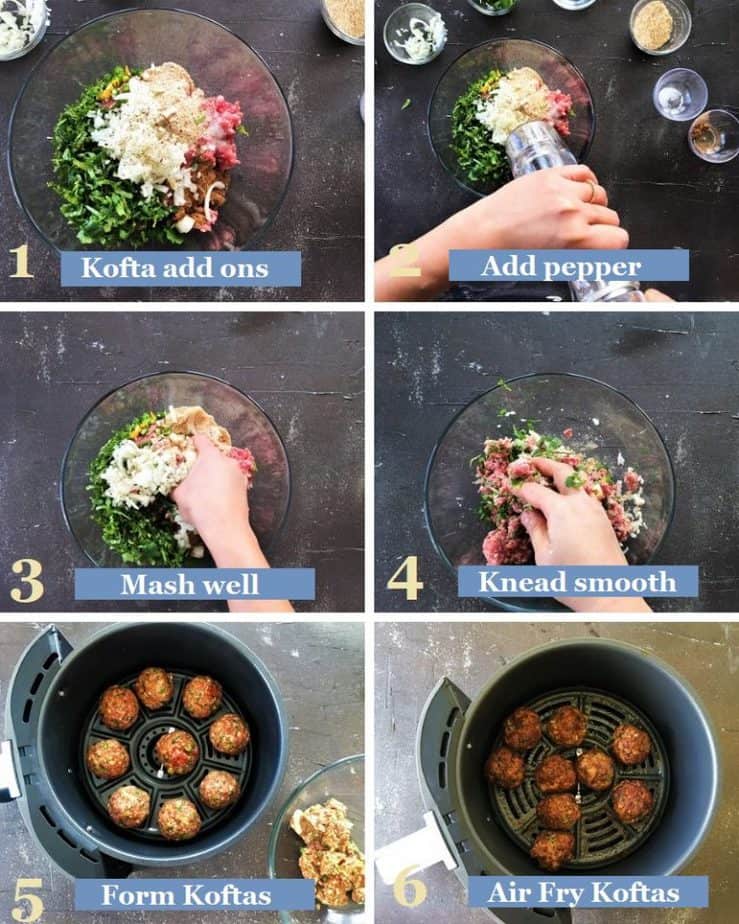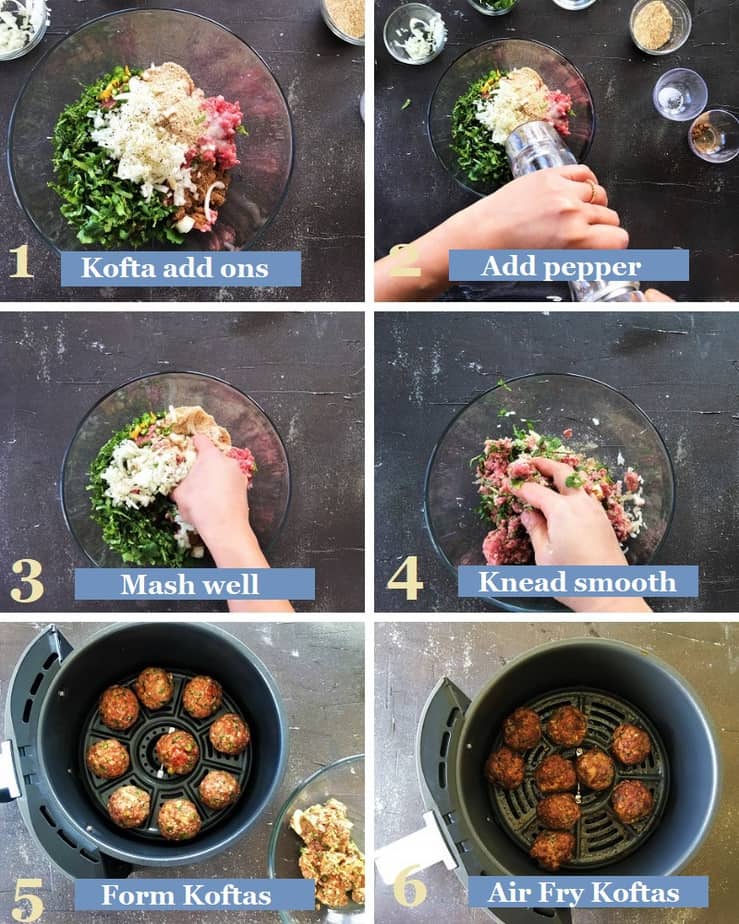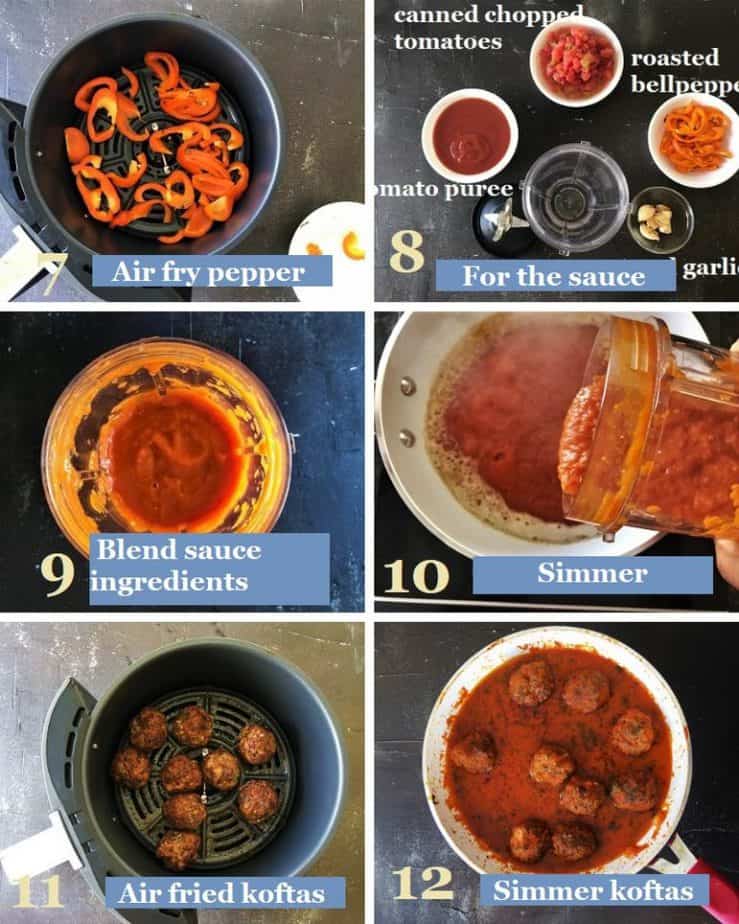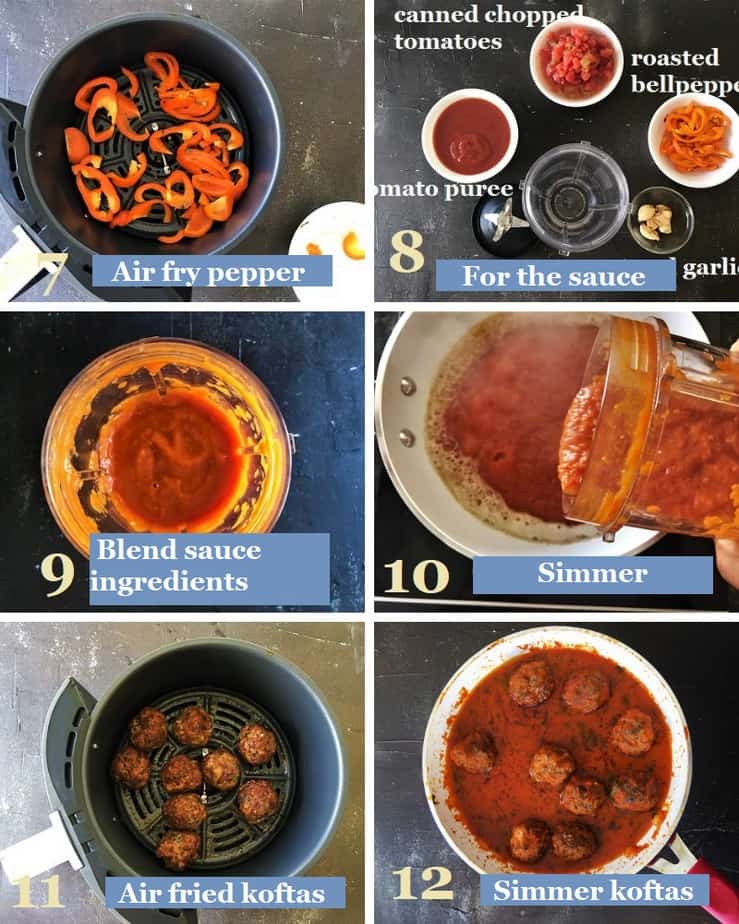 Making the mutton koftas:
No water in the lamb mince & ingredients – super important. Begin by adding the ingredients (mentioned in details in the recipe card) to the mince lamb and mash/knead very well until smooth. You may use your food processor if you hate messy hands 😀
You may use grated & squeezed onion instead of finely chopped ones. I used chopped onions for little extra texture. You may also swap the bread crumbs with soaked bread pieces (in milk). This makes tender koftas.
Shape them into balls by rolling them in the inside of your palms. Place in your air fryer basket, spray oil. Air fry at 360 F for 8 mins. Give a good shake or flip sides after 4 mins.
Baking option & stove-top method included in the recipe card.
Making the Spice-free Curry Sauce
I love the sound of it "Spice-free"! It's so comforting, isn't it? No hunting down oriental spices 😀 😛
Air fry the bell pepper & the garlic at 360 F for 6 mins.
Blend together the canned tomato puree, canned diced tomatoes, roasted bell pepper & garlic.
Add butter or olive oil in a skillet & simmer the sauce for 5 mins. Add the meatballs & simmer with the sauce covered for another 5 mins over medium low or low flame. Serve hot!
This is perhaps the easiest & tastiest mutton kofta curry sauce you'll ever make.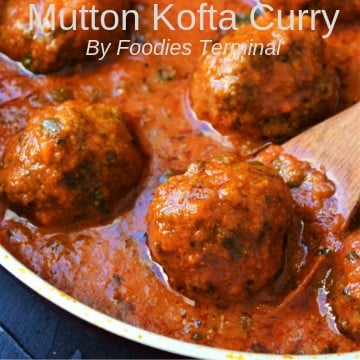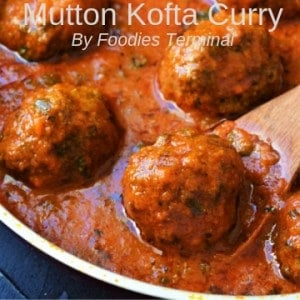 Easy Mutton Kofta Curry Recipe
Print Recipe
Pin
Rate
This Mutton Kofta Curry is an easy one-pot dinner. It consists of plump, juicy lamb meatballs that are air fried & than simmered in a creamy spice-free sauce that taste heavenly! This rich Mutton Keema Kofta curry is quick, delicious & easy to make.
Ingredients
For the Mutton Koftas or Mutton Meatballs:
450

gms

Mince Lamb

(or 1pound)

½

cup

Finely Chopped Onion

¼

cup

bread crumbs

¼

cup

roughly chopped cilantro

¼

cup

roughly chopped mint

1

tbsp

Garam Masala Powder

1

tsp

Ground Black Pepper

Chopped green chilies

(or Jalapeno or cayenne pepper)
For The Mutton Kofta Curry sauce:
Want more Recipe Videos?
Check out our Youtube channel!
Instructions
How to make the Mutton Koftas ( Lamb meatballs)
Take the minced meat in a large bowl. Add the onions, mint, cilantro, crushed pepper, chopped green chilies, salt to taste, garam masala and knead the meat very well. You may use a food processor. The consistency of the meat should be smooth. Set aside.

Scoop out the minced lamb meat with a cookie scoop & roll it in the inside of your palms to give it a round shape. Repeat the steps until you roll up the minced meat into koftas.
How to Air Fry the mutton koftas:
Place the mutton koftas in the air fryer basket without over crowding & in a single layer. Spray oil & Press the AIR FRY button & set the temperature to 360 F , time for 8 mins. Press the START button.

After the first 4 mins give the koftas a good shake or flip sides of the meatballs by taking out the air fryer basket. The machine gets paused automatically. When you insert back the air fryer basket the machine begins to air fry automatically. Set the koftas aside.
How to Pan-sear the mutton koftas:
Set a skillet over medium high heat. Brush oil and place the minced lamb koftas. Pan sear over medium high heat rotating sides. It should take you 15 mins. Set aside.
How to Bake the mutton koftas:
Lay the minced lamb meatballs on a parchment or aluminum lined baking tray. Brush or spray oil.

Pre-heat your oven at 400 F & bake for 35-40 mins. depending on your oven. It's advisable to check them after 25-30 mins. They should be baked until lightly brown.
How to make the Mutton Kofta Curry Sauce:
Begin by roasting the sliced bell-pepper & garlic in the Air fryer at 360 F for 6 mins. Set them aside. Allow them to come to room temperature. You may pan roast them also instead of air frying.

When the roasted pepper & the garlic pods cool down put them in your blender jar, add the canned tomato sauce & the canned diced tomatoes & blend to a fine paste.

Add butter or olive oil in the skillet over medium heat, pour the pureed sauce. Stir & let it simmer for 5 mins covered. You may add about ½ cup water and simmer the sauce.
How to make the mutton kofta curry:
After simmering the sauce for 5 mins add the mutton koftas, stir & mix with the sauce & cover & cook for another 5 mins.
Notes
Easy Swaps: 
Green chilies > chopped Jalapenos or cayenne pepper.
Lamb mince > Goat mince.
Bread crumbs > Soaked regular bread pieces in milk or water about 1 cup.
Chopped onion > grated & squeezed onion.
Measuring Cup used, 1 cup = 240 ml & 1 teaspoon = 5 ml
Nutrition Facts
Easy Mutton Kofta Curry Recipe
Amount Per Serving
Calories 459
Calories from Fat 324
% Daily Value*
Fat 36g55%
Cholesterol 73mg24%
Potassium 364mg10%
Carbohydrates 16g5%
Protein 17g34%
* Read our privacy policy – Calorie information is provided as a courtesy only and should be leveraged as an estimate rather than a guarantee.Percent Daily Values are based on a 2000 calorie diet.
Nutrition
Calories:
459
kcal
|
Carbohydrates:
16
g
|
Protein:
17
g
|
Fat:
36
g
|
Saturated Fat:
20
g
|
Cholesterol:
73
mg
|
Potassium:
364
mg
|
Fiber:
3
g
|
Sugar:
4
g
Pin it for Later!