Hansher Dimer Dalna or Bengali Style Duck Egg Curry is a fantastic quick & easy egg curry recipe that can be rustled up in 30 mins! This spicy egg curry is cooked with boiled, pan fried duck eggs, potatoes slow simmered in a tomato based sauce that tastes ultimate. Make this potato egg curry today & relish it with chapati & rice. You won't regret! Watch my step-by-step Video recipe & learn how to make this Bengali egg curry at home with pantry staples.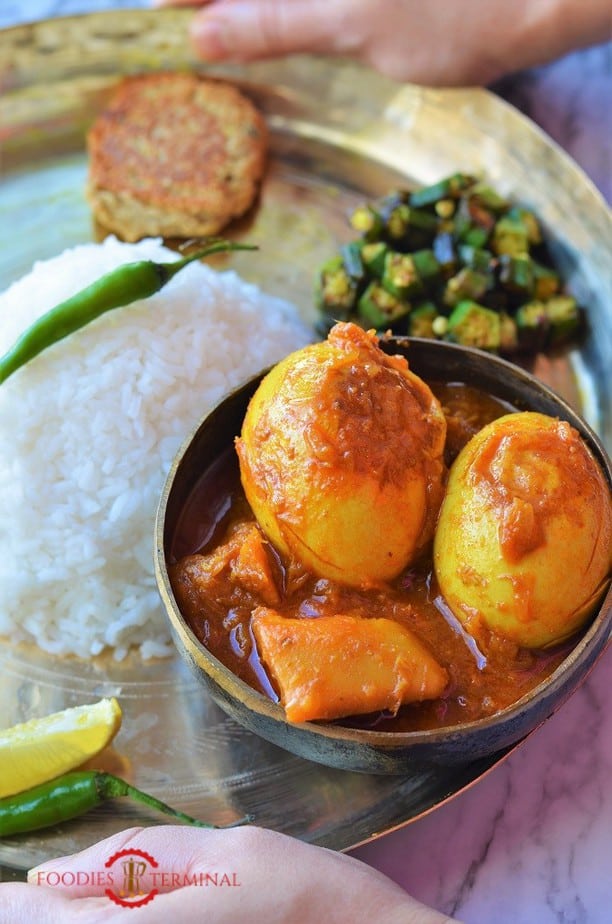 Hansher Dimer Dalna or Bengali Style Duck egg curry is the happy answer to all your quick & easy dinner dilemmas!
Yes, we all have that nagging thought to deal with at least at some point in our lives or to say several days of the week – "What's for dinner?" or "what should I cook today?"…Lol!
This killer question baffles you & me as well (though I am a food blogger). Yes, that's the irony of life and so true!
But, not any more, cook this easy peasy Indian style egg curry today, well, the control of the spice level is at your hands. So, don't worry it's not that spicy, it's milder than some of your extra hot Buffalo wild wings. I guarantee!
You can also make this easy Hansher dimer dalna or Duck egg curry with poultry egg too! I know that Duck egg is rarely available at the grocery stores & this substitution works for me every single time.
This is perhaps the best, the quickest & the easiest Indian egg curry recipe that you'll ever make. And the potato chunks are an added bonus. If you do not prefer them than go ahead and ditch them.
No problem, you'll still have a wonderful quick egg recipe to enjoy.
So, if you are looking out for easy dinner meal ideas than why not try out this super quick egg curry Indian style & enjoy it with some rice or tortillas!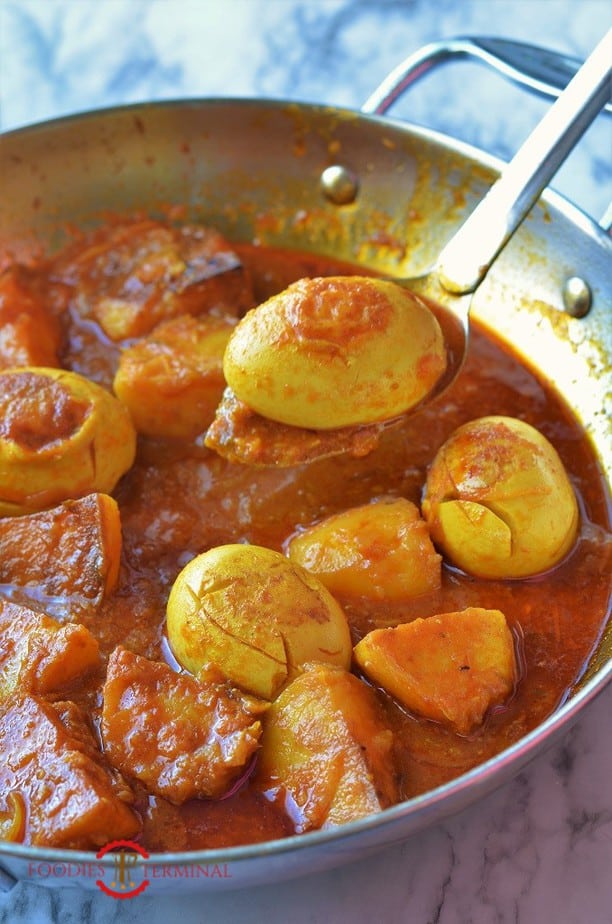 FAQs – Hansher Dimer Dalna (Video) | Bengali Style Duck Egg Curry.
Watch How to make Hansher Dimer dalna or Bengali Duck Egg Curry
What is Hansher Dimer Dalna or Duck Egg Curry
Hansh = Duck
Dim = Egg
Dalna = Curry Sauce
Hansher Dimer Dalna is a Bengali style of cooking boiled whole duck eggs with potato chunks in a mild tomato based gravy.
The best part of this Indian egg curry is that it comes together in 30 mins & is cooked with readily available ingredients from your pantry.
This dimer jhol has an ultimate reputation of showing up in daily menus in a Bengali household (in Indian) when the local fish vendor fails to show up with fresh fishes.
Or when the sky is over cast with clouds, Bengalis love to take respite in a quick patla khichuri (rice & lentil porridge), Dimer dalna (egg curry), & different bhaja bhujis (fried veggies).
Moms' love rustling up this sparky, flavorful Bengali egg curry every now & then when that sudden urge of eating eggs come striking or when her pantry needs to be re-stocked with veggies.
And then there's this delicious Hansher dimer jhol for cozy dinner nights.
Unfortunately, Hansher dim aka Duck eggs are prized possessions in the USA. It's either that local farmers who sell them or it's a quick trip to the Whole Foods.
But, at least we manage to get them here, which is certainly a blessing I count upon.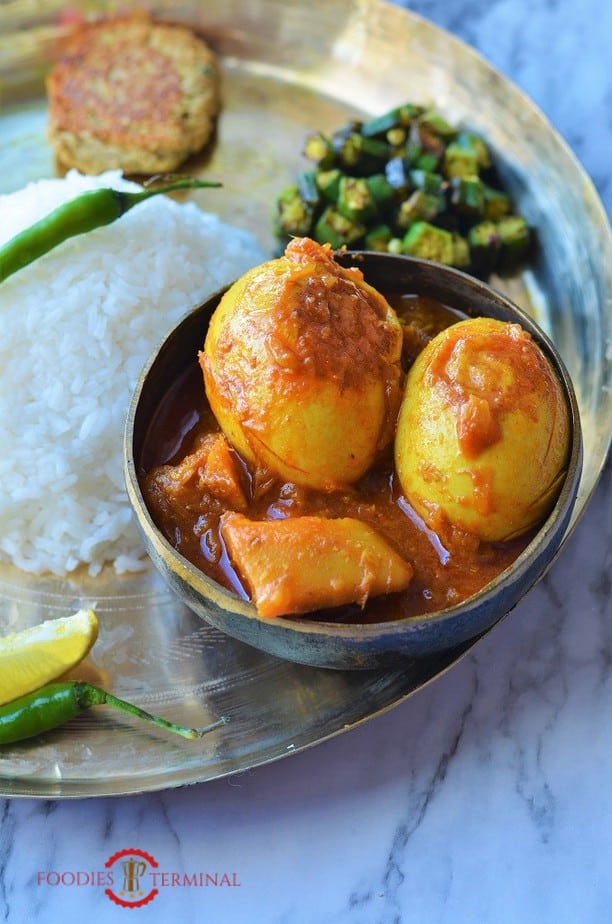 Ingredients for Hansher Dimer Dalna or Bengali Style Duck Egg Curry
Here's goes the very straight forward ingredients list:
Main ingredients: Duck eggs, potatoes, extra virgin mustard oil.
Spices : turmeric powder, red chili powder, coriander powder, cumin powder.
Extras: Onion, ginger, garlic, tomato paste, green chilies.
Serving Ideas
If you love curried eggs & fancy eating them once in a while then do try to pair this delicious egg curry with tortillas, sour dough loaf or white rice.
You may even stretch out a bit and team it up with some boiled & sauteed quinoa. We tried it & it definitely works tastefully!
Traditionally Hansher Dimer Dalna is well relished with hot rice or Khichuri (rice + lentils savory porridge) back in Bengal in India. But, we love to slurp it with hot rotis just as much!
Storing Ideas of Hansher Dimer Dalna or Bengali Style Duck Egg Curry
Pop them in the fridge in an air tight container. You are set for 3-4 days dinner meal.
Or you may even quickly prepare just the egg curry sauce. Zip it up or lock it up in containers & store them for 4-5 days in the fridge.
Skip the potatoes & add the boiled & lightly sauteed eggs just before serving.
Where can you buy Duck Eggs
Farmers Market
Local farmers
Whole Foods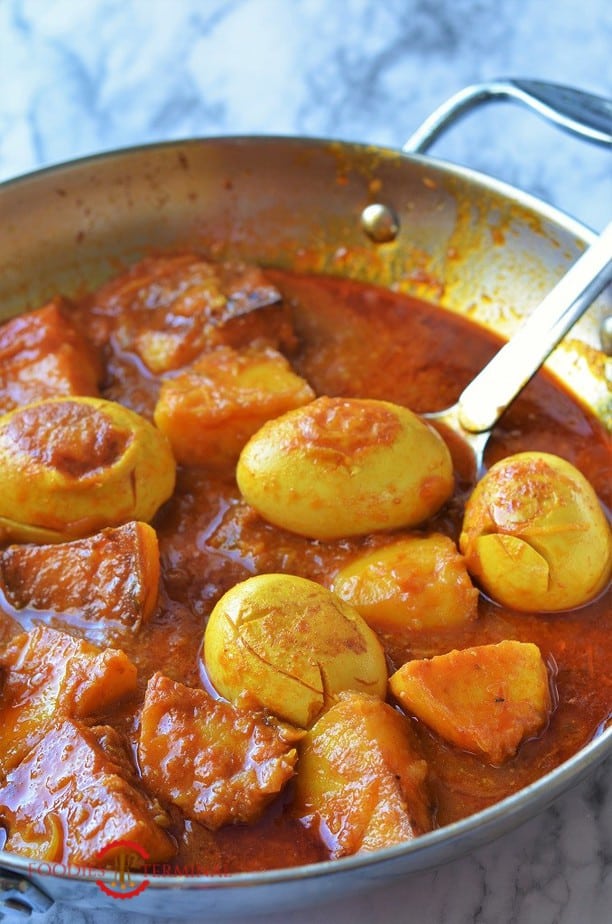 What does a Duck egg taste like
Are you curious to know?
Well, here's to those you have never tried Duck egg before…..
It's yolk is intensely tasty as compared to chicken eggs.
And it's albumin is not as soft as a chicken egg but way more tasty.
Therefore, a duck egg tastes like chicken egg but it's way more delicious & rich.
Love cooking? Check out some easy Recipes from Foodies Terminal
Pro Tips from Foodies Terminal to make the best Hansher Dimer Dalna | Bengali style duck egg curry
Cook the eggs very well, at least for 15 mins.
Take off the shell of the eggs by dipping them in water several times. The water helps to loosen the shells. Try it. It works every time.
Shallow fry the eggs, do not skip this step until & unless you are in a super hurry mode. It gives so much more flavor to the gravy.
Slit the surface of the eggs before frying. This helps the curry sauce to penetrate.
You may either fry the potato chunks until golden, or par boil them & then saute for a few minutes.
Adjust the spice levels according to your taste.
If you want you may garnish this Hansher dimer jhol or Indian egg curry with chopped cilantro.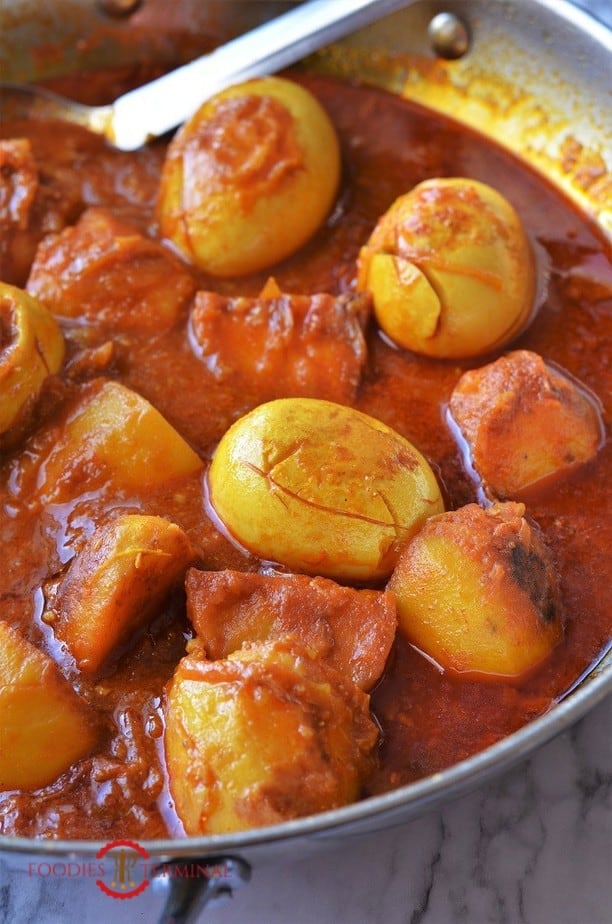 DID YOU TRY THIS RECIPE? Do Not forget to give a STAR (*) rating! Just click on the STARS on the recipe card below to rate.
Recipe Card of Hansher Dimer Dalna (Video) | Bengali Style Duck Egg Curry.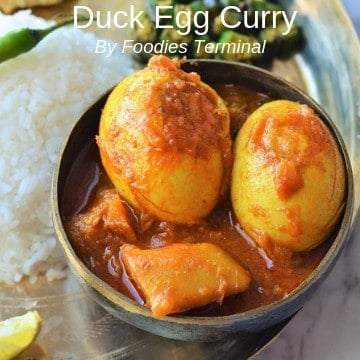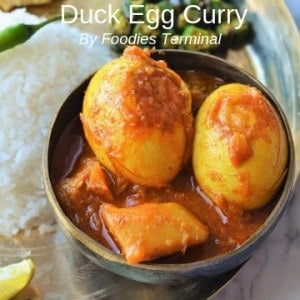 Hansher Dimer Dalna (Video) | Bengali Style Duck Egg Curry
Print Recipe
Pin
Rate
Hansher Dimer Dalna or Bengali Style Duck Egg Curry is super quick & easy recipe that is made with boiled duck eggs & potatoes in a simple tomato based curry sauce. This Bengali egg curry tastes awesome with chapati, rice, tortillas or even bread!
Want more Recipe Videos?
Check out our Youtube channel!
Instructions
Begin by preparing the Masala for the egg curry. In a clean dry bowl add the turmeric powder, red chili powder, Kashmiri red chili powder, cumin powder, coriander powder and dilute it with water. Set aside.

Smear the potato chunks with salt & turmeric powder. Fry them until light golden over medium high heat. Set aside. Shallow Fry the boiled eggs & set aside.

In the same pan add the roughly sliced onions & fry them over medium high heat until light golden from the edges. Add salt to hasten the process.

Next add the crushed ginger garlic & green chilies & saute until the raw smell completely disappears & oil oozes out.

Now add the diluted masal & saute until the raw smell disappears & oil oozes out. It should be fired very well.

Then, add the tomato puree. Fry until oil oozes out, add salt, mix & fry again. It should not take much longer.

Add the shallow fried potatoes mix well.

Add the shallow fried eggs. Mix everything together. Saute for a few mins until the bhuna masala uniformly coats the potatoes & the eggs.

Add warm water. Cover & simmer over low heat until the potatoes are completely done. Serve hot. Enjoy!
Notes
Bhuna the Masala well.
If you do not own a mortar & pestle. Then, roughly crush the ginger, garlic & green chilies in your mixer grinder. DO NOT make a fine paste.
Shallow fry the duck eggs. This certainly enhances the flavor of the egg gravy.
If you do not want to dilute the dry masalas you may add them directly to the pan. But, diluting enhaces the color of the masala & hence, boosts the color of the curry sauce. It also prevents the masala from getting burnt.
If you want you may garnish the Bengali style duck egg curry with chopped coriander leaves or cilantro.
Measuring cup used, 1 cup = 240 ml & 1 teaspoon = 5 ml.
PLEASE NOTE: Nutrition values are my best estimates. If you rely on them for your diet or special diet, use your preferred nutrition calculator!
Nutrition Facts
Hansher Dimer Dalna (Video) | Bengali Style Duck Egg Curry
Amount Per Serving
Calories 307
Calories from Fat 147
% Daily Value*
Fat 16.3g25%
Cholesterol 196.5mg66%
Sodium 702.1mg31%
Potassium 851.8mg24%
Carbohydrates 30g10%
Protein 11g22%
Vitamin A 1095IU22%
Vitamin C 45.6mg55%
Calcium 53mg5%
Iron 2.7mg15%
* Read our privacy policy – Calorie information is provided as a courtesy only and should be leveraged as an estimate rather than a guarantee.Percent Daily Values are based on a 2000 calorie diet.
Nutrition
Calories:
307
kcal
|
Carbohydrates:
30
g
|
Protein:
11
g
|
Fat:
16.3
g
|
Saturated Fat:
4.8
g
|
Polyunsaturated Fat:
1.3
g
|
Monounsaturated Fat:
5.4
g
|
Cholesterol:
196.5
mg
|
Sodium:
702.1
mg
|
Potassium:
851.8
mg
|
Fiber:
4.8
g
|
Sugar:
2.9
g
|
Vitamin A:
1095
IU
|
Vitamin C:
45.6
mg
|
Calcium:
53
mg
|
Iron:
2.7
mg
If you try this recipe or any other recipe from this blog, let us know! Leave a comment, rate it! Hearing from you is what makes my Day!
Follow us on Facebook & Pinterest.
Tag a photo on Instagram.