Potol Korma is a delicious & rich vegetarian dish that's prepared with Potol or Parwal or Pointed Gourd. You can pair it with either Chapati or rice, tastes awesome either way! Parwal Korma is a semi-dry gravy that has all the richness of cashew & almond paste, the sweetness of raisins & the tartness of tomatoes. Watch my step by step Video Recipe & learn to prepare a quick Potol Korma recipe that's so big on flavors!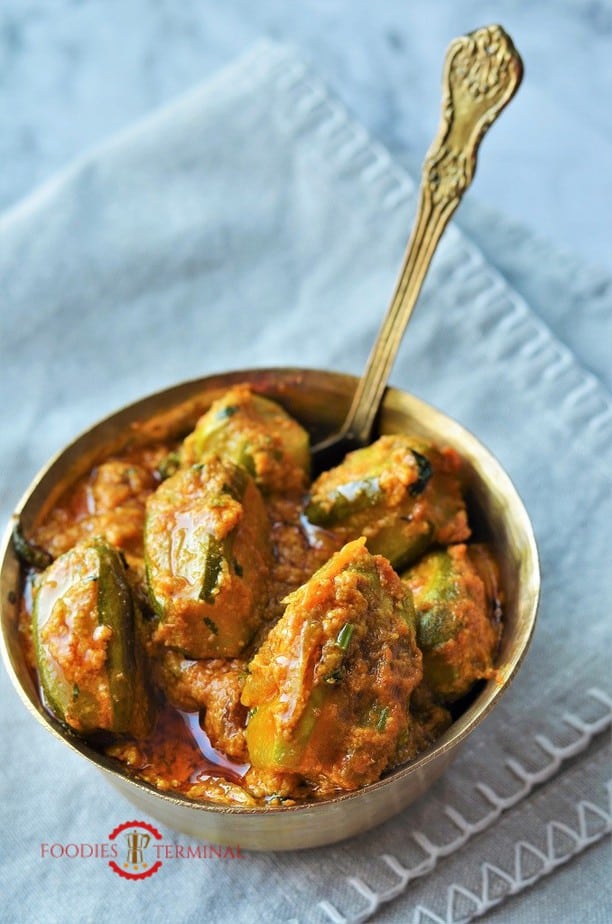 Watch the Video Recipe of Potol Korma:
Potol Korma or Parwal Korma is not a common vegetarian preparation that goes in the menu on a regular daily basis.
At least not in any Bengali households.
On a regular basis we Bengalis love our Niremish Potoler dalna, Potol diye Macher jhol, Potol Posto, Potol Bhaja.
Even Potol Dolma is a special affair!
Similarly Potol Korma is one such dish that's kept aside for a special guest suddenly stopping by at your place, or perhaps when the mundane light curries bore you a little.
You want that desperate break from light & nutritious home-cooked meals & want to cook something different with that regular vegetable...something that has some real flavors!
I am sure you get my point by now 😀
My whole point of stretching this fact of Parwal Korma not being a regular dish is that it's a rich dish that demands a little more oil, and nut pastes.
Hence, it's not light on the stomach, though Potol or Parwal is a lovely veggie that's very light on the stomach & lighter Potol recipes are recommended to recover from a stomach ailment.
But, the way you cook it makes all the difference!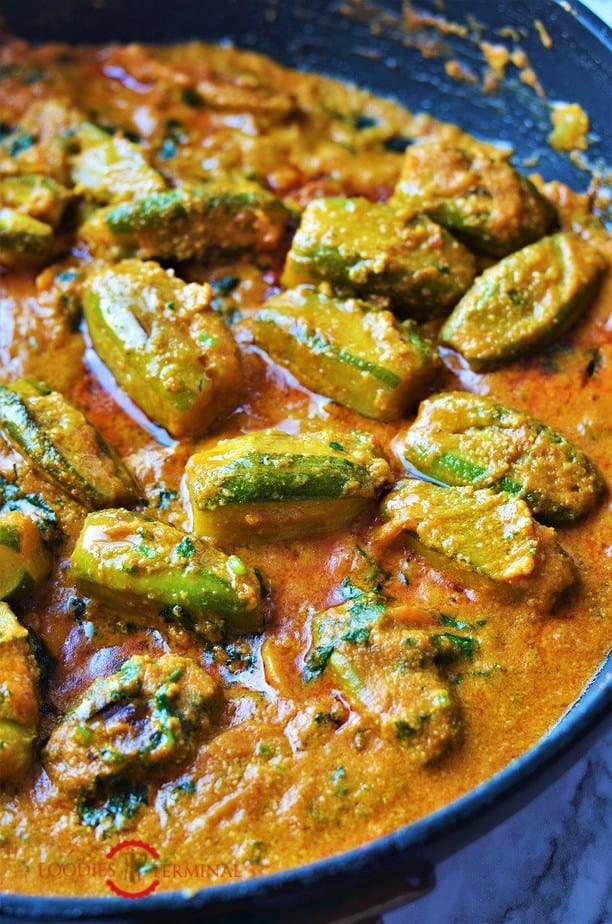 Some Interesting FAQs about Potol korma (Video) | Parwal Korma Recipe
What is Korma?
Korma is a popular Mughali dish that can be traced back somewhere in the 16th century in the Indian sub-continent.
It's Mughal origin is popularly mentioned in the texts where it's written that a Safed Korma (white Korma dish) garnished with Vark (silver leaf) was served to Shah Jahan & his guests during the inauguration ceremony of the famous Taj Mahal.
Korma has of course a tag of prestige attached to it! Some sort of a Shahi-ness 🙂
Classically a Korma dish was always cooked with meat that was braised in yogurt, cream or stock. A few ground spices like cumin & coriander went in the Korma gravy to add aroma and flavors.
There are infarct several ways to cook a Korma & now-a-days a thick gravy made with nut paste, coconut milk, many a times prepared in Ghee is popularly known as Korma.
Though the Mughlai way of cooking an authentic Korma is very different.
What is Potol Korma or Parwal Korma Recipe?
Potol Korma Or Parwal Korma Recipe is a vegetarian dish that's cooked with Potol or Parwal or pointed gourd in a thick gravy of nut paste, dry fruits & garnished with Ghee.
This Potol recipe is unlike any traditional Korma recipes that demands braising in yogurt.
Potol Korma is a Shahi preparation and if you are a vegetarian you should never miss this dish because it is packed with outrageous flavors!
Potol = Pointed Gourd
Korma = a thick gravy that's made rich with nut paste, yogurt (not this recipe), cream (not this recipe).
This Parwal Korma is certainly a quick & easy preparation that won't take much of your time.
If you want to plan smart & squeeze out and save some more time than do peel & fry the Potol or pointed gourds a day or two ahead & store them in the fridge in an air tight container.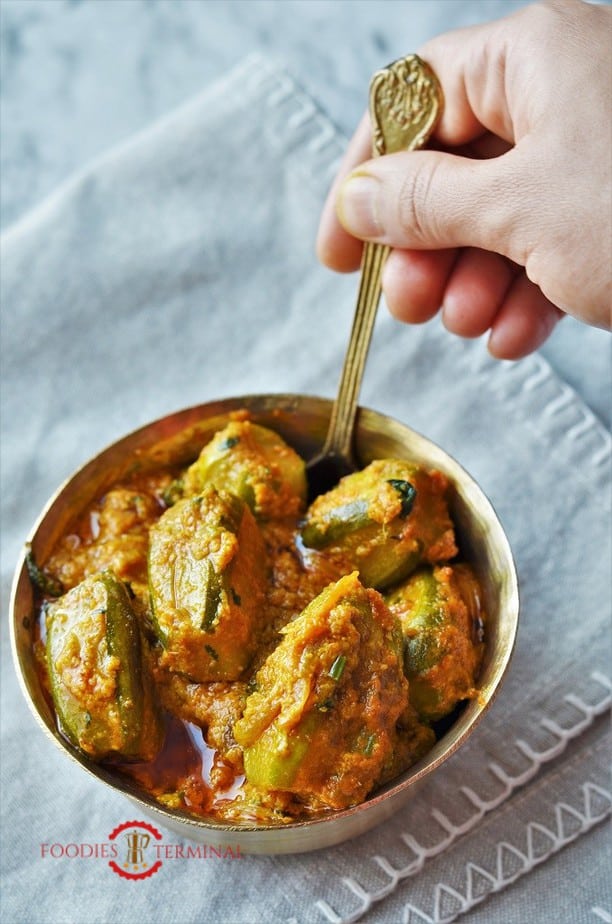 How long can you store Potol Korma or Parwal Korma Recipe?
You can store Potol Korma or Parwal Korma for 4 days in the refrigerator in an airtight container.
I have never tried freezing it though. But. you may try to do so & see if it works!
How can you serve Potol Korma?
You can serve Potol Korma either with plain white rice, fried rice or chapati!
It tastes wonderful with plain pulao because of its shahi flavors.
Where can you buy Pointed gourds or Potol or Parwal?
Well, if you plan to try out this Bengali style potol recipe than I would suggest you to visit any Indian store in your city. You can find it in the veggie section.
This Indian vegetable is not available in any american stores.
How do you make Potol Korma?
Here's how you can make Potol Korma:
Start by peeling & frying the potol / Parwal / pointed gourd.
Add whole garam Masala. Allow them to sizzle.
Add dry fruits like cashew & raisins. Saute few seconds.
Fry the sliced onions.
Next, add onion paste. Fry well.
Add ginger garlic paste. Saute.
Next add all the dry spices & fry the Masala well until oil oozes out.
Add the nut paste. Mix well.
Then, add hot water. Mix well.
Finally, add the fried potol & simmer covered.
Add chopped cilantro / coriander leaves. Mix well. Cover & Cook for a couple minutes more.
Garnish with ghee.
Serve hot with Chapati or Rice.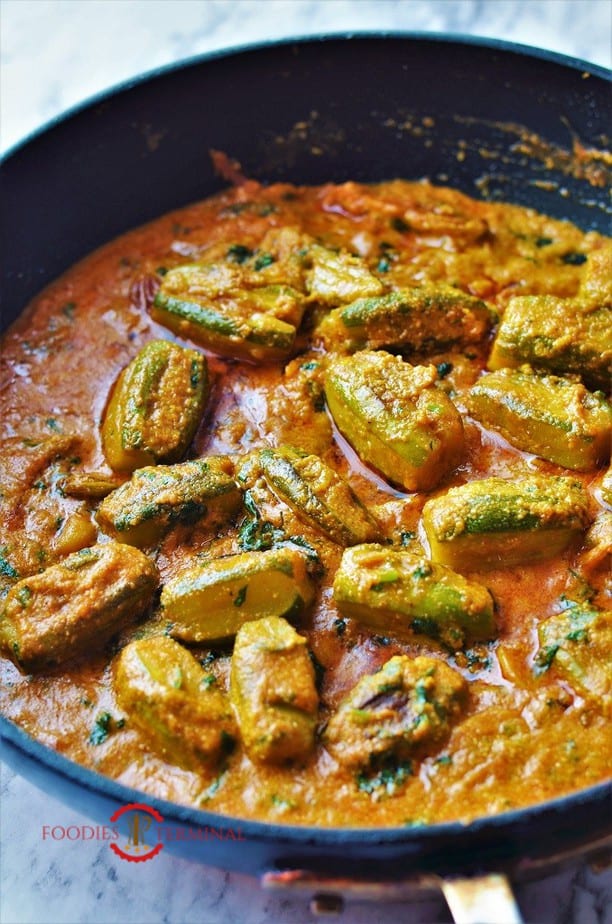 Love Bengali Fry, try these awesome Bengali Recipes from Foodies Terminal :
Expert Tips from Foodies Terminal to make the Best Potol Korma (Video) | Potol Korma Recipe
Choose the Potols or pointed gourds that are not tender. They should be green, firm to touch and must have a smooth surface.
To use your time wisely you may peel & fry the potol a day or two ahead & store them in your refrigerator in an airtight container.
You may also prep your nut paste & ginger garlic paste before hand & store them covered in the fridge.
Do not fry the sliced onions too much or until crispy. You must fry them until nice & golden crisp edges but limp.
Fry each and every ingredient well.
The trick for a tasty Parwal Korma recipe is to fry each and every ingredient until oil oozes out, except the nut paste.
After adding the nut paste do not fry too much. Saute for a few seconds & stop. Do this at a low temperature so that the nut paste do not burn.
This step will make your Korma gravy very aromatic & tasty. Over frying the nut paste will completely ruin the taste of the Potol Korma. So watch out!
This recipe demands a little more oil. You may use less but that might alter the taste a lot.
You may use home-made tomato paste with either raw ripe tomatoes or boiled tomatoes. Just grind them in your mixer.
Do not skip adding ghee. It adds so much more flavor!
Add salt while frying the sliced onions. Salt fastens the cooking process.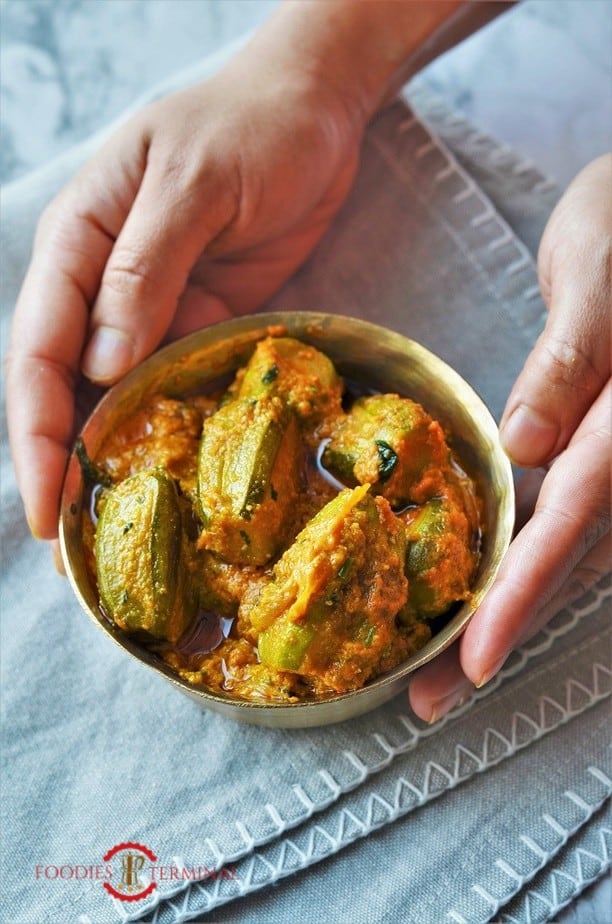 Try out some of the amazing recipes from Foodies Terminal.
Recipe Card for Potol Korma (Video) | Parwal Korma Recipe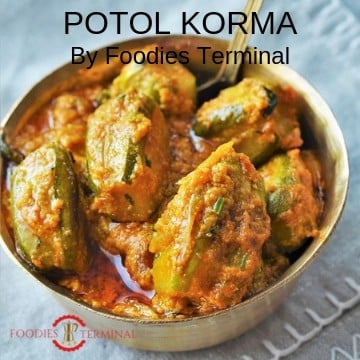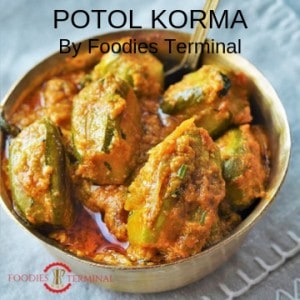 Potol Korma (Video) | Parwal Korma Recipe
Print Recipe
Pin
Rate
Potol Korma or Parwal Korma is a delicious vegetarian dish that's made with pointed gourd or Potol in a rich thick sauce containing nut paste & dry fruits. Potol korma tastes fantastic with rice & chapati.
Want more Recipe Videos?
Check out our Youtube channel!
Instructions
Start by peeling the pointed gourds or Potol. Do not peel the skin completely leave thin strands of green skin behind. (refer the video).

Smear them with turmeric & salt. Set aside.

Over medium high heat add ½ parts canola oil from the ½ cup oil. Fry the potol or parwals until lightly golden. The potols should be 70% cooked when they turn light golden. Set aside.

In the same oil add the whole garam masalas & allow them to siizle for a few seconds.

Now, add the whole cashews & the golden raisins. Saute for a few seconds.

Add the sliced onions & fry until the edges turn light golden but the onions are still limp. Add salt. It helps to fry the onions faster.

Next, add the onion paste & fry until the raw smell completely disappears and oil oozes out.

Now, add the ginger garlic paste & all the dry spices one by one. Mix well & Bhuna the masala or fry everything until the color changes, you get a lovely aroma & oil oozes out. The masala will become dark in color when fried well.

Add the cashew-almond paste and the white poppy seeds paste. Mix well. Add little sugar (optional). Saute for about 1 minute.

Add water, give everything a good stir.

Than add the fried potols & mix well.

Cover & simmer for 5 mins.

Open the cover after 5 mins add the chopped cilantro or coriander leaves. Mix well. Cover & simmer for about 2-3 mins or until the potol is completely cooked.

Garnish with ghee & serve hot. Enjoy!
Notes
Never buy yellowish Potol or parwal. Maximum times they are ripe from inside.
Add salt white frying the sliced onions. Salt helps in the process.
Do not over fry the onions.
Fry every masala well, until oil oozes out. This is the trick for a fantastic tasting Korma.
Do not fry a lot after adding the nut paste & the poppy paste.
Sugar is totally optional.
Do not skip the ghee & the cilantro. They add flavors to this Potol Korma recipe.
Measuring cup used, 1 cup = 240 ml & 1 teaspoon = 5 ml.
PLEASE NOTE: Nutrition values are my best estimates. If you rely on them for your diet or special diet, use your preferred nutrition calculator!
Nutrition Facts
Potol Korma (Video) | Parwal Korma Recipe
Amount Per Serving
Calories 302
Calories from Fat 153
% Daily Value*
Fat 17g26%
Sodium 128mg6%
Carbohydrates 34g11%
Protein 6g12%
* Read our privacy policy - Calorie information is provided as a courtesy only and should be leveraged as an estimate rather than a guarantee.Percent Daily Values are based on a 2000 calorie diet.
Nutrition
Calories:
302
kcal
|
Carbohydrates:
34
g
|
Protein:
6
g
|
Fat:
17
g
|
Saturated Fat:
2
g
|
Sodium:
128
mg
|
Fiber:
5
g
|
Sugar:
3
g
Pin this Potol Korma Recipe for Later!