Salt Free Fajita Seasoning Recipe is easy, quick & great for making homemade Fajitas just like your favorite Mexican restaurant. Learn how to make this homemade, gluten-free and sugar free Fajita seasoning with the best combination of spices.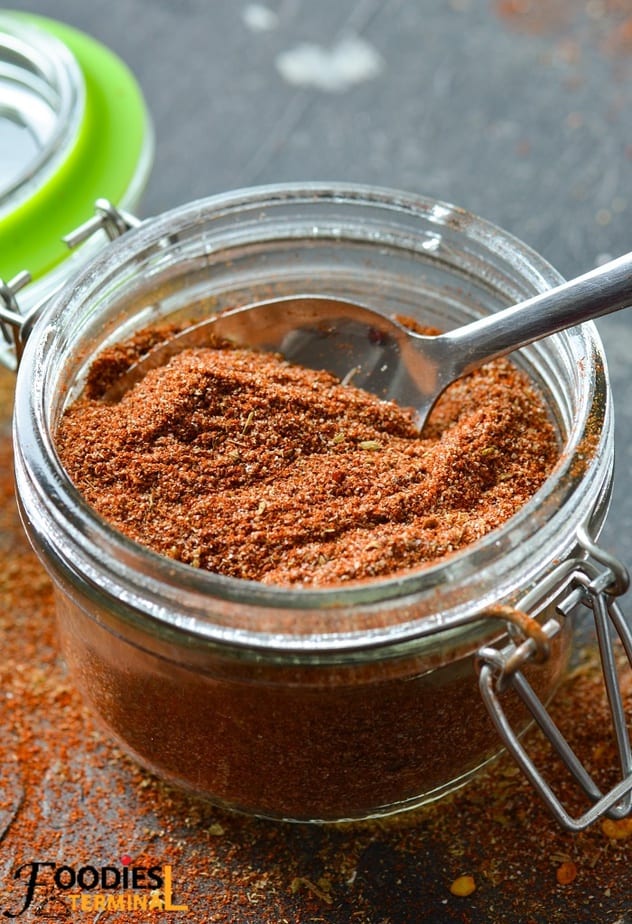 Homemade Fajita Seasoning no sugar
Chicken Fajitas, shrimp Fajitas & beef fajitas are incomplete without this simple fajita seasoning recipe! Check out this Instant Pot Chicken Fajita Rice where you can use this homemade fajita seasoning marinade in a pinch.
This healthy homemade Fajita seasoning smells wonderful, looks wonderful and you can control the spices according to your personal preference.
For instance you can control the heat in the recipe by reducing the amount of cayenne. We prefer a spicy fajita seasoning mix and that's how we made it today.
Simple Fajita Seasoning – Tips & Tricks
Spicy homemade Fajita seasoning: Follow today's recipe without any alterations.
Homemade mild fajita seasoning: Reduce the cayenne amount from today's recipe. Add only 2 pinches for a flavor pop and eliminate the red pepper flakes or add just a pinch.
Homemade Fajita seasoning without chili powder: Omit the chili powder from todays recipe and add 1 tablespoon more paprika.
Salt-free sugar-free fajita seasoning: Todays recipe has no salt and sugar. So, while preparing any fajita dish with this gluten free fajita seasoning mix do not forget to add a little salt (according to your personal preference) to make the flavors pop in your food.
Homemade Fajita Seasoning no salt – Ingredients
Find the Ingredients with actual measurements at the bottom of the post. The list below is just a reference.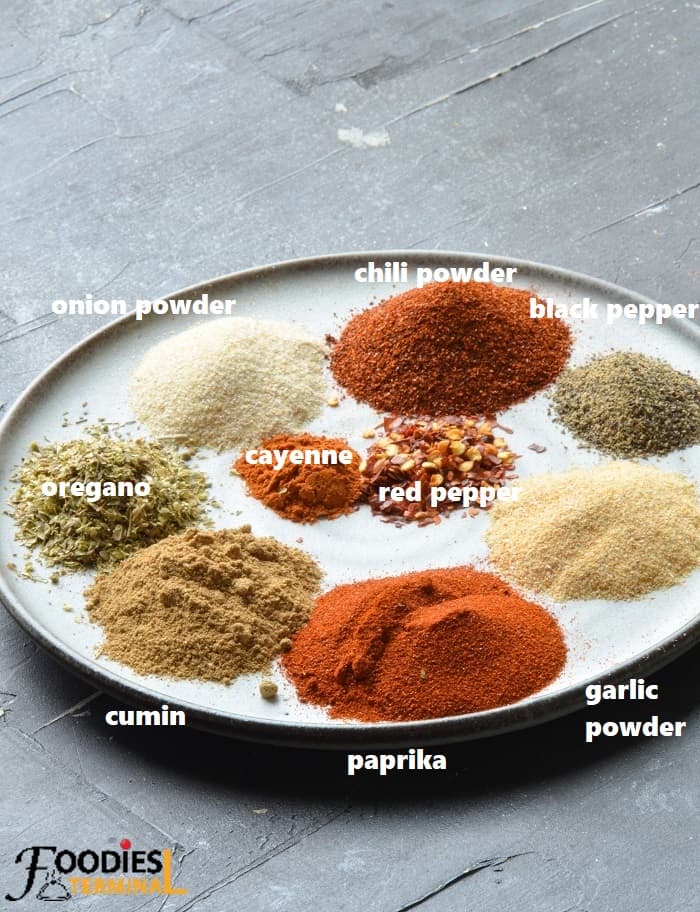 Chili powder: This dark red colored powder is not spicy however, it adds a subtle kick to the seasoning mix and lots of texture and color.
Paprika: The smokiness from the paprika enhances the flavor of the fajita seasoning. You'll love it! Do not use smoked paprika. Sweet paprika or regular paprika would be the best choice.
Cayenne pepper powder: If you are a spicy food lover you'll love adding cayenne. It adds lots of heat to the seasoning mix. However, you can totally control the spicy level by adding less cayenne or more. We would recommend that you add 1/4 teaspoon cayenne first and than do a test taste and increase the amount if you love the flavor and able to bear the heat.
Cumin powder: The earthy note in the Old El Paso fajita seasoning recipe comes from the cumin powder. It adds lots of depth and balances the fiery cayenne pepper in the recipe. Don't miss this one, cumin is the star ingredient in homemade fajita seasoning recipes.
Onion powder: The flavor is amazing. Don't miss it.
Garlic powder: Can you ever have enough garlic? We love this ingredient and it plays a vital role in adding lots of amazing flavor to this simple fajita seasoning recipe.
Black pepper powder: The characteristic woody piney flavor of black pepper powder goes very well with the other spices used in the recipe. You don't need much.
Oregano: Dried oregano would create magic! It adds an awesome aroma, lots of texture to this sugar free fajita seasoning recipe.
Red pepper flakes: You can skip the red pepper flakes if you do not prefer the heat. We love the subtle kick it provides and pairs well with the cayenne.
How do you make Fajita seasoning from scratch?
Find the detailed step by step recipe along with measurements + Video at the bottom of the post.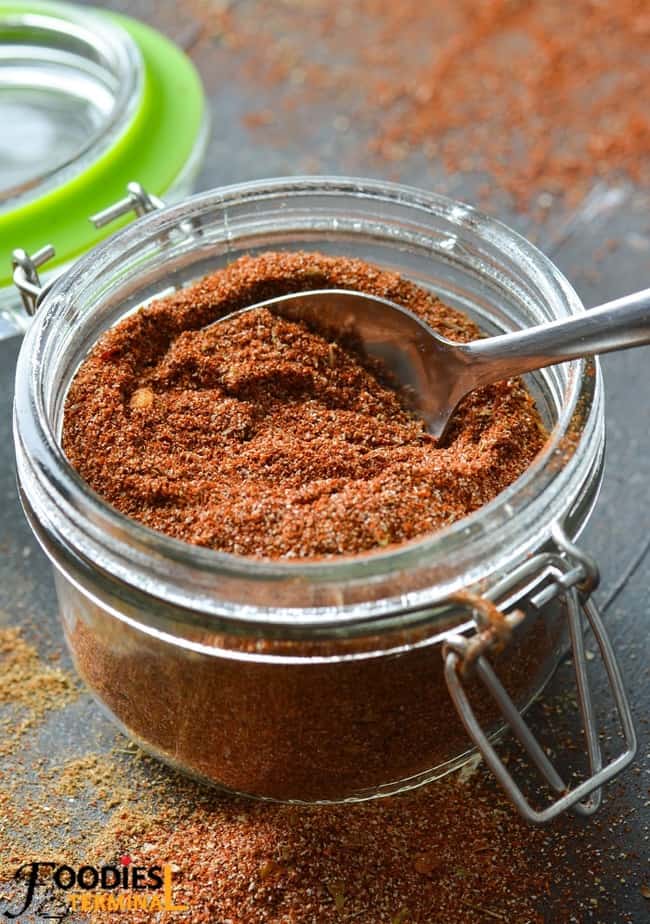 Gather ingredients: Gather and measure all the spices and keep them in a bowl.
Mix: Whisk to mix well.
Store: Pour in an air tight glass jar and store right away. You may use labels to write the date on it so that you can finish the seasoning within a span of 3 months.
How to store salt free fajita seasoning?
You can preserve the flavors and the aroma of this best fajita seasoning recipe by storing it in a clean, dry air tight glass container/jar. Store the jar in a cool and dark place, the back side of the kitchen cupboards are the best spots.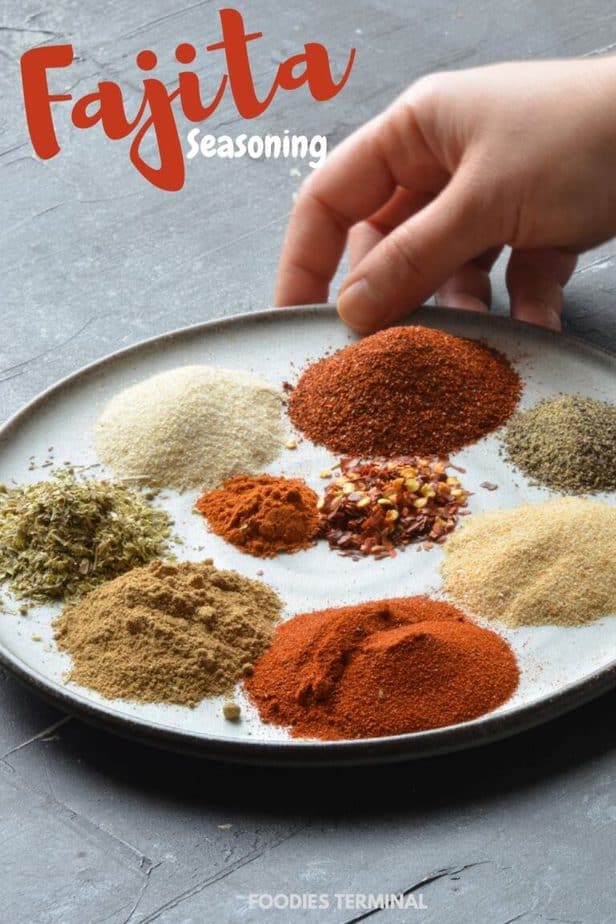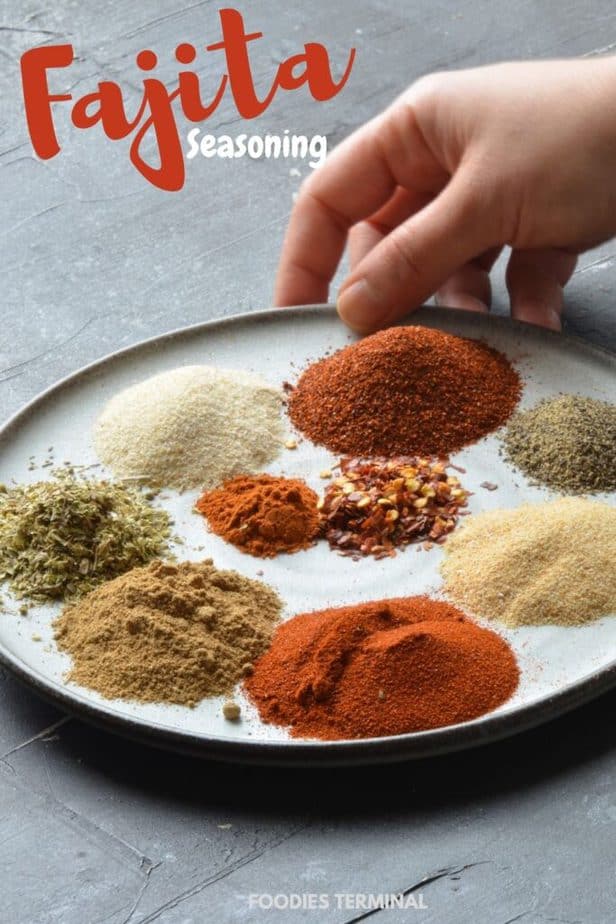 How to use homemade fajita seasoning?
Instant pot Shrimp Fajita.
Instant Pot Chicken Fajita.
Flavor up salads: Sprinkle a few dashes fajita seasoning to flavor up your favorite summer salads.
How long does Fajita seasoning last?
The fajita seasoning stored properly in air tight glass containers or jars will last for up to 3 months. After 3 months the seasoning won't go bad, you can still use it, however the flavors and the aroma will begin to fade away! It's better to make small batch and store it for 3 months.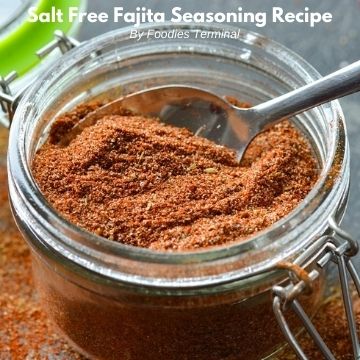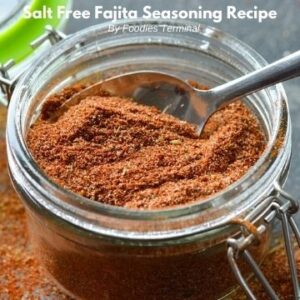 Salt Free Fajita Seasoning Recipe
Print Recipe
Pin
Rate
Salt Free Fajita Seasoning Recipe get's ready in 5 minutes. You can make this homemade Fajita seasoning recipe with readily available spices. A great seasoning that lasts for months.
Want more Recipe Videos?
Check out our Youtube channel!
Instructions
Mix ingredients: Gather all ingredients and add them into a dry clean bowl. Whisk well with a fork or spoon or a hand whisk to mix all the seasonings well.

Store: Store immediately in a clean and dry air tight container.
Notes
Is the homemade fajita seasoning spicy? Yes, today's recipe is spicy.
Non spicy Fajita Seasoning: You can omit or reduce the quantity of cayenne and red pepper flakes used in the recipe. Add a pinch of cayenne and red pepper flakes and perform a taste test first. Add more if you feel like you can bear the heat.
Calorific details are provided by a third party application & are to be used as indicative figures only.
Nutrition
Calories:
265
kcal
|
Carbohydrates:
53
g
|
Protein:
12
g
|
Fat:
7
g
|
Saturated Fat:
1
g
|
Sodium:
406
mg
|
Potassium:
1399
mg
|
Fiber:
21
g
|
Sugar:
5
g
|
Vitamin A:
15443
IU
|
Vitamin C:
5
mg
|
Calcium:
326
mg
|
Iron:
15
mg