Instant Pot Beets are so easy to make just like this Instant Pot Steamed Broccoli and Instant Pot Steamed Carrots. Cooking Beets in Instant Pot requires judging the right time and that's what this post will teach you. Learn how to cook beets in Instant Pot that's fork tender and makes peeling a breeze.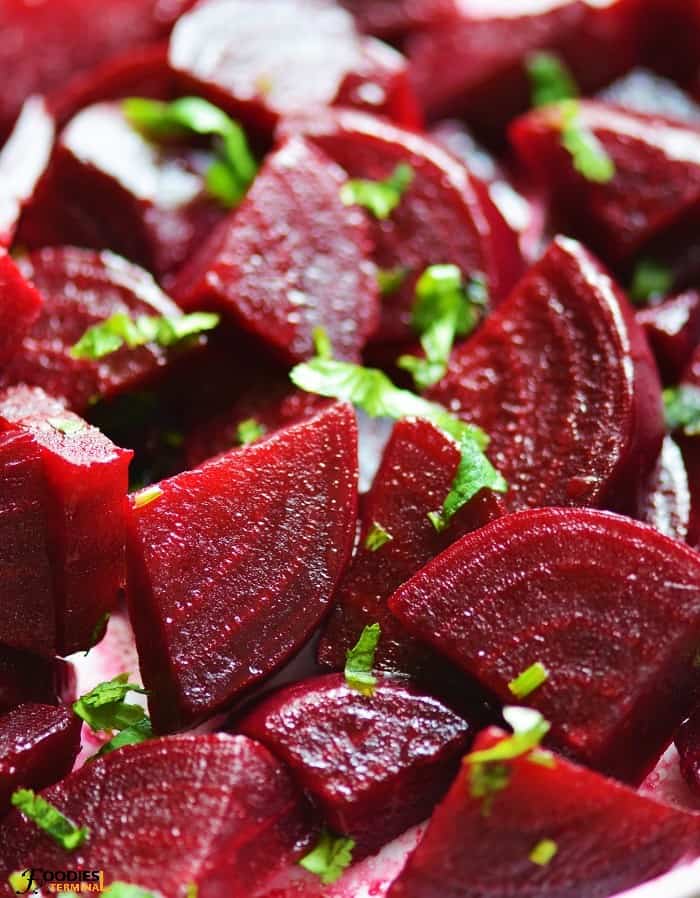 Steamed Beets Instant Pot
Cooking whole beets in Instant Pot have never been this easy until we nailed the perfect cooking time that never fails to reward us with fork tender delicious juicy beets.
So yum, so good and so healthy!
These Instant Pot Beets are so versatile. You can make a storm of dishes from steamed beets and never get bored.
For instance, imagine pickled beets, beet hummus, a simple beet salad, smoothies etc.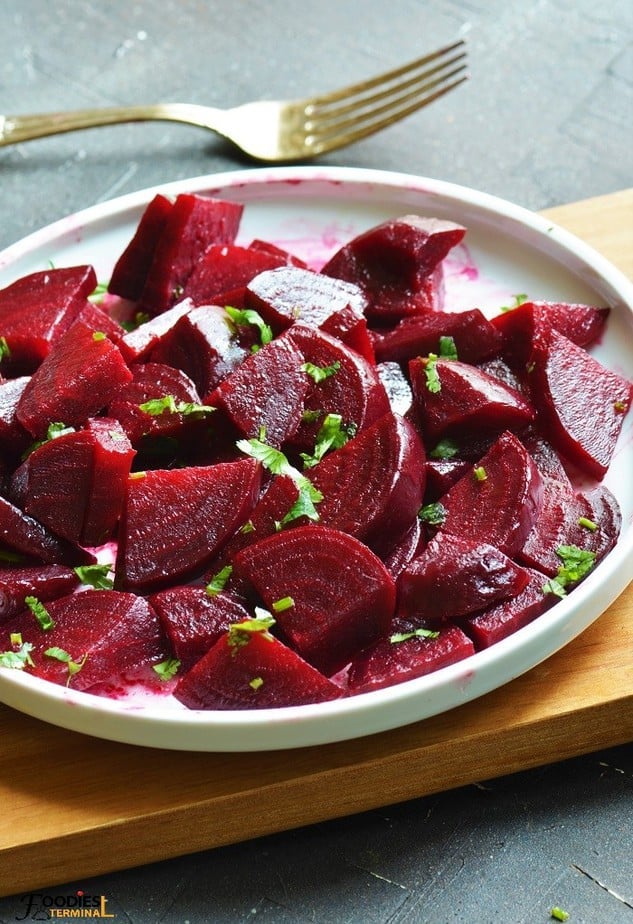 What are Beets?
Beetroot also known as red beet, table beet, garden beet or just beets is a nutritious root vegetable that's low on calories and is loaded with fibre, folate, vitamic C, manganese, potassium and iron.
Beets make a very healthy and balanced diet.
Instant Pot Beets Time
Learn how to cook beets in Instant Pot with the below time sheet.
You'll get fork tender perfectly cooked beets every single time.
Small beets = 10 mins high pressure followed by quick release.
Medium beets (2-2.5 inch in diameter) = 15 mins on high pressure followed by 5 mins natural release.
Large beets (3 inch or greater in diameter) = 20-30 mins on high pressure followed by natural release.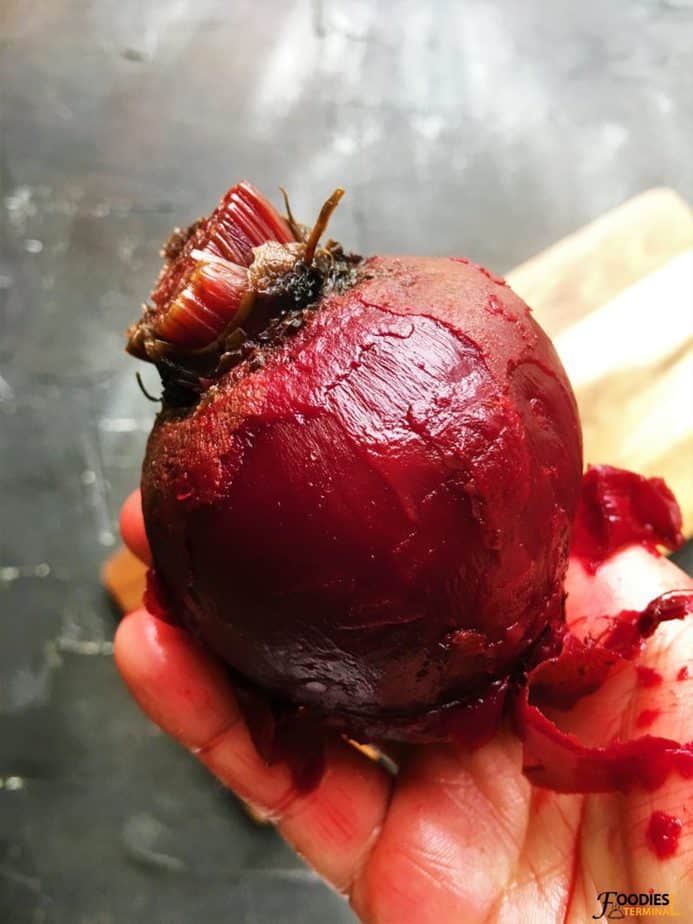 Do you have to peel beets?
Peeling beets before pressure cooking whole red beets is not mandatory.
However, you can peel them if you want to. But, beet skins are loaded with essential nutrients.
Hence, it's better to peel them later once they are done cooking.
You can leave the skin on and slide it off easily once the beets are cooked through. Expect stained hands 🙂
How do you serve beets?
You can serve beets the following way:
Make a simple steamed beet salad: Chop, dice or slice the beets, drizzle a generous amount of olive oil, a few splashes of balsamic vinegar and toss them with sprinkles of salt. Makes a great, quick, healthy side or a salad in a jiffy.
If you get hold of some fresh farmed organic sweet beets you may serve them as such. They taste so good without any seasonings. I call them candied beets 😀
Make a smoothie.
A beet hummus is what we love with Pita or no Pita, just dunk some bean tortillas and you are all set. I'll share the recipe soon.
You can slice up the steamed beets into thin slices and than tuck them in sandwiches. They taste so freaking good and your sandwiches will have a good dose of nutrition too. Just saying 😀
How do you cool beets?
You may cool beets by leaving them on the steamer rack for sometime once they are done pressure cooking or you may even leave them under running tap water for sometime.
Can you freeze cooked beets?
Yes, you can freeze cooked beets upto 3 months.
How do you store cooked beets?
You can store cooked beets either in the fridge or in the freezer.
Cooked beets lasts for 7 days in the fridge in air tight moisture free containers and upto 3 months when frozen.
Pro Tip: Slice/dice the cooked beets lay them on a baking tray and freeze them. Load the frozen beets in freezer safe bags and store them in the freezer for upto 3 months. This way you won't end up with a clumped frozen beet giant slab.
Do I need a steamer basket to cook whole beets in the Instant Pot?
No, you don't need a steamer basket to cook beets in the Instant Pot.
You can use the metal trivet that's already included with the Instant Pot to steam whole beets in Instant Pot.
How to cook beets in Instant Pot?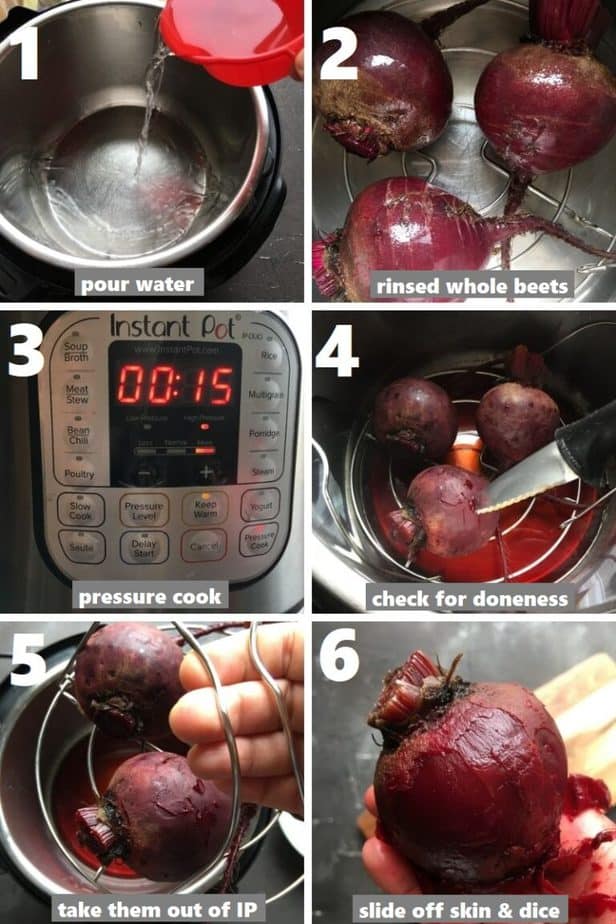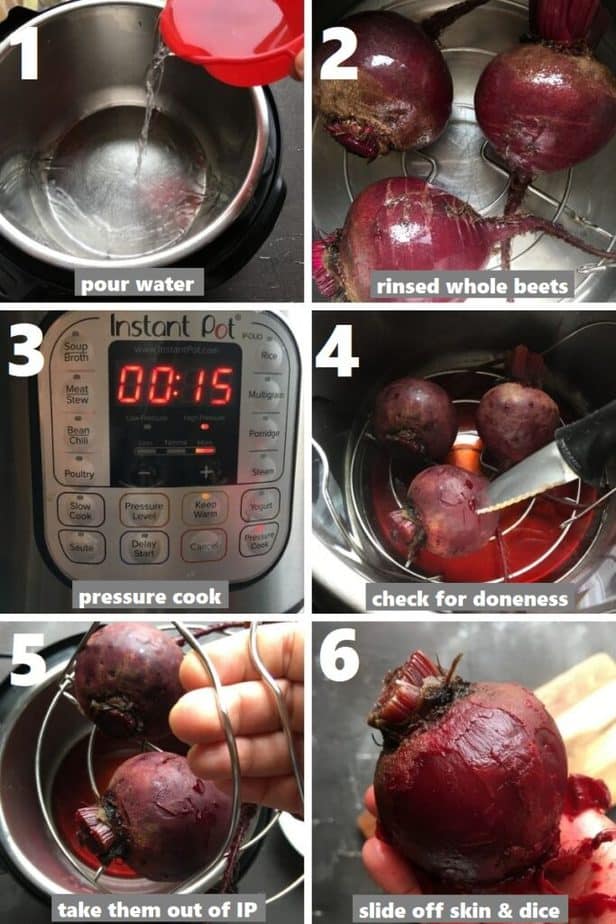 Pour Water: Add water in the steel insert of the instant pot.
Add Rinsed Beets: Place the steamer rack and place the rinsed whole unpeeled beets on the metal rack.
Pressure Cook: Pressure cook on HIGH and set the time according to the size of the beets (refer the above mentioned time chart). Allow the pressure to release naturally than open the lid.
Peel & Serve: Check for doneness by inserting a knife inside the beets. Bring them out, allow them to cool down a bit. Than slowly slide off the skin of the cooked beets. Chop, dice, slice and serve them with your favorite seasonings and toppings. Enjoy!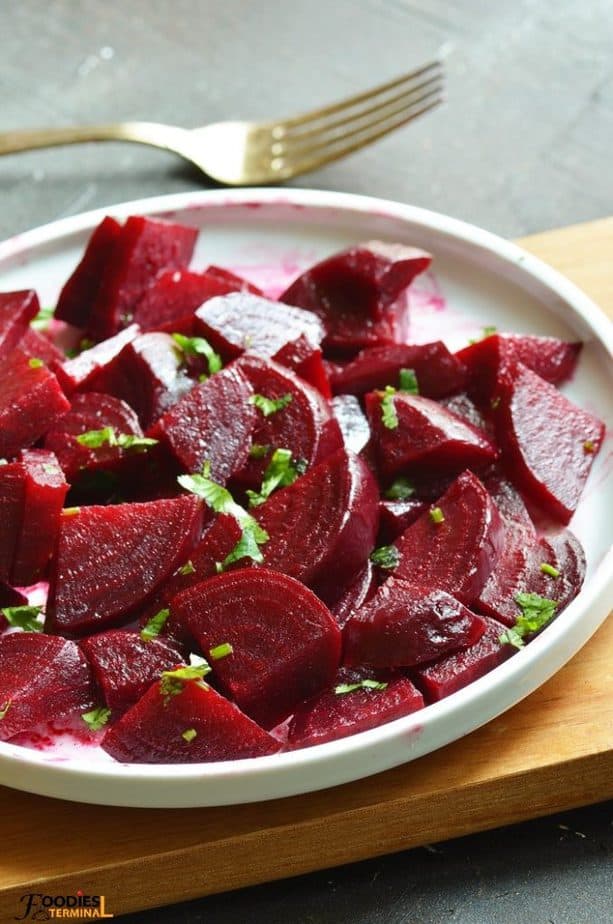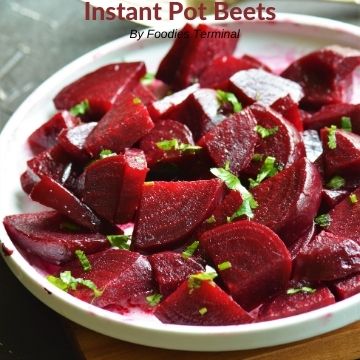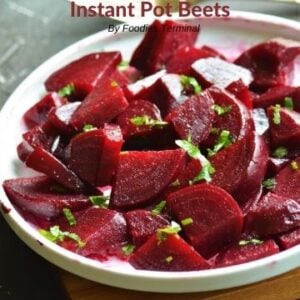 Instant Pot Beets
Print Recipe
Pin
Rate
Instant Pot Beets are delicious and so easy to make in a pressure cooker. Instant Pot Steamed Beets will reward you with fork tender, juicy beets.
Ingredients
3

large

Beets

(cleaned, rinsed and stalks trimmed)
Want more Recipe Videos?
Check out our Youtube channel!
Instructions
Prep the Beets: Clean and rinse the beets well. Trim the stalks leaving about 1.5 or 1 inch.

Set the Instant Pot: Now, pour 1 cup water into the steel insert and place the metal trivet inside the pot.

Pressure Cook: Place the cleaned whole beets on the metal trivet. Close the lid, seal the vent. Press the PRESSURE COOK button and set it on HIGH for 30 mins for large beets, 15 mins medium beets & 10 mins for small beets. (Refer the post for exact diameters & cook time). When the cooking cycle is over the Instant Pot will begin to beep. Wait for complete Natural pressure release.

Check for Doneness: Open the lid and check insert a fork or kitchen knife inside the beets to check for the right doneness. If the knife penetrates without much resistance that means that the beets are well cooked and fork tender.

Prep cooked beets: Carefully take out the metal trivet along with the beets. Allow them to completely cool down or you may even dip them inside a bowl of cold water to cool them faster. Trim the tips of the cooked beets and slide off the skin of the cooked beets with the help of your fingers. The peel slides off easily.

Serve Beets: Dice or chop the cooked beets and serve with your favorite seasonings. Here's an easy beet salad recipe that you can fix easily. It makes a great, delicious, nutrition packed and healthy side.
Easy and Quick Beet Salad Recipe
Easy quick beet salad: Slice, dice or chop the peeled cooked beets into desired sizes.. Add a generous amount of extra virgin olive oil, a few sprinkles of balsamic vinegar, a dash of sugar, salt to taste and crushed black pepper to taste. Toss well. Serve immediately. You can even garnish with chopped cilantro or parsley.
Notes
Peel or no peel? No need to peel the beets first. The skin slides off beautifully after the beets are pressure cooked. 
How long can you store cooked beets? They should last for 7 days in the fridge when stored in air tight containers.
Calorific details are provided by a third party and are to be used as indicative figures only.
Nutrition Facts
Instant Pot Beets
Amount Per Serving
Calories 117
Calories from Fat 9
% Daily Value*
Fat 1g2%
Sodium 212mg9%
Potassium 884mg25%
Carbohydrates 26g9%
Protein 4g8%
Vitamin A 90IU2%
Vitamin C 13mg16%
Calcium 44mg4%
Iron 2mg11%
* Read our privacy policy - Calorie information is provided as a courtesy only and should be leveraged as an estimate rather than a guarantee.Percent Daily Values are based on a 2000 calorie diet.
Nutrition
Calories:
117
kcal
|
Carbohydrates:
26
g
|
Protein:
4
g
|
Fat:
1
g
|
Saturated Fat:
1
g
|
Sodium:
212
mg
|
Potassium:
884
mg
|
Fiber:
8
g
|
Sugar:
18
g
|
Vitamin A:
90
IU
|
Vitamin C:
13
mg
|
Calcium:
44
mg
|
Iron:
2
mg
Related Posts