Instant Pot Steamed Broccoli will give you perfect Broccoli every single time. Learn how to steam broccoli in the Instant Pot with easy steps & correct time for a nutritious and easy side dish.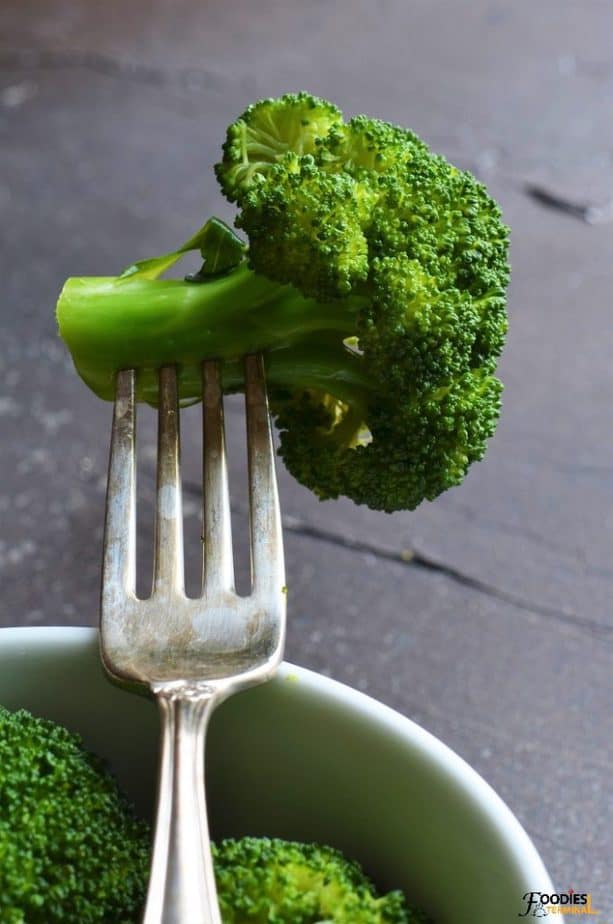 Instant Pot Broccoli
Just imagine a pot of overcooked broccoli on the stove top – falling apart sad broccoli that you never dreamed of!
I know it can be very frustrating, I hear you and I've been there so many times 😀
Maximum times I forget to attend my stove top broccoli just at the right time and those 2-3 minutes extra cooking time is enough to over cook the florets.
Not anymore 😀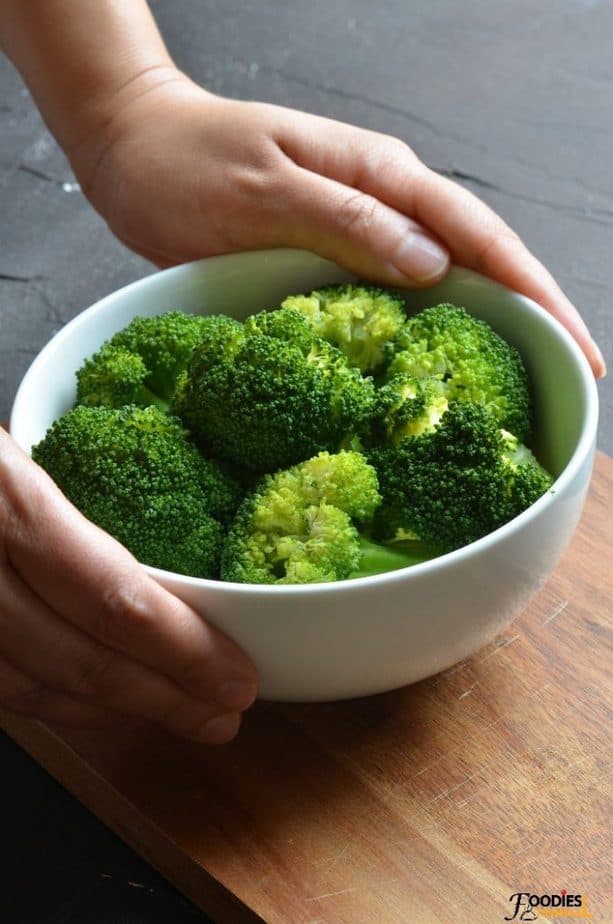 Moreover, I am completely impressed with other Instant Pot steamed veggies too.
Like this Instant Pot steamed green beans no steamer basket & Instant Pot steamed Carrots. They turn out so so good every single time.
Cooking broccoli in Instant pot is not any faster than stove top broccoli.
However, it's much safer, hands-free, convenient and yields wonderful crisp broccoli every single time.
A simple seasoning is all that it takes to make the Instant Pot steamed broccoli into a great side dish.
I often steam my vegetables in the Instant Pot for the entire week and store them in the fridge.
Super versatile and so easy!
---
Steamed Broccoli in Instant Pot
Steaming Broccoli in Instant Pot is convenient.
Moreover, you can steam a wide variety of Broccoli in the Instant Pot.
Like for instance, a whole head of broccoli, fresh broccoli florets and also frozen broccoli.
You can cook them all in your Instant Pot into a variety of different textures like crisp, tender and falling apart soft.
That's why I love cooking broccoli in the Instant Pot so much.
I know I can deliver a delicious healthy side to my family under 15 minutes.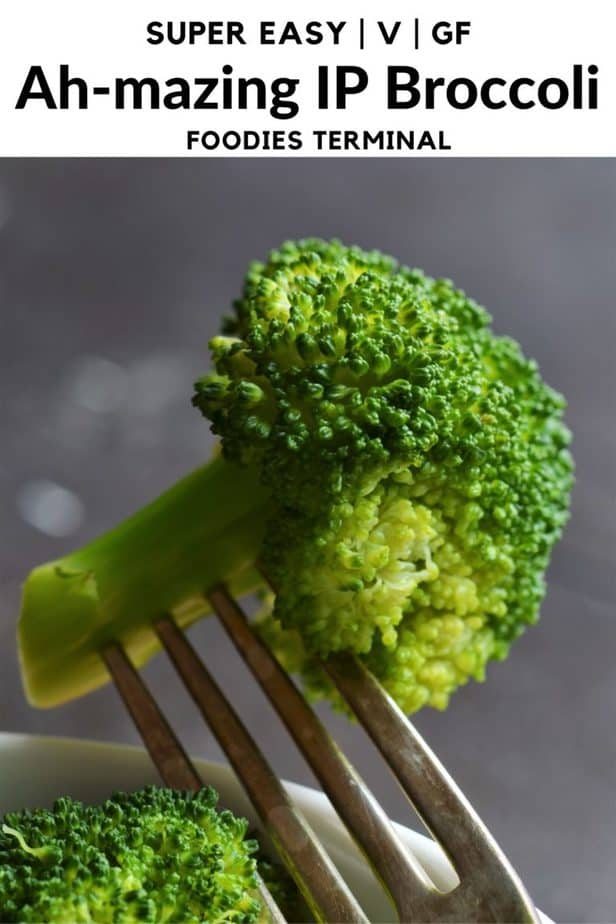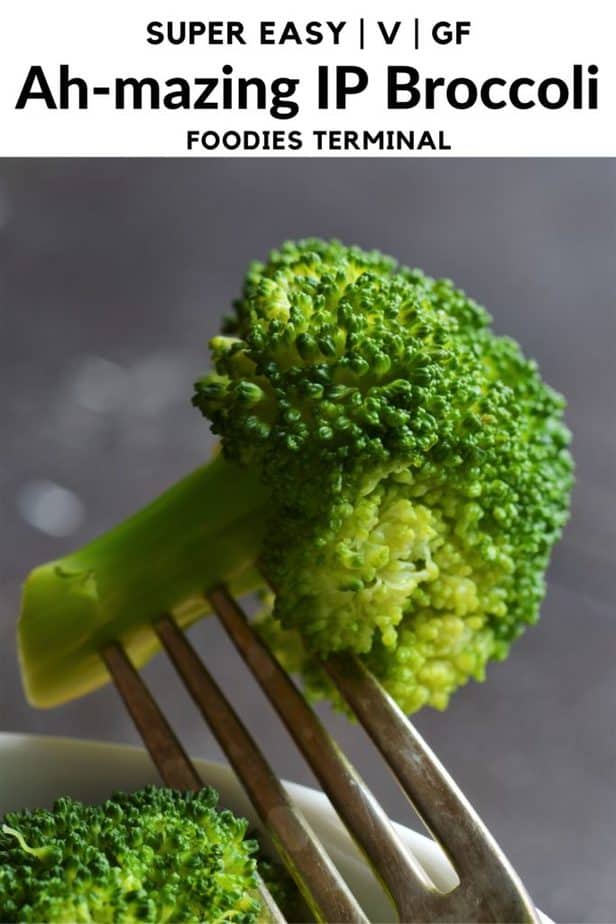 How to Steam Broccoli in Instant Pot?
Ste #1 Prep the Broccoli
Pick young broccoli from the grocery store. Cut them into florets and wash them very well.
Step #2 Prep the Instant Pot
Place the metal steamer basket along with 1 cup water inside inner steel pot of the Instant Pot.
Step #3 Pressure cook Broccoli
Load the steamer basket with the broccoli florets and pressure cook on HIGH upto the desired time and consistency that you prefer (refer the broccoli cooking time cheat sheet shared below).
Do a quick pressure release and immediately open the lid when the floating valve drops and take out the steamed broccoli.
This will prevent them from getting over cooked with the residual heat.
Season and serve.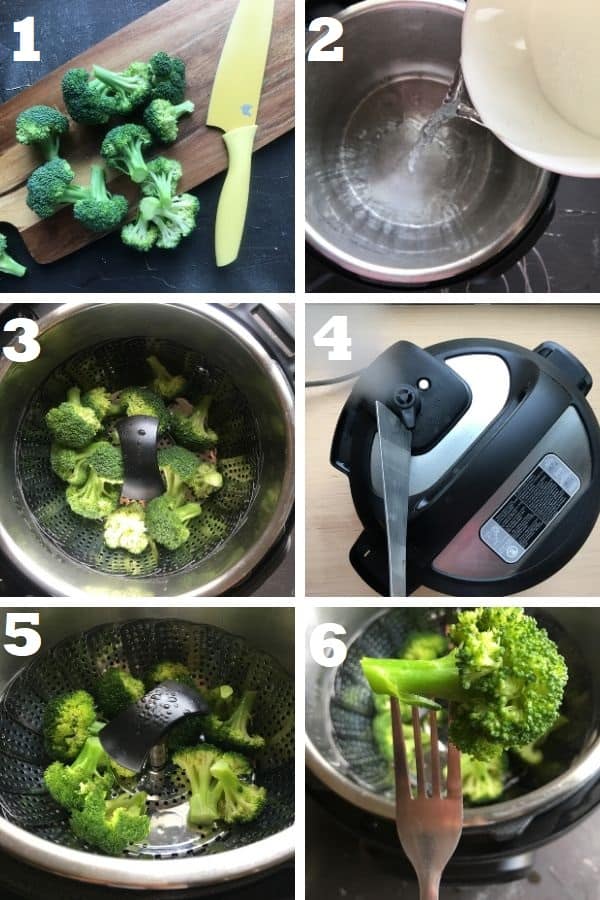 How long to steam Broccoli in Instant Pot?
Broccoli IP Cooking Time
Types Of Broccoli
Cook Time
Texture
IP Release
Fresh
0 minute
Crisp & Crunchy
Quick
1 minute
Tender
Quick
1 minute
Soft
Natural
Frozen
0 minute
Crisp
Quick
1 minute
Tender
Quick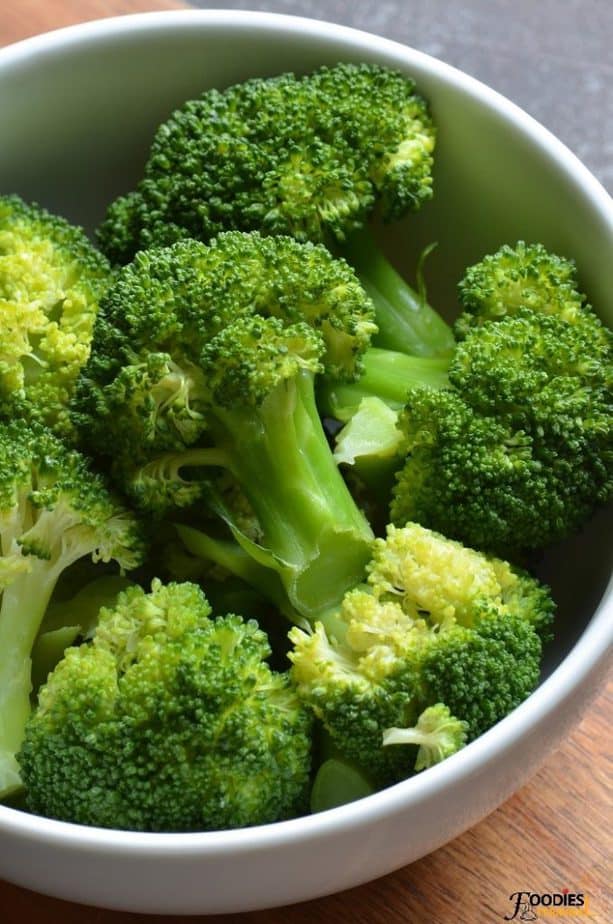 Broccoli in Instant Pot – Foodies Terminal Tips
Instant Pot Broccoli without steamer basket
If you are wondering how to steam broccoli in Instant Pot without steamer basket, let me tell you that it's certainly possible and it's easy too!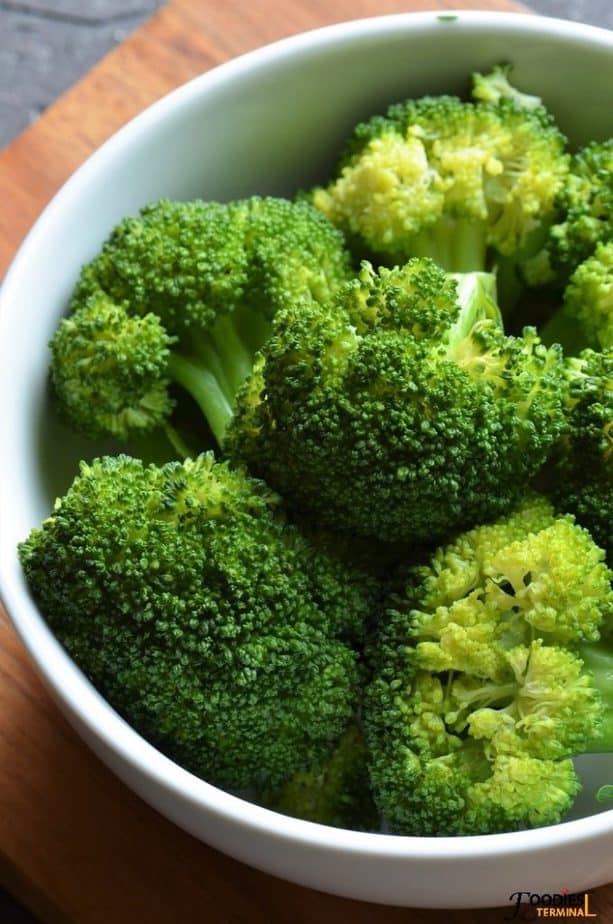 How to steam frozen Broccoli in Instant Pot?
You can steam frozen broccoli in Instant pot just like fresh broccoli florets following the same method.
Instant Pot frozen broccoli is such a savior.
Whenever, I run out of meal prep ideas, I grab a packet of frozen broccoli from the supermarket and steam them in my Instant Pot without thawing.
Later, dress up the Instant Pot frozen broccoli with cracked pepper, feta and red onion slices and enjoy them with grilled meat.
We recommend a steamer basket instead of a metal trivet for steaming frozen broccoli in Instant Pot. It's convenient that way and prevents frozen broccoli florets from getting over cooked.
How long can you store Instant Pot steam broccoli?
Instant Pot steam broccoli shall last upto 3-4 days in the fridge when you store the florets inside an airtight container.
Season the florets before serving and re-heat them in a microwave oven or on a skillet on the stove top.
Check out these Beginner friendly Instant Pot Steamed Veggie How tos" from Foodies Terminal.
---
---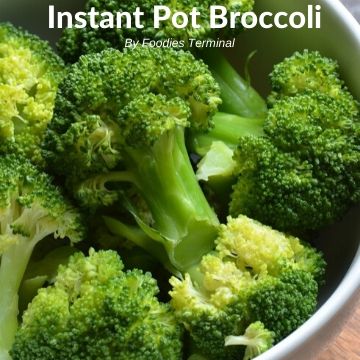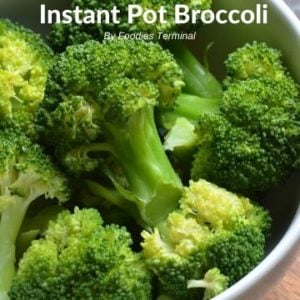 Instant Pot Steamed Broccoli
Print Recipe
Pin
Rate
Learn how to make Instant Pot Steamed Broccoli with a comprehensive step by step guide. Steaming broccoli in Instant Pot is easy and it makes an excellent healthy side dish within minutes.
Ingredients
1

head

fresh broccoli

(12 florets in total)

1

cup

water

(normal)

Crushed pepper according to taste.
Want more Recipe Videos?
Check out our Youtube channel!
Equipment Used
Instructions
How to Steam Broccoli in Instant Pot?
Cut the fresh Broccoli head into florets. Wash the florets very well under running tap water.

Pour 1 cup water into the steel pot of the Instant Pot.

Place the steamer basket inside the inner pot of the Instant Pot.

Dump the washed fresh broccoli florets on the steamer basket and pressure cook on HIGH for 0 minute (crisp), 1 min (tender) & 2 mins (soft) broccoli.

When the Instant Pot begins to beep once the pressure cooking time is up do a quick pressure release and immediately open the lid of the pot once the floating valve drops.

Immediately bring out the steamed broccoli from the Instant Pot to stop over cooking.
How to season Instant Pot Steamed Broccoli?
You can drizzle some extra virgin olive oil and sprinkle cracked pepper and salt on the steamed broccoli florets. Toss them and serve hot as a side dish.
Notes
Measuring Units used, 1 cup = 240 ml & 1 teaspoon = 5 ml.
Season the steamed broccoli for best taste.
Something about Zero Minute: It's a REAL cooking time and not a typo 😀 After pressing the PRESSURE COOK button on the Instant Pot set the time to zero minute and keep it on HIGH. The pressure will need sometime to build up inside the pot and by the time that phase is over the broccoli will be perfectly cooked (crisp consistency, will have a bite). That means by the time the Instant Pot comes to pressure the broccoli will be cooked and that's what is Zero minute all about.
Do Play around with the cook time and the method of pressure release (Quick, or Natural) for the exact texture that you prefer. Because what might be a crisp broccoli for me might not be the same for you 🙂
Nutrition Facts
Instant Pot Steamed Broccoli
Amount Per Serving
Calories 103
Calories from Fat 9
% Daily Value*
Fat 1g2%
Sodium 107mg5%
Potassium 961mg27%
Carbohydrates 20g7%
Protein 9g18%
Vitamin A 1894IU38%
Vitamin C 271mg328%
Calcium 143mg14%
Iron 2mg11%
* Read our privacy policy – Calorie information is provided as a courtesy only and should be leveraged as an estimate rather than a guarantee.Percent Daily Values are based on a 2000 calorie diet.
Nutrition
Calories:
103
kcal
|
Carbohydrates:
20
g
|
Protein:
9
g
|
Fat:
1
g
|
Saturated Fat:
1
g
|
Sodium:
107
mg
|
Potassium:
961
mg
|
Fiber:
8
g
|
Sugar:
5
g
|
Vitamin A:
1894
IU
|
Vitamin C:
271
mg
|
Calcium:
143
mg
|
Iron:
2
mg