Neem Begun is a very simple entree recipe that's so typical of Bengal. Its bitter taste might make you pucker but its health benefits are outrageous. With the ushering of the Spring season in India, especially in Bengal Neem Begun acts as a holistic approach to life. This bitter entree recipe in Bengali households acts as the perfect system cleanser during the Spring Season also known as the Chicken Pox season in India. Neem Begun is prepared with small bite size pieces of Brinjal stir-fried & fresh tender Neem leaves that are fried until crisp. Then they are mixed together to create a bitter but utterly delicious entree that's so typical of Bengal.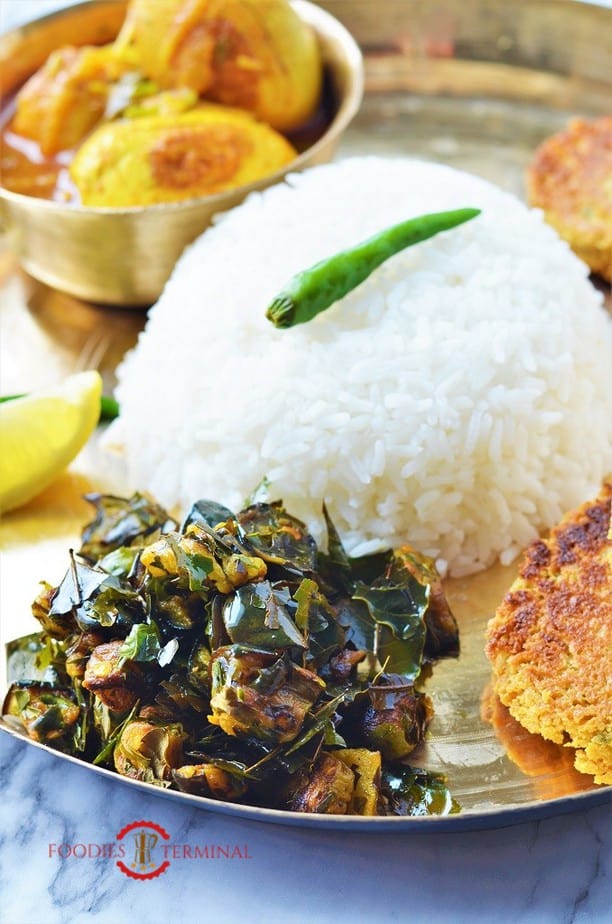 No wonder why Neem ruled the traditional remedies in Ayurveda some 5000 years back! This fantastic Immuno-stimulant loaded with outrageous anti-bacterial, anti-fungal qualities cannot be ignored.
Bengalis love to include tender Neem Leaves in their diet.
We believe that Neem leaves heal one from inside out, cleans the system, flushes out toxins from the body, prevents one from diseases & boosts one's immune system.
Our belief is well proven by the ancient Ayurvedic text books & the innumerable health benefits of this amazing tropical tree is now known to many!
Spring is one of the most beautiful season, we get rid of the chilly winters and prepare to greet summer, yes the hottest months in India.
Perhaps you guys are also making plans for your summer trips & desperately waiting for the winters to get over!
But, the seasonal transition brings in all sorts of diseases & Spring is not an exception to that!
This season can be notorious with the advent of Chicken Pox in India & of course, the flu viruses are so popular during this season making almost everyone sick!
Neem Leaves act as a shield & protects one from the Spring germs by boosting the immune system. They are one of the best natural remedies that keep seasonal diseases at bay!
Hence, we Bengalis love to include the fresh tender reddish green Neem leaves in our diet. And today's recipe of Neem Begun is how we love to include them as an entree in our regular diet.
Read on to find out interesting facts about Neem Begun (Video) | Stir Fried Neem With Eggplant
What is Neem Begun?
Neem Begun is a Bengali entree recipe that's popularly eaten during the Spring Season in almost every single Bengali household.
Neem Begun is made with Bite-size Brinjal (eggplant or Aubergine or Begun) pieces & fresh tender Neem leaves that is stir-fried separately & then mixed together well.
The lovely aroma of the tender Neem leaves fills up every single Bengali house during the Spring Season & this delicious entree of Neem Begun is relished by the young & the old alike with equal fervor!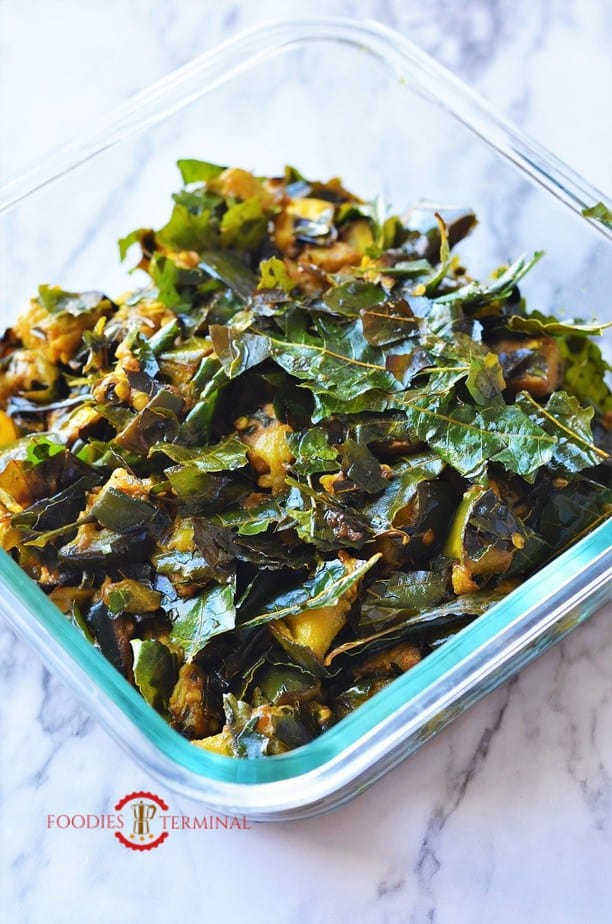 How do you make Neem Begun – Bengali Style?
Choose the Brinjal or eggplant that has a smooth surface, they will have few seeds. But if you are just like me who loves Brinjals with seeds than trust your instinct & make your choice!
You may either buy or pluck the tender Neem leaves (from your backyard Neem tree) that look reddish green. The baby leaves are the ones that are popularly used to make Neem Begun.
Wash the Neem leaves & dry them completely. Do not skip this step. If you release wet leaves in hot oil, the oil will splutter & the leaves too will become limp. They will take forever to become crisp.
Fry the Neem leaves until crisp. Set aside.
Marinate the bite-size Brinjal pieces with turmeric powder & salt. Set aside for 30 minutes or more.
You will find that the Brinjal will release water. Strain the water & take out the eggplant pieces.
Next, shallow fry them in the same oil that you used to fry your Neem leaves. Fry them until slightly golden.
Now, add the crisp Neem leaves in the skillet & mix the fried Brinjal pieces very well with the crispy leaves.
Voila! Neem Begun is ready!
How do make a perfect Neem Begun every single time?
This simple entree recipe did give me so much pain when I learned to cook for the very first time!

Oh! Yes, dear readers, I made several mistakes. Here's what you need to do in order to make a perfect Neem Begun every single time.
I am sharing everything that my mistakes taught me.
Always use completely dry Neem leaves.
If you choose to use sun dried Neem leaves you need not worry at all. But, if you get some fresh leaves & decide to use them. Then, after washing them well, dry them completely.
Not a single drop of water should remain. This way you'll get perfect crispy Neem leaves every single time.
Brinjals or eggplants or Begun drink oil like a sponge! In order to avoid this marinate the Eggplant pieces with turmeric powder & salt and set it aside for at least 30 mins!
This method will also help the eggplants to get cooked fast.
Always fry the eggplants & Neem leaves separately & mix them together later.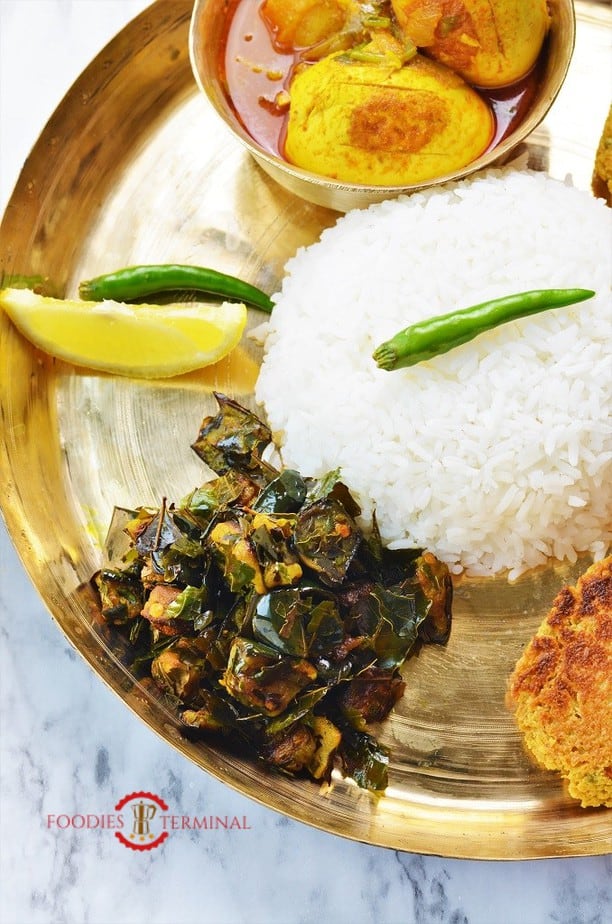 What kind of Neem Leaves should you use to cook Neem Begun?
Back at home, we never buy Neem leaves as we have a Neem Tree in our backyard.
Mom always loves to pluck the fresh tender Neem leaves before cooking Neem Begun.
But, if you do not have a Backyard Neem tree do not worry, tender Neem Leaves are abundantly available in the local vegetable markets (Sabzi Mandi) in West Bengal throughout spring & early summer.
Unfortunately, in the USA I never find tender neem leaves. So, todays recipe of Neem Begun consists of normal Neem leaves!
They taste good too & we are very happy with this Neem Begun recipe cooked in Bengali Style. Someone rightly said, "something is better than nothing!"
If you could not find fresh Neem leaves anywhere around you, then I would suggest using dry Neem leaves for this Bengali style Neem Begun.
My Mom & mom-in-law collects the tender neem leaves during the Spring season, sun dries them & stores them in an airtight container. I bring them over to my USA kitchen whenever I visit my parents.
You may do the same too!
Sun dried Neem leaves keeps well for years!
What are the health benefits of Neem Leaves?
No wonder why Neem is known as the herb that heals! It's an Ayurveda's most prominent wonder. Here are some of its amazing health benefits:
It's anti-bacterial.
Anti-fungal.
It helps to heal wounds & infections.
Acts as a blood purifier.
Promotes scalp health & keeps dandruff at bay.
Boosts immunity.
Cleanses the system inside out.
Heal skin disorders.
Treats eye infections.
Keeps seasonal diseases at bay.
If you want to learn more about Neem read this & this.
How long can you store the Neem begun?
You can store the Neem Begun for 7 days in an airtight container in the refrigerator.
How do you serve Neem Begun?
Neem Begun is popularly served with steamed white rice.
It is an entree and thus, eaten first with white rice before eating the other food on the menu.
Neem Begun with its bitter taste is believed to enhance one's appetite for the rest of the meal.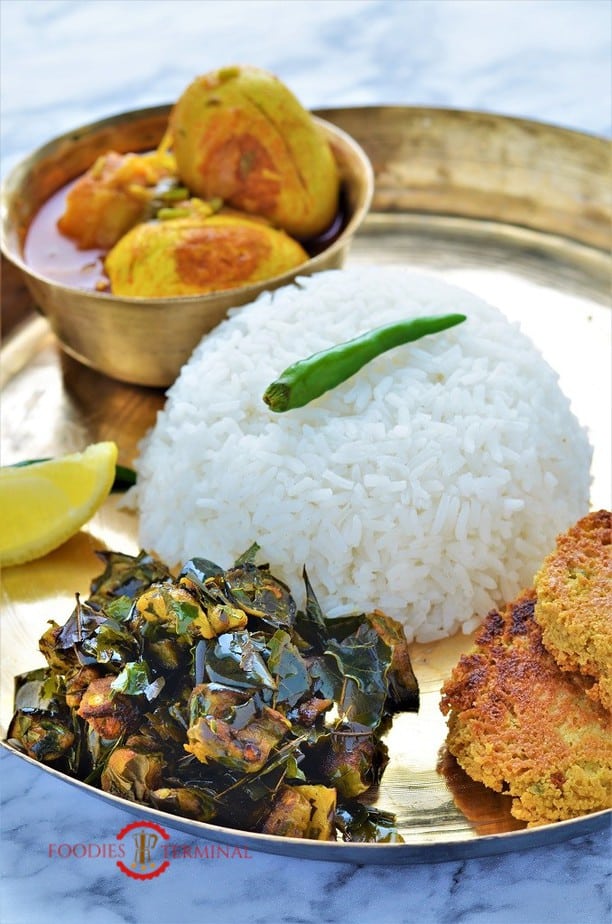 Check out these fantastic, easy recipes from Foodies Terminal:
Watch the Video Recipe of Neem Begun (Video) | Stir Fried Neem With Eggplant
DID YOU TRY THIS RECIPE? Do Not forget to give a STAR (*) rating! Just click on the STARS on the recipe card below to rate.
Recipe Card of Neem Begun (Video) | Stir Fried Neem With Eggplant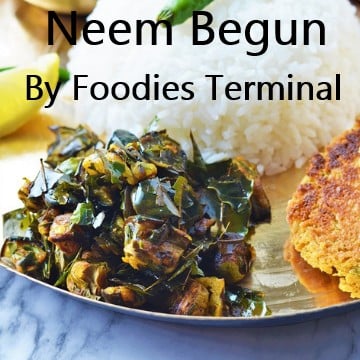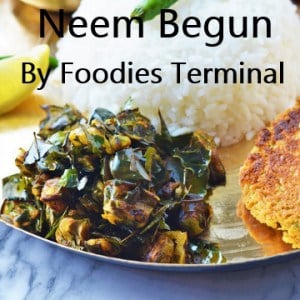 Neem Begun (Video) | Stir Fried Neem With Eggplant
Print Recipe
Pin
Rate
Neem Bengun is a Bengali entree recipe that's cooked with tender Neem leaves & eggplants. This Bengali recipes is best enjoyed with hot rice & is eaten in Spring and early summer months.
Want more Recipe Videos?
Check out our Youtube channel!
Instructions
Start by washing the neem leaves very well under running tap water. If using dry neem leaves skip this step.

Air dry the neem leaves completely. Not a single drop of water should remain.

Add 2 tbsp mustard oil in your favorite skillet over medium-high heat.

Carefully release the neem leaves in the hot oil & fry them until nice & crisp. Set aside.

In the meantime marinate the chopped brinjals with turmeric powder & salt and allow them to rest at least for 30 mins! 

After 30 mins the brinjals will release water. Strain the water and take the brinjal pieces out.

Next, add 2 tbsp more mustard oil in the skillet that you used to fry the neem leaves.

When the oil becomes hot gently release the brinjal pieces & fry them over medium-high heat until light golden & well done.

Next, add the crispy neem leaves to the brinjal pieces and give everything a good mix.

Serve hot & enjoy with steamed white rice!
Notes
After washing the neem leaves, air dry them completely.
Fry the neem leaves until crisp.
Fry the brinjal pieces and the neem leaves separately and then, mix them well.
To use less oil in the recipe the trick is to marinate the brinjal pieces with turmeric & salt and allow them to rest for atleast 30 minutes.
Nutrition Facts
Neem Begun (Video) | Stir Fried Neem With Eggplant
Amount Per Serving
Calories 68
% Daily Value*
Sodium 13mg1%
Potassium 275mg8%
Protein 1g2%
Vitamin A 225IU5%
Vitamin C 2.6mg3%
Calcium 10mg1%
Iron 0.5mg3%
* Read our privacy policy – Calorie information is provided as a courtesy only and should be leveraged as an estimate rather than a guarantee.Percent Daily Values are based on a 2000 calorie diet.
Measuring cup used, 1 cup = 240 ml & 1 teaspoon = 5 ml.
PLEASE NOTE: Nutrition values are my best estimates. If you rely on them for your diet or special diet, use your preferred nutrition calculator!
Nutrition
Calories:
68
kcal
|
Protein:
1
g
|
Sodium:
13
mg
|
Potassium:
275
mg
|
Fiber:
3
g
|
Sugar:
4
g
|
Vitamin A:
225
IU
|
Vitamin C:
2.6
mg
|
Calcium:
10
mg
|
Iron:
0.5
mg