Learn How to cook Instant Pot Rajma Chawal Recipe | Pressure Cooker Red Kidney Bean Curry by following my quick Video Recipe. Cooking Rajma Chawal recipe in instant Pot is as exciting as it sounds. You will love this spicy kidney bean curry that's cooked without onion & garlic! This Rajma curry also happens to be Vegan because I did not add ghee. If you are looking for a hassle-free quick weeknight meal try this Rajma masala along with some fragrant basmati rice at the same time in your Instant Pot.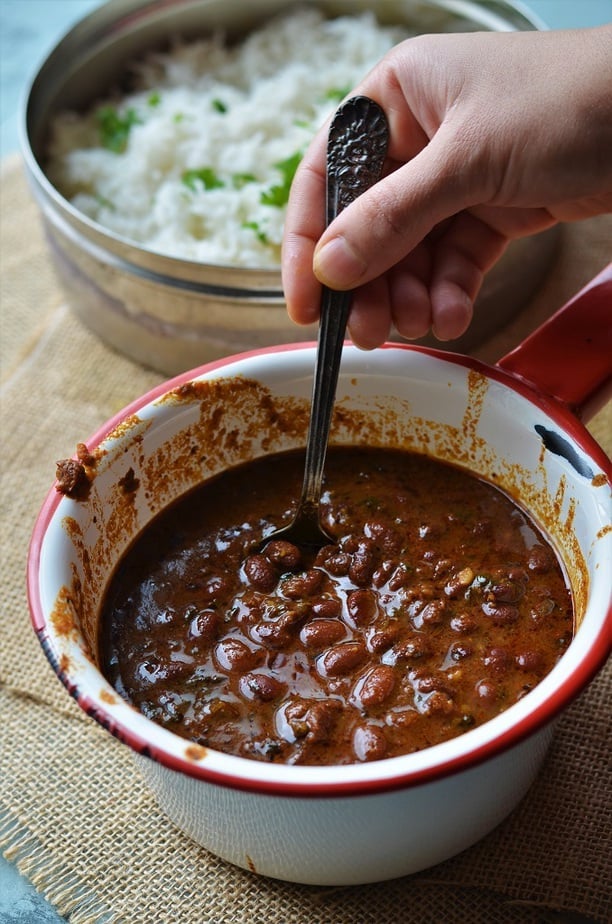 Want a warm bowl of Rajma Chawal (red kidney bean curry + rice) for dinner or lunch?
No problem – your Instant Pot & this blog post will come to rescue 🙂
A piping hot bowl of Rajma curry will be ready in less than 45 mins in your Instant Pot!
The above time might seem a lot, but beleive me you don't have to baby sit the recipe at all!
Your Instant Pot will do the job.
We love to cook our no onion no garlic Rajma Masala in an Instant Pot, it's easy, it's quick & very convenient too!
Instant Pot Rajma Chawal Recipe | Pressure Cooker kidney Bean Curry – FAQs
What is Rajma Chawal?
Rajma = Red Kidney Bean or Red Kidney Bean curry
Chawal = Steamed white rice
Rajma Chawal is a popular comfort food hailing from the Northern States of India.
Though Rajma did not originate in India yet it's a much-loved dish out here, and north Indian people never become tired of cooking & eating Rajma Chawal!
Rajma was introduced to the Indian subcontinent from Mexico.
This spicy Rajma curry is cooked with Red Kidney Beans in a spicy curry sauce either with onion & garlic or without onion & garlic + Tomatoes.
Both these versions taste awesome & it's difficult to say which one is the best!
The North Indian people always pair up their Rajma gravy with piping hot white rice with loads of ghee or butter & hence, the name Rajmal Chawal!
Today, I cooked the Rajma Chawal following the PIP (pot in pot) method in my Instant pot.
I steamed the rice in a pot along with the red kidney beans!
The PIP method of cooking in an IP saves me a lot of time & effort & I can gorge into a complete meal in no time.
My steamed rice got ready while steaming the Rajma.
Watch my interesting Instant Pot Rajma Chawal Recipe VIDEO to know more about the PIP method in IP ( Instant Pot).
For more info click here.
What is Rajma Masala?
Rajma Masala is Red kidney bean cooked in a curry sauce that's made with onion, ginger, garlic, tomatoes & several Indian spices.
The staple diet of the people of Punjab is a warm bowl of Rajma Masala.
An authentic Punjabi Rajma Masala tastes best with both steamed rice & rotis or chapatis.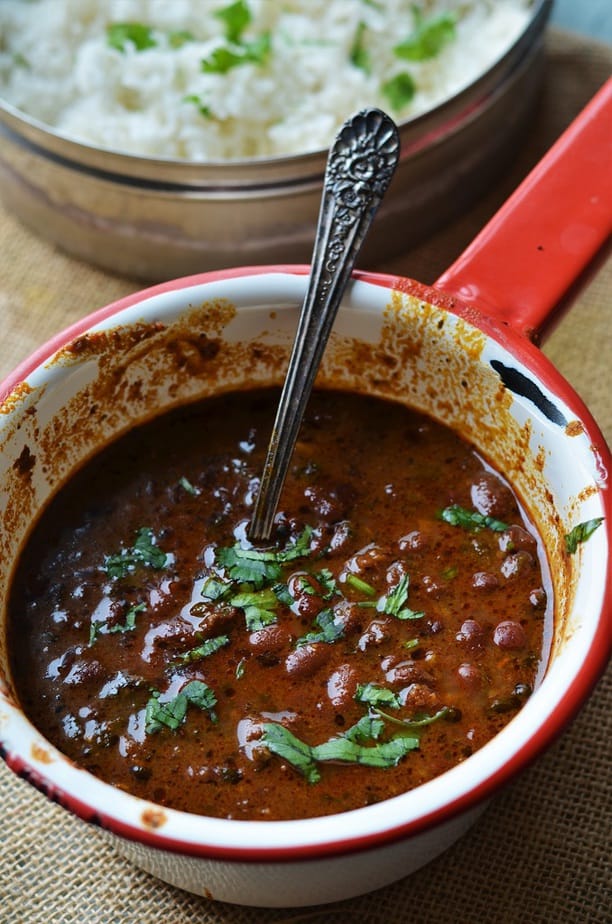 Can you make Rajma without soaking?
Yes, you can make Rajma without soaking in an Instant Pot or Pressure Cooker.
Sometimes we forget to soak beans because we lead busy lives & at other times we are a tad bit lazy!
Whatever may be the case, you can still enjoy your Rajma Chawal recipe or red kidney bean curry without soaking them at all!
Yes, in an Instant Pot it's very easy to cook un soaked red kidney bean or rajma.
Just so that you know it takes a bit longer to cook unsoaked beans!
But, the good news is that baby sitting is not necessary if you decide to cook a fresh batch of no-soaked beans in your Instant Pot.
Do something else while the unsoaked Rajma gets cooked in your IP!
I love to either play with my 5 years old munchkin or read a book & relax while my Instant Pot does the job beautifully – Happy me!
What if my Rajma or red kidney bean is still hard after pressure cooking?
A few times you might find that although you followed the exact cooking time mentioned in this blog but still your Rajma is little firm!
By "little firm" I mean you can bite on it.
What do you do then?
Firstly, do not panic! It's absolutely normal. It happens to me too because all kidney beans are not the same!
The time mentioned in this post is just a guideline from where you should begin because cooking times of red kidney beans depend on various other factors too!
Like the age of the Rajma or red kidney bean, their type or even the water that you used to cook them in!
For instance, if your tap water contains more calcium then your Rajma will need a little more time to get cooked.
If the red kidney beans packet is old they will need more time to get cooked.
So, all the above points taken into consideration if you find that your Rajma just needs a little more time in the Instant Pot then give them that extra 5-10 mins time!
You don't have to do much, put back the lid, seal the valve & pressure cook on high for more 5-10 mins (as per your liking).
The pressure will build up in no time because the water is already hot.
If you want to read about how to cook various unsoaked beans, then, this is a good read!
Watch the Video Recipe of Instant Pot Rajma Chawal Recipe here:
Which Rajma cooks faster?
Rajma or any beans needs some time to get cooked whether you decide to cook them pre-soaked or un-soaked!
If you really want to cook a super fast Rajma dish then grab a can of Rajma from your nearest supermarket & prepare a warm bowl of Rajma curry within mins.
Canned Rajma are pre-cooked red kidney beans.
You do not need to pressure cook them at all. Just saute them with the spices or bhuna masala , add water & simmer for few mins!
Your Rajma Chawal or Rajma gravy will be ready in no time!
But with presoaked or unsoaked kidney beans you need to wait for your curry!
Though you don't have to do much, it's your pressure cooker or Instant Pot that will do the job of cooking the rajma well.
How long to soak Rajma or red kidney bean?
For today's Instant Pot Vegan Rajma Chawal Recipe you need to soak the rajma or kidney bean overnight or 8 hours!
Wash them well before soaking.
Soak the beans with enough water over night! They will be nice & plump after 8 hours, all ready to be pressure cooked.
How can your store Rajma seeds or red kidney bean?
I love to store them in an air-tight container and keep them in a dark place, which is, of course, my kitchen shelf!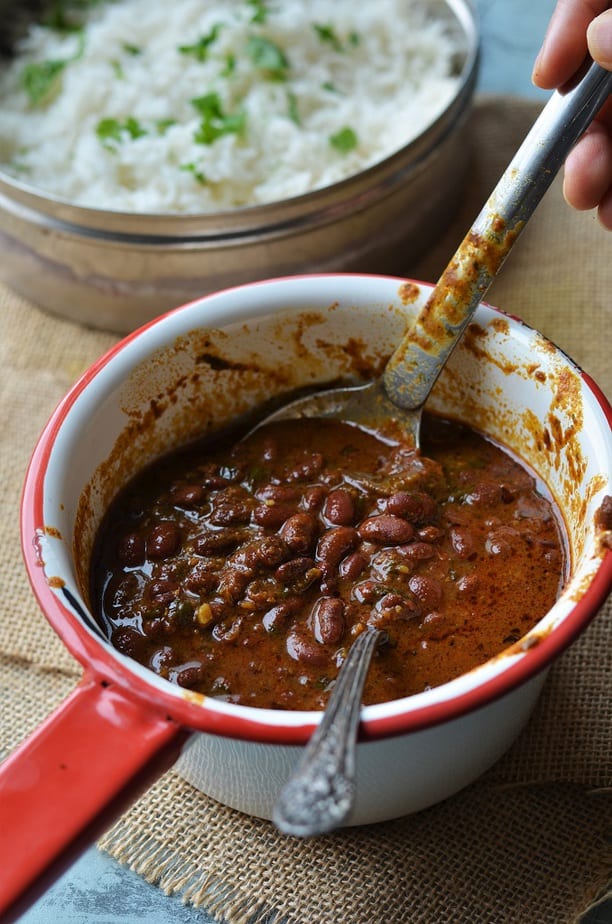 How long can you store Rajma Curry?
No onion & no garlic rajma curry keeps good for 4 days in the refrigerator when stored well in an air tight container!
I do not like to freeze this particular Rajma gravy.
What I love to do is that – I cook a big batch of soaked Rajma in my Instant pot for 35 mins on High pressure.
Drain the boiled water, strain the red kidney beans.
Bring them to room temperature & freeze them in zip lock bags for future use!
My life becomes a hell lot easy, I save so much time & enjoy a warm bowl of Instant Pot Vegan Rajma Chawal recipe every now & then. Thanks to my Instant Pot!
Oh! yes, the boiled red kidney beans freezes well for 1 month!
How Long should you boil Rajma?
If you choose to boil your presoaked rajma in a pressure cooker than give 6-7 whistles for melt in the mouth rajma. Wait for a natural pressure release.
In an Instant Pot you have to pressure cook on HIGH for 30-35 mins for tender rajma. Wait 10 mins & do a quick pressure release.
If you decide to cook your rajma in a covered pot than it will take somewhere 50-60 mins to become completely tender.
Please note that the above timings work for me but it might not always work for you. You may have to increase the cooking time by 5-10 mins.
Because as mentioned earlier cooking rajma depends on the variety of rajma, the water & the age of the kidney beans.
Rajma and Kidney beans are they same?
Yes, they are the same. Kidney Beans is known as Rajma in the Indian subcontinent!.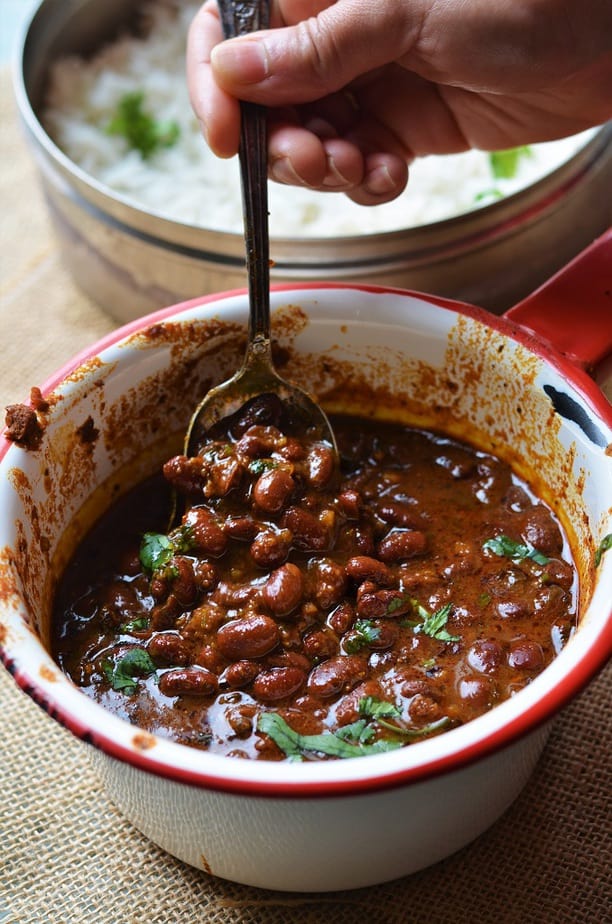 What are the health benefits of Red Kidney beans or Rajma?
Red kidney bean is one of the best sources of plant based protein.
Packed with nutrients a rajma recipe is certainly a wonderful nutritious choice.
Here's why Rajma is good for health:
A 100 gm servings of raw kidney beans is loaded with 24 gms of protein. Thus, Rajma Chawal together is known as a complete protein meal.
Kidney beans contain both soluble & insoluble fiber. Hence, taken in right quantities promotes good digestive health.
Kidney beans have a low glycemic index, hence they are a good choice for diabetics.
It's a natural detoxifier.
Lowers cholesterol.
Kidney beans are excellent energy boosters.
Prevents high blood pressure.
Kidney beans are high is essential minerals like iron, phosphorous, Vitamin K.
Curtails binge eating as they are packed with protein & fibers. It makes you feel full. So, it might help you with your extra pounds. You will not binge eat & hence, won't gain unwanted weight.
Add Salt while pressure cooking the kidney beans. Salt hastens the cooking process.
Try a few more amazing Instant Pot recipes from Foodies Terminal:
9 Tips to make the best Instant Pot Rajma Chawal Recipe | Pressure Cooker Kidney Bean Curry:
Store the Rajma boiled water. I love to use it in the gravy. It lends a gorgeous color to the gravy & has all the nutrients of the boiled kidney beans.
Cook the rajma well until soft, melt in the mouth stage. Rajma Chawal doesn't taste good with firm rajma pieces.
The secret of a delicious curry or gravy is the Bhuna masala. So, Fry the masalas well, until oil oozes out.
Kasturi methi adds an awesome buttery flavor to the Rajma gravy. So, you may totally skip adding ghee or butter to it as a garnish.
I love to cook the chawal or steamed rice in the PIP (POT IN POT) method in my Instant Pot. You may do so by following my Video recipe.
Use good quality basmati rice & use the exact amount of water mentioned in this post.
After the cooking time is over if your rajma has a bite to it. Then, do cook it for an extra 5-10 mins.
Never use old kidney beans. They do not get cooked uniformly and requires more time to get fully cooked.
Adjust the spice level according to your liking. The recipe mentioned here is a spicy Instant Pot rajma chawal recipe.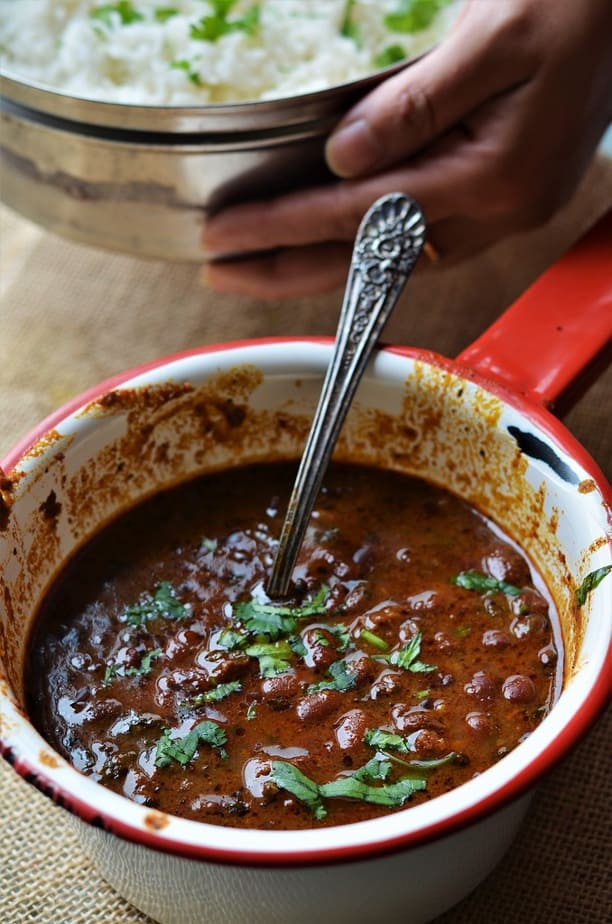 DID YOU TRY THIS RECIPE? Do not forget to give a STAR (*) rating. Just click on the stars on the Recipe Card below to rate!

Recipe Card for Instant Pot Rajma Chawal Recipe | Pressure Cooker Kidney Bean Curry.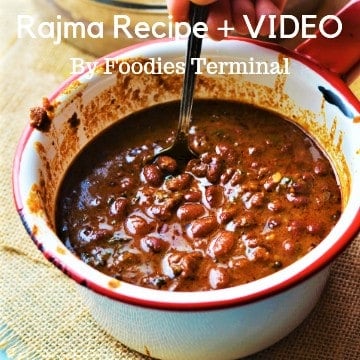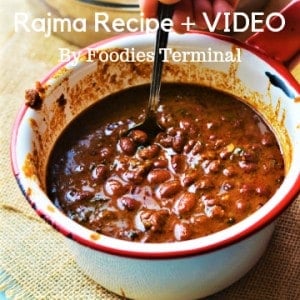 Instant Pot Rajma Chawal Recipe | Pressure Cooker Kidney Bean Curry
Print Recipe
Pin
Rate
Rajma Chawal Recipe-Instant Pot is a popular North Indian comfort meal recipe that's cooked with red kidney beans in a no onion & no garlic tomato based curry sauce. Rajma Chawal is best served with Chawal or steamed white rice.
Ingredients
For the Chawal or steamed rice
Want more Recipe Videos?
Check out our Youtube channel!
Instructions
Wash the Rajma or red kidney beans well under running tap water & soak them in enough water for overnight or for 8 hours!

Switch on the Instant Pot. Add the soaked Rajma along with water into the pot.

Place the Instant Pot Trivet & place a steel bowl or any heat resistance glass/ceramic bowl on the trivet.

Add the rice, water & ghee. Close the Instant pot lid. Set the Valve to SEALING. Press the PRESSURE COOK button & set it to HIGH. Set the time for 7 mins.

After 7 mins when the IP (Instant pot) starts to beep DO NOT do a quick pressure release. Wait for 10 mins & then release the rest of the pressure.

Open the lid, check the rice, at this stage the rice will be nice, soft, fluffy & well cooked.

Take out the trivet along with the rice pot carefully. Keep aside.

The red kidney beans at this stage will be semi-done. Strain the beans & store the water. We will use them later in the gravy.

Next, Press the CANCEL button of your IP & then press the SAUTE button. Set it on HIGH.

Add oil, when the oil becomes hot add the whole cumin seeds or jeera, bay leaves, the chilies & the asafoetida or hing and allow them to sizzle for a few seconds.

Now, add the ginger paste & saute well until the raw smell completely disappears, If you find the heat too much to handle than bring down the heat to NORMAL.

Next, add the tomato puree & mix well.

Add the masalas like turmeric powder, cumin powder, coriander powder, paprika powder, red chili powder, salt and saute well until oil oozes out.

Next, add the diluted tomato puree, mix everything well & then, add the semi-done rajma. Mix everything well.

Add the chopped coriander leaves, kasturi methi & garam masala powder. Mix & saute well with the red kidney beans. Add the stored rajma boiled water. Mix everything well.

Press the CANCEL button & then, press the PRESSURE COOK button & set it to HIGH. Set the time for 30 minutes.

When the IP starts to beep, do a QUICK pressure release. Open the lid & adjust the consistency of the gravy according to your preference. If you prefer thicker gravy simmer on SAUTE for few mins & if you prefer thinner gravy add a little more water if need be. We prefer our rajma masala semi-thin.
Notes
DO NOT use old Kidney beans. They will take a very long time to get cooked.
Adjust the amount of water in the gravy according to your preference. We love Rajma Masala semi-thin. If you prefer a thinner runny gravy add little more water & if you prefer a thicker rajma masala simmer the gravy on SAUTE for couple of mins after pressure cooking.
The water measurement provided in this recipe is for not too runny & not too thick Rajma Masala. And the water quantity is enough to help you avoid the BURN message in the IP. Add more or less if you prefer.
If your beans have a bite to them even after following the pressure cook time mentioned in this post then, do cook them for 5-10 mins more.
The cooking time of red kidney beans depends on 3 factors – their variety, age & the water you use. (read this blog post to know more).
Add salt while pressure cooking the beans. Salt hastens the cooking process.
Saute the masalas well.
You may increase or decrease the spice level according to your liking.
This Rajma curry recipe is VEGAN but if you want to make it GLUTEN FREE too then skip adding Asafoetida or hing.
If you want to make your chawal or steamed rice gluten free skip adding ghee, you may 1 tsp canola oil instead.
To cook soft, fluffy rice use the exact measurements and only BASMATI rice.
For al-dente rice use 1 cup water.
NOTE: 6 quart IP used to cook this Rajma Chawal Recipe.
Measuring cup used, 1 cup = 240 ml & 1 teaspoon = 5 ml.
PLEASE NOTE: Nutrition values are my best estimates. If you rely on them for your diet or special diet, use your preferred nutrition calculator.
Nutrition Facts
Instant Pot Rajma Chawal Recipe | Pressure Cooker Kidney Bean Curry
Amount Per Serving (1.5 cups)
Calories 120
Calories from Fat 32
% Daily Value*
Fat 3.5g5%
Sodium 610mg27%
Carbohydrates 17g6%
Protein 5g10%
Vitamin C 24.8mg30%
Calcium 60mg6%
Iron 1.8mg10%
* Read our privacy policy – Calorie information is provided as a courtesy only and should be leveraged as an estimate rather than a guarantee.Percent Daily Values are based on a 2000 calorie diet.
Nutrition
Serving:
1.5
cups
|
Calories:
120
kcal
|
Carbohydrates:
17
g
|
Protein:
5
g
|
Fat:
3.5
g
|
Saturated Fat:
1.5
g
|
Sodium:
610
mg
|
Fiber:
0.5
g
|
Vitamin C:
24.8
mg
|
Calcium:
60
mg
|
Iron:
1.8
mg
Pin this Instant Pot Rajma Chawal Recipe Later!