Coriander Powder Recipe also know as Dhania Powder is an important Indian spice that adds tons of flavors to curries. Best flavors, longer shelf life, no preservatives are the three most important traits of today's homemade Dhaniya Powder recipe. Learn how to make Corainder powder at home from whole coriander seeds.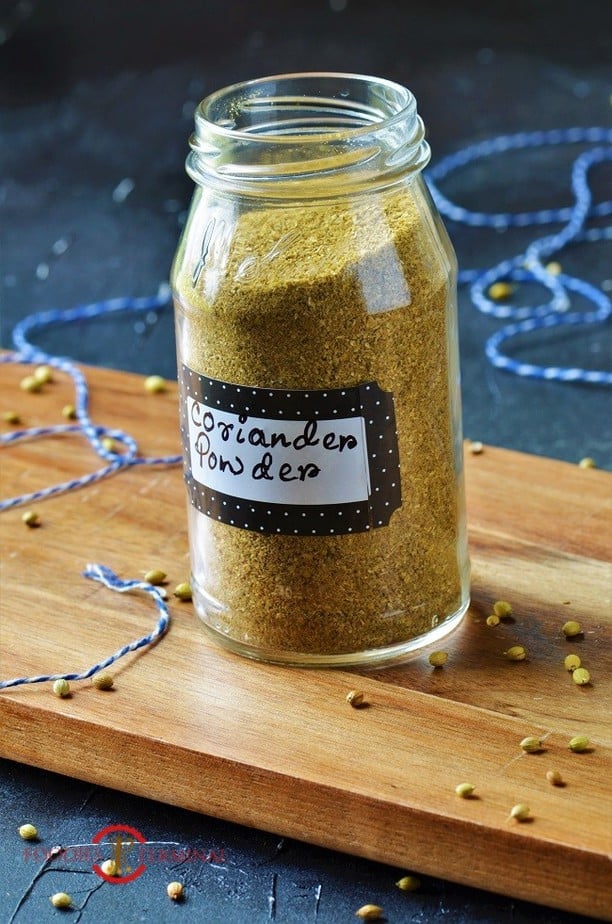 Dhaniya Powder Recipe Video
Dhania Powder
Dhania powder or Coriander powder finds it's way from curries to kababs. You can use it extensively to flavor up chutneys, pickles, garam masala powder & even to marinate meat.
If you often cook at home especially Indian food you know how important it is to keep your pantry always stocked with good quality coriander powder.
Because Indian cuisine is incomplete without this fantastic spice.
The fragrant coriander powder with subtle floral, citrusy & earthy notes has the power to boost the flavor quotient of any dish.
Add it in right amount & it will bring out the best in your home made meals.
Those crunchy tiny seeds are a flavor storehouse & you can bring out that secret intense deep flavors only by milling them at home, the secret step lies in dry roasting your whole coriander seeds just before milling.
The homemade coriander powder is the finest & purest quality because it contains no preservatives or additives.
Once you make your own coriander powder at home you will never go back to the store bought ones because that fresh, natural & intense aroma will hook you!
Fresh & natural always smells heavenly. Isn't it? 🙂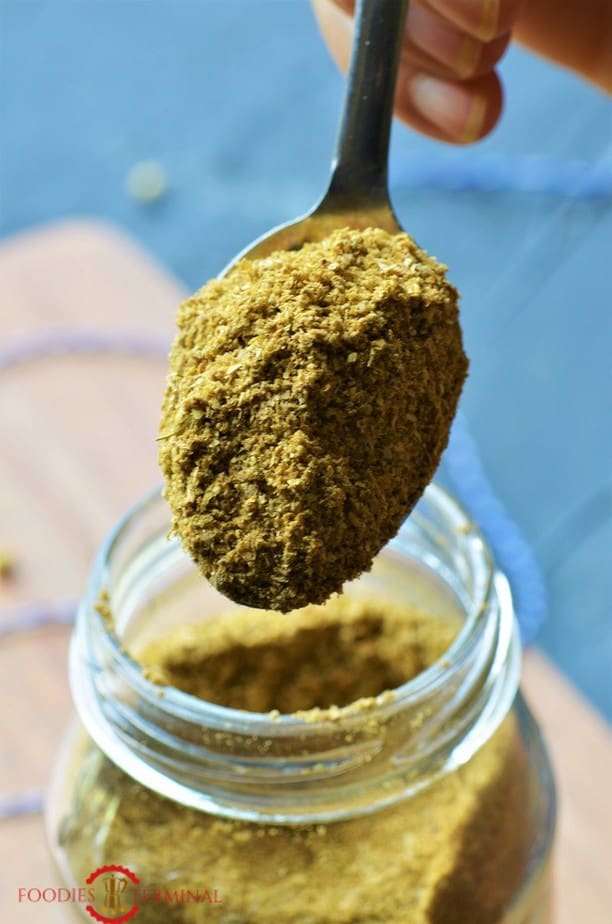 What is Coriander powder?
Coriander powder is dry ground coriander seeds in powder form. It's a popular spice that people love to use extensively in Indian cooking to flavor up foods.
Homemade Dhania powder Ingredients
You just need a single ingredient for today's recipe and that is excellent quality whole dry coriander seeds.
3 Tips to make the best homemade Coriander powder recipe
Choose the best quality coriander seeds: Excellent quality has a lovely woody, citrusy & floral fragrance. If you get a chance get a good whiff before purchasing.
Pick fresh seeds: Seeds that are new make an excellent homemade Dhania powder that has a subtle aroma & an intense flavor. Stay away from aged & old varieties. If buying packaged seeds check for the date of manufacture.
DO NOT skip dry roasting: The secret of a fragrant, potent homemade coriander powder recipe is dry roasting the whole dry coriander seeds first before grinding them. Dry roasting the seeds brings out the essential oils & makes them intensely flavorful. It also increases the shelf life of the dhania powder by eliminating any trace of moisture from the seeds.
What is coriander powder used for?
Coriander powder is used as a seasoning and a spice powder to flavor up food. It adds tons of flavors to recipes & brings out the best quality of food.
Dhania Powder is used extensively to flavor curries, dals, kababs, marinades, chutneys in Indian cooking & is used almost every single day.
You can also use it as a seasoning & as a spice in Pakistani cuisine, Middle Eastern cuisine, South Asian. Central Asian, Mediterranean, African cuisines.
What does coriander powder taste like?
Coriander powder has a subtle taste that most likely resembles a woody, lemony, earthy flavor with a hint of floral note.The taste of coriander powder is very refreshing & soothing on the palate.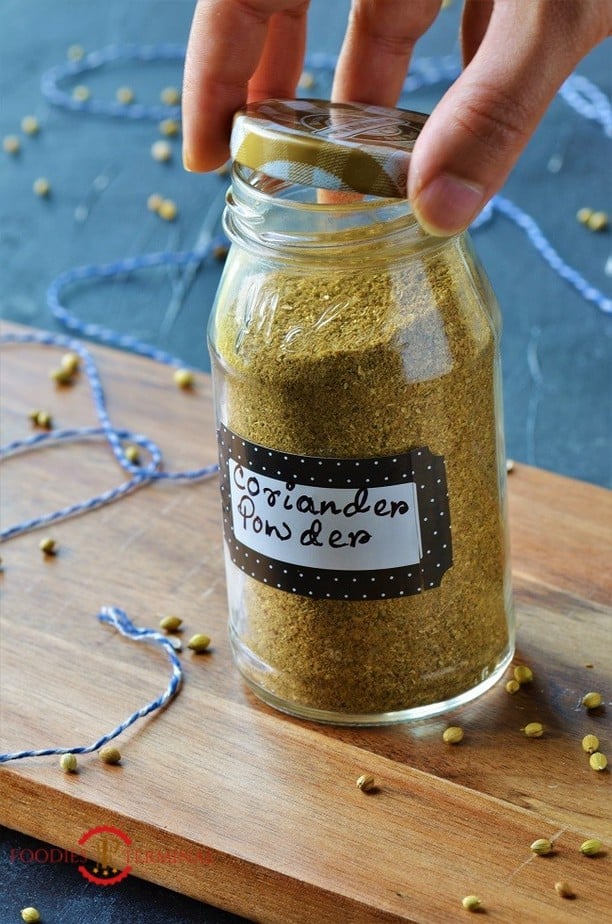 Is coriander powder gluten free?
Homemade coriander powder recipe is absolutely gluten free.
But,the store bought coriander powder might contain gluten because they contain certain amounts of additives in most cases.
If you plan to buy coriander powder from the grocery store it's better to check out the gluten content with the manufacturer.
Is coriander powder good for health?
Yes coriander powder is good for health when consumed in moderation as a spice or as seasoning.
Coriander powder or Dhania powder is made from coriander seeds that are full of nutrients & essential minerals. Hence, the homemade unadulterated coriander powder is certainly a healthy choice.
Is coriander powder same as cumin powder?
No, coriander powder is not same as cumin powder.
Coriander powder is made from whole roasted coriander seeds that are milled whereas cumin powder is made from whole roasted cumin seeds that are ground to a fine powder.
Both spice powders taste & smell very different from each other. Cumin has a more strong, robust smell & flavor whereas coriander powder has a subtle citrusy, floral & nutty flavor.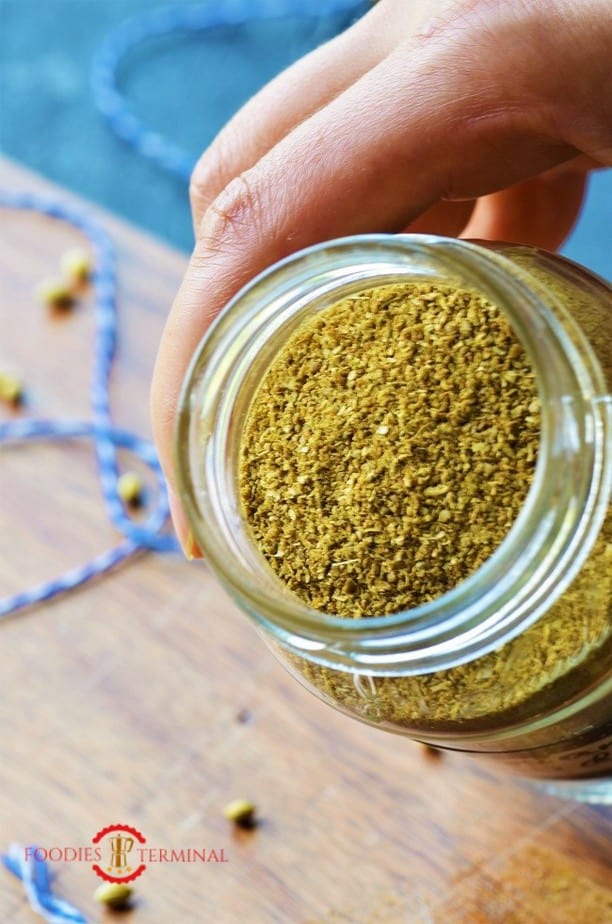 Does coriander powder expire?
Yes, coriander powder expires even if it's homemade. Dhania powder looses potency, aroma & flavors with time.
The homemade coriander powder also might expire if you do not store it under ideal circumstances.
How long does coriander powder last?
Homemade coriander powder or Dhania powder lasts for 2 months when stored in an air tight container in a cool, dark place.
After 2 months the aroma of the spice gradually becomes faint.
How to preserve coriander powder?
Store the homemade ground coriander powder in clean, dry & airtight containers.
Always use a dry, clean spoon to scoop out the powder& immediately close the lid.
Store the jar in a cool, dry, dark place for 2 months. Humidity, moisture & too much heat may ruin the coriander powder.
How do you make ground Coriander? Step by Step
Steps in words below pictures followed by Recipe Card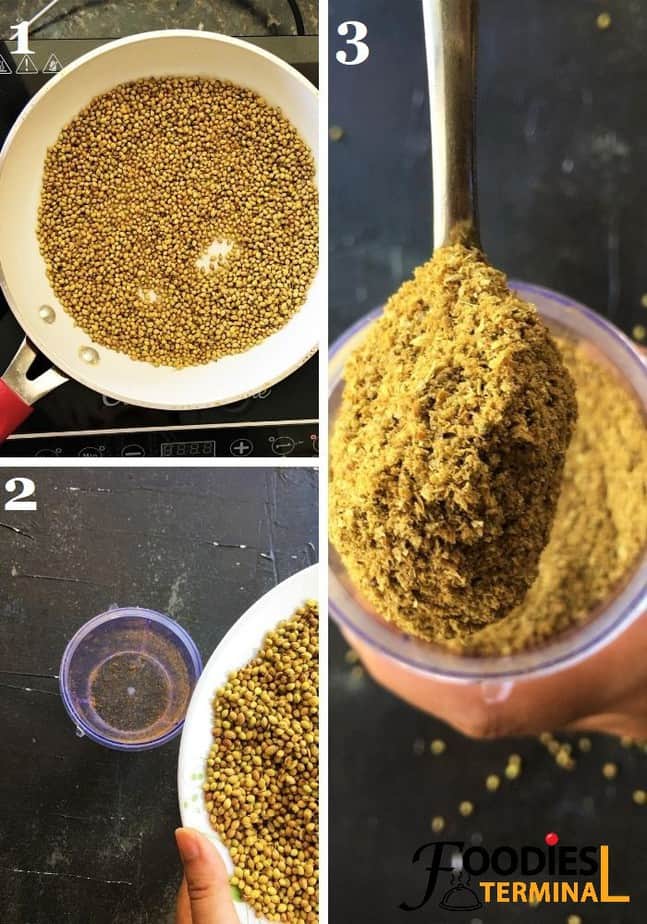 How to make Coriander Powder or Dhaniya Powder?
Dry Roast the Coriander Seeds

Set a skillet over medium heat. When the pan is moderately hot add the dhaniya seeds & dry roast them for 2 mins stirring continuously. Set aside to cool completely. You may even skip this step & sun roast instead (look for more info in the recipe card below).

Grind the Roasted Dhaniya Seeds

Once the pan roasted seeds are cold put them in a grinder jar & grind to a powder. You may grind it to a fine powder or keep it slightly coarse with a bit of texture left. We left it slightly coarse, that's how we love our Dhaniya powder.

Store immediately

After you are done making the Dhaniya powder at home store it immediately in airtight, dry, clean jars. Don't forget to write the date on the bottle.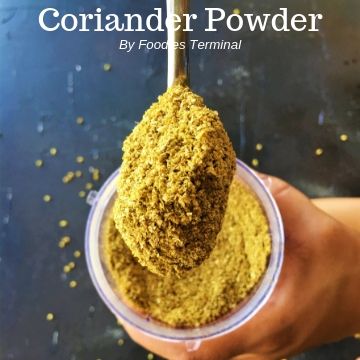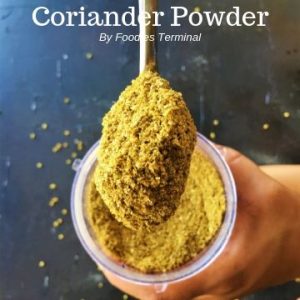 Coriander Powder Recipe
Print Recipe
Pin
Rate
Homemade Coriander Powder is a 5 mins recipe that's so easy to make. Also known as Dhaniya Powder or Dhania Powder. this homemade masala powder lasts a long time, tastes best & it's without any presrvatives.
Want more Recipe Videos?
Check out our Youtube channel!
Instructions
Set a skillet or kadai over medium heat. Add the dry coriander seeds & dry roast them stirring continuosly for 2 min.

Allow the seeds to cool down. Add the roasted Dhaniya seeds into a mixer jar & blend until smooth.

Store immediately in a clean, dry air tight jar & keep it in a dry & dark place.
Notes
Choose new coriander seeds for best flavors. 
Look for greenish, fragrant seeds. The fresh newer seeds makes incredibly fragrant masala powder.
Roast for not more than 2 mins over medium heat. Stir continuously. Over roasted Dhaniya seeds will ruin the aroma of the Dhania powder.
You may skip dry roasting the dhania seeds in a pan and sun dry them instead for 24 hrs(Indian summer) or 3 days if its not the summer sun. This is how my mom makes the masala powder at home. 
For best flavors store the Dhaniya powder immediately after making a fresh batch. 
Storing suggestion: Air tight jar, in a dark & dry place. The best place is in the pantry cabinet.
The homemade Coriander Powder or Dhaniya powder lasts for 3 months. I don't prefer going beyond the 3 months mark because the aroma slowly fades after 3 months. No, it doesn't go BAD after 3 months, it becomes less potent!
Nutrition Facts
Coriander Powder Recipe
Amount Per Serving (5 g)
Calories 17
Calories from Fat 9
% Daily Value*
Fat 1g2%
Carbohydrates 1g0%
Protein 1g2%
Vitamin A 50IU1%
Calcium 30mg3%
Iron 0.4mg2%
* Read our privacy policy - Calorie information is provided as a courtesy only and should be leveraged as an estimate rather than a guarantee.Percent Daily Values are based on a 2000 calorie diet.
Nutrition
Serving:
5
g
|
Calories:
17
kcal
|
Carbohydrates:
1
g
|
Protein:
1
g
|
Fat:
1
g
|
Fiber:
2
g
|
Vitamin A:
50
IU
|
Calcium:
30
mg
|
Iron:
0.4
mg
Pin it for Later!