Instant Pot Indian Goat curry is a simple preparation of Goat meat with a few spices. Follow my easy instructions & cook this Indian Mutton curry for your family without any hassels at all. This Goat curry in pressure cooker turns out finger-licking good every single time. Here is How to make Goat curry Recipe. (Step by Step Video Recipe).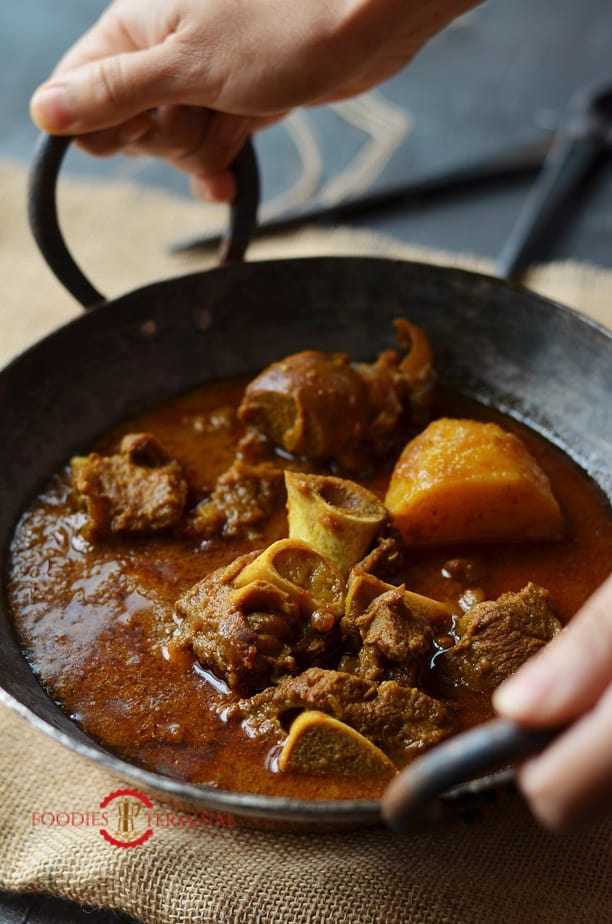 If you have the basic Indian spices like turmeric powder, paprika powder at home you are all set for this Instant Pot Indian Goat curry recipe!
We always love this simple curry goat recipe because:
It requires very few spices, all of them being pantry staples.
It cooks fast in an Instant Pot or Pressure Cooker.
Every time the goat meat turns out juicy & tender

So are you making this simple Instant Pot Mutton curry recipe? Watch my step by step recipe video of How to make Indian goat curry in an Instant Pot, follow the recipe to the T, read the expert tips!
And I guarantee you will nail this Indian curry goat recipe every single time because this Goat curry recipe is the easiest you will ever find!
Frequently asked questions about Instant Pot Indian Goat Curry
How do you make Goat Curry or How do you make Mutton Curry?
Goat Curry or Mutton curry is very easy to make in an Instant Pot or Pressure cooker. You can even make it the old school way by simmering it in an open pot (kadhai, pan etc.)
I made this Indian curry goat with simple ingredients & made it very basic!
If you are a beginner in cooking this spicy curry goat is your best pal. This is how you can make this easy Instant Pot Indian Goat curry recipe in minutes:
Marinate the Goat meat with ginger garlic paste, turmeric powder & extra virgin mustard oil . You may skip this step totally.
Heat oil in an Instant Pot or Pressure Cooker.
Saute chopped onions until golden.
Add onion paste & fry until oil oozes out.
Add marinated goat meat, chopped tomatoes, all the spices & keep on sauteing until oil oozes out.
Then, add water & steam cook or pressure cook.
This is how simple a Curry goat recipe cooked in simple Indian style!
Which part of Mutton or Goat is the best for curry?
We always prefer the shoulder cut, shank, thigh to cook an Indian goat curry or Mutton Stew. Sometimes we love to cook the mutton curry recipe with mutton chops too!
The marrow of the shank gives an ultimate flavor to the Indian curry goat recipe & it's always fun to suck on the marrow!
If you love chunky meat portions in your spicy curry Goat do grab the chunky thigh meat from the best butchery shop in your town!
The thigh meat is soft, juicy & extremely flavorful! It always works wonderful if you do not prefer a bone-in goat meat in your Goat curry!
You can never go wrong with a shoulder cut goat meat! The shoulder meat becomes extremely flavorful because the shoulder of an animal really works hard.
The braising and the stewing process to cook a curry recipe makes the shoulder cut of a goat very soft & juicy!
We also love to cook curries with Mutton chop or rack. Yes, mutton chop can be very expensive or to say they are the most expensive part of a goat or lamb or sheep meat.
But, a mutton chop/rack is incredibly tasty & so tender when stewed in a curry sauce in a pressure cooker or an Instant Pot.
So, next time if you are confused choosing the goat meat or mutton for the Indian Mutton curry do refer to this post!
How do you make Spicy Mutton Curry?
You can make spicy mutton curry by adding red chili powder (readily available in Indian grocery stores & also American supermarkets).
Add red chili powder or chopped green chilies while sauteing the Mutton pieces to amp up the spice factor in the curry!
Is Curry Goat and Mutton the same thing?
Curry Goat and mutton are almost the same thing in the Indian subcontinent. Cooked goat meat is basically called mutton in India.
But, in general Mutton also refers to sheep meat. Meat extracted from an adult sheep is called mutton.
Mutton from an adult sheep meat is not so tender as compared to lamb meat or baby goat meat!
How long should Mutton be marinated?
How long mutton be marinated depends actually on how long you want to marinate it or what the recipe demands!
You may totally skip marinating mutton and add it directly to the gravy.
Or you may marinate the mutton pieces overnight or even just 30 mins!
For this Instant Pot Indian Goat Curry I chose to marinate the goat meat for 30 mins!
Is Mutton Healthy?
We are always told that red meat is not a healthy choice as compared to white meats ( from chicken, turkey etc).
On the contrary every red meat is not a bad choice either! Goat meat is actually lower in cholesterol, saturated fats, calories, total fats as compared to beef, pork, lamb, chicken & turkey!
This certainly makes Goat meat a healthy choice even better than chicken & turkey meats! Yes! you hear me right!
The rule of the thumb is that Goat meat when eaten in right quantity is nutritious & healthy!
To read more about the health benefits of mutton or goat meat click here.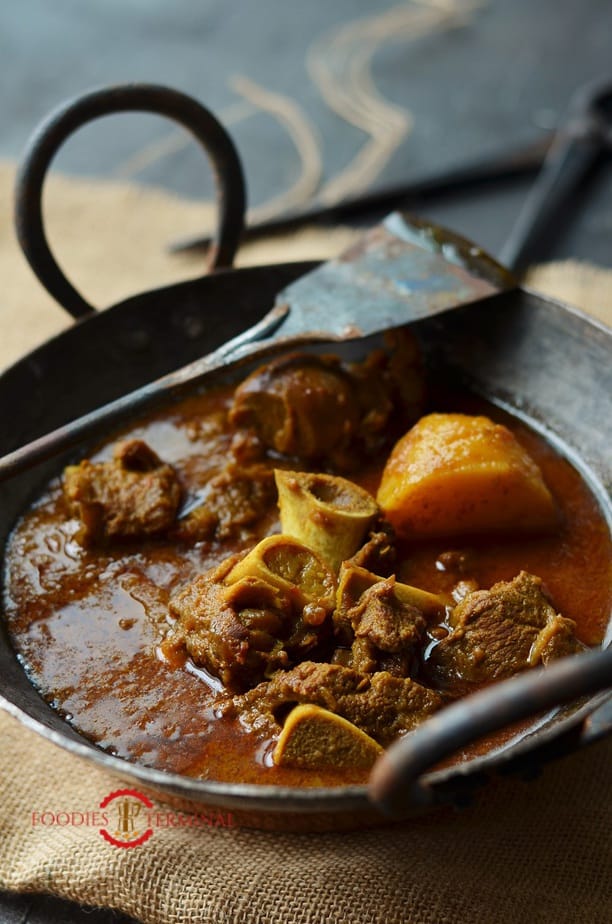 Tips to make the best Instant Pot Indian Goat curry or Pressure Cooker Indian Mutton Curry
We always prefer baby goat meat as compared to an adult goat. It cooks fast, it's tender, extra juicy and tastes delicious.
If you do not prefer bone-in goat pieces do go for the thigh meat.
Do not hurry to fry the chopped onions. The color and taste of the Instant Pot goat curry depend on how well you fry the onion. Allow them to become golden.
The more you saute/fry the goat meat over high heat the more flavorful your Indian curry goat recipe will become. Searing the meat also helps to lock the moisture in the meat. This, in turn, makes the meat so soft & juicy for the Goat curry recipe!
Be careful while frying the onions, do not burn them. This will ruin the taste of the Mutton curry recipe!
Always add the marinated or not marinated mutton pieces to the Instant Pot or pressure cooker before adding the chopped tomatoes. The trick is to fry the mutton pieces for a longer time. The juicy tomatoes increase the searing time of the meat. They also help the meat from sticking at the bottom of the pan.
Try to buy goat meat or mutton fresh from a butcher shop or from the meat aisle in the supermarkets. Fresh meat always tastes better than frozen meat!
Always remember baby goat meat takes less time to get cooked as compared to an adult goat meat. So, adjust the cooking time in your instant pot accordingly or check the whistles in your pressure cooker.
Raw papaya paste acts as a natural meat tenderizer. Reduce the cooking time if you decide to marinate the mutton pieces with raw papaya paste!
If you decide to marinate the mutton pieces with raw papaya paste, then marinate not more than 30 mins! If you increase the 30 mins marinating time than the goat meat might get over cooked! So, Watch out.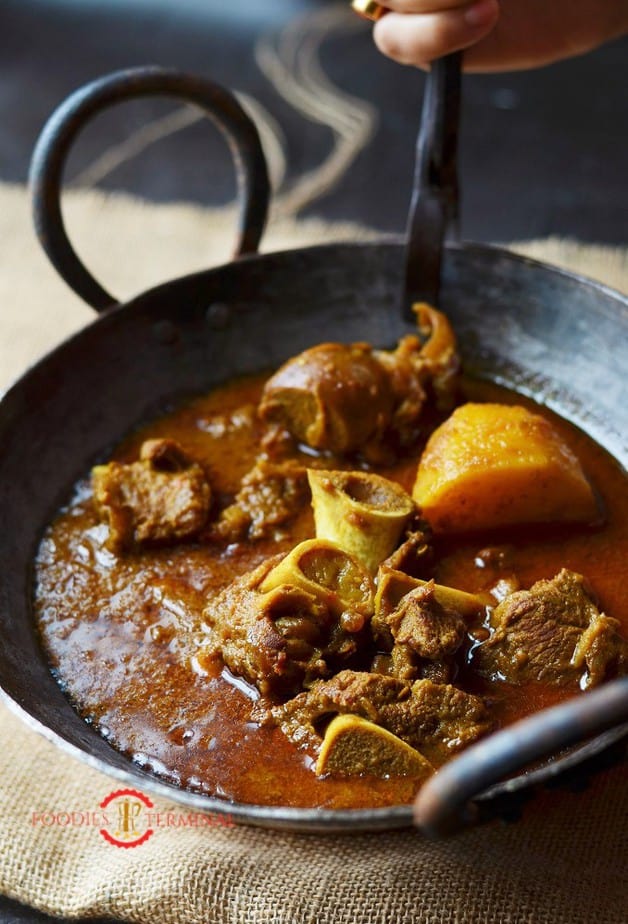 Expert Tips From Foodies Terminal
Tips to make Bengali Mutton Curry or Bengali Mangshor Jhol?
Follow the same recipe of Instant pot Indian Goat curry mentioned here. Add 1 cup more water to the gravy. Bongs love their "Patla Manghshor jhol" (mutton in a runny curry sauce, more like a light soup).
Also add, shallow fried potato chunks half way to the gravy and then cook it for some more time.
A Bengali Mutton curry or Mangshor Jhol always contains shallow fried potato chunks or shallow fried raw papaya chunks. Do not skip adding any one of them or both.
To the hot oil add about 1/2 teaspoons of sugar and lightly caramelize it before adding the chopped onions.
The above mentioned tips will give you an ultimate Mangshor jhol or Bengali mutton curry to enjoy during your Sunday meal!
Tips to make Railway Mutton Curry
Railway Mutton curry invented during the British Raj is a spicy regular Mutton gravy whose spice level is greatly reduced by adding fresh curd or yogurt to the gravy.
If you want to make a quick railway mutton curry than do follow this Pressure cooker Mutton curry recipe mentioned in this blog.
Skip the potatoes and stir 1-2 teaspoons fresh curd or yogurt just before serving.
Stay tuned for more Instant Pot Mutton recipes coming up in this blog soon, Like – Chettinad Mutton curry, Mutton Rogan Josh, Lahori Mutton Curry, Andhra Mutton Curry, Kerala Mutton Curry, Mutton Dakbungalow, Hyderabadi Mutton curry etc.
Tips to make Mutton Curry in Pressure Cooker
You can easily cook Mutton curry in pressure cooker. Just follow my tips.
Saute the chopped onion & the onion paste over medium heat in a pressure cooker. Sprinkle water if they tend to stick on the bottom of the pan.
After adding the mutton pieces increase the heat to high. Continue to sear the meat with the spices and the chopped tomatoes.
If you feel that the heat is too much to handle feel free to reduce it back to medium high!
Add hot water to the pressure cooker only when oil oozes out from the meat, the meat becomes fragrant and changes into a lovely dark color!
Close the pressure cooker lid and cook the Mutton curry in Pressure cooker over medium-high heat for 7-8 whistles. Adult goat meat might take a bit longer to get fully cooked! Do check in-between!
Do not do a quick pressure release! Turn off the flame & wait for natural pressure release.
This will give a gorgeous color to your mutton gravy!
If you love this Instant Pot Goat Curry you will certainly love these Instant Pot recipes from this blog: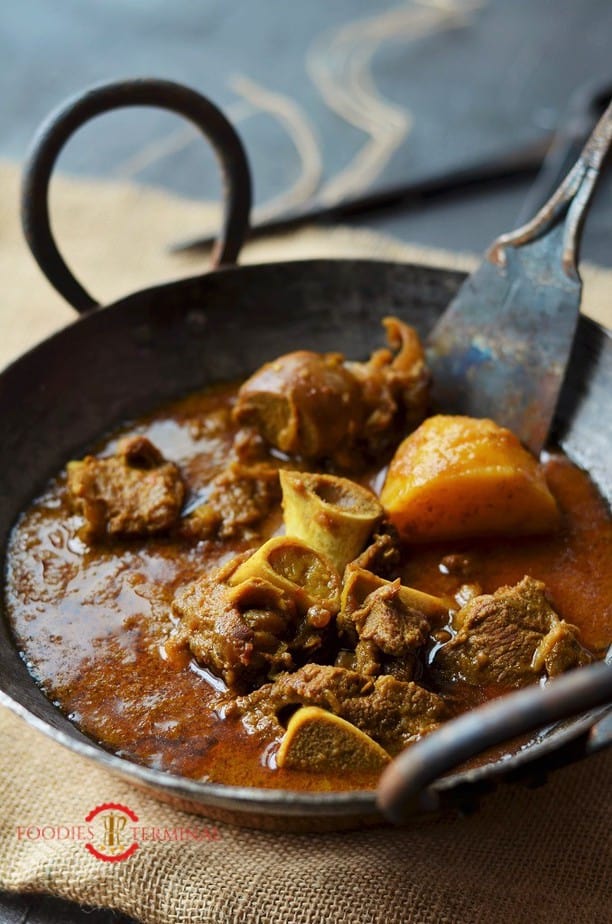 DID YOU TRY THIS RECIPE? Do not forget to give a STAR (*) rating. Just click on the stars on the Recipe Card below to rate!
Recipe Card For Instant Pot Indian Goat Curry | Pressure Cooker Mutton Curry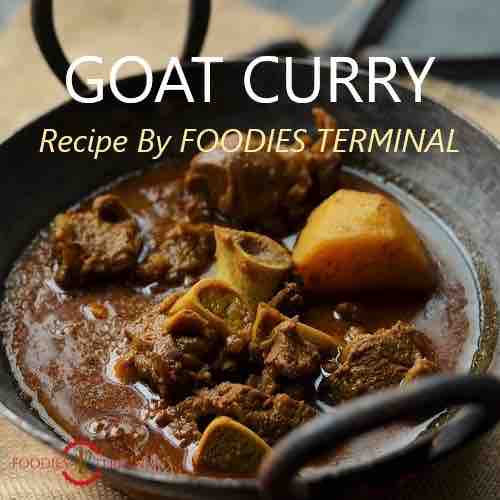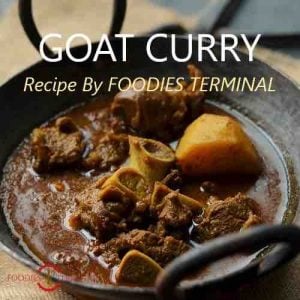 Instant Pot Indian Goat Curry
Print Recipe
Pin
Rate
Instant Pot Indian Goat Curry is a simple, spicy goat meat recipe that's cooked with very basic pantry staples spices! Cooked in an Instant Pot or Pressure Cooker this Mutton curry recipe will soon become your favorite.
Ingredients
Measuring cup used, 1 cup = 240 ml & 1 teaspoon = 5 ml.
Want more Recipe Videos?
Check out our Youtube channel!
Instructions
Instant Pot Indian Goat Curry ( Instant Pot Method)
Marinate the goat meat with the ginger garlic paste, a pinch of turmeric powder and 2 tsp mustard oil. Set aside.

While the mutton is marinating switch on the Instant Pot into "Saute" mode & keep it on "normal" settings.  Allow the "HOT" message to come up in the Instant pot screen. Then add mustard oil. When the oil becomes hot fry the potatoes until golden. Keep aside.

Turn down the" Saute" settings to "Less" and add the diluted red chili powder to the oil. Stir briskly for a few seconds.

Add the thinly sliced onions and fry until golden on the "Saute" mode set to "High". Be careful with the "high" settings, if left unattended the onion might burn. 

When the onions are golden, add the onion paste & fry until oil oozes out at the "saute" on "High". It will take approximately 10 mins.

Turn down the heat to "normal" mode ( Saute settings). Next, add the marinated goat meat & all the masalas. Mix everything well and then add the chopped tomatoes. Saute stirring frequently until oil oozes out, the goat meat becomes aromatic & has a lovely golden brown color. Sear the meat well. 

Add hot water. Close the Instant Pot making sure that the vent is in Sealing position. Cancel the "Saute" mode and Press the "pressure cook" button. keep it on "High-Pressure" mode. Set the timer for 8 mins.

After 8 mins when the Instant Pot beeps, do a quick pressure release by moving the nozzle from "sealing" to "venting" position. Open the lid carefully, add the shallow fried potatoes and "pressure cook" it on "High" settings for another 2 mins.

Do a quick pressure release, open the lid carefully and serve hot.
Mutton Curry – Pressure Cooker Method
Follow the Instant Pot recipe. Instead of an Instant pot use Pressure cooker.

Fry the sliced onions over medium-high heat in the pressure cooker.

After adding the mutton pieces increase the heat to high and sear the meat.

Add water and pressure cook until 7-8 whistles over medium heat in the pressure cooker. Mutton from an adult goat will take longer to get fully cooked. Adjust the time & whistles accordingly.

Add the potatoes midway after 5 whistles. 

After 7-8 whistles turn off the stove & DO NOT do a quick pressure release. Instead, allow the pressure to release naturally.
Notes
You can either use bone-in goat meat or boneless. But bone-in goat meat tastes best in this Instant Pot Indian Goat Curry.
While searing the goat meat in an Instant pot if you feel that the meat is sticking to the bottom of the pan, do sprinkle some water OR reduce the temperature setting to "LESS" "NORMAL" or "HIGH". Find your comfortable sauteing temperature by playing with these buttons.
Please note that I used baby goat to make this Pressure cooker mutton curry. If you use adult goat meat than do increase the cooking time.
For best flavors fry the sliced onion until golden & onion paste until oil oozes out. DO NOT SKIP this step!
Adding diluted red chili powder to the oil will give your gravy a gorgeous red color. Reduce the "SAUTE" temp to "LESS" before adding the diluted chili powder otherwise it will burn!
Marinating the mutton is optional. If you decide to skip this step then do add the ginger garlic paste after sauteing the sliced onions and before adding the onion paste. Fry the ginger garlic paste for a couple of minutes.
You may skip adding the potatoes.
PLEASE NOTE: Nutrition values are my best estimates. If you rely on them for your diet or special diet, use your preferred nutrition calculator.
Nutrition Facts
Instant Pot Indian Goat Curry
Amount Per Serving (1 cup)
Calories 271
Calories from Fat 153
% Daily Value*
Fat 17g26%
Sodium 182mg8%
Carbohydrates 20g7%
Protein 13g26%
* Read our privacy policy – Calorie information is provided as a courtesy only and should be leveraged as an estimate rather than a guarantee.Percent Daily Values are based on a 2000 calorie diet.
Nutrition
Serving:
1
cup
|
Calories:
271
kcal
|
Carbohydrates:
20
g
|
Protein:
13
g
|
Fat:
17
g
|
Sodium:
182
mg
If you try this recipe or any other recipe from this blog, let us know! Leave a comment, rate it! Hearing from you is what makes my Day!
Follow us on Facebook & Pinterest.
Tag a photo on Instagram.
Pin this Instant Pot Goat Curry for Later!