Masoor Dal Pakoda – a crispy, crunchy, protein packed delight that you would never love to miss if you are a Pakoda or fritters fan. So easy to make & you need just 2 ingredients to make these crispy red lentil fritters. Learn how to make the best Masoor Dal Pakoda like a pro by following the step by step guide.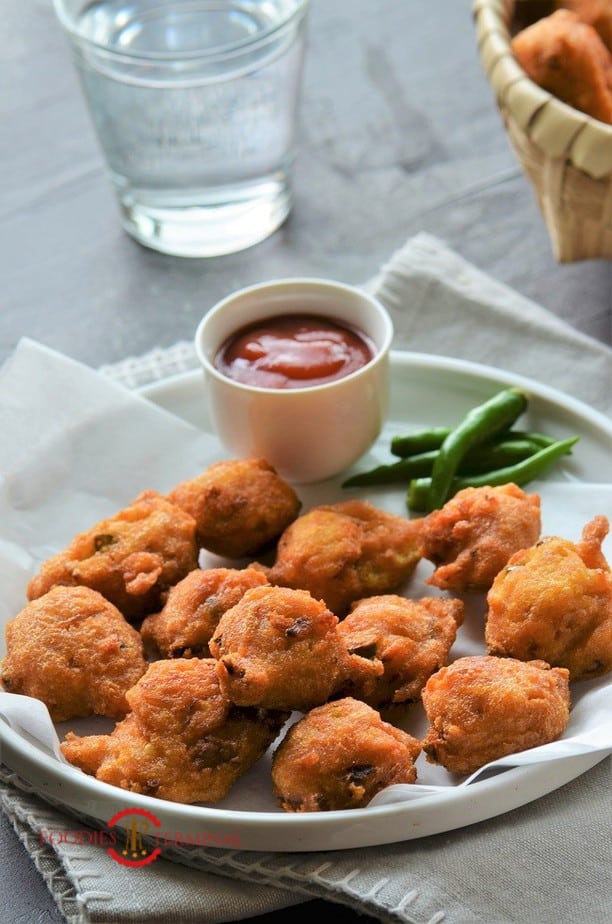 Masoor Dal Pakoda
Make these for movie nights, introduce a plateful while you catch up with a friend, munch them with your evening Chai, add them to your regular lunch Thali.
These Massor Dal pakoras will always make you happy, especially, if you love deep fried foods or any kind of fritters.
Honestly folks! We here at Foodies Terminal don't need any plans or reasons to make a batch of Pakoras like these delicious Chicken Pakora in Air Fryer 😀
Crispy, crunchy deep fried fritters or pakodas are always welcome in my life all 365 days a year 😀 😛
Let me tell you that these Masoor dal pakodas are not an instant recipe as any gram flour pakodas or besan pakoras.
You do need to add 2 extra steps before you start prepping the batter & frying the fritters, namely –
Soaking the Masoor dal for atleast 3-4 hours.
Grinding it into a paste.
Once you are done with the above 2 steps you are sorted. Prepping the Dal pakoda batter & frying them in batches is just the same as any besan pakora.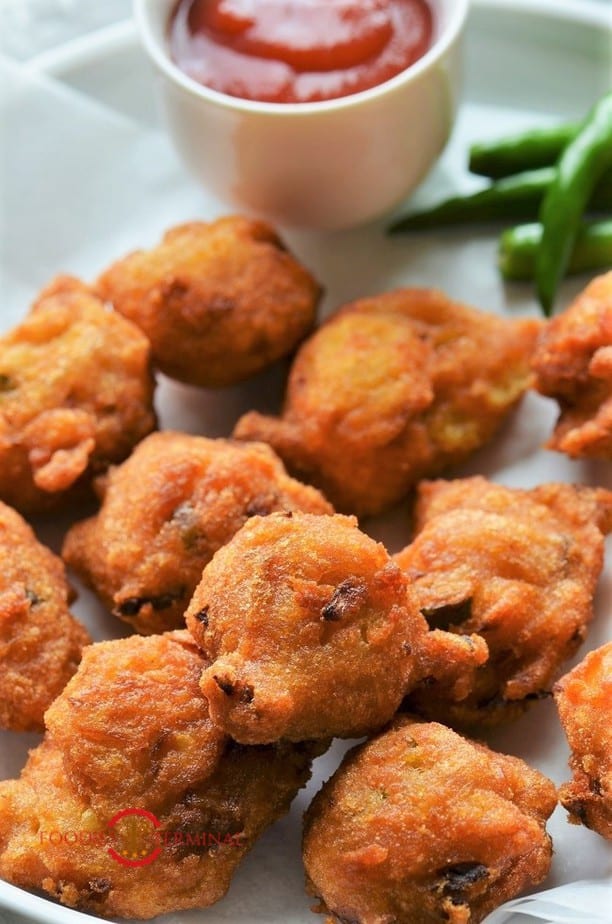 What is Masoor Dal Pakoda?
Masoor Dal Pakoda is a fritter made by soaking, grinding & deep frying red lentils in the form of a coarsely ground semi thick batter.
Finely chopped onions, green chilies & coriander leaves are added to the batter for extra flavor, crunch & taste.
You may also add Carom seeds (ajwain), cumin seeds (jeera), grated or minced ginger to the batter.
Though I have skipped adding any extras at all.
We love simple Masoor Dal pakodas or Musur dal er boda (as they are popularly known in bengali language) with 2 ingredients – chopped onions & green chilies.
In today's recipe I skipped out the green chilies too because of my little boy who hates spicy food 😀
Masoor Dal Pakora Ingredients
You need only 2 main ingredients to make a batch of crispy deep fried pakodas. And here's the list:
Soaked Masoor Dal or red lentil.
Onion
Green chilies (optional)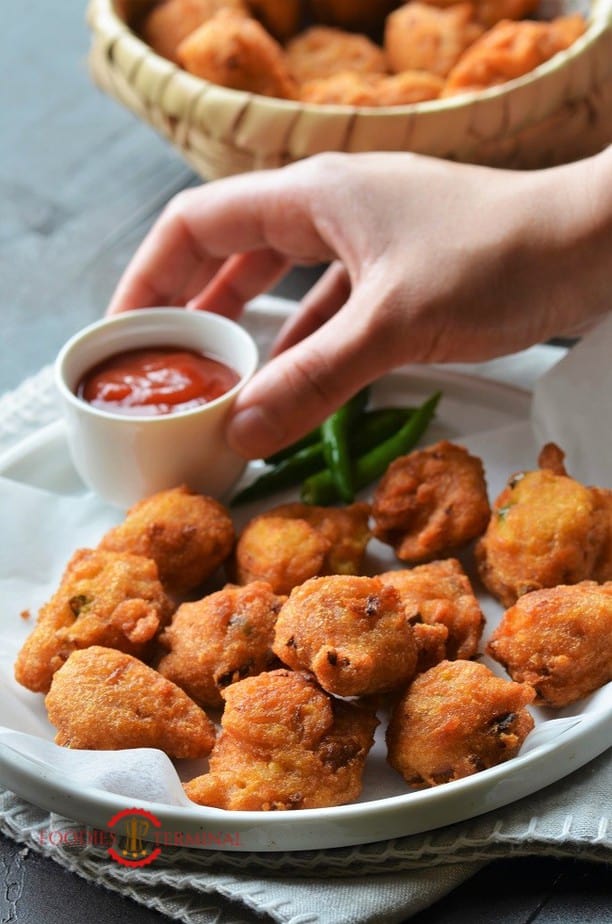 4 Tips to make the best Masoor Dal Pakoda
Coarsely ground the Dal: Making the Dal into a fine paste will make the pakodas dense. Grind coarsely always.
The Consistency matters: Do not add lots of water while grinding the dal. A runny batter will make the pakodas to break or scatter in oil. Try to grind the dal without any water. If need be add 1/2 teaspoons water at a time.
Fluff the batter with hand: This will make the pakodas extremely light, fluffy & airy. Hand whisking the batter incorporates just the right amount of air.
Fry in moderately hot oil: This will ensure an even cooking of the Musur Dal er boda.
Why my Red lentil fritter is spreading or breaking in oil?
If the batter contains too much water than the pakodas will spread or break in oil.
The consistency of the batter must be like an idli batter or pancake batter.
Do not add too much water while grinding the soaked masoor dal. You will not need any water at all while grinding the dal.
Or if you find it too hard to grind than add 1/2 teaspoon water at a time, so that you have a much better control.
Baking soda or no baking soda?
No, this recipe requires no baking soda at all.
The trick for fluffy, airy, light pakoda lies in the way you choose to whisk the batter.
The age old method of whisking the batter with hands in a clockwise motion always helps me to achieve the right amount of fluff.
This method of whisking helps to incorporate enough air into the batter making it airy & light!
Do it once & you'll instantly notice the difference!
Especially, if you don't mind your hands to get a little messy, you'll be very happy with the result 🙂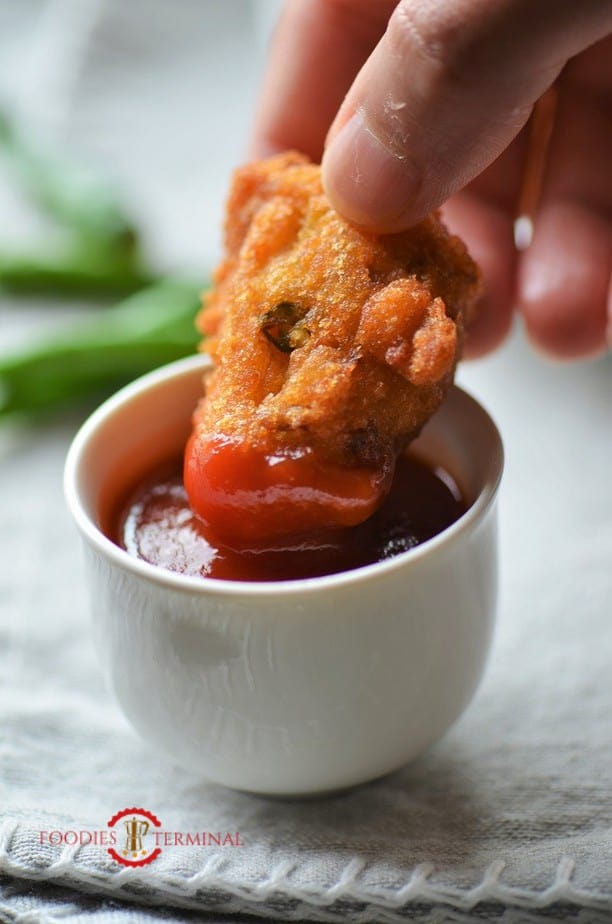 How long can you store Masoor Dal Vada?
You can store Masoor Dal Pakoda for 15 days in the fridge in an air tight container. But, they'll lose all the crunch. they will become soft.
Some people prefer to re-fry them in hot oil to bring back the crunch factor but I've not tried this method as yet.
Don't miss this Awesome Easy Chicken Pakora!
How to make Masoor Dal Pakoda step by step?
Steps in words below pictures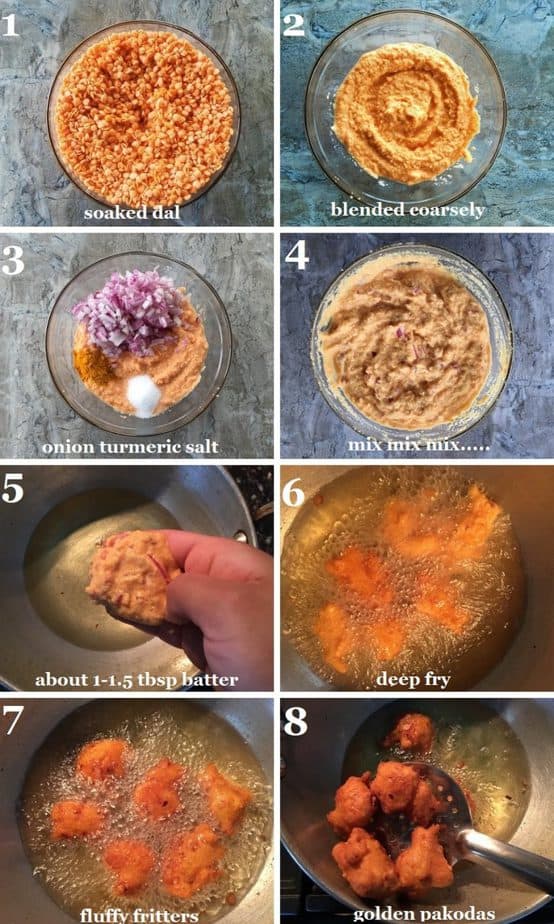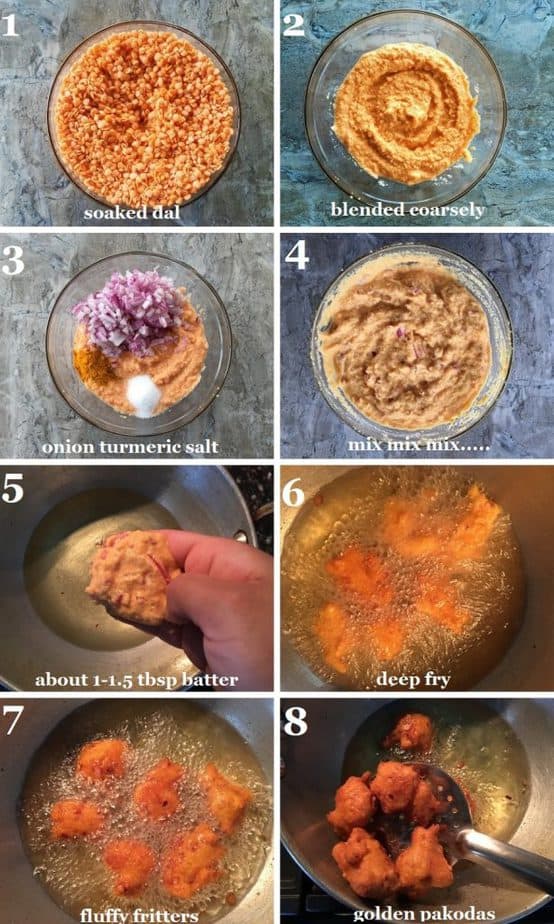 How to make Masoor Dal Pakoda
Rinse & Soak Red Lentils

Rinse the Masoor dal under tap water very well & than soak them with enough water for atleast 3-4 hours. I generally soak them overnight.
Dal : Water = 1 cup dal : 6 cups water.

Grind the Dal

Strain the soaked Masoor dal & put it in the jar of a blender. Do not add any water until you really need it. Grind the dal coarsely, there should not be any chunky dal pieces but the batter should not be a smooth paste as well.
If you find it difficult to grind add 1 tsp water at a time.

Add rest of the ingredients & Whisk the batter

Add chopped onions, turmeric powder & salt & whisk well (I used my hands 😀 ). This method will incorporate sufficient air into the batter making it very light & fluffy.

Prep the Oil

In a heavy bottomed pan or kadai add sufficient oil for deep frying the pakodas. Allow the oil to become moderately hot but not smoking hot.
You may perform the hot oil test by dropping a small drop of batter to the oil. If it bubbles & floats up the oil is hot enough for frying the pakodas. And if the small drop of batter never rises up that means the oil is not ready.

Deep fry Pakodas

Tip the batter about (1-1.5 tbsp) into the hot oil & deep fry them over medium heat until crispy & golden.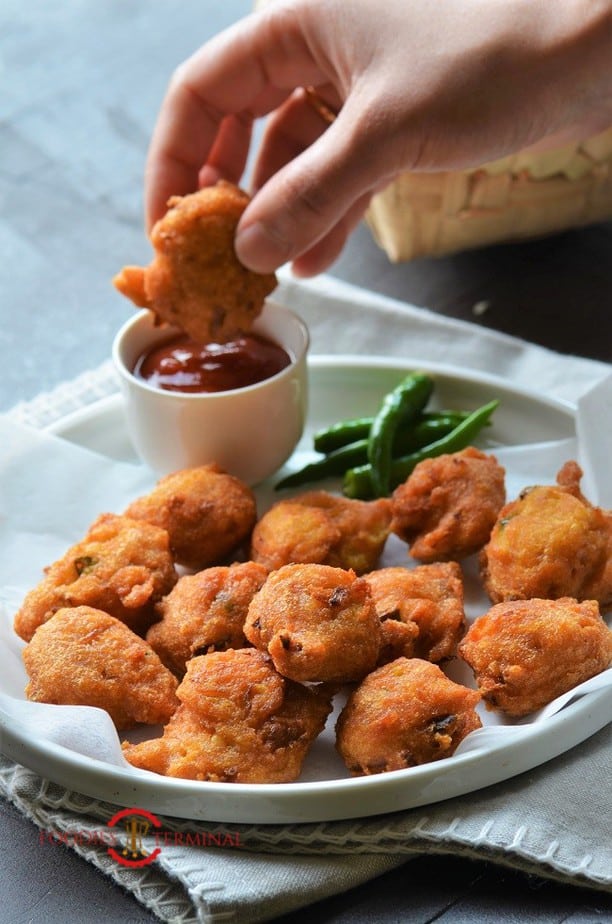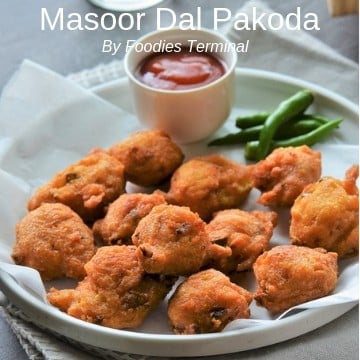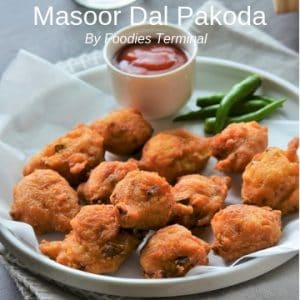 Masoor Dal Pakoda
Print Recipe
Pin
Rate
Masoor Dal pakoda is a deep fried red lentil fritter that are so easy to make with only 2-3 ingredients. These red lentil fritters are extremely good snacks, sides, appetizers or even a lunch box recipe. Crispy, crunchy protein packed goodness is what you will have!
Want more Recipe Videos?
Check out our Youtube channel!
Instructions
Rinse the Masoor dal vey well under running tap water. Soak them in enough water over night or for 3-4 hours.

Strain any excess water from the soaked dals & grind them into a coarse paste in a blender. Set aside.

Next, add the onions, salt, turmeric powder & green chilies (if adding any). Mix well and fluff the batter with your hand for 2-3 mins. This will make the pakodas light, fluffy & so airy.

Heat the oil in a kadai or deep bottomed pan over medium heat. 

When the oil is moderately hot release about 1-1.5 tbsp batter to the oil. Do not over crowd. Deep fry until golden on all sides. 

Once done lift the Masoor dal pakodas from the oil and keep them on a plate. Serve hot. Enjoy!
Notes
You may also add these to the Batter: grated or minced ginger, finely chopped cilantro, ajwain seeds & cumin seeds. I did not add any.
Try not to add water while grinding the soaked dal.
Fry the pakodas over medium heat.
Accidentally if the batter becomes runny add more chopped onions & cilantro to make it manageable.
Do not over crowd the oil with pakodas. Fry them in batches.
Measuring Cup used, 1 Cup = 240 ml & 1 teaspoon = 5 ml.
Nutrition Facts
Masoor Dal Pakoda
Amount Per Serving
Calories 195.6
Calories from Fat 69
% Daily Value*
Fat 7.7g12%
Sodium 10.2mg0%
Potassium 574.2mg16%
Carbohydrates 24.7g8%
Vitamin C 8mg10%
* Read our privacy policy – Calorie information is provided as a courtesy only and should be leveraged as an estimate rather than a guarantee.Percent Daily Values are based on a 2000 calorie diet.
Nutrition
Calories:
195.6
kcal
|
Carbohydrates:
24.7
g
|
Fat:
7.7
g
|
Saturated Fat:
5.1
g
|
Polyunsaturated Fat:
0.3
g
|
Monounsaturated Fat:
0.1
g
|
Sodium:
10.2
mg
|
Potassium:
574.2
mg
|
Fiber:
8.8
g
|
Sugar:
0.2
g
|
Vitamin C:
8
mg
Pin It For Later!