The Chicken Pakora in Air Fryer will amaze you with it's taste and less oil content. Air Fryer Chicken Pakora is crispy, delicious & can be made ready in just minutes and that too without deep frying. After all life is beautiful with a handy dandy Air-Fryer!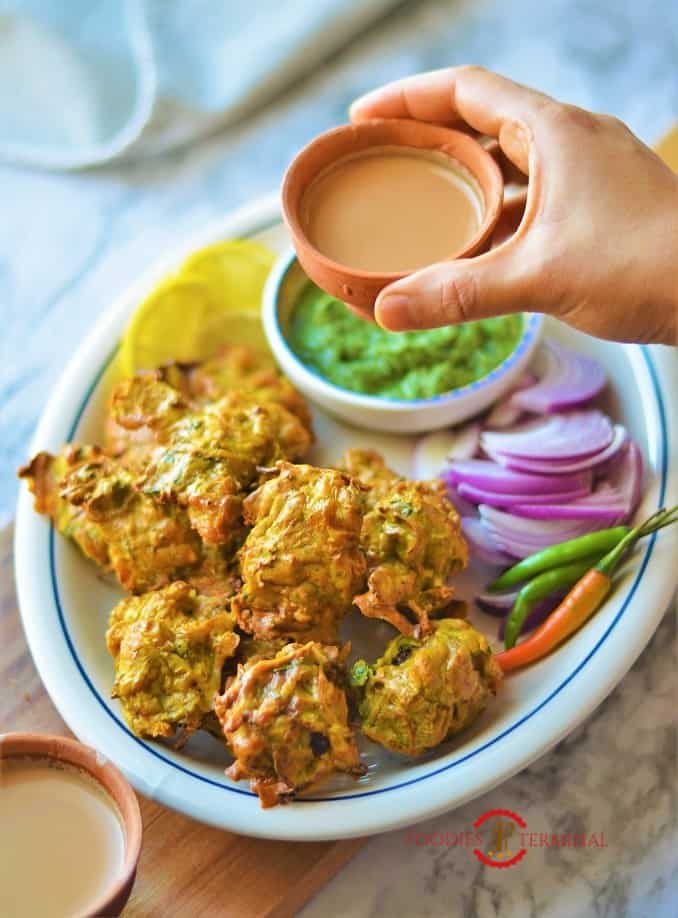 Chicken Pakora in Air Fryer
Finally I can proudly say that I've a healthy, a less caloried Chicken Pakoda recipe ready for you guys!
A plate full of crispy, spicy Chicken pakoda, a cup of hot ginger chai, a delicious dhaniya chutney (dipping sauce for the pakoras), few crunchy raw sliced onions, a few throw of hot green Indian Chilies, & of course an endless cozy chat with friends is what we all yearn for once in a while!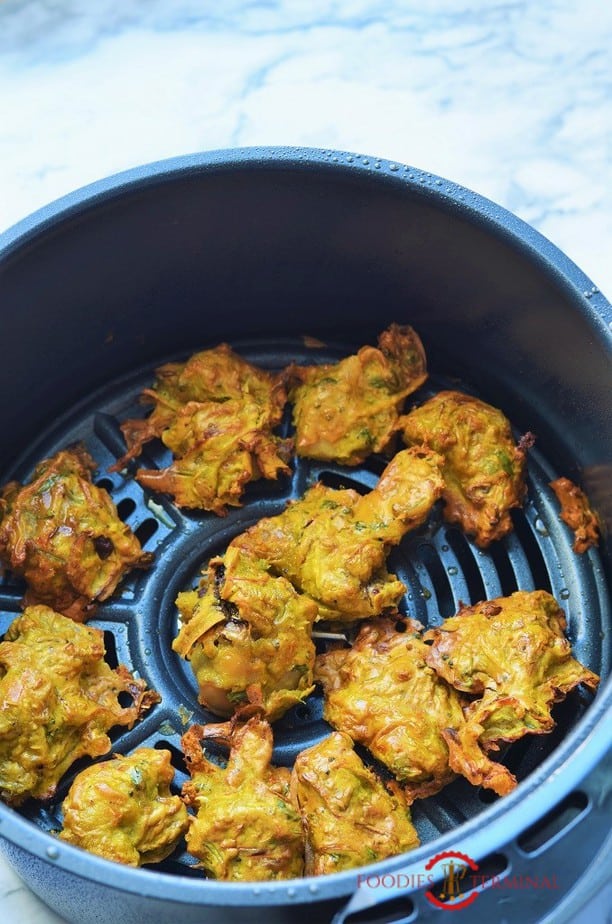 What is Chicken Pakora?
Chicken Pakora is an Indian Chicken appetizer that's made with boneless or bone-in chicken pieces coated in a spiced up chickpea flour batter & than deep fried traditionally.
This quick Indian chicken appetizer can be prepared in less than 45 minutes if you follow the traditional deep frying method.
But, if you mock fry them in your Air fryer you can be all done in less than 20 minutes!
And yes that includes the prep time + the time in the Air fryer!
Watch Chicken Pakora Recipe Video in Air Fryer:
How to make Chicken Pakoras in Air Fryer – Technique + imp pointers
You will just be amazed as how easy it is to make this easy finger food in Air Fryer within minutes.
Instead of cups full of oil you will just need one single spray of oil to make this air fryer recipe of Chicken pakora!
Air fryer mimics deep frying by circulating extremely hot air at high speed.
Hot air gushing out from the machine fries the food without draining out the moisture!
Rest assured you'll always end up with crispy pakoras from outside & juicy & tender from inside!
No oily mess, no baby sitting, no tons of left over oil, no munching down boat loads of calorie – only GUILT FREE eating (wow! finally I used this word :D) It's kinda a trendy these days to add "Guilt free" as a prefix or suffix..Lol!
Just marinate the chicken pieces (boneless or bone-in), prepare a thick sticky batter by sprinkling chickpea flour and adding spoonful of water in parts.
Just remember anything air fried demands for a sticky & thicker batter & this chicken pakora recipe in air fryer is no exception!
You must make your batter as such it will stick or sit on the surface of the chicken pieces and not run down!
Whereas, if you decide to deep fry your chicken pakoras you need a medium batter that's on the runny side!
Place your marinated & batter coated chicken pieces in your air fryer. Set the right temperature & the time and watch your air fryer do the job for you.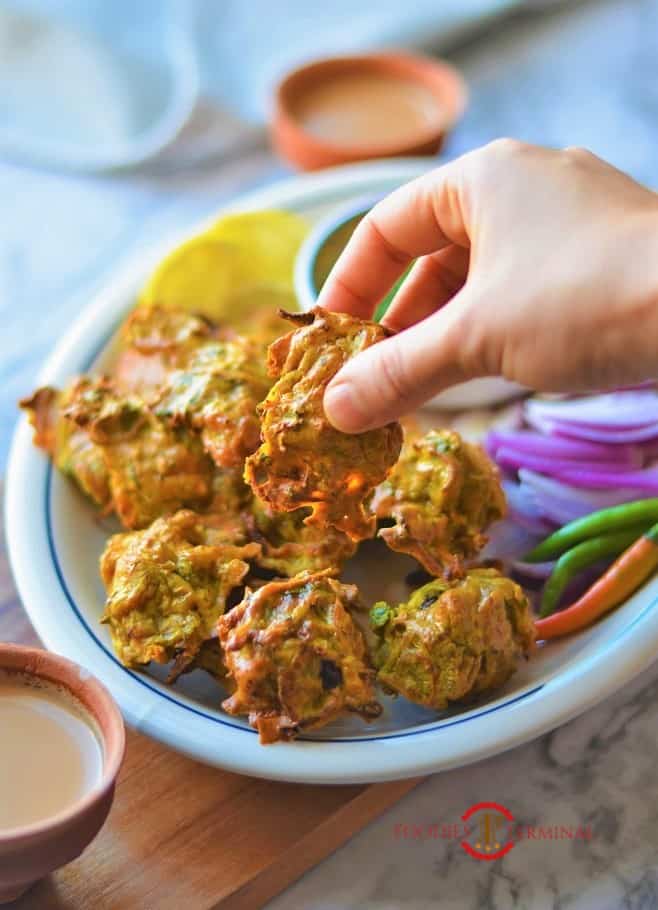 What are the Chicken Pakora Ingredients?
The ingredients are very simple & here's the list:
Bone-in or boneless chicken pieces cut into about 1″ or 1/2 " pieces.
Chickpea flour or Besan.
Spices : pepper corns, coriander seeds, turmeric powder.
Others: Green chili, coriander or cilantro leaves, sliced onion, ginger julienne, ginger & garlic paste.
How to make Chicken Pakora batter?
The prep of Air fryer chicken pakoras are a bit different than the traditional deep fried ones!
For air fryer chicken pakoda you need a batter that's on the thicker side & not runny at all.
Start by sprinkling garbanzo bean flour or besan & spoon fuls of water and mix well with the marinated chicken pieces.
Add more if needed.
Stop when the marinated chicken pieces are evenly coated with the besan flour & water mixture!
Refer the chicken pakora recipe video for step wise instruction.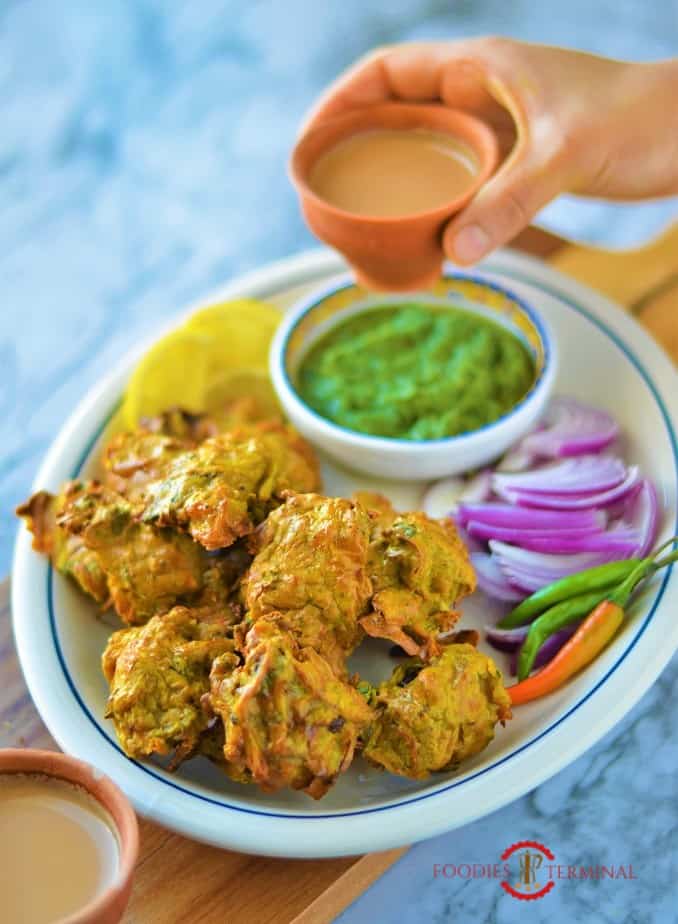 Does Chicken Pakora Contain Gluten?
Today's recipe of Chicken Pakoda in Air Fryer is Gluten-free!
It's coated with garbanzo bean flour or chickpea flour or besan which is gluten free. Even if you add rice flour to make it a bit more crispy, the recipe will still be gluten free.
Is Chicken Pakora Healthy?
Chicken Pakora in Air fryer is definitely a healthy recipe as compared to it's deep fried counter part.
It contains very less calories as their is negligible oil in this air fryer Indian recipe.
How to make Chicken Pakora crispy?
You can make chicken pakora crispy by adding 1-2 tsp of rice flour to the batter.
Rice flour is a gluten free flour that will lend a certain amount of crunch to your air fryer chicken pakoda.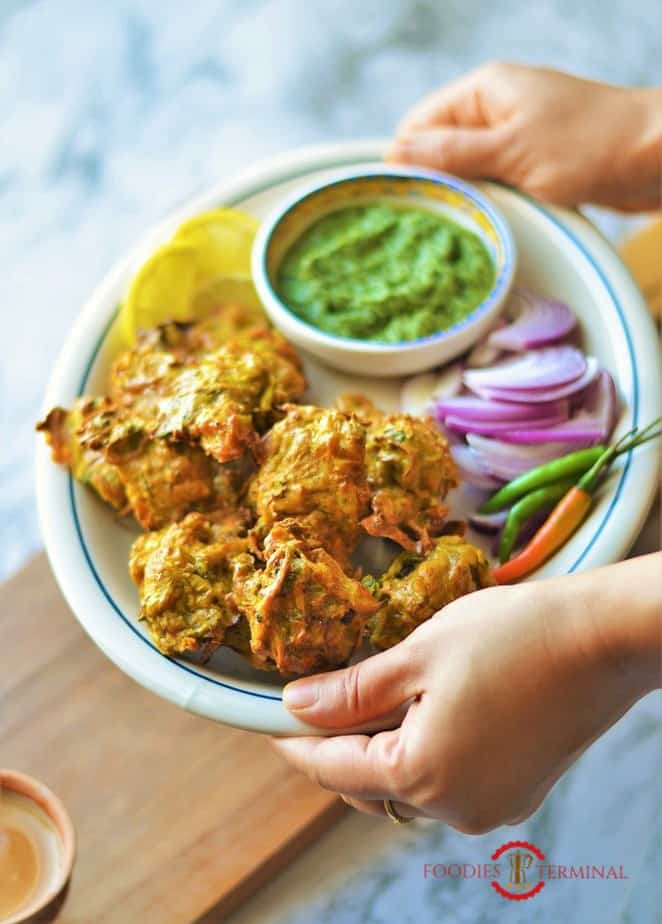 Why is Chicken Pakora red?
You might have seen a few Chicken pakora recipes that are red.
Some people add kashmiri red chili powder or food color to this Indian chicken appetizer recipe. This makes the chicken pakodas red.
Today's chicken in air fryer contains no such added ingredient.
How to make Chicken Pakora sauce or Chutney?
The green dip that you see in the photos is nothing but coriander chutney or Dhaniya Chutney.
Cilantro chutney or Dhaniya chutney is the most popular Chicken Pakora sauce that goes perfectly well with the recipe every single time.
Though I used a store bought one for the photo shoot, but you can easily prepare this sauce or chutney at home.
Here's how:
Start off by washing and cleaning a bunch of coriander or cilantro leaves.
Add them in the jar of your mixer grinder along with 2″ ginger piece, salt to taste, 2 tablespoons lemon juice, 3 green chilies or more & 1 pod garlic (optional).
Grind into a fine paste.
Enjoy your home-made Chicken pakora sauce or chutney.
What to serve with Chicken pakora?
Chicken pakora are best eaten as such!
These spicy Indian pakoras tastes good with cilantro chutney or even ketchup, crunchy pieces of onion, bites of green chilies & a cuppa of hot ginger Chai!
Honestly, guys I don't need any accompaniment with my share of crunchy air fried chicken pakoras. I don't even need a plate..Lol!
For me it's from Air fryer to mouth…Haa haaa!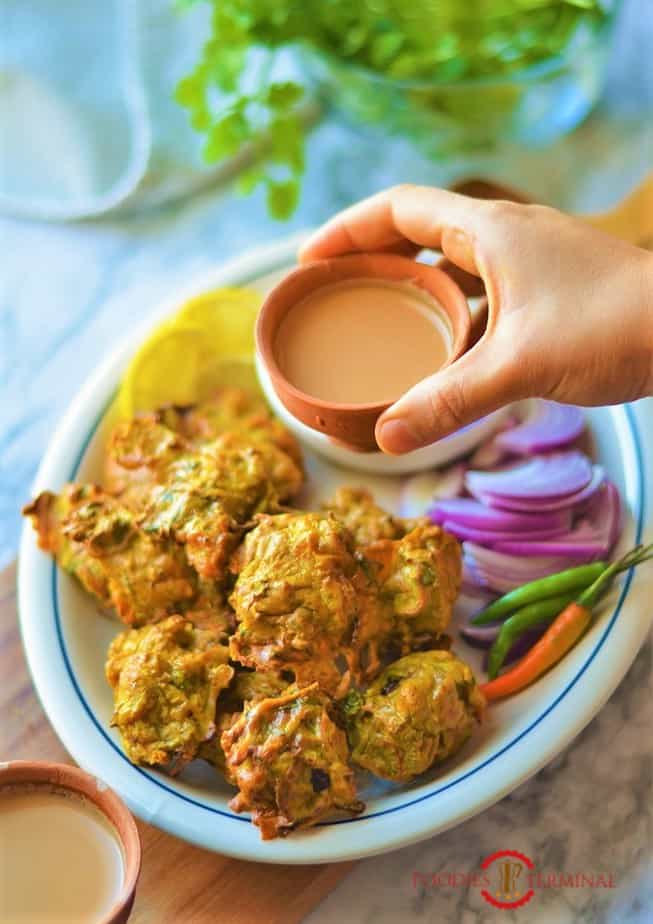 Top Variations of Chicken Pakora:
Chicken Pakora in Oven or Baked Chicken Pakora:
Follow the same recipe mention in todays post.
Pre heat your oven at 350 F.
Bake each side of the pakoras for 10 mins each.
Chicken Pakora Chinese Style:
Make Chinese style pakoras easily at home today chicken breasts.
Cut the chicken breats into 1/2″ pieces.
Marinate them with soya sauce, chili garlic sauce, rice flour, corn flour, egg and green chilies.
Mix well so that the chicken pieces are well coated with the batter or the marinade.
Deep fry the pakora in hot oil in a heavy bottomed pan.
Chicken Pakora Tamil style:
You can make Tamil style Chicken pakoras either with boneless or bone-in chicken pieces.
Coat the small chicken pieces with: ginger garlic paste, tandoori masala, garam masala, turmeric powder, red chili powder, coriander powder, black pepper powder, chopped curry leaves, chopped cilantro, green chilies, lemon juice, rice flour, all purpose flour (maida).
Mix well with water. Remember to add water in parts. The batter will just be moist enough to cling to the chicken pieces.
Fry the pakoras in hot oil in a deep bottomed pan.
Best Chicken Pakoras in Air Fryer – Tips from FT:
Organic Chicken is the way to go. 
We love bone-in chicken for our pakoras. But, if you are uncomfortable fishing out bone pieces from your pakodas do opt for boneless chicken pieces. i would select chicken breasts.
Grinding a few spices in the mortar & pestle gives that boost in flavors. If you own this little primitive kitchen tool than do not skip this step. You will find out the difference once you taste your air fryer chicken pakodas!
The best substitute for a mortar & pestle? Well, there's none! But, a mixer grinder does the job, just take care not to grind the spices into a fine paste, they must have lots of texture left!
Always cut the chicken to 1/2′ or 1″ pieces.
Remember that the batter should not be runny. The trick is to add besan or garbanzo bean flour & spoonful of water in parts & not all at once!
Coat the airfryer basket with oil. This is not mandatory but I love a bit of oil in my mock fried goodies as compared to zero oil!
Once, you have arranged the chicken fritters inside the air fryer basket do spray them once with canola oil. This will give a nice golden color to the pakodas, they will become crispy & taste good.
DO NOT skip adding the sliced onions & ginger julienne to the pakora batter. They lend such a nice KICK!
Do not over crowd the air fryer basket. An air fryer mock fries by circulating hot air all around the food. So, there should be enough space for that.
I always fry in batches in my air fryer for excellent results.
If you want spicy chicken pakodas then, add more green chilies or add about 1 tbsp red chili powder to the batter.
For crispy pakodas add about 1-2 tsp rice flour to the batter and a few drops more water.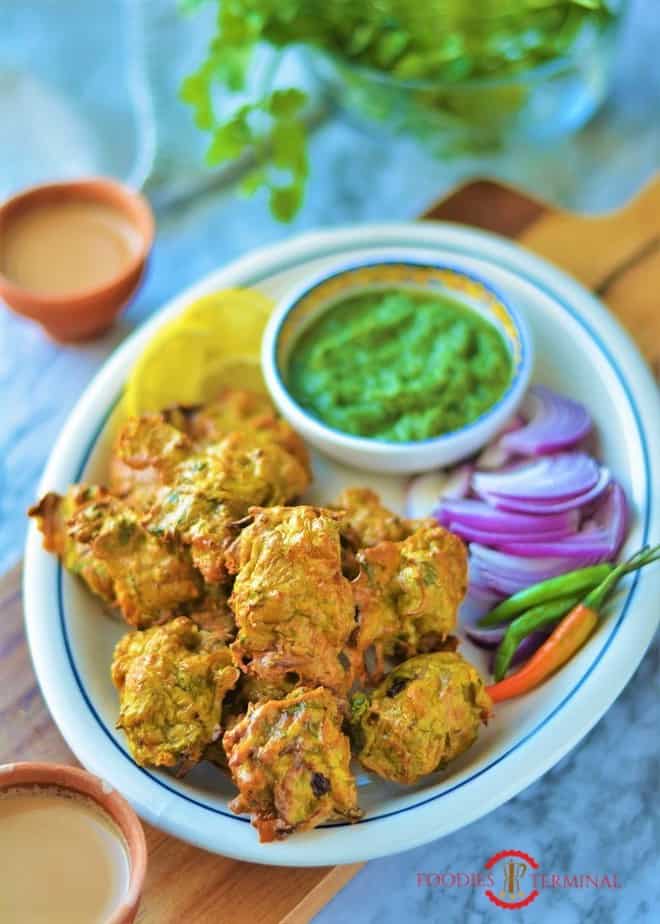 More Chicken Appetizer Recipes from Foodies Terminal:
Follow us on Facebook & Pinterest.
Tag a photo on Instagram.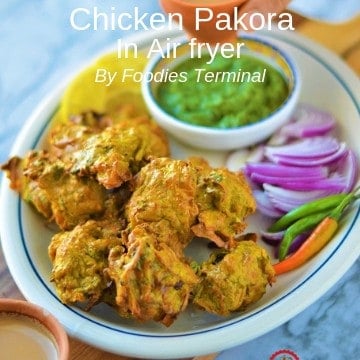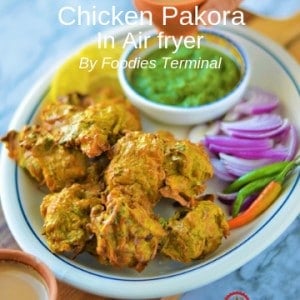 Chicken Pakora
Print Recipe
Pin
Rate
Chicken Pakora in Air fryer is a healthy chicken appetizer recipe that can be made within minutes. Thses healthy chicken pakora recipe is delicious, quick, easy & simple to make.
Want more Recipe Videos?
Check out our Youtube channel!
Instructions
Start off by grinding the whole peppercorns, whole coriander seeds, 1/3 cup cilantro leaves & the green chili in a mortar & pestle. If you do not own a mortar or pestle then do grind them in a regular mixer grinder. Just be careful not to over grind them into a paste. They should a have a lot of texture left. Refer the Video. Set aside after grinding the masala.

Next, in a clean dry bowl add take the chicken pieces. Add the ground masala to it, the ginger julienne, the sliced onions & mix well until the chicken pieces are evenly coated with the masala. Set aside to rest for 10 mins (optional).

Now, add the 1/3 cup cilantro leaves, the turmeric powder, the lemon juice & the salt to the marinated chicken pieces. Mix well for convenience.

It's time to add the besan flour or the garbanzo bean flour bit by bit & add water in parts (spoonfuls I would suggest to be more careful). Mix well with the help of a spoon until you get a nice thick coating over the chicken pieces. Keep aside.

Prep the air fryer by coating the basket with just one spray of oil.

Next, arrange the batter coated chicken pieces in the basket in a single layer. DO NOT over crowd.

Spray oil & put the basket inside the air fryer.

Switch on the air fryer. Press the AIR FRY button. Then set the temperature to 350 F & the time to 6 mins. 

Press the START button to begin air frying the chicken pakoras.

After 6 mins when you hear a beep sound, carefully take out the basket. & flip the chick pieces. 

Air fry them for more 3 mins in the same settings following the same above mentioned method.

If you want to check the chicken pakoras in between the air frying process just press the PAUSE button & take out the basket to check them. Once done put the basket inside the air frying will resume automatically.

Serve them hot with your favorite dip & enjoy!
Notes
You may use either bone-in or boneless chicken pieces to make your chicken pakoras in air fryer.
Do not over crowd your sir fryer.
It's wise to place the pakoras in one single layer. If you have to cater a large crowd. Air fry them in batches. But do not be tempted to over crowd them in the air fryer basket.
If you want to replace the green chili in this recipe, go ahead do that. Just increase the amount of peppercorns by tsp.
For nice, crispy, golden chicken pakoras in air fryer always spray them with oil. Just one spray should be sufficient.
If you want to check the pakoras in between the air frying process so not turn the whole machine off! Just press the PAUSE button & go ahead with your checking process. When you are done just put the basket in & the process will resume automatically from where you left it! That's the beauty of an air fryer.
Always prepare a thick batter for air fried recipes.
The trick is to add the besan flour & water bit by bit , in parts I mean and not all at once. 
Measuring cup used, 1 cup = 240 ml & 1 teaspoon = 5 ml.
PLEASE NOTE: Nutrition values are my best estimates. If you rely on them for your diet or special diet, use your preferred nutrition calculator!
Nutrition Facts
Chicken Pakora
Amount Per Serving
Calories 137
Calories from Fat 30
% Daily Value*
Fat 3.3g5%
Cholesterol 1mg0%
Sodium 7mg0%
Potassium 60mg2%
Carbohydrates 21.3g7%
Protein 6.8g14%
Calcium 470mg47%
Iron 0.4mg2%
* Read our privacy policy – Calorie information is provided as a courtesy only and should be leveraged as an estimate rather than a guarantee.Percent Daily Values are based on a 2000 calorie diet.
Nutrition
Calories:
137
kcal
|
Carbohydrates:
21.3
g
|
Protein:
6.8
g
|
Fat:
3.3
g
|
Saturated Fat:
0.2
g
|
Cholesterol:
1
mg
|
Sodium:
7
mg
|
Potassium:
60
mg
|
Fiber:
5.7
g
|
Sugar:
3.7
g
|
Calcium:
470
mg
|
Iron:
0.4
mg