Chicken Tikka in Oven knocks off any takeout Tikka Kebabs, packed with flavors, kids friendly & a freaking easy recipe. This is perhaps the easiest Chicken Tikka Kebab recipe that you'll ever make in your oven.
Tandoori Chicken Tikka recipe consists of absolutely tender, juicy boneless chicken Tikkas marinated in an easy tandoori marinade and than skewered and baked. Perfect for a quick brunch, a great party food and an excellent appetizer.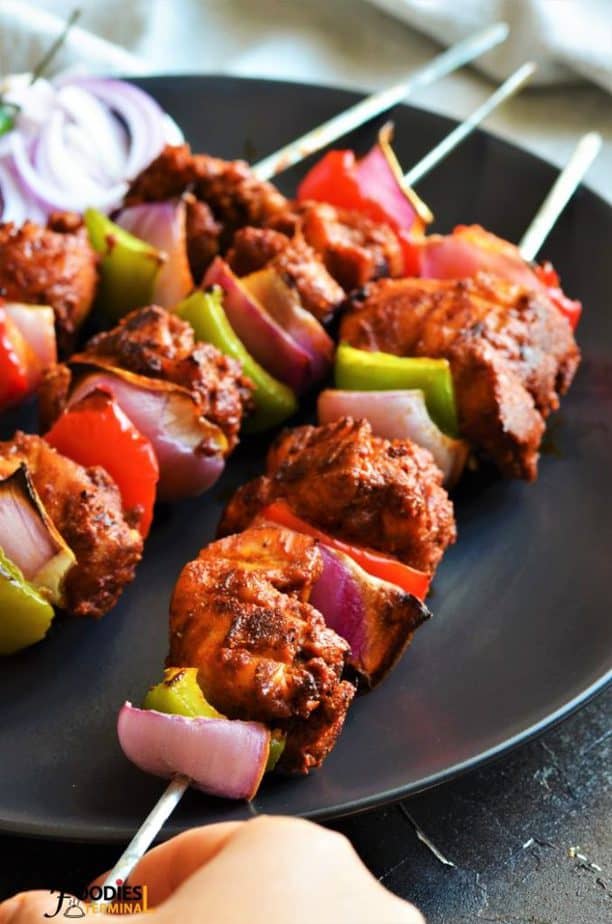 Tandoori Chicken Tikka Recipe
Today's Tandoori Chicken Tikka Recipe is as easy as this Chicken Reshmi Kabab Recipe and Chicken Achari Tikka.
You will love the mildly flavored, juicy skewered chicken pieces that happens to be kids friendly as well.
Carry these Chicken Tikka Kebab to potlucks, parties, enjoy it stuffed in Pita Bread, or relish it as an appetizer mopping it up with zingy sauces 😀
We personally love these boneless Chicken Tikka with Pudina ki Chutney (contains coriander too, also known Coriander Mint Chutney) and Tzatziki sauce.
However, you can choose your favorite dips as well.
You need a few basic pantry staples to prepare the outstanding Tikka marinade because that is the only thing that will make your Chicken Tikka Kebab recipe one of it's kind.
And as Tikka is always made with boneless meat go for either boneless chicken breasts or thighs.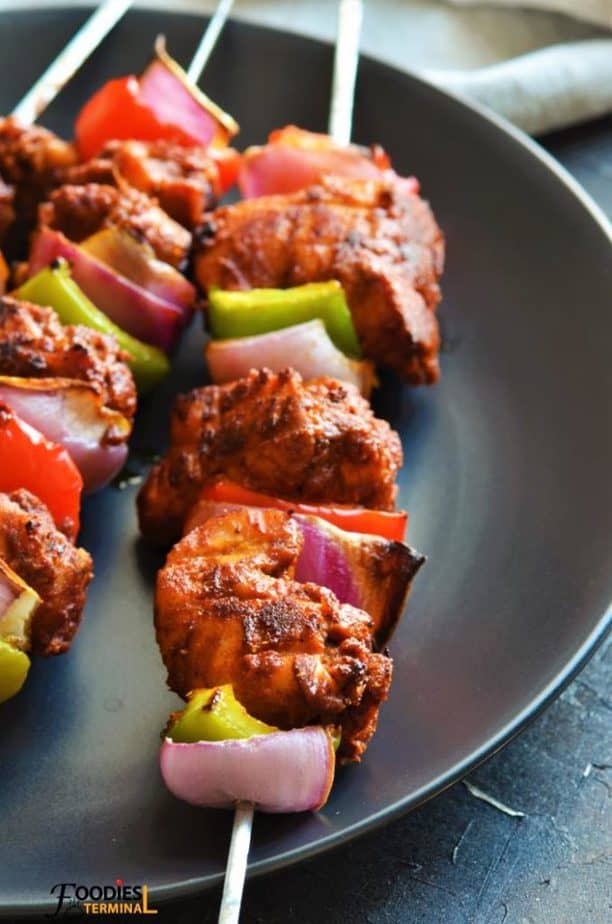 What is the difference between Chicken Tikka and Chicken Tikka Masala?
Chicken Tikka and Chicken Tikka Masala are not the same thing.
Chicken Tikka is boneless chicken pieces that are marinated in a delicious Indian style tandoori marinade consisting of spices and yogurt, threaded on skewers and than baked or grilled.
Whereas, to make a chicken tikka Masala you need to prepare a base sauce and than cook the baked chicken tikka kebabs in that sauce.
Chicken Tikka is often enjoyed as an appetizer or a brunch.
Whereas, Chicken Tikka Masala is a curry form with gravy that's often enjoyed as a main course dish.
Chicken Tikka Kebab Ingredients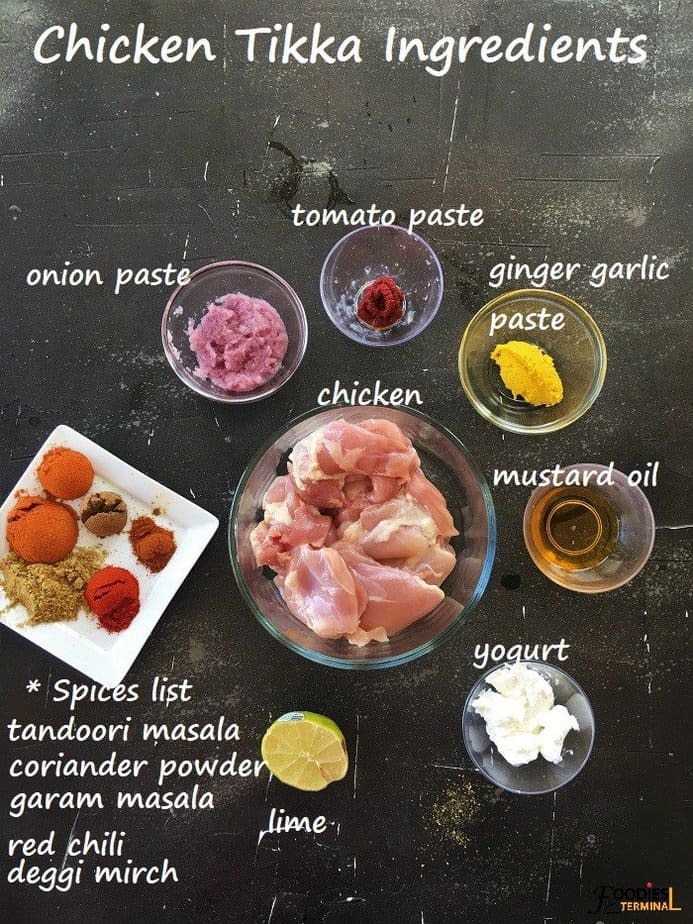 The Kick-ass Tandoori Marinade is the crowing glory of today's Chicken Tikka Recipe, make sure not to by pass any ingredient whatsoever
Boneless Chicken Chunks made into 2" pieces: Chosse either chicken thighs or breasts.
Onion paste: Excess water squeezed wihout making the onion paste excessively dry.
Hung yogurt or Greek Yogurt.
Tomato Paste.
Ginger Garlic Paste: Try my fabulous GINGER GARLIC PASTE RECIPE from this blog. It'll last you the longest without turning green.
Mustard oil: This oil gives best flavors to Kebabs.
Lemon or lime juice.
Dry Spices: Tandoori Masala, Coriander Powder, Garam Masala pwoder, Kashmiri red chili powder or deggi mirch powder, red chili powder.
Chicken Tikka - Tips & Tricks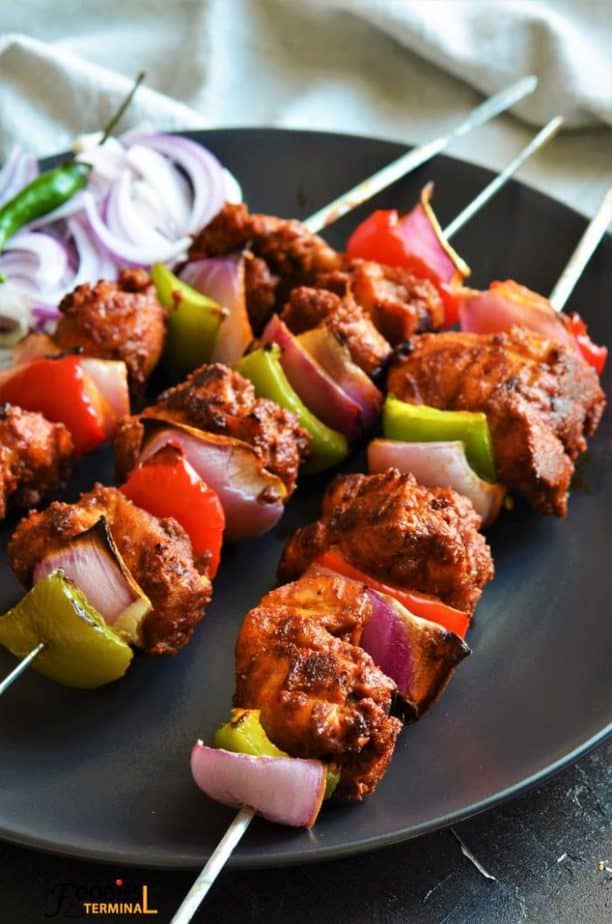 How to make Chicken Tikka in Oven? Step by Step
Step #1 Prep the Chicken and gather the ingredients
Cut the boneless chicken meat into 2.5" chunks. Wash and pat dry the meat and store in a bowl. Add all the ingredients into the bowl.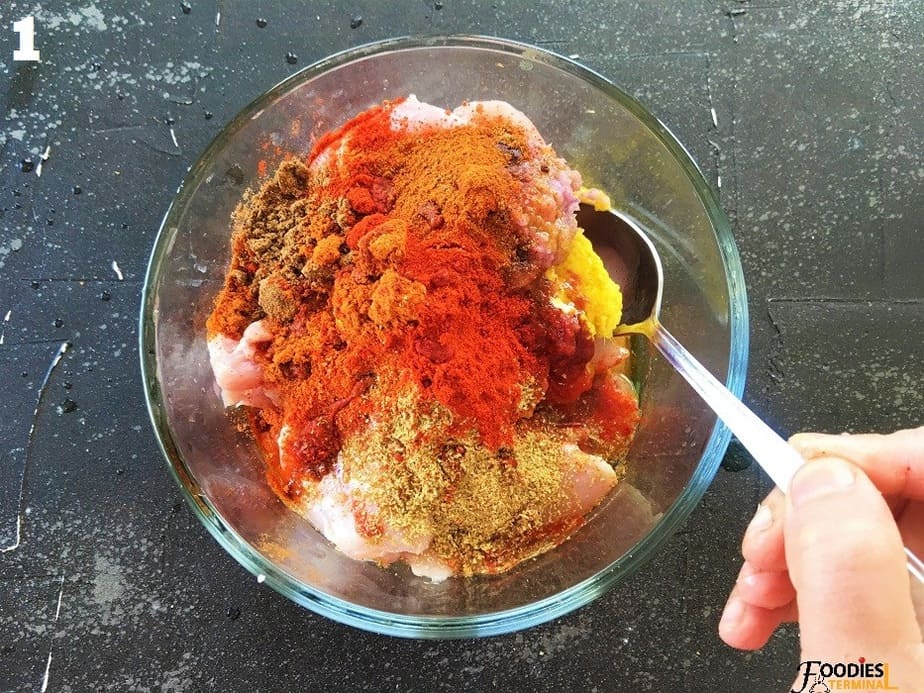 Step #2 Marinate the Chicken
With the help of a spoon or your hands coat the chicken pieces very well with the tandoori tikka marinade. Allow the chicken to rest in the fridge over night or for at least 2-3 hours before skewering them.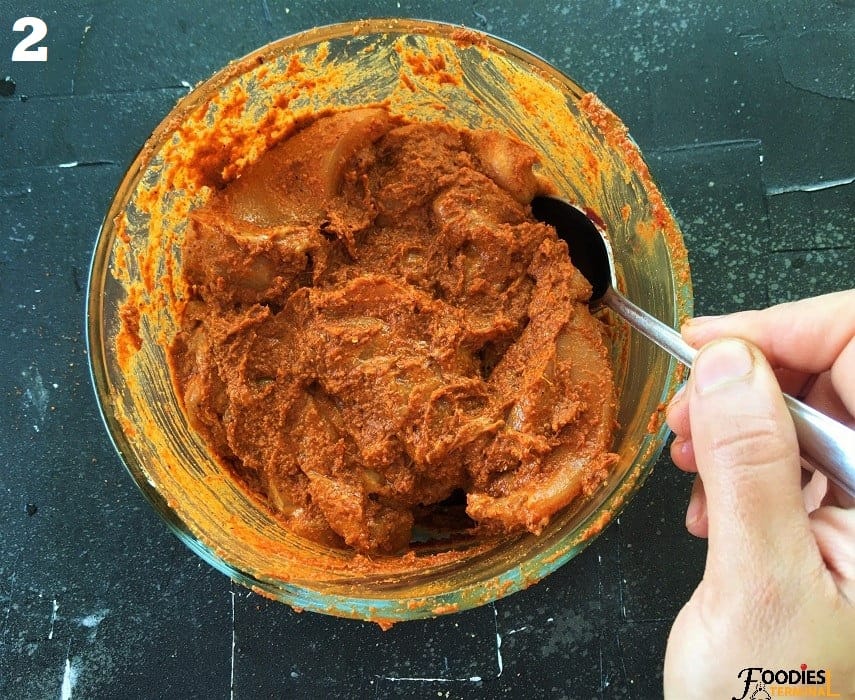 Step #3 Skewer the Chicken Tikka
Thread the marinated chicken tikka in metal or bamboo skewers alternating with cubed bell peppers or capsicums and onion petals.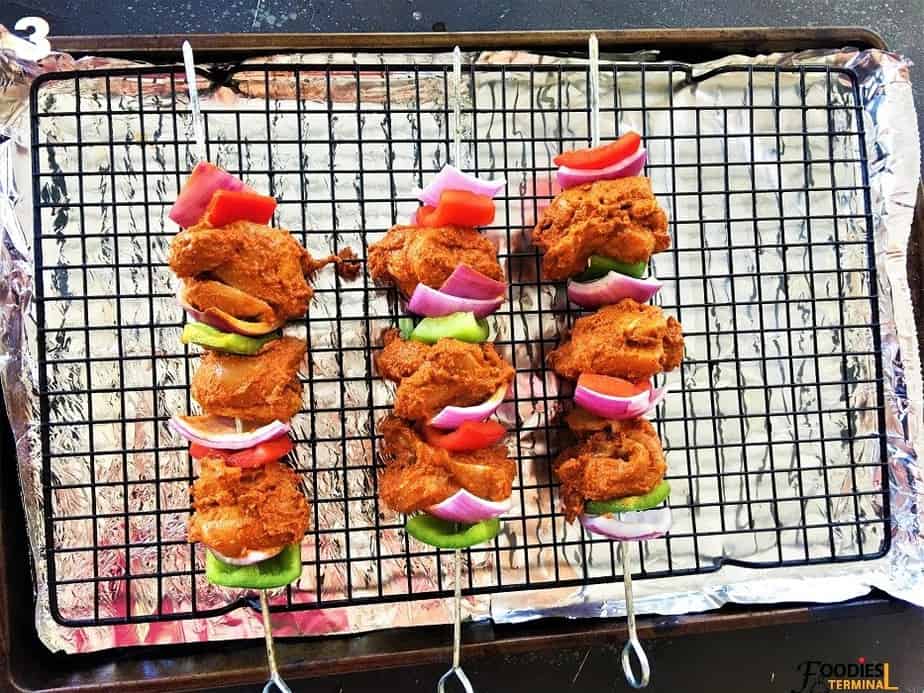 Step #4 Bake and than Broil Chicken Tikka Skewers
Prep a baking sheet by lining it with aluminum foil. Place a cookie rack and arrange the skewered chicken tikka kebabs. Bake at 375 F for 20 minutes changing sides midway and than BROIL on HIGH for 3-5 minutes depending on your oven. Serve them hot with chutneys and dips.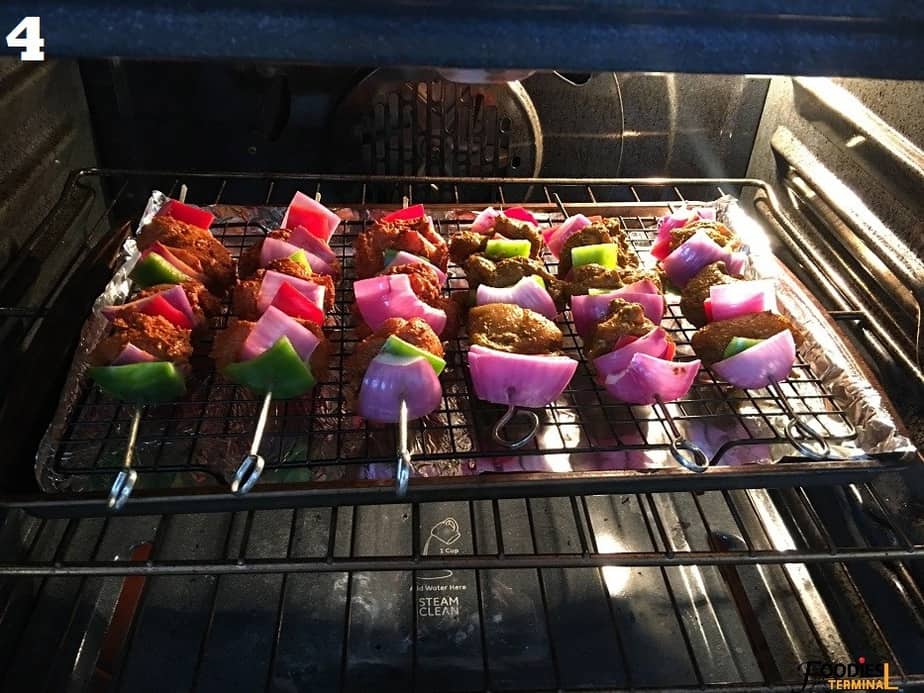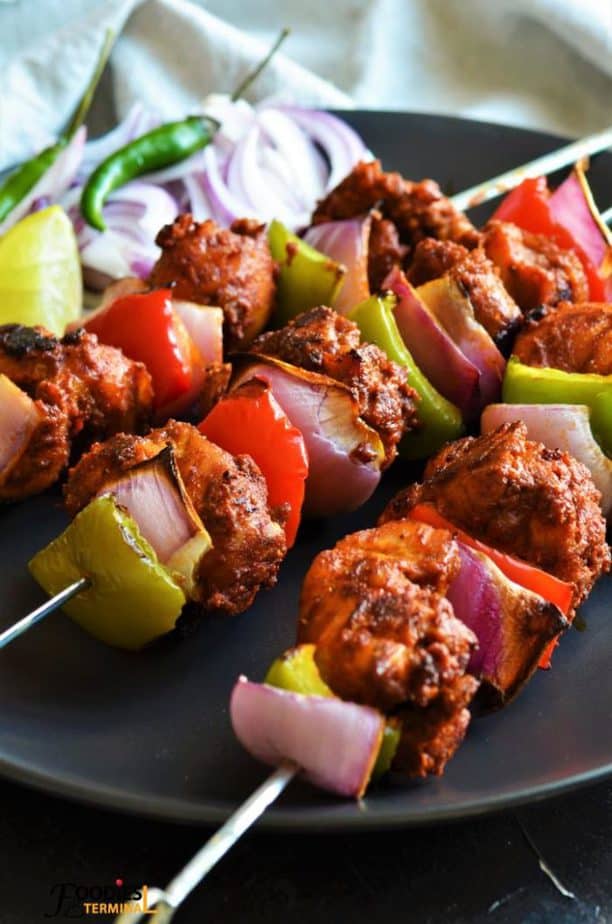 How to store Chicken Tikka in the fridge and the freezer?
Storing Chicken Tikka in the fridge or freezer is easy.
Choose an airtight container and store the cooked Chicken Tikka Kebabs for 7 days in the fridge.
If planning to freeze them than lay them on a baking sheet and pop them in the freezer until the individual pieces are all frozen.
Than store them in a freezer safe bag and store in the freezer for 3 months.
The individual pieces freezing technique will prevent the kebabs from clinging together and also you can take out as many pieces as you want for later use.
Chicken Tikka Recipe - FAQs
What do you serve with Chicken Tikka?
You can serve a simple salad, a plain rice pilaf, Pita breads with Chicken Tikka. Chicken Tikka also tastes best with onion slices or rings, zingy chutneys like Mint coriander chutney or a cooling sauce like Tzatziki sauce.
Is Chicken Tikka Spicy?
Chicken Tikka is mild. However you can make it spicy by increasing the amount of chili powder in the recipe.
Are Chicken Tikka Kabab healthy?
Yes, Chicken Tikka Kabab are healthy as they are oven baked and not deep fried.
What makes Chicken Tikka red?
Use of excessive Deggi Mirch Powder or Kashmiri red chili powder makes Chicken Tikka red sometimes. However, the take outs or restaurants add food color to make their chicken Tikka red in color because it's a cheaper option compared to spice powders.
What's Chicken Tikka?
Chicken Tikka are boneless pieces of chicken that are marinated in a Indian style Tandoori marinade and than cooked in a clay tandoor oven (traditionally) or oven baked (modern day).
Is Chicken Tikka Kebab gluten free?
Yes, Chicken Tikka Kebab is gluten free.
What is Chicken Tikka Kebab?
Chicken Tikka Kebab are juicy boneless chicken pieces marinated in a yogurt based marinade and than skewered with veggies like capsicums and onions and oven baked to perfection.
Can you make Chicken Tikka in advance?
Yes, you can make Chicken Tikka in advance and store it in the fridge or freezer for later use. In fact, a Chicken Tikka Kebab is a fantastic make ahead recipe.
How to re-heat Tandoori chicken Tikka recipe?
You can re-heat Tandoori Chicken Tikka recipe in the microwave oven for 2-3 mins. You can also re-heat Chicken tikka Kabab in the oven at 350 F for just 6-10 mins.
Love Kebabs? Check out these AMAZING KEBAB recipes from FOODIES TERMINAL.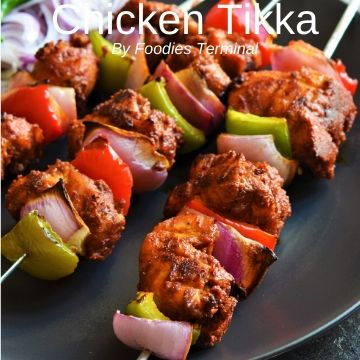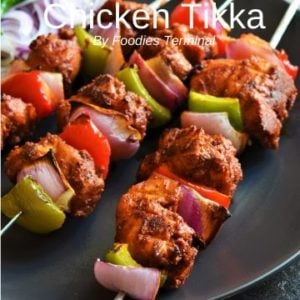 Chicken Tikka in Oven
Print Recipe
Pin
Rate
Chicken Tikka in Oven is easy to make. Also know as Tandoori Chicken Tikka or Chicken Tikka Kebab and these skewered Tikkas make an excellent appetizer for parties, potlucks and picnics. You can easily transform them into a complete meal as well.
Ingredients
Veggies
1

medium

onion made into 1" or 1.5" squares

1

medium

bell pepper or capsicum made into 1 or 1.5" squares
Want more Recipe Videos?
Check out our Youtube channel!
Instructions
Prep the Skinless and Boneless Chicken Meat
Begin by dicing the chicken into 2.5" chunks. Wash the chicken chunks very well under running tap water and pat them dry completely with the help of a kitchen towel. Set them aside in a bowl.
Marinate the Chicken Tikka
Add all the mentioned ingredients into the bowl containing the chicken chunks.

Give everything a good mix with the help of a spoon or your hands. Make sure that all the meat pieces are well coated with the Tandoori Tikka marinade.

Wrap the container with cling film or just cover it up with a plate and pop it in the fridge. Allow the chicken to rest in the marinade either over night or for at least 2-3 hours.
Skewer the Chicken Tikka Kabab
Dice the Bell Peppers or capsicums and Onions into 1 or 1.5" large squares.

Take a metal skewer and thread the marinated chicken tikka alternately with an onion square and bell pepper square. I threaded 3 chicken tikkas in a single metal skewer along with veggies and I got 3 skewers in total.
Cook Chicken Tikka in Oven
Pre heat the oven to 370 F.

Layer a baking tray with aluminum foil and place a metal cookie rack on top of the baking sheet. Arrange the skewers on top of the cookie rack.

Place the baking tray in the middle rack of your oven and bake at 370 F for 35 minutes in total turning sides midway.

After 35 minutes set the oven to BROIL on HIGH. Move the baking tray to the top rack and broil for 3-5 minutes depending on your oven.

Serve the Chicken Tikka Kebab with onion slices, lemon wedges and lots of zingy chutneys or sauces.
How to make Chicken Tikka Kabab on Tawa or skillet?
Set a griddle, tawa or a large skillet over medium heat. Place the chicken tikka skewers and roast them brushing basting them with mustard oil from time to time. Rotate sides and allow the meat to cook through. It should take you about 35 mins in total.

Finally, increase the heat to the maximum setting and char the chicken tikkas rotating fast on all sides. You can char them more or less depending your preference.
Notes
Measuring Units Used, 1 cup = 240 ml & 1 teaspoon = 5 ml.
Something regarding the Chicken meat: Use skinless and boneless chicken breasts or thighs and trim off any excess fat.
Secret to moist juicy Chicken Tikka: Corret temperature, correct cooking time and storing them lightly covered after done cooking.
Feel free to adjust the spice level according to your likings.
The Chicken Tikka Kebab recipe is slightly spicy.
I got 3 skewers in total consisting of 3 chicken tikkas on each metal skewer.
Nutrition Facts
Chicken Tikka in Oven
Amount Per Serving
Calories 291
Calories from Fat 144
% Daily Value*
Fat 16g25%
Cholesterol 128mg43%
Sodium 161mg7%
Potassium 532mg15%
Carbohydrates 9g3%
Protein 29g58%
Vitamin A 772IU15%
Vitamin C 36mg44%
Calcium 53mg5%
Iron 2mg11%
* Read our privacy policy - Calorie information is provided as a courtesy only and should be leveraged as an estimate rather than a guarantee.Percent Daily Values are based on a 2000 calorie diet.
Nutrition
Calories:
291
kcal
|
Carbohydrates:
9
g
|
Protein:
29
g
|
Fat:
16
g
|
Saturated Fat:
3
g
|
Cholesterol:
128
mg
|
Sodium:
161
mg
|
Potassium:
532
mg
|
Fiber:
3
g
|
Sugar:
4
g
|
Vitamin A:
772
IU
|
Vitamin C:
36
mg
|
Calcium:
53
mg
|
Iron:
2
mg
Pin it for later!