Chicken Reshmi Kabab recipe is a delicate Mughlai Chicken Kabab that's utterly silky. You'll have tender pieces of boneless chicken slathered in cream cheese & than pan roasted until just done. So few ingredients & such big flavors. The silky texture & the succulence of the meat makes this Chicken Malai Tikka a very desirable & cherished recipe.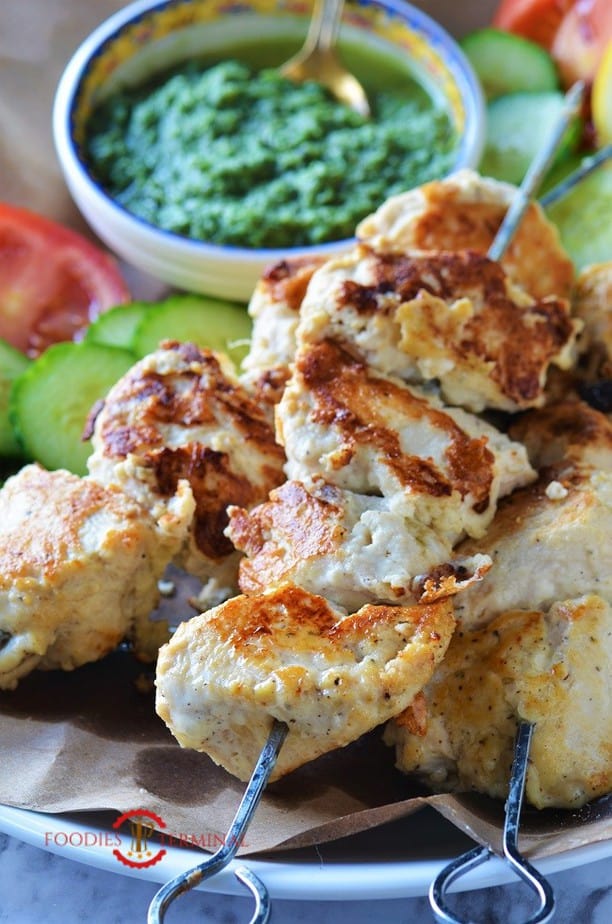 Chicken Reshmi Kabab Recipe
If you love Kababs or fancy making and eating any skewered meat like this Mutton Seekh Kabab Recipe than, you will love these super juicy, tender, melt-in-the-mouth Chicken Reshmi Kabab recipe. Also popularly known as Chicken Malai Tikka or Chicken Malai Kabab or Murgh Malai Tikka.
The best feature of today's Chicken Reshmi tikka recipe is it's ingredients. Yes you'll basically need only 2 main ingredients to make it & a handy dandy skillet.
Within 30 mins you'll be all done with perfect juicy, tender, melt-in-the-mouth delicate chicken Reshmi Kababs that are so irresistible.
If you want you can make a large batch and instead of pan-roasting you can bake them in your oven, air fry them or even grill them.
This makes these Chicken Malai tikka a perfect appetizer or snack recipe for parties, potlucks, picnics, backyard barbecues or to feed a huge crowd.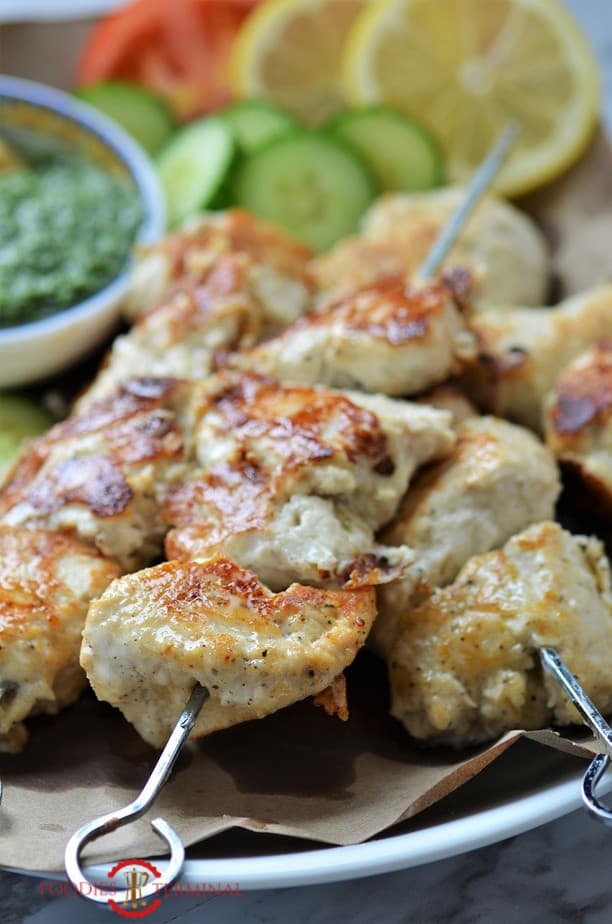 What is Chicken Reshmi Kabab?
Reshmi = Silky
Chicken Reshmi Kabab is made with boneless chicken pieces that are marinated in a simple marinade of cheese, skewered and than baked, grilled, air fried, or pan roasted until just done.
It's the silky texture of the tender, juicy meat that makes a Chicken Reshmi Kabab recipe stand out & different from any other Kababs like this Achari Chicken Tikka.
And the silkiness comes from the cheese!
Pro Tip: Chicken Reshmi Kabab is Known by other names too, like: Chicken Malai Tikka, Chicken Malai Kabab, Chicken Reshmi Tikka, Murgh Malai Tikka, Murgh Reshmi Kabab. Don't get confused it's the same recipe with different name tags.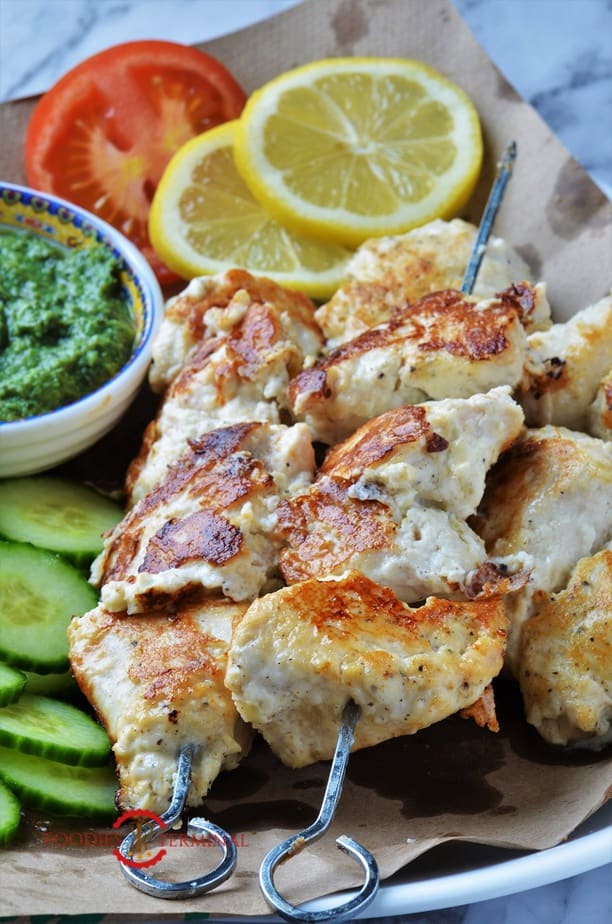 Chicken Malai Kabab Ingredients
We'll be marinating the Kabab pieces in 2 stages, this helps each & every ingredient to penetrate the layers of the meat, making it tender & flavorful.
If you are pressed for time just dump everything together & make the kababs.
In that case use thigh pieces of a chicken instead of chicken breasts & don't forget to prick the meat with a fork.
Thigh pieces are naturally tender & juicy as compared to chicken breast piece because they contain more fat. So, your move of flash marinating or dumping everything at one go won't affect the taste much.
Marinade No. 1 Ingredients:
Chicken breasts or thighs.
Spices: Nutmeg powder, white pepper or black pepper powder.
Ginger garlic paste.
Lemon juice.
Marinade No. 2 Ingredients:
Cream Cheese.
Corn Starch.
Green cardamom powder.
Pro Tip: As Chicken Reshmi Kabab is also know as Murgh Malai Tikka. Here's what Murgh & Malai means. Murgh = Chicken & Malai = Cream.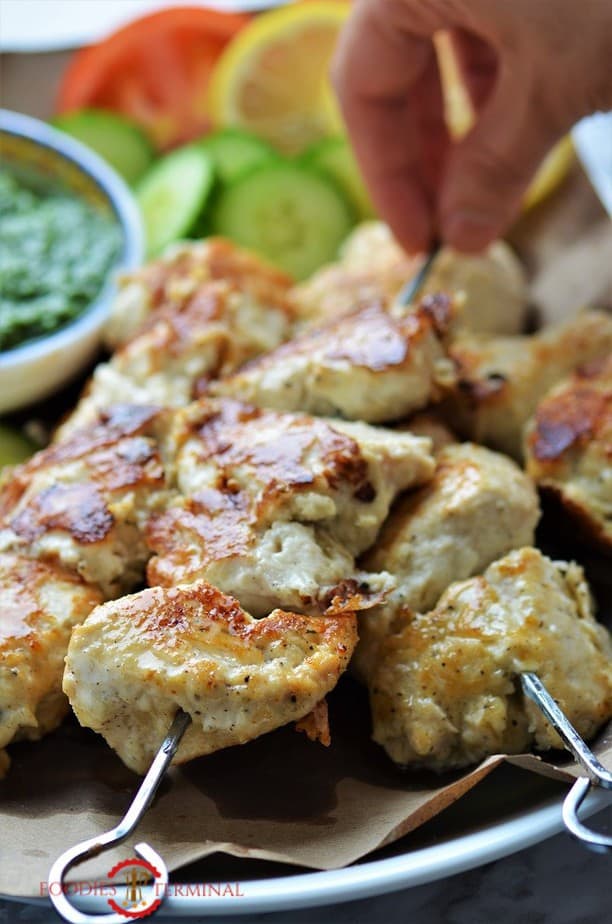 Chicken Thighs or Chicken Breasts? – The best Chicken Reshmi Kabab meat.
The Kabab experts would always prefer & recommend using chicken thighs over chicken breasts. Because chicken thighs contain more fat & thus, are naturally more juicy meat as compared to breasts.
Hence, cooking a chicken thigh over high heat doesn't make them dry. Making them certainly a good choice for making Kababs.
I certainly go against the tide while choosing the best chicken Kabab meat & I don't prefer thighs at all. The distinct taste & flavor of chicken thighs in a Kabab form is not my thing.
I love chicken thighs as Greek chicken gyros recipe or in curry form like this Instant Pot Indian Chicken Curry.
But, that's me 🙂 You can certainly use chicken thighs by all means for today's chicken reshmi kabab recipe.
I always prefer making the chicken kababs with chicken breasts & I manage to keep them as juicy as any chicken thigh meat by marinating them or brining them.
They remain juicy & manage to retain their moisture in spite of getting cooked over medium high heat.
Pro Tip: If you don't have time to marinate or brine the meat for quiet sometime than always choose a chicken thigh meat for making kababs. Otherwise, a chicken thigh or chicken breasts both are good choices.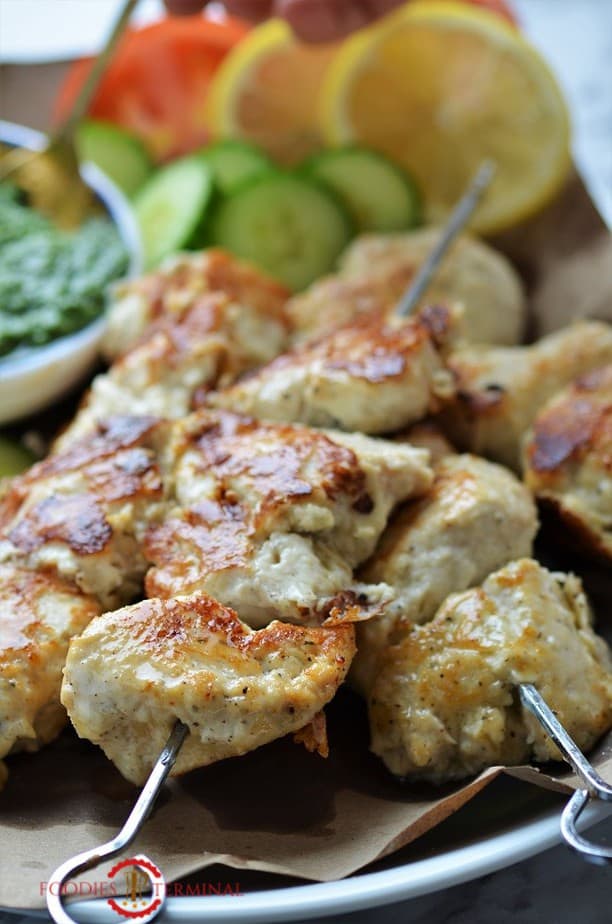 4 Tips to make the best Chicken Malai Tikka Recipe
Typically a Chicken Malai Tikka recipe marinade consists of processed cheese & yogurt or just processed cheese in it.
But, I completely replaced the processed cheese & did not use any yogurt in today's Chicken Reshmi Kabab recipe to make it quicker, simpler, juicier & of course tastier 😉
And I am certainly not going back to the processed cheese version any time because this recipe of Murgh Malai Tikka with cream cheese certainly beats every other flavor.
While making my first batch of absolutely silky Chicken Reshmi kabab I realized that a slab of cream cheese is certainly more powerful to completely drive a meat recipe & make it taste so much better.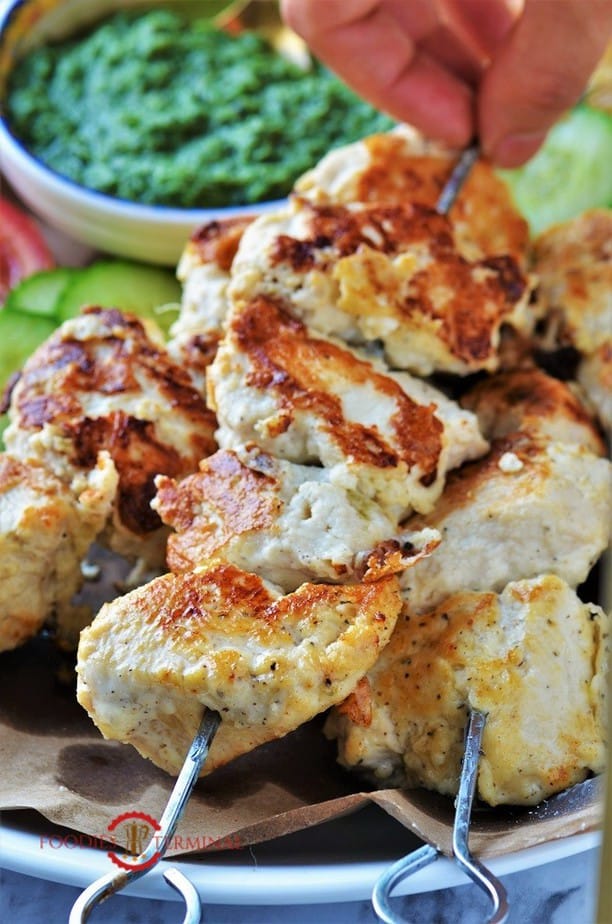 The flavors are just so dominating & very distinct. I say don't miss this one 😉
Cream Cheese a MUST: It'll take your chicken Kababs to extraordinary levels of silkiness that cannot be achieved with any processed cheese variety.
Room temperature cream cheese a MUST: You'll end up with a better marinade with soft cream cheese at room temperature.
Don't skip the green cardamom powder: Cream cheese + green cardamom powder = best flavors! That hint of fragrance complements the creamy cream cheese a lot.
Medium high heat + Basting: Yes, do just that. If you pan roast the kababs, medium high heat works best. It's not too much heat to char the outer layer quickly while the interior remains all under cooked. It's the perfect heat that the chicken kababs will love. Basting is super important to keep the kababs soft & provide the right amount of fat to get just done.
Pro Tip: Cream cheese marinade doesn't slide off the chicken kabab pieces, the cornstarch binds everything together. Hence, it's certainly a better choice as compared to a processed cheese marinade that tends to slide off the meat while getting cooking exposing the kabab to direct heat & sucking out all moisture from the meat.
How to make Chicken Reshmi Kabab Recipe without Oven? Step by Step
Marinade No.1
Give the chunky chicken pieces a good rub with ginger garlic paste, nutmeg powder, pepper powder, salt & lemon juice.
Allow the Kabab pieces to sit in the Marinade No. 1 for at least 20 minutes.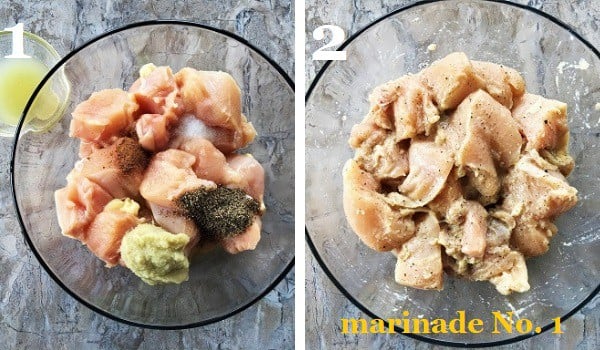 Marinade No. 2 , Skewering & Pan-Roasting the Kababs
A slab of cream cheese at room temperature, cornstarch & green cardamom powder that's all you need for marinade No. 2.
Smoothen out the cream cheese with the help of your fingers or a spoon/fork. Add cornstarch & green cardamom powder & mix very well to form a smooth & silky cream cheese marinade.
Coat the chicken pieces very well with this cream cheese marinade. Working with fingers is the best tip for this step. And I just love getting my hands very dirty while I prep & cook 😀 😀 Gloves are just not my things 😉
But, if you hate dirty hands by all means use gloves.
It's time to skewer the kababs. This is the easiest step of all, skewer them all. I used metal skewers but if you choose bamboo skewers don't forget to soak them in water for 10 mins prior skewering.
Brush oil on your skillet or griddle or tawa & fry the Chicken Reshmi kababs over medium high heat, rotating them & basting them with oil.
Pro Tip: Soak the bamboo skewers in water for 10 mins to prevent burning.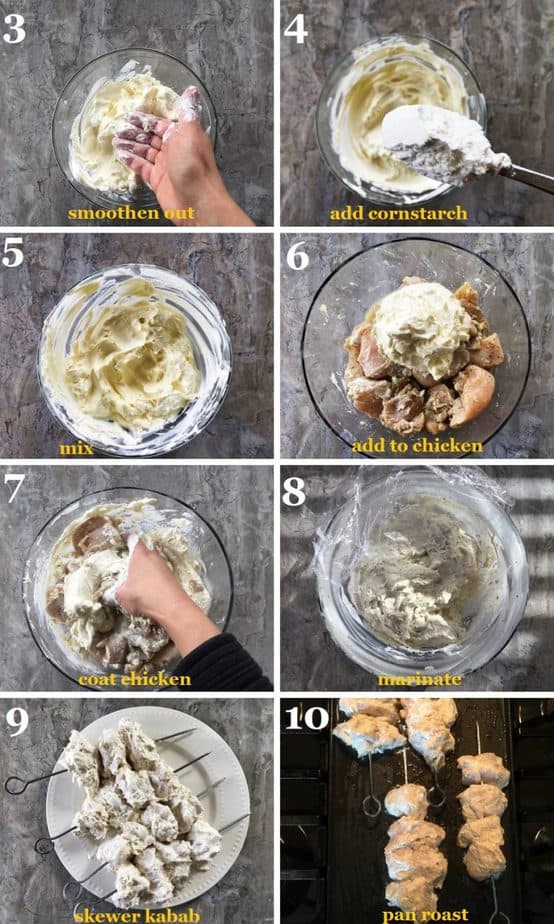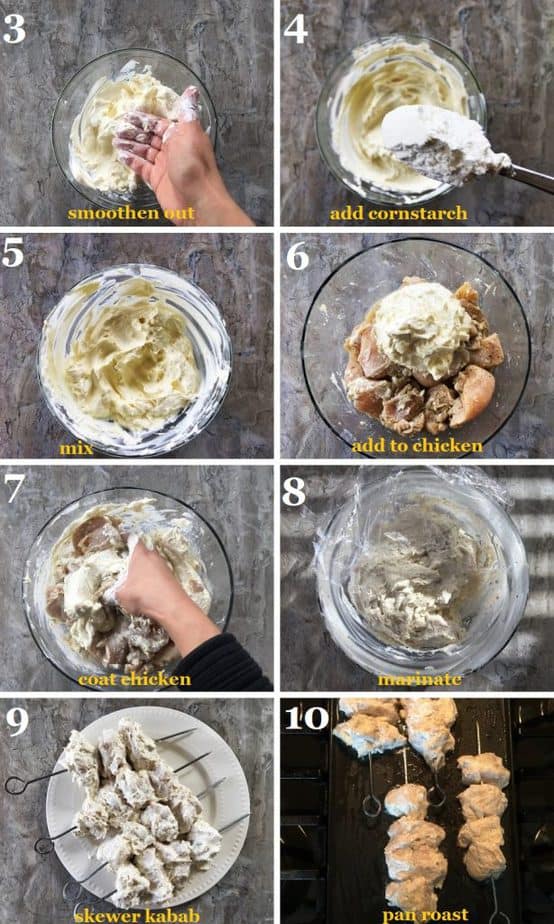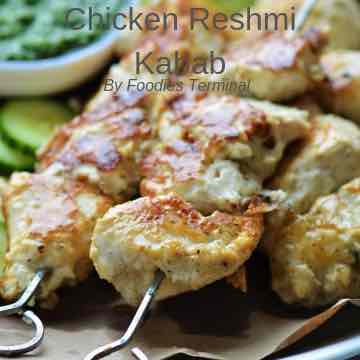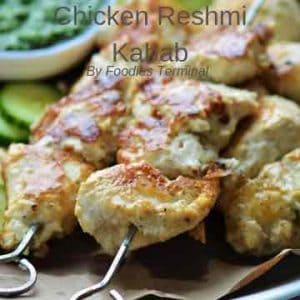 Chicken Reshmi Kabab Recipe
Print Recipe
Pin
Rate
Chicken Reshmi Kabab recipe is a Mughlai chicken kabab that's famous for it's soft & silky texture. Also known as Chicken Malai Tikka, these kababs can be either pan roasted, oven baked, air fried or grilled. You'll need very few ingredients to make these chicken malai kababs & they are just so apt for any parties, backyard barbecue, picnics & gatherings.
Want more Recipe Videos?
Check out our Youtube channel!
Instructions
Dice the boneless chicken breasts into thick 1.5″ pieces.

Add the ginger garlic paste, nutmeg powder, lemon juice, black pepper powder & salt to the chicken pieces and give a good rub until all the kabab pieces are well coated.

Let it marinate for at least 20 mins.

In the meantime smooth out the cream cheese slab with the help of your fingers breaking the slab gently.

Add cornstarch & the green cardamom powder & mix well.

Put this cream cheese mixture to the marinated chicken kabab pieces or vice versa.

Give everything a good mix with the help of your fingers. Rubbing the chicken pieces with the cream cheese mixture until nicely coated.

Set aside for at least 10 mins or 2 hours.

Heat a skillet or griddle or tawa over medium high heat and brush oil.

Place the skewered chicken reshmi kabab on the griddle or tawa along with the skewers and roast on all sides basting with oil.
Notes
Serving Ideas: Chicken Reshmi Kabab is served as an appetizer or entree with onion slices, a light salad or cilantro chutney. We love eating them this way a lot.
Storing Suggestions: These Chicken Malai Kababs keep good for 7 days in the refrigerator without any taste distortions at all. I have not yet tried freezing them, but if you want you may do an experiment with a small batch.
Nutrition Facts
Chicken Reshmi Kabab Recipe
Amount Per Serving
Calories 206
Calories from Fat 99
% Daily Value*
Fat 11g17%
Cholesterol 62mg21%
Sodium 331mg14%
Potassium 344mg10%
Carbohydrates 5g2%
Protein 18g36%
Vitamin A 265IU5%
Vitamin C 2.9mg4%
Calcium 69mg7%
Iron 1mg6%
* Read our privacy policy – Calorie information is provided as a courtesy only and should be leveraged as an estimate rather than a guarantee.Percent Daily Values are based on a 2000 calorie diet.
Nutrition
Calories:
206
kcal
|
Carbohydrates:
5
g
|
Protein:
18
g
|
Fat:
11
g
|
Saturated Fat:
3
g
|
Cholesterol:
62
mg
|
Sodium:
331
mg
|
Potassium:
344
mg
|
Vitamin A:
265
IU
|
Vitamin C:
2.9
mg
|
Calcium:
69
mg
|
Iron:
1
mg
Pin it For Later!