Chicken Angara Kabab is a spicy, fiery, hot dry Indian Chicken Appetizer recipe just like the Chicken Boti Kabab that'll keep you entertained throughout any party. Absolutely tender chicken pieces completely coated in a secret Angara marinade. You can make this Angara Kabab in the oven, on a skillet or even on a grill. Catch up with the Video below & don't miss the tips.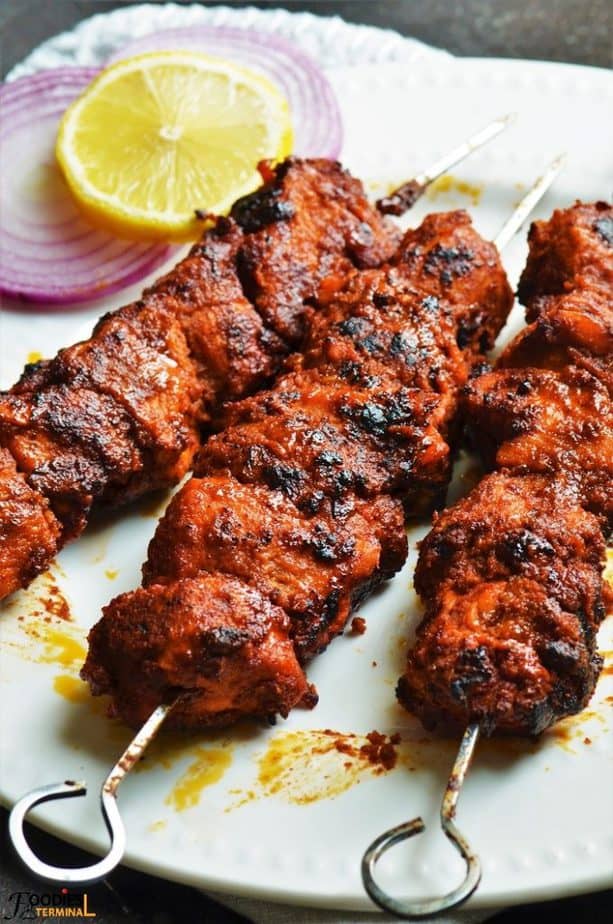 How to make Chicken Angara Kabab?
Angara Kabab
The secret of Angara Kabab lies in it's marinade, the duration of marination & the Dhungar method (burnt charcoal smoke infusing technique).
The BEST marinade + the LONGER marination + Dhungar = Ultra TASTY Chicken Angara Kabab.
You'll love the Angara Marinade especially if you love spicy food, oh it's the best seasoning ever.
The fiery kick comes from the red Kashmiri chili paste that's made at home fresh and the Smokey flavor is abundantly extracted from a small piece of burnt charcoal (Dhungar method).
The lovely aroma of the Angara Kabab comes from the dry spices, especially the fresh homemade star anise powder.
If you want the best tasting Kabab ever do not focus on choosing the best meat instead focus on the marinade ingredients, don't miss any!.
Allow the meat to rest in the seasonings & spices for a long time.
I always prefer an overnight marination technique whenever I make Chicken Angara Kabab.
After that there's no such active cooking involved unless you choose to skillet fry the Kababs.
I chose to oven bake the skewered Angara Kabab this time. Later broiled them to mimic the tandoor look.
Ultra Juicy Chicken pieces guaranteed!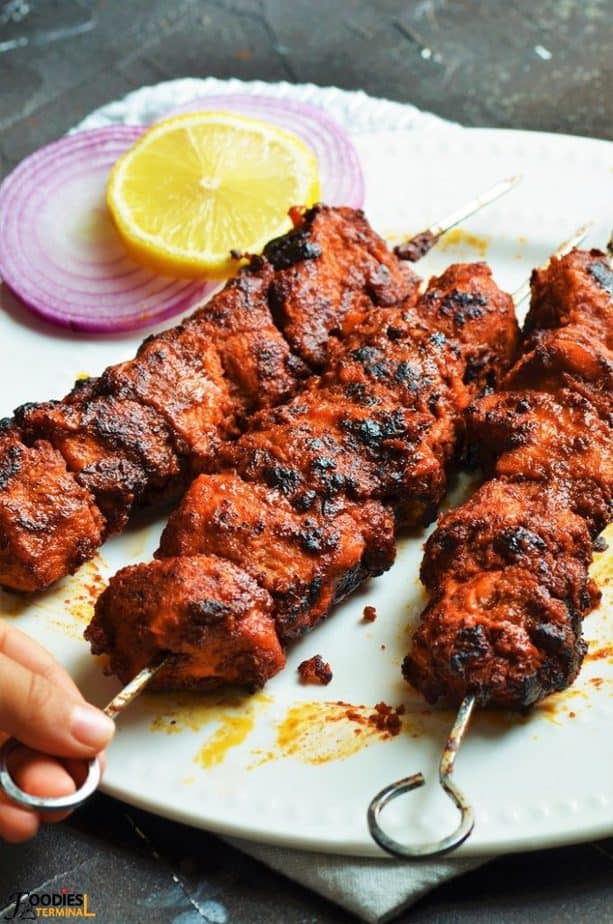 What is Chicken Angara Kabab anyway?
Chicken Angara Kabab is a dry Indian Chicken starter that's made mainly with boneless chicken pieces that are marinated in a special spicy, fiery, hot marinade. Later the chicken pieces are skewered & cooked in a traditional tandoor or over burning charcoal (Angar).
Angara is derived from an ancient Sanskrit word which literally means "Burning Charcoal".
Traditionally it used to be cooked over a bed of burning charcoal or a tandoor.
Murgh Angara Kabab Ingredients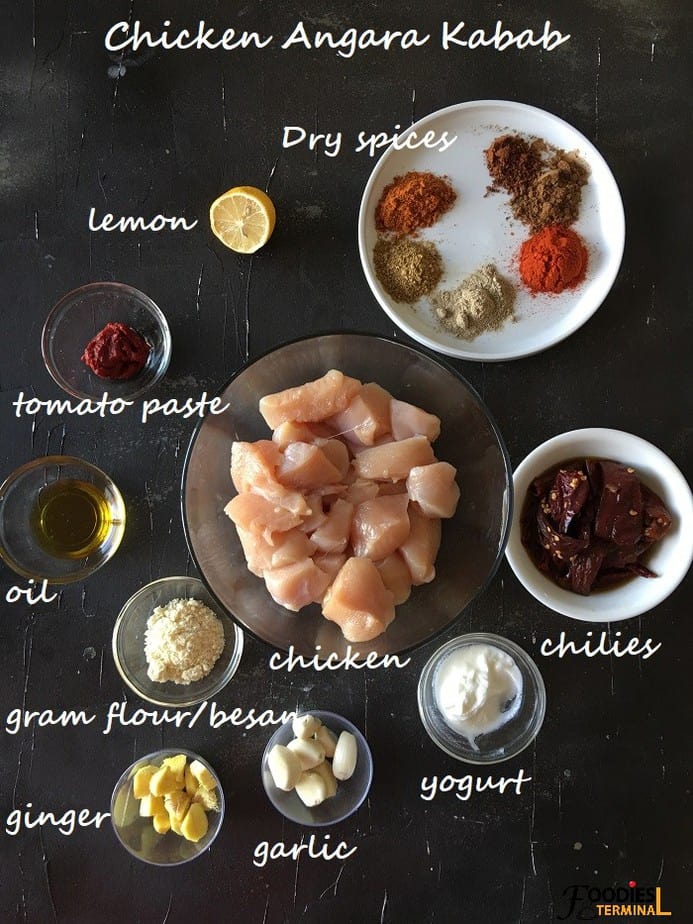 Chicken: I used chicken breasts, you can also use chicken thighs.
Yogurt
Ginger
Garlic
Almond Powder or almond paste: You may use store bought almond powder or soak the almonds in warm water for 30 mins, remove the skin than make into a smooth paste in a mixer grinder.
Tomato paste: Store bought.
Dry Kashmiri red chilies: Boil them in water for 5 mins or so.
Dry Spices: Tandoori masala (use any brand of your choice), Chaat masala, Deggi Mirch powder or Kashmiri red chili powder, coriander powder, garam masala powder & star anise powder.
Lemon juice.
Mustard oil.
Pro Tip: How to make fresh star anise powder at home :- Take a few good quality star anise in a blender jar and grind them into a fine powder. You may sieve the powder and store it in an air tight jar for future use.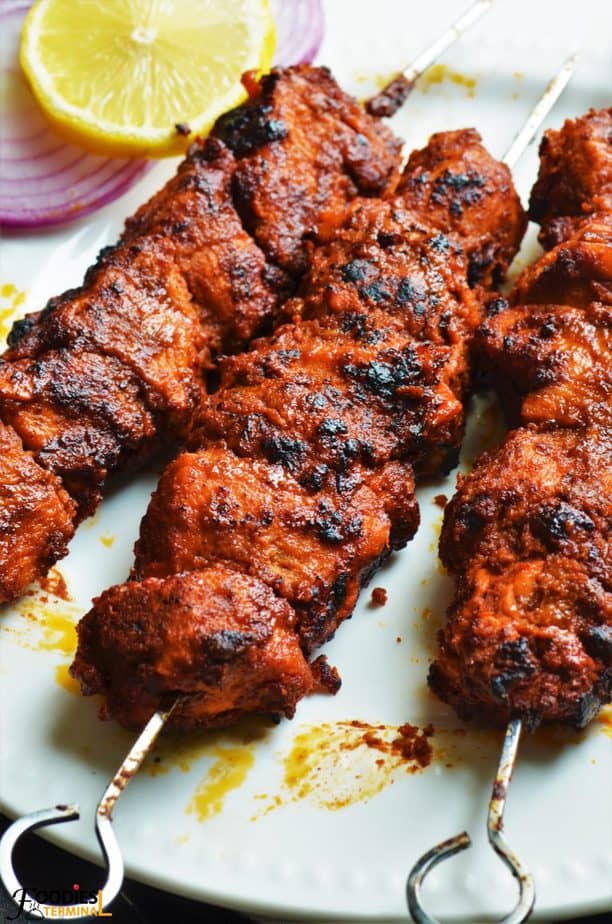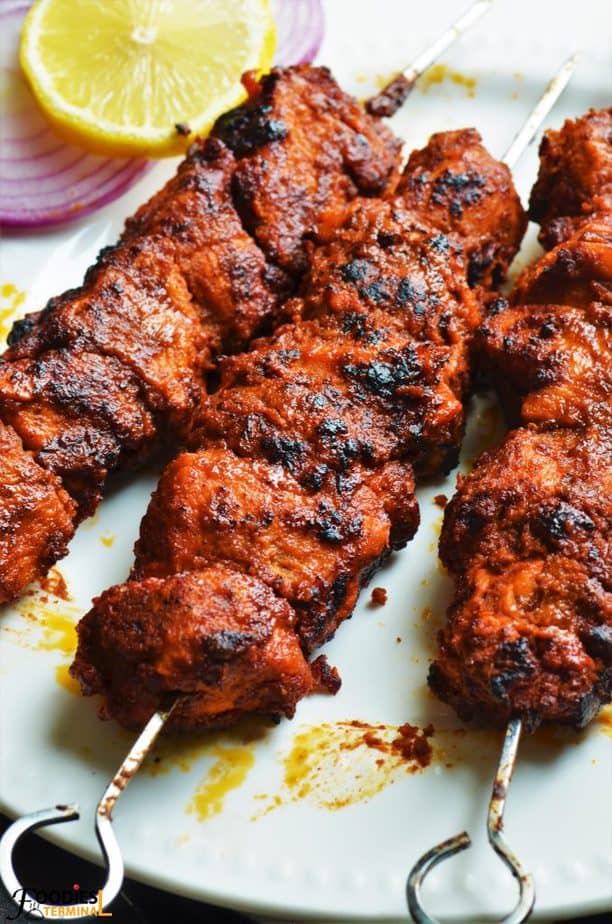 Chicken Angara Kabab – Tips & Tricks
Overnight marination is a must: Prepare the marinade, allow the chicken to sit in the marinade for at least 8 hours (overnight). You may also allow the marinated chicken to rest in the fridge for 24 hours or even 2 days. The long duration of marination will make the chicken tender, fill it up with flavor and make a batch of extremely delicious juicy Angara Kabab.
Do not skip any ingredient from the marinade: The Angara marinade is so special. Chicken Angara Kabab's complex flavors, strong aroma and rich taste lies in each ingredient. Therefore, skipping a single ingredient will result in a complete different taste.
Skewer the marinated chicken pieces without any gaps: Skewering the meat tightly without any gaps will keep the kabab moist and tender for a long time.
Do not skip the Dhungar method: Chicken Angara Kabab without Dhungar will lack a great depth of flavor. Do this extra step and you will thoroughly enjoy the traditional Smokey flavor so much. It's the flavor from the Angar smoke (burning charcoal) that makes an authentic Angara Kabab taste the best.
Note: What is Dhungar? Dhungar is a technique of infusing burnt charcoal flavor in a food item. The technique of Dhungar easily infuses the flavor of an authentic tandoor in a food item without the food being actually cooked in a tandoor. Burn a small piece of charcoal, place a small steel container in the middle of the cooked food, place the burnt charcoal in the container, immediately pour ghee on the charcoal and cover the food container with a tight lid so that the smoke doesn't escape. Allow the food to sit in the burnt charcoal smoke for at least 10 minutes.
Storing Tips
The Chicken Angara Kabab last for 7 days in the fridge when you store it in an air tight container.
I always store the Angara Kabab after removing them from the skewer.
Love Kabab? Check these Easy Kabab recipes from Foodies Terminal.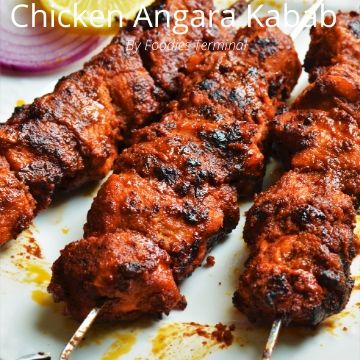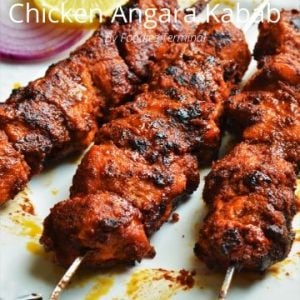 Chicken Angara Kabab
Print Recipe
Pin
Rate
Chicken Angara Kabab is a fantastic party appetizer that you can make with juicy boneless chicken pieces completely doused in a special marinade. This Angara Kabab is a super easy dry Indian starter recipe perfect to make ahead.
Ingredients
Dry Spices for the Angara Kabab Marinade
For Dhungar
1

piece

charcoal

1

tsp

Ghee
Want more Recipe Videos?
Check out our Youtube channel!
Instructions
Begin by washing the chicken pieces under running tap water. Pat them dry with the help of a kitchen towel. Set aside.

Next, add the boiled kashmiri red chilies (READ NOTES below), diced ginger and garlic in a blender jar and make a smooth paste.

Take the washed chicken pieces in a large deep bottomed container. Add the kashimiri red chili paste and all the other ingredients mentioned above in the list.

Mix them well with the help of your hand so that all the chicken pieces are well coated with the amrinade.

Next, cover the pot and pop it in the fridge. Allow the chicken pieces to sit in the marinade overnight.

Next, Skewer the chicken pieces in the metal skeweres, if using bamboo skewers read the notes below. Skewer the meat without any gaps, this will keep the kababs juicy and tender.

Once, you are done skewering all the marinated chicken pieces layer a baking tray with aluminum foil and put a cookie rack on top of the tray. Spray oil on the cookie rack and arrange the skewers evenly with enough gap inbetween each skewer.

Pre heat the oven to 375 degrees F and bake each side for 20 mins. Total 40 mins. After 20 mins take out the baking tray and brush a generous amount of ghee on the chicken pieces, rotate sides and bake again for 20 mins.

Finally broil on HIGH for 5-6 mins or until you get that charrred look. You may brush the kabab with ghee before broiling. Once they are done keep them on a large plate.
How to do Dhungar?
Burn a charcoal red hot on the stove top with the help of tongs.

In the meantime, place a small stainless steel container in the middle of the Kabab plate.

Once, the charcoal becomes burning red immediately transfer it to the stainless steel container which you kept in the middle of the kabab plate.

Immediately pour ghee and instantly cover the plate with a tight cover that will prevent the smoke from escaping. Allow the Chicken Angara Kabab to rest in the burnt charcoal smoke for at least 10 mins.

Remove the cover and serve hot. Enjoy!
How to skillet roast the Chicken Angara Kabab?
If you want you may skip baking the Angara Kabab in the oven instead you can make a batch of fantastic kabab on the skillet or tawa.

Set a skillet or tawa over medium heat. Brush it with 1 tbsp ghee. Layer the skewers evenly with enough space between each skewer. Fry over medium or medium low heat roating sides after frequent intervals.

Brush with ghee while changing sides and allow the chicken pieces to cook well, it should take you about 15 mins on each side to get fully cooked.

Next, increase the heat to high and roast them for 1 min on each side or unitl lightly charred.

Nest, follow the Dhungar method as mentioned above.
Notes
Measuring Units used, 1 cup = 240 ml & 1 teaspoon = 5 ml.
How to boil the dry Kashmiri red chilies? Set a saucepan over medium heat, add 2 cups water and 9 Kashmiri dry red chilies, cover and cook for 5 mins. Drain the water and set aside the boiled chilies.
Tips for Bamboo Skewers: If you choose bamboo skewers to skewer the marinated chicken do soak the skewers in water for at least 15 mins. This will prevent them from burning or turning black while cooking the Angara Kabab.
You can use almond paste instead of almond flour.
How to make almond paste? soak about 6-7 almond in enough warm or hot  water for at least 20-30 mins. Remove the skin and grind them into a fine paste with 2-3 tsp water in a mixer grinder.
Note: If you choose to skillet fry the chicken Angara Kabab than do cook the meat well on all sides. This needs a little bit of monitoring as the chicken might get charred quickly or over cooked. Always keep the heat on medium or medium low. Don't be tempted to increase the heat otherwise the chicken might get cooked from outside and remain raw inside.
Calorific details are provided by a third party application & are to be used as indicative figures only.
Nutrition Facts
Chicken Angara Kabab
Amount Per Serving
Calories 220
Calories from Fat 20
% Daily Value*
Fat 2.2g3%
Cholesterol 37mg12%
Sodium 760mg33%
Potassium 432mg12%
Carbohydrates 35g12%
Protein 15g30%
Vitamin A 1200IU24%
Vitamin C 89.1mg108%
Calcium 32mg3%
Iron 1.2mg7%
* Read our privacy policy – Calorie information is provided as a courtesy only and should be leveraged as an estimate rather than a guarantee.Percent Daily Values are based on a 2000 calorie diet.
Nutrition
Calories:
220
kcal
|
Carbohydrates:
35
g
|
Protein:
15
g
|
Fat:
2.2
g
|
Saturated Fat:
0.5
g
|
Polyunsaturated Fat:
0.5
g
|
Monounsaturated Fat:
0.6
g
|
Cholesterol:
37
mg
|
Sodium:
760
mg
|
Potassium:
432
mg
|
Fiber:
2.3
g
|
Sugar:
27
g
|
Vitamin A:
1200
IU
|
Vitamin C:
89.1
mg
|
Calcium:
32
mg
|
Iron:
1.2
mg
Pin it for Later!