Chicken Majestic – is a dry chicken appetizer recipe straight from the take out joints of Hyderabad, India, but home-made. It's fried chicken coated in a spicy, tangy yogurt based sauce. You'll bite onto slightly crispy chicken that's tender & juicy from the inside. You can make this recipe in 3 ways – deep fry, air fry or bake the chicken before coating them with the sauce. This recipe is also Gluten free, Paleo & Nut free. Here's how to make it step by step at home.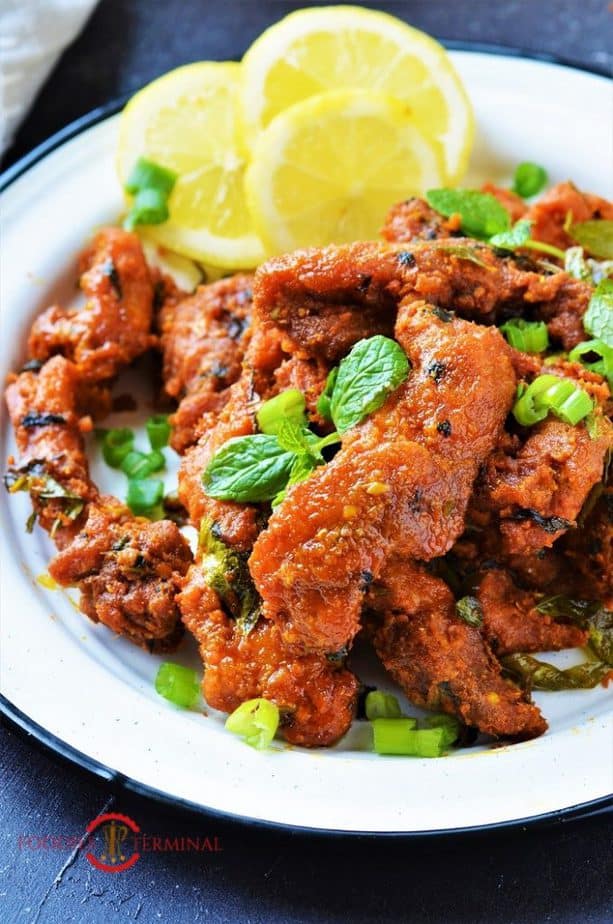 Chicken Majestic
We love chicken appetizers that comes together in a snap, tastes out of the world, can be made with few ingredients. And this Chicken Majestic recipe is everything just that.
To replicate the best take-out flavors of Andhra style Majestic chicken you need to get the sauce right & fry the chicken pieces just until golden. Not much not less.
Though this recipe is loaded with some extra calories yet you can very well curb those extras by skipping the deep frying part & by turning on your air fryer! (Air fryer version included).
Just so that you know today's recipe is deep fried & has been cooked in the traditional way but you may choose another route too 😉
If you are looking for a quick chicken starter recipe that's very easy to make than give this Chicken Majestic a try.
We are sure you will love it as much as we do!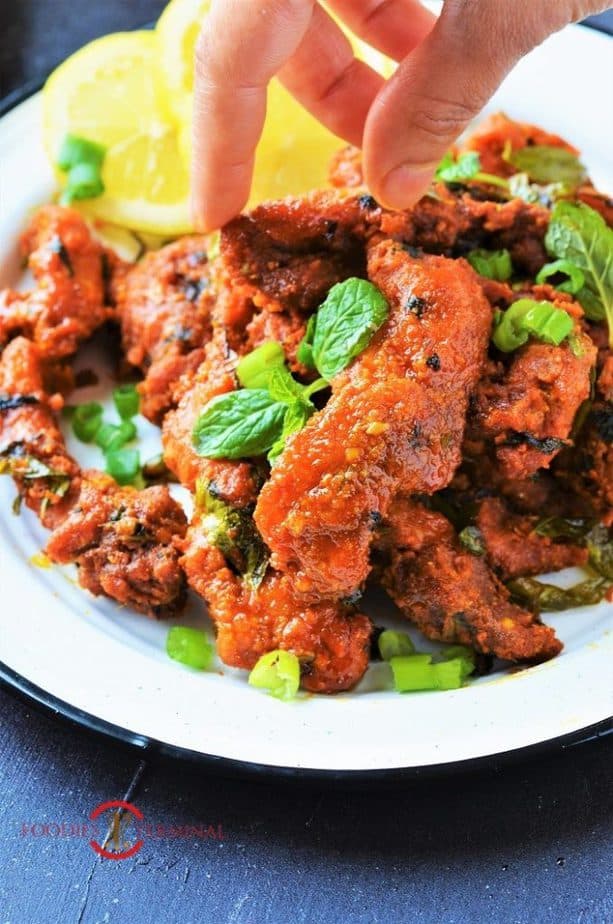 Chicken Majestic Recipe – FAQs
What is Chicken Majestic?
Chicken Majestic is a popular Indian dry chicken appetizer recipe that is made by deep frying thin strips of chicken (3″ long) & than sauteing them in an extremely delicious sauce until just coated. The sauce is made from yogurt & a few other spices.
This easy chicken starter is believed to have originated in Hyderabad, Andhra Pradesh.
What goes in Chicken Majestic Recipe?
For today's quick recipe you will need two sets of ingredients because you will be making the recipe in two stages.
You will fry the marinated chicken strips first.
And than saute them in a home-made sauce.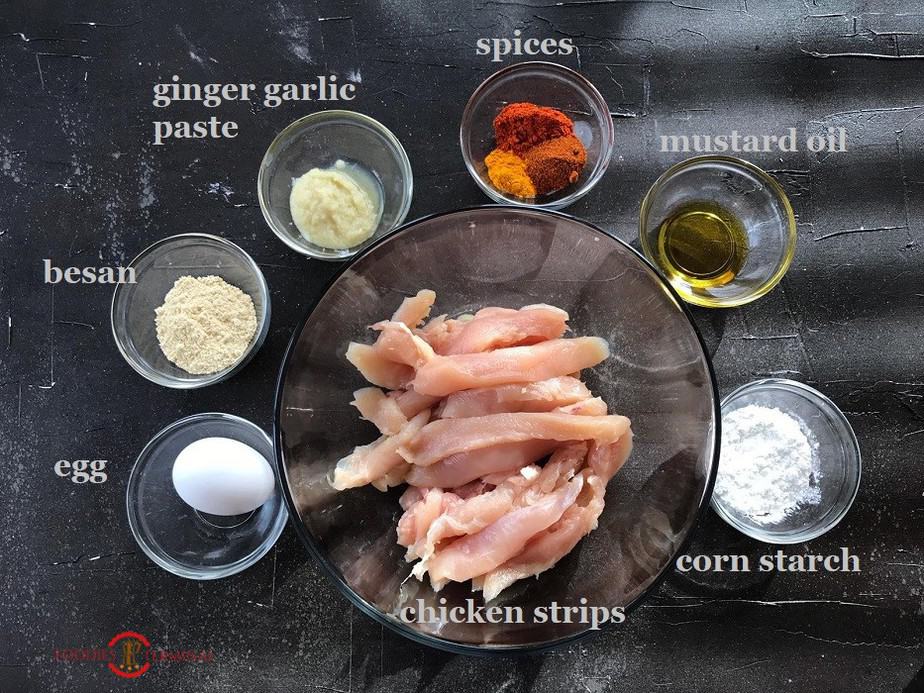 Ingredients for Marinating the Chicken strip:
Mains: Chicken breast cut into 3″ strips.
Marinade: Egg, corn starch, roasted besan or garbanzo bean flour (optional), paprika, chili powder or cayenne pepper (optional), turmeric, egg, ginger garlic paste, mustard oil (you may use olive oil too).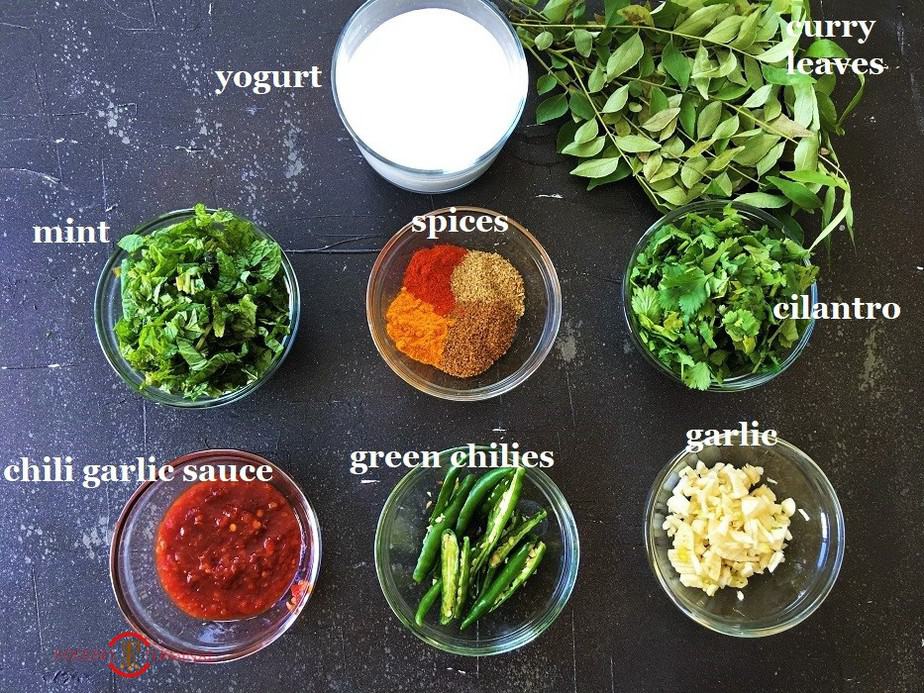 Ingredients for the Sauce:
Herbs: Cilantro, Mint, Curry leaves (available in Indian grocery stores)
Spices: Turmeric, cumin powder, coriander powder, red chili powder or cayenne pepper.
Rest: Beaten curd, chopped garlic, slit Indian green chilies or you may use Jalapenos, Chili garlic sauce (optional) or you may use tomato ketchup instead.
What's the best part of chicken to use?
Choose Chicken breasts always!
I made a side by side comparison by making the majestic chicken with chicken thigh pieces too & I found that they did not taste good, and turned out a bit chewy.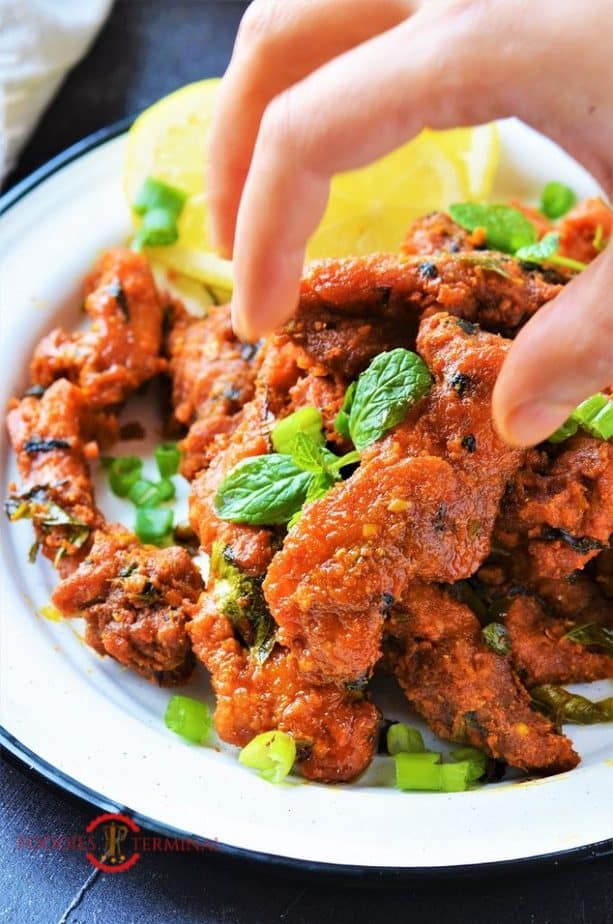 Storing tips you don't want to miss
Chicken majestic does very well in the fridge. You can keep it for 7 days in an air tight container in the fridge.
And you can freeze it for 1 month in individual freezer safe bags or containers.
Thaw them overnight in the fridge & when ready to serve reheat on a skillet or microwave oven.
Freezing them might make them a little soggy & dry. In that case, sprinkle lil water before reheating & drizzle a few drops of oil. They won't become crispy but yes, they will get their life back & taste much better.
4 tips for best Chicken Majestic
Marinate the chicken in Buttermilk: If you have some extra time go ahead & dunk the chicken strips in buttermilk before marinating them. Leave them that way over night. Result – super soft, tender chicken pieces in spite of deep frying. I skipped this step today! And reduced the frying time instead.
Roasted garbanzo bean flour or Besan to the marinade: Prevents the chicken from becoming stiff & chewy. And it adds so much better taste. You may skip it totally if you want to.
Fry until light yellow: Lots of frying will make the chicken Majestic chewy & stiff.
Add yogurt to the pan at the lowest setting: this is a very important step that you must never skip or hurry. Otherwise the yogurt will split.
Home-made Buttermilk Recipe: 1 cup (224g) milk + 2 tablespoons freshly squeezed lemon juice or white vinegar. Stir & let it sit for 20 mins at room temperature.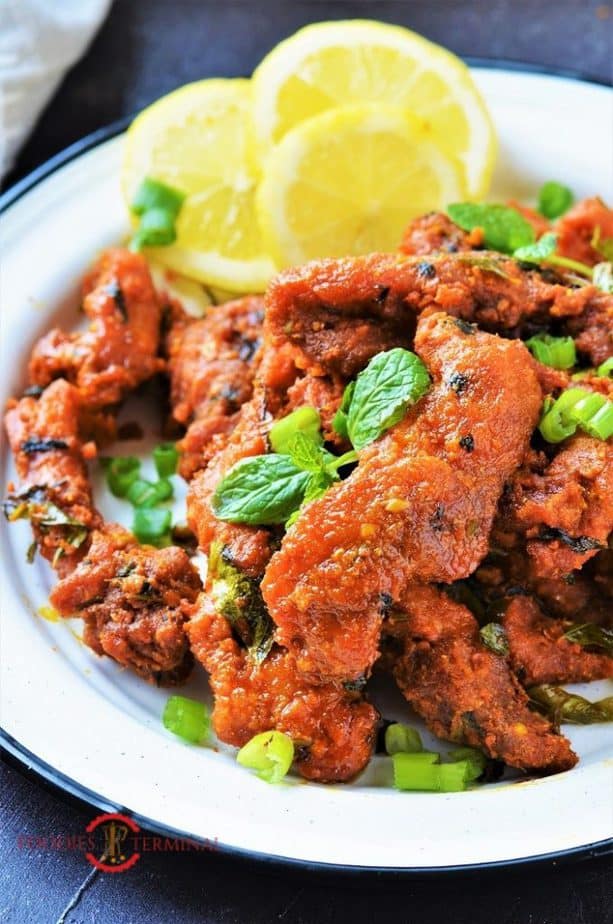 Here are few more easy Chicken Recipes from Foodies Terminal:
How to make Chicken Majestic – step by step
Detailed Steps in Words Below the Pictures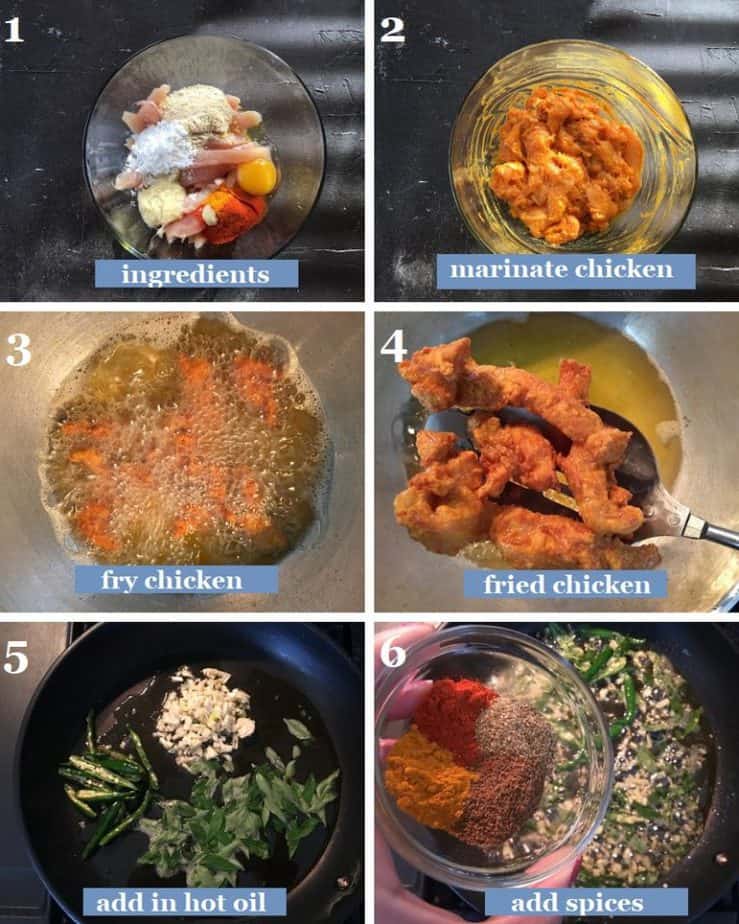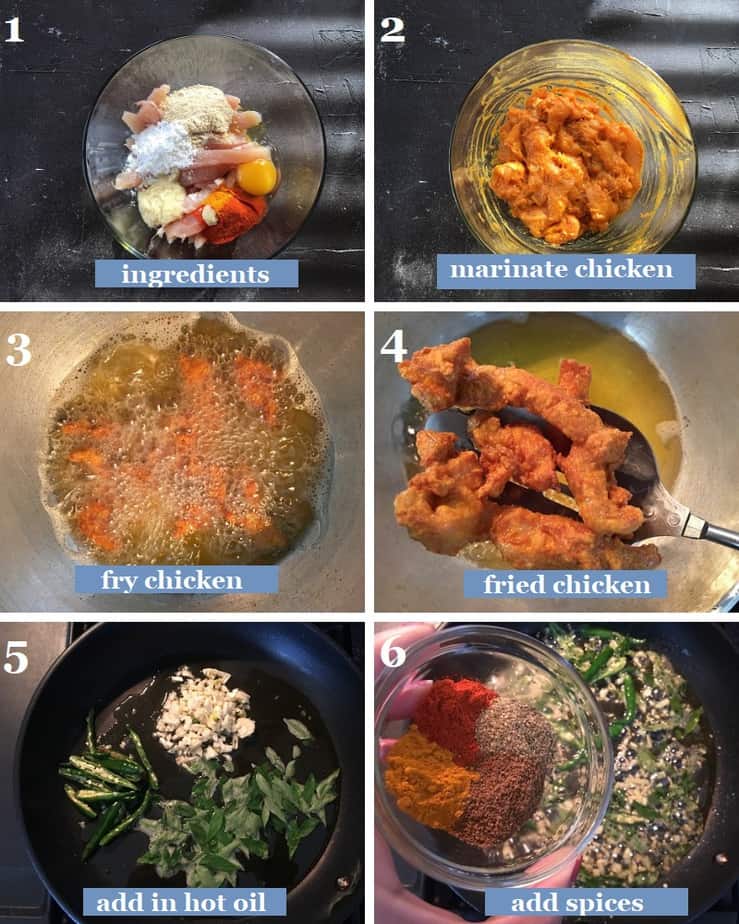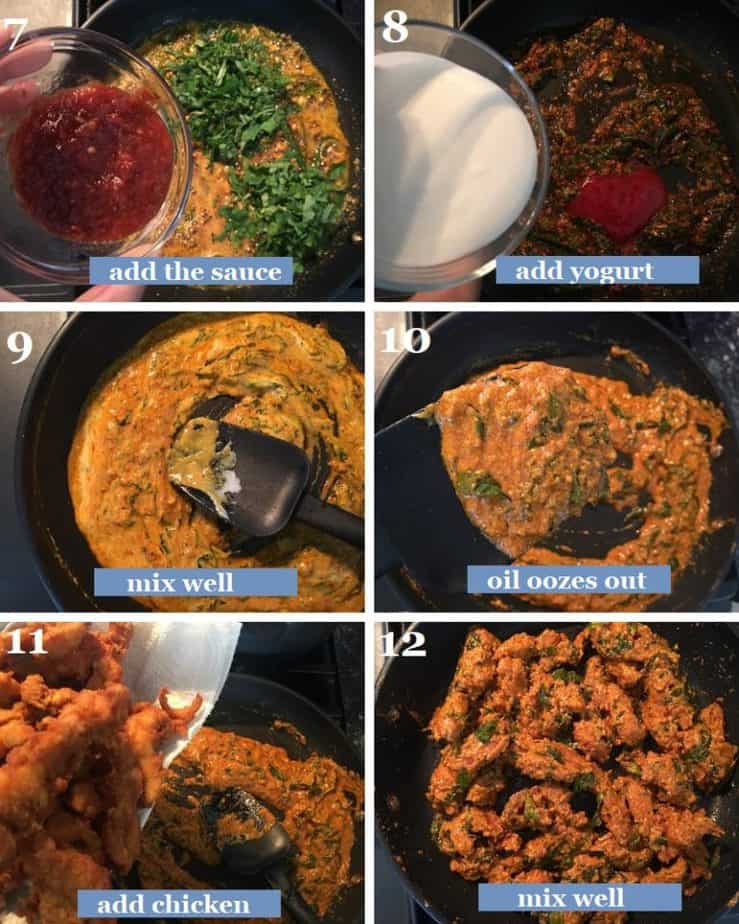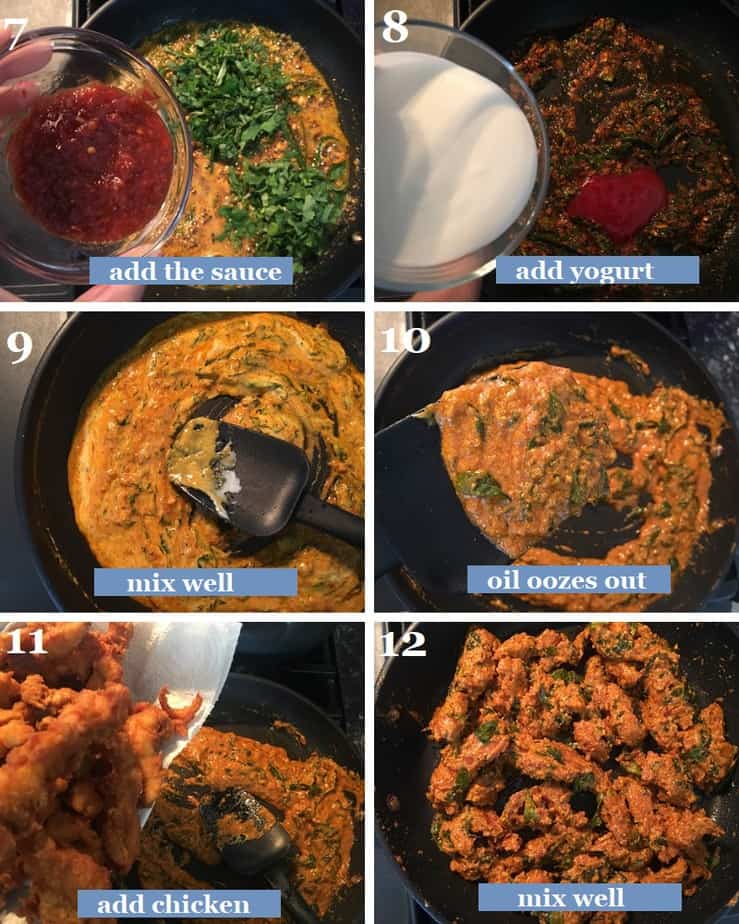 Steps in words:
We will begin by flash marinating the chicken (elaborate ingredients above in the post) for best flavors. If you are in a hurry skip soaking the chicken strips in buttermilk by all means, just as I did today! Coat the chicken well. You are ready to fry them.
I found that adding the garbanzo bean flour or the besan (in hindi) in the marinade makes the chicken strips flavorful & prevents them from becoming extra crispy.
Result: Just the right amount of crispy texture & loads of taste.
Fry the chicken strips in bubbling hot oil, both sides until light golden. Do not fry much, otherwise they will become very stiff! Remember we skipped soaking the chicken in buttermilk today.
Prepare the Sauce: The taste of this recipe depends entirely on the sauce. So, let's make it take-out style! It's very important to add the ingredients for the sauce in order. Follow the exact order as seen in the step wise pictures below.
Heat up your favorite skillet, add oil, when the oil is slightly hot (not smoking hot) add the curry leaves, chilies, garlic. Saute for 2 mins. And when the garlic becomes aromatic throw in the spices. Mix very well.
We don't want to burn our spices so we will be cooking in medium heat. Throw in the herbs, add the chili garlic sauce or the tomato ketchup & give everything a good stir.
It's time to add the yogurt, lower the heat to the lowest setting & add the beaten yogurt. Mix well, saute for 3-4 mins or until oil oozes out. Add the salt at this point.
Tip in all the fried chicken strips & coat well. It should take you about 3-4 mins. Serve hot.
Pro Tip: Adding yogurt in hot oil will make it split & the sauce won't come together! Lower the heat to the lowest setting before adding the yogurt.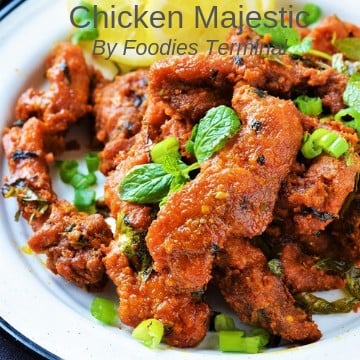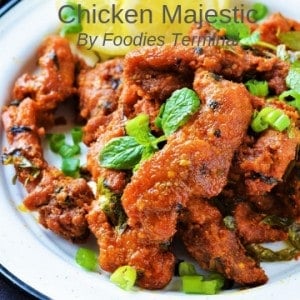 Chicken Majestic Recipe
Print Recipe
Pin
Rate
Chicken Majestic recipe is an easy Indian chicken appetizer recipe that's made with fried chicken strips coated in a home-made yogurt based sauce. It's lip-smacking good, spicy, tangy & freezer friendly. This chicken Majesty is slightly crispy from the outside & tender & juicy from the inside. 
Ingredients
For the Chicken Marinade:
Want more Recipe Videos?
Check out our Youtube channel!
Instructions
How to fry the Chicken:
Begin by making 3″ thin strips from the chicken breast. Keep aside.

Prepare the roasted besan or garbanzo bean flour by dry roasting it in a skillet over medium heat. Keep stirring frequently because it tends to brown very fast. It should take you about 5-6 mins. When the flour becomes aromatic turn off the flame & allow it to cool completely before adding it to the marinade.

Next, add all the ingredients from " The chicken Marinade section"  mentioned above in the ingredients list, except the canola oil (for deep frying). Mix everything very well. If you feel that the marinade is little dry, add oil or yogurt to add some more moisture. The marinade should stick to the chicken.

Add oil in a heavy bottomed pan and make it hot over medium high heat.

Once the oil is hot, dip the marinade chicken pieces one by one into the hot oil and fry until light golden over medium heat. If you have a small pan fry them in batches. Set aside over a Kitchen paper towel & let the excess oil drain.
How to prepare the Sauce:
Add oil in a skillet & heat it over medium heat.

Add the chopped garlic, slit chilies & curry leaves to the warm oil. Saute for 1 min.

Next, add the spices & saute for 2 mins.

Add the chopped cilantro,  the mint & the chili garlic sauce. Mix well & saute for a few mins until oil oozes out.

Now, lower the heat to the lowest setting & add the beaten yogurt (whisk the yogurt with few spoons water). Stir immediately & mix well. Saute for few mins until oil oozes out. At this point the sauce is ready.
How to coat the fried chicken with the sauce:
Add all the fried chicken strip to the sauce & coat well over medium high heat. Keep stirring, mixing & frying everything together until the chicken pieces are well coated. It should take you 5-6 mins.

Garnish with mint or coriander & serve hot. Enjoy!
How to make Chicken Majestic in Air Fryer:
The recipe remains the same. 

Except deep frying the chicken we will air fry it. For this Lay all the marinated chicken pieces in your air fryer basket. Lay them in single layer & DO NOT overcrowd ever! Spray or brush little oil.

Close the air fryer drawer & press the AIR FRY button. Set the temperature to 360 F & time to 6 mins. Press the START button.

After 3 mins, take out the air fryer basket & flip the chicken strips. Insert the basket back to the machine. It'll begin to air fry automatically and complete the rest of the time.

Set aside and follow the rest of the recipe as such.
Notes
For juicy, tender chicken soak them in buttermilk for 2-3 hours or overnight. I skipped doing that & reduced the frying time instead.
If you find the marinade a little dry, add little oil or yogurt to the marinade for extra moisture.
The marinade should have enough moisture to cling to the chicken.
DO NOT over fry the chicken otherwise they will become stiff & chewy. Fry only until lightly golden.
Lower the temperature to the lowest setting & than add the yogurt to the pan. It won't split.
To skip some extra calories do air fry your chicken strips.
You will find every ingredient in INDIAN GROCERY STORES at better price.
Measuring Cup used, 1 cup = 240 ml & 1 teaspoon = 5 ml.
Nutrition Facts
Chicken Majestic Recipe
Amount Per Serving
Calories 492
Calories from Fat 360
% Daily Value*
Fat 40g62%
Cholesterol 81mg27%
Sodium 570mg25%
Potassium 278mg8%
Carbohydrates 10g3%
Protein 21g42%
Vitamin A 500IU10%
Vitamin C 19.1mg23%
Calcium 79mg8%
Iron 1.2mg7%
* Read our privacy policy – Calorie information is provided as a courtesy only and should be leveraged as an estimate rather than a guarantee.Percent Daily Values are based on a 2000 calorie diet.
Nutrition
Calories:
492
kcal
|
Carbohydrates:
10
g
|
Protein:
21
g
|
Fat:
40
g
|
Saturated Fat:
7
g
|
Cholesterol:
81
mg
|
Sodium:
570
mg
|
Potassium:
278
mg
|
Fiber:
1
g
|
Sugar:
3
g
|
Vitamin A:
500
IU
|
Vitamin C:
19.1
mg
|
Calcium:
79
mg
|
Iron:
1.2
mg
Pin it for Later!