I must say that these Korean Gochujang Chicken Wings in Air Fryer is the King of Chicken wings packed with outrageous flavors. Spicy, sweet, tangy, crispy, savory is what these air fried Korean wings are. They are super easy to make in an Air fryer all you need is 10 mins! And the sauce is crazy easy too, it's as easy as the buffalo hot wing sauce. And the best part of this Spicy Korean Chicken Wings recipe is that they are insanely crispy despite zero oil in the recipe. If you love a little bit of adventure in your taste than give this Gochujang Chicken wings a try, Watch my Video Recipe & give your guests enough reasons to rave about 🙂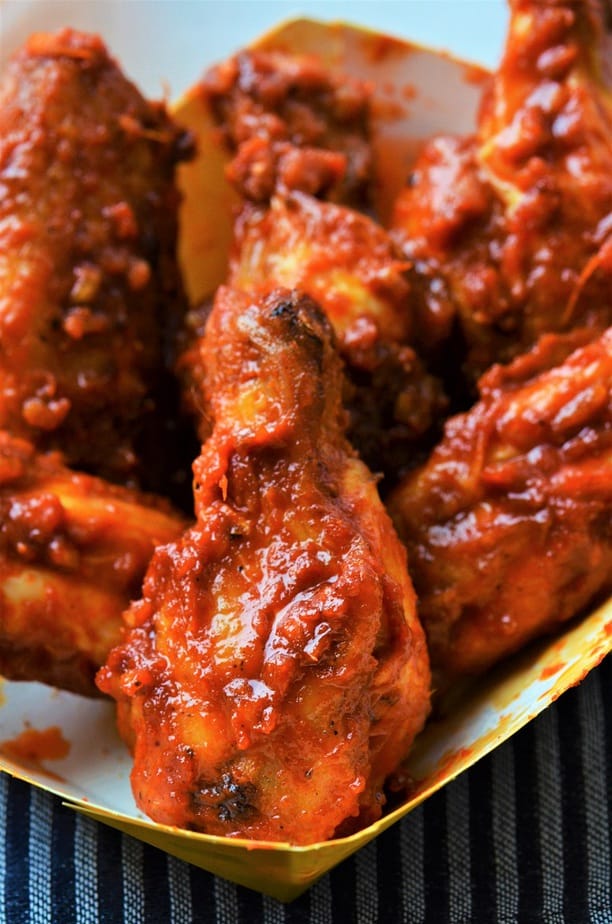 Whether you are looking for that perfect party appetizer or something to satiate yourself & your partner during those movie nights, when you curl up on your sofa or you are looking to host a crazy group of buddies.
Whatever may be the case, these Korean Gochujang Chicken Wings in Air Fryer will always rock your evenings & your guests will lick off every single drop of sauce.
They are addictive - I warn Ya!
Watch the Recipe Video of Korean Gochujang Chicken Wings
The star in this recipe is not you nor Me, and not the chicken wings either.
Oh ya! it's the fermented Korean Chili paste aka Gochujang!
Seriously this dark red Korean Chili paste is insanely delicious & it freaking transforms the chicken wings to something very magical.
If you ask me for a close Sub for this Chili paste unfortunately at the present moment the answer is - I found none in the market!
If you want to make this spicy Korean chicken wings recipe then I would recommend that you hunt down Gochujang sauce first & then, get on with the recipe.
FAQs - Korean Gochujang Chicken Wings in Air Fryer (Video)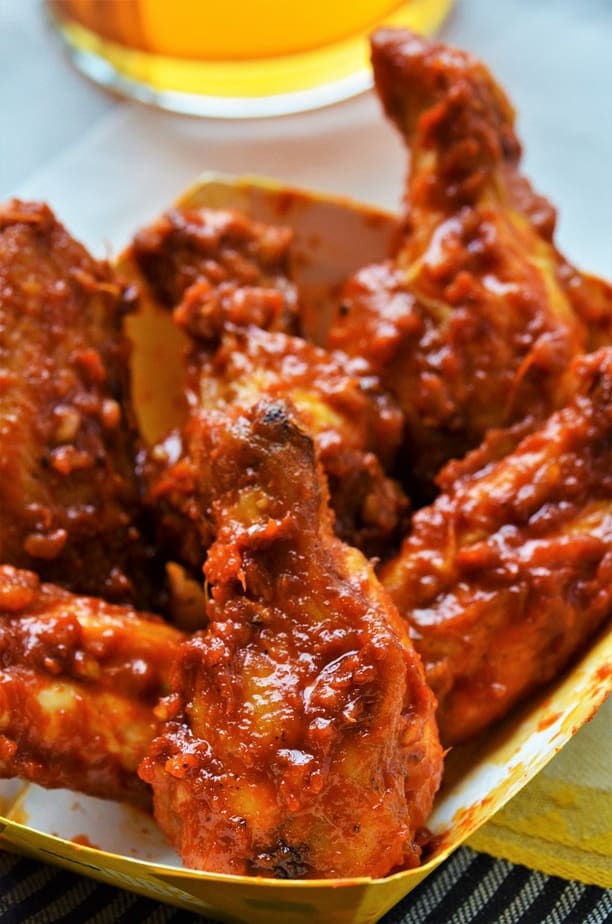 What are Korean Gochujang Chicken Wings
Korean Gochujang Chicken Wings in Air Fryer is a spicy Korean chicken wings recipe that calls for air fried wings instead of the stereotypical deep fried ones. They are then coated with a fiery red sauce made with the Korean Chili paste known as Gochujang.
This recipe of Chicken wings has zero oil but not zero flavor!
It's as crispy as the deep fried version and has so much more flavor.
Yes, I guess the air fryer does an immaculate job in locking the flavors & making the skin crispy. The chicken wings get sir fried in their own fat or oil.
If you want You can tame the fierce taste of the Gochunjang sauce by toning down with honey. So, don't worry it's spicy but not that much that you will start sweating bullets....Lol!
Are these Korean fried Chicken wings?
No, they are not, Korean fried chicken wings has a breaded coating & they are deep fried whereas today's recipe of spicy Korean wings is sans any coating.
Ingredients Used
Chicken Wings.
For the Sauce: Gochujang, butter, soy sauce, rice vinegar, rice wine, salt, minced ginger & garlic.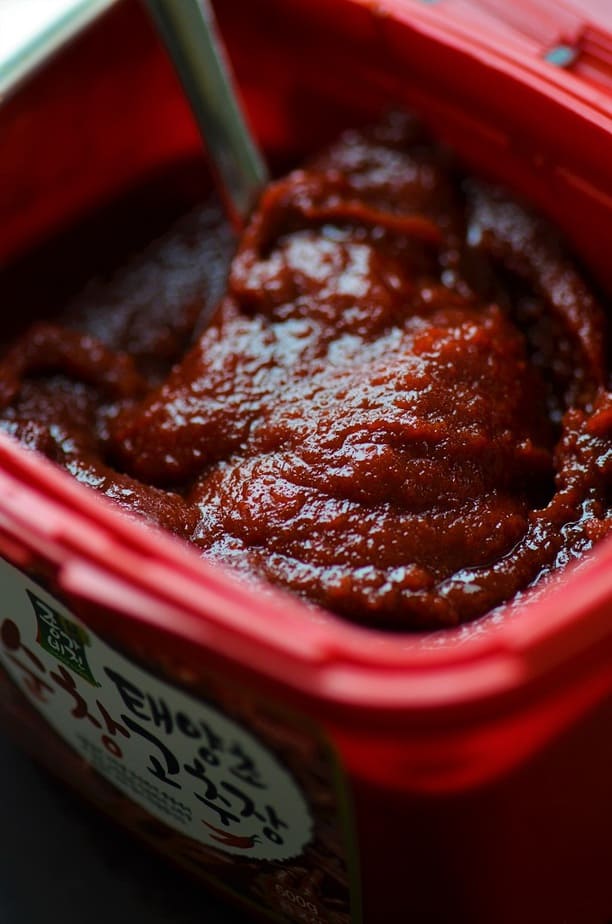 What is Gochujang
Gochujang is a Korean fermented red chili paste that's made with red chili, glutinous rice, fermented soy beans or meju, barley malt or yeotgireum.
This Korean fermented red chili paste has a fiery red color & a piquant taste. You'll find it to be savory, sweet & spicy at the same time.
We love the depth of flavors & the certain kick it provides to anything we add it to.
Korean Gochujang is a star ingredient in Korean cuisine & a little bit goes a long way as it is highly concentrated. So, a full tub will last you a long time unless you cook Korean food often.
Traditionally, Gochujang was made by following a long fermentation process that consisted of several years and the ingredients were fermented in earthenware back in Korea.
Where to buy Gochujang
You can buy Gochujang in the USA from -
Whole Foods, search in the Asian aisle. ( smaller tub, expensive)
Asian stores ( bigger tub, economical, best price)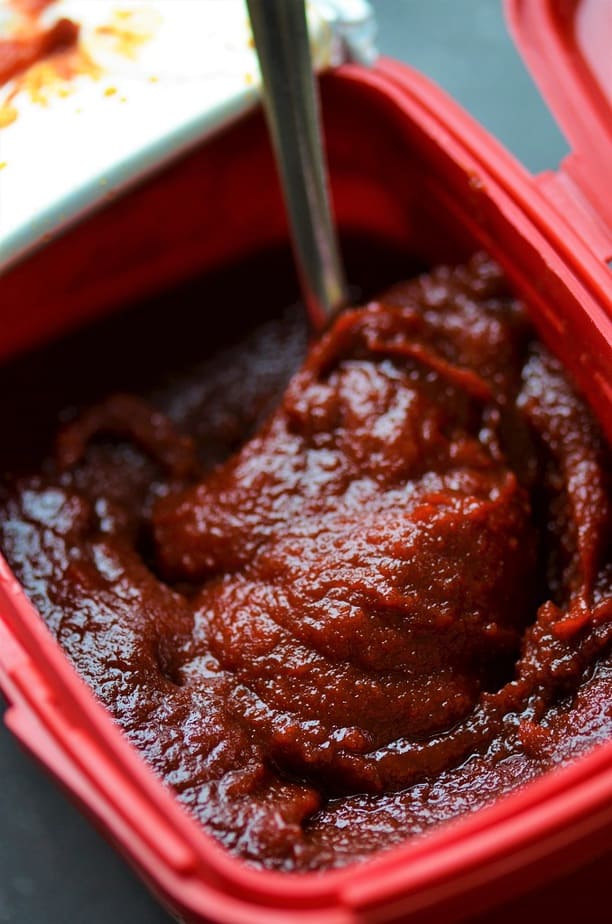 Gochujang Substitute
Well, for this Korean Gochujang Chicken wings in Air Fryer recipe there's no substitute at all.
Because in this Spicy Korean chicken wings recipe this spicy fermented condiment or Gochujang is the star ingredient.
But, if you are cooking something where this Korean chili paste is used only to provide heat to the recipe & do not act as the main ingredient then you may sub it with Sriracha Sauce.
But, otherwise stick to this fiery red thick fermented chili paste. It provides so much depth & flavors to a recipe.
What does Gochujang taste like
Gochujang has a spicy, fermented, meaty taste.
How long does Gochujang last in the fridge
Just like Miso Gochujang has a very long shelf life.
After opening the tub, store it in the fridge upto 1-1.5 years.
Exposure to direct sunlight might alter it's taste & color.
Why use an Air Fryer to make Korean Chicken Wings Gochujang
I just cannot emphasize enough on the versatility of this super cool & super smart kitchen gadget. Air Fryer has made my life so much easier!
There are enough reasons why you should choose an Air Fryer to make today's Korean Gochujang Chicken Wings recipe.
No more deep frying. Hence, less calories.
No more baby sitting the chicken wings in oil.
This recipe has zero oil.
An air fryer is much faster.
It's much efficient.
An Air Fryer locks the flavors in the wings extremely well.
You can have crispy air fried chicken wings without a single drop of oil.
Cooking in an air fryer is mess free.
An air fryer mimics the deep fried taste extremely well.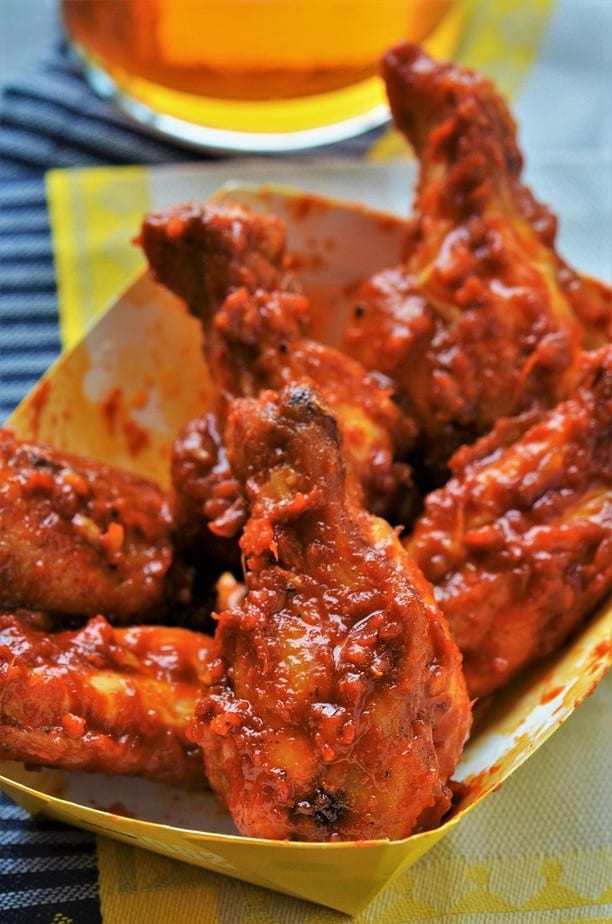 How do you make Korean Gochujang Chicken Wings in Air Fryer
It's super easy to make Korean Gochujang Chicken Wings in Air Fryer.
You only need 10 mins active time to prepare the sauce whilst the Air fryer fries the wings to ultimate crispiness.
We will begin by sprinkling salt, crushed pepper & little bit of paprika to our Chicken wings. Toss them, coat them.
And then pop them in the air fryer for just 9 mins!
In the meantime we will prepare the sauce by dumping butter, Gochujang sauce, minced ginger & garlic, rice vinegar, rice wine, soy sauce, salt, in a saucepan.
You might add 1 tsp honey to tone down the Gochujang (I didnot add any, we love the kick of flavors)
Bring it to a boil over medium high heat & simmer for about 5 mins over low heat until everything incorporates & the sauce thickens a bit.
When the sauce is done toss the air fried crispy Korean wings in the sauce until the wings gets a nice thick coating!
Voila, pop a bottle of chilled wine, play your favorite show in Netflix and munch away these spicy Korean chicken wings. Life is just so tasty sometimes 🙂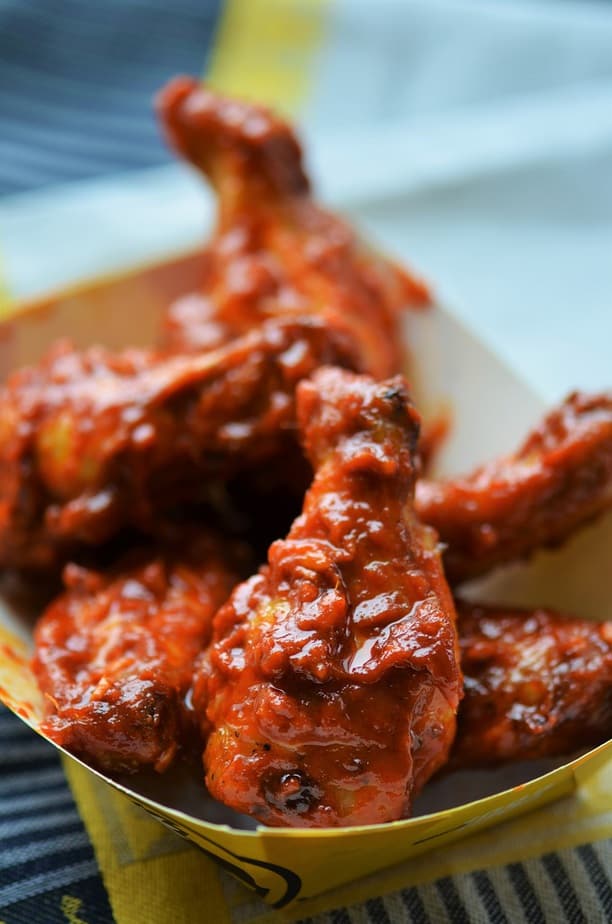 Don't miss these Super Easy Chicken recipes from Foodies Terminal!
Pro tips from Foodies Terminal to make crispy spicy Korean Gochujang Chicken Wings in Air Fryer
Toss the chicken wings in the Air Fryer without spraying or brushing any oil. The chicken will become ultra crispy with it's own fat.
Always make some extra sauce & keep it handy. Because you never know some of your guests might love a thick coating, whereas some might go with a dry coating.
You can also use up the extra sauce as a dip. It tastes super yummy!
We love a thicker coating in our chicken wings, so this recipe calls for a little more gochujang. If you prefer a thin sauce coating then, by all means go ahead and reduce the amount of Gochujang.
Bring the sauce to boil & then, lower the flame to it's lowest setting immediately. Be extra careful at this point. The sauce tends to stick at the bottom of the pan. So, keep it stirring & simmer for just 5 mins, not more not less.
You may make the sauce well ahead of time. But, if you love ultra crispy chicken wings just like we do then, air fry the chicken wings & toss them in sauce only before serving. Warm up the sauce for 50 seconds in the microwave. It will get back all its luster.
Baked Korean Chicken Wings
If you do not own an Air Fryer no problem. Go ahead & bake these Korean gochujang chicken wings.
Follow the same recipe.
Instead of air frying the Korean Gochujang chicken wings bake them at 425 F and each side for 15 mins.
Deep Fried Korean Chicken Wings
If you want to deep fry these spicy korean chicken wings Gochujang by all means do it.
The recipe remains the same.
Instead of air frying, take a deep bottom saucepan, fill it up with enough oil to dunk the chicken pieces.
When the oil is piping hot (375 F / 190 C), tip the winglets carefully.
Fry them until golden. It should take you 8-10 mins.
Lift them up once down & place them on a paper towel.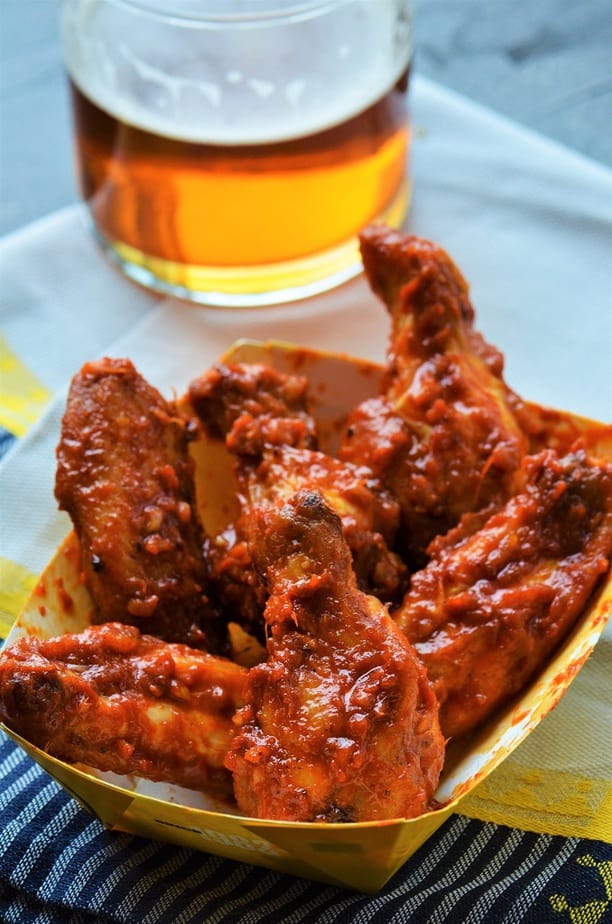 DID YOU TRY THIS RECIPE? Do Not forget to give a STAR (*) rating! Just click on the STARS on the recipe card below to rate.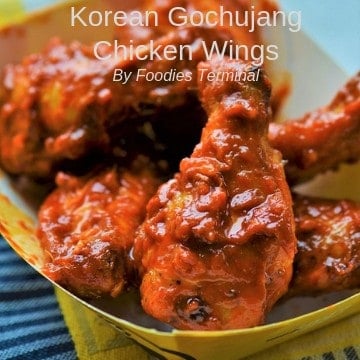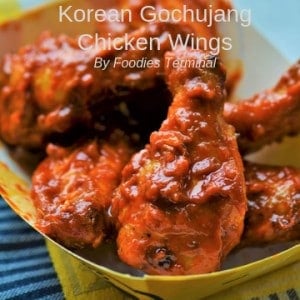 Korean Gochujang Chicken Wings in Air Fryer (Video)
Print Recipe
Pin
Rate
These Korean Gochujang Chicken Wings are a dynamite of flavors. They are so easy to make in an Air Fryer, you just need 10 mins! Cater any number of guests, host any sort of party or just have some Me time with these crispy spicy Korean Chicken Wings made in your Air fryer. They will always be a big hit.
Ingredients
For the Air Fried Chicken
6

Chicken winglets

(Drumettes + flats)

¼

tsp

Paprika

½

tsp

crushed pepper
For the Korean Gochujang Sauce
Want more Recipe Videos?
Check out our Youtube channel!
Instructions
How to Air Fry the Chicken Wings
Sprinkle the paprika powder, salt & crushed pepper on the winglets. Mix well to coat.

Pop them in the Air Fry & air fry at 400 F for 5 mins.

After 5 mins. Flip the wings & air fry again for 4 mins at 400 F.
How to prepare the Korean Gochujang Chicken Wings Sauce
Place a saucepan over medium high heat. When hot add the butter.

As the butter begins to melt add the Gochujang sauce, rice vinegar, rice wine, soy sauce, ginger & garlic minced. Mix well & turn the heat to low.

Simmer for 5 mins on low heat stirring frequently until the sauce thickens a bit. Switch off the flame. The sauce is ready.
How to assemble the chicken wings with the gochujang sauce
Take the sauce in a clean dry bowl. Add the air fried crispy chicken wings and toss them or mix with the help of a spoon until the chicken pieces are well coated with the sauce. Enjoy!
Notes
You may use slightly less Gochujang sauce if you prefer a thin coating over your chicken wings.
While simmering the sauce be extra careful because the sauce tends to stick at the bottom of the pan. So, do not forget to stir the sauce frequently while simmering.
Simmer over medium-low heat.
If you prefer crispy wings air fry & toss in sauce just before serving.
You may prepare the sauce well ahead of time and store in the refrigerator for 4-5 days.
Just reheat the sauce in your micro- oven before tossing in the chicken wings.
Measuring cup used, 1 cup = 240 ml & 1 teaspoon = 5 ml.
PLEASE NOTE: Nutrition values are my best estimates. If you rely on them for your diet or special diet, use your preferred nutrition calculator!
Nutrition Facts
Korean Gochujang Chicken Wings in Air Fryer (Video)
Amount Per Serving (4 g)
Calories 480
Calories from Fat 163
% Daily Value*
Fat 18.1g28%
Cholesterol 202mg67%
Sodium 649mg28%
Carbohydrates 9.4g3%
Protein 66.7g133%
* Read our privacy policy - Calorie information is provided as a courtesy only and should be leveraged as an estimate rather than a guarantee.Percent Daily Values are based on a 2000 calorie diet.
Nutrition
Serving:
4
g
|
Calories:
480
kcal
|
Carbohydrates:
9.4
g
|
Protein:
66.7
g
|
Fat:
18.1
g
|
Saturated Fat:
4.8
g
|
Cholesterol:
202
mg
|
Sodium:
649
mg
|
Fiber:
0.5
g
|
Sugar:
7.4
g
If you try this recipe or any other recipe from this blog, let us know! Leave a comment, rate it! Hearing from you is what makes my Day!
Follow us on Facebook & Pinterest.
Tag a photo on Instagram.
Pin it for Later!