Learn how to make Instant Pot Tandoori Chicken that does not taste like a boiled mess. Best Juicy Chicken on the bones with the perfect char and a lip smacking good tandoori marinade. You'll learn to make the easy homemade tandoori marinade which is the secret to this recipe.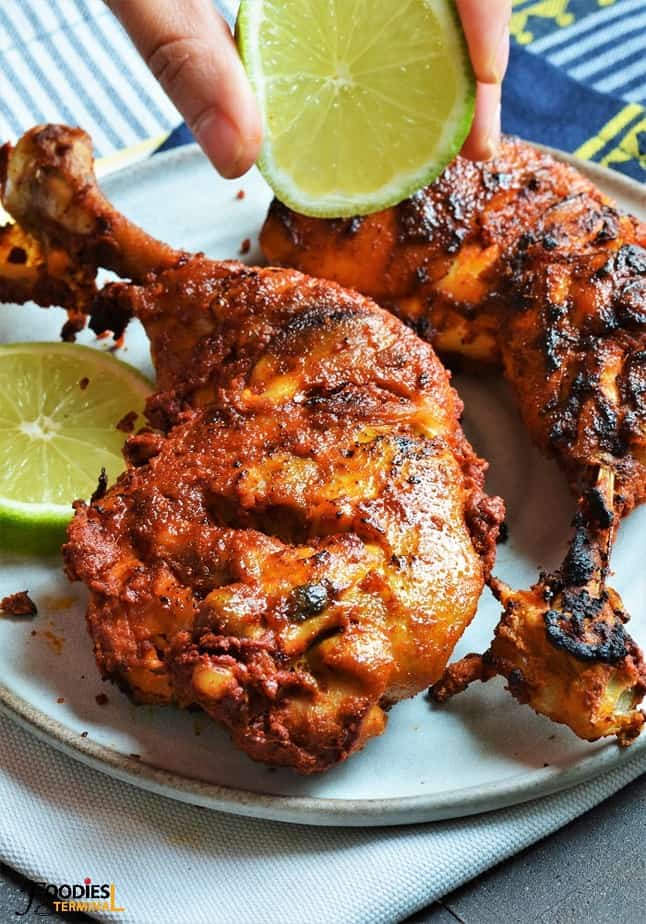 Tandoori Chicken Instant Pot
We love our Chicken Tandoori in Instant Pot as much as we love Tandoori Chicken in Oven.
So, what's the big difference and what made me make the recipe in the Instant Pot?
The big difference is the TIME!
Yes, guys today's chicken tandoori in Instant Pot gets done within 30 minutes from start to finish whereas oven baked tandoori chicken takes upto 45-50 mins in the oven + the rest of the prep work.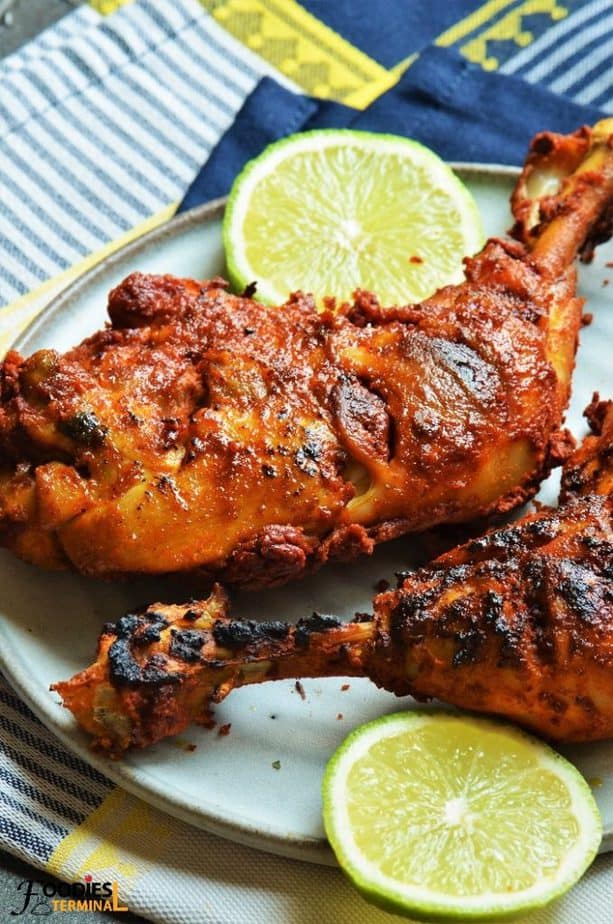 And I promise the chicken will not taste bland, it will not taste like some boiled food, the meat will not dry out, the marinade will seep in, and the meat will remain tender and juicy.
Tandoori Chicken in Instant Pot is no less tasty than an Authentic Tandoori Chicken recipe.
And I have a smart hack to achieve just that 😀 So, read the post….
---
Ingredients
Find the Ingredients with actual measurements way below the post on the "Recipe Card". The list below is just a reference.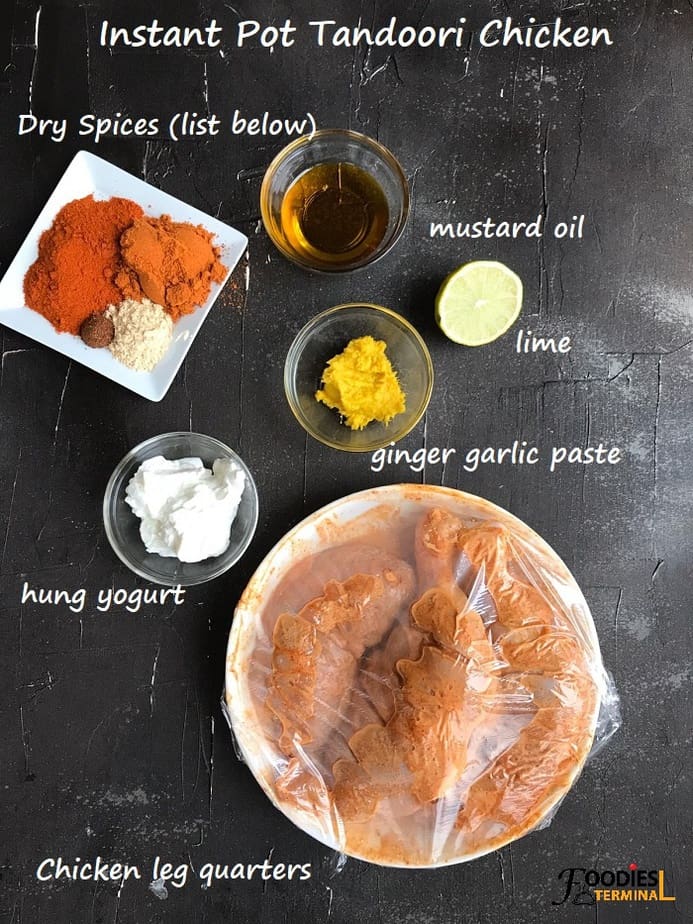 Chicken: Use chicken on the bones like leg quarters, thighs, drumsticks or boneless chicken like chicken breasts or thighs. I used chicken leg quarters. Chicken on the bones tastes best here and gives away the best juicy meat.
Yogurt: Greek Yogurt or if using regular yogurt hang it in a muslin cloth for 15 mins to drain out the excess liquid.
Dry Spices: Tandoori Masala powder, Paprika Powder or Kashmiri Red Chili Powder, star anise powder (optional & garam masala powder is a great sub for this).
Ginger Garlic Paste: Try my homemade ginger garlic paste recipe. It's the best you'll ever make that'll last you the longest without turning green. Tons of tips, tricks and hacks shared in that post.
Dry Roasted Chickpea Flour or Besan in Hindi. This helps to bind the marinade and as a result the marinade won't slide off the chicken. It boosts the taste of the recipe as well.
Lemon or Lime juice.
Mustard Oil: You can even use any neutral oil of your choice but mustard oil shall reward you with the best authentic flavor.
Organic Beet Root Powder: It adds a lovely red color to the recipe naturally.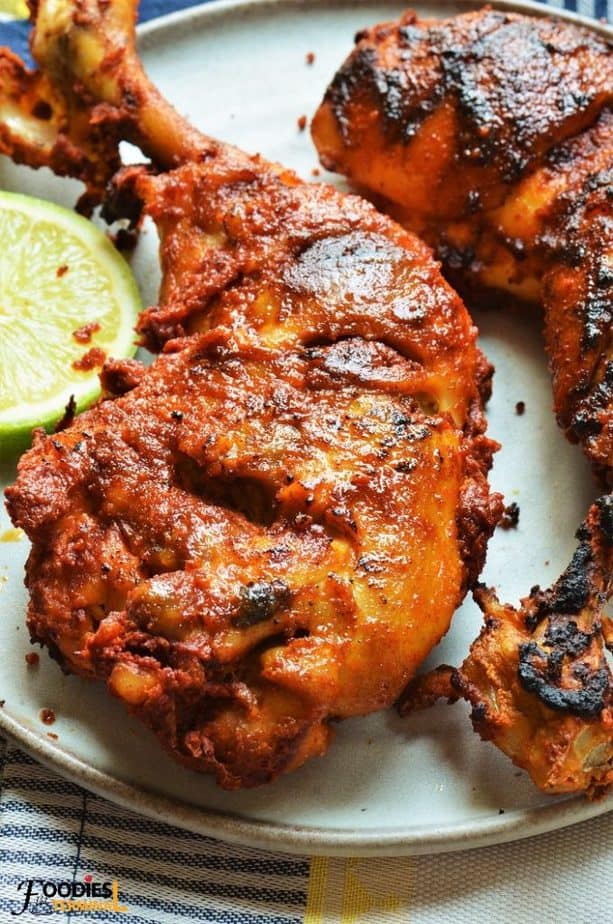 Tips & Tricks
Flash Marinate the Chicken before steaming it in the Instant Pot This will make the meat flavorful, tender and keep it moist throughout.
Steam the chicken first to begin with the recipe.
Make a kick ass Chicken Tandoori marinade, do not skip any ingredient from the list.
Don't miss broiling the marinade coated chicken until it gets charred around the edges.
For gorgeous red colored Tandoori Chicken just like the restaurant or street style add Beet Root powder. You'll get a lovely hue naturally. No food color ever and no taste distortion. Guaranteed.
Once the cooking cycle is over keep the Instant Pot Tandoori Chicken lightly covered. It will keep the meat nice and juicy.
Method
Find the detailed step by step recipe along with measurements way below the post on the "Recipe Card".
Step #1 Steam the Flash Marinated Chicken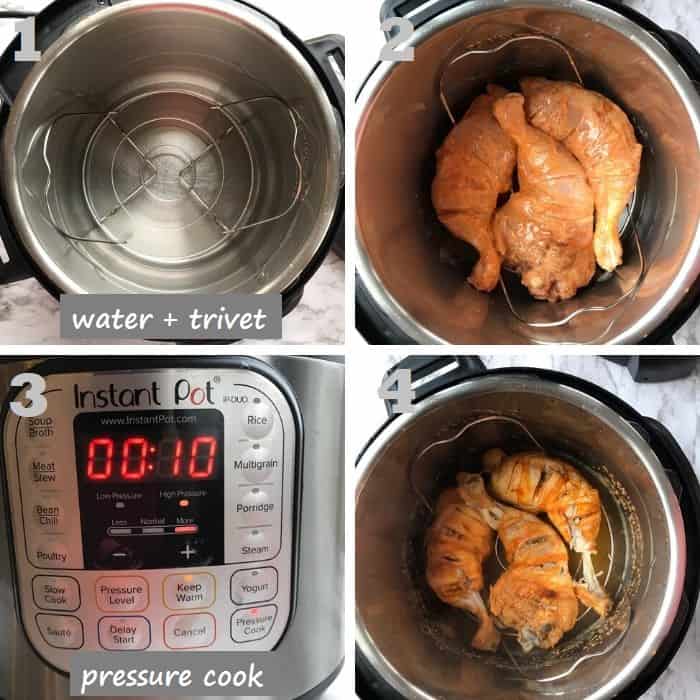 Clean and pat dry the chicken leg quarters.
Make diagonal slits (at an angle) on the chicken so that the marinade seeps into the deepest layer of the meat.
Gently rub the leg quarters with paprika or kashmiri red chili powder, salt, lemon juice & 2-3 tablespoons yogurt. Set them aside for 10-15 mins.
Pour 1 cup water in the steel insert of the instant pot. Place the metal trivet and arrange the flash marinated leg quarters on the metal trivet.
Pressure cook on HIGH for 10 mins followed by a quick pressure release.
Bring out the steamed chicken leg quarters along with the metal trivet.
Step #2 Prepare the Tandoori Chicken marinade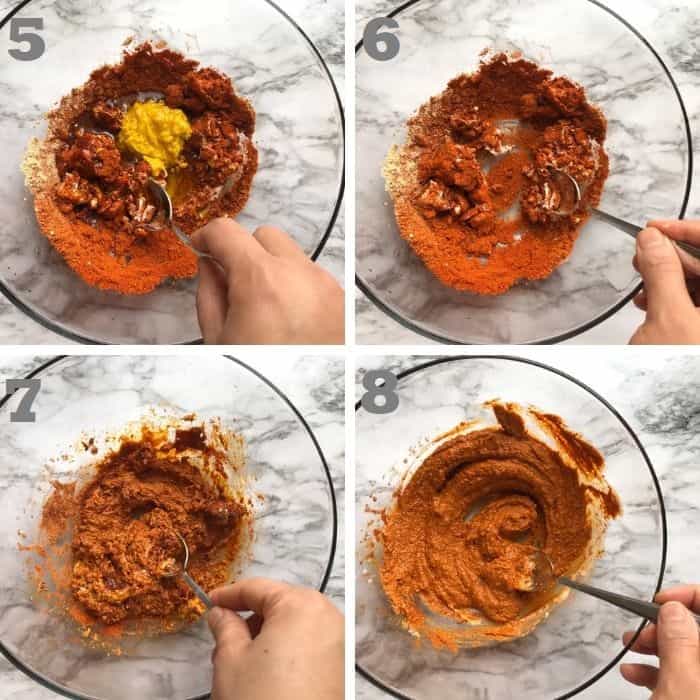 Add all the ingredients in a clean dry bowl and mix well with the help of a fork or a whisk until a smooth thick paste forms.
If you want a vibrant, fiery red hue without adding any food color in your chicken tandoori in instant pot than….
Add organic beet root powder to the marinade and mix well until incorporated.
Step #3 Coat steamed chicken in marinade and Broil in oven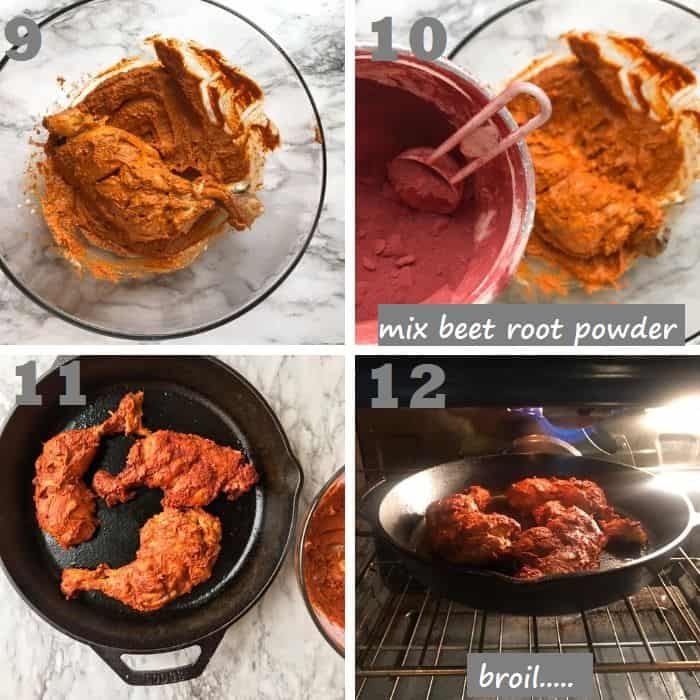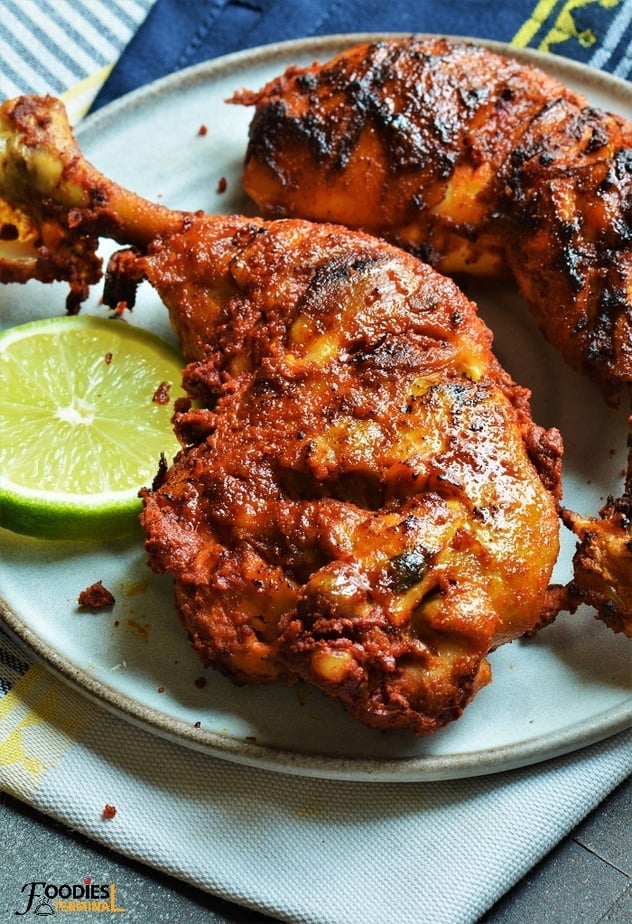 Coat the steamed chicken leg quarters very well with a thick layer of the marinade on all side.
Layer them either in an aluminum lined baking tray topped with a cookie wire rack or arrange them in an oven proof cast iron skillet (I used a big Lodge skillet).
Broil for few mins on each side on the top rack of the oven until you get the fantastic charred look.
Serve hot with sliced onion and lemon wedges. Enjoy!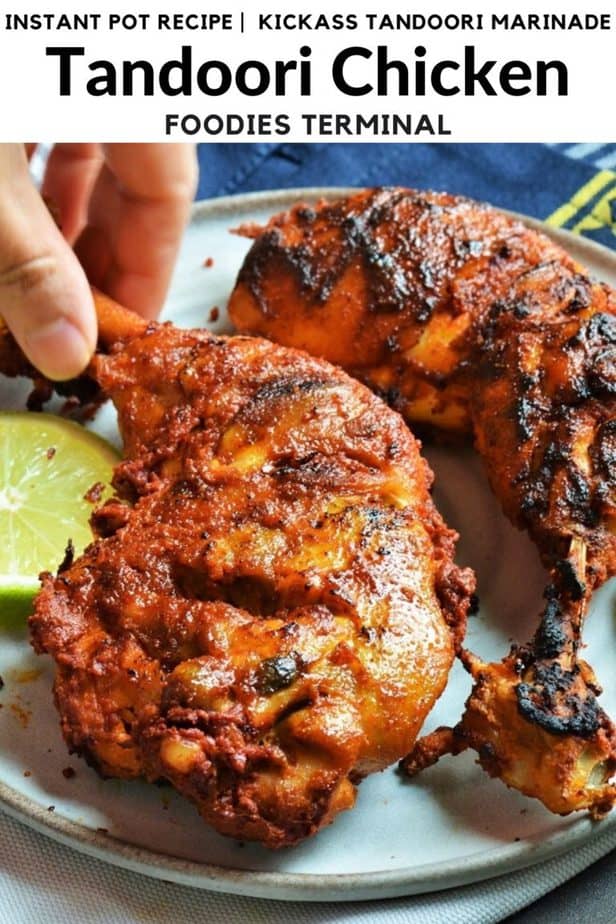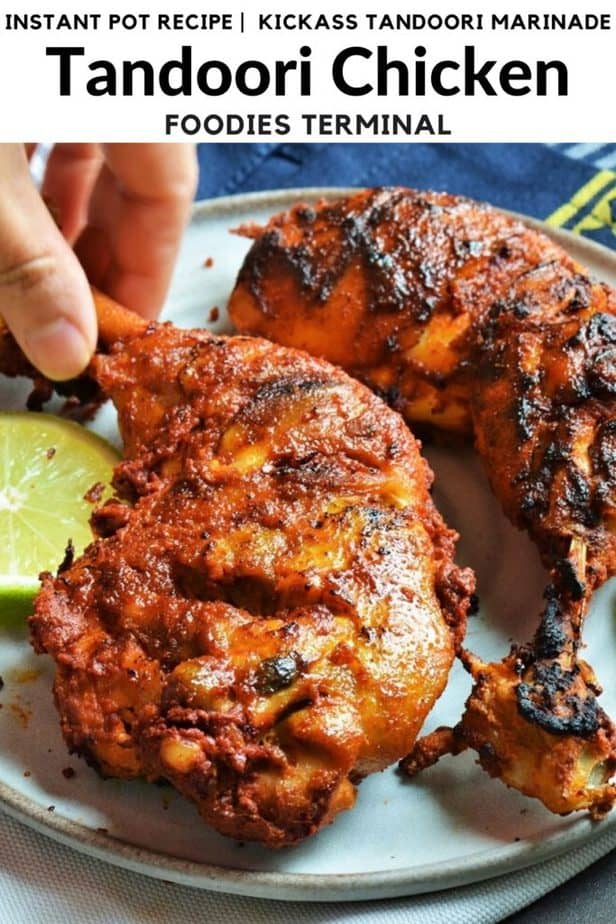 FAQs
Is Tandoori Chicken Keto?
Yes Tandoori Chicken is Keto friendly.
Is Tandoori Chicken gluten free?
Yes, Tandoori Chicken is gluten free.
What is Tandoori Chicken masala?
Tandoori Chicken masala is a dry spice powder that's popularly used to make the tandoori chicken marinade at home.
Can Tandoori chicken be made in oven?
Yes, Tandoori Chicken can be made in oven. Follow this recipe – Tandoori Chicken in Oven.
What makes Tandoori Chicken red?
Food Color is what makes Tandoori Chicken Red (the ones that you get in restaurant and food stalls). But, not today's recipe because I used organic beet root powder and Kashmiri Red Chili powder solely to make the Tandoori Chicken in Instant Pot fiery red.
What is Tandoori chicken best served with?
Tandoori Chicken is best served with lemon wedges and a simple side salad (Indian Salad) and Naan. Instant Pot Tandoori Chicken also tastes best with Roomali Roti or plain chapathi.
Can Tandoori Chicken be frozen?
Yes Instant Pot Tandoori chicken can be frozen for upto 2 months. Freeze the chicken in freezer safe bags.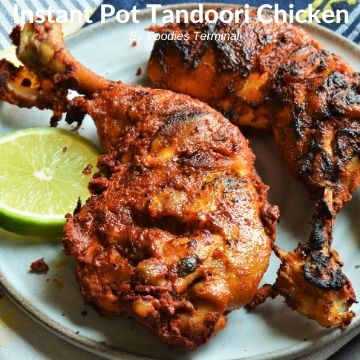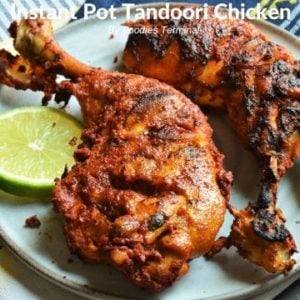 Instant Pot Tandoori Chicken
Print Recipe
Pin
Rate
Servings:
3
Chicken leg quarters
Instant Pot Tandoori Chicken consists of juicy tender chicken on the bones coated with a delicious homemade tandoori marinade. Chicken Tandoori in Instant Pot as tasty as an authentic Tandoori Chicken recipe.
Want more Recipe Videos?
Check out our Youtube channel!
Equipment Used
Instructions
Steam the Chicken Leg Quarters
Wash and pat dry the chicken leg quarters very well. There should not be any excess water left.

Massage them well with 2 tbsp yogurt, a few dashes of paprika or deggi mirch powder or kashmiri red chili powder, salt, lemon juice. And set aside.

Pour 1 cup water in the steel insert of the Instant Pot and place the metal trivet inside the steel pot of the Instant Pot.

Gradually place the leg quarters on top of the metal trivet. Close the lid of the Instant Pot and seal the vale. PRESSURE COOK on HIGH for 10 mins.

Once, the cooking cycle is over you'll notice that the Instant Pot will begin to beep. Immediately do a quick pressure release by moving the valve from the sealing to the venting position. Open the lid and carefully remove the metal trivet along with the steamed leg quarters. Set them aside while you prepare the tandoori marinade.
How to make the BEST Chicken Tandoori Marinade at home?
Take a clean and moisture free bowl. Add the yogurt, the mustard oil, ginger garlic paste, the dry spices, salt, lemon juice and beet root powder. Mix all the ingredients very well with the help of a fork or a whisk until well incorporated.

Place the steamed chicken leg quarters one at a time and coat them well with the tandoori marinade on all sides. Do this one by one and gently otherwise the cooked meat will come off the bones. Leave no gaps at all.
How to broil the Instant Pot Chicken Tandoori?
You can broil them either on a cast iron skillet like a lodge skillet or on a baking tray. I used a lodge cast iron skillet to broil the chicken leg quarters.

Spray the skillet with cooking spray or brush a few drops of oil.

Layer the tandoori marinade coated chicken leg quarters on the skillet.

BROIL on HIGH on the top rack of the oven for 7-8 mins or until you get the desired charred look. The broiling time totally depends on ones oven and might vary slightly from oven to oven. So, watch the chicken like a hawk and adjust the time accordingly.

Take out the skillet and serve the Tandoori chicken with onion slices and lemon wedges for a quick appetizer. Add your loved sides to make it into a complete meal. Enjoy!
Notes
Measuring Units used, 1 cup = 240 ml and 1 teaspoon = 5 ml.
How to make start anise powder at home? Skillet roast a few star anise for 1 min over medium heat. Tranfer them to a powerful mixer grinder (Vitamix or an Indian Mixer Griner with stainless steel jars) make a fine smooth powder and store in an air tight jar. Do not use PLASTIC mixer grinder JARS as the plastic will melt with the friction. It happened to me! Star anise needs a powerful grinder. 
Want to sub star anise powder? well. use the same amount of GARAM MASALA POWDER in the recipe.
If the Marinade becomes too dry or tight you add a little more greek yogurt or hung yogurt.
Why use roasted chickpea flour or besan? This acts as a binder and helps bind the marinade very well. It also boosts the flavor of the Tandoori Chicken recipe.
How to make roasted chickpea flour or besan? Dry roast the chickpea flour or besan in a skillet over medium heat until it slightly changes color and starts to emit a lovely roasted aroma. Do not leave it unattended, besan burns quickly.
Something about TANDOORI MASALA POWDER – You may use any brand that you prefer however our first choice is the Tandoori Masala Powder from the Whole Foods Market (USA), they have a fresh deck of dry spices available and you can scoop out as much as you want. These spices are repeatedly stocked fresh and taste so much better than the regular shelf stocked spices in jars (they are old and does not get re stocked fast). Our second preference is RAJAH brands Tandoori Masala Powder from any Indian grocery store.
How to make Hung Yogurt? It's way simple than you think. In a muslin cloth hang any regular full fat yogurt for 10-15 mins and use it in the recipe. If you have Greek Yogurt use it in place of Hung Yogurt.
Why use Beet root powder? It gives the recipe a gorgeous, a very appetizing fiery red hue NATURALLY just like the street food varities and your favorite restaurant varities.
You can totally skip using the beet root powder. In that case you'll have a golden yellow colored Tandoori chicken. Do not expect fiery, red color.
If you do not mind using food color you can use them according to your prefernce.
If you prefer SPICY Pressure Cooker Tandoori Chicken do use red chili powder in the recipe according to your preference. I didnot add any!
To keep the Chicken Tandoori moist and juicy for a long time keep the meat lightly covered with a light plate or an aluminum foil once the tandoori chicken is out from the oven.
Calorific details are provided by a third party application and are to be used as indicative figures only.
Nutrition Facts
Instant Pot Tandoori Chicken
Amount Per Serving
Calories 697
Calories from Fat 477
% Daily Value*
Fat 53g82%
Cholesterol 254mg85%
Sodium 218mg9%
Potassium 717mg20%
Carbohydrates 7g2%
Protein 47g94%
Vitamin A 2499IU50%
Vitamin C 5mg6%
Calcium 70mg7%
Iron 3mg17%
* Read our privacy policy – Calorie information is provided as a courtesy only and should be leveraged as an estimate rather than a guarantee.Percent Daily Values are based on a 2000 calorie diet.
Nutrition
Calories:
697
kcal
|
Carbohydrates:
7
g
|
Protein:
47
g
|
Fat:
53
g
|
Saturated Fat:
13
g
|
Cholesterol:
254
mg
|
Sodium:
218
mg
|
Potassium:
717
mg
|
Fiber:
2
g
|
Sugar:
2
g
|
Vitamin A:
2499
IU
|
Vitamin C:
5
mg
|
Calcium:
70
mg
|
Iron:
3
mg
More Chicken Appetizers