Chicken Boti Kabab is an insanely easy one to make. It's marinade is a one-bowl recipe & you don't need tons of ingredients to whip up this delicious Indian Chicken appetizer. Learn how to make the perfect Chicken Boti Kabab on Tawa Step by Step.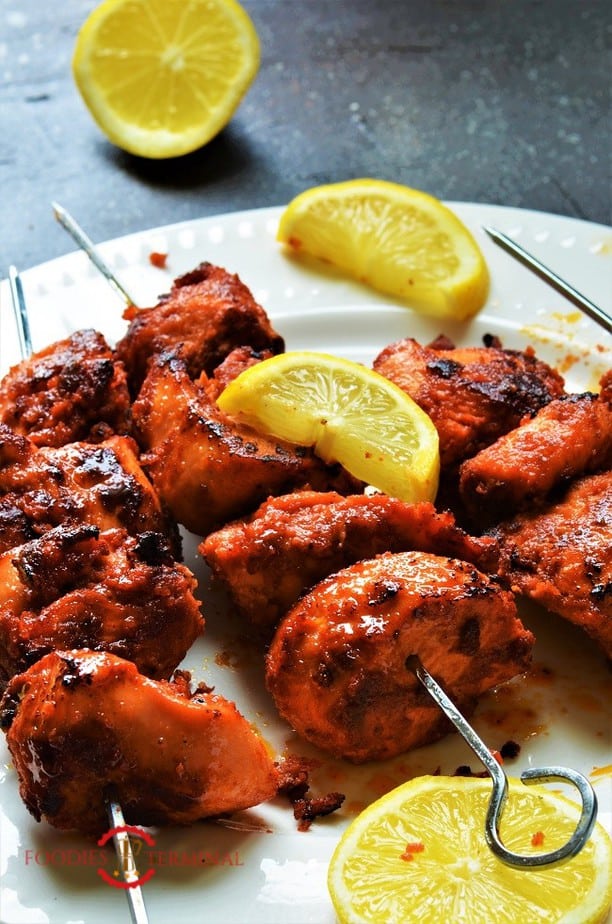 Chicken Boti Kabab Recipe
Chicken Boti Kabab is everything to love about a Kabab recipe. It tastes good & looks good too.
It's quick, super easy, doesn't require an oven or grill or an air fryer. Though you may certainly use any of these to get this quick Indian chicken appetizer done if you want to.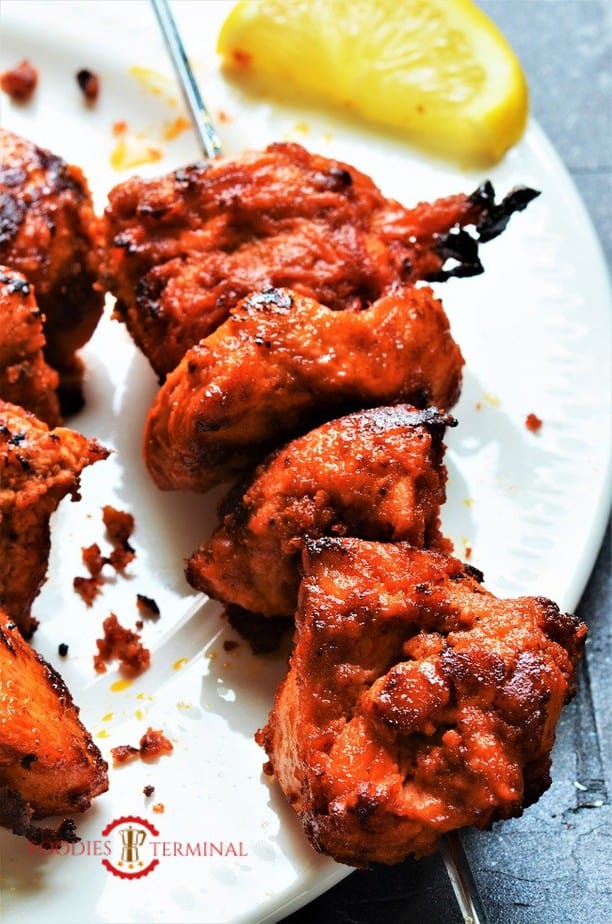 Look at that vibrant gorgeous color, & there's one secret very healthy ingredient to achieve this color easily. No, it's not any food color! I'll leave you guessing for a while.
We here at Foodies Terminal love making all kinds kebabs like this Chicken Reshmi Kabab Recipe , & Mutton Sheekh Kabab Recipe what not to love about a Kabab right?
After all you can cook them with drizzles of oil. They doesn't require any effort at all and you can transform them from an appetizer to a complete meal with a salad or simple Pilaf on the side.
Skewered meat is such a healthy choice & you can never go wrong with a kabab recipe. Though, it certainly is very easy to ruin a Kabab recipe, but with my tips you won't end up with a Kabab disaster..Lol!
Just read through my each & every Kabab posts. I am sure you'll find them helpful.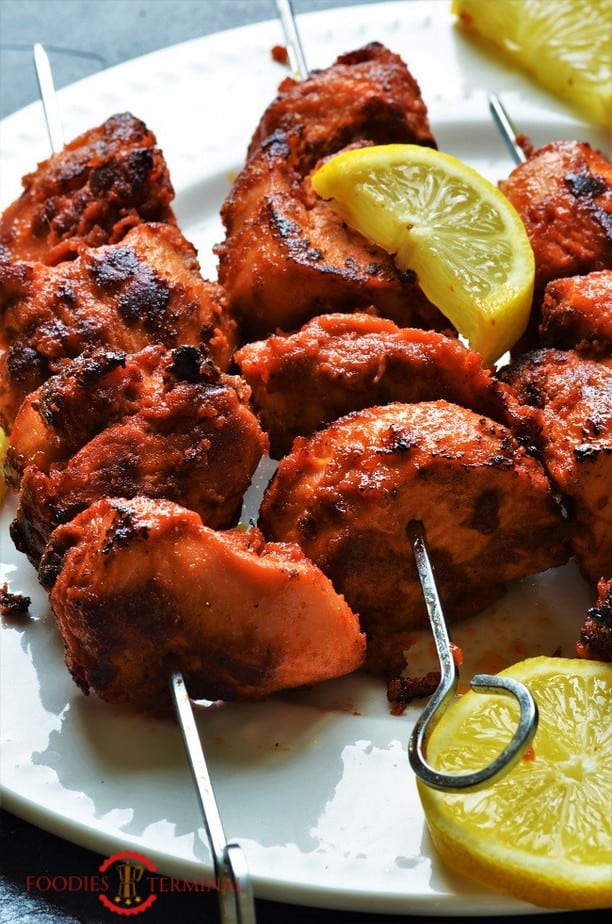 What is Chicken Boti Kabab?
Chicken Boti Kabab is an Indian Chicken Kabab recipe that is made with marinated boneless pieces of chicken that are skewered & cooked until just tender & juicy.
You can make Chicken Boti Kabab on a griddle or Tawa, in an oven, air fryer or grill.
The way of cooking a Kabab remains the same in almost every Kabab recipe. It's the marinade that varies.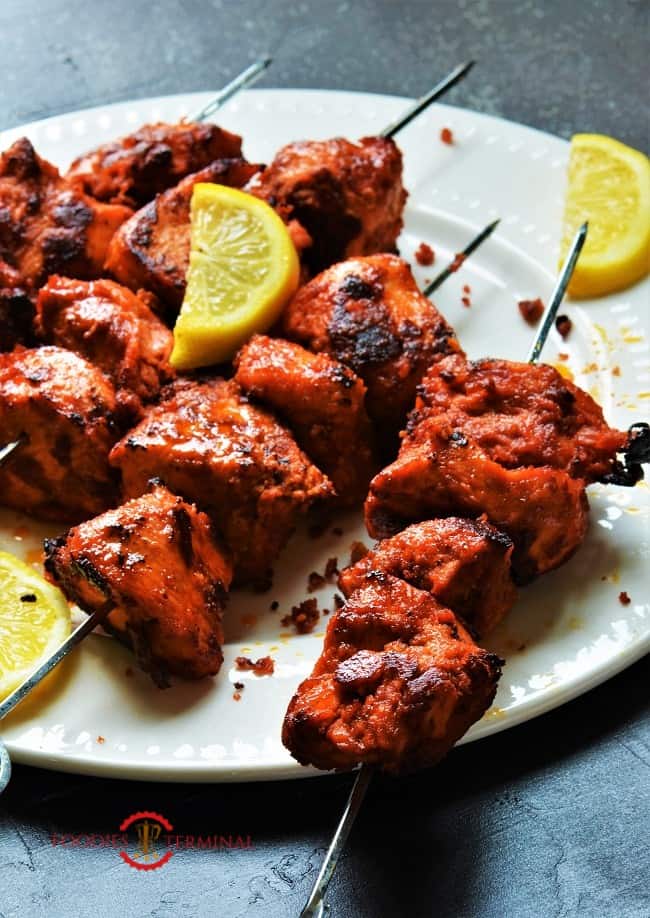 Ingredients for Chicken Boti Kabab Recipe
You don't need much for today's chicken Boti Kabab Recipe. These are what you actually need: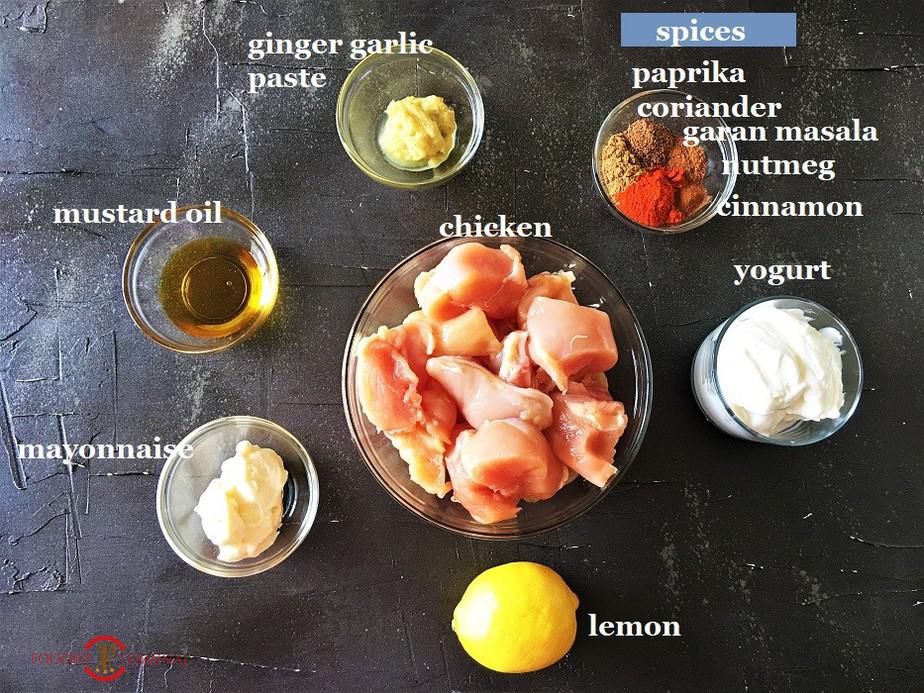 Bone less chicken pieces cut into 1.5″ thick pieces: We always prefer chicken breasts over thighs. But, thighs are a wonderful choice too.
Thick Yogurt: Greek yogurt is an efficient choice here because you do not have to hang the regular yogurt to drain out the excess moisture. If you do not have a tub of greek yogurt lying around. By all means follow the traditional route & hang that yogurt in a muslin cloth for 30-40 mins.
Mayonnaise: Always use the real one for best flavors. Mayo gives a certain edge to the boti kabab recipe & we love it. You may skip it if you want to.
Spices: Paprika or Kashmiri red chili powder, Garam Masala powder, Nutmeg powder, cinnamon powder, Roasted cumin seeds powder (jeera), red chili powder (I didn't add any).
Mustard oil: This is a must, tastes much better than adding melted butter.
Ginger Garlic Paste.
Lemon juice: Adds that tang.
Secret to that gorgeous red color: Beet Root powder. It's a super healthy choice that gives unbeatable gorgeous color to any food. You do not need any food color at all. I totally forgot to include the beet root powder in the Ingredients photo today. But, you may find it in the process shots.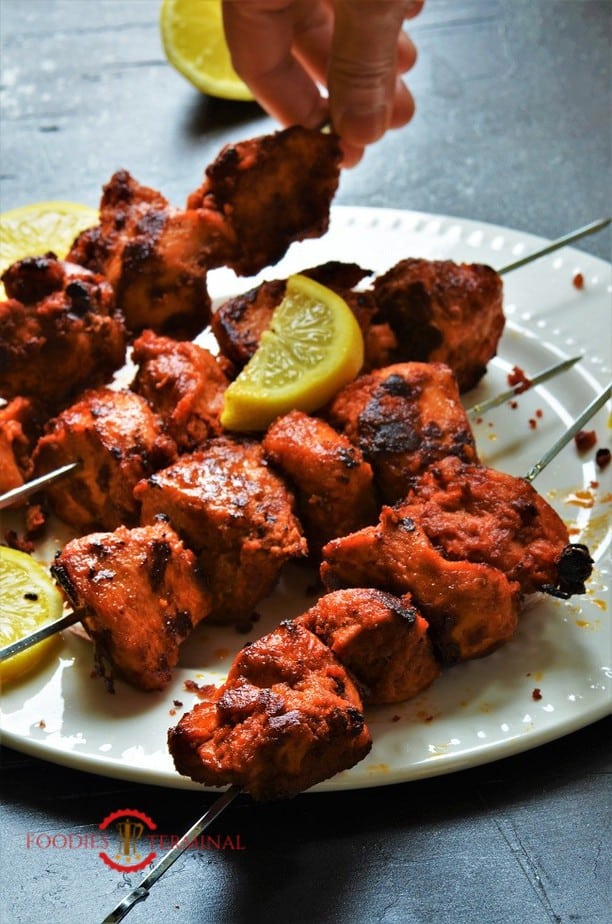 The Best meat for Chicken Boti Kabab
You can choose either boneless chicken breasts or chicken thighs to make this quick Indian Kabab.
I always vote for chicken breasts and I mentioned it in earlier Kabab posts as well like this Achari Chicken Tikka. It's totally a personal choice though, it's just that I don't prefer the taste of chicken thigh meat in Kababs.
Here's a few things to keep in mind while choosing the right chicken meat for any chicken kabab recipe.
Chicken Breasts: They are not naturally juicy as compared to chicken thigh meat. But, brining or marinating the meat helps to make chicken breasts tender & juicy.
Chicken Thighs: They are naturally tender & juicy and makes good kababs even if you choose to flash marinate the meat.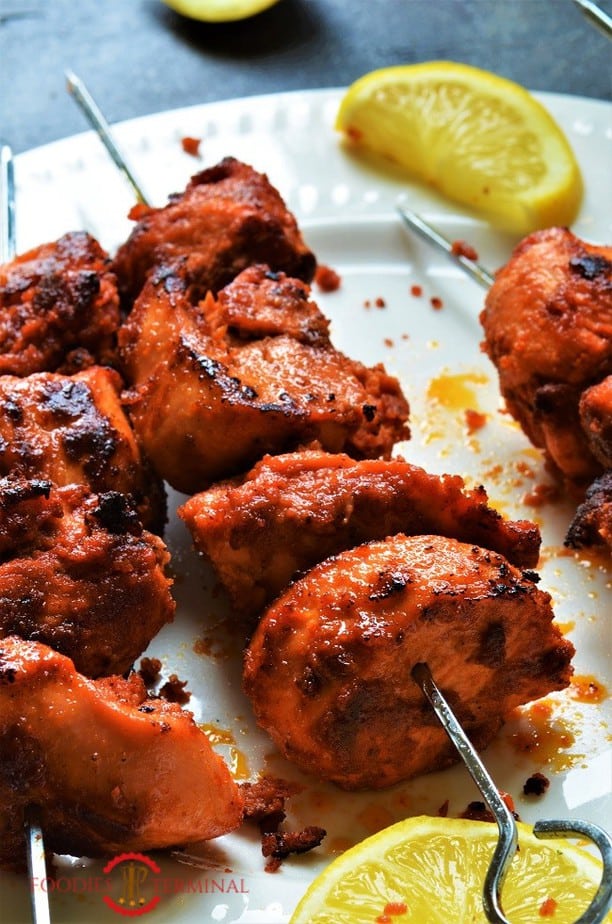 5 Tips to make the best Chicken Boti Kabab
Thick yogurt is a must: A thick yogurt will make the marinade the right consistency and it'll sit on the chicken meat even while skewering. If you do not have thick yogurt handy just hang the regular yogurt in a muslin cloth for 30 mins.
Use Mustard oil: This oil has all the potency to get today's chicken boti kabab taste just like the takeouts. I tried a side by side comparison & made a batch with melted butter. Believe me the boti kababs with mustard oil in it turned out much better. Moreover, the kababs with oil will remain soft when stored in the fridge.
Pan roast the Chicken Boti Kababs over medium heat: Medium heat provides the right temperate to cook the meat within 15 mins. The meat will remain tender & succulent.
Always keep the cooked Kababs covered loosely: This will keep them juicy for a long time.
Dhungar is the key for authentic restaurant tandoor flavors: Never skip infusing the kababs with charcoal smoke. The smoke will take the chicken boti kababs a notch up.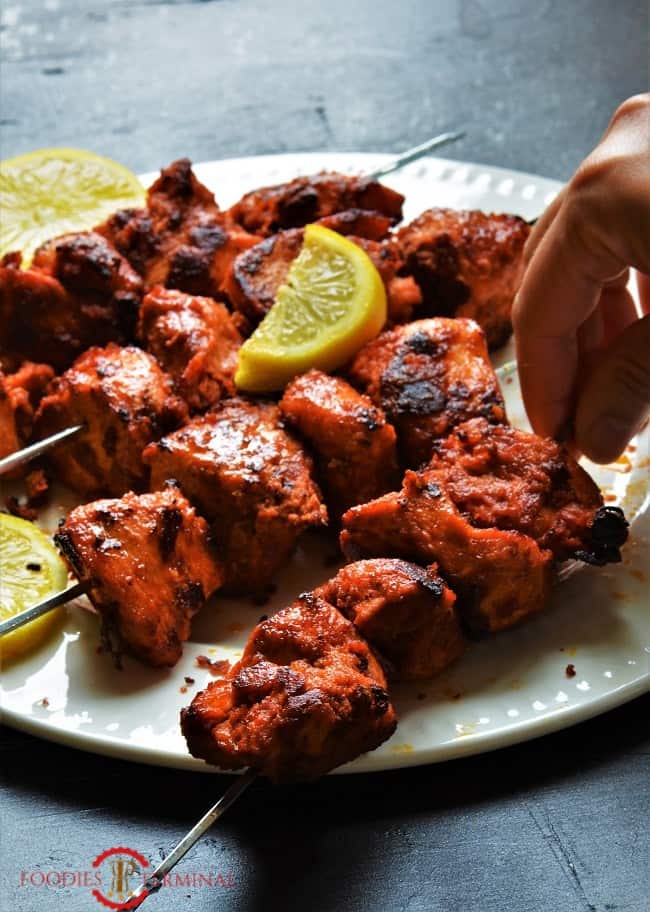 Can you Freeze Chicken Boti Kabab?
Yes, you can certainly freeze chicken boti kabab. They keep good for 1 month when stored right in freezer safe bags in the freezer.
They keep good in the fridge too for 7 days when stored in an air tight container.
Serving ideas
We love to eat chicken boti kababs directly from the skewers and it forms our favorite weekend appetizer with some chilled beer & Games of Thrones on the Netflix. Hmmm, did I tempt you? 😀 😛
But, we love to get creative in the kitchen and make a complete meal out of any Kabab recipe 😉
Just a simple pilaf on the side, a roasted whole Tomato on the side and we have a complete meal for the day.
Or may be a simple salad. Skewered meat and salads make such a hearty combo. Don't you think so? Share your thoughts with us in the comments below 🙂
How to make Chicken Boti Kabab?Step by Step
Steps in words below pictures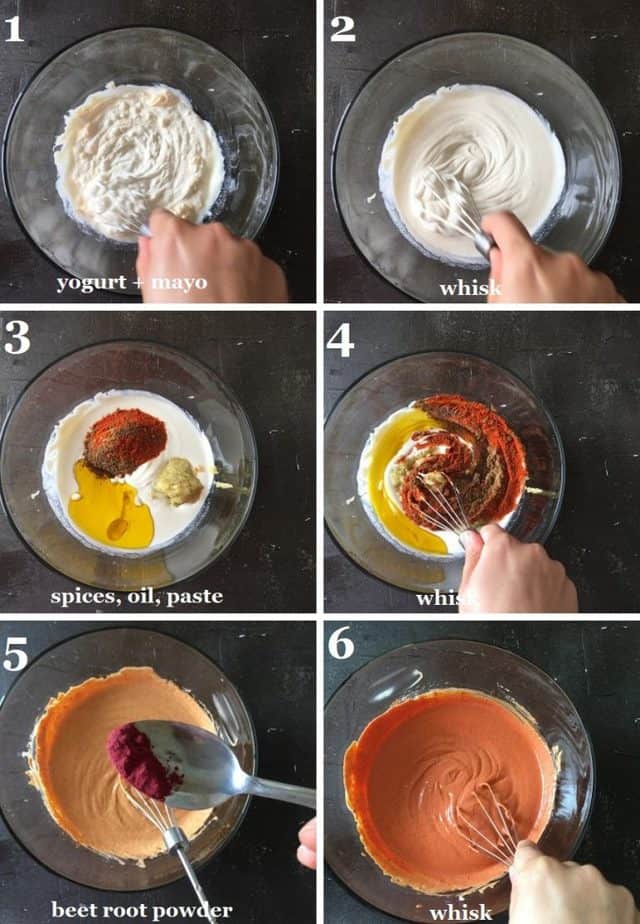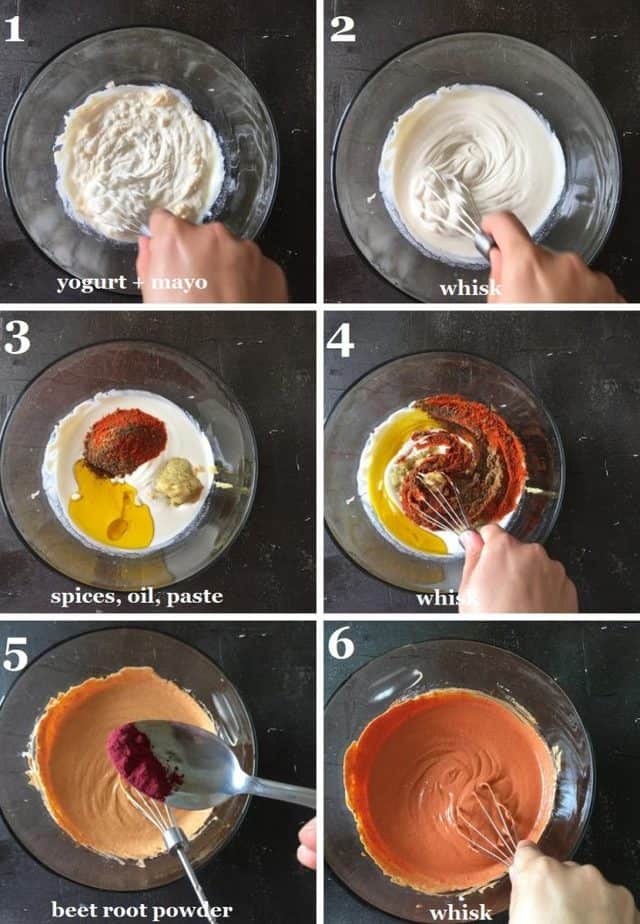 Prepare the Marinade
Begin by whisking mayo & the yogurt. Dump the spices, oil & the ginger garlic paste and whisk until a smooth batter forms.
Add that gorgeous beet root powder and whisk to incorporate it with the rest of the marinade.
Voila your chicken boti kabab marinade is ready.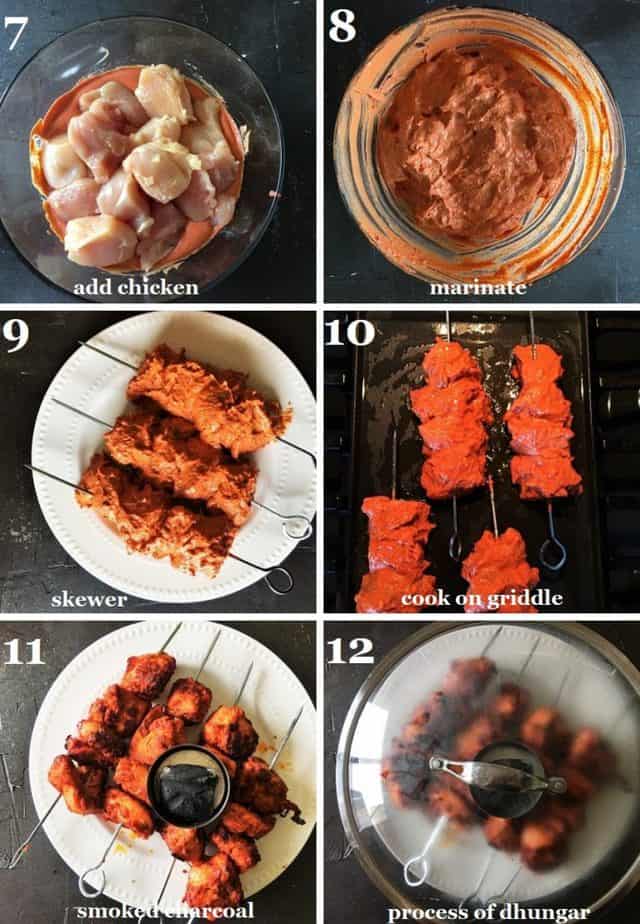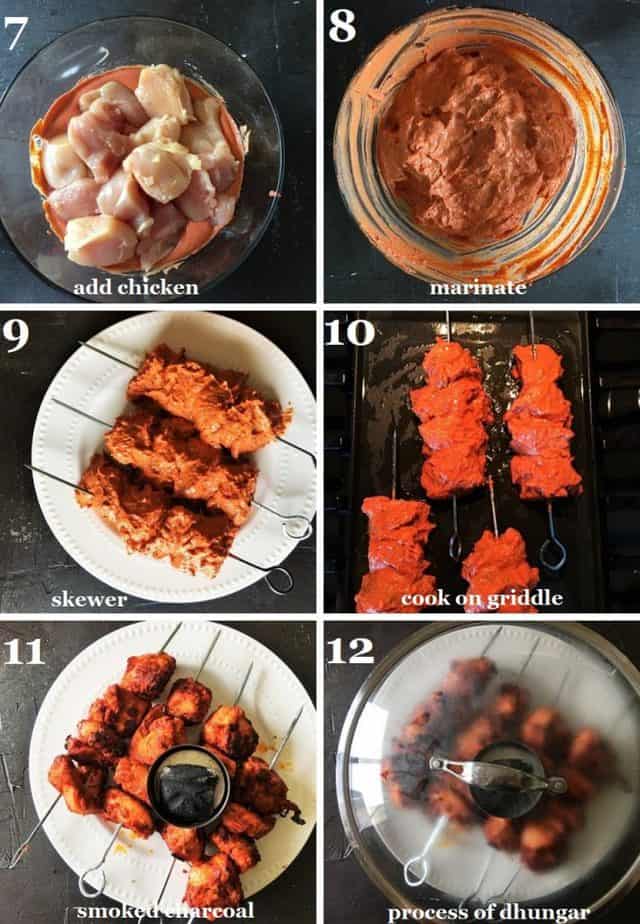 Skewer the Kabab, Cook & the process of Dhungar
Dump the chicken pieces into the marinade, mix well to coat all the chicken pieces uniformly.
Leave the marinated chicken pieces in the fridge for 2 hours for best results or at least 30 mins.
Skewer the marinated chicken pieces. I used metal skewers but if you choose bamboo skewers just soak them in water for 10 mins.
Brush oil over a griddle, tawa or skillet and heat it at medium heat.
Roast all the skewers over medium heat, rotating them from time to time. It should take you about 15 mins.
When they are done (after 15 mins) set the flame to it's highest setting and just roast for 1-2 mins more to give that charred look.
When done remove the chicken boti kababs to a clean dry plate.
How to do Dhungar?
Dhungar is the art of infusing charcoal smoke in the food. This give an authentic tandoor flavor to the food that's made without a tandoor.
Take a piece of charcoal & burn it over flame until red & smokey. Place a small steel pot in the middle of the plate amongst the chicken boti kababs.
Next, carefully place that burning charcoal on the small steel pot (pic 11). Pour 1 tsp ghee or clarified butter & immediately place a glass lid covering the plate containing the kababs. Leave it that way for 10 mins.
The smoke will infuse with the cooked chicken boti kabab & flavor them with an unbeatable tandoor taste.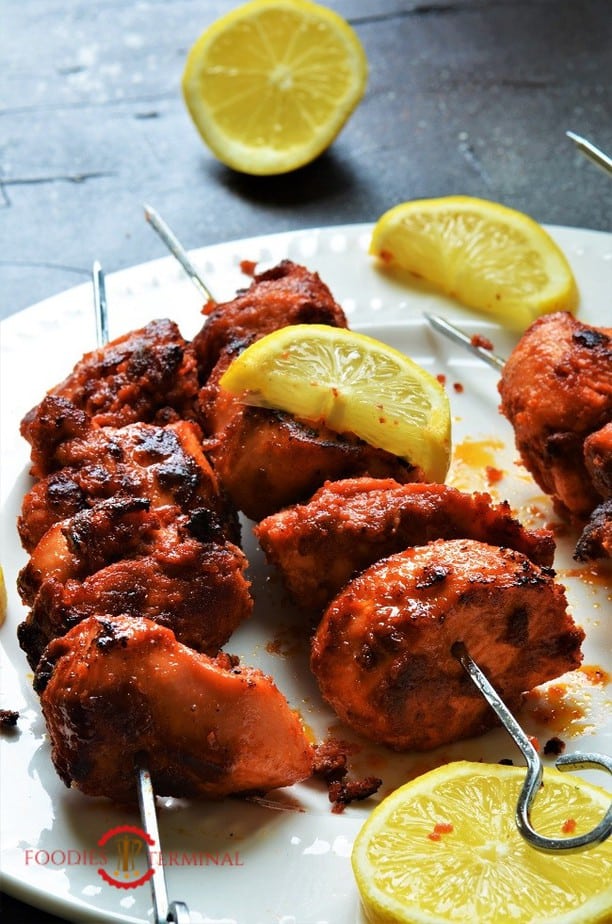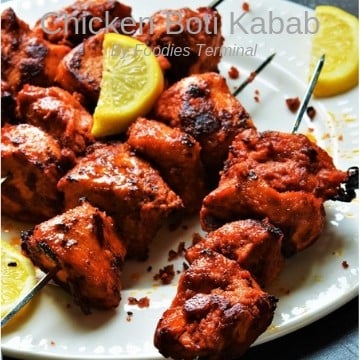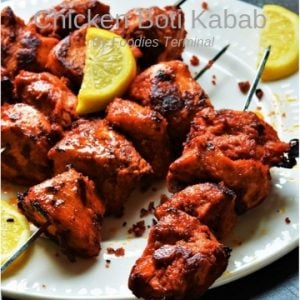 Chicken Boti Kabab
Print Recipe
Pin
Rate
Chicken Boti Kabab is a popular Indian Chicken kabab recipe that's extremely flavorful & made with tender juicy chicken boneless meat pieces marinated in a special yogurt based marinade and cooked until just done.
Ingredients
For the Dhunggar:
1

Charcoal

1

tsp

Ghee

(or clarified butter)
Want more Recipe Videos?
Check out our Youtube channel!
Instructions
In a clean dry bowl add the thick yogurt and the mayo and whisk well until fully combined & smooth.

Next, add the mustard oil, the spices, ginger garlic paste, salt, lemon juice to the bowl and whisk everything well until fully mixed & smooth.

Now, add the beet root powder. You may increase or decrease the amount as per your liking. Mix everything well..

Add the chicken pieces and mix well until all the chicken pieces are well coated with the marinade.

Cover the bowl with a cling film and allow the marinated chicken to rest for 30 mins to 2 hrs. in the fridge. You may also leave it overnight in the fridge.

Next, skewer the meat in the metal or bamboo skewers and set aside.

Heat a griddle or non stick skillet over medium heat. When the pan becomes moderately hot brush it with oil.

Next, place the skewers and cook over medium heat rotating sides from time to time. The meat will be fully cooked in 15 mins.

Now, turn the flame to the highest setting and cook all sides of the chicken boti kabab for that beautiful charred look. Set the chicken boti kababs aside on a plate.
How to do the Dhungar?
Take a small pot about 2-3″ inches and place it in the middle of the plate containing the Chicken boti kababs.

Next heat up a charcoal over high heat until burning red. Be careful and hold it with the help of a tong.

Once the charcoal becomes raging hot quickly place it in the small steel container that you placed in the middle of the kabab plate.

Immediately pour about 1 tsp ghee or clarified butter over the red hot charcoal and quickly cover the whole plate with a glass lid. There should not be any gaps between the lid and the plate. Otherwise, the smoke will escape.

Allow it to rest for 10-15 mins. The smoke from the charcoal will get infused in the chicken boti kabab making them so flavorful & giving them that authentic tandoor taste.
Notes
If using Bamboo skewers do not forget to soak them in water for at least 10-15 mins. This will prevent the bamboo skewers from getting burnt.
For that extra juicy & tender texture keep the cooked chicken boti kababs loosely covered with a parchment paper or aluminum foil.
Measuring cup used, 1 cup = 240 ml & 1 teaspoon = 5 ml.
Nutrition Facts
Chicken Boti Kabab
Amount Per Serving (2 people)
Calories 295
Calories from Fat 135
% Daily Value*
Fat 15g23%
Cholesterol 108mg36%
Sodium 489mg21%
Potassium 629mg18%
Carbohydrates 1g0%
Protein 36g72%
Vitamin A 50IU1%
Vitamin C 7.3mg9%
Calcium 14mg1%
Iron 1mg6%
* Read our privacy policy – Calorie information is provided as a courtesy only and should be leveraged as an estimate rather than a guarantee.Percent Daily Values are based on a 2000 calorie diet.
Nutrition
Serving:
2
people
|
Calories:
295
kcal
|
Carbohydrates:
1
g
|
Protein:
36
g
|
Fat:
15
g
|
Saturated Fat:
2
g
|
Cholesterol:
108
mg
|
Sodium:
489
mg
|
Potassium:
629
mg
|
Vitamin A:
50
IU
|
Vitamin C:
7.3
mg
|
Calcium:
14
mg
|
Iron:
1
mg
Pin It For Later!