This Easy Lamb Stew Recipe in Instant Pot is packed with juicy aromatic flavors, the goodness of veggies & a kick from the red wine. Every single piece of lamb morsel & the vegetables will melt in your mouth with unbeatable deliciousness. So do not hesitate to make this Lamb Stew in your Instant Pot today because this is the Best stew for sure & so easy to make! A single bowl of this Lamb stew cooked with baby potatoes will win your heart every single time!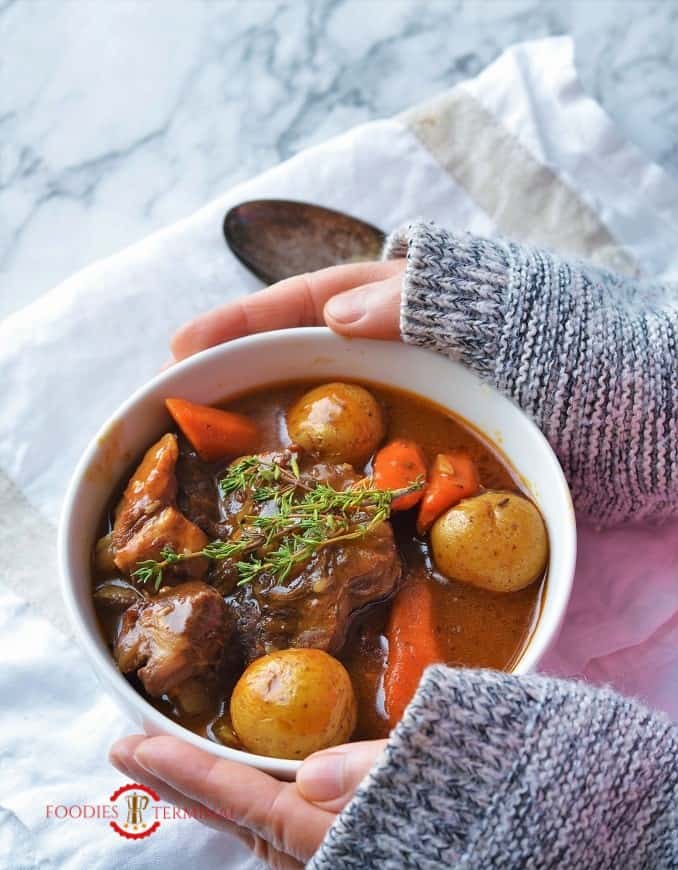 This chunky Lamb stew Recipe in Instant pot is a fantastic one-pot meal by itself.
And this Lamb stew is super healthy too.
It's packed to the brim with nutrition. Therefore, You certainly would not want to miss cooking this for your family.
This Lamb stew cooked with root vegetables involves no complicated steps, the only thing you need to do is sear the lamb pieces.
That's all!
The rest of the process involves dump everything in your Instant Pot or electronic pressure cooker & walk out from your kitchen confidently..Lol!
And once, you open the lid of your pressure cooker for the very first time you will be wrapped around with deliciousness.
That whiff that fills up the whole house will leave you salivating forever!
The tender slow cooked lamb morsels stewed away in the broth will make you forget the taste of the hours long traditional way of cooking Lamb stew on stove top.
Guys you must be knowing by now how much I love cooking in my Instant Pot. It's definitely convenient, efficient & easy cooking with this super cool gadget.
Watch my Video Recipe to Learn How to make the Easy Lamb Stew ever in your Instant Pot.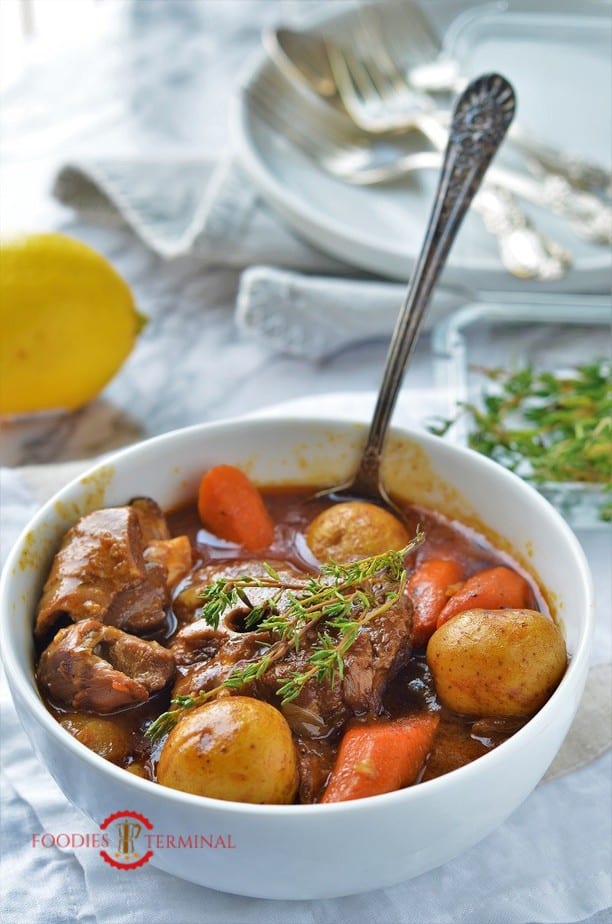 FAQs – Easy Lamb Stew Recipe in Instant Pot
What is Lamb Stew
Lamb Stew is a simple, healthy preparation where Lamb pieces are stewed away in broth with root vegetables like potato, carrots, turnips.
It's a nutritious one-pot meal that has the ability to satiate you for a long time.
Lamb Stew is a winter favorite in many houses but we love relishing it throughout the year, it's such a comforting bowl to indulge!
Watch the Recipe Video of Easy Lamb Stew Recipe in Instant Pot
What is the best cut of Lamb for Stew
We always prefer the shoulder cut to cook Lamb stew recipe in Instant Pot every single time.
Reason?
Because a shoulder part of the lamb does all the hard work, gets lots of exercise. Thus, the meat becomes full of intense flavors.
Though, you may use any part of a lamb for stews. But, given an option a shoulder cut wins.
I used bone-in shoulder lamb pieces for today's Instant Pot Lamb stew recipe but you may select bone less pieces too.
I have also cut the lamb meat into bigger chunks, but, you may always select the smaller classic stew pieces.
And You can buy your Lamb Stew meat from Whole foods, Costco or any local butcher shop.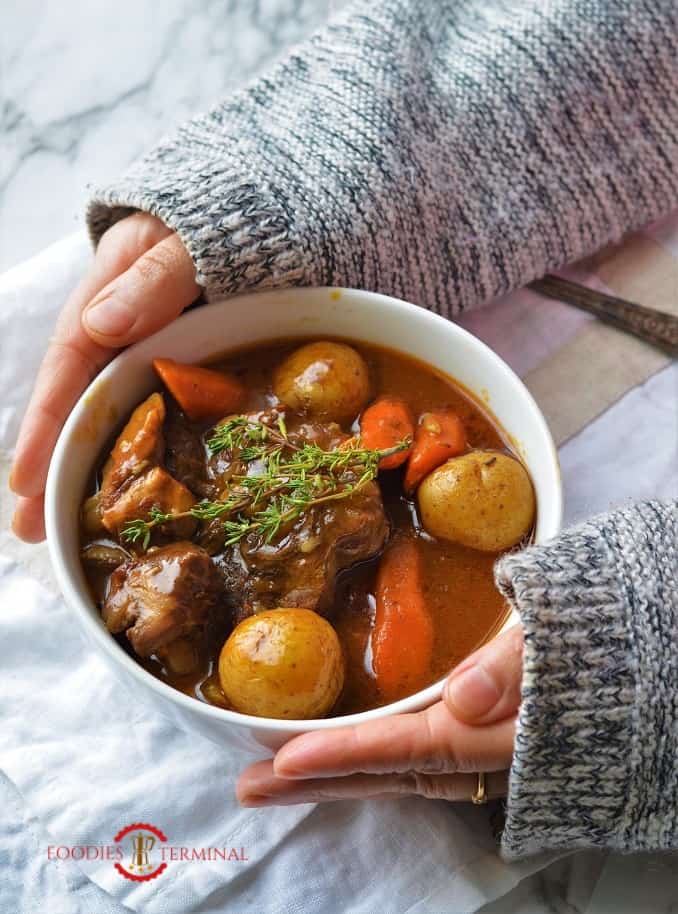 How long does it take to stew lamb
It takes 35 minutes to stew lamb in Instant Pot or electronic pressure cooker.
Whereas, if you choose the traditional route of cooking your Lamb stew in a dutch pot in the oven it will take you 1 hr & 35 mins to cook your Lamb Stew.
What goes with Lamb stew
Our Easy Lamb stew already contains root vegetables like carrots, baby potatoes & turnips.
So, we do not prefer more sauteed vegetables with our Easy lamb stew cooked in pressure cooker.
We prefer sauteed greens instead like spinach, collard or kale.
We also enjoy this quick lamb stew cooked with root vegetables the Moroccan way.
Yes, we relish it with Couscous! Definitely try this combo, it tastes fantastic.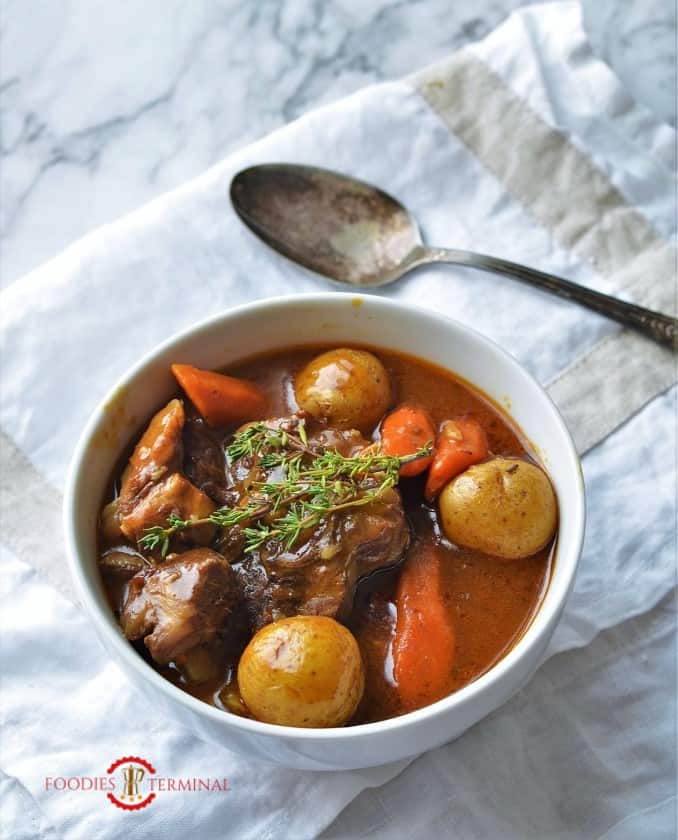 How to prepare Quick Lamb Stew Recipe in Instant Pot
You can cook a quick Lamb Stew in your Instant pot or electronic pressure cooker in a snap.
It's as easy as it sounds, because the active part of cooking is very less.
Rest is all done by the Instant Pot kept in the Meat Stew setting.
Begin by drizzling all-purpose flour, salt, black pepper powder & turmeric powder (totally optional, if you are uncomfortable using it just skip, the taste won't matter) on the lamb pieces.
Sear the meat in olive oil until nice & brown. Do not worry about the Instant pot bottom getting a brown layer. We will deglaze that later scrapping the bottom of the pot. That's where all the taste comes from.
Keep the seared meat aside. Saute onions & garlic just for 1 min.
Add red wine ( I used Bordeaux) & deglaze your Instant Pot or pressure cooker.
Add the seared lamb pieces. Dump the veggies & the add-ons.
Close the lid. Set it on MEAT STEW (35 mins automatic). You are all set.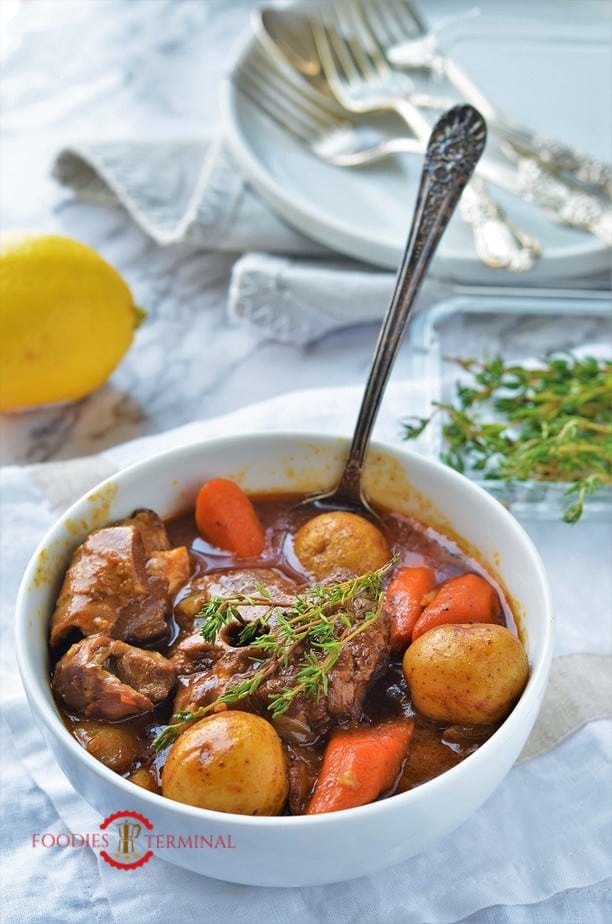 How long will Lamb Stew keep in the fridge
You can store Lamb stew in the fridge for 3-4 days in an air tight container.
When you take out your portion & reheat, it' a good trick to scrap the liquid part first reheat it & than add the meat & the veggies. This process will help to stabilize the stew.
You won't end up with fats floating up at the top & watery stew at the bottom.
I have never tried freezing it though but you can always try and see if it works.
I am skeptical because there are lots of veggies in the stew & how they would do if frozen, thawed, reheated! They might become mushy, a little off taste, but that might not alter or effect the taste remarkably…who knows?
If you try the freezing process do share your experience in the comments below 🙂
Can you use beef stock with lamb
I would not choose beef stock for this easy Lamb stew recipe in Instant Pot or pressure cooker because we are not looking for some deep & intense flavors in our Lamb stew recipe.
We want milder flavors from the stock & want the lamb meat flavors to shine through. And the best bet for this is Chicken stock.
Chicken stock pairs well and compliments the lamb meat perfectly without overshadowing the original flavors of the lamb meat.
Hence, I went with chicken stock for this quick Lamb Stew recipe.
Does Lamb get more tender the longer you cook it
Yes, lamb meat does get tender the longer you cook it & also very flavorful.
Love Instant Pot Try these easy & quick recipes from Foodies Terminal: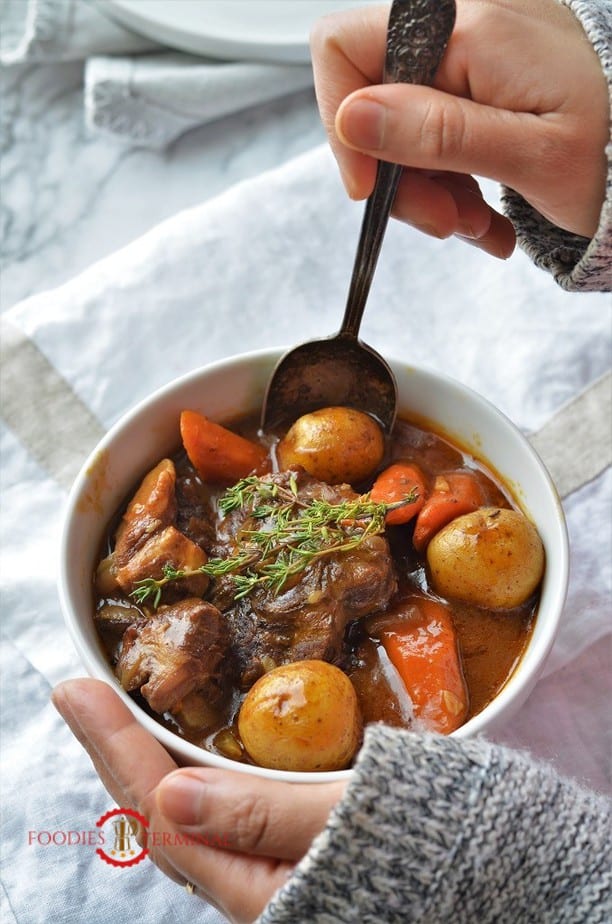 Pro tips from Foodies Terminal for Easy Lamb Stew Recipe in Instant Pot or Pressure Cooker
Stock Suggestions: Chicken stock.
Herbs that go well with Lamb meat : Rosemary & thyme. I used both for this Lamb Stew recipe.
Searing the Lamb pieces in olive oil is a MUST. This will help to lock the flavors. Sear the meat at SAUTE on HIGH in your Instant Pot. If the heat is too much to handle than switch back to NORMAL.
The high heat helps to brown & caramelize the meat which in turn increases the flavor an the color of the stew manifold. Therefore, this is certainly a necessary step that cannot be ditched!
The MEAT STEW setting in your Instant Pot does a fantastic job in slow cooking the lamb stew meat until tender. It also prevents the fat from getting emulsified & getting all mixed up in the stew making it greasy.
Perfect thickener for Lamb Stew: A simple slurry made up of all-purpose flour & water acts as a great thickener for Lamb stew. In case you want to thicken your lamb stew, stir 2 tsp all-purpose flour with a few tablespoons of water to make it into a slurry & add it at the end. Mix well & switch off the Instant pot.
Serving Suggestions: Sauteed greens like spinach, kale, collard or a simple Couscous Salad or a sourdough loaf. We at Foodies Terminal vote for Couscous & Sour Dough Loaf:) What's yours? Do let us know in the comments below.
Turmeric is totally optional. Stews in general do not contain turmeric, but I love adding it to give it a healthy boost. If you do not want it in your Lamb stew just SKIP. The taste won't matter.
Wine Suggestion: Pinot Noir, Bordeux. Do not skip adding the wine. It creates magic!
How to make Whole30 Lamb Stew in Instant Pot: Follow the same recipe but skip adding the red wine.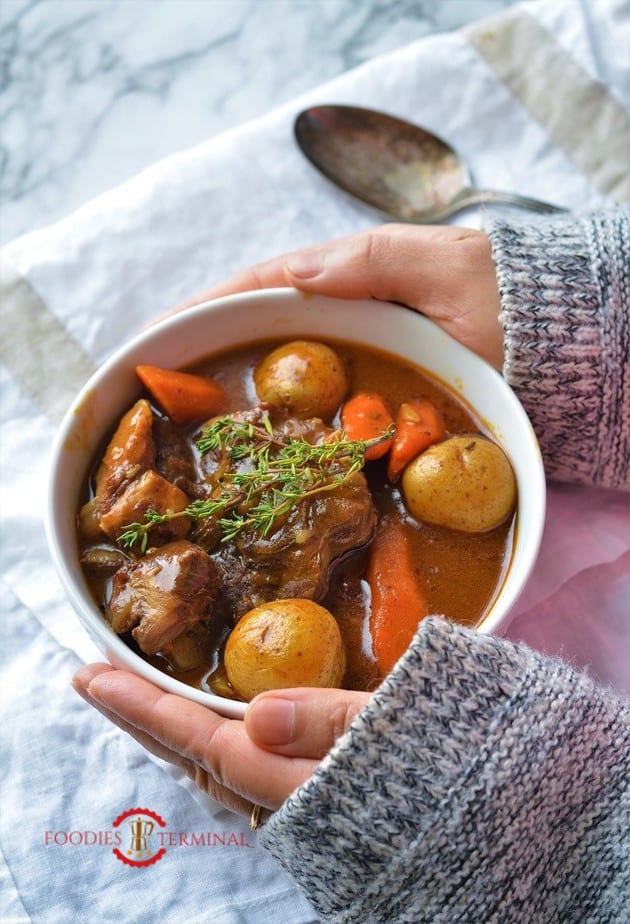 Other Cooking methods of Lamb Stew Recipe:
Stove Top: Follow the same recipe. Cook it in your Dutch Pot instead of an Instant Pot. Sear the meat over high heat. Saute the onion & garlic over medium heat. Add the red wine & deglaze over medium heat. Finally cover & simmer over low heat for 45-50 mins.
Oven Option: Follow the same recipe. Sear the meat well in a dutch pot over high heat. Saute the onion & garlic over medium heat. Deglaze with red wine over medium heat. Dump everything in the Dutch pot. Cover the lid & cook the stew in your oven at 325 F for 1 hour & 35 mins.
Slow Cooker or Crock Pot Option: If you want you may sear the lamb meat separately in a skillet over the stove top. Then, dump everything in your slow cooker in this order : Sear or if un-seared meat then coat it with flour, salt & pepper, 2 tbsp olive oil, onion, garlic, veggies, wine, broth, salt, thyme, bay leaves & pepper corns. Cover the lid of the slow cooker & set it on high for 6 hours or at LOW for 8 hours.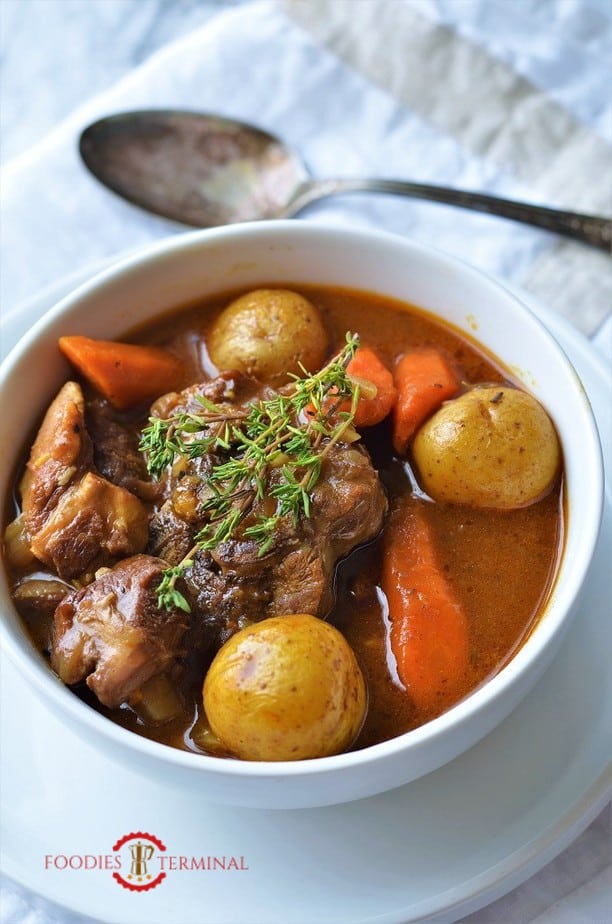 DID YOU TRY THIS RECIPE? Do Not forget to give a STAR (*) rating! Just click on the STARS on the recipe card below to rate.
Recipe Card of Easy Lamb Stew Recipe Instant Pot (Video)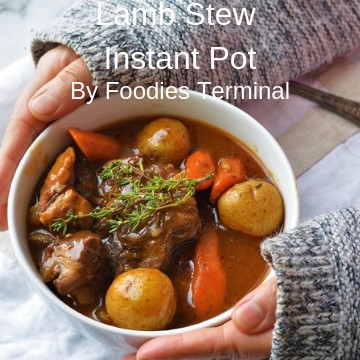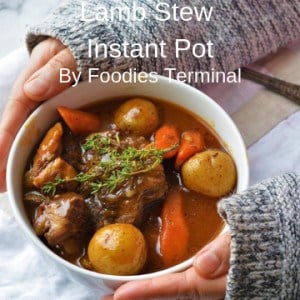 Easy Lamb Stew Recipe in Instant Pot (Video)
Print Recipe
Pin
Rate
Easy French Lamb Stew Recipe In Instant Pot is cooked with root vegetables & lamb meat stewed together in stock. This lamb stew is so easy to make in an Instant Pot & results in extreme delicious flavors with tender melt-in-the-mouth morsels of lamb.
Ingredients
1.1

pounds

shoulder cut lamb meat cut into 2 chunks.

(or made into small stew pieces.)

¼

cup

Extra Virgin Olive Oil

1

Large onion

(diced into small squares.)

5

pods

garlic

(minced)

½

tbsp

crushed pepper

¼

tsp

Turmeric Powder

(OPTIONAL)

½

tsp

dried rosemary

½

cup

red wine

(I used Bordeaux)

1

litre

chicken stock

(low sodium)

2

Bay leaf

1

tsp

Black Peppercorns

Fresh thyme

(5-6 branches)

1

cup

baby potatoes

(buy the smallest size)

1.5

cups

carrots

(whole, made into 2 pieces or just halved)

½

cup

celery

(made into 2-2.5″ sticks)

½

cup

turnips

(diced into big chunks)

1

tsp

All-Purpose Flour

(More for thickening the stew)
Want more Recipe Videos?
Check out our Youtube channel!
Instructions
Flash Marinate the or rather coat the lamb pieces very well with crushed pepper, flour, salt & turmeric (optional).

Switch on the Instant Pot & press the SAUTE button. Set it to HIGH.

Add olive oil. when the oil becomes hot add the coated lamb meat & sear very well on HIGH mode until nice & lightly brown. Don't worry about the bottom of the Instant pot getting brown, we'll sear it with red wine later & scrap the bottom well. If the "HIGH" settings becomes too much for you to handle then do switch back to the "NORMAL" mode. The searing process should take 6-7 mins.

Now, in the same pot add the chopped onion. Saute for a couple of seconds & add the minced garlic. Saute for a couple of seconds.

Next, add the red wine & de glaze the pot very well scrapping the bottom of the pan until that brown layer comes off.

Now add the seared lamb meat to the pot.

Add the veggies, chicken stock, bay leaves, pepper corns, salt to taste, fresh thyme.

Close the lid of the Instant Pot & seal the Vent. Press the MEAT STEW button. It'll automatically set for 35 mins. You are all done.

After 35 mins when the IP starts to Beep. Do a quick pressure release & open the lid slowly.

If you want to add a thickener then add now. Stir 2 tsp all-purpose flour in few tablespoons water until a slurry forms. Add it to the stew, stir well until fulli incorporated. Serve hot. Enjoy!
Notes
You may use bigger pieces or stew pieces. Both work extremely well.
If you want to transform the recipe to whole 30 skip the red wine.
Do not skip the searing part. It adds the extra flavors & colors to the Lamb stew.
This Easy lamb stew recipe in instant Pot stores well in the fridge for 3-4 days in air tight containers.
All-purpose flour is the best thickener for your stew recipes. Make a slurry with flour + water. Add once the stew is cooked.
Turnip goes very well in this easy lamb stew recipe. And I must say that it beats the poatatoes taste wise.
Measuring cup used, 1 cup = 240 ml & 1 teaspoon = 5 ml.
IP USED : 6 QUART
PLEASE NOTE: Nutrition values are my best estimates. If you rely on them for your diet or special diet, use your preferred nutrition calculator!
Nutrition Facts
Easy Lamb Stew Recipe in Instant Pot (Video)
Amount Per Serving
Calories 261
Calories from Fat 162
% Daily Value*
Fat 18g28%
Cholesterol 49mg16%
Sodium 621mg27%
Potassium 496mg14%
Carbohydrates 12g4%
Protein 14g28%
Vitamin A 2400IU48%
Vitamin C 9.1mg11%
Calcium 40mg4%
Iron 2.2mg12%
* Read our privacy policy – Calorie information is provided as a courtesy only and should be leveraged as an estimate rather than a guarantee.Percent Daily Values are based on a 2000 calorie diet.
Nutrition
Calories:
261
kcal
|
Carbohydrates:
12
g
|
Protein:
14
g
|
Fat:
18
g
|
Saturated Fat:
5.5
g
|
Trans Fat:
0.2
g
|
Cholesterol:
49
mg
|
Sodium:
621
mg
|
Potassium:
496
mg
|
Fiber:
1.8
g
|
Sugar:
2.4
g
|
Vitamin A:
2400
IU
|
Vitamin C:
9.1
mg
|
Calcium:
40
mg
|
Iron:
2.2
mg
Pin this Easy Lamb Stew Recipe Instant Pot for Later!