Best Tzatziki Sauce Recipe is the most amazing Greek yogurt dip that you'll ever make. This authentic Greek tzatziki sauce is super easy to make, you just need 10 mins, 5 ingredients & it tastes out of the world.
You will have the right amount of texture from the fresh dill & grated cucumber & the exact creaminess from the yogurt! And that alone gives you enough reasons to mop it all up with Gyros & Kebabs. Or even dress your salads & sandwiches.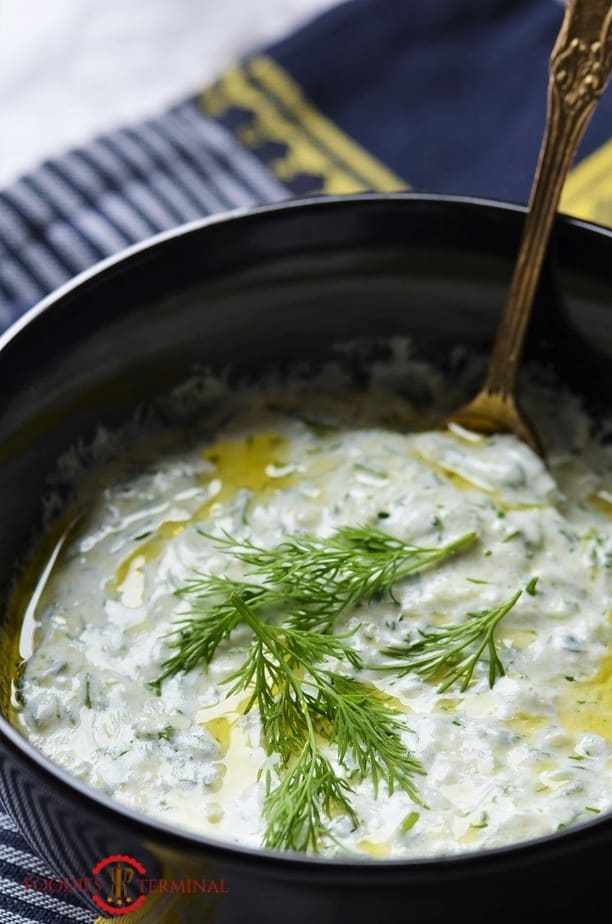 Greek Tzatziki Sauce
You are in for a treat here folks 😉
Because this Best Tzatziki Sauce recipe is not just any Tzatziki dip that you'll be making.
It's an authentic tzatziki recipe that comes all the way from Athens, Greece.
Yes, we brought this Greek tzatziki recipe along with us when we returned back from our fascinating long trip to Greece.
We were lucky enough to spend a fortnight in Greece, ate locally, soaked in it's rich history, filled ourselves with the world's best authentic Greek chicken gyros, Greek salads, Mediterranean food & fresh grilled fish caught from the Mediterranean sea right in-front of us.
Ok, so lots of Greek love 😛 coming back to the recipe…..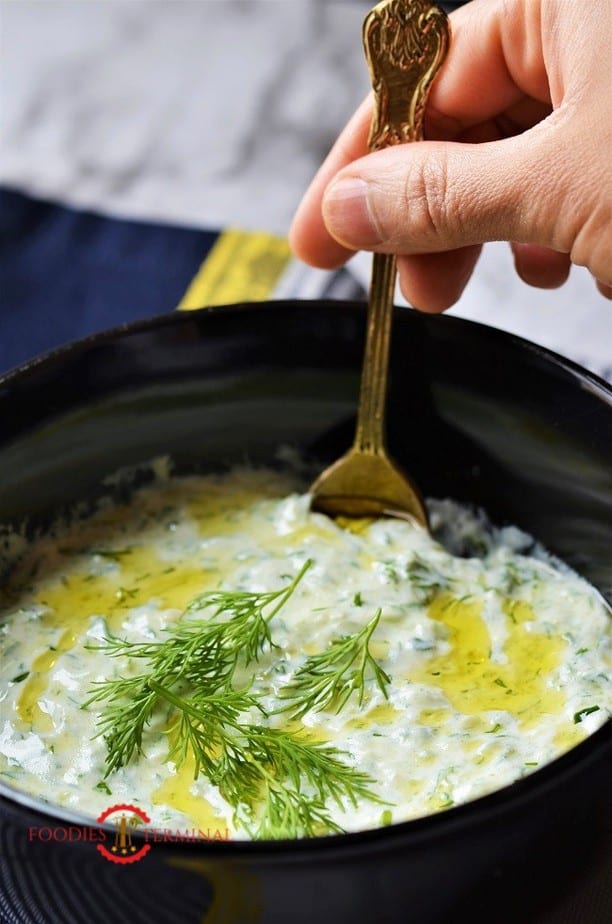 Why make Tzatziki Sauce?
It's in Athens, where we tasted this remarkable, super refreshing Tzatziki for the very first time. And we instantly fell in love with it.
You too will love this super easy, super quick authentic greek tzatziki sauce, because it's…..
Under 10 mins recipe!
So refreshing.
Super easy.
Only 5 ingredients!
Super Quick.
A delicious creamy yogurt dip.
A perfect accompaniment for salads, gyros, sandwiches & Kebabs.
Pronunciation Help – This is how you should pronounce Tshat-Zee-Kee. Hear it here.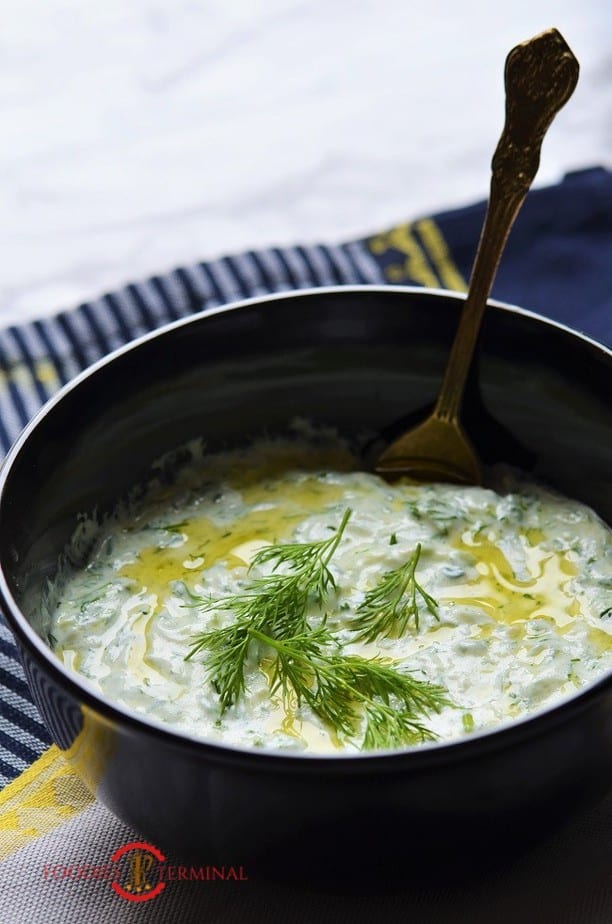 Best Tzatziki Sauce Recipe (Greek) – FAQs
What is Tzatziki Sauce?
A Tzatziki sauce is a creamy Greek yogurt dip dressed with grated cucumber, dills, minced garlic, extra virgin olive oil & a drizzle of lemon juice.
What is Tzatziki made of?
The best Tzatziki sauce recipe is made of only 5 basic ingredients. And here they are –
Yogurt
Cucumber
Dill
Garlic
Extra Virgin Olive Oil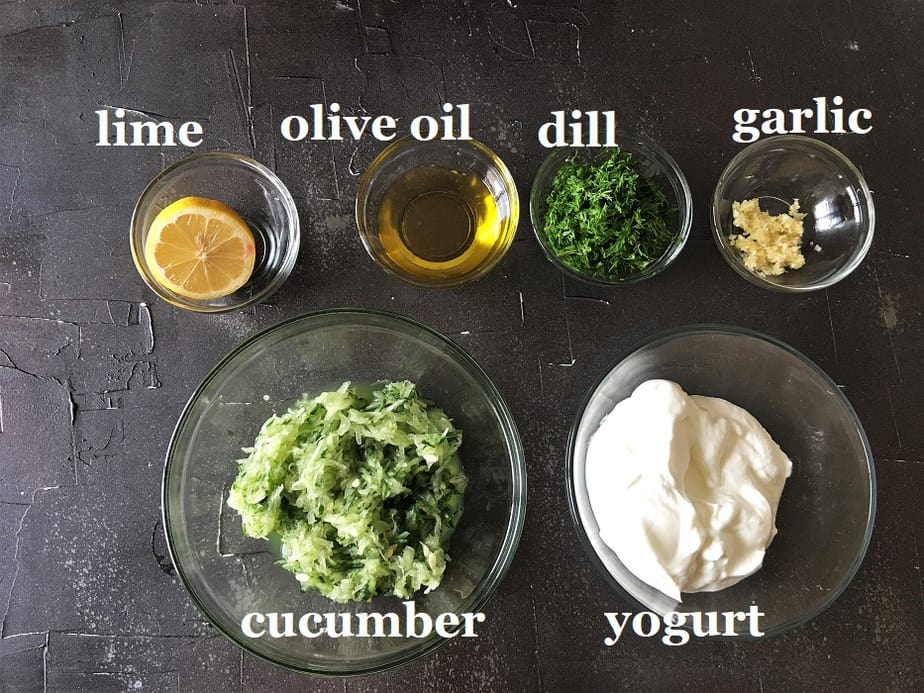 What is Tzatziki used for?
You can use Tzatziki as a yogurt dip, include it while serving appetizers to your guests.
Dress up your summer salads, sandwiches, Pita pockets, authentic greek chicken gyros, dip in your Mediterranean Kebabs and also sneak in some inside your fantastic creative wraps.
It tastes terrific with roasted veggies like Zucchini, carrots, beet, sweet potato. And don't forget to serve Falafel with this Greek sauce.
It even tastes awesome with – Instant Pot Tandoori Chicken, Chicken Tikka in Oven.
A greek yogurt tzatziki sauce is super versatile, you just need to be little creative to include it more in your meals. And you probably will because it tastes just so awesome 🙂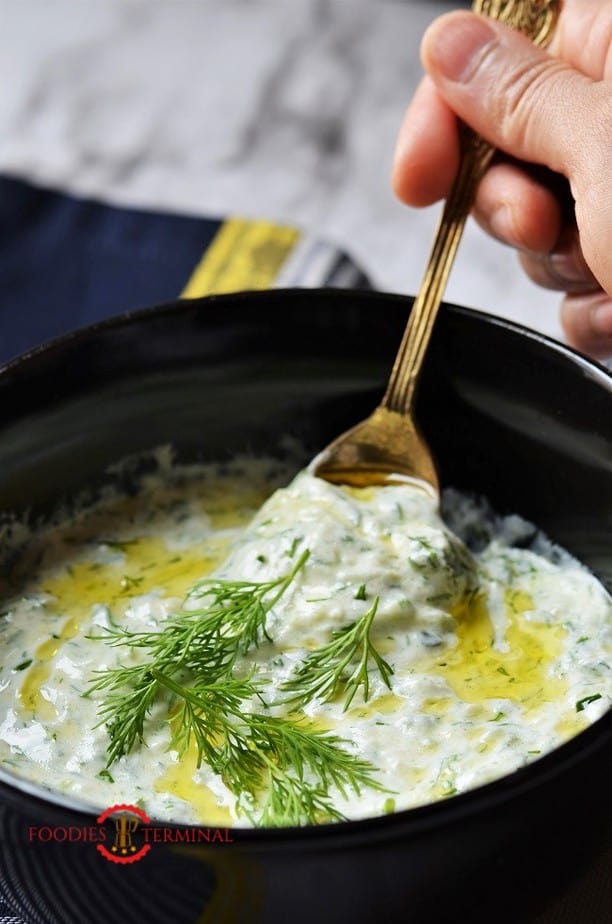 How long can tzatziki last un-refrigerated?
Tzatziki will last for 24 hours when kept at around 68 F uncovered & un-refrigerated.
The dill will turn a bit limp, that's the only difference I noticed.
If you squeeze out the grated cucumber really well, which I am assuming you certainly will 😉 the un-refrigerated sauce won't turn watery at all.
Can you freeze Tzatziki Sauce?
Yes, you definitely can freeze home-made best tzatziki sauce recipe by following a few simple steps.
I won't promise you with outstanding & extremely fresh results but, it will survive the freezer test for 2 months when you do the following:
Place the left over tzatziki in a freezer safe plastic air tight container.
Wrap it all up with cling film & put it in a freeze safe bag. If possible suck out all the air. This method will keep the yogurt very fresh.
Label the package & store it in your freezer.
Sometimes, when you thaw frozen tzatziki the cucumbers in the sauce might loose some of the crunch factor & the sauce might have some amount of the liquid floating on the top.
After thawing stir the sauce gently to mix in that extra water or you may even drain it.
We love drizzling it with a few drops of extra virgin olive oil & garnish it with few more fresh chopped dill. It brings back so much life to the freezer sauce.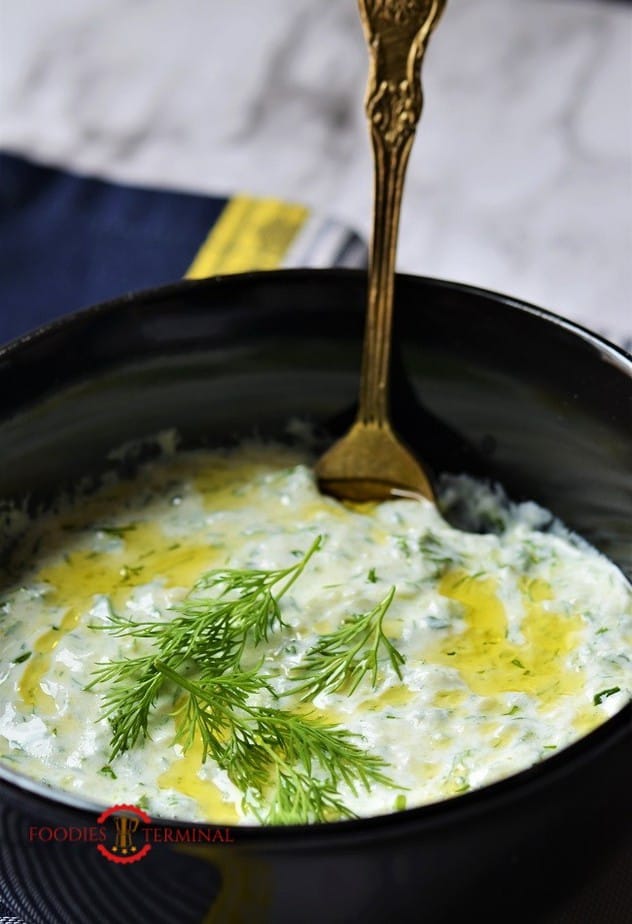 Tzatziki Sauce Nutrition Notes
Scoop it out & eat it as much as you want to because a tzatziki is healthy.
After all it's yogurt, cucumber & fresh herbs that you will be eating. And it's 77 calories for every 1/4 cup of serving.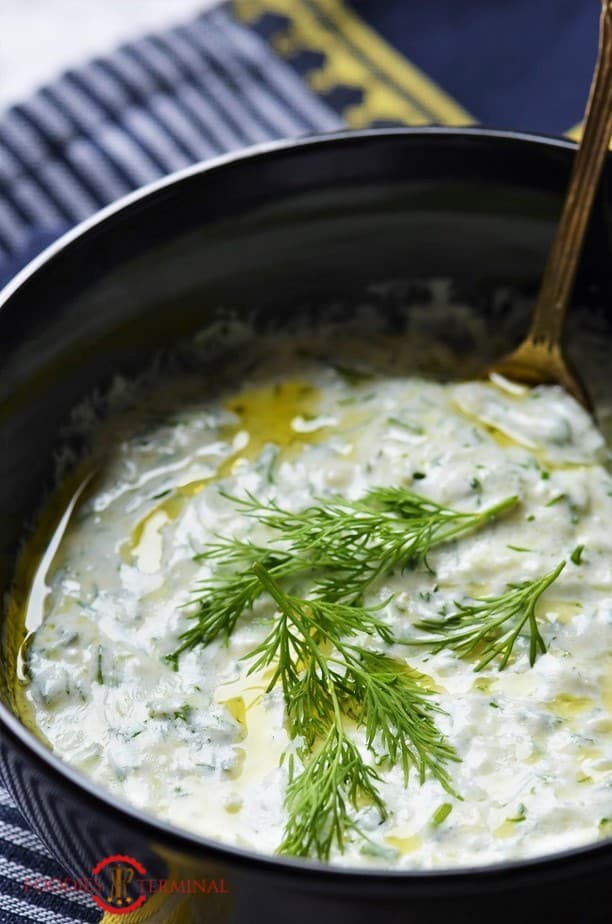 5 tips to make Easy Tzatziki Recipe
The best flavors to make an easy tzatziki recipe lies in it's ingredients & how you incorporate them in the sauce. This is what I learned with several trials & errors.
Greek Yogurt always: For the best tasting authentic greek tzatziki recipe you must use Greek yogurt. It's thick & super creamy. And that's what we want our tzatziki sauce to be.
Grated & drained Cucumbers ( A MUST) – Grate the cucumber & squeeze out the water with the help of a clean kitchen towel. This extra step will make your Tzatziki sauce taste the best & will make it long lasting too. Chopped cucumbers will make the sauce runny, do not use them ever.

Herbs – Dill or No Dill? Chopped dills are a must. Though you may also use chopped mint or parsley too. But, tzatziki tastes best with fresh chopped Dill, always.
The power of garlic – A tzatziki is incomplete without garlic. Super minced garlic adds so much more flavor & kick to the sauce. And we want it by all means. So, if you hate mincing your garlic, here's a quick tip for you. Pulse the chopped garlic with olive oil in the food processor & than add it to the tzatziki.
Extra Virgin Olive Oil: A tzatziki is always dressed with extra virgin olive oil. Add it according to your preference. We hate measuring & adding olive oil though 😀 😛
Pro Tip: Want to use regular yogurt? Yes, you may. Just hang it for at least 20 mins to drain out the excess water. This will make it thick & creamy & a perfect sub for store-bought greek yogurt! Use whole milk full fat yogurt in this case for that extra richness & creaminess.
How to make Tzatziki Sauce Recipe – Step by Step
Steps in words below the pictures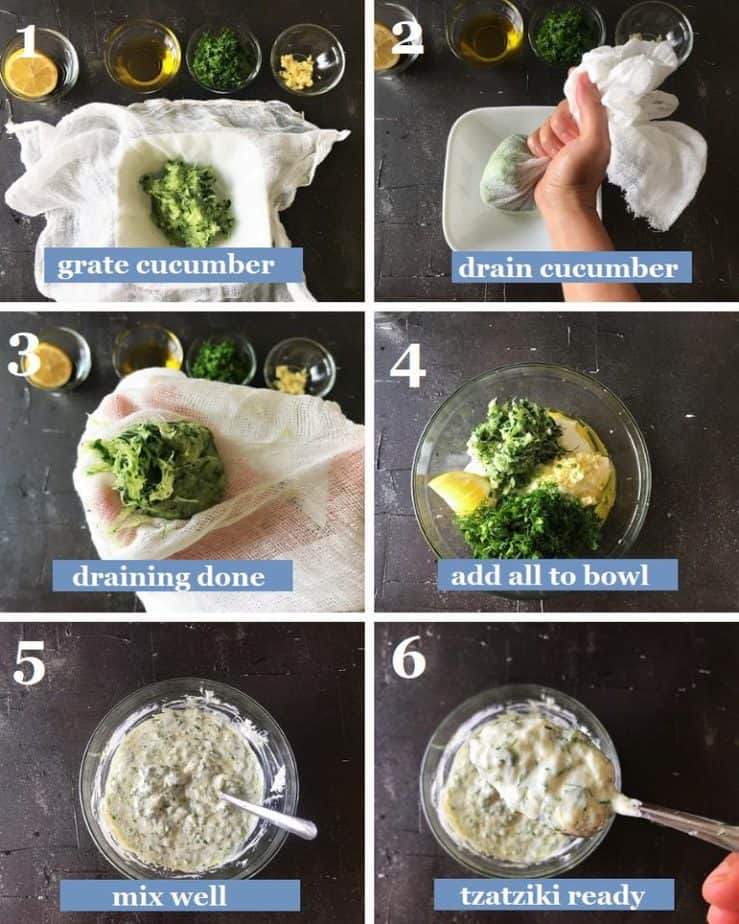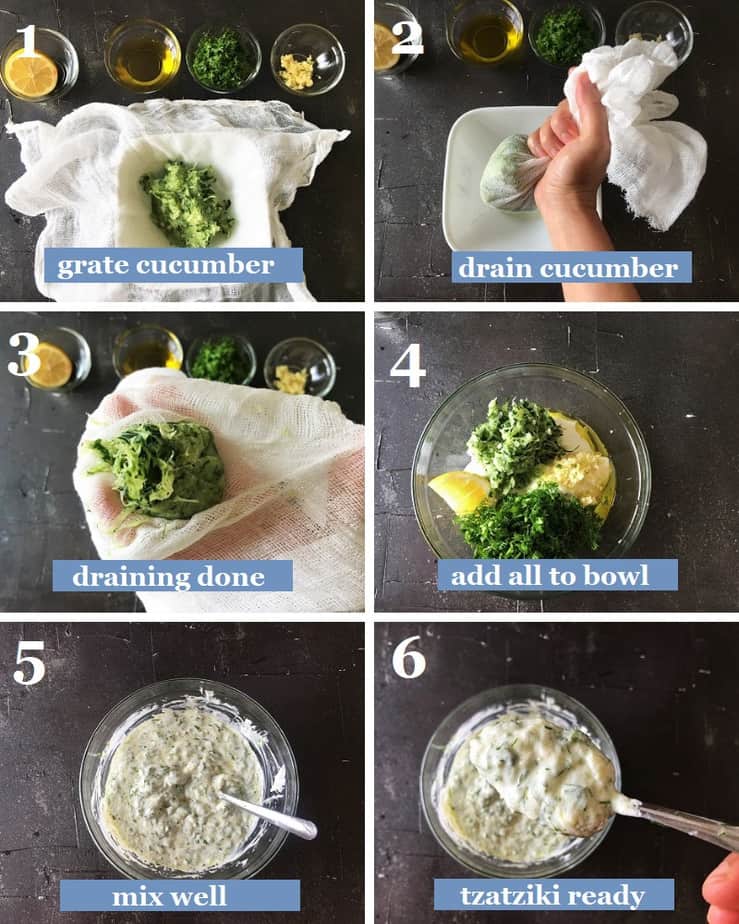 Grate cucumber & drain it really well with the help of a clean muslin cloth.
Add the minced garlic, finely chopped dill leaves, grated & squeezed cucumber, a few drops of lemon juice or white vinegar (optional), salt to taste, extra virgin olive oil. Mix well. Serve.
Try the Authentic Greek Tzatziki Sauce with these:-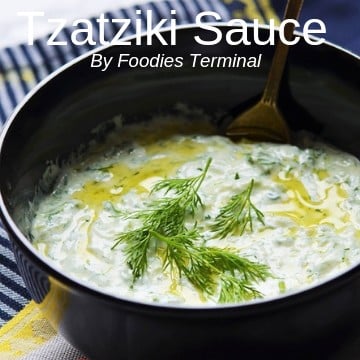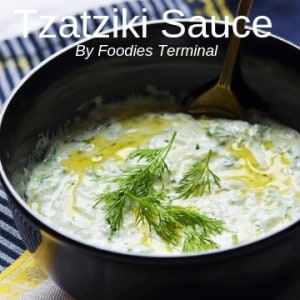 Best Tzatziki Sauce Recipe
Print Recipe
Pin
Rate
Best Tzatziki Sauce Recipe is made with only 5 very basic ingredients & takes only 10 mins to make. This Greek yogurt sauce made with grated cucumber & dill is amazingly refreshing & a perfect accompaniment for any kebabs, gyros, pitas, Falafels, salads & sandwiches. 
Want more Recipe Videos?
Check out our Youtube channel!
Instructions
Grate the cucumber & drain the water from the grated cucumber by squeezing it with the help of a muslin cloth. Set aside.

In a clean bowl add the Greek yogurt, grated & squeezed cucumber, minced garlic, olive oil, chopped dill, lemon juice & Salt. Mix well with the help of a spoon. Tzatziki sauce is ready.
Notes
Grate & squeeze the cucumber very well.
Use Greek yogurt. It's naturally thick & creamy.
Use fresh chopped Dill.
Taztziki tastes best when made fresh & served.
Freezer & Fridge storing instructions mentioned in the post.
Nutrition Facts
Best Tzatziki Sauce Recipe
Amount Per Serving
Calories 77
Calories from Fat 49
% Daily Value*
Fat 5.4g8%
Cholesterol 4.6mg2%
Sodium 154.2mg7%
Potassium 5mg0%
Carbohydrates 4.5g2%
Protein 3.8g8%
Vitamin C 4.1mg5%
Calcium 50mg5%
Iron 0.2mg1%
* Read our privacy policy – Calorie information is provided as a courtesy only and should be leveraged as an estimate rather than a guarantee.Percent Daily Values are based on a 2000 calorie diet.
Nutrition
Calories:
77
kcal
|
Carbohydrates:
4.5
g
|
Protein:
3.8
g
|
Fat:
5.4
g
|
Saturated Fat:
1.4
g
|
Polyunsaturated Fat:
0.6
g
|
Monounsaturated Fat:
3.3
g
|
Cholesterol:
4.6
mg
|
Sodium:
154.2
mg
|
Potassium:
5
mg
|
Fiber:
0.4
g
|
Sugar:
2.7
g
|
Vitamin C:
4.1
mg
|
Calcium:
50
mg
|
Iron:
0.2
mg
Pin it for Later!