You'll love this Nando's Peri Peri Chicken Recipe cooked with my homemade South African Peri Peri Sauce Recipe. This Copycat Nando's Peri Peri Chicken will save you some serious money because once you taste it you'll quit visiting Nando's. It's easy, quick, economical, make the sauce & stock and you are almost 90% done with the recipe. Don't miss the Video below & the recipe steps.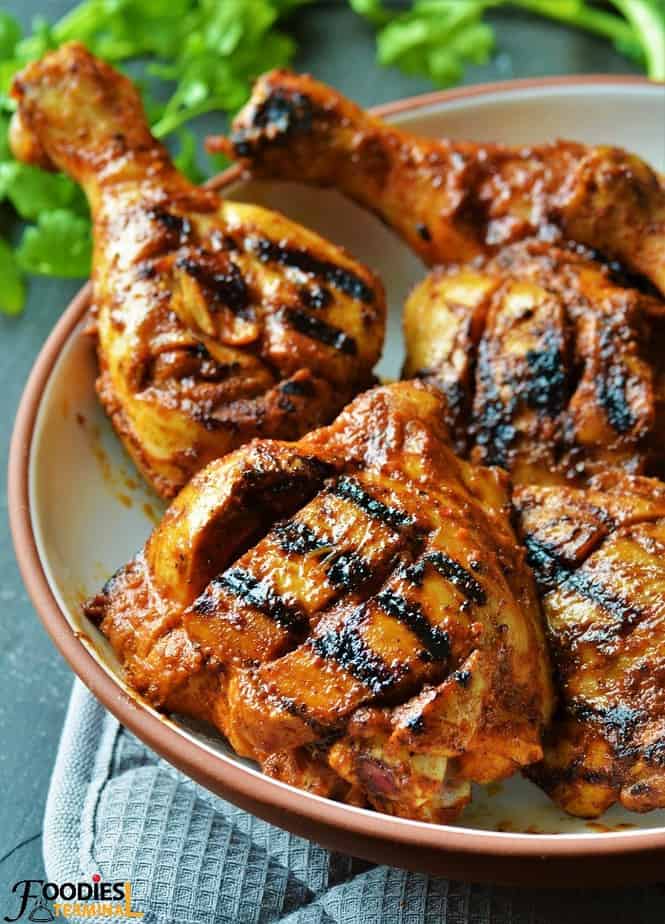 How to make Nando's Peri Peri Chicken Recipe?
Peri Peri Chicken Recipe
Ditch Nando's and make their best selling Peri Peri Chicken at home today.
We love eating out a lot but the bill sometimes makes me feel very guilty 😛
You know that moment when you make self promises to cook more at home & eat out less 😀 But, knowing the correct fail proof & delicious recipe is a task by itself.
To make things easier I came up with today's super easy Peri Peri Chicken recipe after several failures and trials & errors.
It took me awhile to reach the perfect taste. After all I was trying to mimic the taste of Nando's chicken & not just any chicken 😀
But the efforts are so worth it because the outcome is outstanding. Once you make it you'll know exactly what I mean.
You may call this Portuguese Peri Peri Chicken or Mozambique Peri Peri Chicken.
Whatever you may call it this is the best Copycat Nando's Peri Peri Chicken recipe ever!
Do make it with my South African Peri Peri Sauce for the best experience.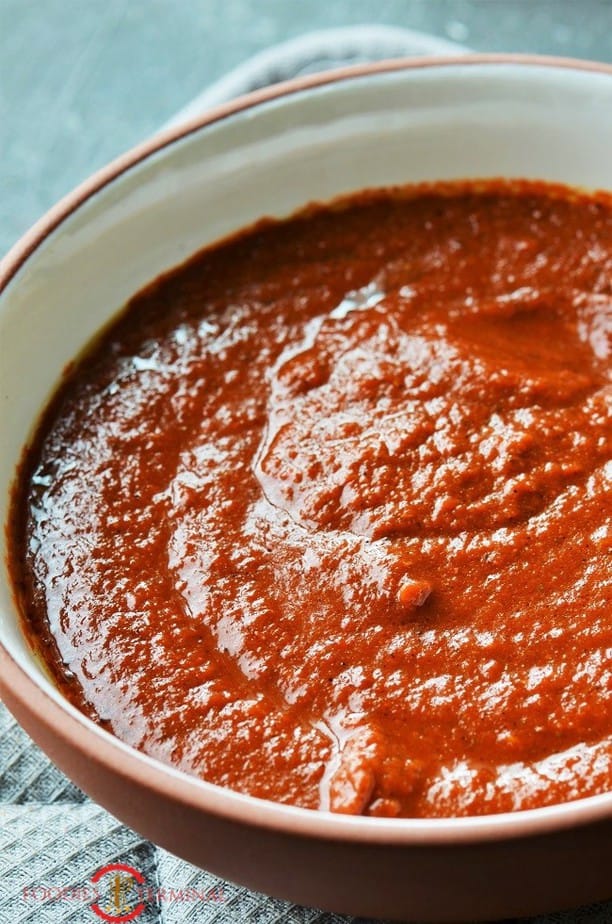 Oh! It's D-E-L-I-C-I-O-U-S and NO you don't have to hunt down those fiery red African Birds Eye Chilies in town.
My Piri Piri sauce is super easy and it's made without African Birds eye chilies without compromising the taste. I know how difficult it is to hunt down those special chilies.
You just can't imagine how easy this Nando's style Peri Peri chicken recipe is.
You have to pan sear or pan roast the peri peri sauce slathered chicken pieces on a skillet grill until the meat is well cooked.
That's all you need to do.
Yes, it's that easy. I know, we love easy recipes too 😀
Choose either skinless chicken on the bones or skin on chicken on the bones. The choice is absolutely yours.
We love both varieties but I personally love the skinless chicken a little more, and todays recipe features the same.
For today's healthy Peri Peri chicken recipe you will need the Peri Peri sauce, that's the only ingredient that'll make this recipe happen.
So, grab the recipe from this blog, do check out the Peri Peri Sauce Video too and don't miss the tips. They are super handy.
Summary: Peri Peri Chicken can be cooked with both skinless or skin on Chicken Pieces. You can use a mix of chicken pieces to cook it like a combo of drumsticks & thighs will work great. You can also cook Peri Peri Chicken with Chicken Breasts. We tried them all & they equally taste good. For low carb options remove the skin.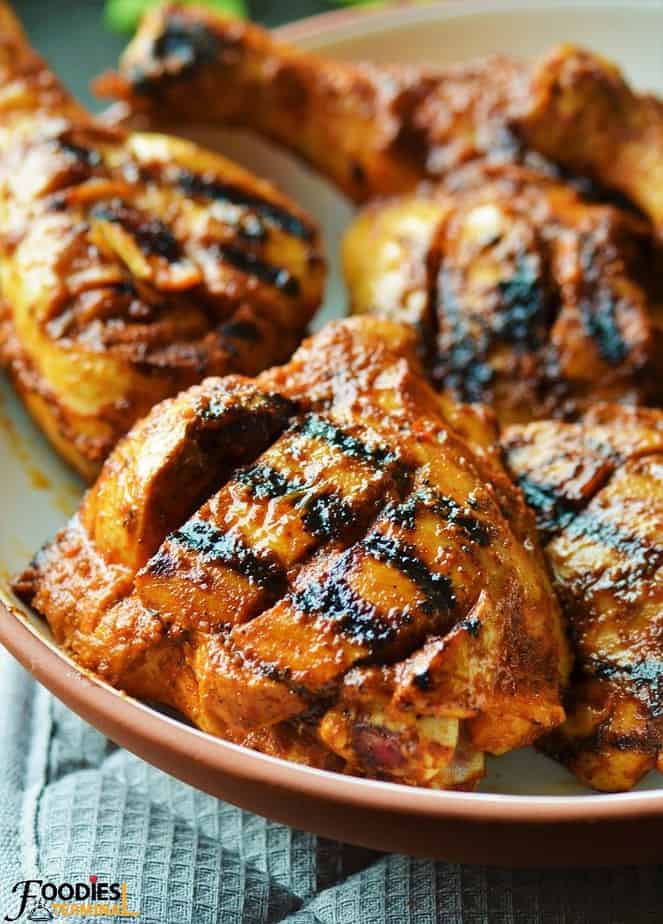 What is Peri Peri Chicken?
Peri Peri Chicken is a delicious Chicken recipe that's cooked with a special homemade sauce known as the Peri Peri Sauce.
The chicken pieces are first slathered in the sauce, than they are pan roasted until perfectly cooked.
The South African Peri Peri Sauce is the heart & soul of an excellent Peri Peri Chicken recipe.
The taste lies in the sauce and the name too is derived from the word Peri Peri which means African Birds eye chilli & is used to make the marinade sauce.
Nando's a famous restaurant Chain that is popular for making outstanding Peri Peri Chicken and today's recipe is an attempt to mimic the taste of Nando's.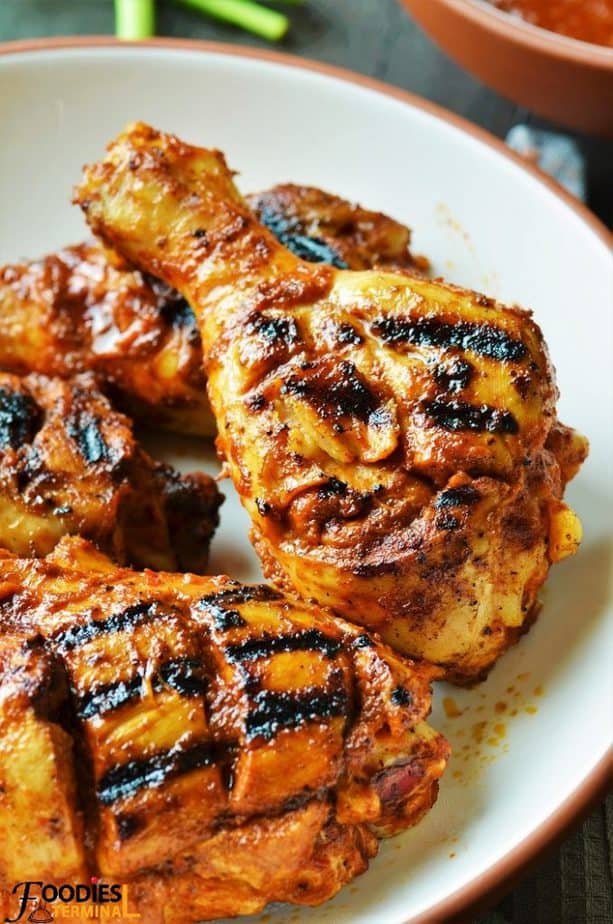 Portuguese Peri Peri Chicken Ingredients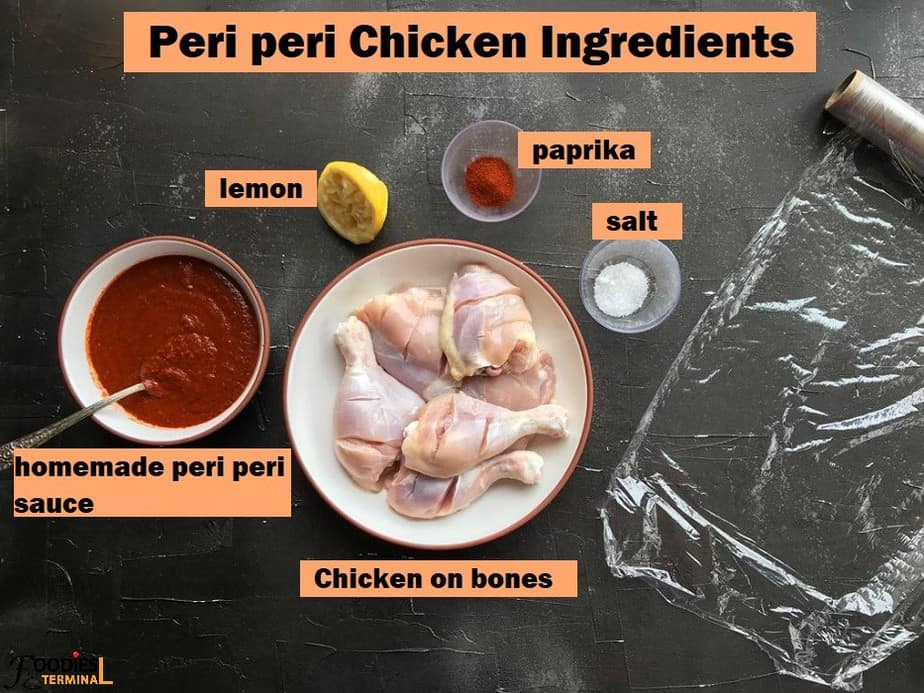 Chicken: I used skinless chicken on the bones ( thighs & drumsticks). You can also use Chicken on the bones with skin or chicken without bones like breasts or thighs. Chicken on the bones always tastes best.
Homemade Peri Peri Sauce: I always make my Peri Peri sauce at home without African Birds eye chilies and it tastes the best. You'll never miss Nando's at all. The sauce is Spicy, sweet, salty & sour all at the same time. Check out the recipe from this blog, I have an entire post made for you (link provided below) with excellent tips & a video.
Paprika: Use it as a rub.
Lemon juice: Rub the chicken with it before marinating with the piri piri marinade.
Salt: Use it as a rub too.
Check out the detailed recipe of Homemade South African Peri Peri Sauce Recipe that tastes just like Nando's. The post contains a Video with tons of tips & tricks.
4 Tips to cook the Best Peri Peri Chicken
Get the Peri Peri Sauce recipe right: It all begins from the sauce actually. Begin today's recipe only after you finish making the Piri Piri Sauce. Here's our favorite South African Peri Peri sauce Recipe (shared above) from Foodies Terminal. Check it out & make it. It's super easy & damn tasty.
Marinate the Chicken for at least 2-3 hours for best flavors: Do set aside at least 2-3 hours marinating time for the best flavors to develop. Marinating overnight would be fabulous. The homemade peri peri sauce works magic when given a little more time.
Give the chicken pieces diagonal slashes & a good rub before marinating with the Peri Peri sauce: We used salt, paprika & lemon juice to massage the chicken pieces before marinating. This keeps the chicken pieces more tender that's what I feel and it certainly adds more flavor.
Always cook the marinated chicken over medium heat: High heat will dry out the outer shell faster and the interior will remain uncooked. So, cook it slow and on medium heat. It works as a charm for this recipe. Brush a little more marinade or olive oil and continue cooking until the meat is all done. We love cooking our peri peri chicken on a skillet grill because we love those lovely mock grill marks and the fabulous flavors.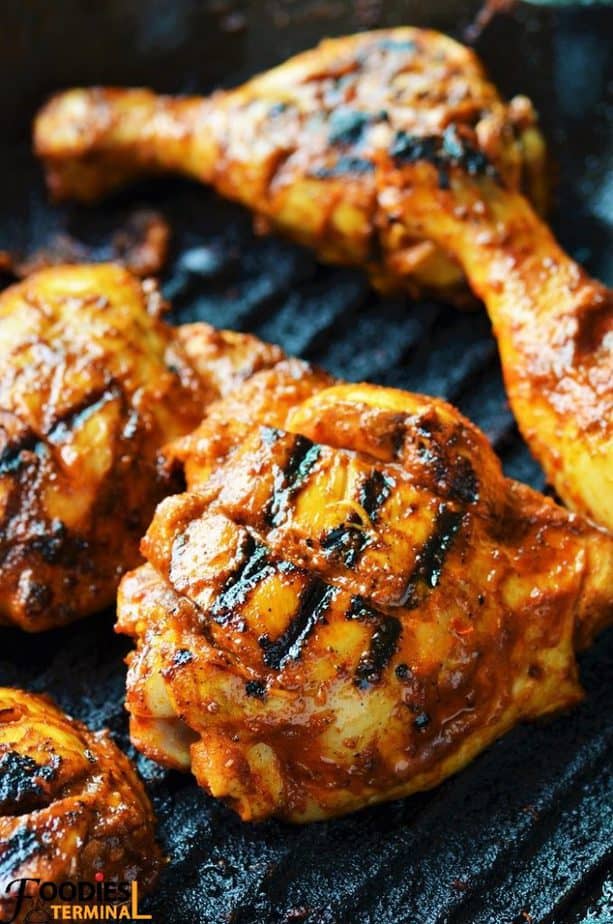 Pro Tip: Diagonal slash on the chicken is a must. It'll help in even cooking, the peri peri marinade will reach the deepest layers and the meat will get cooked faster. The number of slash depends on the size of the chicken pieces used in the recipe. Organic chicken yields small pieces & hence, I gave about 3 slashes on each piece. If your chicken piece is big enough give them 3-4 slashes or more.
What does Piri Piri Chicken taste like?
Piri Piri Chicken tastes amazing. The chicken gets a coating of sweet, sour, salty & spicy peri peri sauce and than it's either pan roasted or oven baked or grilled.
The taste of peri peri marinade is dominant in Piri Piri Chicken. It's not garlicky as sriracha sauce but a very well balanced taste of the above mentioned notes.
Summary: Piri Piri Chicken is also known as Peri Peri Chicken
What to serve with Peri Peri Chicken?
We love eating Peri Peri Chicken with Lettuce, onion & tomato salad and chips.
You may also serve it with roasted baby potatoes or corn on the cob.
We also don't mind the addition of coleslaw. It tastes amazing against the Hot peri peri chicken.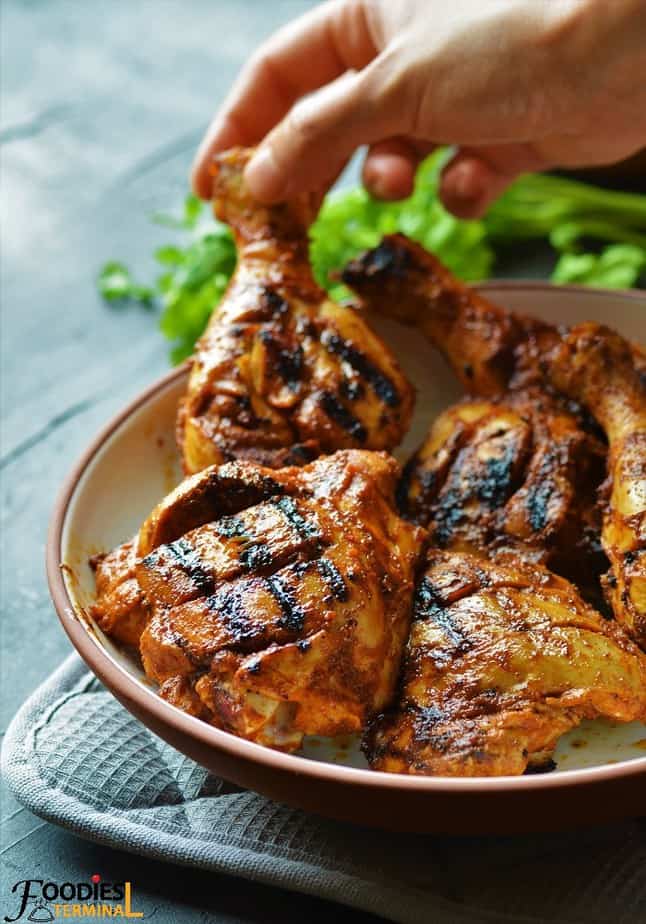 How to cook Chicken with Nando's Peri Peri sauce?
You can cook chicken easily with Nando's Peri Peri sauce that is available in a bottle.
Take chicken legs, thighs on the bones, with skin without skin completely your choice.
Give those diagonal slashes.
Squeeze lemon juice, sprinkle paprika & salt and give them a good rub.
Use a generous amount of Nando's Peri Peri sauce and marinate the chicken pieces for a good amount of time (3-4 hrs or overnight recommended).
When I am really hungry and greedy I marinate the chicken for just 30 mins 😀
And I am in the mood for cooking it the right way I generally marinate for minimum 3-4 hours in the fridge.
Fry the marinated chicken pieces on a skillet grill with some amount of olive oil. Roast them well until the meat is all well cooked.
That's how I cook them.
You may even grill them or oven bake them.
The only thing I don't use anymore is the Nando's Peri Peri sauce because my homemade Peri Peri Sauce is to die for.
It's super easy, can be made ahead of time, economical and is made without African Birds eye chilli. A winner in everyway you see 😉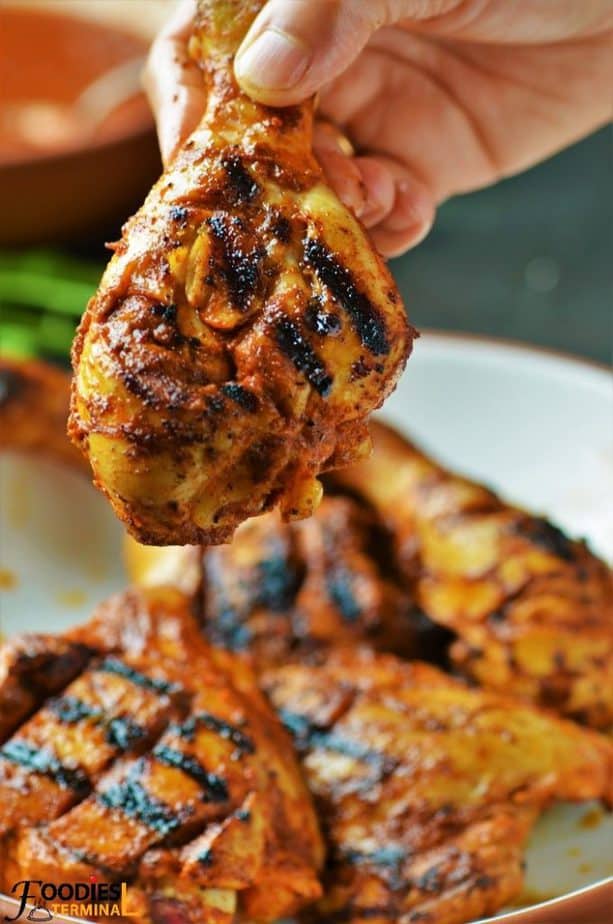 What cuts of chicken work best for Peri Peri Chicken?
We love to make Peri Peri Chicken with chicken on the bones and skinless & we love using mostly chicken thighs and drumsticks.
But, you can also make this recipe with chicken breasts. In that case adjust the cooking time because chicken breasts cook fast.
You can also use a mix of various cuts of chicken to cook today's Piri Piri Chicken recipe. It's totally a personal choice.
No matter what cut of chicken you choose to use, the Drumsticks and the Chicken thighs taste the best. They turn out ultra juicy everytime and you do not need to worry about the cooking time too much.
Hey, we love Peri Peri Chicken wings too. I can't resist them.
How long can you store Nando's Peri Peri Chicken?
Today's recipe stores well for 5 days in the fridge when stored well in an air tight container.
You may also foil wrap individual chicken pieces and than store them in the fridge.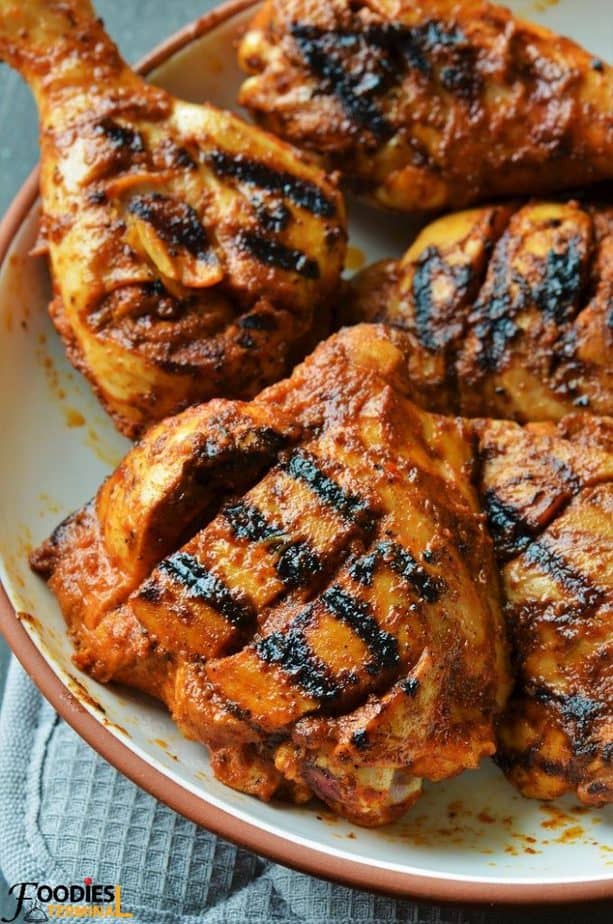 Can you freeze Piri Piri Chicken?
Yes, you can freeze Peri Peri Chicken for 1 month.
Today's recipe does awesome when frozen.
I always thaw the frozen Piri Piri Chicken over night in the fridge. And than just before serving I brush a thin layer of the homemade peri peri sauce and than roast them on a skillet grill until re-heated.
Beleive me guys it brings back tons of flavor and life to the frozen Peri Peri Chicken. Do try it out if you chose to freeze today's recipe.
Re-heating tips
Re-heating Peri Peri chicken is quiet simple.
You may do so in the microwave oven or on a skillet grill.
Brush a little olive oil or spinkle just a few drops water before re-heating the chicken. This certainly helps the meat from drying out.
If frozen re-heat it as mentioned above in the "Can you freeze Peri peri Chicken section".
Hungry for more? Try these easy recipes from Foodies Terminal.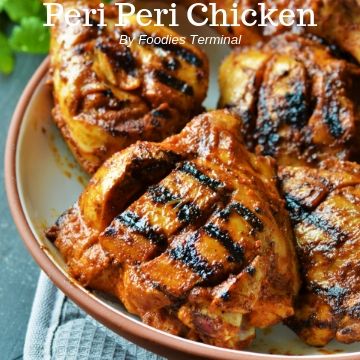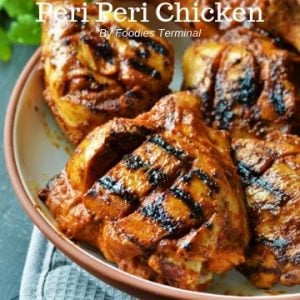 Nando's Peri Peri Chicken Recipe
Print Recipe
Pin
Rate
Nando's Peri Peri Chicken Recipe tastes just like Nando's. Made with homemade Peri peri Sauce this Portuguese Peri Peri Chicken is extremely easy to make & can be a fantastic easy appetizer or main course. Make this spicy, tangy, delicious South African Piri Piri Chicken at home without an oven or grill.
Want more Recipe Videos?
Check out our Youtube channel!
Instructions
Take the chicken drumsticks & thighs in a clean dry bowl. I have used skinless chicken pieces.. You may also you chicken pieces with skin.

Slash each piece of the chicken diagonally a few times (2-3 slashes each piece depending on their sizes).

Add salt, paprika & lemon juice to the chicken pieces and give them a good rub.

Next, add the homemade peri peri sauce and rub well so that the chicken pieces are well coated with the marinade.

Cover the bowl with a cling film and pop it in the fridge. Allow the marinated chicken to rest for at least 3-4 hours. You may also leave it over night.

Next, over medium heat set an iron skillet grill. Brush olive oil and arrange the chicken pieces shaking off the excess marinade without over crowding. Cook them roatating side to side after few minutes until fully cooked. It should take you about 30 mins approximately. Brush them with olive oil or drizzle oil on the skillet while cooking the chicken.

Serve hot. Enjoy. You may garnish it with more peri peri sauce or use the left over sauce if any as a dip. It tastes fabulous.
Notes
Measuring Units used, 1 cup = 240 ml & 1 teaspoon = 5 ml
An Iron Skillet Grill works best for today's Portuguese Piri Piri Chicken Recipe. The roasted flavor is massive and undeniably good.
The cast iron skillet grill must be heated up nice and spitting hot before placing the marinated chicken. Arrange the marinated chicken pieces on the HOT skillet grill after brushing or drizzling oil on the skillet.
I have used Organic skinless Chicken from Whole Foods and hence, the size of each piece is small.
The number of slashes on the chicken will depend on the it's size. It might need 3-4 slashes if each piece is big. 
The 30 mins cooking time is meant for tender small organic chicken. If it's a big chicken and not organic you have to increase the cooking time accordingly. It might take a little longer to get fully cooked.
3-4 hours marination time is a must for delicious flavor. You may also marinate the chicken overnight.
You may use Chicken Breasts too to cook today's Nando's Peri Peri Chicken Recipe. In that case you may need to reduce the cooking time. Chicken Breasts are tender and gets cooked faster.
Garnish the skillet roasted Peri Peri chicken with more piri piri sauce or you may use any left over sauce as a dip too. It tastes amazing.
Calorific details are provided by a third party application & are to be used as indicative figures only.
Nutrition Facts
Nando's Peri Peri Chicken Recipe
Amount Per Serving (3 pieces)
Calories 635
Calories from Fat 369
% Daily Value*
Fat 41g63%
Sodium 1037mg45%
Potassium 52mg1%
Carbohydrates 6g2%
Protein 60g120%
Vitamin C 38mg46%
Calcium 300mg30%
Iron 0.1mg1%
* Read our privacy policy – Calorie information is provided as a courtesy only and should be leveraged as an estimate rather than a guarantee.Percent Daily Values are based on a 2000 calorie diet.
Nutrition
Serving:
3
pieces
|
Calories:
635
kcal
|
Carbohydrates:
6
g
|
Protein:
60
g
|
Fat:
41
g
|
Saturated Fat:
9
g
|
Polyunsaturated Fat:
1
g
|
Monounsaturated Fat:
10
g
|
Sodium:
1037
mg
|
Potassium:
52
mg
|
Fiber:
2
g
|
Sugar:
2
g
|
Vitamin C:
38
mg
|
Calcium:
300
mg
|
Iron:
0.1
mg
Pin it for later!