Strawberry Jalapeno Salsa – a 6 ingredient recipe that will make your summers complete. Slightly sweet, tangy, juicy, crunchy & so so colorful – this is a perfect easy Strawberry Salsa to make anytime. 5 mins is all you need!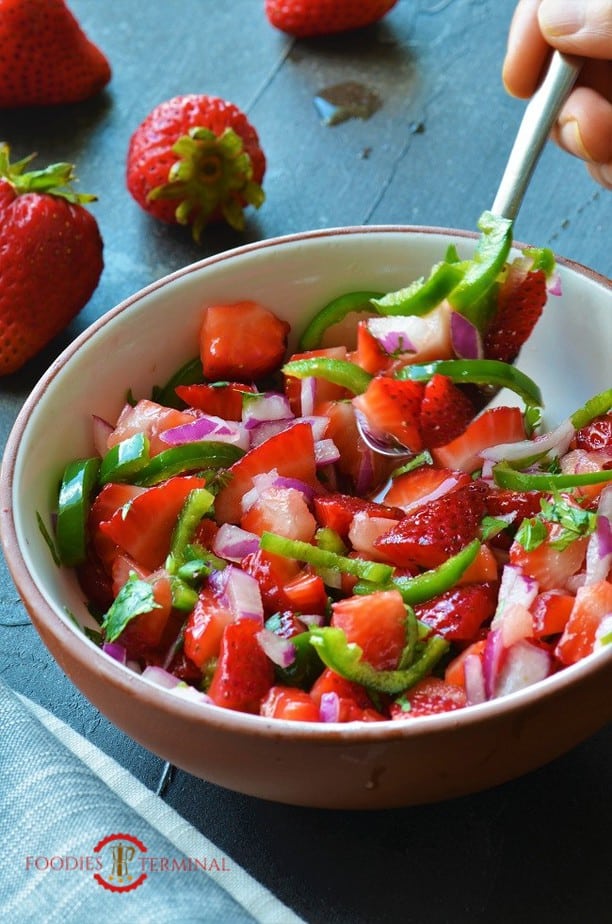 Watch Strawberry Jalapeno Salsa recipe Video
Strawberry Salsa Recipe
The juiciest Strawberries are in town guys from farmers market to Supermarkets, these red gems are everywhere, flooding the shelves & winning hearts 😀
How can I not make my favorite Strawberry recipes now?
This 6 ingredients spicy Strawberry Salsa is a perfect quick recipe to bring in these juiciest, sweetest & ripest in-season strawberries into our life!
In-season fruits are so much better guys.
They are fresh, sweeter, more juicy, fragrant, gorgeous & economical. And I love feeding my family in-season fruits as much as I can.
We here at Foodies Terminal are big time Salsa eaters 😛 After all who on earth hates an insanely easy recipe that's just gather – Chop – Mix?
And looks beautiful, tastes great & when served they fly off the plates.
Come summer & we try tons of Salsas. Pack them for picnics, make some for backyard parties, our friends love to join us for a new release over Salsas, beer & delicious food.
If you are just as much Salsa crazy as us this recipe of Strawberry Jalapeno Salsa is just for you 😉
5 minutes & 6 ingredients will give you a quick Strawberry Salsa that you can gleefully enjoy with tortillas, on crispy skin skillet fried Salmon, baked grouper, Masala Catfish fry or may be as a side on your picnic fun-day 😉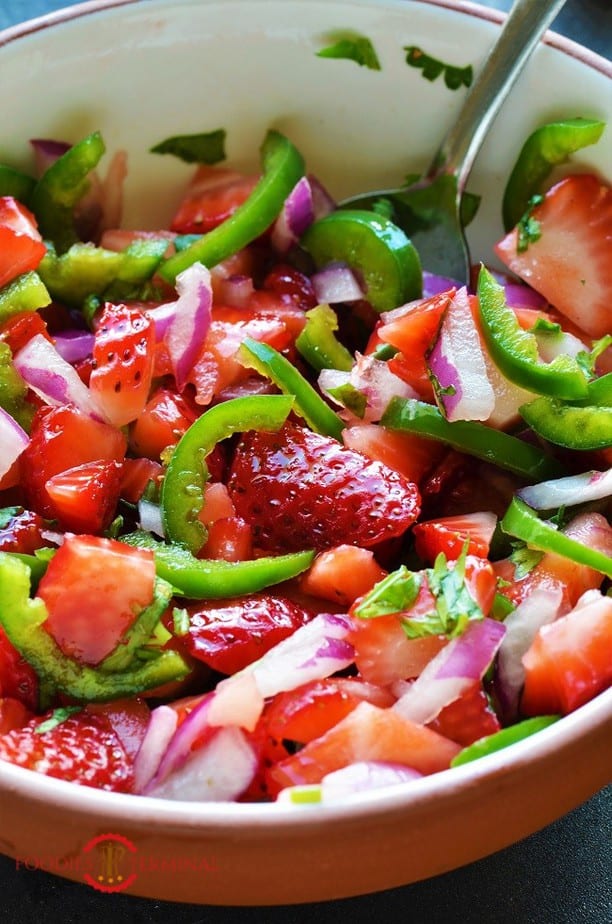 What is Strawberry Salsa?
Strawberry Salsa is a slightly sweet, tangy, crunchy & delicious salsa recipe that's made with fresh seasonal strawberries, jalapenos, red onions, cilantro & lemon juice.
You may add a mild sweetener like honey or maple syrup to make the salsa slightly sweet. We love it that way but the sweetener is totally optional.
Spicy Strawberry Salsa Ingredients
6 Ingredients makes this colorful gorgeous bowl of sweet Strawberry Salsa. The below list is all that you'll need: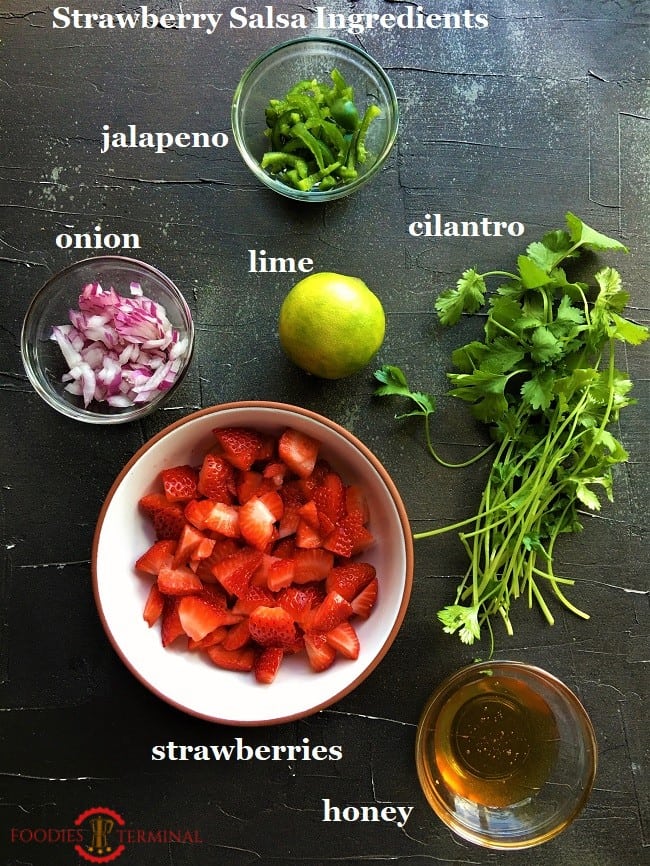 Strawberry: Juicy, ripe, plump & preferably organic.
Red Onion
Jalapeno: De-seeded. If you love little more heat do not remove the seeds. You may also use cayenne pepper, Indian chilies or Thai chilies. These chilies will make the Strawberry Salsa very spicy.
Any Sweetener: I used honey but you may also use maple syrup, white sugar or cane sugar. Sweetener is totally optional. We love a tad bit sweeter Strawberry Salsa. But, if you do not prefer sweet salsas skip the sweetener. The in-season fruits are already sweet enough.
Cilantro: Roughly chopped.
Lemon juice: For a hint of tang. This is optional, but recommended.
How to select the best strawberries?
Not all strawberries from the supermarket are the same.
Here are a few tips to always help you pick the best of the lot for your Spicy Strawberry Salsa recipe & for various other Strawberry recipes too!
Buy Organic: You can never strip off a Strawberry completely from pesticides no matter how well you wash them! Which means that when you buy commercially grown berries you indirectly consume tons of pesticides. It's better to buy organic berries that have no pesticides & taste so much better too.
Pick Local: The best pick is locally grown & you can certainly find them in your nearest Farmers market rather than supermarkets.
Best is Bright red: Always choose the Strawberries that have rich bright red color. Stay away from pink berries with white spots. Strawberries with white spots means that they are unripe.
Choose plump, tight & shiny: Strawberries that are juicy, tasty & ripe have a shiny surface, they are tight to the touch & look so plump. Stay away from dry, dull, shriveled & soft berries.
Get a good whiff: This is so important! A good bunch of Strawberries must smell like strawberries. Pick that package & get a good whiff.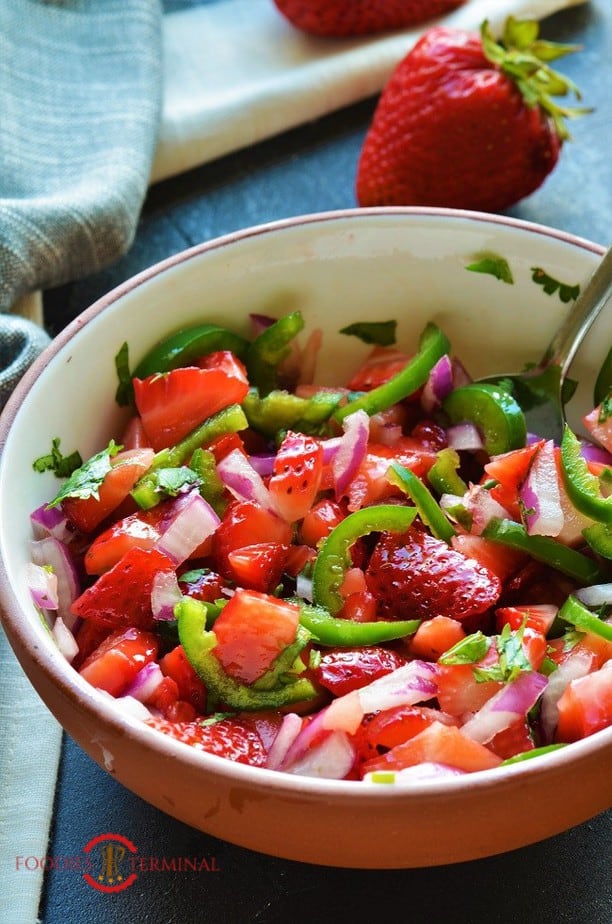 3 Tips to make the best Strawberry Jalapeno Salsa
Pick the best strawberries. Refer to the above guide.
Choose the other ingredients wisely. The recipe of strawberry Jalapeno salsa has not many ingredients so it's very important that you pick the cilantro, jalapeno & the red onion correctly – which means fresh produce.
Chop your ingredients fresh: It's wise to chop them just before prepping the salsa. Do not use left over onions, strawberries, jalapeno or cilantro. Using fresh is very important for best flavors. Left overs won't work for today's spicy strawberry salsa recipe.
How to serve Strawberry Salsa?
You can serve Strawberry Salsa in a variety different ways like:
Serve it with some tortilla chips. Perhaps this is the most common & popular way of serving a sweet strawberry salsa.
You may layer it on baked grouper or crispy pan fried salmon. Even Masala fried catfish tastes awesome with a side serving of this Strawberry jalapeno salsa.
Enjoy it just as any other salad with the help of a fork. Honestly, I love it this way the most & always end up with too little to enjoy it as a side with other foods. I make it & polish it off within minutes 😀 😛
Try some fish tacos with this spicy strawberry salsa recipe.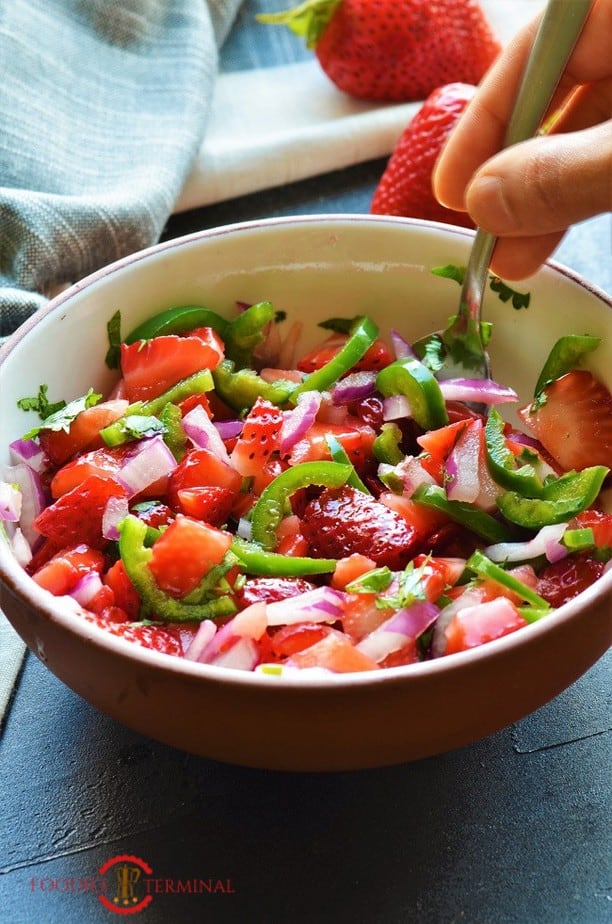 How long Strawberry Salsa Last?
Strawberry Salsa does last for 3 days in the fridge. My friends always store leftovers & that's how I know it.
But, I do not prefer making huge batches & storing it. Moreover, I've had no leftovers until now. It's always so tasty that it's gone before I even realize.
But, if I would have chosen to store any with the intention of storing it I would skip using the onions & the salt.
Leftover onions have an offensive odor & they always become so limp.
And salt will make the salsa watery in the fridge.
So, if you plan to make a huge batch & store it for a party than do add the onions & the salt just before your guests arrive.
How to make Strawberry Salsa? Step by Step
How to make Strawberry Salsa?
Wash & hull Strawberries

Wash, hull & chop the strawberries into small pieces. Gather the rest of the ingredients.

Mix well & serve

Mix all the ingredients in a clean dry bowl & serve immediately. Enjoy!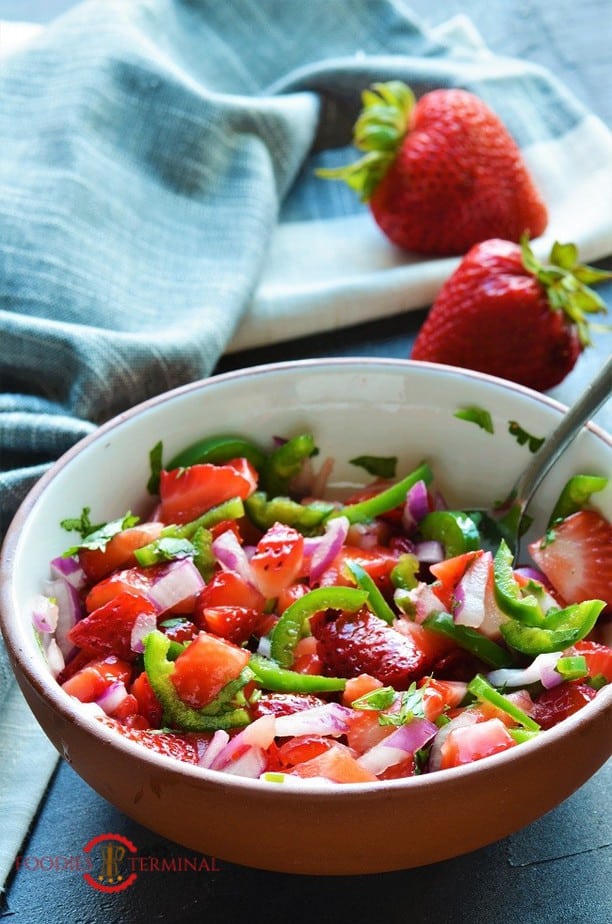 More Easy recipes from FOODIES TERMINAL.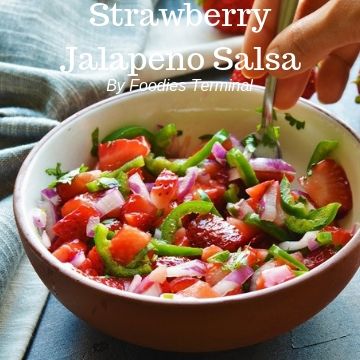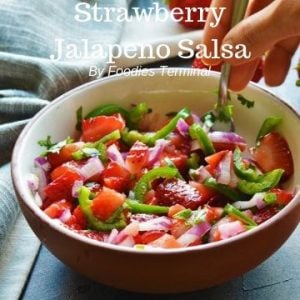 Strawberry Jalapeno Salsa
Print Recipe
Pin
Rate
Strawberry Jalapeno Salsa is slightly spicy & a little sweet. This Strawberry Salsa is a quick 5 mins recipe to make anytime for a quick snack. 
Ingredients
1

cup

Hulled & roughly chopped Strawberries

(heaped)

1/4

cup

finely chopped red onion

1

tbsp

de-seeded & chopped Jalapeno pepper

(half moon shape)

1

tbsp

chopped cilantro

1/2

tbsp

Lemon Juice

1/2

tbsp

Honey

(optional but recommended)

Salt (to taste)

(a pinch or two is just fine)
Want more Recipe Videos?
Check out our Youtube channel!
Instructions
Wash the strawberries well under running tap water & hull them. Chop the strawberries roughly into small pieces.

In a bowl add the chopped strawberries, onion, jalapeno, cilantro, lemon juice, honey & salt. Mix well. Serve immediately.
Notes
 Use organic juicy, plumo, red strawberries that look bright & shiny. Stay away from dull, shriveled berries.
After adding all the ingredients serve immediately for best crunchy flavors.
Nutrition Facts
Strawberry Jalapeno Salsa
Amount Per Serving (100 g)
Calories 69
Calories from Fat 37
% Daily Value*
Fat 4.1g6%
Sodium 29mg1%
Potassium 161mg5%
Carbohydrates 8.8g3%
Protein 0.9g2%
* Read our privacy policy – Calorie information is provided as a courtesy only and should be leveraged as an estimate rather than a guarantee.Percent Daily Values are based on a 2000 calorie diet.
Nutrition
Serving:
100
g
|
Calories:
69
kcal
|
Carbohydrates:
8.8
g
|
Protein:
0.9
g
|
Fat:
4.1
g
|
Saturated Fat:
0.6
g
|
Sodium:
29
mg
|
Potassium:
161
mg
|
Fiber:
2.1
g
|
Sugar:
5.3
g
Pin it for later!