Warm Quinoa Salad with Kale, Chicken and Veggies is a powerhouse of nutrients served in a bowl. This colorful quinoa salad is so easy to make, looks gorgeous & is loaded with nutrients. If you love trying out various quinoa recipes do not miss making this easy quinoa salad because it's simply delicious.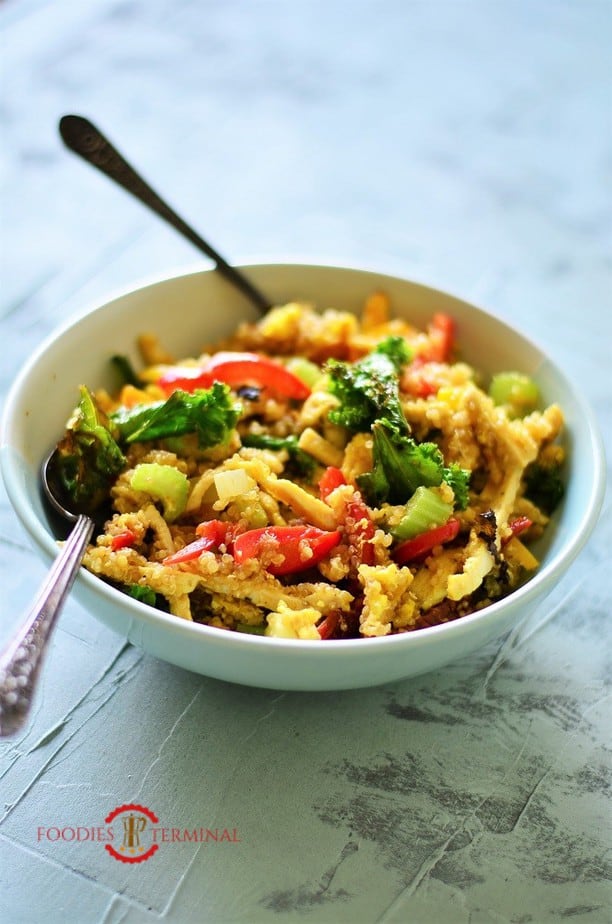 Warm Quinoa Salad
Warm Quinoa Salad with Kale, Chicken and Veggies is a perfect recipe to try out during busy weeknights or even a relaxing weekend.
With every morsel of this Warm quinoa salad you will feel the crunchy veggies, the delicious pan seared chicken strips, the pan fried egg & the tiny grains of cooked quinoa.
The nutty quinoa is well balanced here with the slight sweetness of the raisins & the bell peppers. And the celery brings in all the crunch.
There's a secret ingredient too that you can't do without!
If you think that quinoa is just so boring than do not skip adding that one secret ingredient. You'll be surprised how wonderfully it transforms the taste of this warm quinoa salad.
Read on to find out that secret ingredient 😛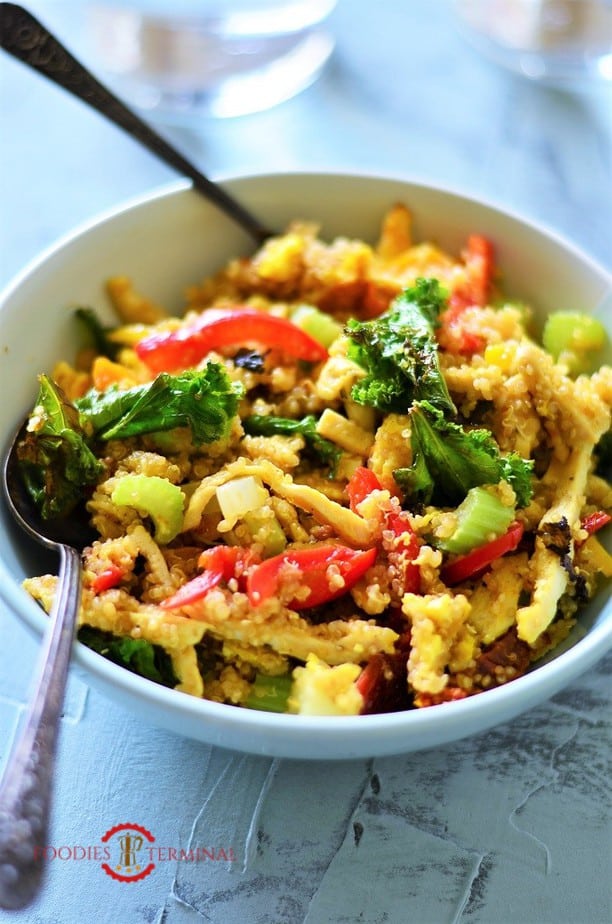 Spring is right around the corner guys, waiting to be greeted & I am so in the mood for spring rich flavors & food.
This colorful warm quinoa salad is my effort to bring in a little early spring to our lives. I carved this recipe keeping spring in mind and the vibrant colors that it brings in with itself!
If you are looking out for healthy one dish meals to make for your family this spring than this Warm quinoa salad will fit your bill every way.
Because this veggie loaded quinoa salad can be prepped ahead & jazzed up later – Ta Da! Much fun for Spring cleaning.
Make a large batch & store, do your spring cleaning like a pro 😀
I love such healthy one pan meals where I can prep a part during the weekend & rustle up the rest during the busy weeknights. And still serve warm meal at the table without much effort at all.
FAQs – WARM QUINOA SALAD
What's in the Warm Quinoa Salad?
This vibrant Warm Quinoa salad is loaded with a few colorful veggies that will always remind you of the colors of spring.
I made this warm quinoa salad a non-vegetarians paradise by adding super thin egg strips & pan seared chicken strips – so flavorful.
And a secret ingredient – It's sun dried tomatoes.
Never ever skip the sun dried tomatoes! This is that one magical ingredient that'll totally transform this warm quinoa salad into a drool worthy bowl that you will love to make again and again!
Here's the ingredients:
Mains: White Quinoa, Sun dried tomatoes.
Veggies: Kale, Yellow bell pepper, orange bell pepper, celery.
Rest: Chicken, Eggs, Broth (veggie or chicken), golden raisins.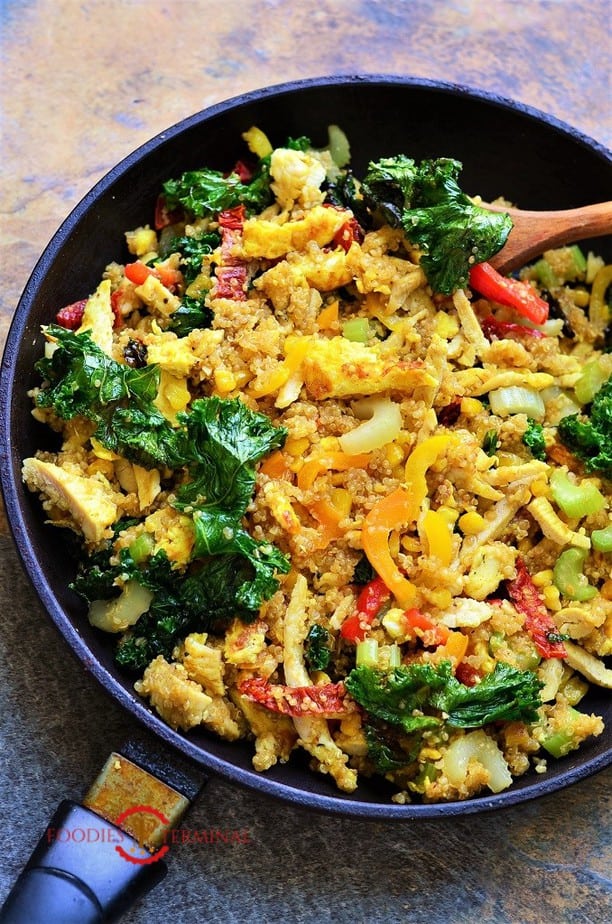 Secret of Cooking Quinoa
This one little secret of cooking Quinoa will change your life. And if you are one of those who keeps away from Quinoa because it has got that weird soapy, bitter taste. Than by all means never miss this little TRICK. It's is only your holy grail.
And this is the biggest star tip I can share with you today.
Rinse your Quinoa very well before cooking it. This is the only mantra of cooking Quinoa right that doesn't taste bitter or soapy.
Quinoa has an outer coating known as Saponin. The soapy bitter taste is a result of this saponin. So, you must remove this by all means.
Though, the manufacturers extract the saponin before packaging but it's always wise to rinse off all the traces that it leaves behind on the grains of quinoa.
Wash your quinoa very well until you get clear water & than, cook it similar to rice. White quinoa takes approximately 15 mins to rich the well done stage.
4 Easy swaps that you don't want to miss
Kale – Spinach
Golden Raisins – Dried Cranberry
Bell pepper – Sweet Onion
Olive oil – Canola oil or Avocado Oil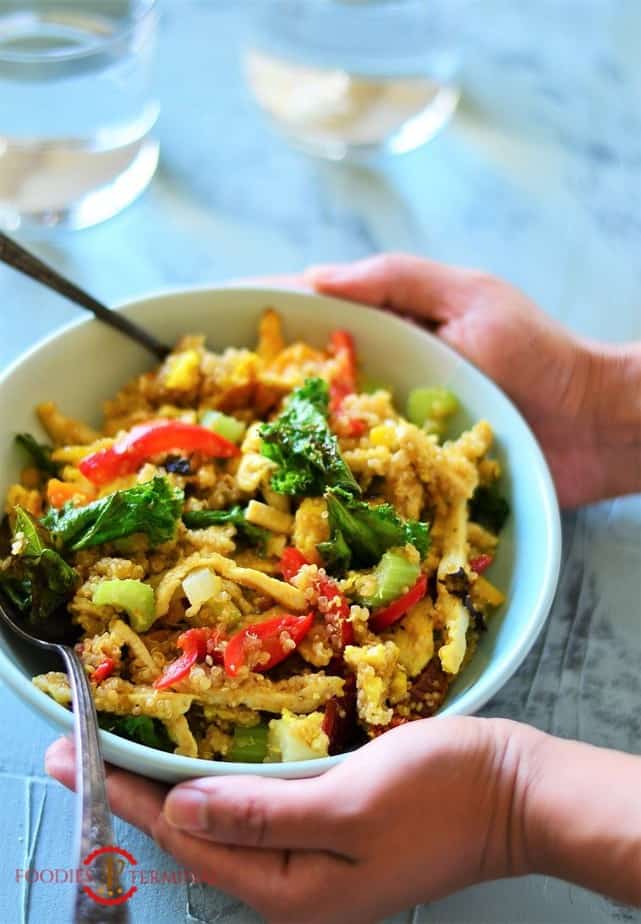 Make this Quinoa Salad Vegan or Vegetarian
Swap the chicken & egg strips with thin strips of extra firm tofu that's pan seared first.
What is Quinoa?
Quinoa (Keen-Wah) is an ancient grain that is naturally gluten free & cholesterol free. Though it's popular as a whole grain yet it's actually a seed that's derived from the plant known as Goosefoot.
People love including & cooking this super-food as whole grain in their diet & we are no different! Do you know that Quinoa forms one of the healthiest swap for white rice?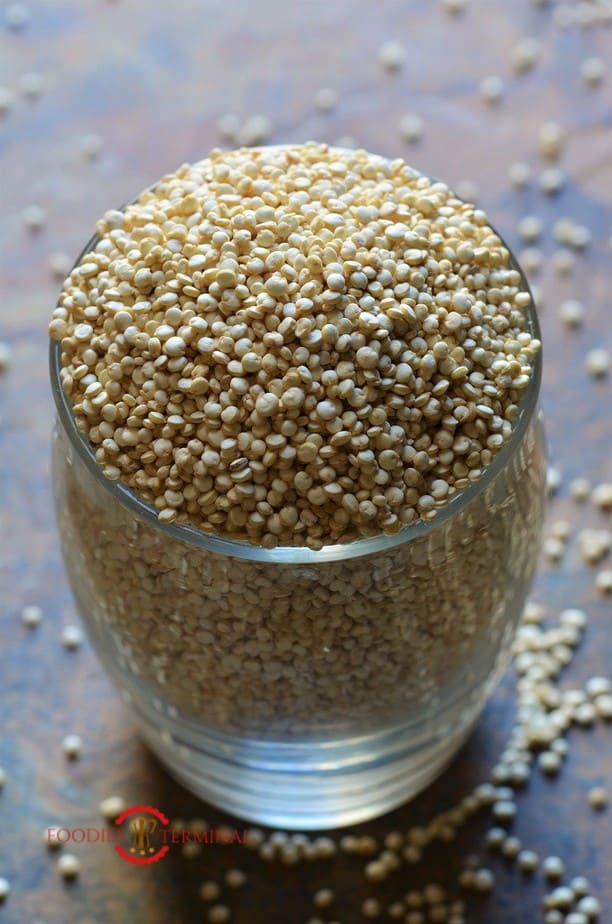 Quinoa – a short history
Just in case you are curious to know a little more about this nutty super-food just like me. I thought of sharing a pinch of Quinoa history.
I love knowing & exploring the foods that I cook, and a drizzle of food history always entices me. What about you? Share in comments below.
Quinoa – "Mother of all Gods" as addressed by the Incas formed the staple diet in the Andes region of South America for thousands of years.
And it was eaten even before the Europeans settled in North America. Thus, making it an ancient grain.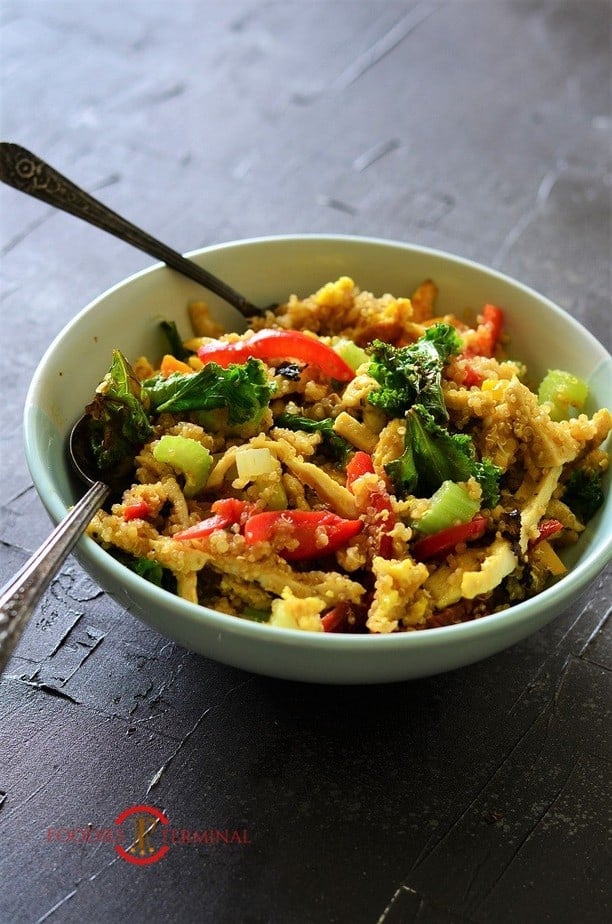 Health Benefits of Quinoa
Termed as Super-food or Super grain – Quinoa is loaded with 9 essential amino acids making it a complete plant protein. It's perhaps the only plant protein that has a remarkable protein content.
No doubt that quinoa is one of the healthiest protein meal for the non-meat eaters. Quinoa is also a good source of carbohydrate, fiber, vitamin E, calcium & magnesium.
It forms a great swap for white rice & other grains as it contains a good amount of carbohydrate & a striking value of fiber.
Takes less time to get cooked as compared to rice & some other whole grains.
And when cooked minimally it beats the flavors of Teff & Barley.
This pseudo grain Quinoa with it's subtle nutty flavor & striking nutritious profile forms a complete meal by itself.
3 Types of Quinoa
There are basically 3 types of Quinoa. For our easy quinoa salad recipe we used the most common variety – White quinoa.
White Quinoa – Most common, less cooking time, less crunchy, mild flavor.
Red Quinoa – Slightly more cooking time, little crunchy, slightly strong flavor as compared to the white quinoa.
Black Quinoa – Longest cooking time, highest crunch factor, most flavorful (we love it!)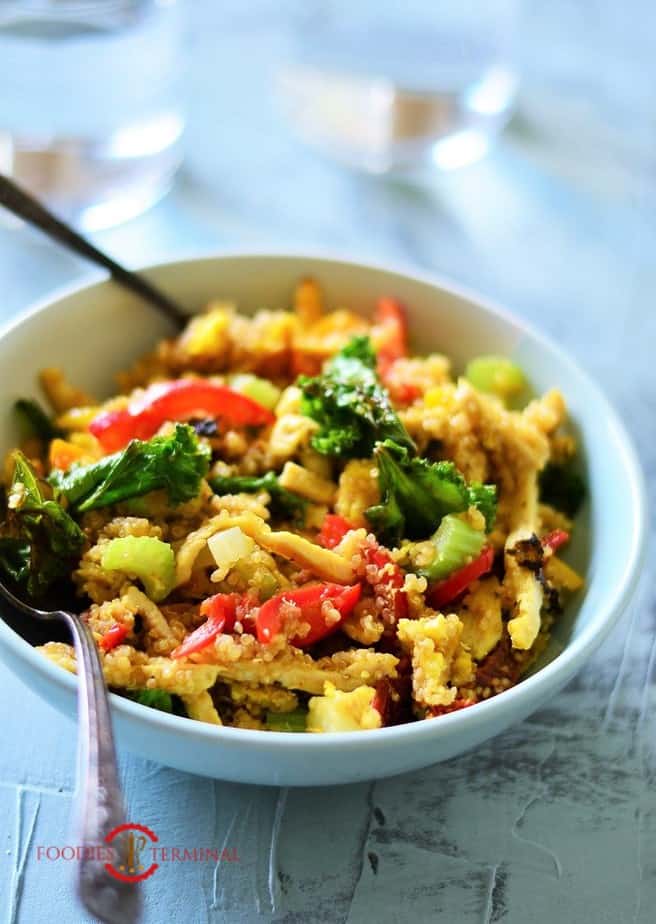 Storing Warm Quinoa Salad with Kale, Chicken and Veggies
This Warm Quinoa Salad does well for 7 days in the refrigerator. Store it in an air-tight container.
This quinoa salad with chicken is freezable. You can freeze in 2 different ways. Store your cooked quinoa, the sauteed or roasted veggies + the cooked chicken and eggs in separate freezer safe bags. Thaw in the fridge & saute mixing everything when ready to eat.
Or you may freeze the fully cooked quinoa salad with chicken in portion size freezer safe bags. Thaw in the fridge, reheat and eat. We love doing the previous freezer method.
Love Cooking? Try these easy recipes from Foodies Terminal
How to make Warm Quinoa Salad
Lightly pan roast the quinoa.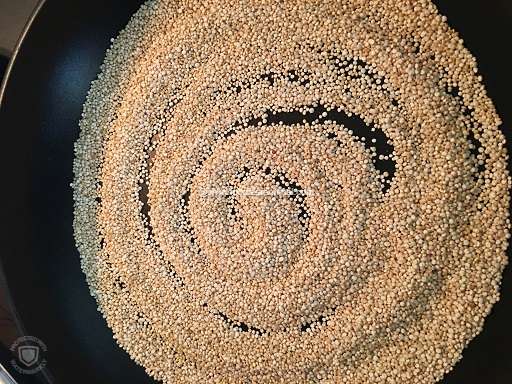 Rinse Quinoa very well. Cook in a saucepan either in broth or water until well done.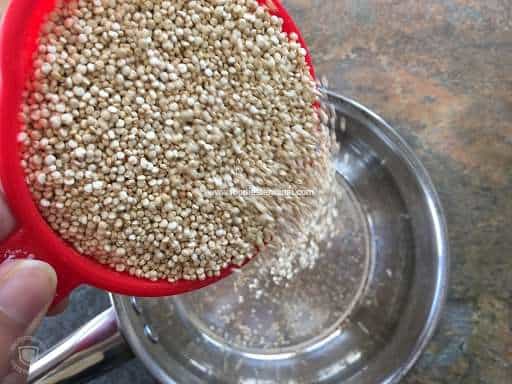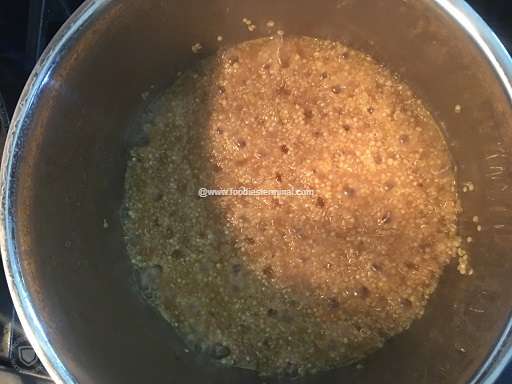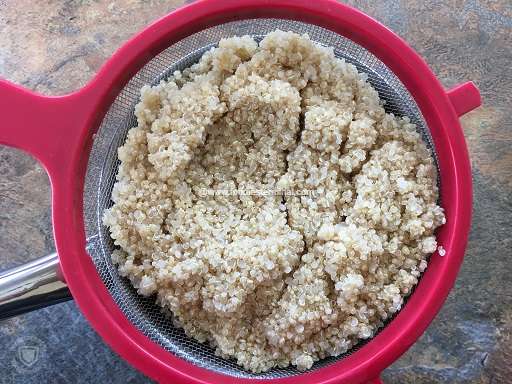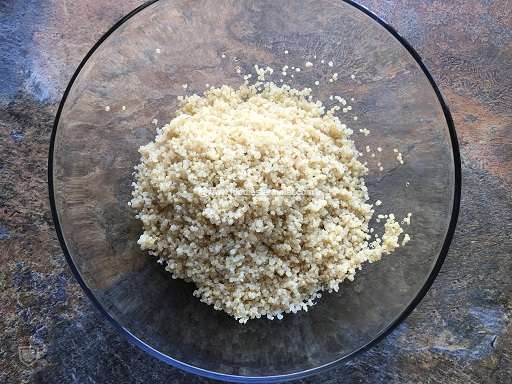 In the mean time Fry the super thin omelette.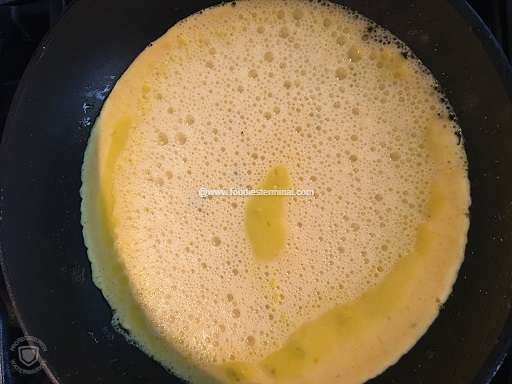 While the omelette is getting cooked marinate the Chicken breasts with pepper & salt.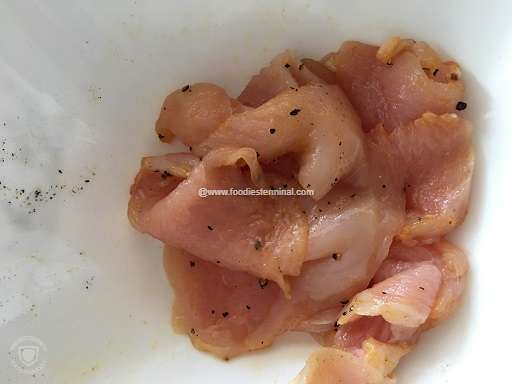 Pan sear the butterflied thin chicken breasts until lightly golden.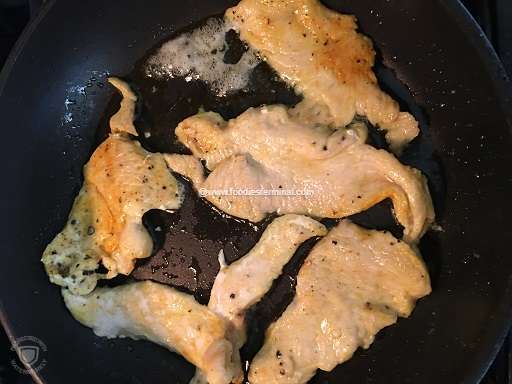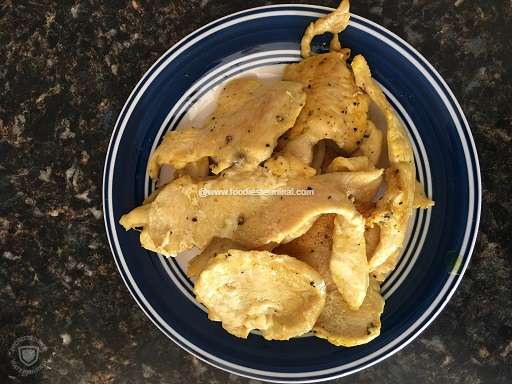 Cut the pan seared chicken breasts & the cooked omelette (pic missing :P) into thin strips. Keep aside.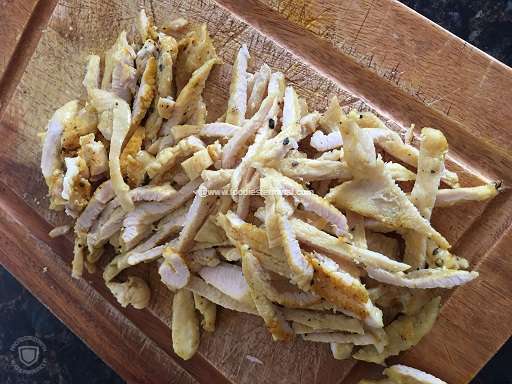 Fry the Kale until lightly crisp ( Forgot to take pic 😛 )
Gather all the chopped veggies together.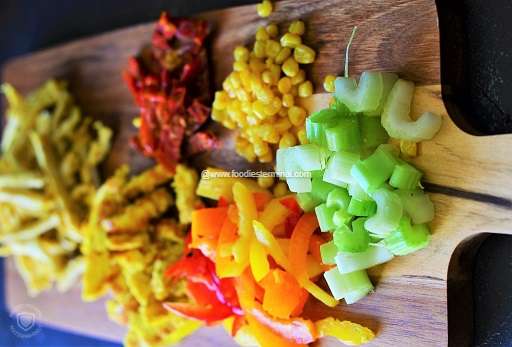 Saute everything together in a skillet – Quinoa + veggies + chicken & omelette strips until everything blends well. It will look like this after all the mixing.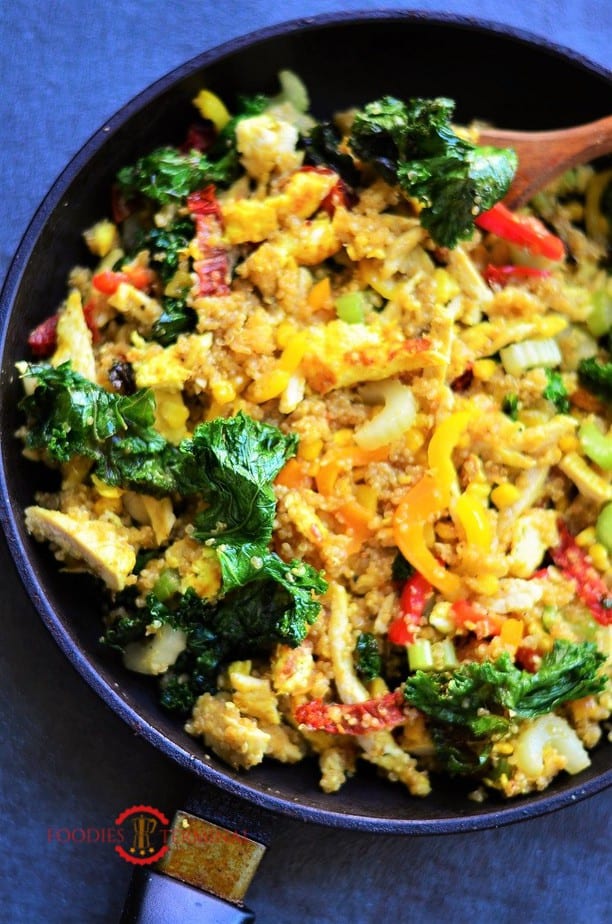 DID YOU TRY THIS RECIPE? Do Not forget to give a STAR rating! Just click on the STARS on the recipe card below to rate.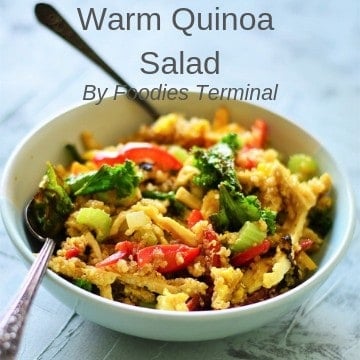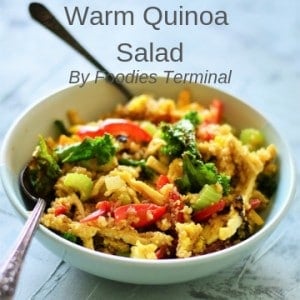 Warm Quinoa Salad with Kale, Chicken and Veggies.
Print Recipe
Pin
Rate
Warm Quinoa salad with Chicken, Kale & veggies is a nutrition packed super food bowl that is easy to prep & tastes totally delicious. A perfect warm salad for Spring or anytime of the year. Loaded with colorful veggies this easy Quinoa salad with chicken will keep you satiated for much longer.
Ingredients
Want more Recipe Videos?
Check out our Youtube channel!
Instructions
How to cook the Quinoa
Rinse the quinoa very well, until you get clear water. In a heavy bottomed saucepan, add 4 cups broth or water, add the rinsed quinoa, a pinch of salt & cook it over medium low heat. Stir it in-between. It will take around 15 mins to get fully cooked.

In Rice Cooker – Add the rinsed quinoa + 2 cups broth or water & cook it in your rice cooker.

When cooked the seeds can be easily pressed with your fingers & they will look split or popped.
How to make the egg strips.
Take 2 eggs and lightly beat them with a pinch of crushed black pepper & salt.

You have to make a very thin omelette. So take a large non-stick skillet, add 1 tsp olive oil and pour the beaten eggs, slightly rotating the skillet, so that the eggs spread and cover the pan uniformly. Cover and cook it over medium low flame.

Do not flip the omelette, it might snap, so always cook it covered. Once done, gently flip it on a plate.

Allow it to cool completely. Than, make thin strips about 1 or 1.5 inches long.
How to make the Chicken Strips
Take one chicken breast and make into butterfly by slicing it from one end all the way and stopping at the other end without making 2 separate pieces. It should open as a book.

Massage a little crushed pepper & salt . And Pan sear with 2 teaspoons olive oil it until fully cooked and light golden. Pan sear the chicken over medium high heat. Seat aside.

When cold, slice it into thin strips about 1-1.5″ long.
How to make the Warm Quinoa Salad with Chicken Kale & Veggies
Heat your favorite skillet over medium heat & add 2 teaspoons olive oil.

Add the kale leaves and fry until lightly crisp. Set aside.

In the same skillet add 1 tbsp olive oil over medium high heat. When the oil is hot add the chopped celery and saute for a few mins.

Next, add the chopped bell peppers, the chopped scallions & the raisins, saute over high heat for 1 min.

Add the cooked quinoa, the egg strips, the chicken strips, the sun dried tomatoes, a little crushed black pepper, salt to taste. Saute for 2-3 mins over medium high heat. Until everything is well incorporated.

Now, add the lemon juice + the pan fried kale, turn off the heat and give everything a good mix.
Notes
All the veggies should remain crunchy. The crunchy veggies will add body & so much texture and taste to this quinoa salad. Take extra care not to over-cook the veggies.
The kale must become lightly crispy. This add a slight crunch to the warm quinoa salad.
DO NOT miss the sun dried tomatoes. It's the star ingredient in this easy quinoa recipe.
Do take your time to cook the eggs & chicken into hin strips. You can cook them ahead of time & store them or freeze them to save time.
Measuring cup used, 1 cup = 240 ml & 1 teaspoon = 5 ml.
PLEASE NOTE: Nutrition values are my best estimates. If you rely on them for your diet or special diet, use your preferred nutrition calculator!
Nutrition Facts
Warm Quinoa Salad with Kale, Chicken and Veggies.
Amount Per Serving
Calories 388
Calories from Fat 72
% Daily Value*
Fat 8g12%
Cholesterol 30mg10%
Sodium 391mg17%
Carbohydrates 56g19%
Protein 27g54%
* Read our privacy policy – Calorie information is provided as a courtesy only and should be leveraged as an estimate rather than a guarantee.Percent Daily Values are based on a 2000 calorie diet.
Nutrition
Calories:
388
kcal
|
Carbohydrates:
56
g
|
Protein:
27
g
|
Fat:
8
g
|
Saturated Fat:
1
g
|
Monounsaturated Fat:
1
g
|
Cholesterol:
30
mg
|
Sodium:
391
mg
|
Fiber:
12
g
|
Sugar:
9
g