Stuffed Bell Peppers with Shrimp and Mushroom is perhaps the easiest, tastiest & quickest stuffed peppers recipe that you will ever make. The melty cheese lends an ultimate creaminess to this one pot dish & perfectly compliments the taste of shrimp. If you are looking for an easy one-dish meal for weeknights than look no further because these shrimp stuffed peppers will be your best choice!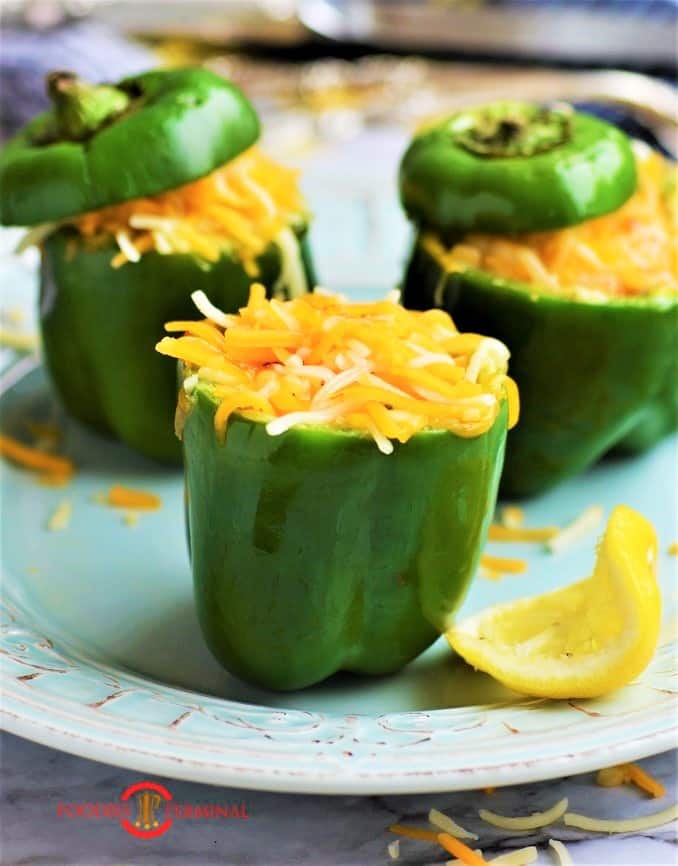 Stuffed Bell peppers are always a joy to make. Because they are compatible with a wide variety of stuffings and do not limit you with a few boring choices.
We always love when we can mix and match the stuffings according to our taste preference.
To make things even easier you may use up any left over rice or veggies to stuff them.
And if you want to elevate the taste of these stuffed capsicums even more do not forget your favorite sauce – a salsa or a hot pepper sauce is always a hit.
We didn't use any sauce and kept things super simple.
Oh! yes you can make them either in your air fryer (today's recipe) or bake them in the oven (method included).
FAQs – Stuffed Bell Peppers with Shrimp and Mushroom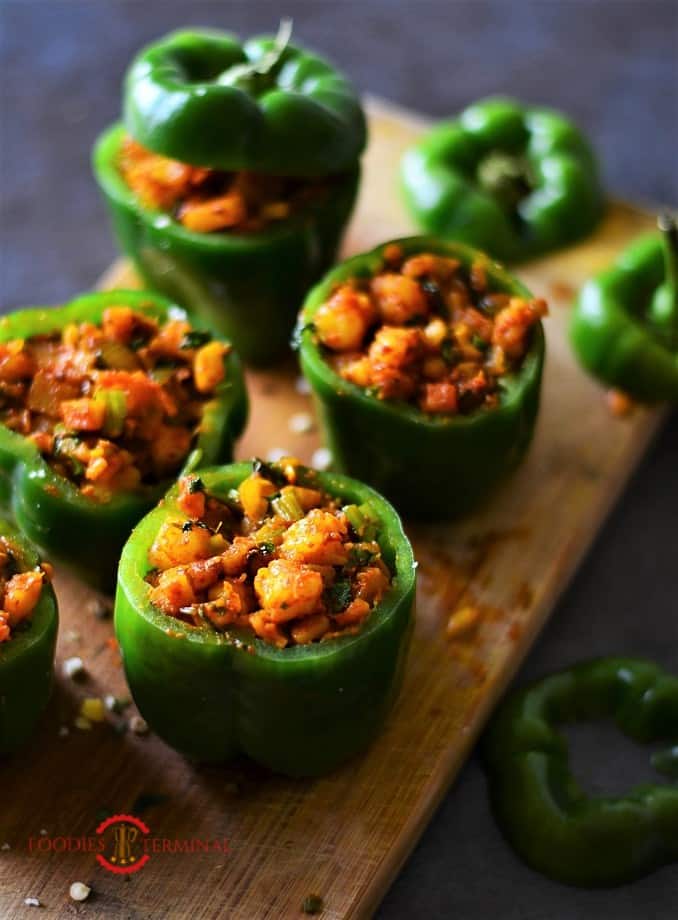 What's in stuffed bell peppers
You can make these healthy Stuffed Bell Peppers with a stuffing of your choice.
Or choose our recipe of Stuffed Bell Peppers with Shrimp and Mushroom & a few add-ons that are just so easy to find at home or in the store.
Here's the list…..
Mains: Medium de-shelled shrimps, whole or diced (we used whole).
Veggies: Leek, Mushroom (diced or halved)
Rest: Garlic, chilli flakes, cheese, scallion & cilantro.
Seasonings: Paprika, salt, pepper, lemon juice.
More Stuffing Ideas
In case you decide to go for a different stuffing for your Bell Peppers here are a few interesting choices to make your meal more tasty:
Grains: Cooked rice (both white & brown works well), cooked quinoa, cooked couscous (we love couscous).
Beans: Cooked beans or canned beans (pinto, red, white all work for us).
Meat: Ground lamb, ground/diced/shredded chicken, ground turkey, ground beef.
Seafood: Shrimp works best.
Veggies: Cooked mushroom, leek, spinach, canned or broiled tomatoes.
Seasonings: Paprika, crushed pepper, garlic powder, onion powder, chili flakes or pick your favorite.
Salsa: Salsa, Hot pepper sauce (our favorite).
Cheese: Shredded Mozzarella, Cheddar, pepper Jack.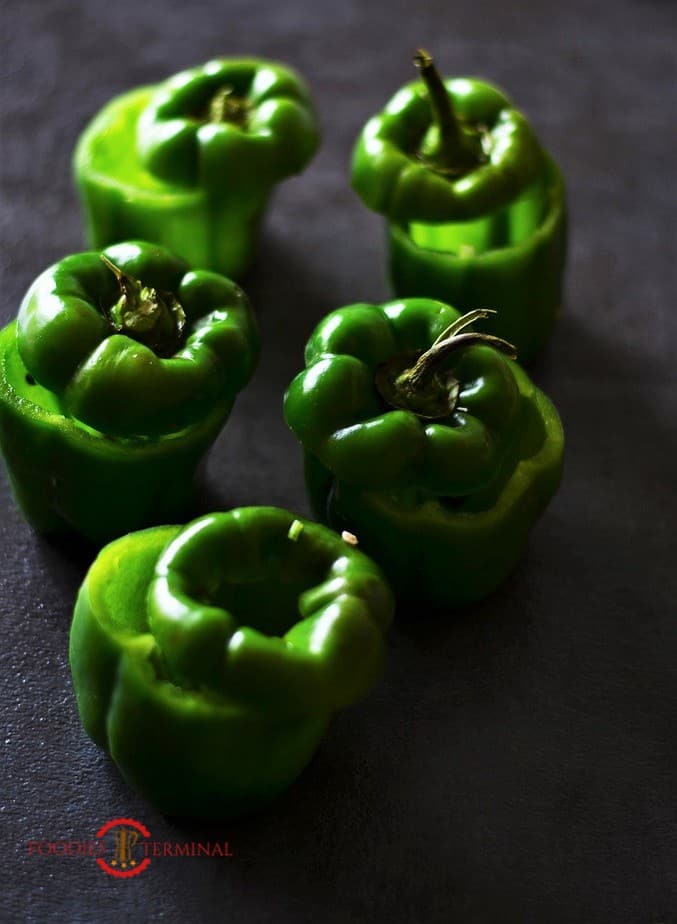 Can Stuffed Bell Peppers be Frozen
Yes stuffed bell peppers do great in the freezer for 2 months when frozen right!
Don't worry we are here to help you with simple steps that work every single time.
Make sure that the stuffing is well cooked, I mean to say do not keep the stuffing half cooked & think that you are going to cook the rest after thawing from the freezer.
You may keep your bell peppers cooked or raw. And skip the cheese totally.
You may add it later when you bring the stuffed bell peppers out from the freezer.
The ideal way to freeze Cooked stuffed bell peppers
Only 3 easy steps & you are all sorted for an easy weeknight meal.
Cook the stuffing, stuff them in the bell peppers & cook them (bake, air fry) without the cheese. Allow them to cool completely.

Put them in a large freezer safe dish, cover the dish with aluminum foil, wrap the entire dish with cling wrap & pop it in the freezer.
Or if you want to store single portion ( 1 capsicum), cling wrap it or vacuum seal it and store them into freezer safe bags.
Ready to eat some?
Just thaw them in the fridge, reheat the stuffed bell peppers with shrimp and mushroom either in your oven or air fryer & enjoy.
Cook a large batch for your family, make life easier & keep yourself sorted & happy for at least 2 months. Not bad right?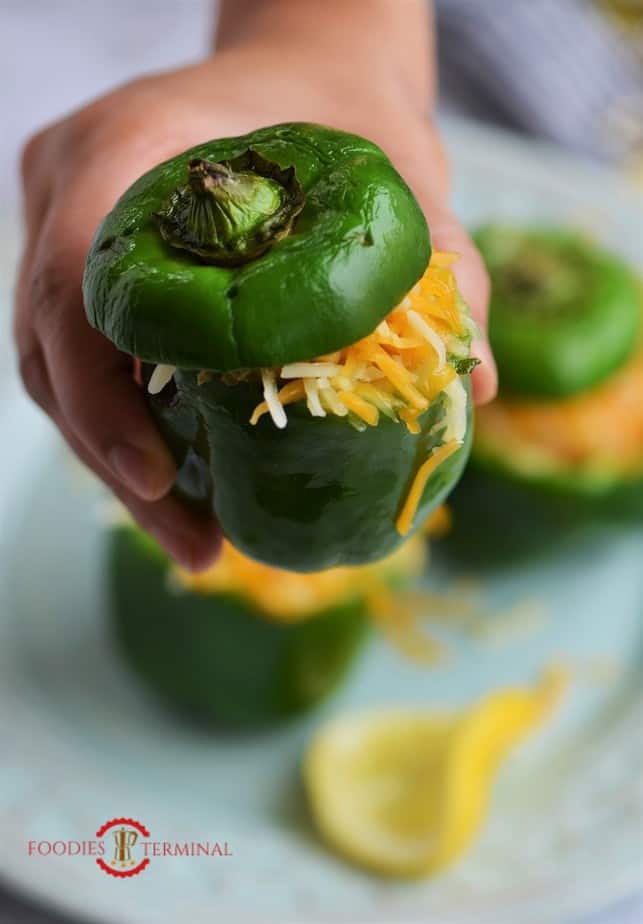 The smart way to freeze Uncooked stuffed bell peppers
Follow the above step from "Cooked stuffed bell peppers" except do not cook the stuffed peppers after stuffing them.
Instead blanch the bell peppers in hot water for a few mins before stuffing them with shrimp & mushroom.
Pop them in the freezer (already mentioned before how) blanched (only the cook the stuffing well).
When you are ready to eat them, you may either thaw them over night in the fridge & bake them or air fry them until your preferable consistency is reached.
We always love our stuffed peppers crunchy & not mushy.
But, if you prefer well cooked stuffed capsicums go ahead and increase the cooking time.
10 Side Dishes to serve with Stuffed Bell Peppers With Shrimp and Mushroom
Baked Potato wedges.
Quick Russian Salad.
Warm loaded quinoa salad.
Roasted veggies.
Sweet Potato fries.
Instant Pot Brown Basmati Rice Pilaf.
Asian Ramen Slaw.
Dressed up zoodles.
Twice bakes potatoes with cheese topping.
Feta & veggie bake.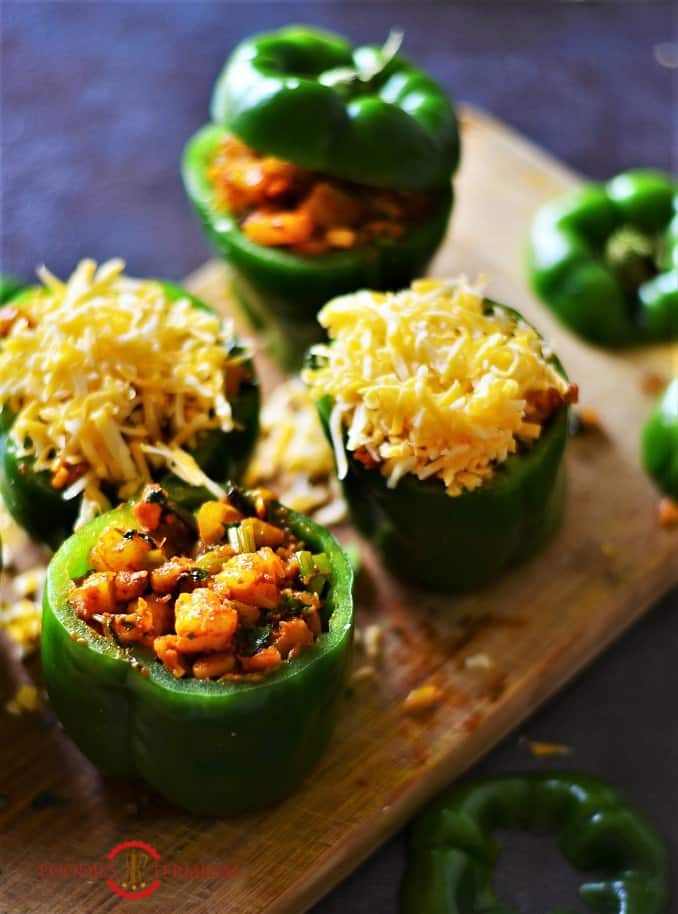 Should you blanch peppers before stuffing
Blanching is not mandatory. But you may blanch your bell peppers before stuffing. This will reduce there cooking time slightly.
I do not blanch them and I always prefer my bell peppers to retain a certain amount of crunch rather than turning soft & sloppy.
You may choose to blanch your peppers only if you decide to freeze them without cooking them fully or want to freeze them uncooked but only stuffed.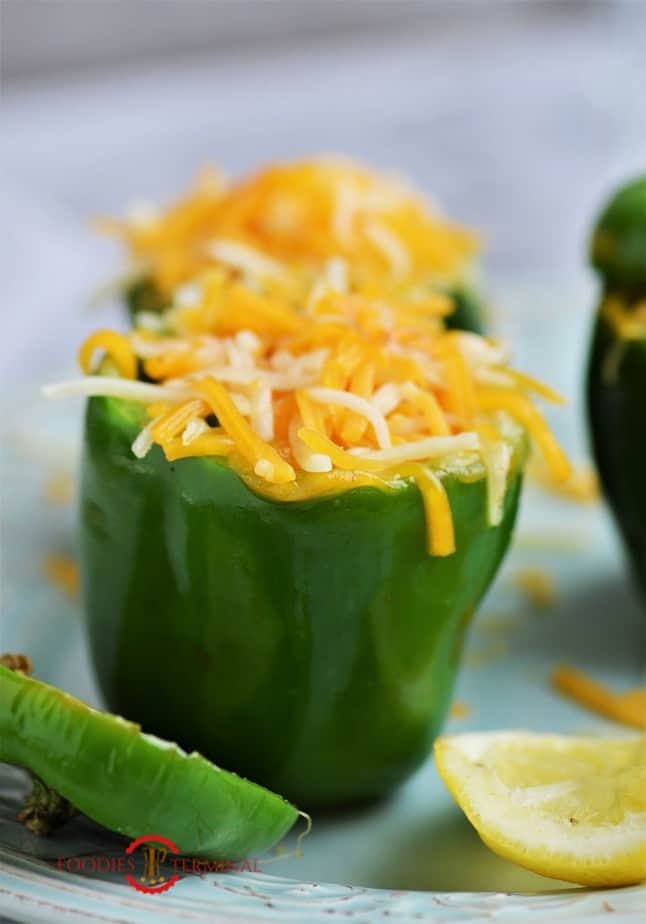 4 Pro Tips – Stuffed Bell Peppers with Shrimp and Mushroom in Air Fryer
For crunchy bell peppers air fry 6 mins at 400 F.
For soft stuffed bell peppers air fry 6 mins at 400 F + 8 mins more after reducing the temperature to 360 F.
We love topping them with more cheese after they are all cooked. You may skip this step & stick with a beautiful melted cheese topping.
For better texture spray or brush with oil before baking or air frying the stuffed peppers.
Stuffed Bell Peppers in the Oven
The recipe remains exact same.
Instead of using an air fryer bake the stuffed peppers in the oven at 350 F (180 C) for 30 mins or until the cheese melts & the peppers become tender.
If you prefer crunchy stuffed peppers like in today's recipe go ahead and reduce the baking time and bake them for 15-20 mins at 350 F.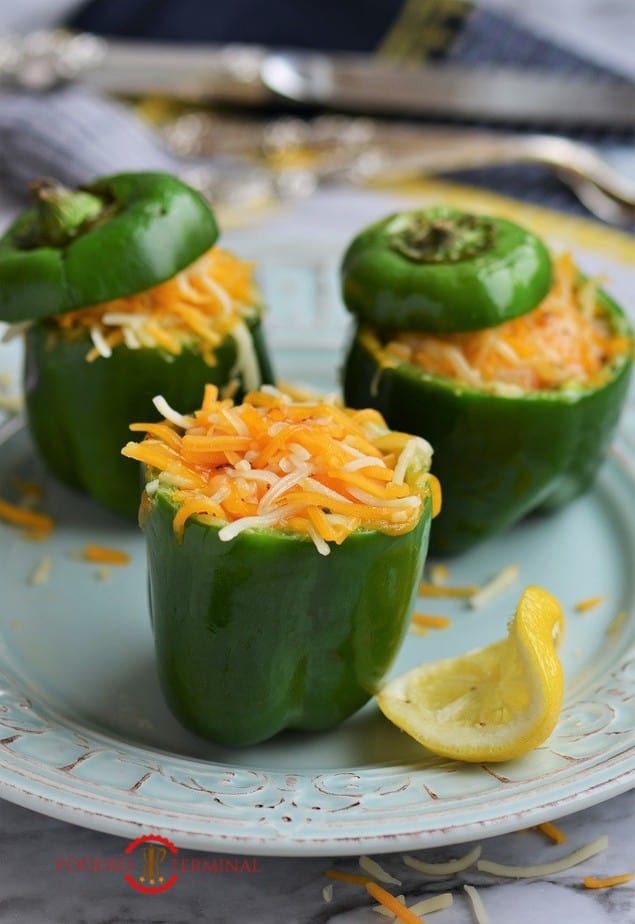 Step by Step method to cook Stuffed Bell peppers with shrimp and mushroom in an Air fryer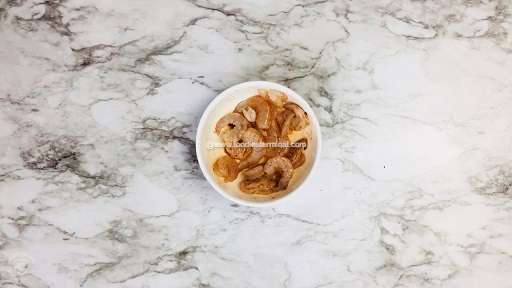 Fry the shrimps in olive oil over medium high heat.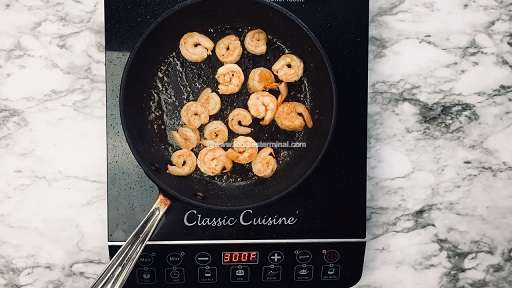 Next, in the same pan saute the garlic & the leek until slightly soft.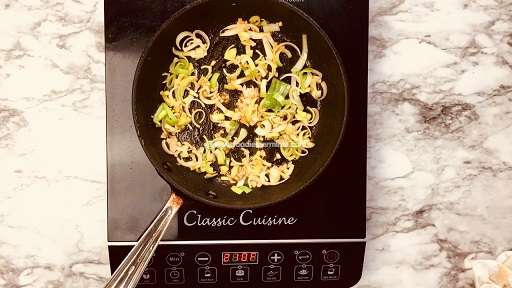 Now add the diced/halved mushrooms saute until slightly done.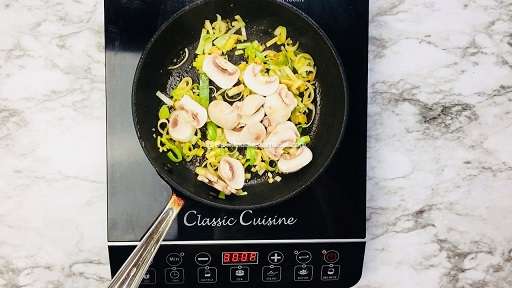 Add the fried shrimps + the jalapenos.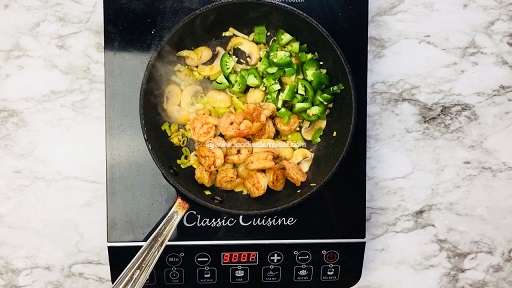 Saute until the Jalapenos are slightly done but not overly soft.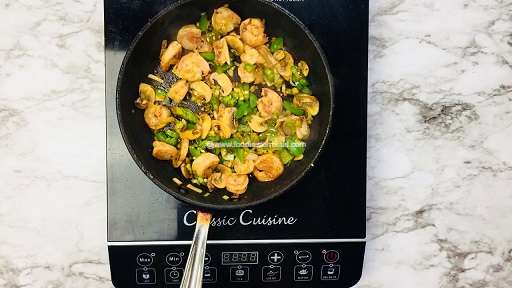 Allow, the cooked stuffing to cool down completely.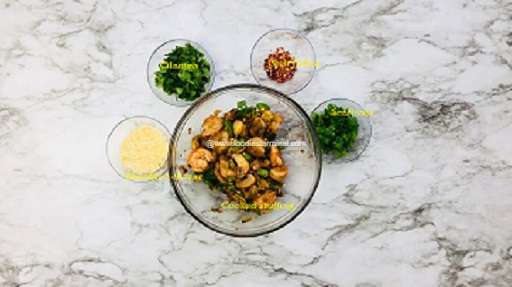 Mix cheese, chili flakes, chopped cilantro & scallions with the cooked stuffing.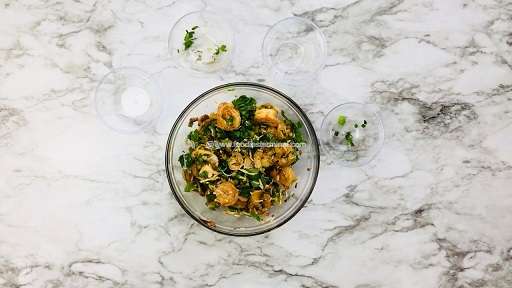 Stuff the peppers gently with the help of a spoon. Press, stuff, repeat with all the bell peppers.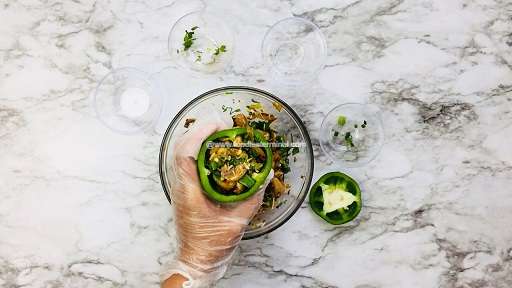 Top with shredded cheese.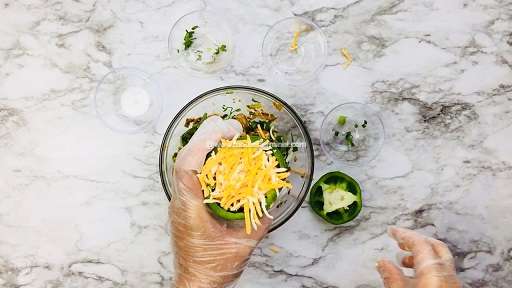 Secure the bell pepper crown with tooth picks. This helps the stuffing to remain in place even if the peppers topple inside the air fryer.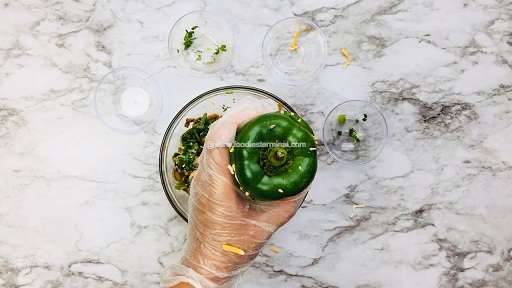 Air fry the stuffed peppers according to the mentioned time & temperature. Gently take out the tooth picks, serve hot topped with more cheese (as seen in the pictures in this blog)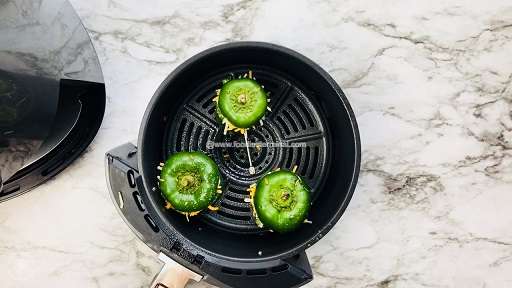 DID YOU TRY THIS RECIPE? Do Not forget to give a STAR rating! Just click on the STARS on the recipe card below to rate.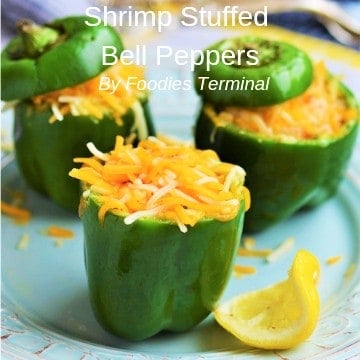 Stuffed Bell Peppers With Shrimp and Mushroom
Print Recipe
Pin
Rate
Stuffed Bell Peppers with Shrimp and Mushrooms is such an easy one-pot dish to make with readily available ingredients and in an air fryer. It's a perfect choice for picnics, potlucks or to cater to a huge crowd. Make these easy stuffed peppers in your air fryer quickly & sort your meals smartly.
Ingredients
5

Medium Bell peppers.

16

Medium shrimps

(de-shelled, whole or diced)

6

Mushrooms

(Halved or diced)

3

Jalapenos

(diced)

1/3

cup

roughly chopped leek

1/2

cup

chopped cilantro

(also known as coriander leaves)

1

tsp

Finely Chopped Garlic.

1/2

cup

chopped scallions

1/2 + more

cup

shredded cheese

1

tbsp

red chili flakes

1 + 1

tbsp

Extra Virgin Olive Oil
For Flash marinating the shrimps
Want more Recipe Videos?
Check out our Youtube channel!
Instructions
Begin by flash marinating the shrimps before frying them.  In a clean dry bowl take the shrimps & add the crushed black pepper powder, paprika & a pinch of salt. Mix everything well. Set aside.

Heat your favorite skillet over medium high heat, pour olive oil. When the oil is hot gently release the flash marinated shrimps & saute until pink & lightly golden. Set aside.

In the same pan add more oil & throw in the chopped garlic & the leeks & saute for a few minutes until the leek turns slightly soft.

Next add the chopped or diced mushrooms + the Jalapenos, add salt & fry until everything is cooked but slightly crunchy.

Add the fried shrimps. Saute everything well. Turn off the flame & transfer this cooked stuffing to a separate bowl & allow it to cool down completely.

In the meantime, wash the bell peppers well & chop off there crown. Preserve the crowns. Scoop out the seeds.

When the stuffing has cooled down add the scallions, cilantro, shredded cheese, chili flakes and mix well. Finally, the stuffing is ready to go in the Bell peppers.

Gently spoon the stuffing inside the bell peppers pressing them gently with the back of the spoon so that the inside of the bell peppers gets stuffed uniformly without any hollow spaces.

Top with loads of shredded cheese. 

Put the crowns of the bell peppers back and secure there position by inserting toothpicks.

For crunchy bell peppers (we prefer crunchy), air fry them at 400 F for 6 mins. And if you prefer soft bell peppers reduce the temperature of the air fryer to 360 F and air fry them for more 8 mins.

The cheese will be melty, but if you want you may garnish with more shredded cheese (as seen on the pictures, we prefer that way).

Take out the toothpicks and serve hot. Enjoy!
Notes
This recipe of Stuffed bell peppers makes 5 crunchy stuffed peppers.
If you do not prefer crunch in your stuffed peppers. Air fry them for some more time.
Crunchy stuffed peppers = 400 F for 6 mins in the air fryer.
Soft Stuffed peppers = the above + more 360 F for 8 mins in the air fryer.
After air frying we loaded them with more cheese on top before serving them. You may skip this step.
Measuring cup used, 1 cup = 240 ml & 1 teaspoon = 5 ml.
Air Fryer used = 4 quart
PLEASE NOTE: Nutrition values are my best estimates. If you rely on them for your diet or special diet, use your preferred nutrition calculator!
Nutrition Facts
Stuffed Bell Peppers With Shrimp and Mushroom
Amount Per Serving
Calories 222
Calories from Fat 108
% Daily Value*
Fat 12g18%
Sodium 247mg11%
Protein 14g28%
Vitamin A 700IU14%
Vitamin C 99.8mg121%
Calcium 90mg9%
Iron 2mg11%
* Read our privacy policy – Calorie information is provided as a courtesy only and should be leveraged as an estimate rather than a guarantee.Percent Daily Values are based on a 2000 calorie diet.
Nutrition
Calories:
222
kcal
|
Protein:
14
g
|
Fat:
12
g
|
Saturated Fat:
4.8
g
|
Sodium:
247
mg
|
Fiber:
2.7
g
|
Sugar:
4.1
g
|
Vitamin A:
700
IU
|
Vitamin C:
99.8
mg
|
Calcium:
90
mg
|
Iron:
2
mg
If you try this recipe or any other recipe from this blog, let us know! Leave a comment, rate it! Hearing from you is what makes my Day!
Follow us on Facebook & Pinterest.
Tag a photo on Instagram.
Pin For Later!