Indian Salmon Curry – Juicy fresh Salmon pieces cooked in a fragrant onion based curry sauce that's exactly what you'll have. This Salmon Curry in Indian Style is so easy to make at home with just a few handy oriental spices. Mop it off with long grain white rice, brown rice, Quinoa, Chapathi or Tortilla, you have endless possibilities to make this curried Salmon your very own!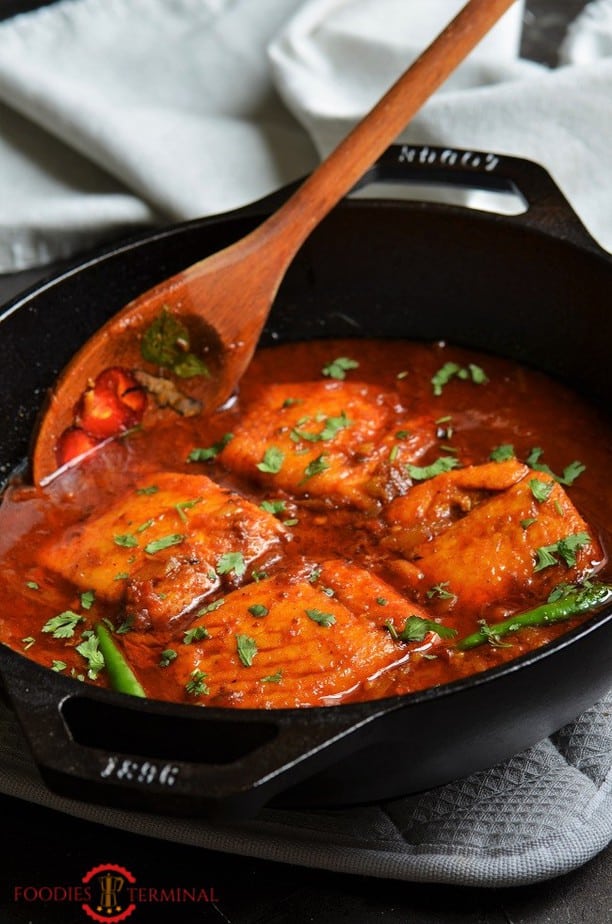 Watch Salmon Curry Indian Style Video
Salmon Curry Indian Style
There's everything to love about this super easy & quick Salmon curry Indian Style! Do you know why?
It's not because this Indian Salmon curry is creamy or rich. This curry is special because it's homey with all those everyday flavors that combine to make a comforting & light meal 🙂
Today's recipe is not restaurant style cooking but home-style where the spices are correctly balanced with the right amount of onion, tomato & garlic.
You won't be perplexed with overwhelming flavors because this curry is all about the Salmon & less about the other ingredients.
I cook it quiet often in my kitchen.
In fact, I cook Salmon a lot like this Doi Maach & Fish Tikka Masala.
I honestly admit that I've a certain weakness towards this omega 3 laden, antioxidant rich, potassium & selenium loaded fish.
Salmon definitely tastes ultimate & it's super healthy too!
Do you love Salmon? Share your thoughts in the comments below.
If you are not much of a Salmon eater do give this simple home-style Salmon Curry recipe a try.
Fresh Wild Caught Atlantic Salmon shallow fried first & than doused in an onion + tomato based curry sauce that's slightly garlicky.
Oh! yes, I just love adding fresh pods of garlic that are crushed gently into this Indian Salmon Curry.
Guys, do not skip the garlic it adds tons of flavors to this fish curry.
And the amazing flavors of the spices that gets slow simmered to give off the best flavors ever makes this recipe extra special.
You can also make this fish curry with either frozen salmon or fresh Salmon.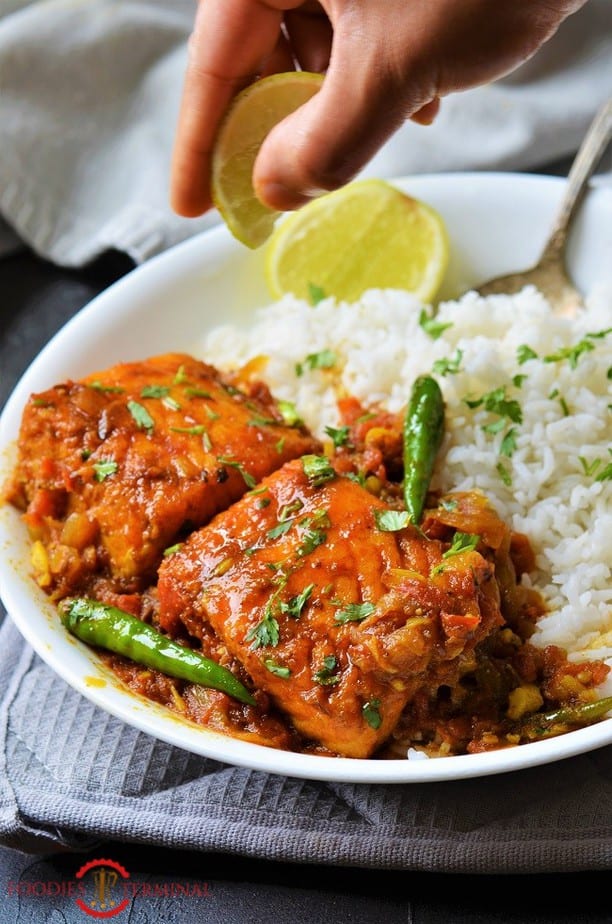 Indian Salmon Curry Recipe Ingredients
This is exactly what you'll need for today's easy Salmon curry Indian Style: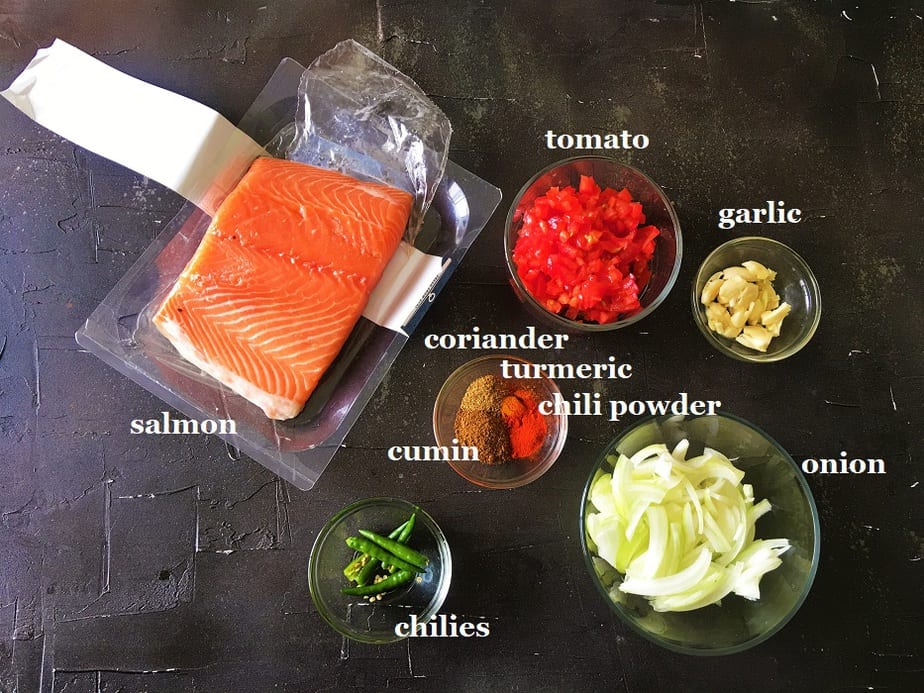 Salmon: Fresh or frozen. Fillet or steak. Pick one! For best flavors I would recommend to use wild caught fresh Salmon (steak or fillet, your choice).
Spices: Turmeric powder, coriander powder, cumin powder, Cayenne or chili powder for heat (it's optional). If you hate spicy food skip the last ingredient & if you love it add as much as you want 😀
Onion: Use white or red onion. Both taste equally good here.
Garlic: You need a little more. Always use crushed garlic pods (whole) to make this recipe of Indian style Salmon curry a bomb!
Tomatoes: Hunt down the juiciest ones in town. I love using stem tomatoes.
Oil: Cook it in any oil you prefer. I chose to go with Extra virgin olive oil.
What's the best Salmon to use for Indian Salmon Curry?
The best Salmon is always the fresh Salmon & the wild caught ones. I used just that to make this quick & easy Salmon recipe.
You can use Atlantic wild caught Salmon, King, Sockeye or Pink Salmon.
I have not yet tried making this curry with the other varieties of Salmon like Coho & Chum. We don't get them where we live!
If you are able to spot King (Chinook) Salmon grab it by all means. Its the fattiest, tastiest amongst all Salmons' available – a very rich, soft silken meat whose taste is unforgettable.
If you are unable to find some good wild caught varieties than make this recipe with wild caught frozen Salmon.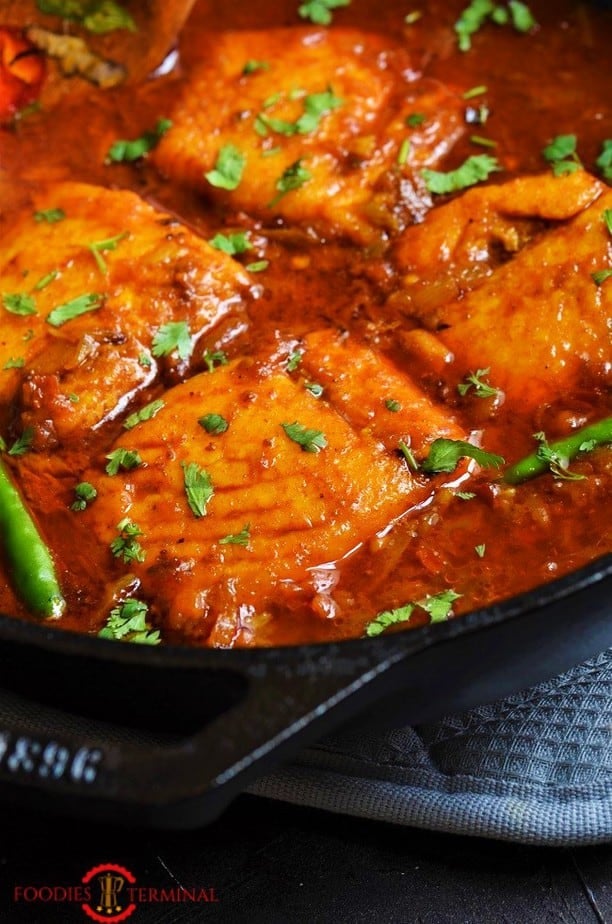 Can I use Frozen Salmon to cook this Indian Salmon Curry?
Yes, you can use frozen Salmon if you can't manage fresh fish. I would recommend to choose wild caught frozen Salmon for best flavors.
How long can you store Salmon Curry Indian Style in fridge?
This Salmon Curry Indian Style keeps good for 4 days in the fridge when you store it in an air tight container.
When you are ready to serve heat it in microwave oven for 2 mins. You may garnish it with some fresh chopped cilantro leaves & squeeze a few drops of lime juice.
Serving Ideas
We love this Salmon curry so so much because it goes very well with so many different things like Long grain white rice, brown rice, white quinoa, tortilla, Chapathi.
Just a few slices of pungent red onion on the side with some lemon or lime wedges makes this Salmon fish curry taste the best.
9 Tips to make the best Indian Salmon Curry
Fresh Salmon is the right Salmon here: Buy fresh if you have that option. Frozen Salmon should be your last resort. We love Wild caught varieties, they definitely taste so much better than the farm raised ones. You can use either Salmon steak or fillet.
Shallow fry the fish: Shallow frying the fish with a pinch of turmeric powder & salt will lock the juices of the fish & make it taste spectacular. Don't skip this step even if you are in a hurry 😉
Do not Over-fry the fish: This is just as important as the above point. Over frying the fish will make it so stiff and rubbery that it will be completely impenetrable to the curry sauce. We don't want that to happen here in this recipe atleast 😀 We want soft fish that will soak up the curry sauce gladly to become more tender, juicy & full of flavor!
Fry the Onions only until limp & Soft: Over frying onions will completely alter the taste of this Indian style Salmon curry recipe.
The garlic is the key to all those right notes: Do not miss the garlic & do add it only crushed. You can crush the pods of the garlic by pressing with the back of your knife.
The cumin powder adds magic here: Do not ever think of skipping it. The earthy flavor of cumin makes an extremely good curry sauce that's perfect for the fatty fish Salmon.
Saute until the oil oozing stage: The heat must be medium low & you need to do a little bit of sauteing here. I think sauteing or bhuna (as we call it in Hindi) is just a vital part of Indian cooking. The complex flavors deepens & develops with every bit of sauteing. You follow a short cut, you rush & you'll end up with mediocre tasting curry.
Keep the heat low: The sauteing of the masalas & simmering the sauce is done over medium low heat. Do not be tempted to increase the heat & quicken things up. The taste of the fish curry will completely change.
Use the same wok + fish fried oil: Cook the rest of the curry in the same wok you fried the salmon & also use the fish fried left over oil. This is that one little secret trick that'll transform your Indian Salmon curry into something so irresistibly good! 😉
Pro Tip: Shallow fry the Salmon for best flavors. It'll soak up just the right amount of flavored curry juice & become extremely tender & flavorful.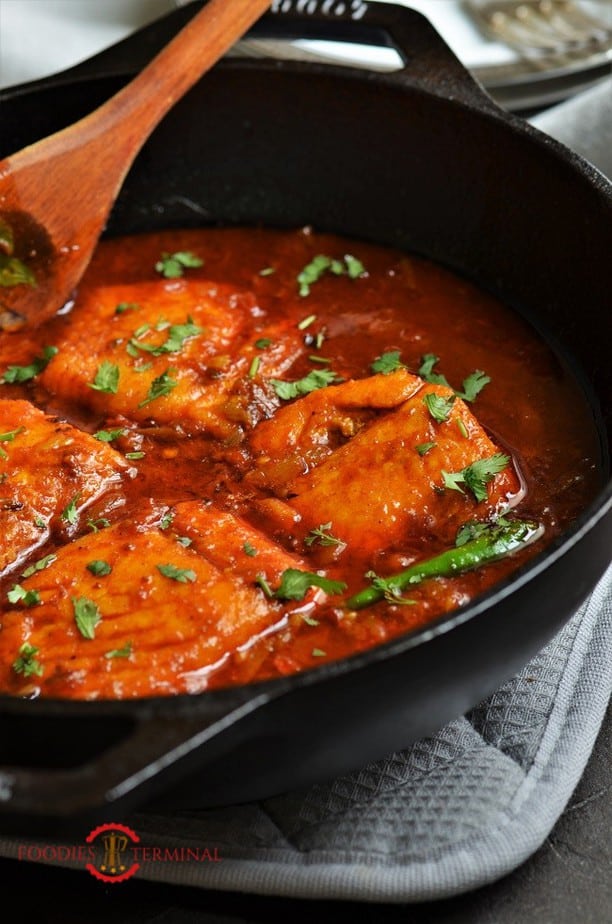 7 Health benefits of Salmon you must not miss
Salmon is a fatty sea fish that's a health gold mine and you must not miss it's awesomeness in anyway 🙂
Consuming 2 servings (per week) of this delicious & versatile fish will provide you with all the necessary nutrients & keep you in good health. (Sourced from Healthline.)
Rich in Omega 3 fatty acids : A 3.5 ounce or 100 gms wild caught Salmon contains 2.6 gms long chain Omega 3 fatty acid.
An excellent source of protein. A 3.5 ounce Salmon is loaded with 22-25 gms proteins.
An outstanding source of vitamin B. Vitamin B helps to improve heart & brain health, controls inflammation & is much needed for producing energy.
It's an excellent source of Potassium which helps to control blood pressure & curtails the risk of stroke. An equivalent amount of Salmon contains even more potassium than Banana.
A great source of Selenium. This trace mineral helps in bone health, and helps those with thyroid diseases. A 3.5 ounce or 100 gms serving of Salmon provides 59-67 % of RDI of Selenium.
It's rich in Antioxidant known as Astaxanthin. This antioxidant is beleived to help reduce the risk of heart disease by reducing the bad cholesterol LDL & increasing the good cholesterol HDL. Astaxanthin not only aids in heart health but also helps to boost Brain, nervous system & skin health.
May reduce the risk of heart diseases. A balanced dose of salmon increases the omega 3 fatty acids, reduces omega 6 fatty acid & triglycerides.
Source Courtesy : Healthline, an amazing source of all the health benefits of Salmon.
How to make Indian Salmon Curry?
Steps in words below pictures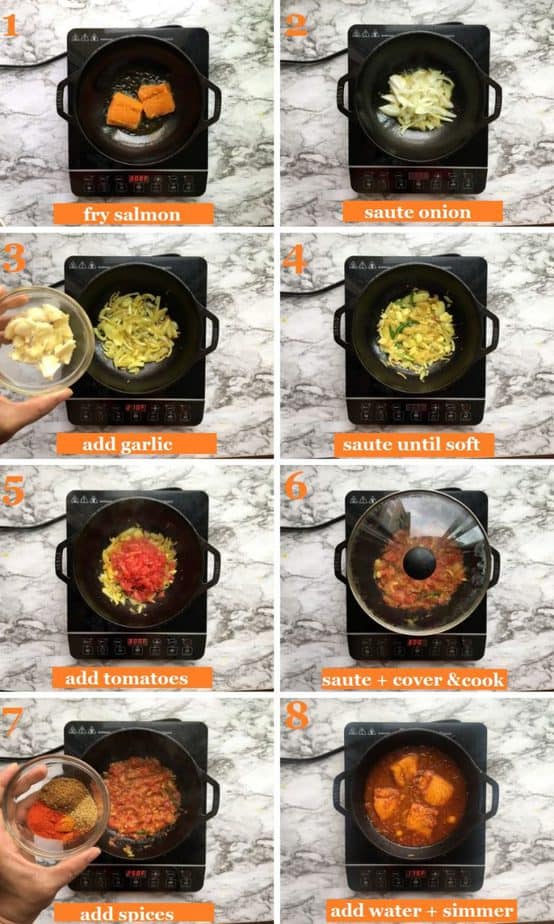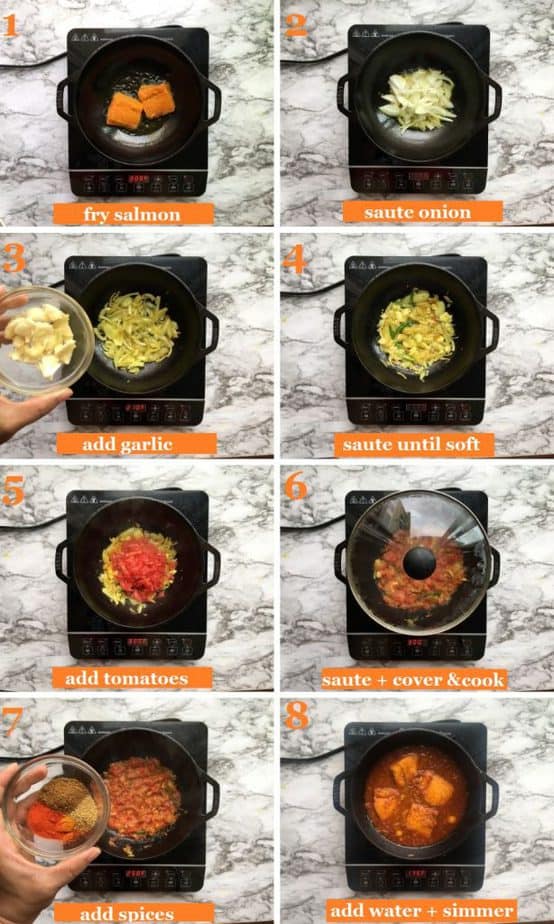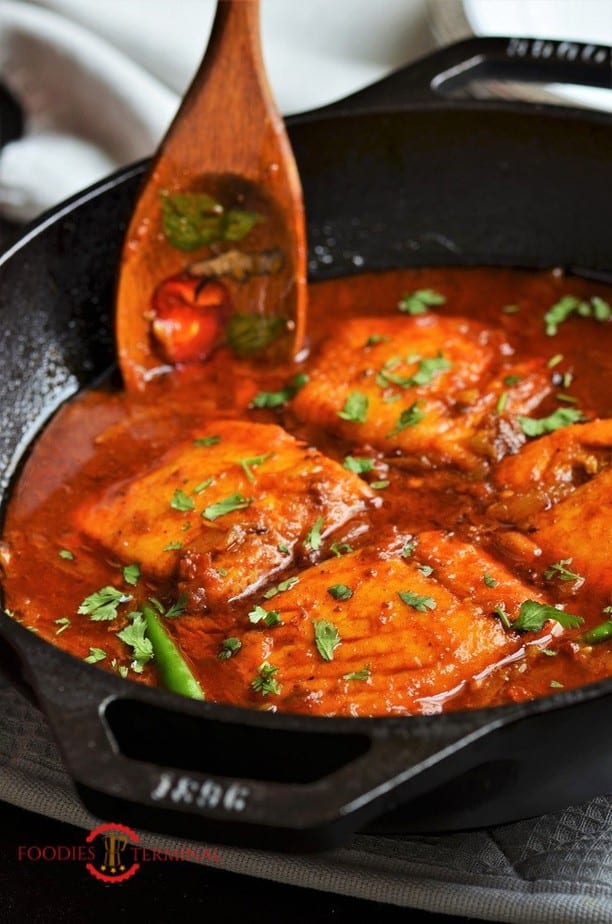 How to make Indian Salmon Curry?
Shallow Fry the Salmon

Wash the Salmon pieces & pat them dry. Next, smear them with a pinch or two of turmeric powder + salt & fry them over medium high heat until lightly golden on both side. Set aside on a clean plate.

Saute the sliced onions

Use the fish fried oil + the same wok to cook the rest of the curry sauce. Release the sliced onions in moderately hot oil & fry them over medium low heat until just limp & soft. You may add salt to quicken the process & you may also cover a cook for a few seconds to make the onions soft fast.

Saute the garlic + chilies

Next, add the crushed garlic whole pods + chilies to the wok & saute them along with the onion until the garlic becomes slightly soft.

Saute the tomatoes

Add finely chopped tomatoes & saute until mushy by constantly crushing them with your spatula. Cover & cook for a couple of mins to quicken the process.

Add the spices & saute

Mix in the spices & saute on medium low heat until just fragrant. It should take you about 2 mins.

Add water + simmer the curry sauce

Add warm water for better flavors & a quick boil. Cover & simmer the sauce on medium low to low heat for 2-3 mins.

Add fish simmer & serve immediately

Add the shallow fried Salmon to the curry sauce. Give it a quick boil for about 1-2 mins & serve immediately. You may garnish with chopped cilantro leaves. Enjoy!
Hungry for more Salmon Recipe? Check these from FOODIES TERMINAL.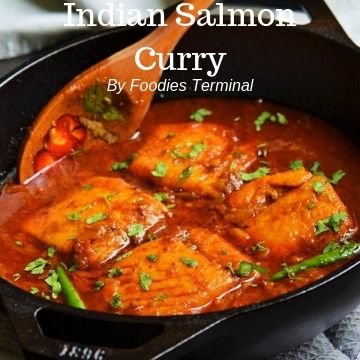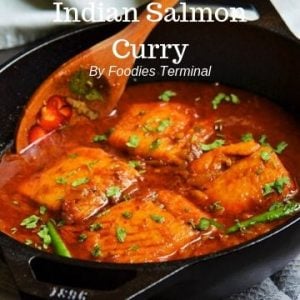 Indian Salmon Curry
Print Recipe
Pin
Rate
Indian Salmon Curry is a hearty protein rich, omega 3 fatty acid rich extremely delicious fish curry to warm up your lunch or dinner. This Salmon curry Indian style is very easy to make & a super quick recipe to make its way to your weeknight dinner menu.
Want more Recipe Videos?
Check out our Youtube channel!
Instructions
Cut the fish into pieces according to your preference, I made into 4 big pieces. Remove the scales & wash them a multiple times under running tap water. Pat them dry with the help of paper towel.

Next, smear the fish pieces with a pinch or two of turmeric powder + salt and set them aside.

In the interim heat up a wok or skillet over medium high heat add about 2 tbsp oil.

When the oil becomes moderately hot gently release the fishes to the oil & fry them until lightly golden from both sides. Set aside the shallow fried fishes.

In the same oil & the same wok release the sliced onions & saute over medium low heat until limp & soft. Add salt to quicken the process.

When the onions are all limp add the crushed garlic pods + green chilies & saute for 2-3 more mins or until the garlic are slightly soft.

Now, add the chopped tomatoes & saute until the tomatoes are completely mushy & oil begins to leave the sides of the wok. Cover & cook to quicken the process.

Next, add the spices & mix well. Saute for 1-2 mins until the masalas are slightly fragrant. Do not saute much. stop at this point.

Now, add warm water to the wok & mix everything well. Cover & simmer for 3-4 mins.

Next, add the shallow fried Salmon fishes to the curry sauce and cover and simmer on low for another 1-2 mins. Serve immediately. Enjoy!
Notes
Measuring cup used, 1 cup = 240 ml & 1 tsp = 5 ml
It's recommended to serve the Indian Salmon Curry immediately for best flavors. The Salmon pieces will soak just the right amount of curry sauce & become tender & juicy.
Do not OVER cook the Salmon in the curry sauce. Cover & Simmer them for exactly 1-2 mins over low heat. Anything beyond this time will make the fish pieces extra soggy & the Salmon will loose taste.
I got 4 large pieces from 1.02 pounds or 462 gms Salmon fillet. And it was perfect for 4 people. But, you make make more pieces out of the fillet if you decided to go for small pieces instead or you may even go for big slices & make just 3 pieces. Choice is yours. You can also use Salmon steaks.
If you hate spicy food skip the green chilies + the red chili powder & use paprika or kashmiri red chili powder instead. 
For some extra tang & punch squeeze just a few drops of lemon juice in the Indian Salmon curry & throw in some fresh chopped cilantro leaves.
Nutrition Facts
Indian Salmon Curry
Amount Per Serving
Calories 410
Calories from Fat 225
% Daily Value*
Fat 25g38%
Cholesterol 93mg31%
Sodium 1260mg55%
Potassium 1104mg32%
Carbohydrates 9g3%
Protein 35g70%
Vitamin A 980IU20%
Vitamin C 12.5mg15%
Calcium 58mg6%
Iron 2.9mg16%
* Read our privacy policy – Calorie information is provided as a courtesy only and should be leveraged as an estimate rather than a guarantee.Percent Daily Values are based on a 2000 calorie diet.
Nutrition
Calories:
410
kcal
|
Carbohydrates:
9
g
|
Protein:
35
g
|
Fat:
25
g
|
Cholesterol:
93
mg
|
Sodium:
1260
mg
|
Potassium:
1104
mg
|
Fiber:
2
g
|
Sugar:
4
g
|
Vitamin A:
980
IU
|
Vitamin C:
12.5
mg
|
Calcium:
58
mg
|
Iron:
2.9
mg
Pin it for Later!