Instant Pot Boiled Peanuts – a salty Southern favorite, these Instant Pot Boiled Raw Peanuts are a staple Southern snack, an official state snack of South Carolina. They are pressure cooked in a salty delicious brine & gets done within 2 hours which is much quicker than the traditional method.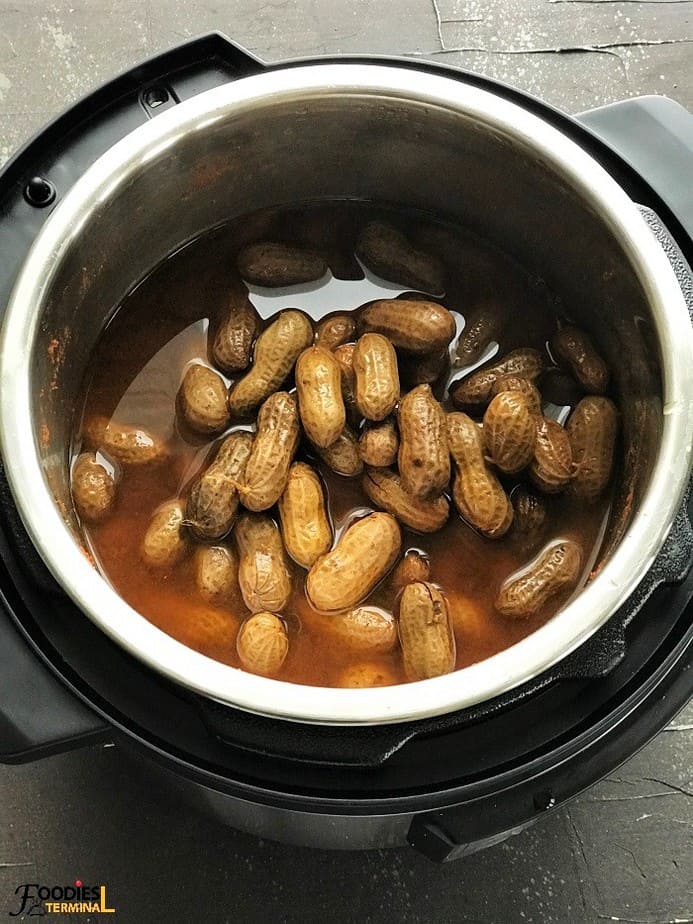 Instant Pot Cajun Boiled Peanuts
We love everything Cajun just like this Instant Pot Cajun Chicken and Rice.
And why not Cajun boiled peanuts when they taste mind-blowing GOOD!
Cooked in a flavored brine containing Cajun and Creole seasoning, paprika, lots of salt and dried red chilies (optional).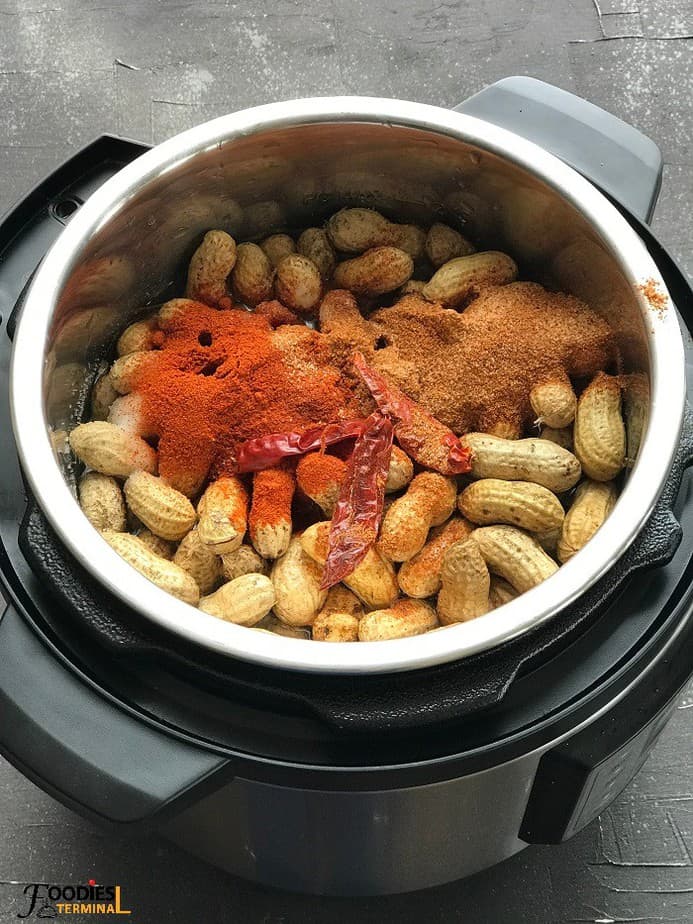 These Louisianian flavored pressure cooker boiled peanuts makes an amazing snack when paired with chilled beer or even cold soda. Best enjoyed directly from the brine soaked hull.
---
Ingredients
Find the Ingredients with actual measurements way below the post on the "Recipe Card". The list below is just a reference.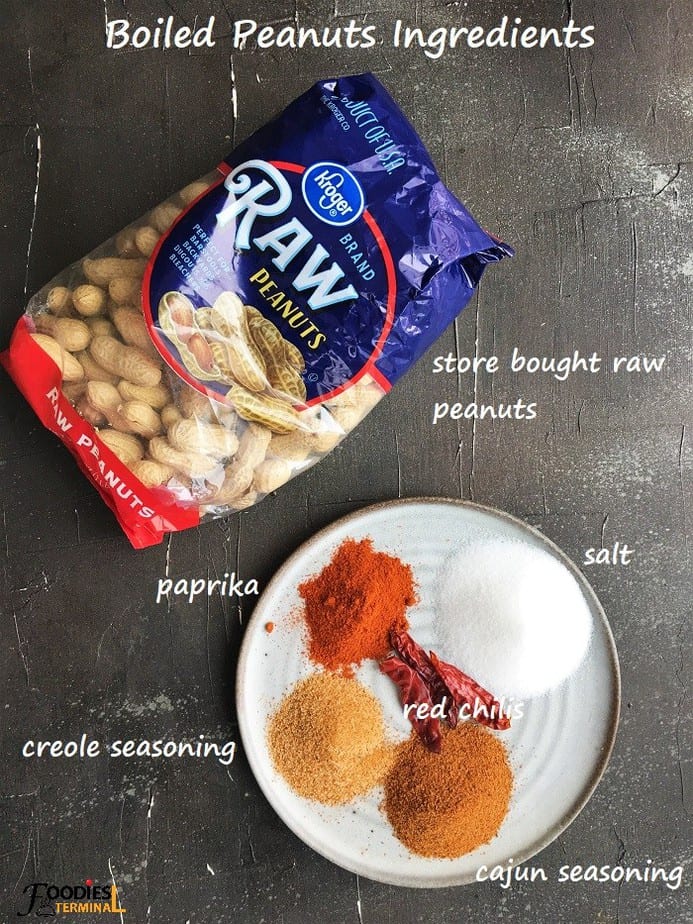 Raw or Green Peanuts: Rinsed well to discard debris and small rocks.
Salt.
Extra Flavorings: Cajun Seasoning, Creole seasoning, Paprika & whole dried red chilies (optional).
---
Brine
You can make a plain and simple Salt water brine for boiled peanuts or add layers of flavor in the brine.
Just like today's recipe – I made the brine with salt, cajun seasoning, paprika, creole seasoning and whole dried red chilies – Louisianian Style.
You can also dress up the brine with garlic powder, onion powder, old bay, red chili flakes, sliced jalapenos, Zatarain's etc. The sky is the limit here.
We love the Louisianian Cajun flavor.
The extra chili kick and the salty brine makes these old fashioned boiled peanuts a super-hit in my house.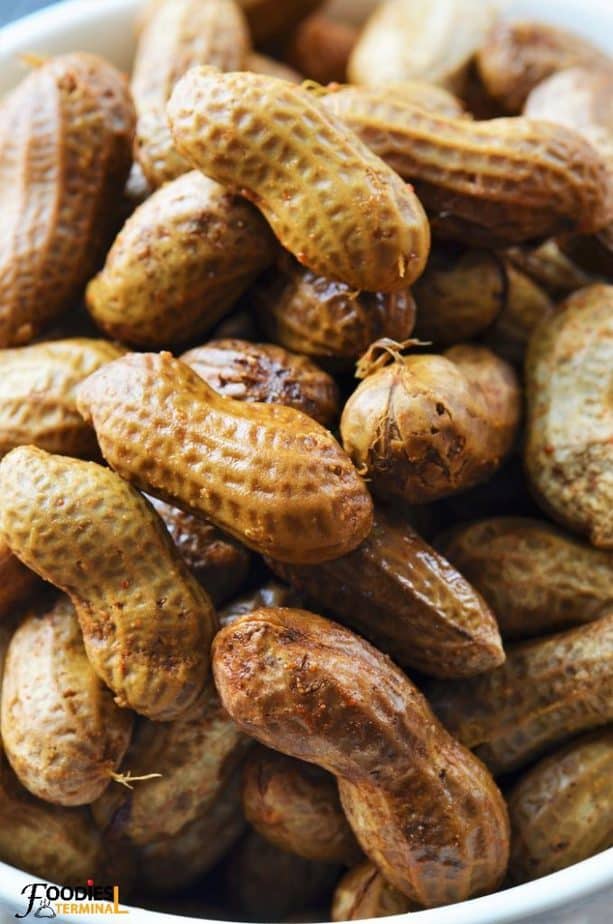 Tips & Tricks
For every 2 pounds raw peanuts use ⅓ to ½ cup salt.
Pressure cook raw peanuts in Instant Pot for not less than 90 minutes. This will give you tender boiled peanuts with a bite. Imagine raw peas.
Flavor the salty brine with Cajun Seasoning, old bay, or Zatrain's. If you love chili kick add a good dose of red chili flakes and paprika.
For best results drain the excess brine from the boiled peanuts with the help of a colander and than serve.
Method
Find the detailed step by step recipe along with measurements way below the post on the "Recipe Card".
Step #1 Prep the Raw or Green Peanuts
Rinse the raw or green peanuts very well before boiling them. They might contain debris and dirt.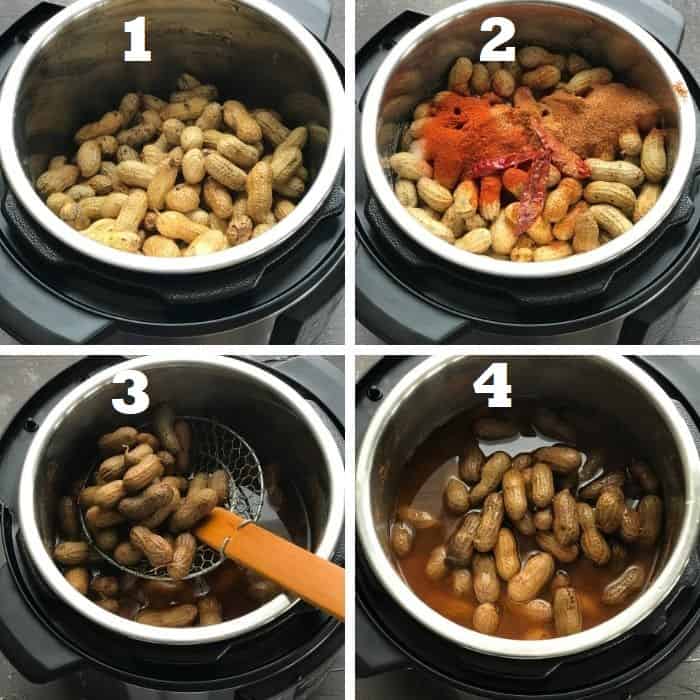 Step #2 Pressure cook Peanuts
Add the rinsed raw or green peanuts in the steel pot of the Instant Pot. Add all the flavoring ingredients like Cajun seasoning, paprika, salt and dried red chilies.
Pour enough water.
Close the lid of the Instant Pot. Seal the Valve.
Pressure cook on HIGH for 90 minutes followed by a natural pressure release.
Drain the pressure cooked boiled peanuts and serve with chilled beer. Enjoy!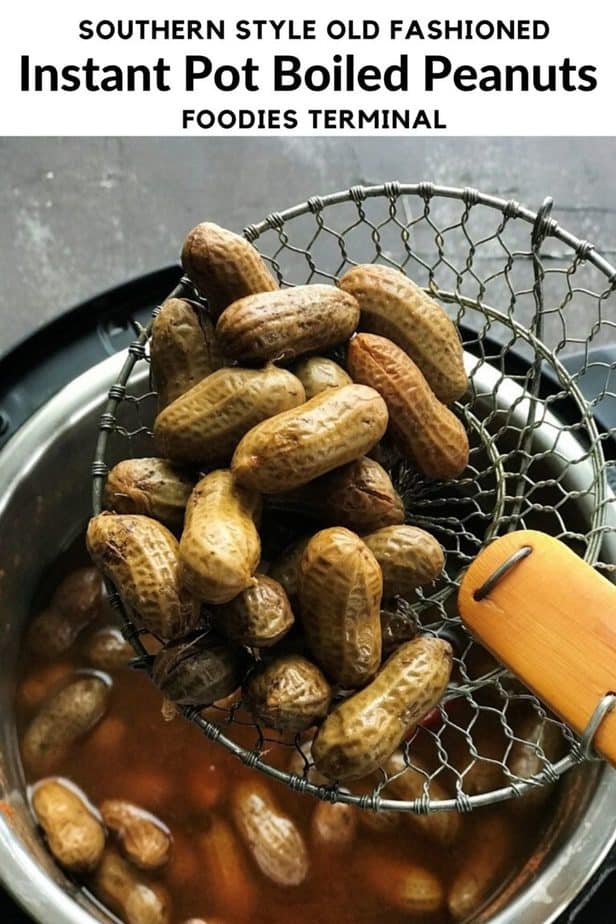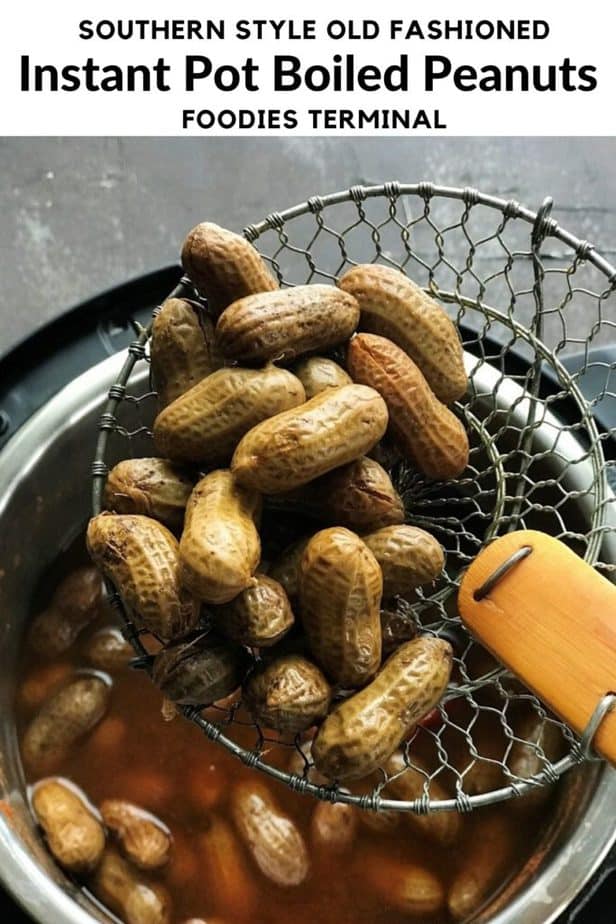 FAQs
What is Boiled Peanuts?
Boiled Peanuts is a tasty snack popular in the Southern United States where raw peanuts along with the hull are cooked in a salty brine sometimes also flavored with Cajun spices, old bay or Zatarain's that makes Cajun Boiled Peanuts.
How long boiled peanuts last?
Boiled peanuts lasts for 7 days in the fridge when stored in air tight containers. Instant Pot boiled peanuts also freezes very well for several months when drained well and than stored in freezer safe bags.
How do you fix salty boiled peanuts?
Fix salty boiled peanuts by replacing some amount of the salty brine with same amount of normal water.
Are raw peanuts the same as green peanuts?
No, raw peanuts are not the same as green peanuts. Raw peanuts are uncooked dehydrated peanuts without any moisture. Whereas, green peanuts are fresh harvested peanuts that are not dehydrated.
How do you freeze cooked boiled peanuts?
You can freeze cooked boiled peanuts after draining the excess brine completely and than storing the boiled peanuts in freezer safe, air tight and moisture proof bags. They last for several months in the freezer.
Why are my boiled peanuts slimy?
Boiled peanuts sometimes turn slimy if left outside for more than 24 hours. The excess moisture content turns the peanuts slimy.
How much salt does it take to boil peanuts?
You need ½ cup salt to boil 2 pounds raw peanuts.
Do you drain boiled peanuts?
Yes, you must drain the boiled peanuts. There's always a wee bit of salty, spicy and tasty brine left trapped inside the shells for you to enjoy it with the nuts.
What are the best peanuts for boiling?
Green Peanuts are best for boiling. However, they are not readily available so, raw peanuts that are uncooked and partially dehydrated are a good substitute as well.
More Beginner Instant Pot Recipes
---
---
---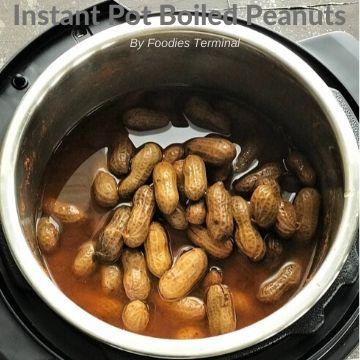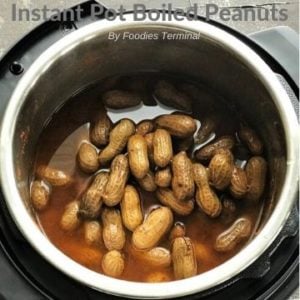 Instant Pot Boiled Peanuts
Print Recipe
Pin
Rate
Instant Pot Boiled Peanuts is a delicious Southern Style healthy snack that is so easy to make, You can make Instant Pot Cajun Boiled Peanuts with raw or green peanuts.
Want more Recipe Videos?
Check out our Youtube channel!
Equipment Used
Instructions
Begin by rinsing the whole raw peanuts very well.

Add the rinsed whole peanuts in the steel pot of the instant pot. Pour enough water to cover the peanuts.

Add salt and the other seasonings if using any like Cajun seasoning, creole seasoning, paprika and whole chilies. Give everything a good mix.

Cover the Instant Pot. Seal the Valve and pressure cook on HIGH for 90 minutes.

When the cooking cycle is over the Instant Pot will begin to beep. Wait for a complete natural pressure release and than open the lid of the pot.

Strain the boiled peanuts or lift them up with slotted soon and serve with chilled beer. Enjoy!
Notes
Measuring Units used, 1 Cup = 240 ml and 1 teaspoon = 5 ml.
If you get fresh green peanuts you may cook them for 75-80 mins on HIGH followed by a 30 mins natural pressure release for a great boiled peanuts texture.
90 mins on HIGH pressure and 30 mins natural pressure release makes a batch of  boiled peanuts with great texture using store bought raw peanuts. The boiled peanuts turn out tender with a bite. However, if you prefer softer boiled peanuts you may soak the raw peanuts over night in enough water before pressure cooking them.
Raw Peanuts are not same as Green peanuts.
Raw Peanuts: Uncooked Peanuts, dehydrated, available in regular grocery stores with labels "RAW", requires longer cooking time, may have to soak them overnight before boiling them.
Green Peanuts: Freshly farmed, uncooked peanuts not dehydrated, they retain the moisture, they are more fresh, not readily available, seasonal and requires lesser cooking time as compared to raw peanuts. They are the best candidates for old fashioned Southern Style boiled peanuts.
You may totally skip using all the seasonings and use only regular table salt.
Enjoy the boiled peanuts with chilled beer.
For extra spicy kick you may use a generous amount of red chili flakes.
Discard the hulls and eat only the nuts.
Calorific details are provided by a third party application and are to be used as indicative figures only.
Nutrition
Calories:
2623
kcal
|
Carbohydrates:
79
g
|
Protein:
120
g
|
Fat:
227
g
|
Saturated Fat:
35
g
|
Sodium:
18970
mg
|
Potassium:
3664
mg
|
Fiber:
47
g
|
Sugar:
1
g
|
Vitamin A:
6212
IU
|
Vitamin C:
2
mg
|
Calcium:
517
mg
|
Iron:
20
mg