Instant Pot Kheer aka Indian Rice Pudding is the easiest dessert that you can dream of making in an Instant Pot. This Instant Pot Rice Kheer is extra creamy, rich & delish!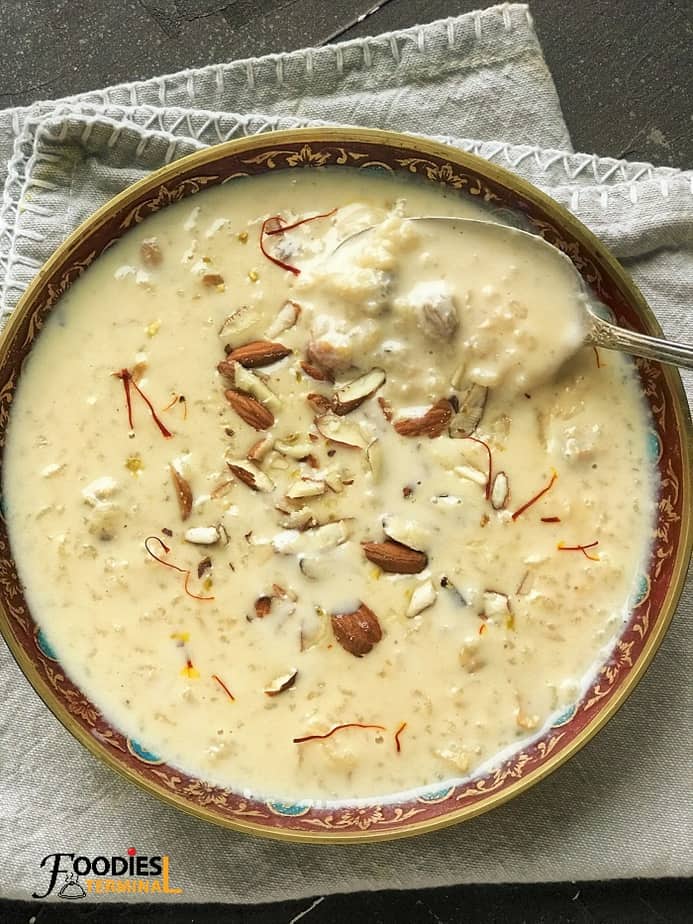 Instant Pot Rice Kheer
Worried about BURN alerts in your Instant Pot while making Rice Kheer?
Today's post will solve just that – the most annoying "BURN" alert!
And no more super messy sticky Instant Pot inner lid all covered with splattered milk. I know how hard it is to clean.
Don't miss the tips and tricks to make "Burn" alert-free, fail-proof, creamiest, richest and delicious Pressure cooker Rice Kheer or Chawal Kheer.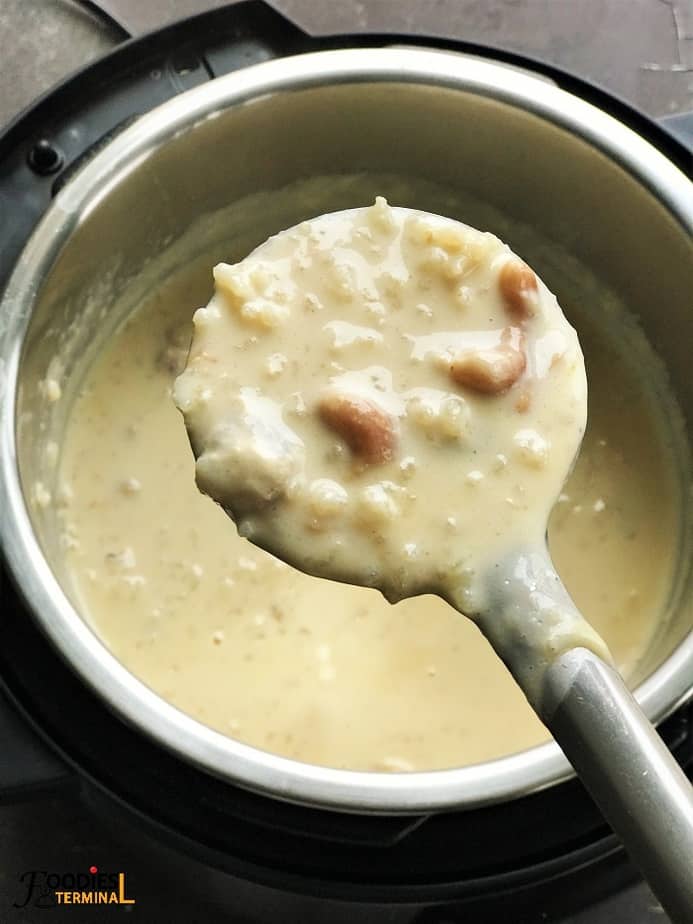 Which rice is used for Kheer?
The best fragrant rice varieties that we prefer in our Foodies Terminal Kitchen are as follows:
Basmati Rice.
Gobindo Bhog Rice.
Jeera Samba Rice.
Kali Jeera Rice.
You can use any of the above rice varieties to make a rich, creamy and delicious Rice Kheer the Indian way.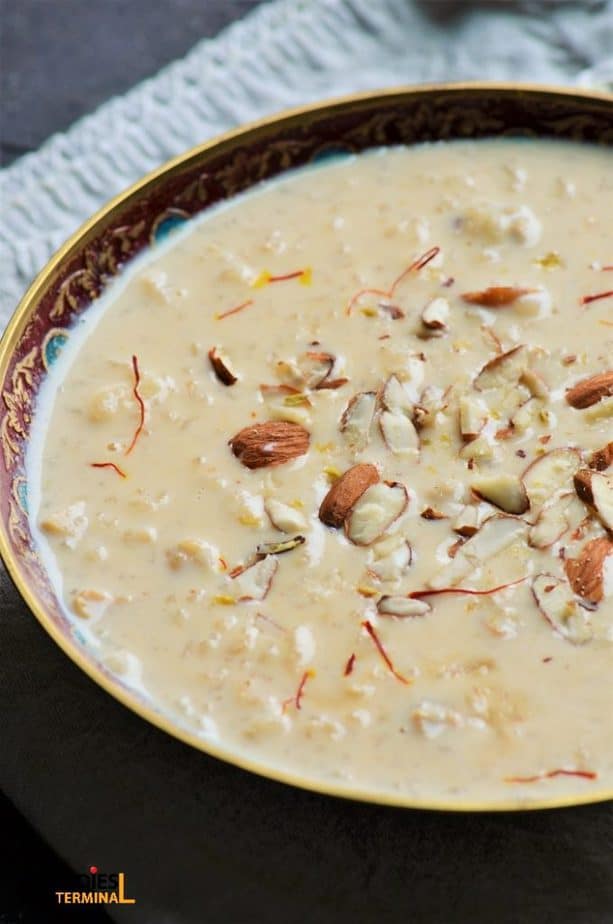 Ingredients
Find the Ingredients with actual measurements way below the post on the "Recipe Card". The list below is just a reference.
You can make Instant Pot Kheer with just three ingredinets namely rice, milk and a sweetener of your choice (sugar, jaggery or condensed milk).
However, you can skip the rest of the ingredients if you do not have them in your pantry!
Basmati Rice : You need to preserve the starch of the Basmati rice so do not over rinse it. Just rinse it once.
Full Fat Whole Milk : We love our kheer extra creamy and rich. If you are in same boat do add full fat milk. However, you may add 1%, 2% milk if you don't mind less creamier rice kheer. Totally upto you.
Sweetened Condensed Milk: I used it as a sweetener for today's Instant Pot Kheer recipe. However, you may replace it with normal sugar or even jaggery. Read the NOTES on the recipe card way below for more details.
Green Cardamom Powder or whole green cardamoms: You can skip the rest of the ingredients mentioned below. However, do not skip this one. It makes the Kheer inviting and very appetizing in every way possible.
Cashew Nuts: Add them whole, chopped or crushed.
Silvered Almonds (Roughly chopped or thinly sliced): I used them as a garnish. You can also add them along with the cashew nuts.
Raisins: We love golden raisins. And I love to saute the raisins in ghee to plump them up. You can dump raw raisins and follow the recipe as such.
Saffron: I used it as a garnish. You can skip it. It adds a subtle floral hint to the Indian Rice Kheer.
Ghee: This is the one secret ingredient that takes today's Instant Pot Rice Kheer with condensed milk a notch up. Use it if you can!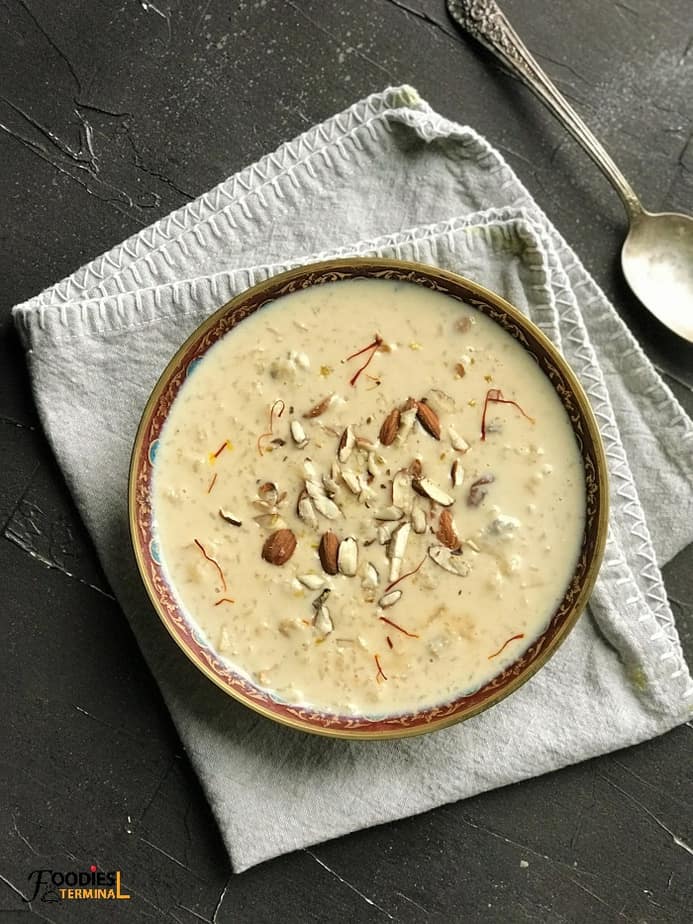 Tips & Tricks
Rice: Do not rinse the rice too much. You need to preserve the starch of the rice which will make the rice kheer creamier and luscious.
Milk: Use full fat Whole Milk for a creamy Kheer.
Burn Error: To avoid BURN message and a sticky pot add the sweetener once the pressure cooking cycle is over.
Cardamom: Do add green cardamom powder or whole green cardamom. It adds a lovely aroma to the Instant Pot Kheer and makes it appetizing.
Ghee: Add a dollop of ghee. You can add ghee and saute the raisins and nuts in it and than proceed with the recipe. Or if you intend to dump and cook the Instant Pot Rice Kheer than just add the ghee just before pressure cooking. Ghee adds tons of flavor and rich texture to the Rice Kheer.
Method
Find the detailed step by step recipe along with measurements way below the post on the "Recipe Card".
Step #1 Saute the Nuts & Raisins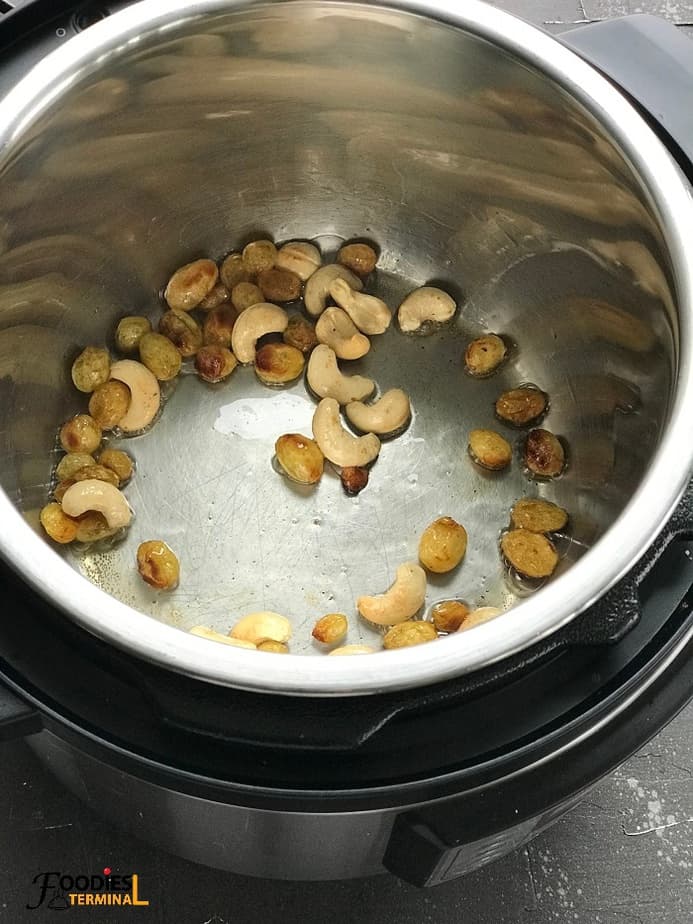 Set the Instant Pot on SAUTE and keep it on NORMAL.
Saute the whole nuts and raisins in ghee or oil until they become lightly golden or the raisins plump up.
This step is however optional. You can totally dump everything together and pressure cook.
Step #2 Pressure Cook Kheer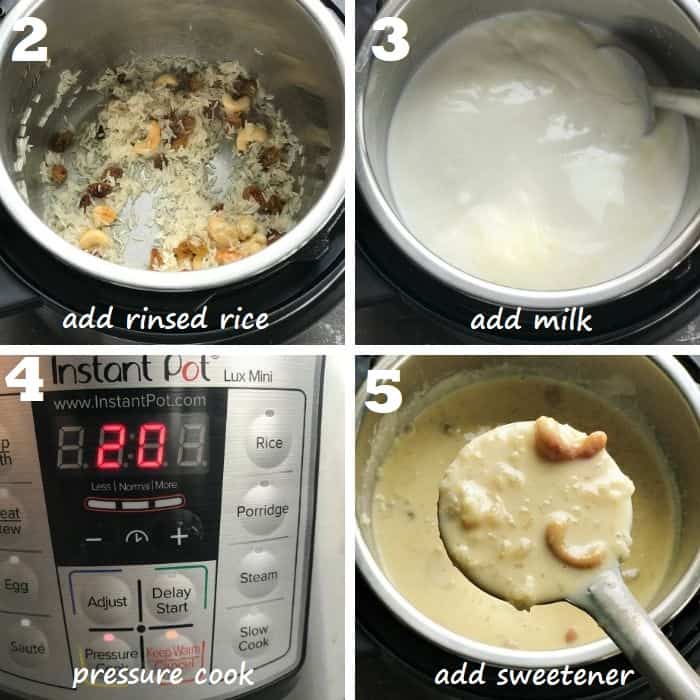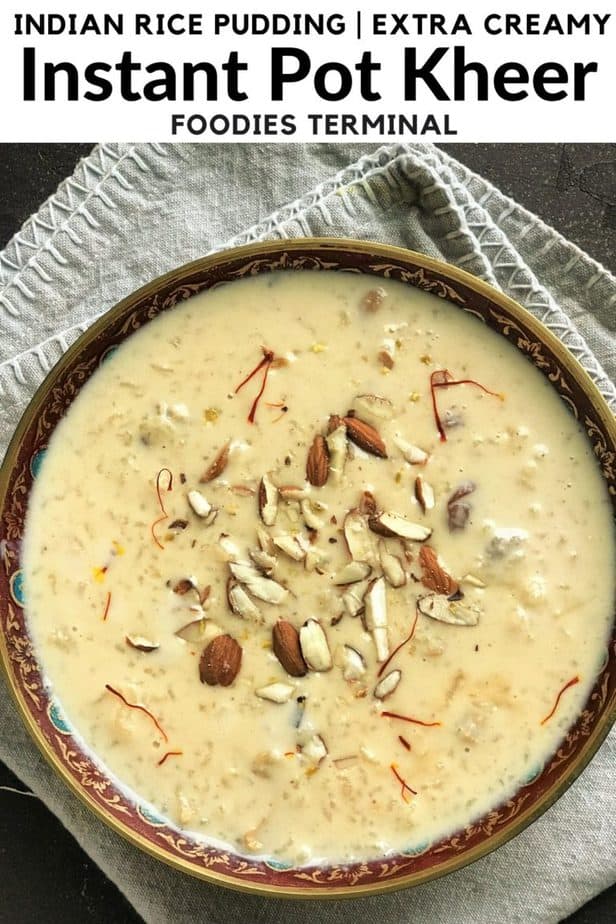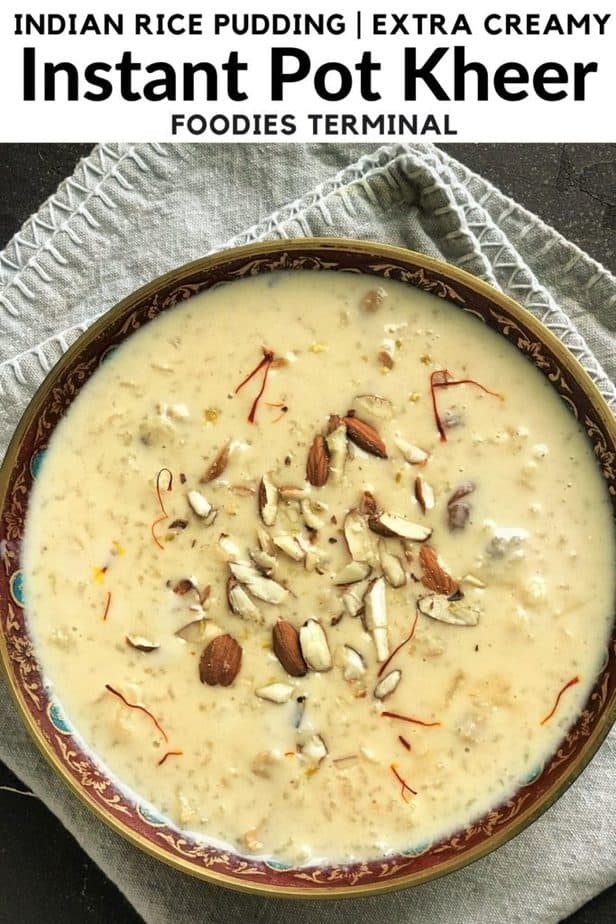 Mix in the rinsed Basmati Rice. Pour milk, de-glaze pot really well and pressure cook on HIGH for 20 mins followed by Natural Pressure Release (NPR) for 15 mins.
Mix in your preferred sweetener like condensed milk or sugar or jaggery and mix well.
If you prefer super thick Kheer do simmer the Rice Kheer on SAUTE kept at low for few minutes to adjust the consistency of the Kheer.
Remember Kheer thickens on it's own as it gets cold.
---
FAQs
What is Kheer?
Kheer is a pudding made by boiling either rice, tapioca, vermicelli, broken wheat with rice and sweetened with either sugar, jaggery or condensed milk. It's also flavored with cardamom, saffron, raisins, nuts like cashews, pistachios, almonds and served as a dessert.
How do you thicken kheer?
You can thicken Kheer either by simmering it for a little longer or you may add a quick rice flour and water slurry to the Kheer and than simmer it for sometime over low heat.
How long does Kheer last?
Kheer lasts for 7 days in the fridge when stored in moisture free & clean airtight containers.
Can Kheer be frozen?
Yes, Kheer can be frozen for upto 2 months. You can freeze Rice Kheer in freezer safe bags or containers. Thaw overnight in the fridge and than allow them to rest on the counter top for sometime until it regains its normal consistency.
What does Kheer taste like?
Instant Pot Rice Kheer tastes creamy, soft, milky, sweet and rich with a subtle hint of cardamom, saffron. It has a slightly crunch from the nuts like cashews and almonds.
Is Kheer eaten hot or cold?
Kheer can be eaten both hot or cold.
Can we reheat Kheer?
Yes, you can reheat Kheer in the microwave oven or on the stove top. However, do not allow it to come to a rolling boil. Just warm it up and enjoy!
More Instant Pot Desserts:
---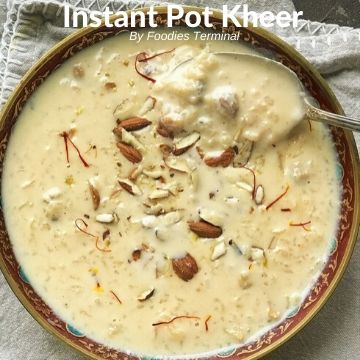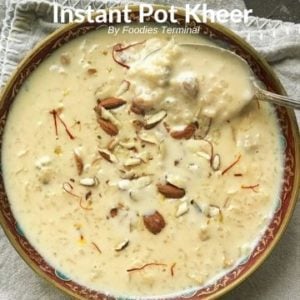 Instant Pot Kheer
Print Recipe
Pin
Rate
Instant Pot Kheer is the creamiest, richest Indian Rice Pudding perfect to make even during busy weeknights. This Instant Pot Rice Kheer recipe is made with Basmatic rice, milk & condensed milk.
Want more Recipe Videos?
Check out our Youtube channel!
Equipment Used
Instructions
Rinse the rice with water only once. We want to preserve the starch and not strip it down completely. The starch will help make the kheer or Indian Rice pudding creamy.

Set the Instant Pot on SAUTE and keep it on NORMAL. Add ghee or white oil and when the ghee/oil becomes moderately hot gently throw in the raisins and cashews and saute them until the raisins plump up and the nuts become slightly golden. Now, this step is totally optional. You can however, dump everything and pressure cook to make the Rice Kheer.

Next, add the rinsed rice and saute for 2-3 seconds. Pour milk and mix very well. De-glaze the pot really well so that there are no bits and crumbs stuck at the bottom of the pot.

CANCEL the SAUTE function. Close the lid, seal the valve and PRESSURE COOK on HIGH for 20 minutes.

Once the cooking cycle is over the Instant Pot will begin to beep. CANCEL the PRESSURE COOK function. Wait for 15 mins NATURAL PRESSURE RELEASE (NPR) and than release the rest of the pressure manually.

Open the lid and add the condensed milk & the cardamom powder and mix well until well incorporated. You can add your preferred sweetener now, for instance instead of the condensed milk you can add either sugar or jaggery (READ NOTES below). Allow the kheer to rest for a while before serving. Kheer will thicken a bit naturally as it cools down.

Now, if you love really thick Kheer adjust the consistency now. You can switch back to SAUTE and keep it on LOW and simmer down the kheer to thicken it.

Garnish with silvered almonds, pistachios and saffron and serve either warm or chilled.
Notes
Measuring Units used, 1 Cup = 240 ml and 1 teaspoon = 5 ml.
VERY IMPORTANT: Always add the sweetener after pressure cooking the Kheer. This will prevent the BURN alert in your Instant Pot. 
Swap condensed milk with 1/3 cup sugar or 1/2 cup jaggery (grated or powdered). You can always adjust the amount of sweetener according to your likings. Add more or less accordingly.
Full fat Whole Milk will result in the best creamy Kheer. Subbing it with fat free or 1%-2% milk won't give you the same consistency.
Today's recipe will not yeild a super thick kheer. We love our Kheer when it has some amount of liquid left. However, if you prefer extremely thick Kheer do simmer it down and adjust the consistency as per your liking.
Don't want to saute the nuts & raisins? Well, you can dump everything and pressure cook except the sweetener. Add it at the end after pressure cooking cycle is up.
Don't miss the ghee! It certainly makes the difference.
Our favorite Kheer friendly nuts: Cashews, Almonds and Pistachios. Add them all or add whatever you have on hand.
Most loved raisin: The golden Raisins. 
STORING TIPS: Lasts for upto 7 days in the fridge. Store the kheer in moisture free air tight containers only.
FREEZING TIPS: Instant Pot Kheer very well for upto 2 months. Freeze them into portion sized freezer safe bags. That way you can thaw individual bags and enjoy the dessert whenever you want to.
Calorific details are provided by a third party application & are to be used as indicative figures only.
Nutrition
Calories:
335
kcal
|
Carbohydrates:
47
g
|
Protein:
10
g
|
Fat:
13
g
|
Saturated Fat:
6
g
|
Cholesterol:
34
mg
|
Sodium:
117
mg
|
Potassium:
428
mg
|
Fiber:
1
g
|
Sugar:
36
g
|
Vitamin A:
330
IU
|
Vitamin C:
2
mg
|
Calcium:
292
mg
|
Iron:
1
mg