Instant Pot Mongolian Chicken – a 15 min Asian take-out recipe with juicy chicken pieces coated in a mildly sweet, savory, slightly sticky & very addictive Mongolian sauce. Steam some white rice & get dinner ready super fast.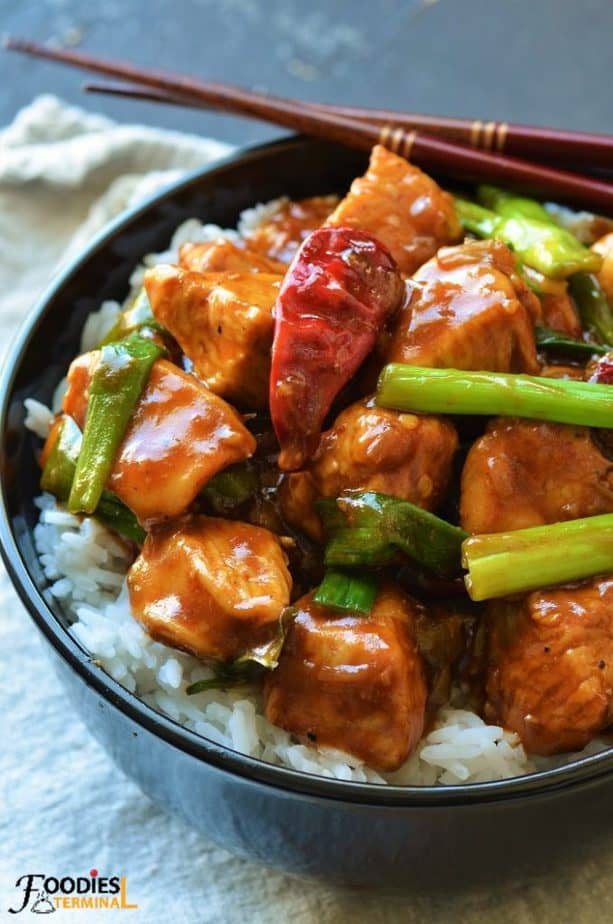 Mongolian Chicken Instant Pot
The sauce is the soul of today's Instant Pot Mongolian Chicken – it's super addictive, finger licking good I mean 😀
I tasted this dish for the first time at a Hunan joint & instantly fell in love!
Since than I was in a mission to develop the easiest Mongolian Chicken in my Instant Pot for you guys with the best addictive Mongolian Sauce ever!
To be honest it was a week long project and was not so easy to hit the right sauce both in terms of the perfect balance of flavors and the consistency.
I must say that using both varieties of soy sauces – light & dark with a few dashes of brown sugar & red pepper flakes had been the best decision ever.
The result was an addictive Mongolian sauce that everyone fell in love with 🙂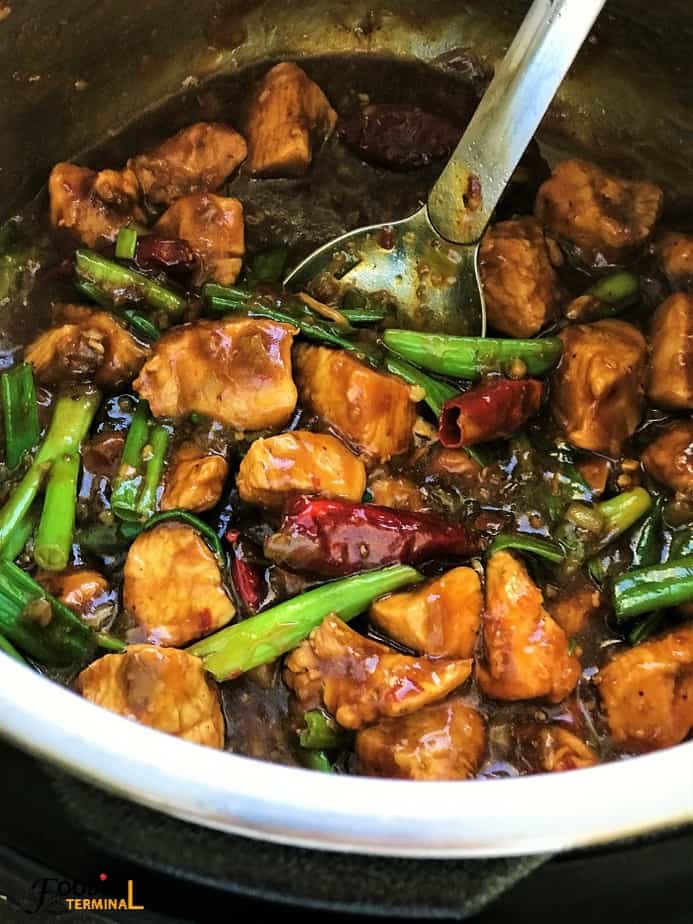 What is Mongolian Chicken?
Mongolian Chicken is an American-Chinese chicken dish made with boneless chicken breasts or thighs in an aromatic sweet and savory, slightly sticky brown sauce. It get's it's crunch from the green onions.
The recipe has nothing to do with Mongolia or Mongolian Cuisine 😀
Just like the popular P.F. Chang's Mongolian Beef recipe this Mongolian Chicken Instant Pot recipe is just as good.
---
Ingredients
Find the Ingredients with actual measurements way below the post on the "Recipe Card". The list below is just a reference.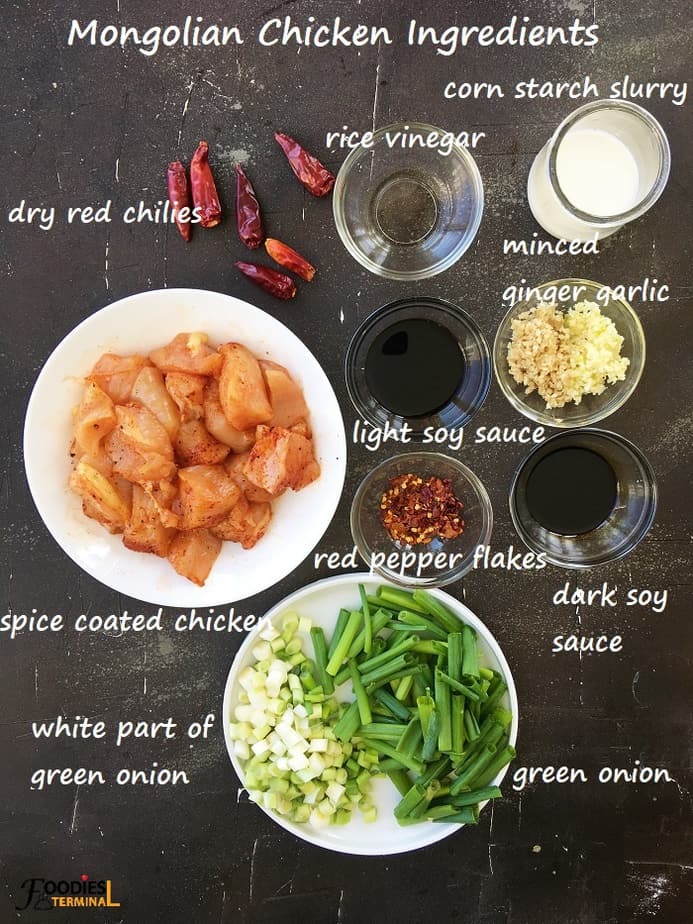 Boneless skinless chicken: Use either chicken breasts or thighs. Cut them into small bite size pieces of about ½ inch long.
Aromatics: Minced Ginger, Garlic & white part of green onion.
Sauce: Dark Soy sauce, light soy sauce, rice vinegar, brown sugar. And red pepper flakes for slight heat (totally optional).
For coating chicken: Dash of paprika and black pepper.
Garnish: Green part of green onion and whole dried Chinese peppers (totally optional).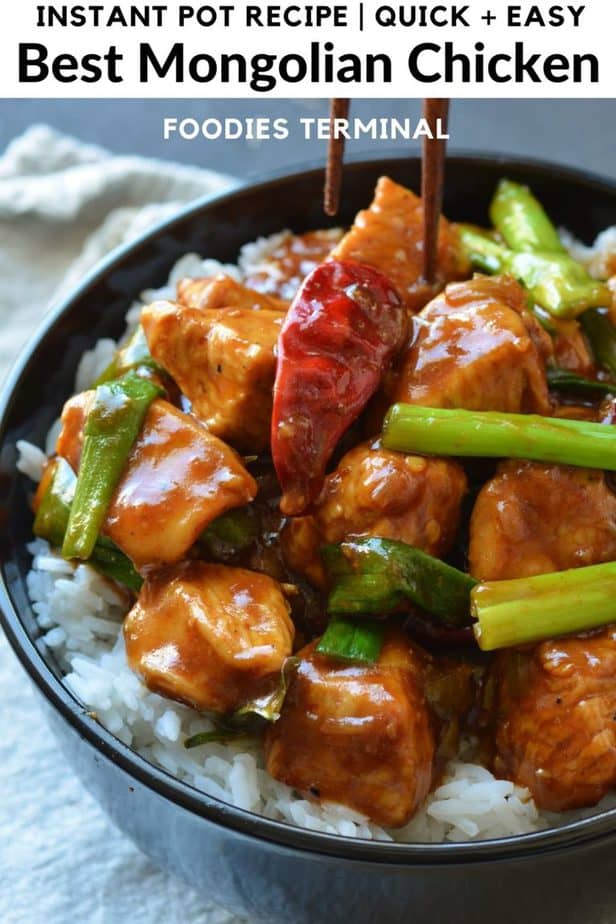 What is Mongolian Sauce made of?
Mongolian Sauce for Instant Pot Chicken Mongolian is made of –
Light Soy Sauce.
Dark Soy Sauce.
Rice Vinegar.
Brown Sugar.
Minced Ginger & Garlic.
Red Pepper Flakes (optional).
If you love Asian take-out food do stop by from time to time for your favorite Chinese take-out recipes made in the Instant Pot just like this Instant Pot Ramen Stir Fry and Instant Pot Chicken Fried Rice.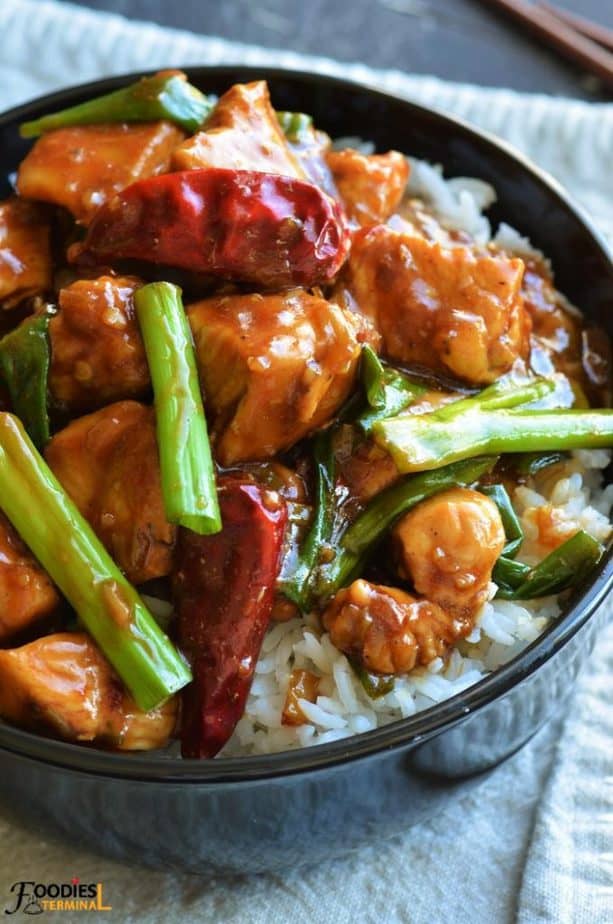 Tips & Tricks
Saute the chicken until slightly golden around the edges. This will develop excellent flavors & lock the juices. It'll somewhat mimic the crispy chicken that maximum Chinese recipe demands.
Chicken, what kinds to use: We used organic chicken breasts and hence, the pressure cooking time is just 1 min. Organic chicken gets done very fast. You can also use chicken thighs if that's what you have handy.
For best flavors pressure cook the chicken first and than simmer down with sauces & corn starch slurry. You'll get the best and authentic Chinese take-out flavor.
Add the green onion and the dried whole chilies (optional) at the very end, after turning off the Instant Pot. Remember they are more of a garnish.
The sauce: The Mongolian Sauce is the heart & soul of today's recipe. It's mildly sweet, savory, slightly spicy, a little sticky and very aromatic (remember the ginger & garlic). Make it as the recipe demands.
Sweet Sauce: If you prefer a sweeter sauce you can slightly increase the amount of brown sugar. Today's recipe is mildly sweet and savory.
Corn starch slurry: Add the corn starch slurry & simmer down the sauce until it thickens. You can adjust the consistency according to what you love. Simmer more if you prefer really thick sauce and vice e versa.
Do not simmer the dish after adding the whole dried chilies. This will make it spicy.
Dried whole chilies: You may skip adding them I added them for visual effect and also for a slight spicy kick. We love our Mongolian Chicken a little on the spicy side.
Re-heating tips: The Sauce will thicken up as it cools down. Re-heat the dish later with a few drops of water. This will bring back the right consistency of the sauce.
Method
Find the detailed step by step recipe along with measurements way below the post on the "Recipe Card".
Step #1 Saute aromatics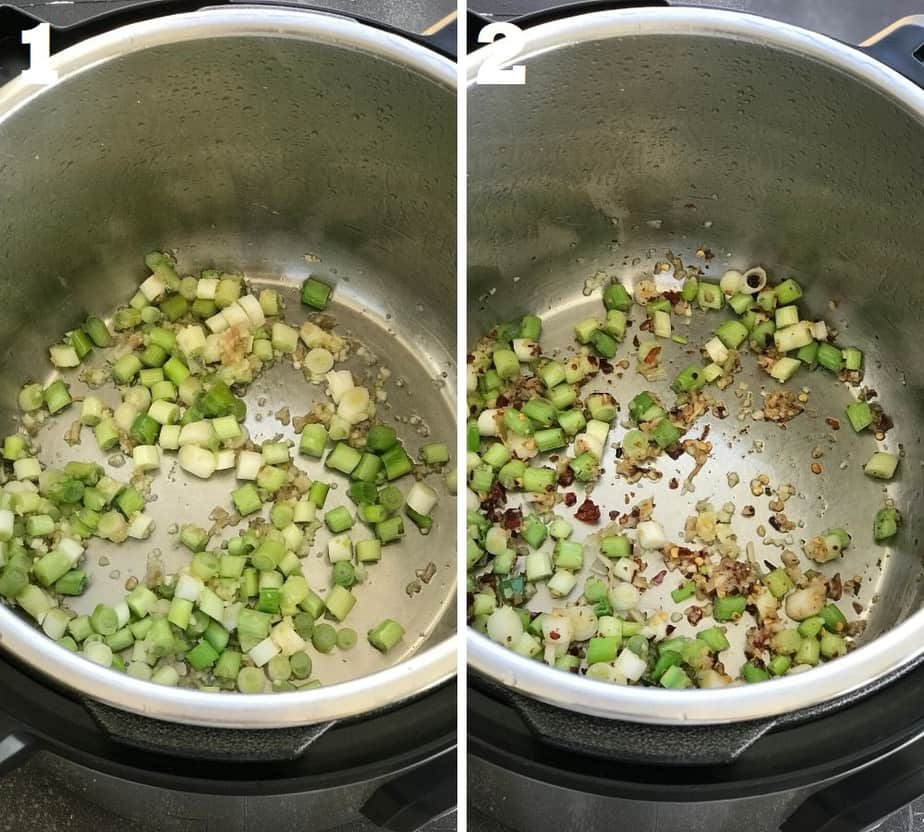 Saute the aromatics along with the white parts of scallions and red pepper flakes (optional) for about 30 seconds.
Add the red pepper flakes only if you want a slight kick in your recipe.
However, if you are completely intolerant to heat skip them out.
Step #2 Saute chicken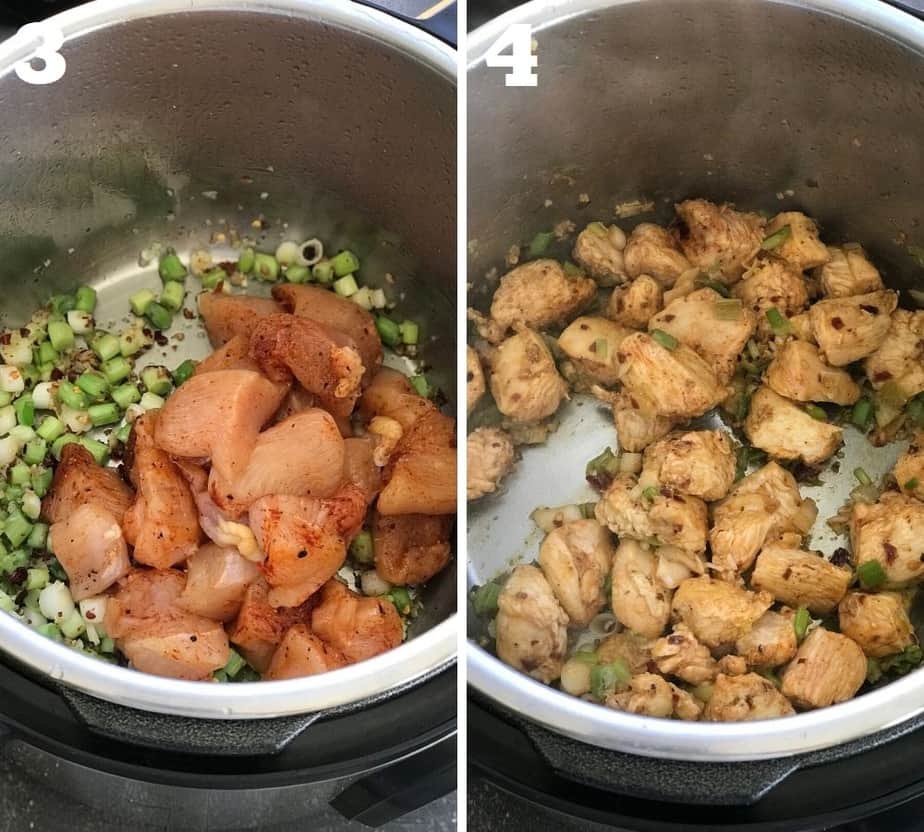 Toss the chicken in 1-2 dashes of paprika, salt and crushed black pepper.
Add it to the pot and saute until the chicken pieces turn slightly golden around the edges.
This process helps build a good depth of flavor and helps mimic the Chinese style of crispy chicken in the recipes.
Sep #3 Pressure cook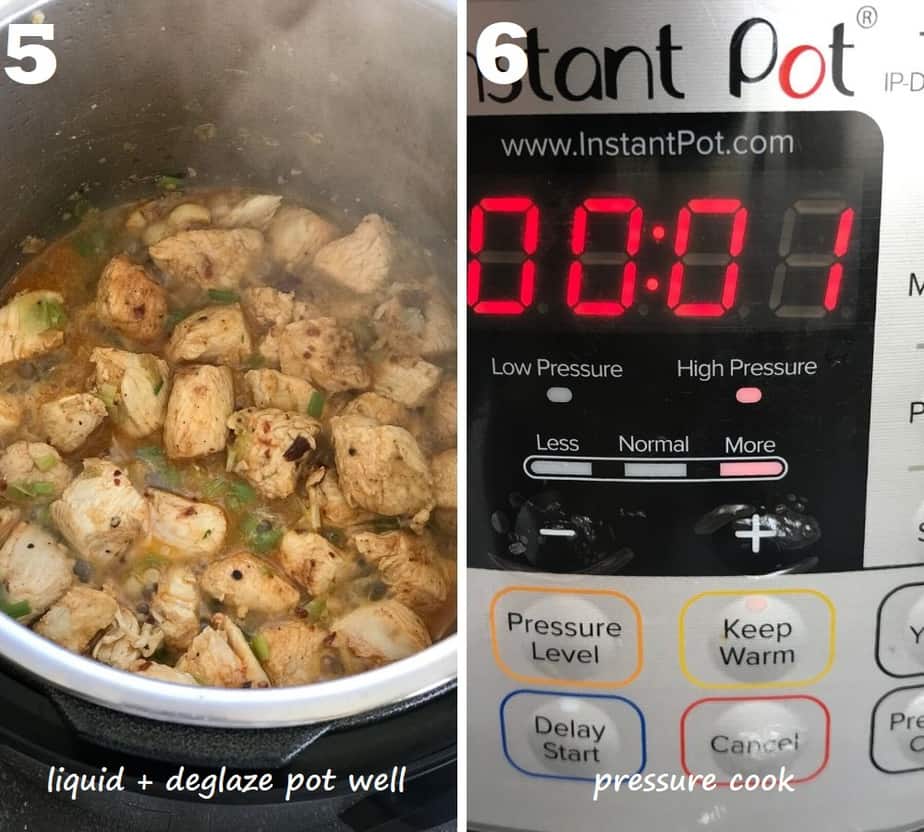 Add liquid and de-glaze the pot very well so that there are absolutely no bits and crumbs stuck at the bottom of the pot.
This is crucial to help prevent the BURN error in your Instant Pot.
Do not skip this step!
Pop back the lid, seal the valve and pressure cook on HIGH for just 1 min (in case of organic farm fresh chicken breast) or 3 mins in case of regular chicken, followed by a quick pressure release.
Step #4 Mix sauces, corn starch & simmer down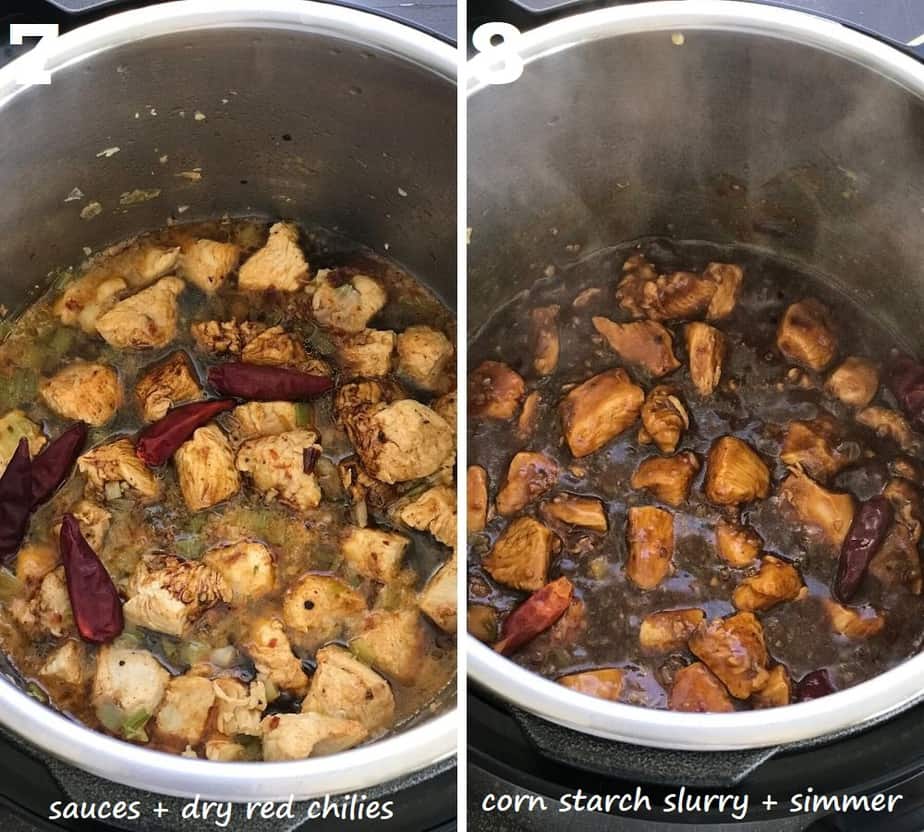 Add the sauces, rice vinegar, dry red chilies (skip them if you do not prefer any heat in the recipe) and the corn starch slurry.
Mix well.
Simmer down the sauce to thicken it, do this on SAUTE kept at LOW heat.
You can thicken the sauce according to your liking.
Step #5 Garnish and serve
When you love the consistency of the sauce quickly turn off the Instant Pot.
Add the slender green onions. Give a good mix.
Enjoy the best ever healthy Mongolian Chicken with some steamed white rice. You can go with Jasmine rice to begin with 😀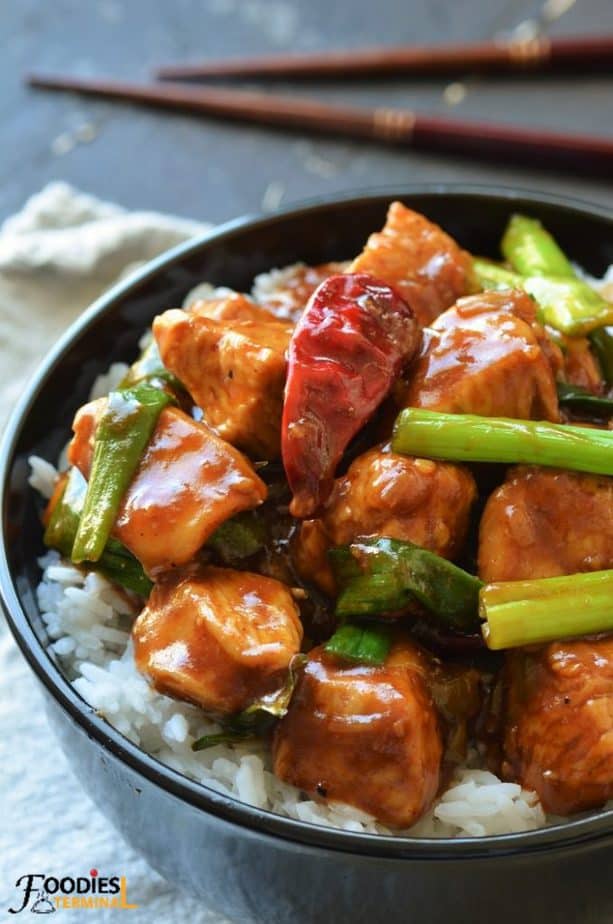 Storing Tips
You can store this Mongolian Chicken for 5 days in the fridge. Remember that the sauce thickens as it cools down.
Freeze it for upto 2 months in individual freezer safe containers. Skip the green onions and add them later when you reheat and serve.
---
Serving Ideas
Instant Pot Mongolian Chicken tastes awesome with steamed white rice, we love Jasmine rice but you can serve it with any long grain white rice.
We love it with Noodles as well.
More Asian Take-out recipes
---
---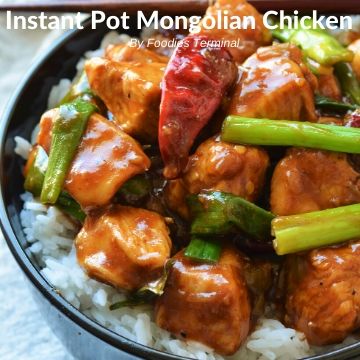 Instant Pot Mongolian Chicken
Print Recipe
Pin
Rate
Instant Pot Mongolian Chicken made with the best ever homemade Mongolian Sauce and boneless chicken breasts gets done in 15 mins. Enjoy this Mongolian Chicken Instant Pot with white steamed rice.
Ingredients
For Flash Marinating Chicken
Aromatics
6

cloves

Minced Garlic

½

inch

ginger minced

1

tsp

red chili flakes

(OPTIONAL)

10

strands

green onion separated into white & green parts, use only diced white part here

(green part shall be used as garnish)
Thickener
Want more Recipe Videos?
Check out our Youtube channel!
Equipment Used
Instructions
Coat the chicken with paprika, salt and crushed black pepper and set aside.

In the meantime, set the Instant Pot on SAUTE and set it on NORMAL heat.

Add oil and when the oil becomes moderately hot gently release the minced ginger and garlic along with the white part of the green onions and red pepper flakes. Saute them for about 30 seconds.

Now, add the flash marinated chicken into the Instant Pot and saute until the chicken pieces turn slightly golden around the edges. Should take you about 2-3 mins approximately.

Add the water and de-glaze the pot very well scraping with the help of your spatula. This will loosen any bit and crumbs stuck at the bottom of the steel pot and prevent the BURN error.

Turn off the SAUTE function. Close the lid of the Instant Pot and seal the valve. PRESSURE COOK on HIGH for just 1 min if using farm raised organic chicken breasts or for 3 mins for any other chicken variety.

When the pressure cooking cycle is over the Instant Pot will begin to beep. Immediately do a QUICK PRESSURE RELEASE (QPR) manually by moving the valve from the SEALING to the VENTING position.

Open the lid carefully and turn on the SAUTE function and set it on LOW.

Add the soy sauces, rice vinegar, corn starch slurry and the whole dry red Chinese chilies (only if you prefer spicy taste or skip adding them). Give everything a good mix and allow the sauce to thicken to your preferred consistency. We love a thick sauce here so that it beautifully coats the chicken pieces. But, you may simmer less and make it less thick. Your choice 🙂 Took me about 2 mins.

When the sauce thickens CANCEL the SAUTE function. Garnish with green parts of the green onion and enjoy with some steamed white Jasmine rice or noodles. So Yum! Read NOTES below for more infos.
Notes
Measuring Units used, 1 cup = 240 ml & 1 teaspoon = 5 ml.
Best Chicken for the recipe: Boneless skinless chicken breasts or thighs diced into bite sized chunks not more than 1 inch.
Intolerant to heat from chilies: Skip both red pepper flakes + dry whole red Chinese Chilies. 
Avoid BURN: Scrape the bottom of the steel insert of the Instant Pot very well with a spatula before pressure cooking. There should not be no bits and crumbs stuck at the bottom of the pot. This will prevent the BURN error.
What's de-glazing pot? It means scraping the bottom of the pot and the sides with a spatula to loosen any food particles.
Love sweet sauces? Add more brown sugar.
Do not change the sauce amounts. They pack the dish with lots of umami.
Sauce consistency: We love a rich and thick sauce which beautifully coats every piece of chicken so the recipe is curtailed that way. However, if you love more sauce simmer less eye balling the sauce consistency.
Serving Ideas, what we love: Steamed white Jasmine Rice, Noodles.
Calorific details are provided by a third party application & are to be used as indicative figures only.
Nutrition
Calories:
560
kcal
|
Carbohydrates:
22
g
|
Protein:
55
g
|
Fat:
28
g
|
Saturated Fat:
4
g
|
Cholesterol:
152
mg
|
Sodium:
1810
mg
|
Potassium:
1069
mg
|
Fiber:
2
g
|
Sugar:
7
g
|
Vitamin A:
1241
IU
|
Vitamin C:
7
mg
|
Calcium:
38
mg
|
Iron:
2
mg