Pineapple Jam Instant Pot packed with tropical flavors is one of the best Jams to have in your pantry. This Instant Pot Pineapple Jam without pectin is super easy, lasts long, sweet with a bit of tang, very tropical and tastes so good on breads, cakes, muffins & bagels.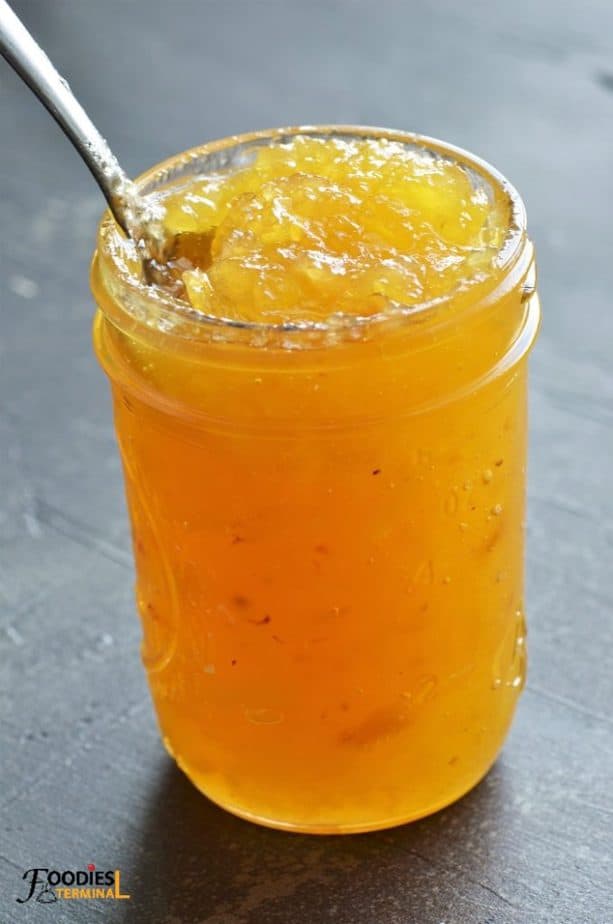 Instant Pot Pineapple Jam
If you love pineapples and totally hate puree-like watery Jams (there are so many on the internet) you'll absolutely fall in love with this Pineapple freezer Jam.
People make fruit purees and call it Jams. It just stresses me out. Ouch! 😀
Today's recipe will reward you with a sweet, luscious, thick Instant Pot Pineapple Jam with a beautiful glossy sheen that wonderfully glides on breads, cakes & bagels.
So yum, so fresh, so good & so tropical without a trace of pectin & harmful preservatives.
And the best thing is that you can control the sweetness according to your preference! We absolutely love this part of making homemade Jams.
Why make Instant Pot Jams?
Instant Pot Jams are fun things to make just like this Instant Pot Blueberry Jam.
Because guess what?
They are very easy, requires only 3-4 pantry ingredients and tastes so fresh that it's very difficult to resist the urge to scoop out and devour spoon fulls instantly 😀
I always love making small batches of fresh jams in my Instant Pot and finish them up in 1-2 weeks time.
That way we get to taste so many jam varieties without getting bored!
Ingredients
Find the Ingredients with actual measurements way below the post on the "Recipe Card". The list below is just a reference.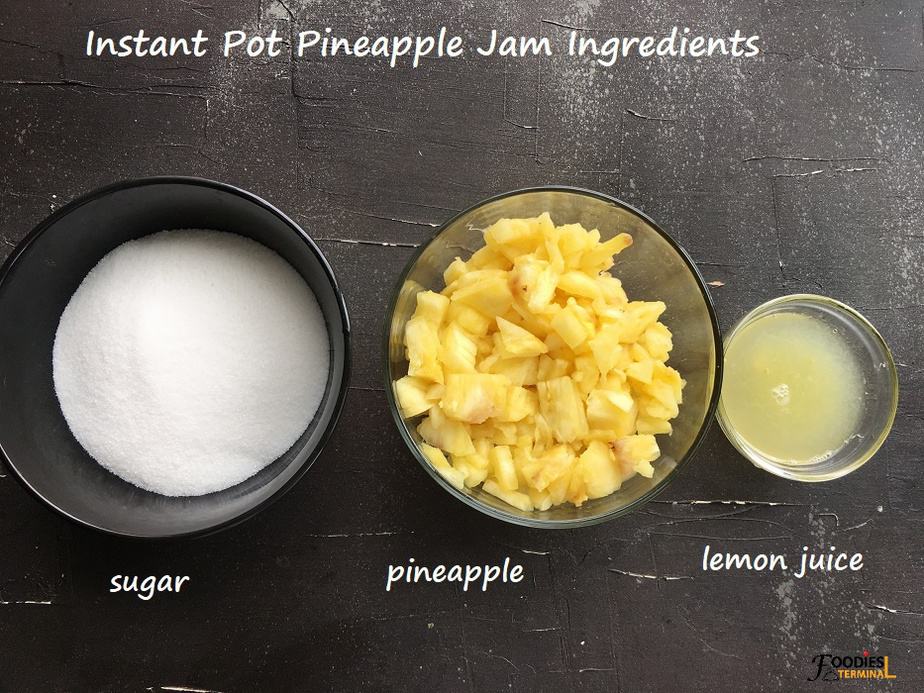 Fresh Pineapple: Diced into small pieces.
Sweetener: White sugar or brown sugar or honey or maple syrup. I used regular white sugar for today's recipe. Read NOTES at the bottom of the page to find more details.
Lemon Juice.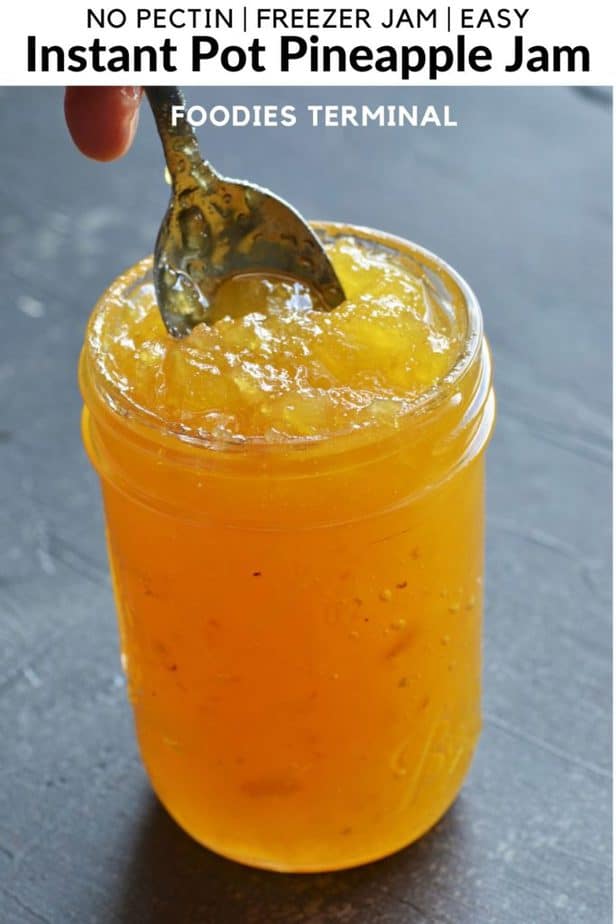 Tips & Tricks
Fresh Pineapple will give you the best homemade Pineapple Jam. The trick is to dice the fruit into smaller pieces or grate it.
Blend the pressure cooked Pineapple coarsely. Pineapple can be tough and we don't want the Jam to be way more chunky than normal. So this extra step will make the Jam more spreadable and keep it chunky yet smooth.
For extra Smooth Jam consistency: If you love very smooth Jams like purees blend the pressure cooked pineapple until smooth.
Secret to thick, luscious, glossy Jammy Jam consistency: Cook down the blended Pineapple Jam until the gel like sheen develops. This will make the Jam thick, luscious with a fantastic glossy sheen. Oh! we love it! Don't skip this step because nobody loves watery Jams. Yikes! If you stop before this step you'll end up with pineapple puree and not a Jam 😀
Storing tips: Always store the Instant Pot pineapple Jam in moisture free airtight containers. It'll last long. You can store this small batch jam for 24 hrs on the countertop, beyond 24 hrs refrigeration is a must!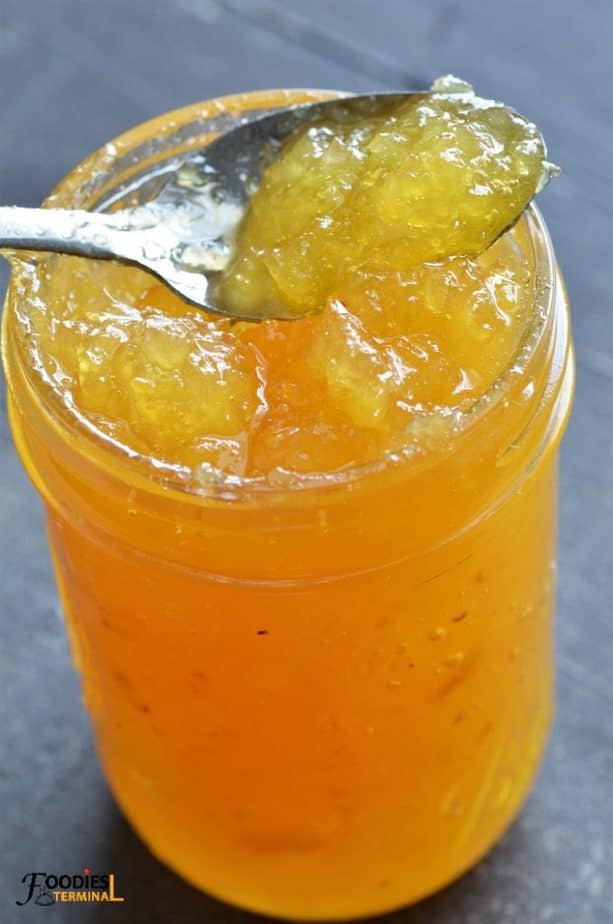 Method
Find the detailed step by step recipe along with measurements way below the post on the "Recipe Card".
Step #1 Prep the Pineapple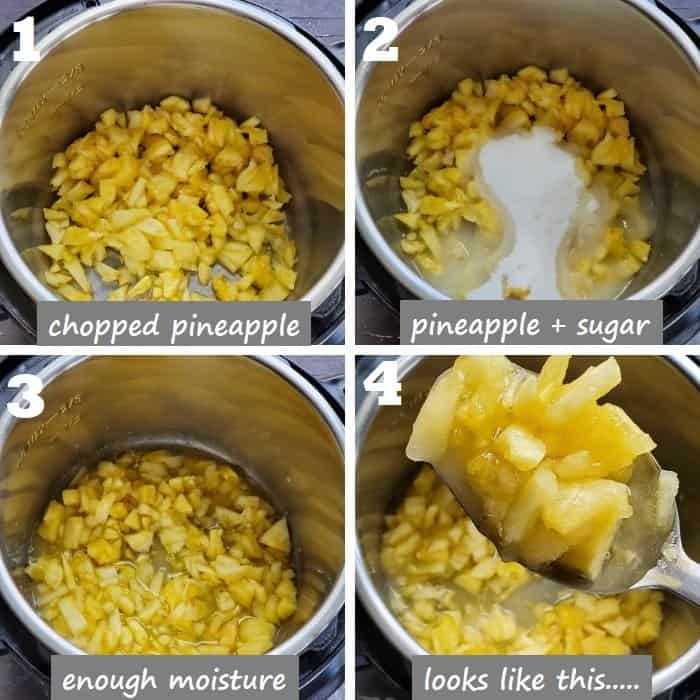 Finely chop the fresh pineapple and add it to the inner pot of the Instant Pot along with sugar and lemon juice.
Mix and rest for just 5 mins.
This helps extract the natural juices to some extent and as a result will provide enough moisture for pressure cooking.
Step #2 Pressure Cook Pineapple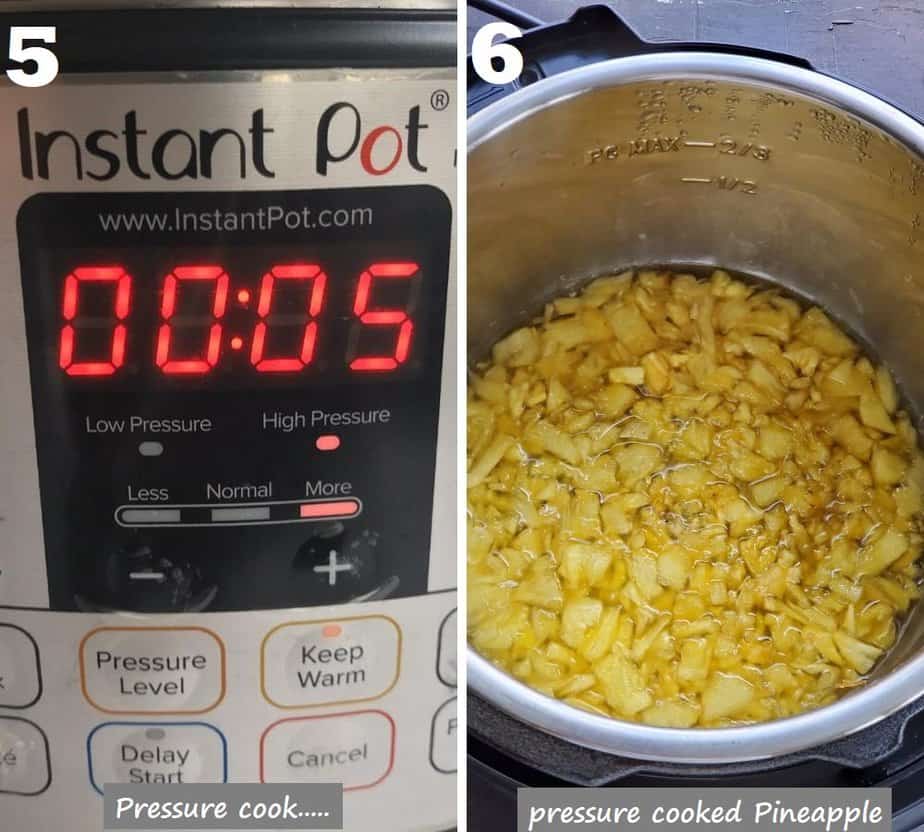 PRESSURE COOK on HIGH for just 5 mins followed by a Quick Release.
You'll be left with lots of liquid in the pot along with cooked pineapple chunks.
Quickly fish out the pineapple chunks and blend them in a blender. If you want a chunky Jam blend them coarse and if you want a puree like smooth jam blend into a paste.
Pineapple is tough even after pressure cooking, so blending it helps make a fantastic Jam.
Step #3 Simmer to thicken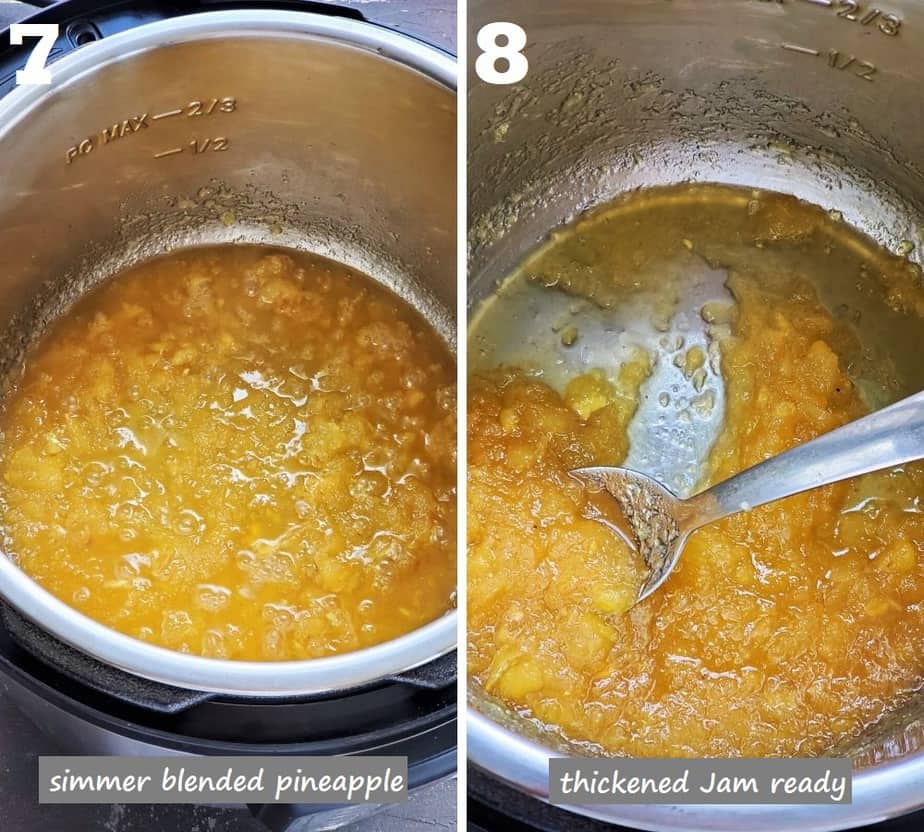 Now, transfer the blended pineapple back into the Instant Pot.
Set the Instant Pot on SAUTE and keep it on LOW setting.
Simmer the Jam stirring from time to time until it gels and thickens.
We love a chunky and thick Jam and that's how I made it today.
Next, transfer the pineapple Jam into airtight moisture free mason jars or containers and store on the countertop for 24 hrs. , past 24 hrs refrigeration is recommended . Enjoy!
Foodies Terminal Tips: The Pineapple Jam will thicken further as it cools down. If you make a large batch do follow proper canning technique and store the jam in refrigerator or freeze for future use!
Instant Pot Pineapple Jam – FAQs
Can you freeze Pineapple Jam?
Yes, you can freeze Pineapple Jam for upto 1 year. We love to store the jam into small containers or freezer safe bags and thaw them individually.
How do you thicken Pineapple Jam?
You can thicken Pineapple Jam by adding a simple cornstarch slurry and simmering it down a bit. However, today's recipe doesn't require any cornstarch slurry.
Uses
Spread it on toasts, bagels, muffins.
Layer it inside cakes.
Enjoy your whole wheat or multigrain crackers with a dollop of pineapple Jam. So good!
Baste meat with a layer of sweet and tart pineapple Jam.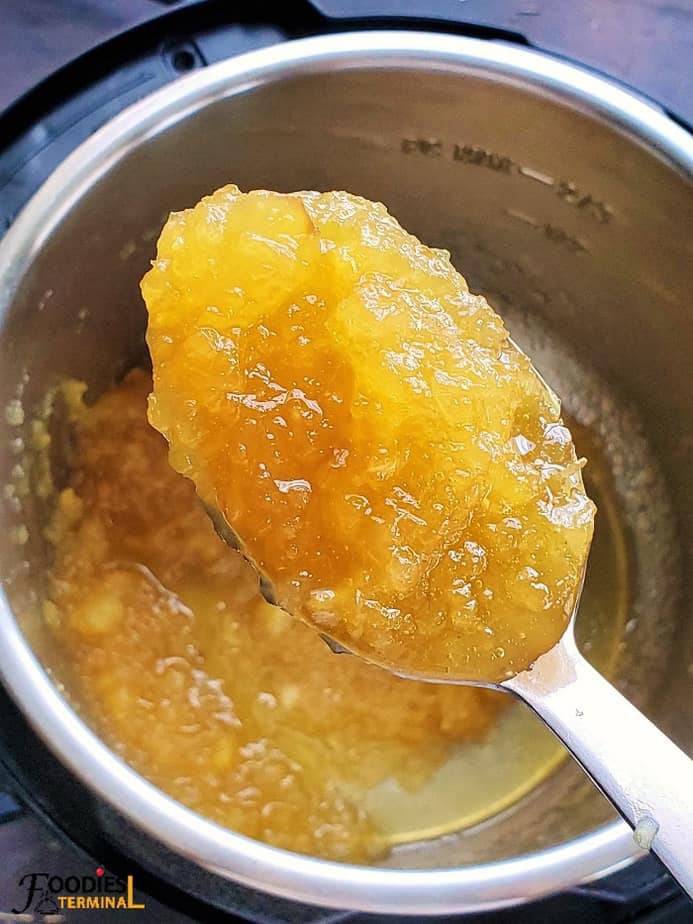 Instant Pot Pineapple Jam Variations
Check out these fun variations of the old fashioned much loved Pineapple Jam.
Honey Pineapple Jam: Skip the sugar and sweeten your Jam with honey. The color will change slightly and the Jam won't thicken and gel fast. Whenever, I make Sugar-free Jams with honey I add a little cornstarch to thicken it fast.
Spicy Pineapple Jam: Add red pepper flakes for that added kick. Tastes so good but not Kids friendly!
Brown Sugar Pineapple Jam: Sub the regular sugar with brown sugar and you will have a dark colored pineapple Jam.
Easy Pineapple and Ginger Jam: Grate, mince, finely dice a fresh ginger root and add 1 teaspoon before pressure cooking the pineapple. Your Pineapple Jam will have a subtle ginger flavor.
Pineapple Rum Jam: Add a few tablespoons rum and mix well with the Jam while it's still thickening in the pot. Absolutely not kids friendly.
Roasted Pineapple Jam: This is a fantastic variation and a total winner of this lot. Grill or pan roast the pineapple slices until you have those charred spots and than follow today's recipe as such. Imagine roasted tomato salsa, you'll have that amazing charred roasted flavor in your bottle of Instant Pot Pineapple Jam.
More Jams & Relishes: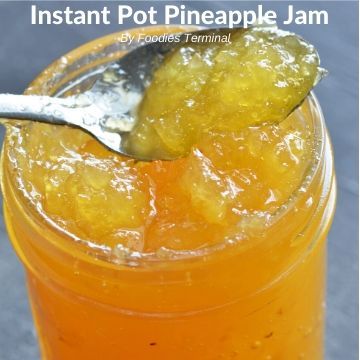 Pineapple Jam Instant Pot
Print Recipe
Pin
Rate
Pineapple Jam Instant Pot made with fresh pineapple and without pectine and preservatives. You'll love this homemade Instant Pot Pineapple Jam that also lasts long.
Ingredients
2.5

cups

fresh pineapple diced into small pieces

1

cup

white sugar

3

tbsp

lemon juice
Want more Recipe Videos?
Check out our Youtube channel!
Equipment Used
Instructions
Add the chopped pineapple pieces in the steel pot of the Instant Pot along with Sugar and lemon juice. Give everything a good mix and rest it for just 5 mins. This will help extract the natural juices from the pineapple and provide enough moisture required for pressure cooking.

Now, close the lid of the Instant Pot and SEAL the VALVE. PRESSURE COOK on HIGH for 5 mins.

Once, the pressure cooking cycle is over the Instant Pot will begin to beep. Immediately do a QUICK PRESSURE RELEASE by manually moving the valve from the SEALING to the VENTING position. Open the lid of the Pot carefully once the metal pin on the lid drops.

CANCEL the Pressure Cook function. You'll be left with lots of liquid. That's perfectly fine because we'll be cooking down the Jam until it gels.

Next, fish out the pressure cooked Pineapple blend in a blender coarsely or finely, it totally depends how you love your Jam (chunky or smooth). We love a chunky Jam we blended it coarsely.

Transfer the blended Pineapple into the Instant Pot. Press the SAUTE function and keep it on LOW heat setting. Simmer the Jam until it gels stirring from time to time. It took me around 10 mins to reach that ultimate Jammy Jam gel like consistency. You can reduce the simmering time and control the consistency of the Jam as per your liking. We love a thick Jam with a lovely sheen.

Once, the Jam gels turn off the Instant Pot. Bring out the steel insert of the Instant Pot and allow the Jam to cool down. The Pineapple Jam will thicken further as it cools down.

Transfer the jam into airtight containers/jars and you can keep it safely on the countertop for upto 24 hours, refrigerate any left overs immediately past 24 hrs. If making a large batch follow proper canning technique and than store the jam in the refrigerator or freezer for future use.
Notes
Measuring Units used, 1 cup = 240 ml & 1 teaspoon = 5 ml.
Pineapple Jam with Honey: Sub the white sugar from todays recipe with 1/2 cup honey.
Pineapple Jam with Maple Syrup: Sub the white sugar from todays recipe with 3/4 Maple Syrup.
Pineapple Jam with Brown Sugar: Add 3/4 cup brown sugar instead of white sugar.
Yeild: Approximately 8 oz Pineapple Jam.
Consistency: Todays recipe will reward you with a thick Jam and that's how we love it. However, if you prefer slightly less thick Jams feel free to reduce the simmering time and keep the consistency the way you want.
Can you use Canned Pineapple? I've not tried this recipe with canned pineapple as yet. 
Calorific details are provided by a third party application & are to be used as indicative figures only.
Nutrition Facts
Pineapple Jam Instant Pot
Amount Per Serving
Calories 94
Calories from Fat 9
% Daily Value*
Fat 1g2%
Sodium 1mg0%
Potassium 51mg1%
Carbohydrates 25g8%
Protein 1g2%
Vitamin A 24IU0%
Vitamin C 22mg27%
Calcium 5mg1%
Iron 1mg6%
* Read our privacy policy – Calorie information is provided as a courtesy only and should be leveraged as an estimate rather than a guarantee.Percent Daily Values are based on a 2000 calorie diet.
Nutrition
Calories:
94
kcal
|
Carbohydrates:
25
g
|
Protein:
1
g
|
Fat:
1
g
|
Saturated Fat:
1
g
|
Sodium:
1
mg
|
Potassium:
51
mg
|
Fiber:
1
g
|
Sugar:
23
g
|
Vitamin A:
24
IU
|
Vitamin C:
22
mg
|
Calcium:
5
mg
|
Iron:
1
mg