Shorshe Salmon is actually fresh Salmon Steaks simmered in a light gravy of fresh homemade mustard seeds paste. Enjoy this Bengali Style Shorshe Bata Salmon with steaming hot rice.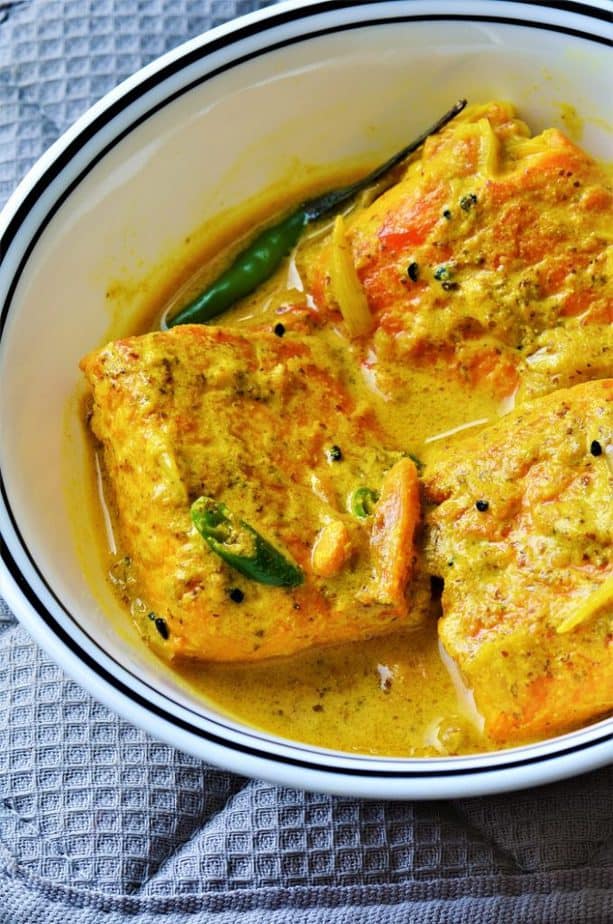 Watch to make Shorshe Salmon Jhal
Shorshe Bata Salmon
Shorshe Bata Salmon is as easy as this Indian Salmon Curry, Fish Tikka Masala, Instant Pot Tilapia Fish Curry, Catfish Curry & Doi Maach Recipe.
The specialty of todays Shorshe Salmon is the use of fresh mustard seeds paste (black mustard and yellow mustard).
You can make it easily by soaking the sarson or mustard seeds in water for at least 15 mins and than grinding them into a smooth paste.
You can't beat the flavors and the taste of fresh Shorshe bata ever. When you combine it with Salmon it transforms into one of the best combos which tastes amazing with piping hot rice.
Though you can take the easy route and go for the store bought mustard seeds powder for the Shorshe gravy but let me tell you that in that case don't build high hopes for the recipe 😀
You won't get the same deliciousness, depth of flavors, and lovely aroma with ready made mustard powder ever 😉
I always love to grind the mustard seeds while I shallow fry the fishes. It doesn't take much time at all.
The sizzling nigella seeds (kalonji) in hot mustard oil, the spluttering green chilies, the shallots and the diluted shorshe bata (mustard seeds paste) create an outstanding taste.
Add a few diced tomatoes to the gravy if you like or totally skip using them.
Tomatoes add a touch of slight tartness & sweetness to the Salmon Shorshe Jhal. We love it!
However, if you wish you may skip using the shallots & the tomatoes.
You can also make the Shorshe bata salmon with only nigella or Kalonji, green chilies & diluted mustard seeds paste. You'll love the simple flavors!
However, you need to remember just one thing, always cook today's Bengali style Shorshe Salmon in mustard oil for best flavors.
Shorshe Salmon Jhal Ingredients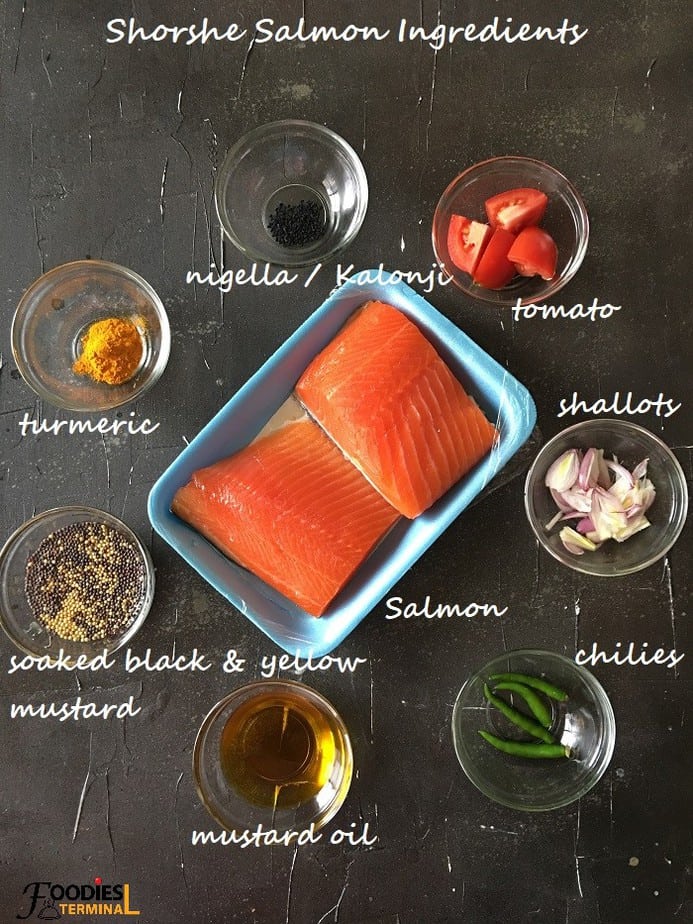 Salmon Fish: Use Salmon Fillet or steak with skin on and scales removed. You can also use frozen salmon fillets, in that case thaw the fish before frying them in oil.
Mustard Seeds ( Sarson or Rai in Hindi): You will need both black mustard seeds and the yellow mustard seeds. Remember, black mustard = hottest & yellow mustard = mildest.
Nigella Seeds (Kalonji in Hindi).
Turmeric Powder.
Shallots or sliced onion.
Tomatoes.
Green Chilies.
Oil: Mustard Oil.
Pro Tip: If you love the pungency of mustard in Shorshe jhal soak the seeds in cold water for at least 15 mins before making a paste. Whereas, if you prefer a mellow mustard soak the seeds in warm water for at least 15 mins before grinding them to a paste. And if you love extra hot mustard skip soaking the seeds!
Shorshe Salmon – Tips & Tricks
Do not over fry the Salmon: Shallow fry the Salmon fillets. This will ensure absolutely juicy fish fillets that'll soak the right amount of curry sauce.
Love texture? Do not over grind the Mustard: Salmon Shorshe Jhal tastes best when the mustard paste has some amount of texture left from the skin of the seeds. But, again it's totally a personal preference. Hence, if you prefer a super smooth & silky mustard paste do so by grinding it more or strain the paste to discard the seeds skin.
Never brown or over fry the shallots or onion: This will totally change the flavor of the recipe, and you'll regret the taste. Sweat off the shallots until the begin to become limp.
Do not fry the mustard paste: We love the zingier mustard in shorshe jhal recipes. Hence , we never fry the mustard paste in oil. Moreover, frying mustard in oil might make it bitter.
Dilute the mustard paste with water and add it to oil: This will prevent the paste from burning in hot oil. It also helps to keep the taste of the mustard intact.
Do not simmer the mustard a lot: Mustad paste lose the taste & punch when cooked for long. Simmer it not more than 10 mins.
Add the fish to the shorshe Jhal just before serving: Simmer the fish in shorshe jhal not more than 1-2 mins. Serve immediately. The fish will never become soggy or over cooked.
Drizzle mustard oil at the end, mix and serve: This is the secret mantra for an outstanding Shorshe Salmon recipe or rather any shorshe jhal recipe. Turn off the heat, drizzle mustard oil, mix and serve immediately for maximum flavor.
How to make Shorshe Salmon?
Steps in words below pics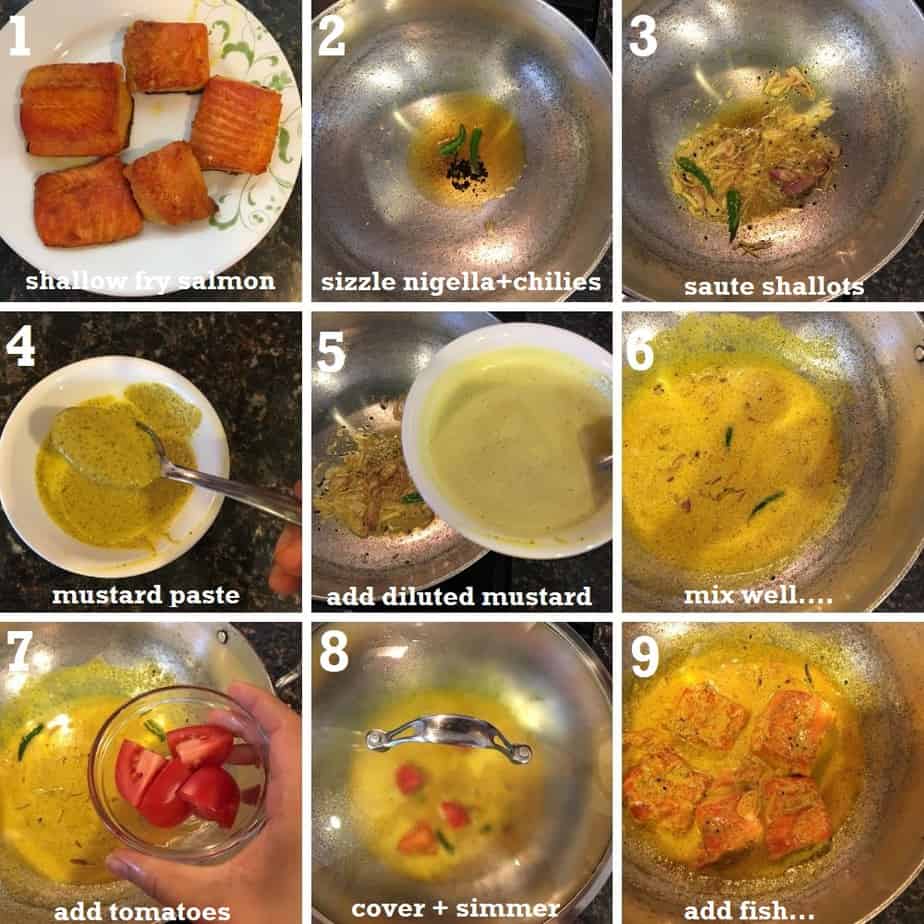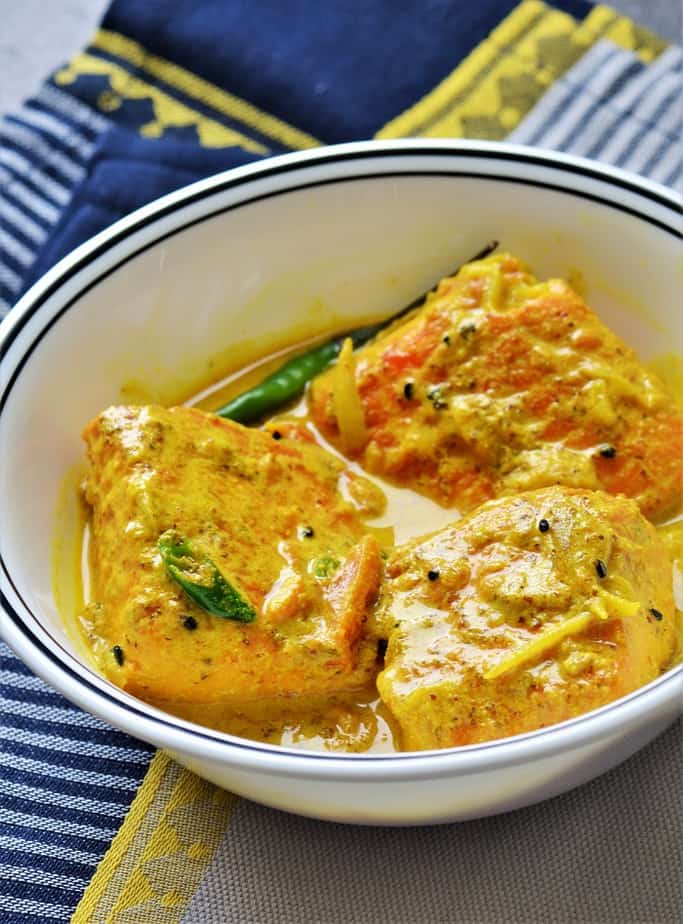 How to make Shorshe Salmon Jhal?
Fry the Salmon fish

Prep the fish by washing it, and semaring it with turmeric and salt. Over medium high heat shallow fry the fish fillets both sides until lightly golden.

Sizzle the Nigella & chilies

Use the same wok and the left over fish fried oil to sizzle the nigella or kalonji and green chilies.

Saute the shallots or onions

Add the shallots or onions and saute until they begin to become soft or translucent.

Prepare the mustard

Grind the mustard seeds with few teaspoons water, turmeric powder and green chilies. Make a paste of your preference, either silky smooth or with a few hulls left behind for texture.

Add the diluted mustard

Dilute the mustard paste with water and add it to the wok. Give everything a good mix.

Throw in the diced tomatoes

Next, add the tomatoes, cover and simmer for not more than 10 mins.

Add the fried salmon fillets and cook

Finally, dip in the shallow fried salmon fillets and simmer on low for just 1 min. Drizzle mustard oil and Serve hot.
Storing Tips
You can store Bengali style Salmon Shorshe Jhal for 3 days in the fridge. An air tight container is a must for preserving the best flavors.
The mustard in the gravy won't taste the same in the 2nd and 3rd day. You'll have a more mellow mustard in the gravy after day 1.
Serving Ideas
Shorshe Bata Salmon tastes best with steaming hot rice. Choose, whatever rive you prefer except jasmine rice or sticky rice.
Love Fish? Try these easy & delicious fish recipes from Foodies Terminal.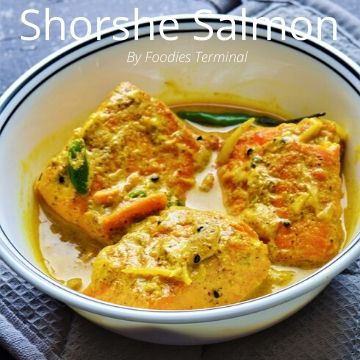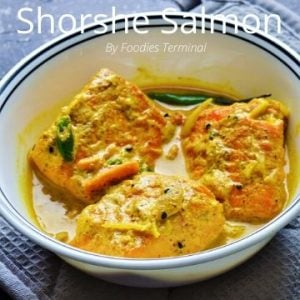 Shorshe Salmon
Print Recipe
Pin
Rate
Love Salmon? Make this ridiculously easy Bengali Style Shorshe Salmon with fresh homemade mustard paste. You'll love this Salmon Shorshe Jhal with steaming hot rice. 
Want more Recipe Videos?
Check out our Youtube channel!
Instructions
Frying the Salmon Fish
Wash the Salmon fish fillets under running tap water. Remove the scales completely. Pat dry the fish fillets with the help of kitchen towel.

Smear the fish fillets with 1/2 tsp turmeric powder and salt. Set aside.

Set a non stick skillet over medium high heat. Add mustard oil and when the oil becomes hot gently release the flash marinated fish fillets and fry them both sides until lightly golden. Set aside the fried salmon.
Preparing the Shorshe Salmon
Strain the soaked mustard seeds and add them in a blender jar along with a pinch of turmeric powder and 1-2 green chilies. Make a paste after adding a few teaspoons water. Set aside.

Set a deep bottomed pan or kadai over medium heat. Add the fish fried oil. When the oil becomes moderately hot sizzle the nigella seeds and few slit green chilies just for a few seconds.

Now, add the sliced shallots or onions and saute until they begin to become soft or limp.

Next, dilute the mustard paste with 2 cups water and add it to the oil. Give everything a good mix. Add salt and more turmeric. You may also add the diced tomatoes now. Cover and simmer over medium low heat for 10 mins.

The Shorshe Jhal or the mustard sauce will thicken slightly. It's time to dip in the fried salmon fillets. Add the fish, cover and cook for just 1-2 mins over medium low heat.

Turn off the heat, drizzle mustard oil and serve immeditely.
Notes
Measuring Units used, 1 cup = 240 ml & 1 teaspoon = 5 ml.
NOTE: Black Mustard: Pungent and yellow mustard: Mellow.
Always use 1:1 ration of Black mustard : Yellow mustard.
Love Pungent & Zingier Mustard in the gravy? Soak the seeds in cold water for at least 15 mins.
Love Mellow Mustard taste? Soak the seeds in warm water for 15 mins.
Onion and Tomatoes are totally Optional. Use them only if you want.
Calorific details are provided by a third party application & are to be used as indicative figures only.
Nutrition Facts
Shorshe Salmon
Amount Per Serving
Calories 176.5
Calories from Fat 74
% Daily Value*
Fat 8.2g13%
Sodium 7.5mg0%
Potassium 65.6mg2%
Carbohydrates 7.8g3%
Protein 17.5g35%
Vitamin A 180IU4%
Vitamin C 3.9mg5%
Calcium 70mg7%
Iron 0.5mg3%
* Read our privacy policy – Calorie information is provided as a courtesy only and should be leveraged as an estimate rather than a guarantee.Percent Daily Values are based on a 2000 calorie diet.
Nutrition
Calories:
176.5
kcal
|
Carbohydrates:
7.8
g
|
Protein:
17.5
g
|
Fat:
8.2
g
|
Saturated Fat:
0.5
g
|
Polyunsaturated Fat:
2.1
g
|
Monounsaturated Fat:
4.2
g
|
Sodium:
7.5
mg
|
Potassium:
65.6
mg
|
Fiber:
0.9
g
|
Sugar:
0.1
g
|
Vitamin A:
180
IU
|
Vitamin C:
3.9
mg
|
Calcium:
70
mg
|
Iron:
0.5
mg
Pin it for Later!