This Alaskan Salmon Chowder is easy. It's cooked with fresh Salmon & lots of nutrient rich vegetables like celery, leek, onion, carrots & potatoes in a cream based sauce, tastes so good with crusty sour dough bread. Make this Instant Pot Salmon Chowder & get dinner ready under 30 mins. Stove top option also included.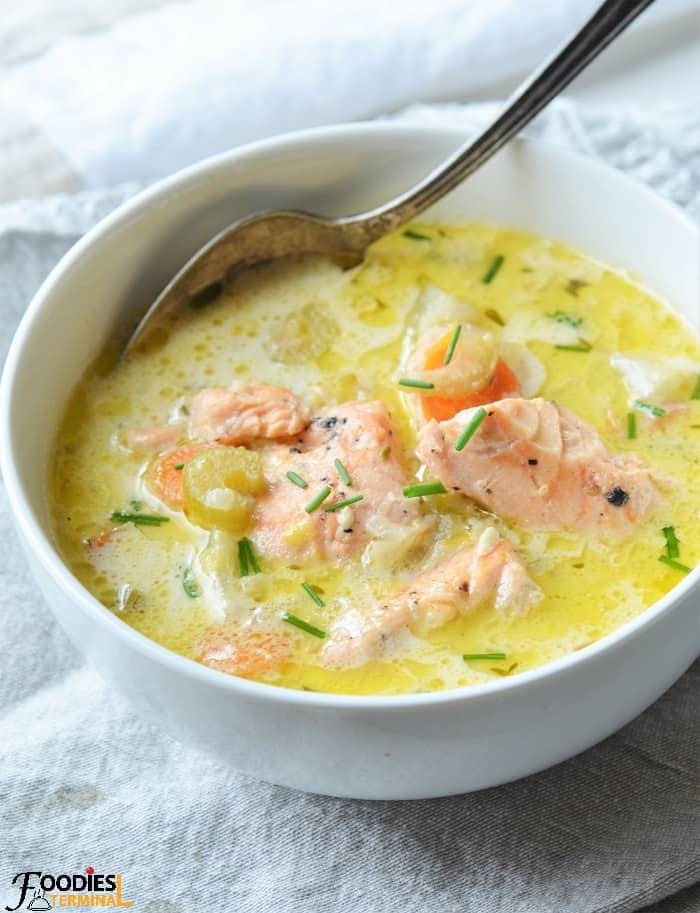 Healthy Salmon Chowder Recipe Video
Salmon Chowder Recipe
We are a Chowder loving family be it a thick creamy Boston style Chowder or a comparatively lighter New England style Chowder, we love them all equally.
But my most favorite chowder is this Alaska Salmon Chowder right after Clam Chowder, wait I love Manhattan Salmon Chowder too which is tomato based & looks red instead of creamy white 😀
Such a comforting bowl of creamy soup that instantly warms up the soul.
If you are a seafood lover & especially have a little more love towards fish soup than do not miss today's super easy Alaskan Salmon Chowder cooked with fresh wild caught Salmon.
I promise anyone can make it & with an Instant Pot it's way easier & get's ready much faster.
You may add the raw fish directly to the soup or just brown it a bit with butter on a skillet or even use canned Salmon.
I used fresh wild caught Salmon & lightly skillet roasted it before adding it to the Chowder.
It's totally a personal preference. I feel that flash roasting the fish that's dusted in a bit of flour & crushed pepper locks the juices of the fish & keeps it tender & juicy.
You don't have to do that if you are in a hurry, your Salmon Chowder recipe will still be an instant hit.
Let's learn all the How tos, tips & tricks about this easy Salmon Chowder recipe made in an Instant Pot. Stove method is also included.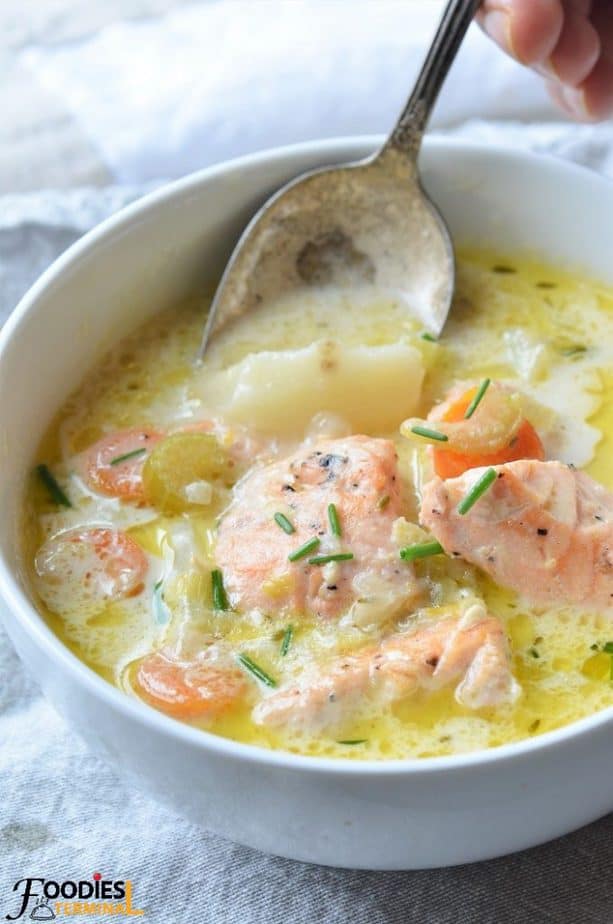 What is Chowder anyway?
Chowder in North American Cuisine is a Chunky soup that customarily contains onion, potatoes & seafood that is cooked in a white sauce made with milk or cream.
It's often made with seafood like clams, lobsters, shrimps, crabs & fishes or made with vegetables like Potato Chowder or Corn Chowder.
Variations are often found like Manhattan Chowder that contains no milk or cream but is made in a tomato based thin sauce.
Chowder variations also may include fried bacon bites & corn. Garnishes include fresh chives, dill or even parsley.
Chowder may be roux based or not contain any thickeners at all. It may be thick, creamy & heavy or slightly thin & soupy like today's recipe.
According to Food Network - This creamy soup or Chowder took it's name from a French cooking vessel known as Chaudiere.
It's believed that in the olden days this soup was made by the fishermen in this type of vessel.

What is Salmon Chowder?
Salmon Chowder is a hearty chunky & a very comforting soup that's cooked with nutrient rich veggies like onion, leek, potatoes & carrots in a milk or cream based white sauce with lots of juicy fresh or canned Salmon pieces.
It may or may not contain thickeners like roux. Today's Alaskan Salmon Chowder recipe is cooked in New England Style. It's not dense or thick but slightly on the thinner side as Rhode Islanders prefer.
Note: Salmon Chowder or any Chowder recipe does not have to have leek, but onions are mandatory. Leek is my personal preference. You may skip using it & replace the same amount with chopped white or yellow onion.
Salmon Chowder Recipe Ingredients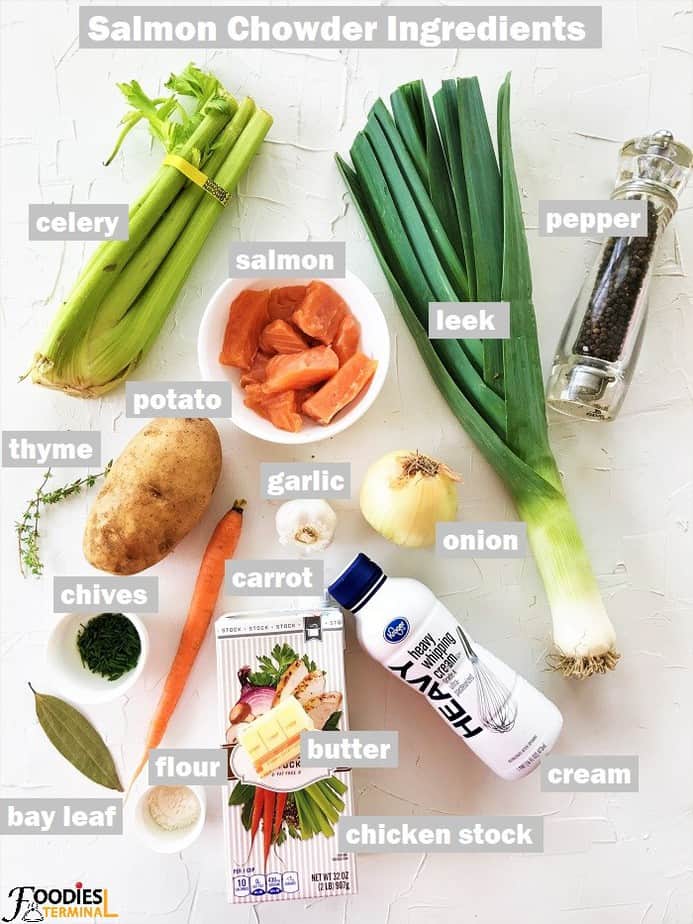 Wild Caught Salmon with skin removed : Cut them into 1" chunks.
Potato : You can use Russet, Yukon or Red potato. I used Russet. Use peeled & diced into large 1" chunks.
Carrot: Cut into thin circles.
Celery: Cut into half moons.
Leek: Chopped finely.
Onion: Use either yellow or white onion and chop it finely.
Garlic: Minced or chopped finely.
Chicken Stock: I use low sodium. You may sub it with seafood stock.
Heavy Cream: You may use whole milk or half and half for a light & low calorie Chowder.
Butter: I used unsalted.
All Purpose flour.
Herbs: Fresh Chives chopped and sprigs of fresh Thyme, Bay Leaf.
Black Pepper: Crushed.
8 Tips to make the Best Alaskan Salmon Chowder
Economical Tip: Swap fresh Wild Caught Salmon with canned Salmon. You may use wild caught canned Salmon. The whole recipe remains the same except that you need to skip skillet roasting the canned Salmon. Drain the water & add the Salmon from the can, you may slightly break it into chunks with the help of a fork.
For Best taste: Use wild caught fresh Salmon. You may add them directly to the Chowder skin removed & just cook through. Or you may flash roast them on a skillet first until lightly golden. Choice is yours 🙂
For a creamier Chowder add heavy whipping cream: And for lighter version you may swap it with equal amount of half & half or even whole milk.
For Thick Salmon Chowder: Add a light roux or follow the steps mentioned below in the "How to thicken Salmon Chowder" section.
Prefer a super light runny Chowder? Skip adding any thickeners at all & swap the cream with whole milk.
For the BEST fish Chowder experience swap the chicken stock with seafood stock. Prepare your own or buy it from your local store.
If you are a Bacon lover add fried bacon to this Salmon Chowder Soup. In that case fry the cubed bacon pieces in butter first. Fish them out & than add the veggies to the pot. We love bacon too, but it's little too overpowering for us in this recipe. And we want the wild caught salmon to shine through.
We skipped adding corn. You may add frozen or fresh corn along with the cream & fish and just cook through. Add ¼ cup corn for todays recipe.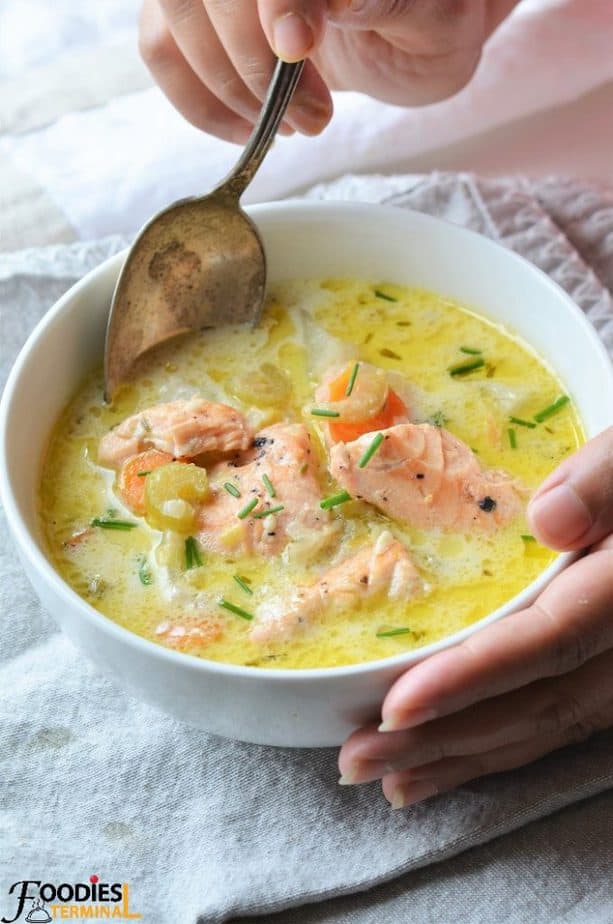 What kind of potatoes are best for Chowder?
For today's Alaskan Salmon Chowder recipe I used Russet Potatoes and they gave this chunky soup the perfect body, depth & thickness.
Here are a few more potatoes choices that we often use to make any kind of Chowder, be it veggie Chowder or Seafood Chowder.
Yukon Gold: I love calling these all-purpose potatoes. Perfect for soup recipes and all kinds.
Russet Potatoes: These are my favorite for cooking seafood chowder and I really don't know why 😛 Maybe because I love the taste that pairs so well with seafoods.
Red Potatoes: Whenever I cook Boston style Chowder that's more thick & creamy I prefer using Red potatoes because they are less starchy & do not mess up with the other thickeners used.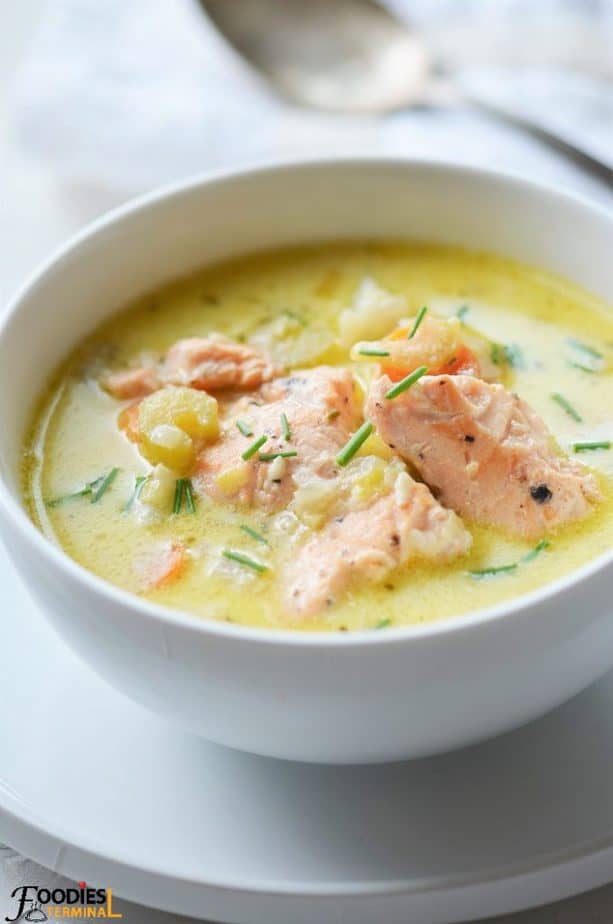 Salmon varieties that works best for Alaskan Salmon Chowder Recipe?
We prefer using wild caught fresh Salmon always. You may use any variety you prefer.
This recipe suits perfectly for canned Salmon too.
We also love making Smoked Salmon Chowder but than that recipe is different, do not use smoked salmon to cook todays recipe.
Pro Tip: If using fresh Salmon remove the skin completely.
What goes with Salmon Chowder?
For a light meal we prefer to eat it with crackers.
And for filling meal choices we love:
Lightly toasted Sour Dough bread.
Garlic Bread.
Lightly toasted Brown Bread.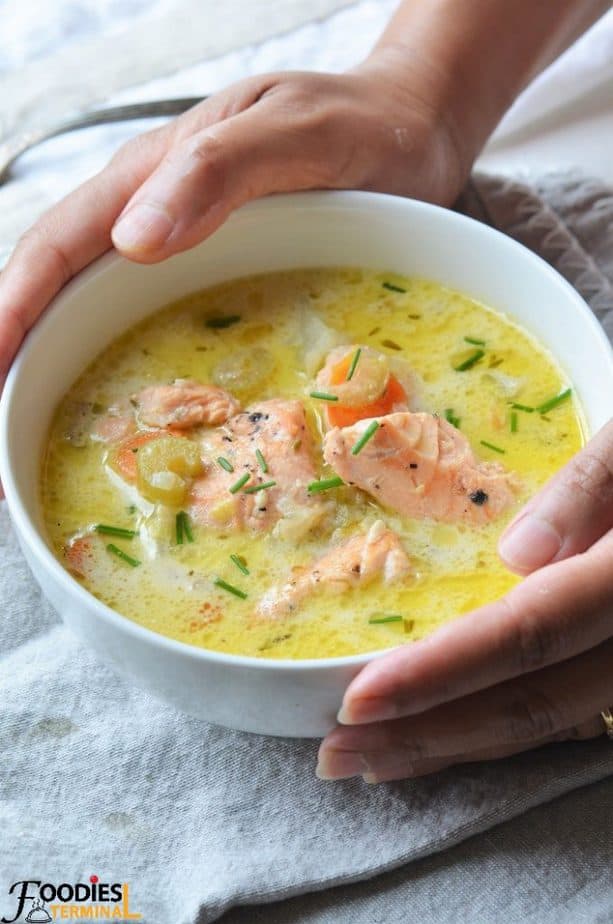 Can Salmon Chowder be frozen?
I do not prefer freezing milk or cream based soup like cooked Bisques or Chowders.
Milk & cream always has a tendency to curdle up when thawed & re-heated.
Though you may try to freeze the cooked veggies in the stock before adding the cream or milk & fish.
Add the milk or cream & fish later while reheating the frozen stock veggie based soup base.
I have never tried doing it but you may try experimenting.
How to thicken Salmon Chowder?
Salmon Chowder can be thickened by following 4 simple methods:
Prepare a light Roux: Cook all purpose flour in butter over medium heat stirring continously & until the raw smell from the flour completely disappears. You'll notice that the roux will puff of slightly. It should take you about 3-5 mins. Allow the roux to cool down slightly than add some milk or cream or water & whisk to prepare a slurry. Add this to the Chowder gently stirring continously. Here's a fantastic guide of How to make Roux by Food Network
Mash a few cooked potatoes with the back of a ladle: This works as quick fix to thicken your Salmon Chowder.
Blend a few cooked veggies in a blender: Fish out a few cooked potatoes along with carrots, celery, onion & leek & blend them to a paste. Mix this paste into the Chowder.
Sprinkle all purpose flour on the sautéed veggies & Sautee for just 1 min: Than add the stock. This too will act as a very light thickener. This is exactly what I did. It certainly saves time & thickens the soup slightly without much effort at all.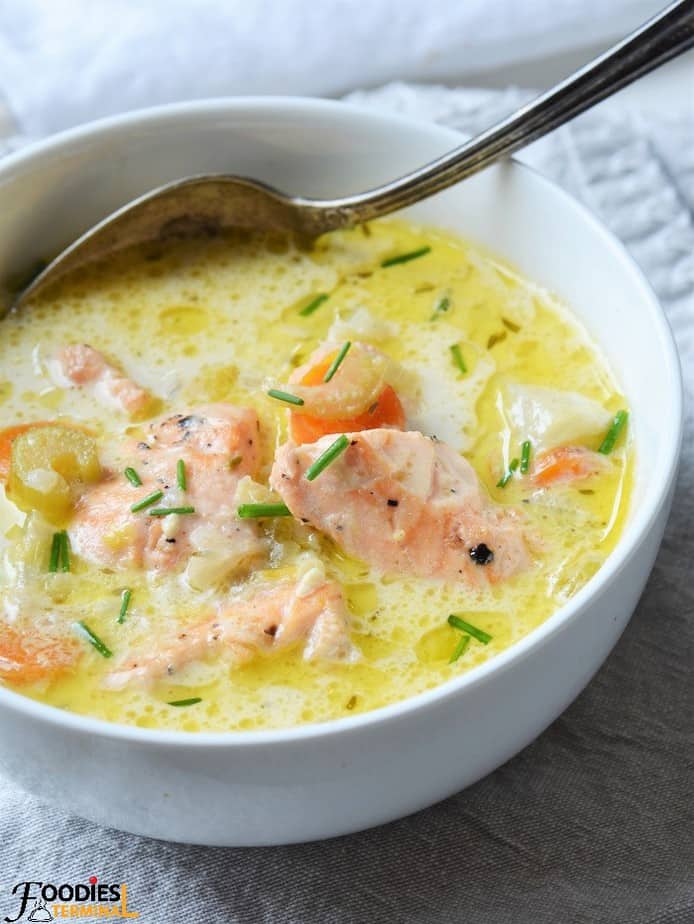 What does Chowder taste like?
It depends what kind of Chowder you are making.
For instance a Boston Chowder with seafood is rich, creamy & thick. Whereas a New England style Seafood Chowder is slightly light, still very creamy & not thick.
Seafood Chowder has a prominent seafood taste that's well balanced with a creamy taste.
It tastes creamy that 's infused with mild fragrance of thyme, bay leaf & fresh chives (or the herb that you choose to use like parsley or dill).
Manhattan Chowder tastes slightly sweet & tangy and is minus the creamy taste as there's no dairy involved.
How to make Salmon Chowder?
Steps in words below picture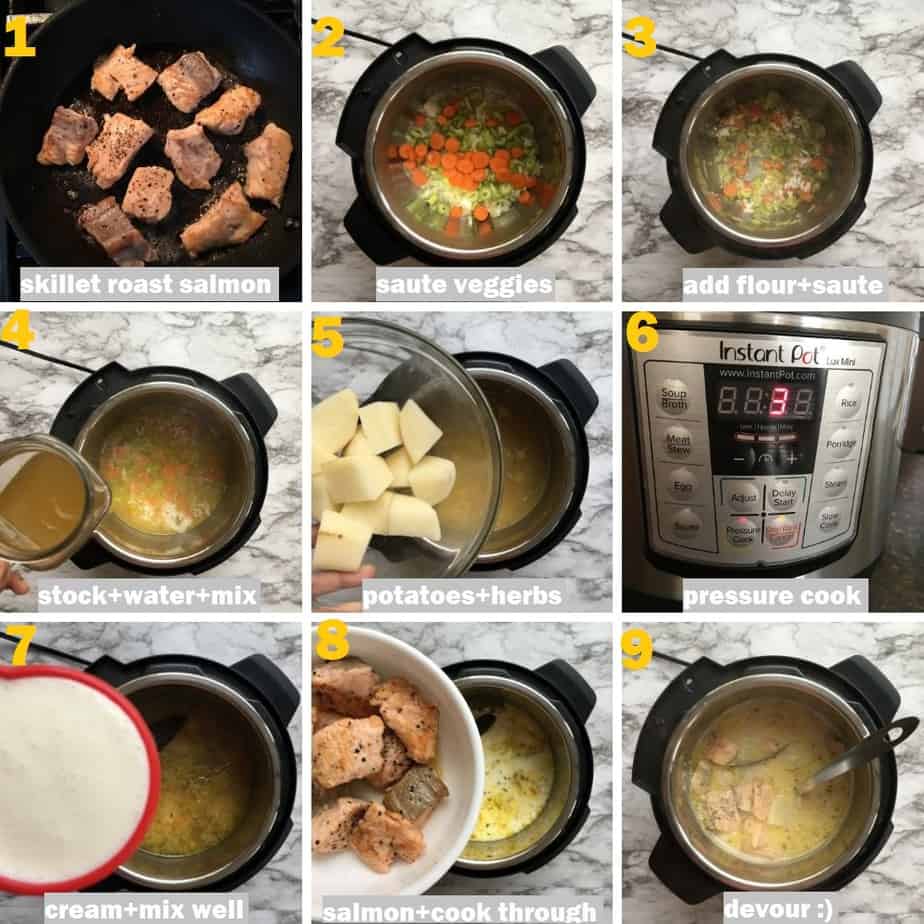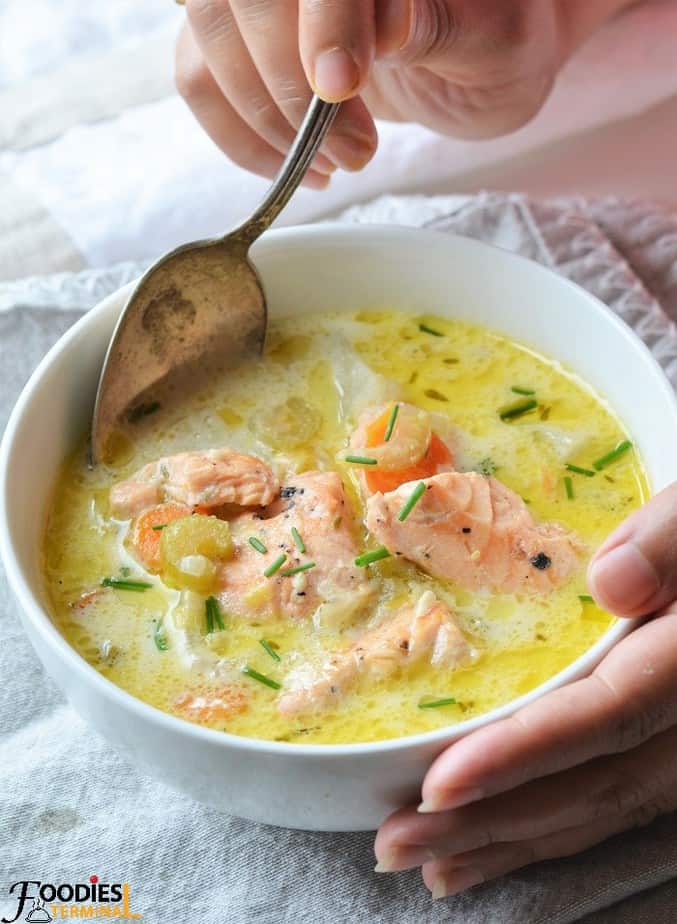 Time needed: 25 minutes.
How to make Salmon Chowder? Step by Step
Prep the Salmon

Sprinkle all purpose flour, crushed black pepper & salt on the fresh Salmon pieces & toss to coat the pieces well with the rub. Skillet roast them with butter until lightly golden. Set aside.

Sauté the veggies until limp

Set the Instant Pot to SAUTE & keep it on NORMAL. Add butter & dump the veggies like onion, leek, celery, garlic & carrots & sauté until just limp. Add salt while sautéing.

Sprinkle flour on top of the veggies

Use all purpose flour & sprinkle uniformly on top of the sautéed veggies and sauté more for 1-2 mins.

Add stock & water

Pour in the stock & water. Scrape the bottom of the pot for any bits & pieces. Give everything a good stir.

Throw in the potatoes, thyme & bay leaf

Add the potatoes, thyme & bay leaf to the pot. Mix well.

Pressure Cook

Cancel the SAUTE mode, close the lip of the IP & seal the valve. Press the PRESSURE COOK button & keep it on HIGH for 3 mins. When the cooking time is over do a quick pressure release & open the lid of the pot.

Add Cream, Salmon & cook through

Cancel the pressure cook mode & press the SAUTE & set it on LOW. Add the cream, mix well & add the salmon pieces. Just cook through for about 2-3 mins. Check for seasoning & serve garnished with chopped chives.
Hungry for more? Don't miss these Easy Recipes from Foodies Terminal. And you can browse our whole INSTANT POT section with s simple click.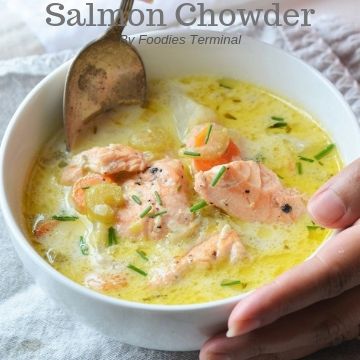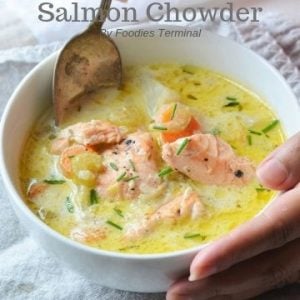 Alaskan Salmon Chowder
Print Recipe
Pin
Rate
Alaskan Salmon Chowder is made in creamy white sauce with lots of nutrient dense veggies & fresh juicy wild caught Salmon chunks. This Salmon Chowder is a perfect comforting bowl of soup that's great for any time of the year. Cook this Salmon Chowder recipe in Instant Pot to get dinner fixed under 30 mins tops.
Ingredients
1

cup

Wild Caught Salmon skin removed

1+2

tbsp

Unsalted Butter

½

cup

leek chopped finely

⅓

cup

finely chopped white or yellow onion

⅓

cup

carrot cut into thin circles

⅓

cup

celery chopped into thin half moons

1

cup

potato peeled & diced into 1" chunks

(Russet, Yukon or Red potatoes)

1+½

tsp

All-Purpose Flour

½+1/2

tsp

Ground Black Pepper

Chopped Chives for garnish

2

sprigs

fresh thyme

1

bay leaf
Want more Recipe Videos?
Check out our Youtube channel!
Instructions
Prepping the fresh wild caught Salmon
Remove the skin from fresh wild caught Salmon fillet with the help of a sharp kitchen knife. Wash the fillet well, pat dry with the help of a kitchen towel and dice chunly pieces about 1" long.

Sprinkle ½ tsp all-purpose flour, crushed black pepper & a pinch of salt. Toss the fishes and than skillet roast them unitl lightly golden. Roast them over medium heat & use 1 tbsp unsalted butter. Set them aside. This step is optional, if you wish you may add raw salmon directly to the Chowder.
How to make Salmon Chowder in Instant Pot?
Set the Instant pot on SAUTE & keep it on NORMAL. Add 2 tbsp butter & when the butter becomes moderately hot dump the onion, leek, celery & carrots and satue until them become limp & soggy. You can add salt now.

Sprinkle 1 tsp all purpose flour evenly on top of the sauteed veggies. Saute for 1-2 mins more.

Now pour the chicken stock + water. Give everything a good stir and scrap any crumbs or bits stuck at the bottom of the pot.

Add the diced potatoes, thyme & bay leaf. Mix well.

CANCEL the SAUTE. Cover the Pot & SEAL the valve. Press the PRESSURE COOK button & set it on HIGH for 3 mins.

After 3 mins when you hear the beep of the Instant Pot do a quick pressure release and open the lid.

Add the heavy cream and the Salmon. Mi well and simmer for about 2-3 mins or until the Salmon is just cooked through. Read the notes for more options.
Notes
Measuring Units used, 1 cup = 240 ml, 1 teaspoon = 5 ml.
Instant Pot used = 3 quart Luxe 
You can add corn if you want. In that case add about ⅓ cup frozen or fresh corns while adding the cream. Adding corn will slightly make the Chowder dense.
Add more cream if you want to and adjust the other liquids accordingly. We love the chowder with little cream and we love it light not thick or dense.
You cut short on the butter quantity. We love a little more butter.
Today's recipe is not a thick & heavy Boston Style Chowder but a New England style light Chowder that's creamy. If you want to make it Boston Style, prepare a light roux and add it to the Chowder. Read the post for more details.
 If you prefer a light Chowder you may replace the cream in today's recipe with whole milk.
If you do not have leek handy sub it with equal parts white or yellow onion.
You may add raw Salmon chunks directly to the Chowder and simmer the soup to just cook through the fish. 
Flash roasting the fresh Salmon Chunks locks the juices in the fish & makes it tender.
You may use Canned Salmon for todays Salmon Chowder Recipe. In that case drain the water from the can and break the canned salmon into chunks with the help of a fork. For better taste use wild caught canned Salmon.
If you prefer crispy fried bacon you may add it as garnish. In that case slice the bacon into small squares and fry them first in butter & add them as a garnish. 
Calorific details are provided by a third party application & are to be used as indicative figures only.
Nutrition Facts
Alaskan Salmon Chowder
Amount Per Serving
Calories 441
Calories from Fat 171
% Daily Value*
Fat 19g29%
Cholesterol 74mg25%
Sodium 942mg41%
Potassium 962mg27%
Carbohydrates 29g10%
Protein 13g26%
* Read our privacy policy - Calorie information is provided as a courtesy only and should be leveraged as an estimate rather than a guarantee.Percent Daily Values are based on a 2000 calorie diet.
Nutrition
Calories:
441
kcal
|
Carbohydrates:
29
g
|
Protein:
13
g
|
Fat:
19
g
|
Saturated Fat:
13
g
|
Cholesterol:
74
mg
|
Sodium:
942
mg
|
Potassium:
962
mg
|
Fiber:
4
g
Pin it for later!