A single whiff of this Easy Mutton Biryani Recipe will make you hungry instantly. Juicy pieces of mutton tenderized & doused in my homemade Biriyani masala powder, layered with extremely fluffy Basmati Rice & than cooked in the oven. No more mushy rice & boring Biryani ever. Learn how to prepare Mutton Biryani at home with the amazing tips shared & a Video to watch.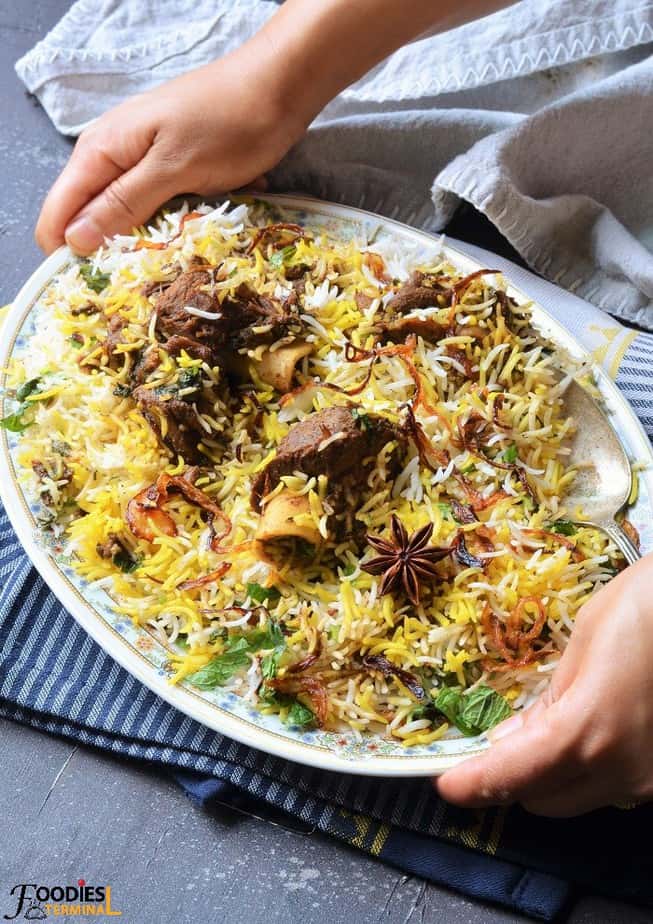 Mutton Biryani Video
Indian Mutton Biryani
This Indian Mutton Biryani will bring you some raving reviews.
You'll have Authentic Mutton Biryani that's cooked with the best pieces of mutton on the bones, long grain Basmati rice, my homemade Biriyani Masala Powder, Ghee, herbs, saffron & Birista (deep fried onion).
To make things easier & a little quicker I cooked a flavorful Biryani specific Mutton gravy in my Instant Pot first. (Check out my Instant Pot Section to find more easy recipes).
I prepped the rice in an open pot, and than started layering the meat & the rice following a simple technique in a terracotta Biryani pot.
Than popped it in the pre-heated oven for just 30 mins.
Making easy Mutton Biryani recipe is that easy & simple.
Doesn't matter if you do not own a terracotta pot, you may use an aluminum tray or any oven proof tray with a cover or make a temporary cover with aluminum foil.
You don't need the best Basmati rice, you don't need organic goat meat what you definitely need is an extra 10 mins time to prepare my homemade Biryani Masala Powder Recipe first.
I would highly recommend you to not use any store bought Masala Powder, because they won't make the Best Biryani ever.
The homemade Biryani Masala Powder Recipe is a game changer. Once you make it & use it you'll instantly know why 🙂
Until than let's learn how to prepare an authentic mutton Biryani at home.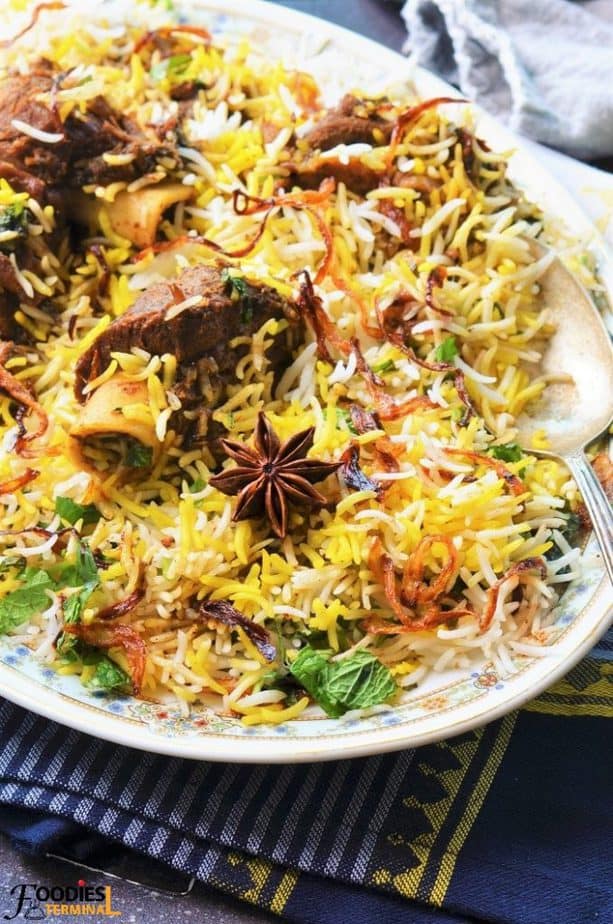 What is Biryani anyway?
Biryani is the most ordered, the most loved dish in India.
It is made with juicy meat pieces tenderized & doused in a yogurt masala based marinade, cooked in a gravy & than layered with al dente Basmatic rice.
The whole dish is than slow cooked for a long time over low heat until the rice fluffs up & the different layers of flavors get infused together.
Mutton Biryani is made with Mutton & Basmati rice following the same method.
Although Biryani recipes vary from region to region yet every recipe has it's own unbeatable taste.
Like Hyderabadi Dum Biryani, Lucknowi Awadhi Biryani, Pakistani Biryani, Mauradabadi Biryani, Ambur Biryani, Kolkata Style Biryani etc.
Biryani is also made two ways – Pakki Biryani & Kachchi Biryani.
Pakki Biryani is made with cooked meat gravy whereas Kachchi Biryani is made with raw marinated meat.
Etymology: One theory claims that Biryani is derived from the Persian word Birinj which means rice & another theory claims that it's derived from the Persian word Biryan or Beriyan which means to fry or roast. Courtesy: Wikipedia.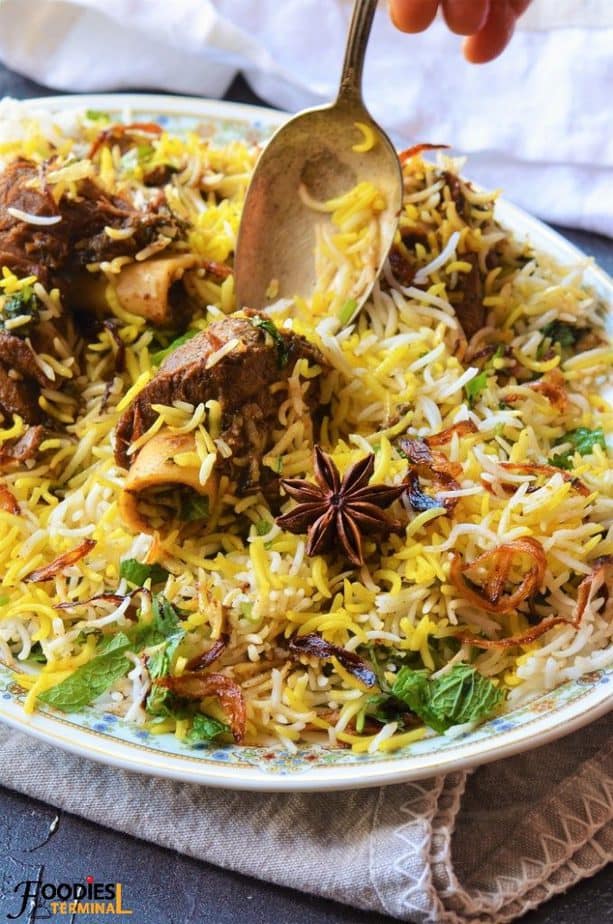 Mutton Biryani Ingredients
You need a few ingredients for making a traditional Mutton Biryani recipe.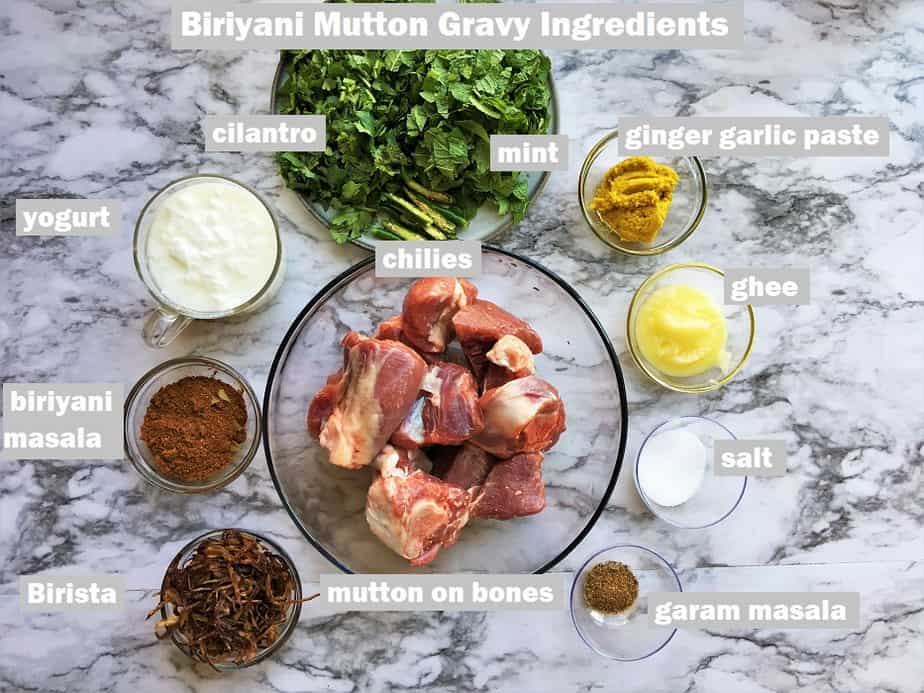 Long Grain Basmati Rice: Use aged Basmati rice for best flavors and avoid the most fragrant rice.
Mutton on the Bones: We love Nalli so we used shank pieces and chunky leg meat for the boneless meat lovers. You may use a mix variety of mutton pieces.
Homemade Biriyani Masala Powder: This is so important, just make the Mutton Biryani Masala ahead or keep aside 10 mins to make it before beginning with the recipe.
Garam Masala Powder.
Ghee: I always prefer using Homemade ghee. I'll bring the recipe for you guys very soon.
Ginger Garlic Paste: I have a fantastic homemade ginger garlic paste recipe that lasts up to 6 months without turning green. The post contains a mini Video too.
Yogurt: I use homemade yogurt. No need to hang it, use it directly as such. You can use any store bought full fat yogurt.
Milk
Saffron
Herbs: Cilantro or coriander & Mint.
Birista: Deep fried onion slices.
For the Masala Potli (a temporary whole spices pouch): Mace, green cardamom, Cinnamon, Shahi Jeera, Star Anise, Cloves. Tie these whole spices in a small muslin cloth to form a pouch. Simmer the pouch along with the rice. Discard it once the rice is 80% done.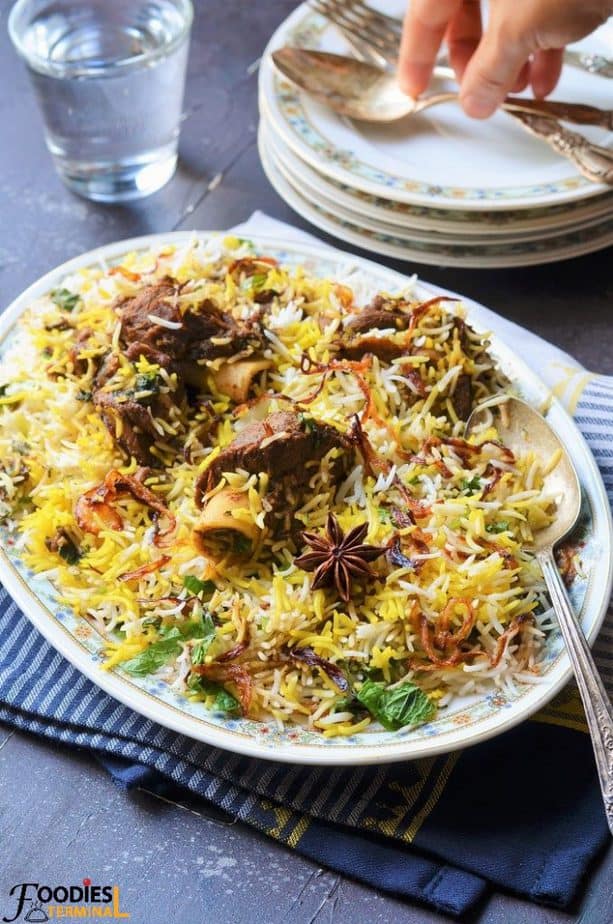 Prepping the Authentic Mutton Biryani Rice
Things that you need: Basmati Rice, Ghee, Salt, Masala Potli or temporary spice pouch containing Shahi Jeera, star anise, cloves, green cardamom, cinnamon & mace.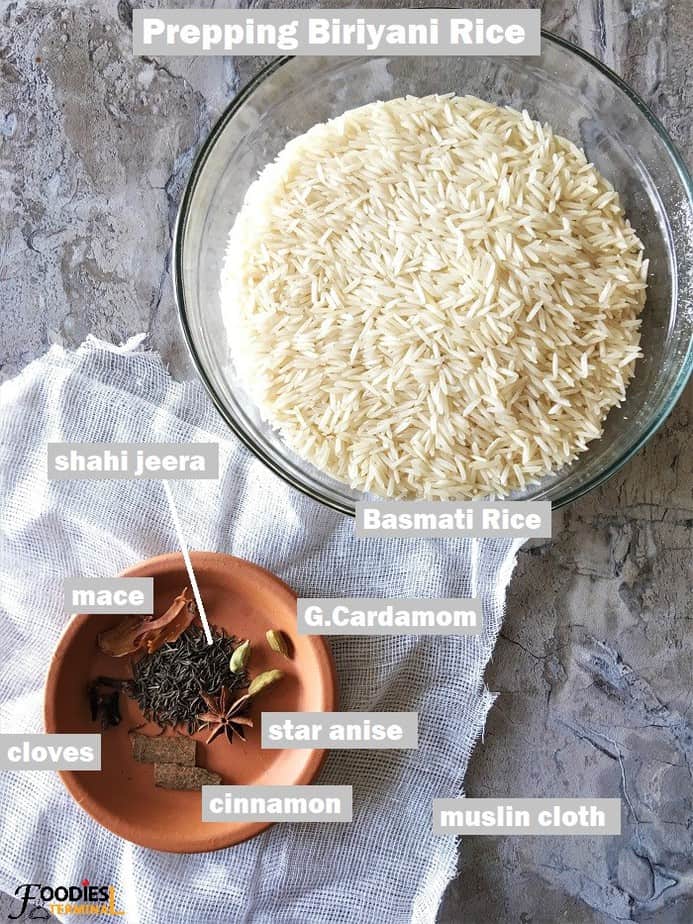 If you hate Biryani Rice Disaster just like we do read this 😀
Cooking the Best Biryani actually begins with the Rice. It's important that the rice is perfectly cooked and always fluffy. The below points will help you achieve just that.
The best Biryani rice is never the most fragrant rice. Use aged Basmati and avoid the most fragrant rice by all means. Because we want the tice to soak up the masala flavor & the mutton flavor. The most fragrant rice can never let that happen. It has a lot of strong fragrance of its own that completely dominates the other flavors.
Soak the rice before cooking: This is mandatory. Soak Basmati rice for not more than 20 mins. This puffs up the rice grain and results in extremely fluffy Biryani rice.
Cook the rice along with the Masala Potli, ghee & salt. These add flavors to the rice. You can also add the whole spices directly to the rice instead of putting them inside a temporary cloth pouch. We don't like fishing them out with every single morsel of the Mutton Biryani, so, the pouch helps. And the ghee prevents the rice grains from sticking with each other.
Add the rice in roaring boiling water. Bring the rice to a roaring boil too and than lower the heat to medium. The high heat will help the rice to fluff up whereas the medium heat will prevent it from breaking. Apply this technique to cook perfect and the fluffiest Biryani Rice, it always helps us every single time.
Cook the rice not more than 80%. Over cooked mushy rice makes the worst Biryani. Cooking the rice right is so important. Biryani rice is always fluffy & never mushy.
Drain the rice & spread in a large container immediately: This is very important and this simple method prevents the rice from getting over cooked with the residual heat.
Note: If you do not love the flavor of ghee use any white oil like canola or vegetable oil. It will change the taste of the Biryani but not in a bad way. The Mutton Biryani will still be flavorful.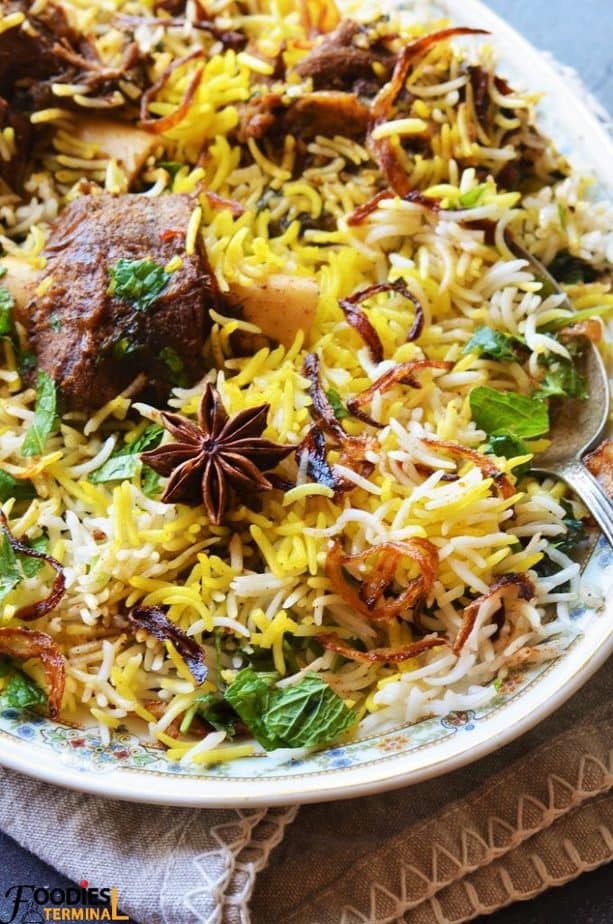 Mutton Gravy for Biryani
Cooking the Mutton Gravy for biryani is very easy. And with the help of an Instant Pot or pressure cooker you can do it much quickly.
You can use a mix of both Shoulder cut & leg. The best mutton for Biryani is always meat on the bones or a mix of both on the bones & boneless.
When we use a mix of both kinds we prefer the 80-20% ratio of On the bones meat : Boneless meat. This makes a great combo of the most flavorful meat pieces.
To make a batch of the most flavorful Biryani you need to cook a delicious Mutton gravy first containing absolutely tender & juicy mutton pieces.
And you can do just that in two easy steps:
First, marinate the Mutton for at least 2 hours or over night: A simple marinade helps a lot to tenderize the mutton, makes the meat extremely flavorful & keeps it so juicy. Marinate the mutton with ghee, biryani masala, yogurt, salt, mint, cilantro, chilies
Than, cook it in an Instant Pot or Pressure cooker with some water. You need to dump the marinated meat in the pot along with the marinade, sauté it for sometime to let the oil ooze out what we call "Bhuna" in Hindi and than cook it with some water. The gravy must have some amount of liquid and should not be soupy or runny.
With the help of the above two simple steps you can make a lip-smacking, tender, juicy, Biryani-specific Mutton Gravy that will eventually result in making the Best Mutton Biryani in the whole wide world.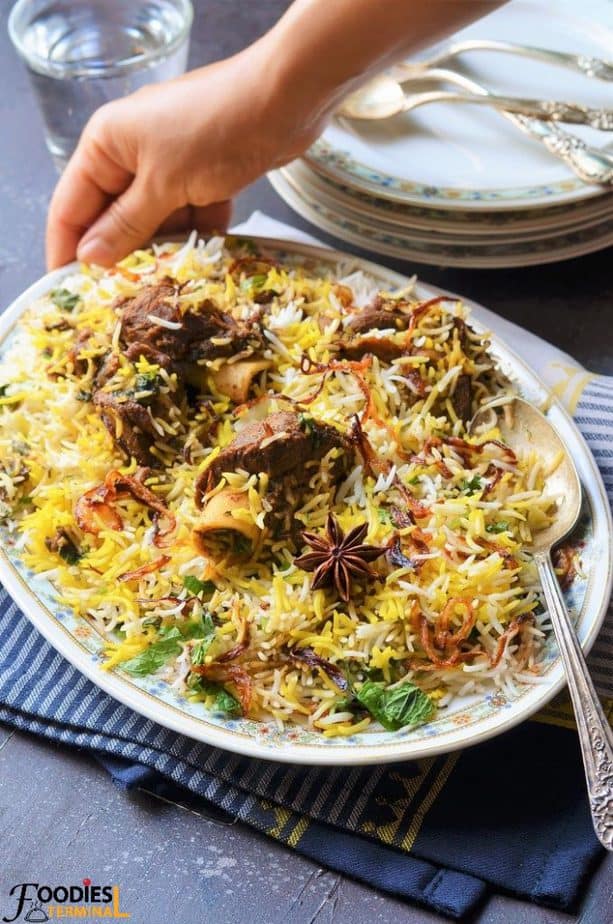 Assembling the Easy Mutton Biryani
This is exactly what you'll need to assemble todays Mutton Biryani.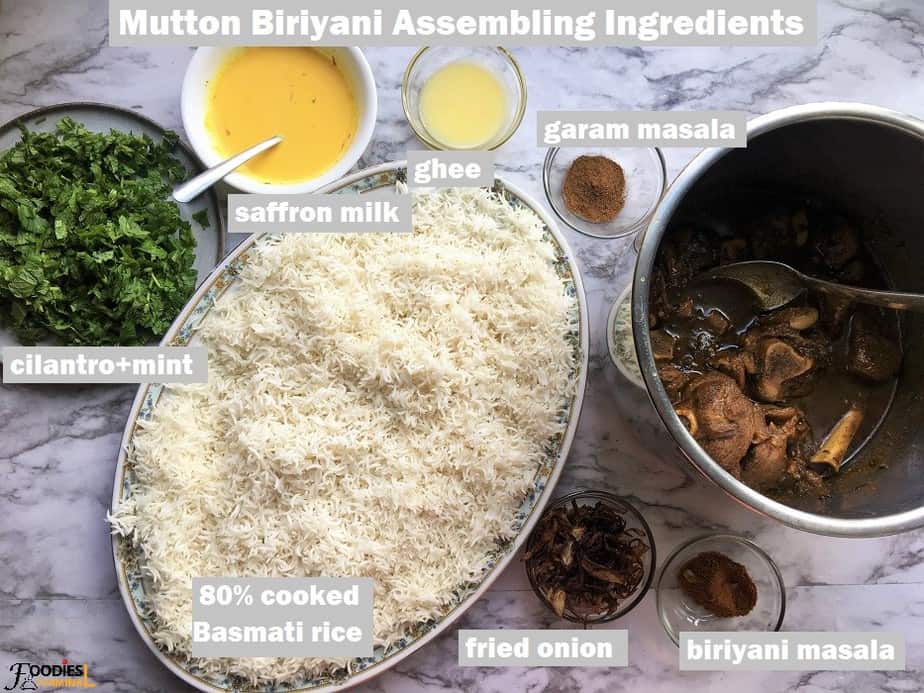 Mutton Gravy for Biryani.
Cooked Rice (80% doneness).
Saffron milk: Saffron strands soaked in warm or hot milk. Check the Recipe card below for details.
Ghee
Garam Masala Powder.
Homemade Biryani Masala Powder.
Birista or fried onions.
Herbs: Cilantro & mint.
5 Tips to make Authentic Mutton Biryani Recipe
Are you excited for the tips?
So, am I 😀
I am super excited to tell you every single thing that I learned.
Biryani seems complicated but believe me with the right technique it's extremely easy and you can even whip it up during a busy week night.
The below tips will make your Authentic Mutton Biryani Recipe the best in the block 😉
Don't over cook the rice and follow all the tips mentioned above in the "Prepping the authentic Mutton Biryani rice" section.
The quality of rice matters: Use a variety of rice that can beautifully soak up the flavors from the spices & meat. Aged & not the most fragrant variety of Basmati is the best choice for Mutton Biryani.
Don't skip marinating the mutton: This helps to tenderize the meat, keeps it ultra juicy & flavorful. Refer to the section above, "Mutton Gravy for Biryani".
Cook a delicious Mutton gravy first: Follow the Bhuna technique and once the marinated mutton hits the pot begin frying it over high heat until oil begins to leave the sides of the pot. This Bhunnofying technique will yield a delicious finger licking good Mutton gravy for Biryani.
Follow the right Mutton to Rice ratio: And what's the exact ratio that you must follow? It actually depends on what you prefer more meat than rice or equal quantities of meat & rice. Meat lovers may use 2:3 Rice : mutton whereas, the rest may use 1:1 rice: mutton ratio. We prefer more mutton.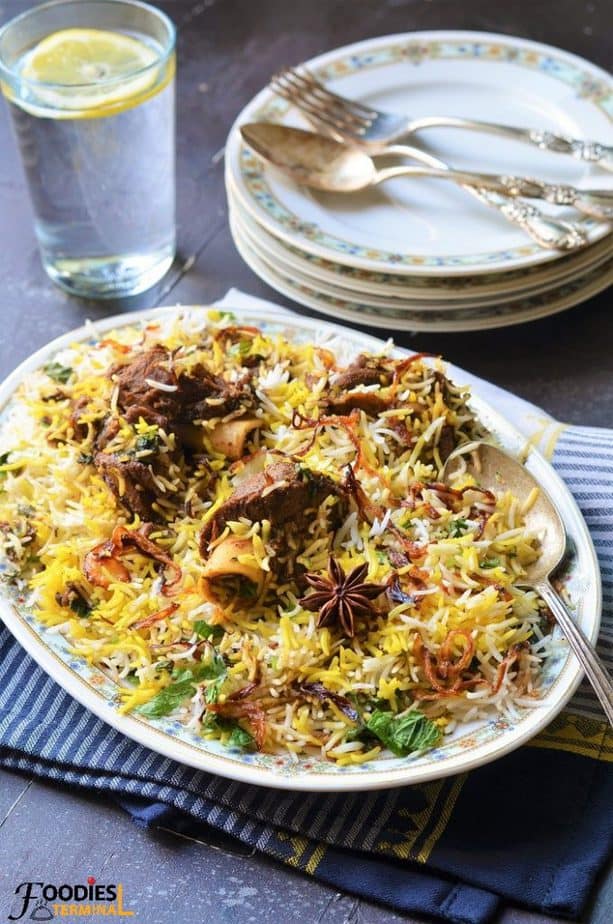 Mutton Biryani Masala
Today's delicious Mutton Biryani recipe gets the maximum flavor from my homemade Biryani Masala Powder Recipe.
It's prepared from a fresh batch of whole spices that are dry roasted first and than ground to a fine powder.
There are few extra ingredients that make this homemade biryani masala powder special & extremely fragrant.
I prepared a detailed separate post for you guys. It contains a video and also the step by step method. Do check it out here.
Check out Mutton Biriyani Masala Powder Recipe Below.
How to prepare Mutton Biryani at home? step by step
Steps in words below pictures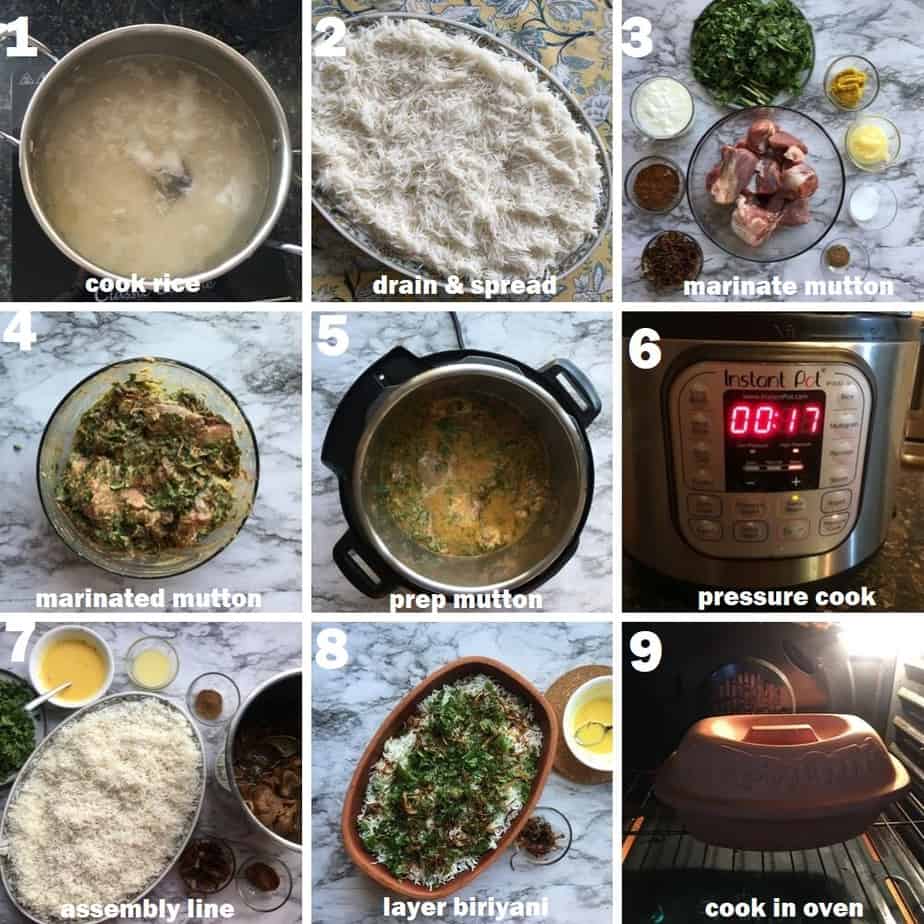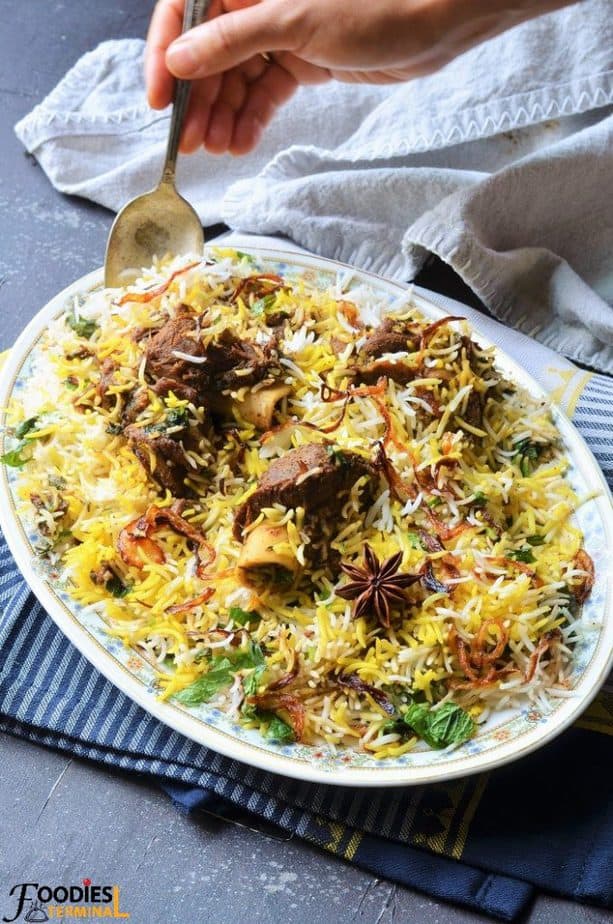 Mutton Biryani Step by Step
Cook rice until 80% doneness

Boil rice in roaring boiling water along with the spices pouch until 80% doneness.

Strain rice

Immediately strain the rice, and spread on a wide surfaced plate. This prevent the rice from getting over cooked with the residual heat.

Marinate Mutton

Add all the marinade ingredients, mix with the mutton pieces. Set aside for at least 2-3 hours.

Pressure cook the Mutton Gravy

Add the marinated mutton pieces along with the marinade in the Instant pot and fry well on NORMAL heat on SAUTE mode until oil begins to leave the sides of the pot. Add enough water & pressure cook for 17 mins on HIGH.

Assemble the Mutton Biryani

In an oven proof pot layer the Mutton Biryani. Some mutton gravy goes in the bottom of the pot first, than layer some rice sprinkle some spice powders, Birista, herbs, ghee & saffron milk. Repeat the process with the final layer of rice on the top.

Cook the Biryani in the Oven

Cover the pot and cook for 30 mins in a pre heated oven at 350 F.
Easy Mutton Biryani – FAQs
Mutton Biryani Calories
670 calories per serving.
Is Kewra used in Biryani?
Is Kewra (an extract distilled from Pandanus flowers) is sometimes used to flavor Biryanis. It's a personal choice to add it or skip it. Kewra has a strong fragrance. Sometimes rose water is used instead of Kewra. In today's recipe I used none.
What is the tastiest Biryani?
Hyderabadi Biryani is quiet popular in the Indian restaurants followed by Lucknowi Biryani, Kolkata Biryani, Ambur Biryani & Mughlai Biryani. Every variety is delicious, it's totally a personal preference.
What are the different varieties of Biryani in India?
Hyderabadi Dum Biryani, Lucknow Awadhi Biryani, Ambur Biryani, Kolkata Biryani, Sindhi Biryani, Mughlai Biryani. These are a few famous ones.
Which is the best Biryani in India?
In India, Hyderabadi Dum Biryani is quiet popular, loved & known to most people. It was the favorite of the Nizams of Hyderabad. The recipe uses minimum spices & always cooked in Dum Pukht style in dough sealed containers over low heat.
Who invented Biryani?
Many Historians believe that Biryani has it's original roots in Persia and was later brought in India by the Mughals. It later evolved inside the Mughal Kitchens and became a favorite complete meal by itself.
Which city is famous for Biryani?
Lucknow & Hyderabad.
What is the difference between Biryani and Pulao?
For making Biryani rice & meat is cooked separately in different pots and than layered & cooked again in a single pot. Whereas for making pulao rice and meat is cooked together in a single pot. Both biryani & pulao tastes and look different.
Love Mutton? Check out these Mutton Recipes from Foodies Terminal.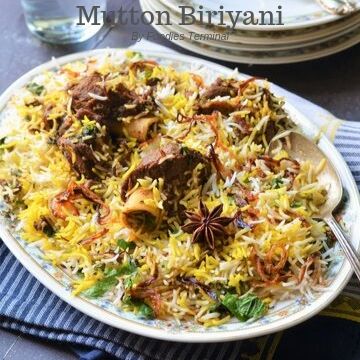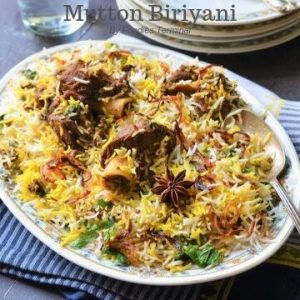 Easy Mutton Biryani Recipe
Print Recipe
Pin
Rate
Easy Mutton Biryani Recipe made in the oven with tender mutton pieces and fluffy Basmatic rice.  This Authentic Mutton Biryani is a perfect dinner recipe that you can easily whip up by following the tips.
Ingredients
For Mutton Marinade and gravy
900

gms

Mutton on the bones cut into 2″ pieces

1

cup

Yogurt

3/4

tbsp

Garam Masala Powder

1

tbsp

ginger garlic paste

1/2

cup

Ghee

5

green chilies slit

1/2

cup

Birista

1/2

cup

chopped mint

1/2

cup

chopped coriander leaves

(also known as cilantro)
For cooking the Biryani Rice
For layering the Mutton Biryani
Want more Recipe Videos?
Check out our Youtube channel!
Instructions
How to cook the Biryani Rice?
Begin by washing the Basmati rice very well under running tap water. Soak the rice with enough water for 20 mins. Do not skip this step.

Next, take samll piece of mslin cloth just enough to make a temporary pouch. Place all the dry whole spices mentioned in the "For cooking the Biryani Rice" section and tie a knot to make a small pouch.

In a deep bottomed pot or saucepan bring enough water to roaring boil. Add the soaked basmati rice, ghee, salt and the small temporary spices pouch. Bring the rice to a roaring boil too and immediately turn down the heat to medium. Cook the rice until 80% done.

Drain the rice immediately, and spread it on a large plate. If possible keep it under a fan or near a window so that the rice will come down to room temperature fast and stop getting cooked with the residual heat. In the meantime cook the Mutton gravy.
How to cook the Mutton Gravy for Biryani in Instant Pot?
Wash the mutton pieces well and pat them dry completely. Next, add all the ingredients to the meat mentioned in the "For Mutton Marinade & Gravy" and mix well with the help of your hands or a spatula. All the mutton pieces must be well coated with the marinade. Allow to marinated meat to rest for at least 2-3 hours in the fridge.

Next, set the Instant Pot on SAUTE & keep it at NORMAL. 

Add the marinated mutton along with the marinade to the pot and fry until oil begins to leave the sides of the pot. 

Add water just enough so that mutton pieces are just 70% submerged. Close the lid of the pot, seal the valve and CANCEL the SAUTE. Press the PRESSURE COOK mode and cook on HIGH for 17 mins.

After 17 mins when the Instant Pot begins to beep do a Quick Pressure Release and than open the lid of the pot. Sometimes mutton might release lots of water, so if there's too much water simmer and make the gravy to your prefered consistency. Set aside.
How to assemble Mutton Biryani step by step?
Gather all the ingredient and create a mini assembly line so that you do not miss out on any ingredient.

Prep the oven proof Biriyani pot (I used a terracotta pot but you may use aluminum tray). Grease the interior of the pot with ghee.

With the help of a ladle scoop out the mutton gravy and arrange in at the base of the pot or tray in a single layer. Pour the gravy evenly on top of the mutton pieces.

Sprinkle some chopped cilantro & mint leaves, a few barista, little garam masala powder & biriyani masala powder.

Layer cooked basmati rice on top of the mutton in a single layer. Drizzle about 4 tablespoons saffron milk on top of the rice layer. 

Sprinkle more chopped cilantro & mint leaves, barista, garam masala powder & biriyani masala powder.

Layer the rest of the basmati rice and top the final layer with chopped mint & cilantro, barista, garam masala powder, biriyani masala powder and rest of the saffron milk.

Cover the terracotta pot with its lid or if using an aluminum tray cover it with the help of a large sheet of aluminum foil.

Place the pot or tray in the middle rack of a pre-heated oven at 350F and cook it for 30 mins.

Remove from the oven and serve hot. Enjoy.
Notes
Measuring Units used, 1 cup = 240 ml & 1 teaspoon = 5 ml.
 Instant Pot Used: 6 quart DUO.
How to make Saffron milk: Take about 1/2 cup milk and heat it up in the microwave oven or on the stove top. Add about 1 teaspoon saffron strands into the hot or warm milk, stir well and cover and allow the mixture to sit for at least 20 mins. You will get a lovely golden milk. Use it while layering the Mutton Biryani.
We love mutton so we used 2:3 Rice : Mutton. If you love meat use this ratio or else you may also use 1 :1 ratio.
 Do not use more ghee while cooking the rice. This will effect the cooked rice. The rice will become greasy and won't fluff up properly. We want just enough ghee to prevent the rice from sticking with each other.
 Do not cook the rice more than 80% doneness. This is very important.
 To prevent the rice from getting over cooked with the residual heat strain it immediately and spread it quickly on a large surface. A fan or an open window helps a lot to bring down the temperature of the cooked rice faster.
A terracotta Biryani pot is not mandatory. This easy Mutton Biryani Recipe is extremely suitable for aluminum trays as well. We cook in them often and we love them. They make awesome picnic boxes too.
Calorific details are provided by a third party application & are to be used as indicative figures only.
Nutrition Facts
Easy Mutton Biryani Recipe
Amount Per Serving
Calories 670
Calories from Fat 324
% Daily Value*
Fat 36g55%
Cholesterol 102mg34%
Sodium 1686mg73%
Potassium 560mg16%
Carbohydrates 52g17%
Protein 29g58%
Vitamin A 350IU7%
Vitamin C 6.6mg8%
Calcium 90mg9%
Iron 3.8mg21%
* Read our privacy policy – Calorie information is provided as a courtesy only and should be leveraged as an estimate rather than a guarantee.Percent Daily Values are based on a 2000 calorie diet.
Nutrition
Calories:
670
kcal
|
Carbohydrates:
52
g
|
Protein:
29
g
|
Fat:
36
g
|
Saturated Fat:
16
g
|
Cholesterol:
102
mg
|
Sodium:
1686
mg
|
Potassium:
560
mg
|
Fiber:
1
g
|
Sugar:
1
g
|
Vitamin A:
350
IU
|
Vitamin C:
6.6
mg
|
Calcium:
90
mg
|
Iron:
3.8
mg
Pin it for Later!