Make this Turkey Black Bean Corn Chili to satisfy your chili cravings in a much healthy way & even during weeknights. This Healthy Turkey Chili made in the Instant Pot is a delicious one pot meal made with Black Bean, Pinto bean & extra lean ground turkey. And yes you can make easy Turkey Chili during weeknights and under 30 mins.
Check out a set of easy Instant Pot Recipes from Foodies Terminal.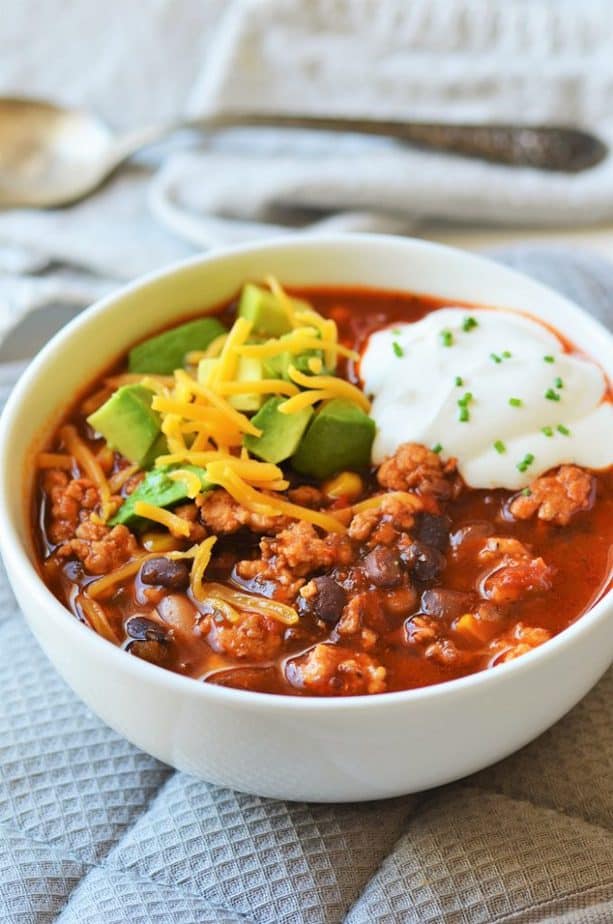 Watch How to make Turkey Chili in Instant Pot
Instant Pot Turkey Chili Recipe
Often times easy weeknight dinners does not count Chili recipes but Today's Instant Pot Black bean Turkey Chili will change your mind completely!
It's fabulous, delicious, soul satisfying & the quickest Turkey Chili recipe ever!
If you are a fan of a quick chili recipe than do not let this Instant Pot Turkey Chili Recipe go!
It's incredibly easy to make in an Instant Pot.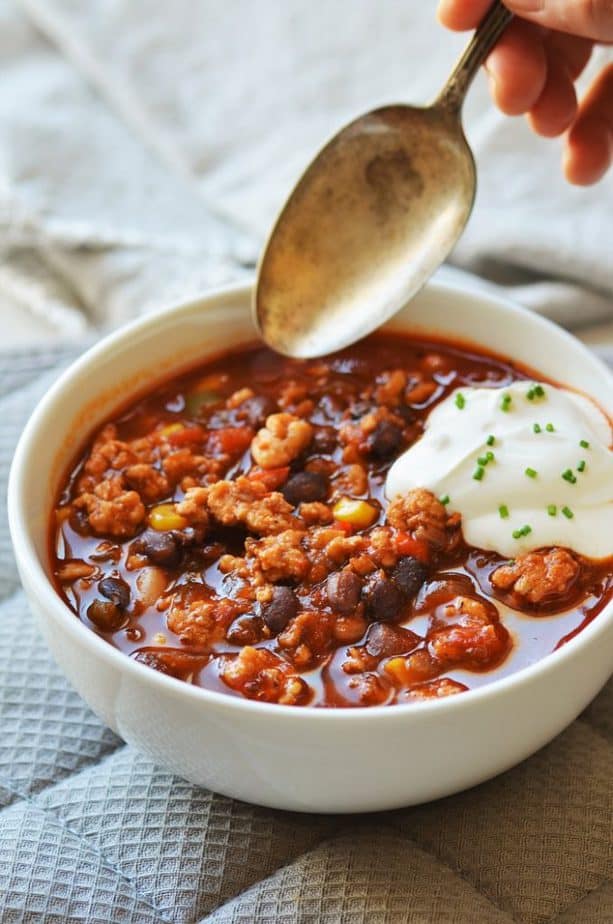 And if you love cooking from scratch just like us just soak the beans over night, pressure cook them first and cook this easy turkey chili in your Instant Pot.
Or you may even use the canned beans from the store. We use them often too.
Just rinse them well before dumping them to the pot. This helps to rinse off the extra sodium.
Today's Instant Pot Turkey Chili recipe will help you fix dinner in minutes.
And your whole family will love you for this delicious, healthy, guilt free easy turkey Chili recipe that's loaded with lots of juicy extra lean ground turkey, black beans & pinto beans.
Let's make this pressure cooker turkey chili together 😉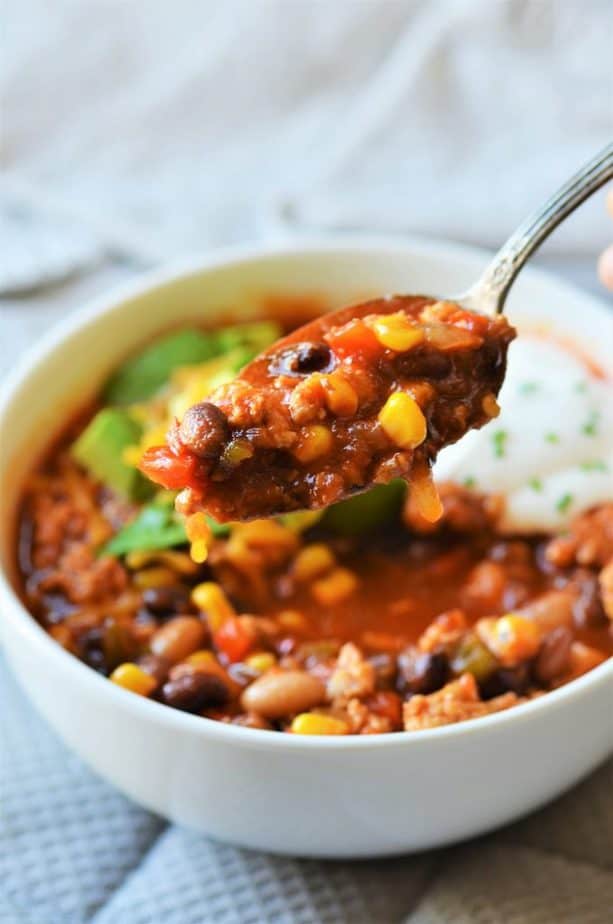 What is Turkey Chili?
Turkey Chili is a delicious, nutritious one pot complete meal made with beans, ground turkey & chili seasoning.
It's an economical dinner recipe perfect to feed a large family or a huge crowd.
Turkey Black Bean Corn Chili Ingredients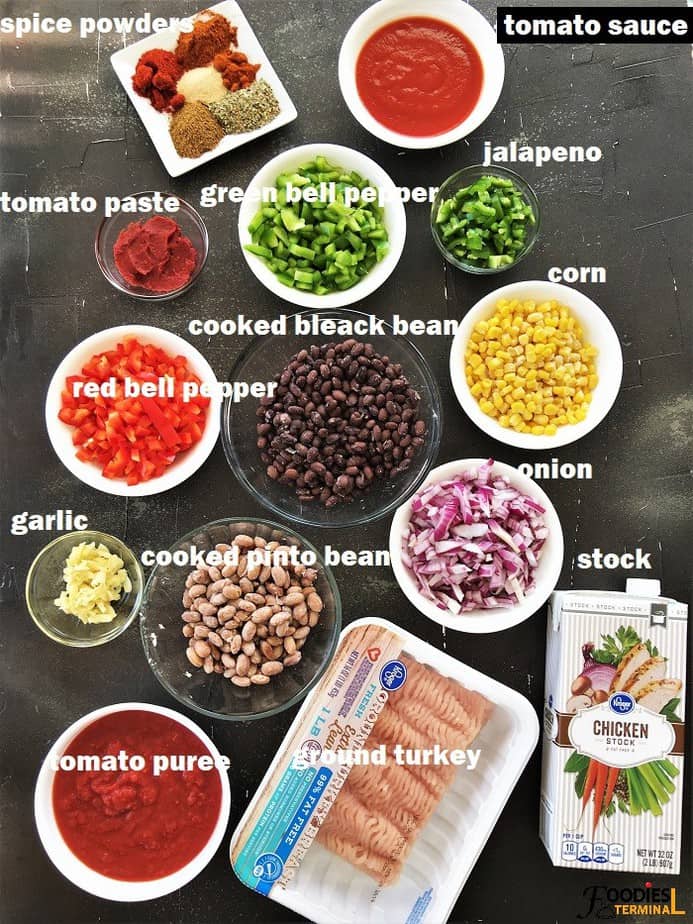 Ground Turkey: Use lean or extra lean.
Beans: Cooked Black Bean & cooked Pinto Bean.
Chicken stock: Use the low sodium variety.
Veggies: Frozen corn, fresh chopped green & red bell peppers, chopped Jalapeno peppers.
Garlic: Roughly chopped.
Chopped Onion: Use red or yellow onion.
Various forms of tomato: Tomato Paste, Tomato sauce & tomato puree. I used store bought varieties.
Turkey Chili seasoning: Paprika powder, cumin powder, red chili powder, cayenne pepper powder (optional), oregano, garlic powder.
Oil: Extra Virgin olive oil.
4 Tips to make the best Turkey black bean corn Chili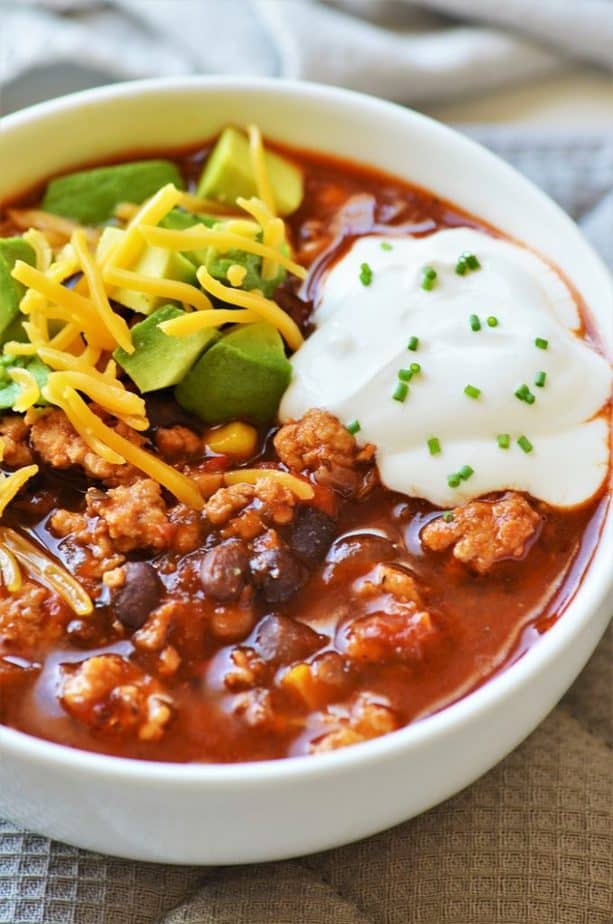 A wooden spatula is must to fry the ground turkey: A Chili recipe tastes best when there's chunky pieces of ground meat in it. And for today's recipe you can achieve chunky pieces of ground turkey only when you use a wooden spatula to fry the turkey mince.
Do not stir the ground turkey too much while frying. This is so important. If you briskly stir the ground turkey while frying it than it will mash up and become fine and not chunky. A chili preparation never tastes good with fine ground meat.
Do not miss the Turkey Chili seasoning: Those handy pantry staple spice powders will result in an incredible homemade turkey black bean corn chili seasoning that'll pack the best flavors.
Layer and cook today's Instant Pot Turkey Chili: I just cannot praise enough the layering technique. This particular technique to cook any chili recipe builds up the best flavors and also prevents the chunky ground turkey from breaking into finer pieces.
Note: Extra Lean or Lean ground turkey is a fine meat that doesnot hold shape very well when sautéed or fried. The best trick is to not stir it briskly while frying and always choose a wooden spatula to do the job.
What goes with Turkey Chili?
Though Turkey Chili is a complete meal by itself that's super filling and wades of hunger for a long time yet we sometimes do love enjoying it with the following sides:
Corn bread.
Crusty Sourdough bread.
Baked Potato wedges.
A simple salad.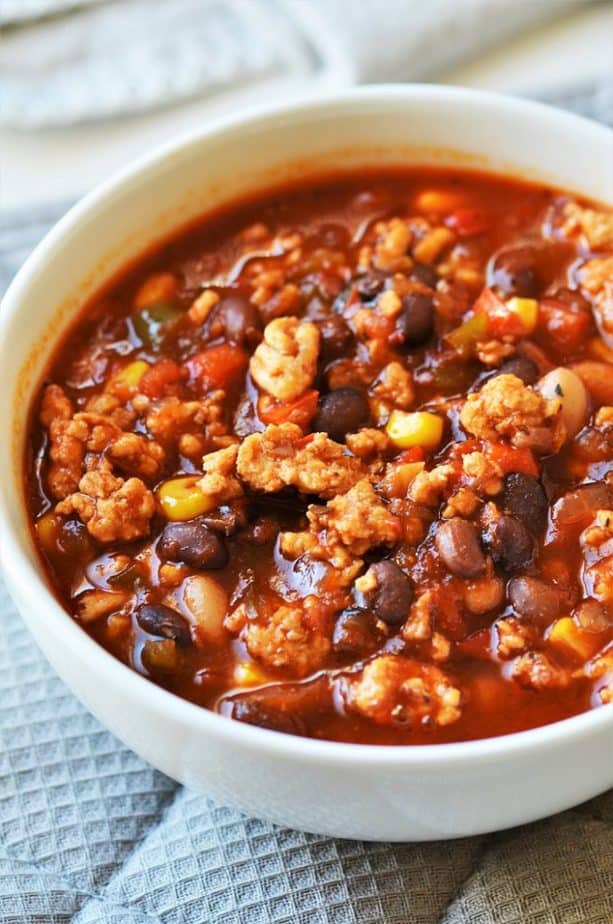 How long will Turkey Chili keep in the fridge?
Turkey Chili will last for 4 days in the fridge when you store it in air tight container.
Can Turkey Chili be frozen?
Yes, Turkey Chili can be easily frozen for 2 months.
Pop the turkey chili in freezer safe bags or portion sized individual containers and store in the freezer for 2 months.
Thaw over night in the fridge, re-heat and serve.
Can Turkey Chili sit out overnight?
According to food safety it's not recommended to consume Turkey Chili that sits out over night.
The bacteria grows to a dangerous level and can sometimes make you quiet sick if you consume chili that sits out for more than 2 hours.
It's better that you allow the Turkey Chili to come down to room temperature and than store it in the fridge to enjoy it later.
Is Turkey Chili healthy?
Turkey Chili is packed with protein, fiber, Vitamin C & iron. It's definitely a healthy meal.
How to thicken Turkey Chili?
Make a slurry by mixing about 1.5 tablespoons corn flour with 1/4 cup water. Pour and mix this slurry with the Turkey Chili and simmer for a few mins until the sauce boils and thickens.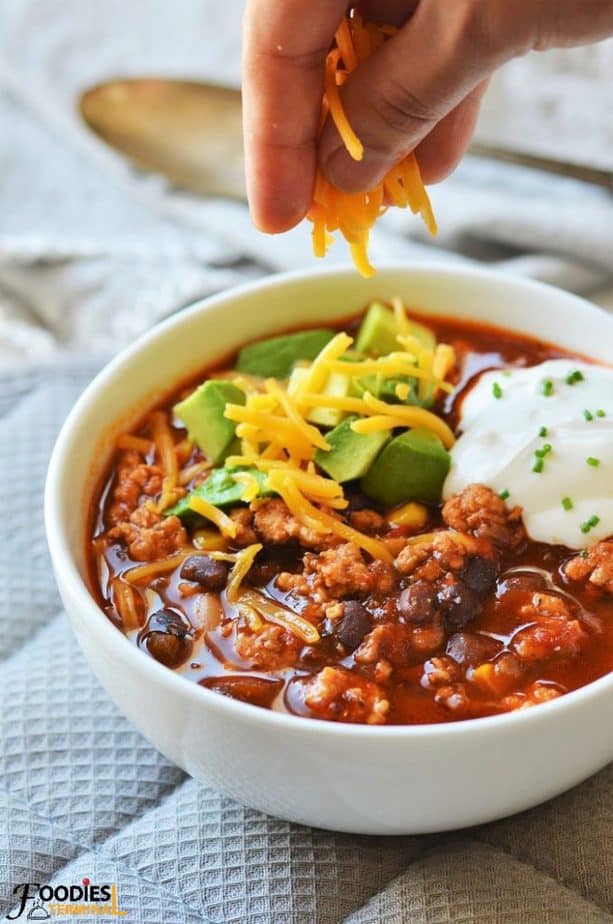 FAQs – Turkey Chili Pressure Cooker recipe
Is Turkey Chili keto?
No, Turkey Chili is not Keto as it contains beans.
Is Turkey Chili gluten free?
Yes, Turkey Chili is gluten free. I used dry beans to make todays Turkey black bean corn chili. But, if you choose canned beans to make todays recipe do read the labels for any added additives especially wheat starch, wheat flour.
How long can turkey chili sit out?
Turkey chili can sit out safely without any bacteria infestation for 2 hours at room temperature. According to food safety it's advisable to refrigerate any leftover chili and not leave it outside for more than 2 hrs. Bacteria's grow quickly.
Can you eat Turkey chili on keto?
Yes, you can eat Turkey Chili on keto if the chili is made without beans. (Not today's recipe).
Is Chili better the next day?
Yes, chili tastes the best the next day. Keep it in the fridge and enjoy it the next day after re-heating.
Is Turkey Chili low carb?
No Turkey Chili is not low carb as it contains beans.
Is Turkey Chili low calorie?
Yes, Turkey Chili is Low on calories as compared to Beef Chili.
Check out some more delicious one pot recipes from Foodies Terminal.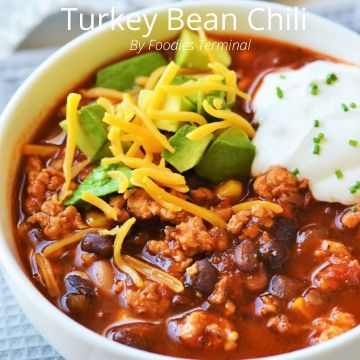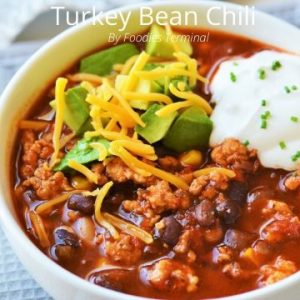 Turkey Black Bean Corn Chili
Print Recipe
Pin
Rate
Turkey Black Bean Corn Chili is a delicious healthy one pot chili recipe that you can make in your Instant Pot with beans & juicy lean ground turkey. It's a delicious healthy one pot meal to feed a large crowd or family.
Ingredients
Turkey Chili Seasoning or Spice Mix
Want more Recipe Videos?
Check out our Youtube channel!
Instructions
Set the Instant Pot on SAUTE and keep it on NORMAL. Add 3 tbsp olive oil. When the oil becomes moderately hot add the ground turkey, sprinkle 1-2 pinches of each dry spice to flavor up the ground meat and saute until the meat becomes lightly golden and opaque. Stir the ground turkey with the help of wooden spatula. Set the gorund turkey aside when it's done.

In the same pot add the rest of the 2 tbsp olive oil and throw in the chopped oion + the garlic and fry until the onions just begin to turn soft and limp.

Next, add the green and red bell peppers and the Jalapeno peppers and saute for about 1-2 mins. Add Salt at this stage.

Now, add the turkey chili seasonings or all the spice powders and give eveything a very good mix. You may deglaze the pot as you saute the ingredients. 

Add the tomato paste and about 1/2 cup chicken stock and give everything a very good mix. Spread the mix evenly at the bottom of the pot with the help of your spatula.

We will now begin layering the ingredients and spreading them into an even bed without any mixing at all.

Dump the sauteed groud turkey and spread it evenly on top of the onions and peppers layer. Just don't mix, only layer it by spreading it.

Pour the tomato sauce on top of the ground turkey layer moving your hand in a clockwise direction while puring the sauce.

Now spread the cooked Pinto beans and than layer the cooked black beans. Or you may also spread and layer the beans together.

Next, pour 1 cup chicken stock. Than spread the crushed tomato on top of the beans evenly. Do so by moving your hand in a clockwise manner while pouring the crushed tomato.

Now add the frozen corn on top of the crushed tomato layer. Don't mix, just layer.

CANCEL the SAUTE mode. Close the lid of the pot and seal the valve. Press the PRESSURE COOK button and set it on HIGH for just 6 mins.

After 6 mins when the IP begins to beep do a quick pressure release (QPR). Open the lid and gently mix the Turkey black bean corn chili. Add about 1 cup of chicken stock if you prefer some liquid in your chili. Mix and simmer on SAUTE for about 1-2 mins on LOW seetings.

Serve hot with dollop of cream, shredded cheese and chopped avocado. Enjoy.
Notes
Measuring Units used, 1 cup = 240 ml and 1 teaspoon = 5 ml.
Instant Pot used: IP DUO 6 quart.
Soaking the Dry Beans: Rinse the dry beans well and soak them overnight with enough water.
How to cook soaked beans in the Instant Pot? Add the soaked beans with enough water, salt. close the lid, seal the valve of the IP and pressure cook on HIGH for 9-10 mins for soft beans and for extra soft beans cook them for 12 mins on HIGH. Do a Quick pressure release (QPR) both times. Drain the cooked beans and proceed with todays recipe.
1 cup dry beans = 2.5 cups soaked beans. If using dry beans to cook todays recipe just like us soak the beans over night accordingly.
Do not stir the ground turkey a lot. This technique will completely mash up the meat and make it finer more like a powder. We want chunky lumps of ground turkey and to achieve just that use a wooden spatula. It works the best. And stir gently and not briskly at all. 
Deglaze the pot completely before pressure cooking the Chili. This will prevent a BURN message on the Instant Pot.
The layering technique works wonders and makes the Instant Pot Turkey black Bean chili incredibly delicious and so easy to cook. It also keeps the ground turkey nice and chunky. This is because there's no mixing at all.
If you prefer more liquid in your Chili recipe add more chicken broth once the pressure cooking is over and simmer the chili for 1 or 2 more mins.
Cook the Turkey chili with low sodium chicken broth. This is a healthy approach.
Do not let the Turkey Black Bean Corn Chili sit out for more than 2 hours at room temperature.
Store left over turkey chili either in the fridge or freezer.
Nutrition Facts
Turkey Black Bean Corn Chili
Amount Per Serving
Calories 267
Calories from Fat 63
% Daily Value*
Fat 7g11%
Cholesterol 55mg18%
Sodium 848mg37%
Potassium 803mg23%
Carbohydrates 29g10%
Protein 23g46%
Vitamin A 1250IU25%
Vitamin C 38mg46%
Calcium 100mg10%
Iron 4.3mg24%
* Read our privacy policy – Calorie information is provided as a courtesy only and should be leveraged as an estimate rather than a guarantee.Percent Daily Values are based on a 2000 calorie diet.
Nutrition
Calories:
267
kcal
|
Carbohydrates:
29
g
|
Protein:
23
g
|
Fat:
7
g
|
Saturated Fat:
1
g
|
Cholesterol:
55
mg
|
Sodium:
848
mg
|
Potassium:
803
mg
|
Fiber:
9
g
|
Sugar:
7
g
|
Vitamin A:
1250
IU
|
Vitamin C:
38
mg
|
Calcium:
100
mg
|
Iron:
4.3
mg