Chicken Lentil Stew is the best protein packed one pot complete & nutritious meal that your whole family will love. You'll have Juicy Chicken pieces stewed together with sweet potatoes, white potato, 2 varieties of lentil, fresh herbs & a few spices.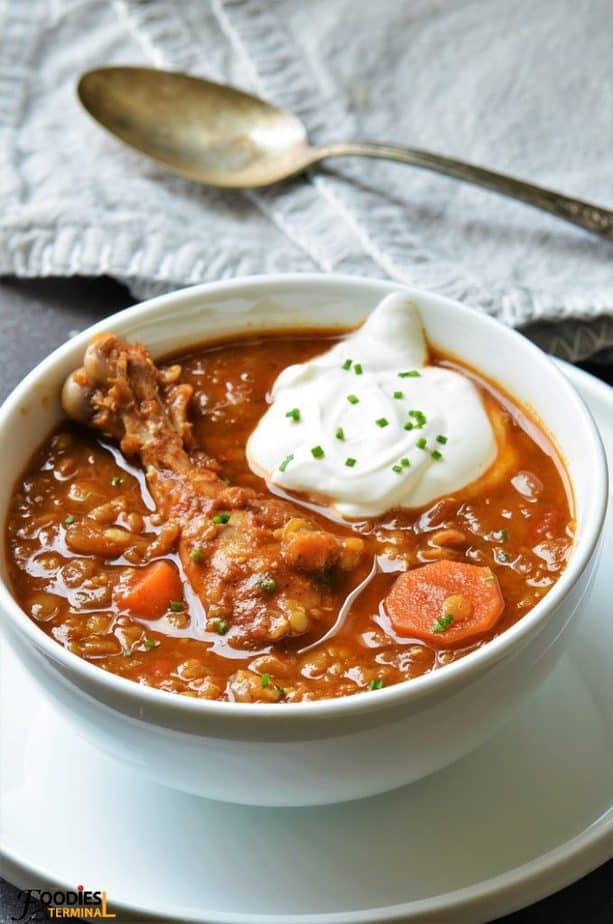 Recipe Video
Chicken and Lentil Stew
This Chicken and Lentil Stew is one perfect inexpensive dinner that will keep your whole family satisfied in a delicious way.
4 mins active cooking time in the Instant Pot is all you need for making this Chicken and Lentil Stew recipe.
Dinner on the table in just 15 mins and that includes prep time + sauté + pressure cook time.
Honestly guys I can't get enough of this Instant Pot stew.
It's damn delicious and makes a perfect protein rich, flavor packed, complete meal all by itself.
A budget friendly healthy dinner recipe that'll stretch your dollars.
If you don't know how to cook lentils or a little skeptical to include them in your weekly meal rotations than I would highly recommend that you try this easy recipe just once.
If you want you may even dump and cook and let things happen all by itself.
This stew would still be as good.
And you get a bonus if you are not watching your calories – guess what?
It's that big dollop of cream on the top of the stew sprinkled with herbs of your choice! Yummy 😀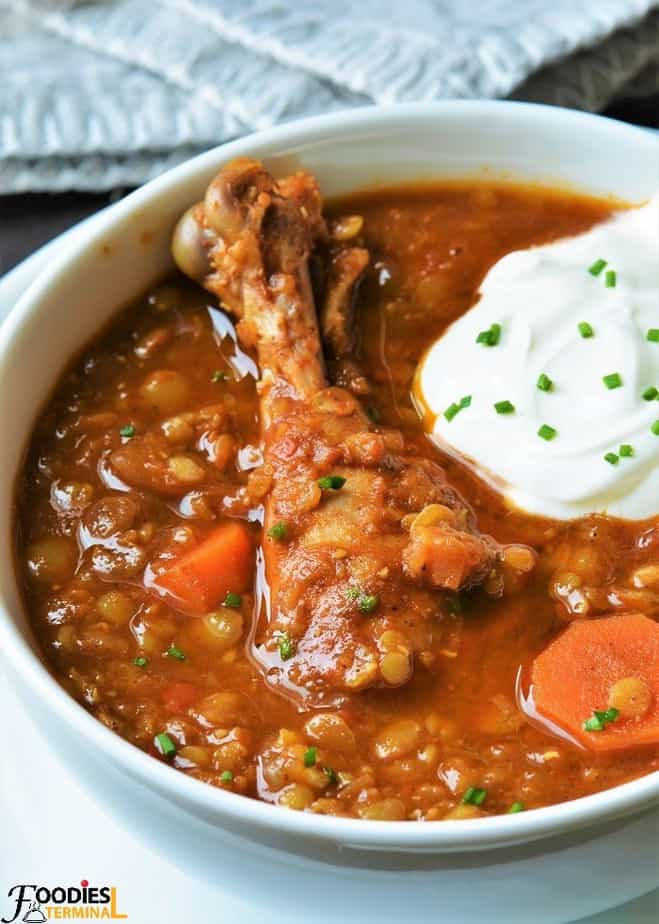 What is Chicken Lentil Stew Recipe?
Chicken Lentil Stew is a delicious, economical & nutritious one pot meal in which chicken pieces are stewed together with protein and fiber packed green & red lentils, diced red & white potatoes and a few fragrant spices.
Instant Pot Chicken Lentil Stew Ingredients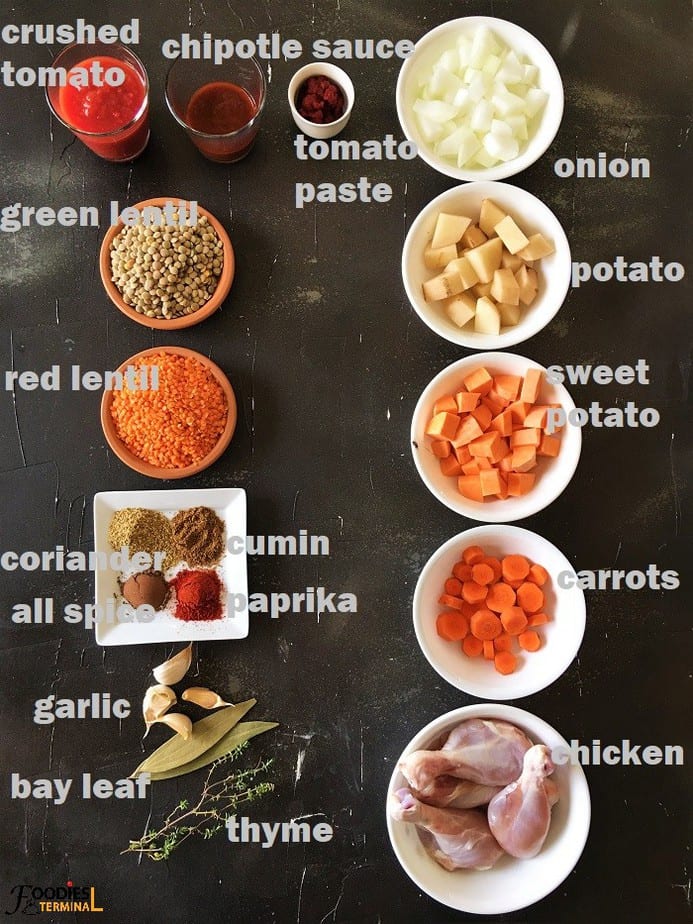 Chicken: You may use both boneless or chicken on the bones. We used Chicken drumsticks or legs for today's recipe because the broth from the bone adds tons of flavors & it's always easy to fish out the bone while eating. You may use boneless chicken breast or thighs as well. In that case I would recommend you to cook the whole recipe in chicken stock exclusively.
Red Lentil: Use split red lentils.
Green Lentils: Use whole green lentils.
Vegetables: Diced red potatoes, white potatoes & carrots.
Onion
Garlic
Spices: Smoked Paprika powder, cumin powder, coriander powder & all spice or garam masala powder.
Crushed tomato from the can.
Tomato paste.
Chipotle sauce.
Herbs: Bay Leaf & Fresh Thyme ( go for dried thyme if you do not have fresh thyme sprigs handy).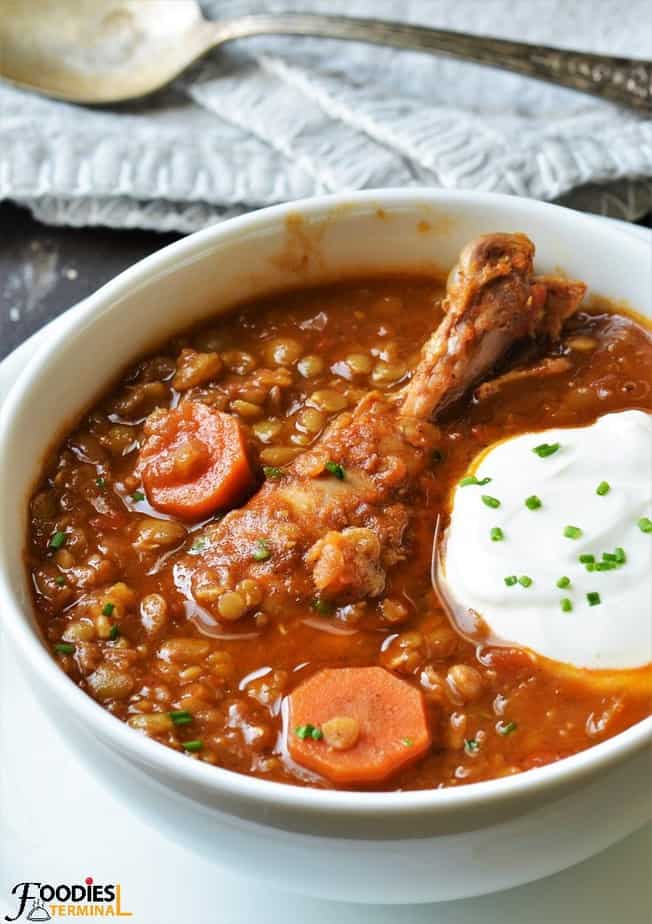 4 Tips to make the Best Lentil Chicken Stew
Making todays nutritious Stew is quiet easy.
It's almost a dump and go recipe if you want it to be. But, I did a little sautéing to boost the flavors and did not dump everything at a time.
I chose to add the ingredients in an order.
Pick over the lentils and Wash well: This is a must. Wash them very well until clear water runs through.
Do not miss any spice powders: The spices add so much good flavor to the dish. Our most favorite is the all spice powder or garam masala powder. This adds a subtle aroma and deepens the flavors to a huge extent resulting in a delicious stew. Use either of them but never both.
Do not add too much stock or water: The consistency of the stew must not be runny or soupy, it must be a little on the thick side. Though you may make it to the desired consistency you love yet it tastes the best when kept like the consistency of a Chili preparation.
Sauté the spices for a couple mins: This enhances the flavors of the spices in this recipe. Just a couple mins sautéing should be enough so that spices comes in contact with the heat and gets a bit roasted. Do this before you pour in the liquid.
Pro Tip: If you want you may just dump everything in the Instant Pot or slow cooker and than forget about the chicken lentil stew for sometime. It gets ready fast and still turns out to be bowl licking good.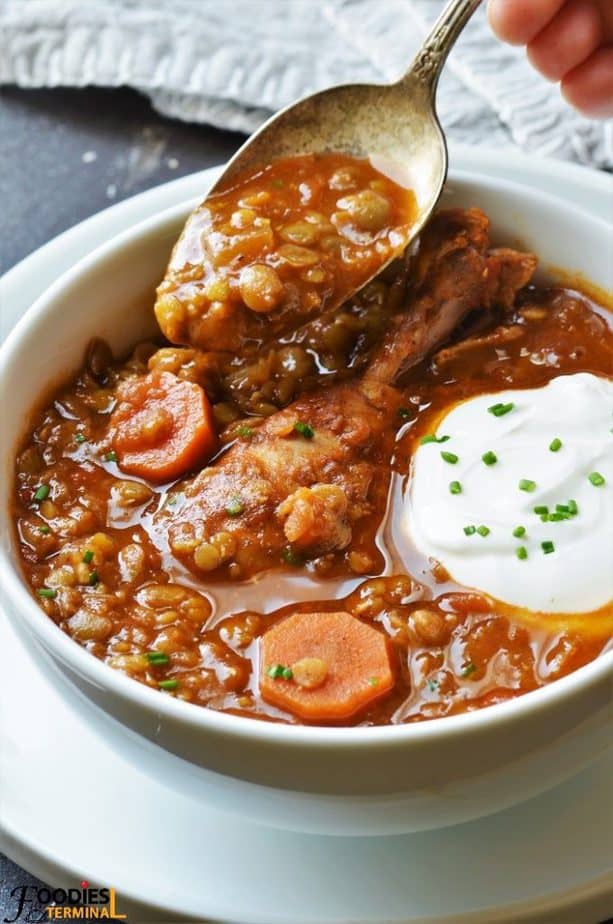 How long can you store the Lentil Chicken Stew?
You can store the Stew for 4 days in the fridge in an air tight container.
Can you freeze the Chicken Lentil Stew?
Yes, you can freeze todays stew recipe.
In that case omit both the red and white potatoes totally.
Freeze the stew in individual portion size containers or bags for 1 month.
Thaw over night in the refrigerator and heat it up in a saucepan on the stove top or in the microwave oven.
Pro Tip: The cooked potatoes in the recipe do not taste very good once frozen and re-heated. They might mush up and become gooey. It's better to skip them totally if you decide to freeze todays Chicken Lentil Stew Recipe.
How to make Chicken Lentil Stew in Instant Pot?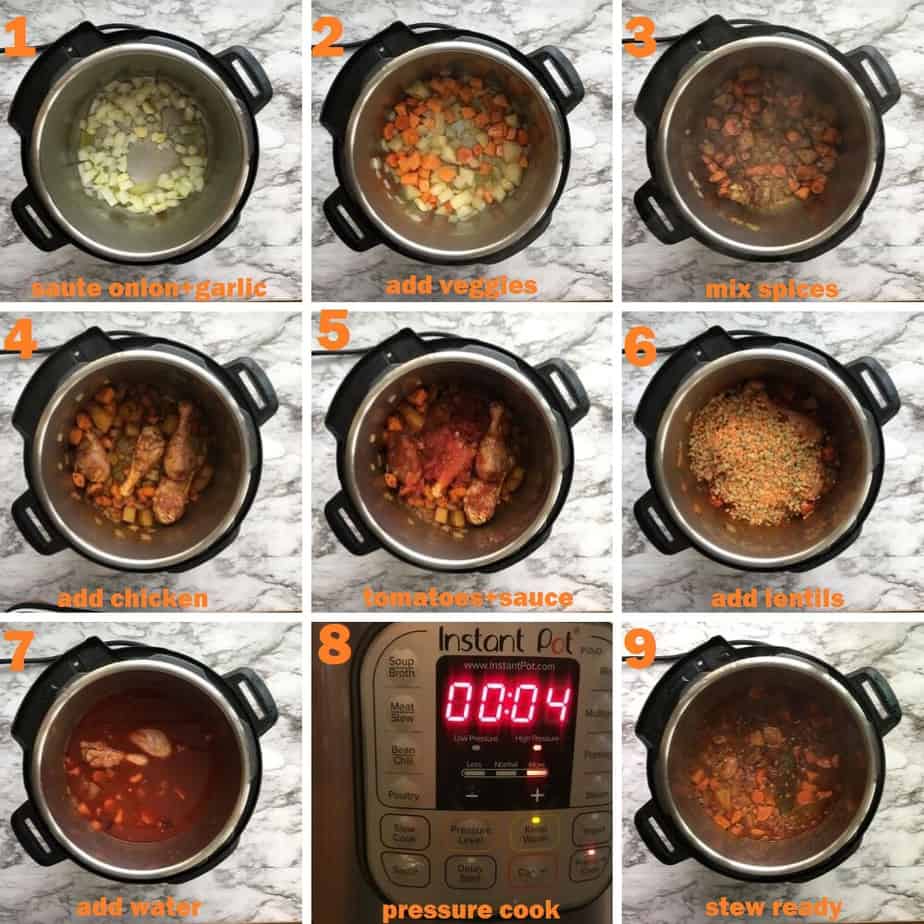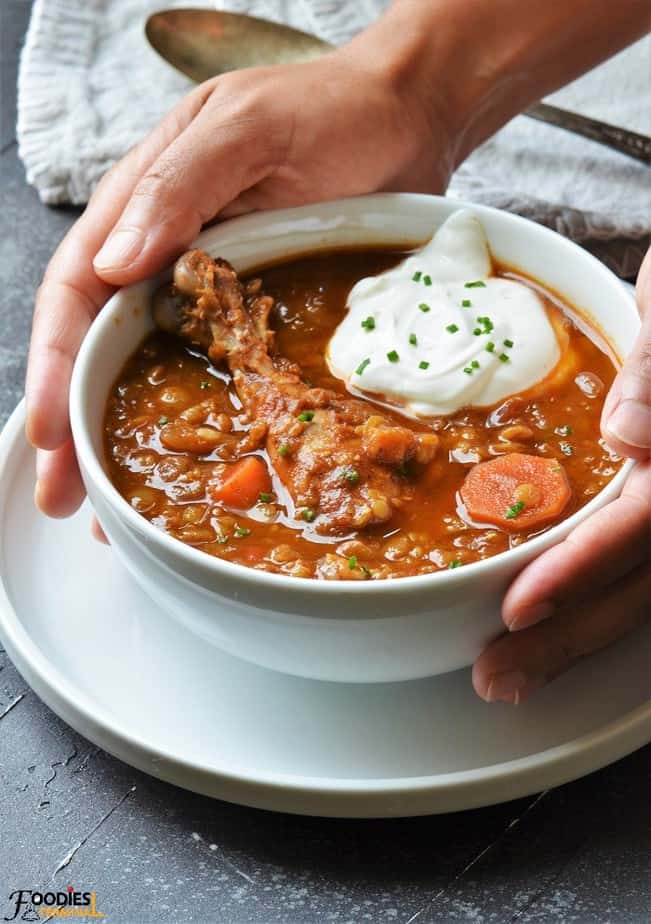 How to make Chicken Lentil Stew?
Sauté the onion and garlic

Add the onions & garlic & sauté until they turn just limp.

Add the veggies

Sauté the veggies for about a minute.

Mix in the spice powders

Add the spices and sauté for about 1 min.

Add the chicken

Throw in the chicken pieces and give everything a good mix.

Add the tomatoes & the chipotle sauce

Mix in the crushed tomato, chipotle sauce & the tomato paste and mix well.

Mix in the lentils

Add the lentils and mix well. Pour stock or water and deglaze the pot well. Throw in the herbs.

Pressure cook

Close the lid and pressure cook on high for 4 mins. Serve hot, garnish with cream & herbs. Enjoy!
Love Cooking? Don't miss these easy recipes.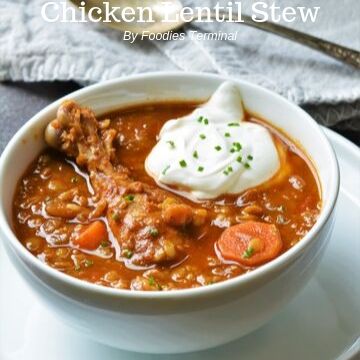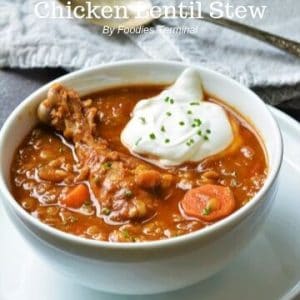 Chicken Lentil Stew
Print Recipe
Pin
Rate
Chicken Lentil Stew is a delicious and nutritious one pot meal that's loaded with tender juicy chicken pieces in a delicious veggie packed lentil stew. Lentil Chicken Stew made in Instant Pot is a great way of feeding your family a protein & fiber packed meal on a budget.
Want more Recipe Videos?
Check out our Youtube channel!
Instructions
How to make Chicken Lentil Stew in Instant Pot?
Pick over the lentils and wash them very well under running tap water. Drain and set aside.

Set the Instant Pot in SAUTE and keep it at NORMAL. Add oil, when the oil becomes moderately hot add the onion and the garlic pods. Saute until the onions turn just soft or just begin to become limp.

Next, add all the diced viggies like carrots, white and red potatoes. Saute for just about a minute.

Add the dry spice powders and saute for 1 more minute. Add salt. The spices might stick at the bottom of the pot at this stage. You may reduce the SAUTE settings from NORMAL to LOW. We will de glaze the pot later.

Next, add the chicken drumsticks or boneless chicken pieces. Give everything a very good mix. 

Add the crushed tomato, chipotle sauce and the tomato paste. Mix well.

Next, add the green and red lentils. Give everything a very good mix. Than pour about 2.5 cups water (read NOTES). Mix well and de glaze the pot. Scrape of any bits and crumbs from the bottom of the pot.

Throw in the bay leaves and the fresh thyme sprigs. Cover the pot, seal the valve and CANCEL the SAUTE mode. Press the PRESSURE COOK button and set it on HIGH for 4 mins.

After 4 mins when the Instant Pot begins too beep do a Quick pressure release (QPR) and open the cover. Fish out the thyme sprigs and the bay leaves. Serve hot with a dollop of fresh cream on the top and sprinkle some herbs of your choice on the top of the stew. Enjoy!
How to make Chicken Lentil Stew in Slow Cooker?
Dump all the ingredients in the slow cooker. Add 1/2 cup more water or stock and cook on LOW for 6 hours. Enjoy. 
Notes
Measuring Units used: 1 cup = 240 ml & 1 teaspoon = 5 ml.
Instant Pot used: 6 quart DUO.
Love boneless chicken? Use either chicken breasts or thighs to make today's Lentil chicken stew and dice the boneless chicken into 2″ inch cubes, large and chunky.
If using boneless chicken thighs or breast pieces to make todays recipe use Chicken stock and skip the water. This adds so much more flavor.
If using chicken on the bones like chicken drumsticks use water to cook the stew. The bone stock boosts up the flavor and you don't need extra stock to build flavor.
If you are on a low carb diet remove the skin from the chicken drumsticks. We love this stew without chicken skin. It's totally a personal choice.
This stew serves a family of 4 taking into account that each person gets 1 chicken drumstick per serving. You may scale up the recipe as well as scale down as per your needs. 
NOTE: Today's chicken lentil stew makes a filling complete meal only when served with bread, and yogurt on the side.
Calorific details are provided by a third party application & are to be used as indicative figures only.
Nutrition Facts
Chicken Lentil Stew
Amount Per Serving
Calories 300
Calories from Fat 18
% Daily Value*
Fat 2g3%
Cholesterol 36mg12%
Sodium 888mg39%
Potassium 1087mg31%
Carbohydrates 40g13%
Protein 28g56%
Vitamin A 400IU8%
Vitamin C 24.8mg30%
Calcium 80mg8%
Iron 6.1mg34%
* Read our privacy policy – Calorie information is provided as a courtesy only and should be leveraged as an estimate rather than a guarantee.Percent Daily Values are based on a 2000 calorie diet.
Nutrition
Calories:
300
kcal
|
Carbohydrates:
40
g
|
Protein:
28
g
|
Fat:
2
g
|
Cholesterol:
36
mg
|
Sodium:
888
mg
|
Potassium:
1087
mg
|
Fiber:
18
g
|
Sugar:
2
g
|
Vitamin A:
400
IU
|
Vitamin C:
24.8
mg
|
Calcium:
80
mg
|
Iron:
6.1
mg
Pin it for Later!