5 mins Chicken Drumstick Curry is the easiest dump & go recipe that you'll ever make in your Instant Pot for a quick dinner fix. This Chicken Leg Curry is packed with tons of flavor.
Love easy recipes? Browse my Easy Instant Pot Recipes here.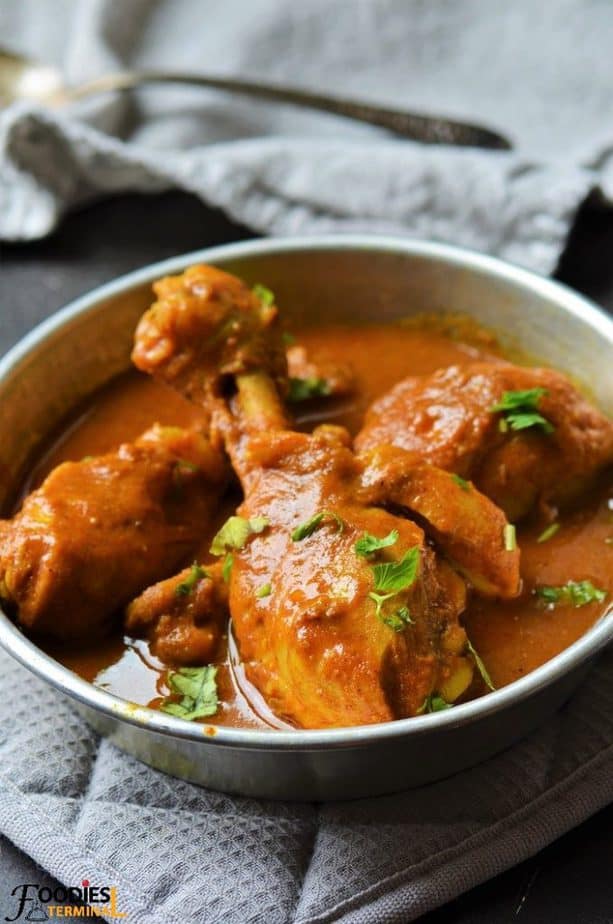 Watch How to make Chicken Drumstick Curry
Chicken Leg Curry
I have a simple solution for all your super busy days.
What if I tell you that you can make a bowl licking good Chicken Drumstick curry in just 5 mins. No cooking skills required whatsoever!
You don't have to fry, sauté, braise, sear any ingredient.
Just follow one rule. Grind the ingredients mix with chicken. Dump everything in the Instant Pot and walk away for 4 mins.
Come back to devour a lovely meal 😀
I cannot just tell you how many times my friends have thanked me for sharing this damn easy chicken leg curry recipe.
This Indian chicken drumstick curry is perhaps the easiest and the quickest way to satisfy curry craving with juicy pieces of chicken 😀
Learn how to make this smart curry 😉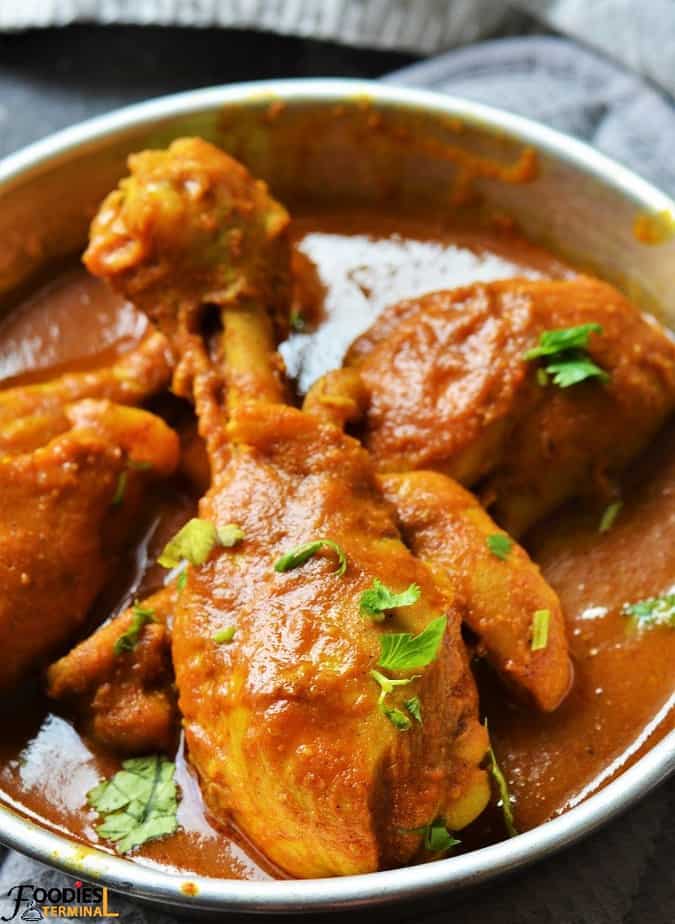 What is Chicken Drumstick Curry?
Chicken Drumstick Curry is an Indian Chicken leg curry recipe in which chicken legs or drumsticks are cooked together in a simple onion, tomato based sauce with few handy spices.
Ingredients list - Chicken Drumstick Curry Indian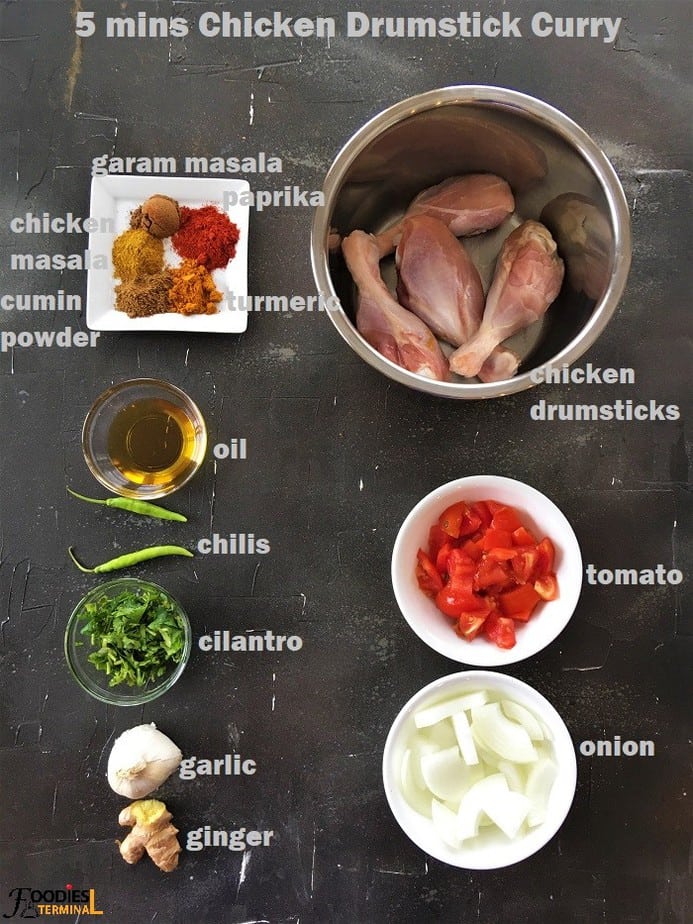 Chicken Drumsticks: I used skinless chicken legs.
Onion.
Tomato
Ginger Root.
Garlic Pods.
Spices: Turmeric powder, paprika powder, Chicken masala powder & garam masala Powder.
Cilantro also known as coriander leaves.
Green Chilies: This is totally optional. If you do not have them and still love spicy food add cayenne pepper instead. Or if you do not prefer heat omit using them totally.
Oil: You can use canola or olive oil. I used mustard oil.
Note: All the spice powders ate readily available in any Indian Grocery store. You can also replace the fresh ginger root and the garlic pod with my homemade ginger garlic paste recipe. In that case use 1 tbsp ginger garlic paste in the blender jar while making the quick masala paste.
3 Tips to make Instant Pot Chicken Drumstick Curry recipe
Chicken legs without skin works best for today's recipe.
Use juicy good quality tomatoes that are not very sour. This is important because we won't be doing any sort of active cooking and its a dump and go recipe. The tomatoes add lots of good flavors.
The spice powders are a must. I would not recommend to skip any. They always boost the flavor manifold. And for dump & go recipes they play a major role & helps build incredible flavors.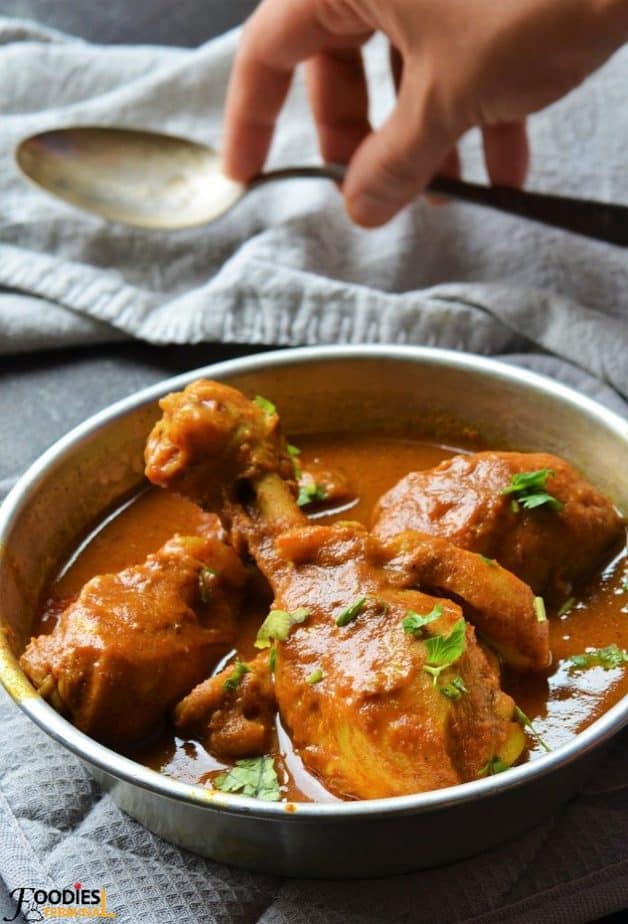 What defines a curry?
Curry is an Indian based dish that generally contains a sauce made with a combination of common spices like ground cumin, coriander, turmeric & garam masala, onion, tomato , ginger or garlic.
You can make curry with either veggies or some kind of animal protein like chicken, mutton, fish & egg. The curry recipes vary hugely and so does the set of ingredients.
What vegetables go well with curry?
The set of vegetables that go well with curry are as follows:
Potato.
Carrots.
Sweet Potato.
Cauliflower.
Cabbage.
Snow peas.
Mushrooms.
Spinach.
You can enjoy the above veggies as a delicious side to enjoy with any curry recipe.
How do you eat curry?
Indians love to eat curry with Indian Flat bread known as Chapathi or Roti. The thin tortilla like bread is torn into pieces and than those individual pieces of Chapathi are used as a scoop to lift the curry up and make a mouthful morsel.
Curry is also popularly relished with hot white rice and Dal back in India. In every Indian household a serving of curry, dal, rice & Chapathi makes a complete meal.
What do you serve with curry?
Here are some of the best dishes that go very well with today's Chicken Drumstick Curry:
Chapathi
Plain Paratha
Naan Bread
Rice
How do you thicken curry in pressure cooker?
If accidentally a curry becomes soupy or thinner you may dilute 1 tbsp. cornflour with two tbsp. water and make a slurry.
Add this cornflour slurry to thicken the curry. For best results do simmer the curry for a couple mins after adding the cornflour slurry.
How long should I pressure cook chicken?
Chicken on the bones like Chicken drumstick or chicken breast pieces will take 4-5 mins to get fully pressure cooked in an Instant Pot.
Boneless chicken pieces (cut into 2" pieces) used in curry takes 3 mins to get fully done in an Instant Pot or electric pressure cooker.
How can you tell if chicken is undercooked?
For today's recipe of chicken leg curry or for any other chicken recipe if you see some pink spots in the chicken or bloody spots near the bones than you will know that the chicken is undercooked.
Sometimes blood oozes out from chicken on the bones when it's undercooked. You may see some fresh bloody streaks or spots.
Cook the meat for some more time to get a fully opaque & white cooked chicken meat.
Is slightly undercooked chicken OK?
It's never ok to eat undercooked chicken or poultry.
It's dangerous to consume undercooked poultry due to the presence of the bacterial Salmonella or Campylobacter. They pose serious health threats and so, you must always cook chicken fully before consuming it.
Love Chicken? Don't miss these Chicken Recipes from Foodies Terminal.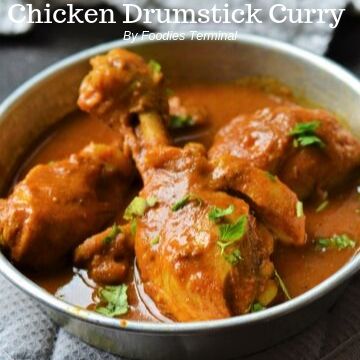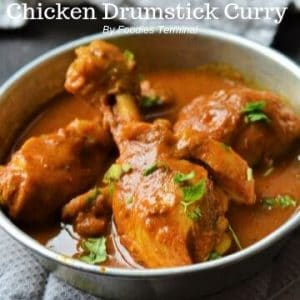 Chicken Drumstick Curry
Print Recipe
Pin
Rate
5 mins easy Chicken Drumstick Curry that you can make easily in your Instant Pot. This simple Indian pressure cooker Chicken Leg Curry is perfect for busy weeknight dinners.
Ingredients
4

chicken drumsticks skin removed

3

tbsp

Mustard Oil

(or canola oil)
For the Masala Paste
1

cup

chopped onion

1

cup

chopped tomato

4

pods

garlic

1.5

inch

ginger root diced into chunks

2

Green Chilies

(optional)
For garnish
¼

cup

chopped cilantro also known as coriander leaves
Want more Recipe Videos?
Check out our Youtube channel!
Instructions
How to make the Masala paste?
Add the onion, tomato, ginger garlic paste, green chilies in a blender jar and blend into a smooth paste.
How to make the Chicken Drumstick Curry in the Instant Pot?
Wash the chicken legs under running water and pat dry. Remove the skin.

Add the masala paste, salt, dry spices mentioned above and oil. Mix well so that the chicken drumsticks are well coated with the marinade.

Next, Add the chicken drumsticks along with the marinade to the inner pot of the Instant Pot & close the lid.

Set the IP to HIGH PRESSURE and keep it on HIGH for 5 mins.

After 5 mins when you hear the Instant Pot Beep wait for 5 mins and than release the rest of the pressure. Open the lid, garnish with chopped cilantro and serve hot. Enjoy!
Notes
Measuring Units used, 1 cup = 240 ml & 1 teaspoon = 5 ml.
Instant Pot Used = 3 quart Luxe
NOTE: Instead of using ginger root & garlic pod you can also use my homemade ginger garlic paste recipe and add it directly to the blender jar while making the masala paste. In that case use 1 tbsp. ginger garlic paste. Do what ever suits you.
All the spice powders are readily available in Indian grocery stores.
If you do not prefer spicy food omit using the green chilies.
You may double the recipe.
Calorific details are provided by a third party application & are to be used as indicative figures only.
Pin it for later!