Paneer Gobi in Instant Pot is an easy cauliflower & Paneer or Indian cottage cheese curry that tastes awesome with any flat bread, pulao or rice. If you are looking for a change from the mundane Gobi Masala or Aloo Gobi or Aloo Gobi matar masala then do try this fantastic Paneer Gobi recipe in your pressure cooker. You can put dinner on table in less than 30 mins! Watch my step by step Video recipe of How to make Paneer Gobi in Instant Pot or electric Pressure cooker.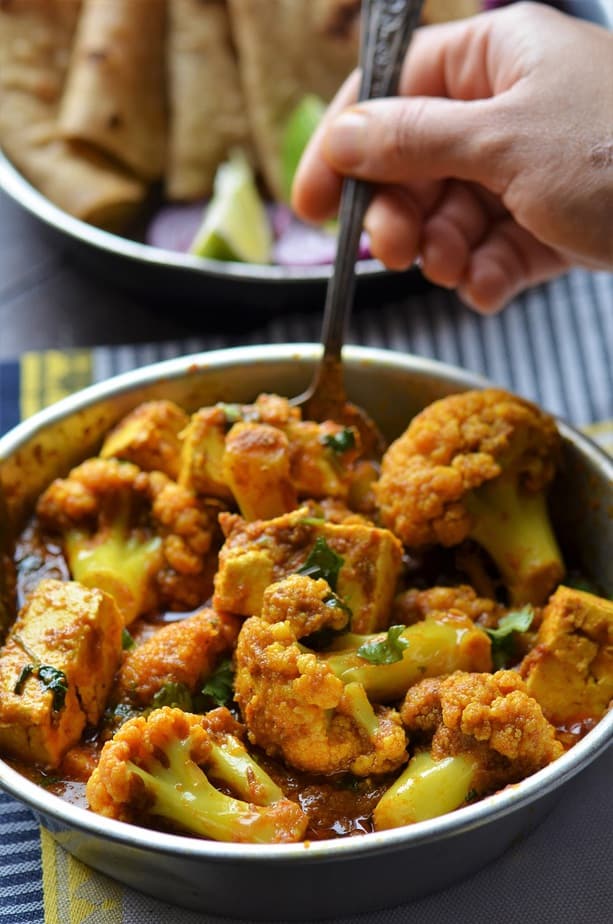 Paneer Gobi in Instant Pot
Guys I love my veggies as much as I love eating seafood & meat!
But, sometimes the mundane curries are just so boring & often times its that sulky look on hubby's & son's face (both are big time foodies) when dinner is served.
Many of you must be facing the same ordeal & that continues for….I don't know! Maybe for ever!
So, to snap out from the regular Aloo Gobi cycle or Aloo Gobi Matar cycle I came up with this recipe of Gobi Paneer & I cooked it in my favorite Kitchen appliance – Instant Pot.
And yes, I promise you not a single piece of mushy cauliflower that looks ultra sad on your dinner plate.
I hate mushy cauliflowers too!
Just so that you know this Paneer Gobi closely resembles the taste of the Gobi Paneer masala that I had in the Iskcon Temple in Pittsburgh.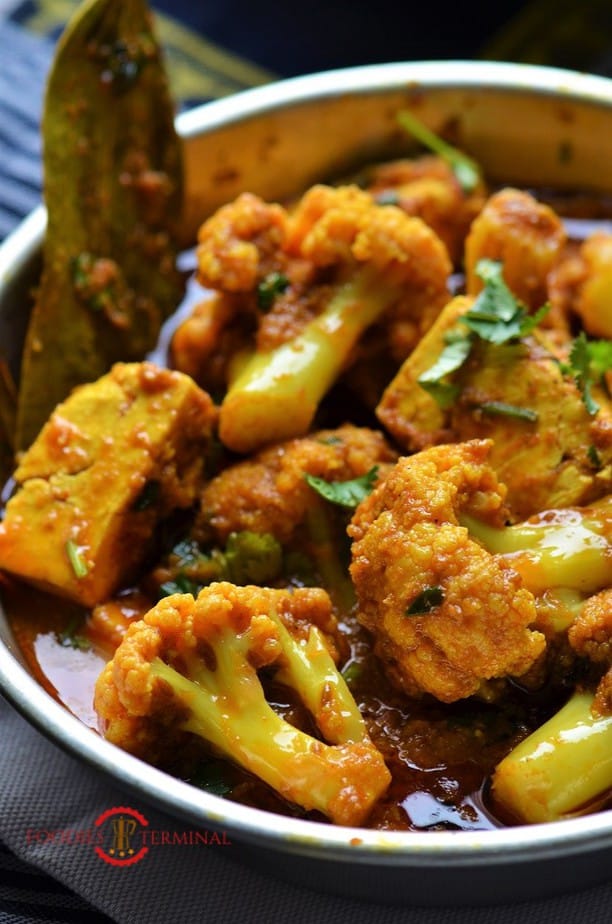 FAQs – Paneer Gobi in Instant Pot (Video)
What is Paneer Gobi?
Paneer = Indian Cottage Cheese.
Gobi = Cauliflower.
Paneer Gobi is an extremely easy Indian vegetarian recipe of curried Cauliflower with chunks of soft paneer cooked with a few pantry staple spices.
If you are looking to break free from the mundane vegetarian curries or sabzis give this recipe a try. You won't regret that you did.
Watch the Recipe Video of Paneer Gobi in Instant Pot
And if you have an Instant Pot lying around, dust it off and cook this in your smart kitchen gadget.
You will end up with perfectly cooked cauliflower florets that look beautiful & taste delicious.
No the Gobi won't turn mushy if you follow the Gobi Paneer masala recipe to the T.
Only 2 mins to Pressure cook in your Instant Pot ( + the sauteing time).
Voila dinner ready under 30 mins!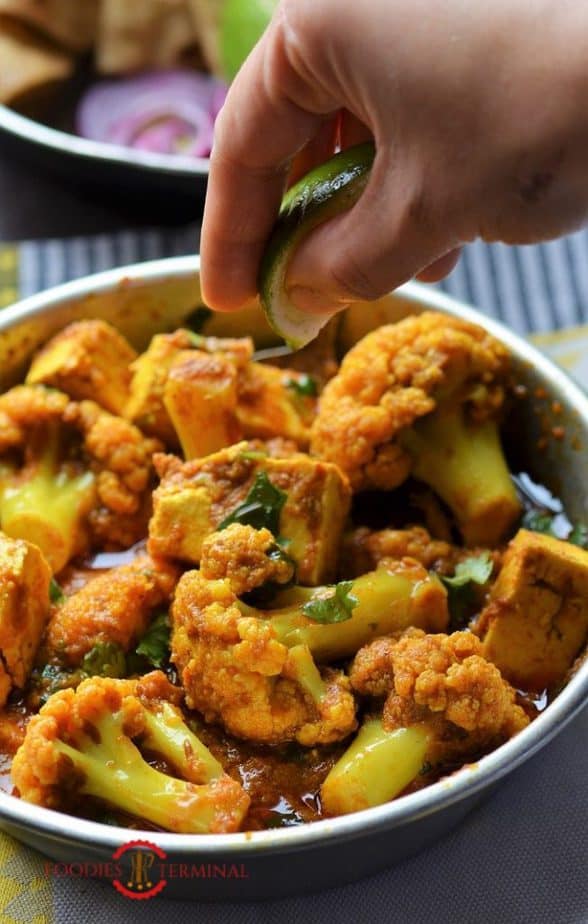 Ingredients for Paneer Gobi in Instant Pot
Main Ingredient: Gobi (Cauliflower) & Paneer (Indian Cottage Cheese)
Dry Spices: Coriander Powder, cumin powder, Kashmiri red chili powder, red chili powder, turmeric powder, garam masala powder.
Paste Masala: Onion, Tomato, ginger, garlic, green chilies.
Whole spices: Cumin seeds, peppercorns, green cardamon, black cardamom, cinnamon, cloves.
Extras: Yogurt, cilantro or coriander leaves, ginger julienne.
How to make Paneer Gobi in Instant Pot
You can make Paneer Gobi easily & quickly in your Instant pot with few handy spices.
Well, today's recipe is not the dump & forget kind of a recipe, you need to saute the masalas well before adding the cauliflower florets.
And this little effort of yours will add so much more taste to your Gobi sabzi.
Despite that it's a quick Gobi sabzi recipe that comes together in less than 30 mins from start to end.
Let's begin….
Set up the Instant Pot on SAUTE (HIGH).
Add oil & saute the whole spices.
Next add the onion paste & saute until oil oozes out. That's how you know that the masala is well cooked.
Throw in the Pureed tomato + ginger + garlic + green chilies & saute until oil oozes out.
Add the dry masalas, saute well until fragrant & oil leaves the sides of the pan.
Throw in the cauliflower florets, add yogurt. Saute well. Throw in the paneer too. Mix well.
Add enough water to submerge the gobi by 30 %. Pressure cook on Normal (Not High settings) for just 2 mins.
Yes, you heard me right, only 2 mins & you are all set for delicious Paneer gobi for dinner!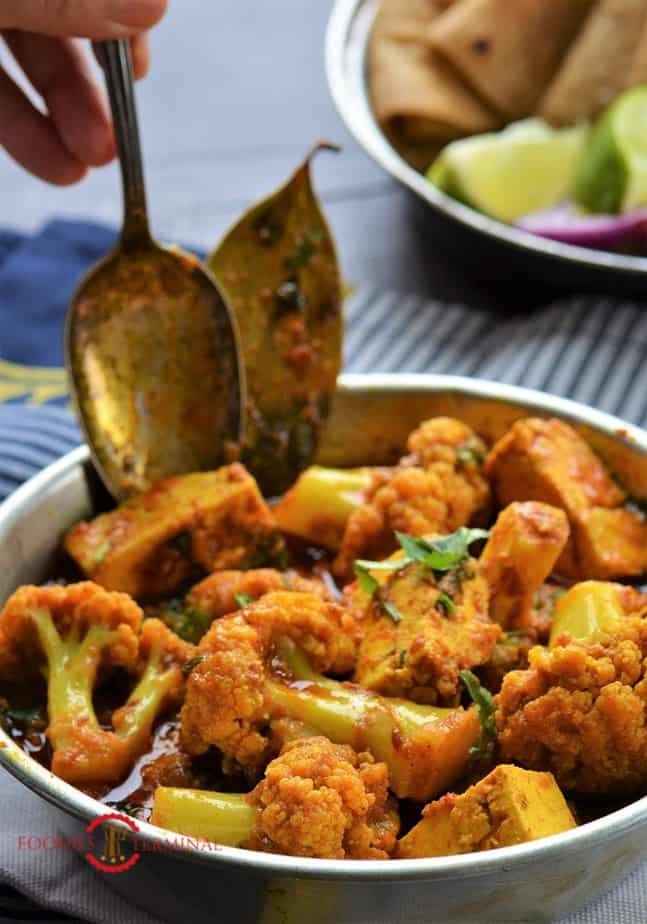 4 Tricks to cook the Gobi just right
Cooking a cauliflower sabzi is much easier in a pan than in a pressure cooker.
You can open the lid of the pan & prick the gobi & check for doneness a number of times.
Whereas when you cook cauliflower curry in a pressure cooker it's difficult to check the donesness so many times.
Because by opening the lid of the pressure cooker or Instant Pot you will disturb the pressure build up & this will do more harm than good to the gobi sabzi
And chances are that, the gobi will get over cooked.
The most tricky part of making any cauliflower or Gobi recipe like aloo gobi, gobi masala or aloo gobi matar masala is to cook the Gobi just right.
By just right I mean, a little more than the al-dente state – not firm & not over cooked & mushy either.
The perfectly cooked gobi is absolutely doable in an Instant pot or electric pressure cooker.
You just need to take care of these 4 factors:
The size of the floret (bigger florets is the key here)
Less water. (Just enough to submerge the cauliflower only 30%, refer the video).
Right temperature. (Cook it at Low Pressure. Don't press the "HIGH" or "LESS" button, choose the "NORMAL" settings in the pressure cook mode in an IP). This cooks at low pressure.
Right time.( only 2 mins at Normal pressure in an IP)
If you follow the above points while cooking a cauliflower paneer curry in your Instant Pot you'll never end up with over cooked Gobis ever!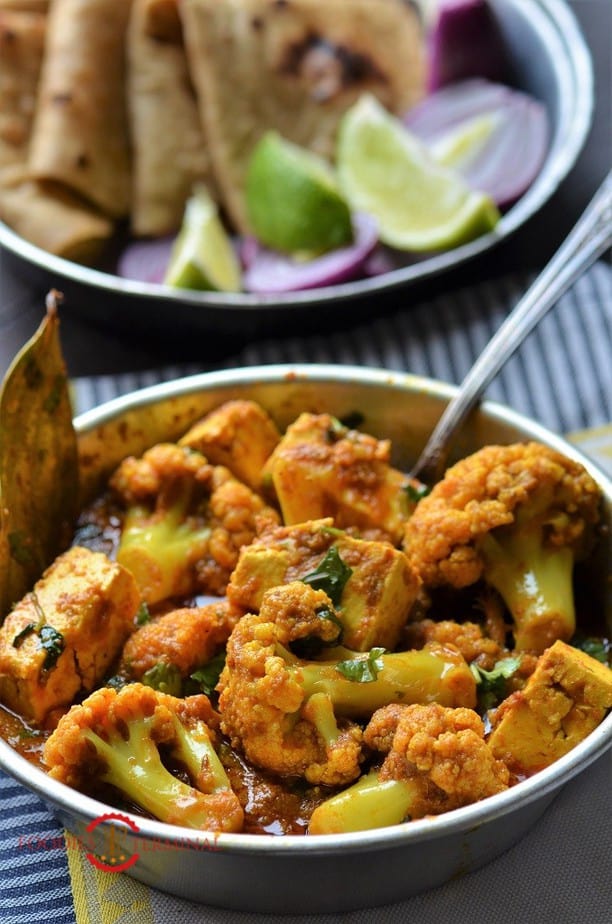 Serving suggestions
Gobi Paneer goes very well with plain white rice, Chapati, tortillas, Naan.
Pick your favorite & wipe off the Cauliflower paneer curry is minutes.
Storing Suggestions
Paneer Gobi stores well for 5 days in the fridge when kept in an air tight container.
Re-heating the Gobi sabzi might make the Gobi softer.
Check out more Instant Pot Recipes from Foodies Terminal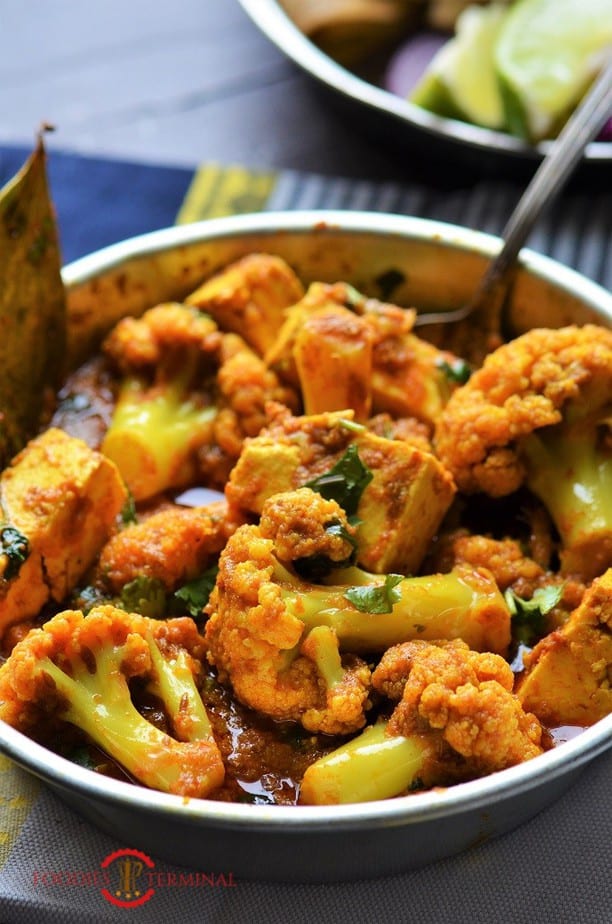 DID YOU TRY THIS RECIPE? Do Not forget to give a STAR (*) rating! Just click on the STARS on the recipe card below to rate.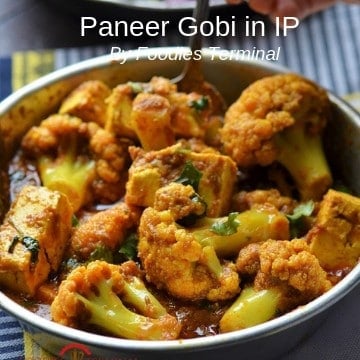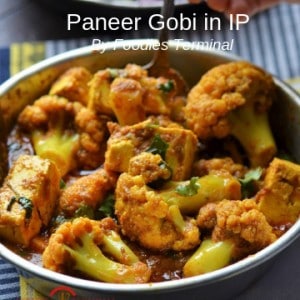 Paneer Gobi in Instant Pot (Video) | Cauliflower Paneer Curry
Print Recipe
Pin
Rate
Paneer Gobi in Instant Pot is an easy Indian curried cauliflower with cottage cheese cubes. Cauliflower Paneer curry can be quickly made in an Instant Pot under 30 mins with pantry staple spices. This Vegetarian Indian curry tastes best with tortillas, plain rice, Chapati.
Ingredients
Want more Recipe Videos?
Check out our Youtube channel!
Instructions
Start the Instant Pot & press the SAUTE buttom & set it on HIGH.

Add oil. When hot add all the whole spices (From the list above). Allow them to sizzle for a few seconds.

Next, add the onion paste , add salt & saute until the raw smell disappears.

In the mean time make a paste by adding the tomatoes + ginger + garlic & green chilies (optional).

Now, add the above paste to the Onion paste & saute until oil oozes out.

In the mean time take all the dry masalas or spices in a dry bowl & dilute them with water. Mix & set aside. 

Next, add this diluted masala paste to the pot & saute until oil oozes out.

Then, add the cauliflower florets. Mix everything very well.

Now, add the yogurt & mix well for a few mins.

Add enough water to just submerge the cauliflowers only by 30%. Refer the video.

Throw in the Indian cottage cheese or paneer & mix well.

Close the lid of the Instant Pot. Seal the Vent. And press the CANCEL button  & then, press the PRESSURE COOK button. Choose the Normal pressure button & not the Less or High pressure button. Set it for just 2 mins. This will help to cook at low pressure.

After 2 mins do a QUICK PRESSURE RELEASE. Open the lid & add the cilantro, ginger julienne & the garam masala powder. Mix well. Serve hot. Enjoy.
Notes
Cut the cauliflower into bigger chunks otherwise the 2 mins pressure cook time might not work for you.
Add less water, enough to submerge the gobi florets by 30%. Refer the video.
Sometimes the cooking time varies according to the quality of the cauliflower. Increase the cooking time by 1-2 mins accordingly.
Measuring cup used, 1 cup = 240 ml & 1 teaspoon = 5 ml.
Instant Pot used = 6 quart.
PLEASE NOTE: Nutrition values are my best estimates. If you rely on them for your diet or special diet, use your preferred nutrition calculator!
Nutrition Facts
Paneer Gobi in Instant Pot (Video) | Cauliflower Paneer Curry
Amount Per Serving
Calories 57
Calories from Fat 25
% Daily Value*
Fat 2.8g4%
Sodium 42.5mg2%
Carbohydrates 5.4g2%
Protein 2.7g5%
* Read our privacy policy – Calorie information is provided as a courtesy only and should be leveraged as an estimate rather than a guarantee.Percent Daily Values are based on a 2000 calorie diet.
Nutrition
Calories:
57
kcal
|
Carbohydrates:
5.4
g
|
Protein:
2.7
g
|
Fat:
2.8
g
|
Sodium:
42.5
mg
|
Fiber:
1.9
g
Pin it for Later!