Chicken Keema Curry that's prepared with Chicken mince cooked with a few spices & dressed up with herbs. This Chicken Keema recipe will be your next favorite thing. Mop it up with sourdough bread, crispy parathas or Chapathi you can't stop at a single serving! Don't miss out the Chicken Keema curry recipe Video!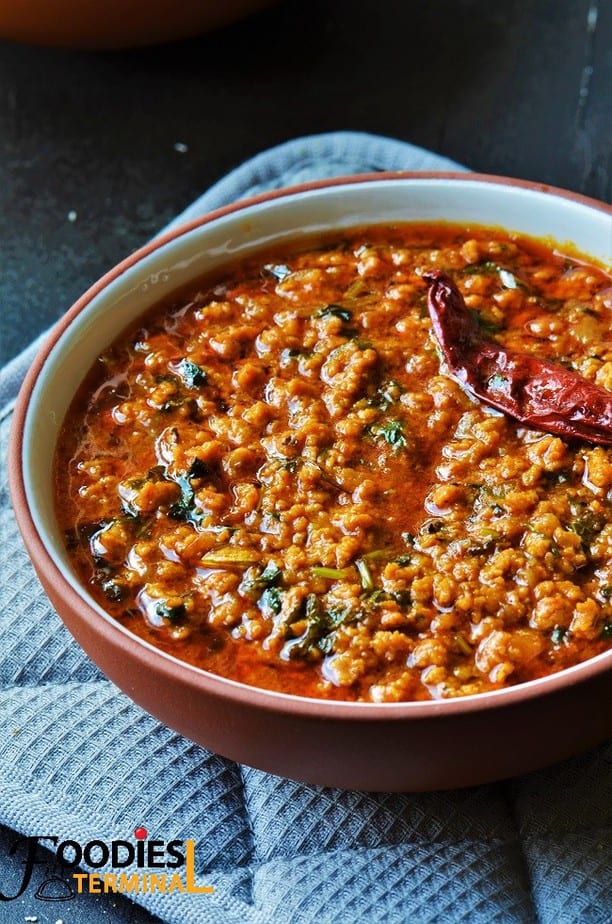 Chicken Keema Curry Recipe Video
Chicken Keema Recipe
Minced meats are so versatile right guys? And so is the chicken keema or chicken mince.
You can use it to make Kababs like this Chapli Kabab and Chicken Seekh Kabab with minced chicken.
You can even stuff it into Parathas, make delicious Kofta curry, dress up a quick sandwich or a wrap or even make a biriyani from minced meat.
We love cooking with minced chicken a lot & have been trying new ways to incorporate it into recipes.
Today's Chicken Keema recipe is a wonderful result of our experiment & I am so excited to share the recipe with you guys!
It's basically a curry that's kind of spicy and has everything in its power to make you lick the bowl 😛 It's extremely fragrant & so easy to make.
Don't walk away if you are not a spice eater because you can always control the spice level & the oil level in this recipe without ruining its taste 😀
We love it spicy & a bit oily 😉 That's how I made it today.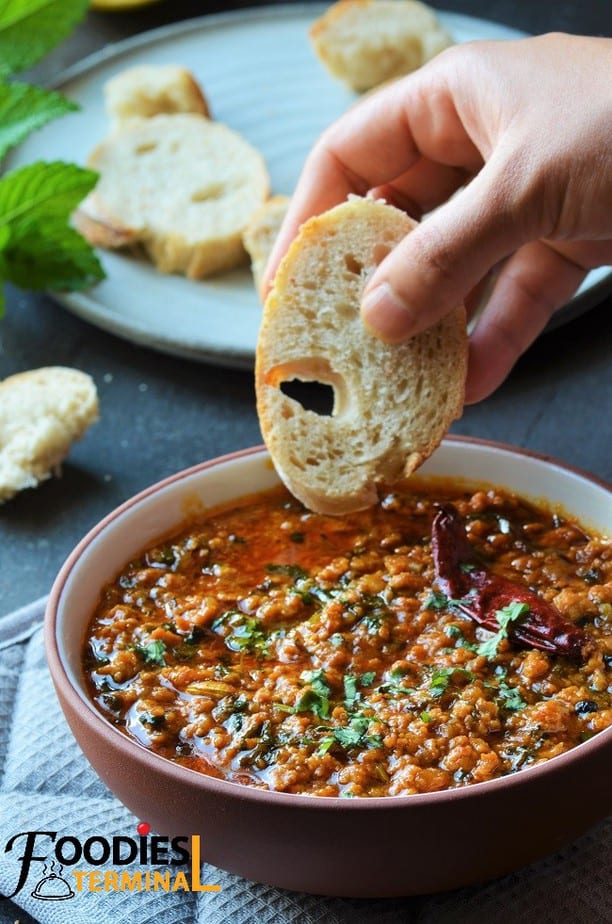 What is Chicken Keema Recipe?
Chicken Keema is a spicy Indian curry made with minced chicken that's cooked with a variety of extremely fragrant spices. Its consistency is semi-wet with a little amount of sauce in it.
This curry is never too runny. It can be dry but in that case, we love to call it Bhurji - in English "Scrambled".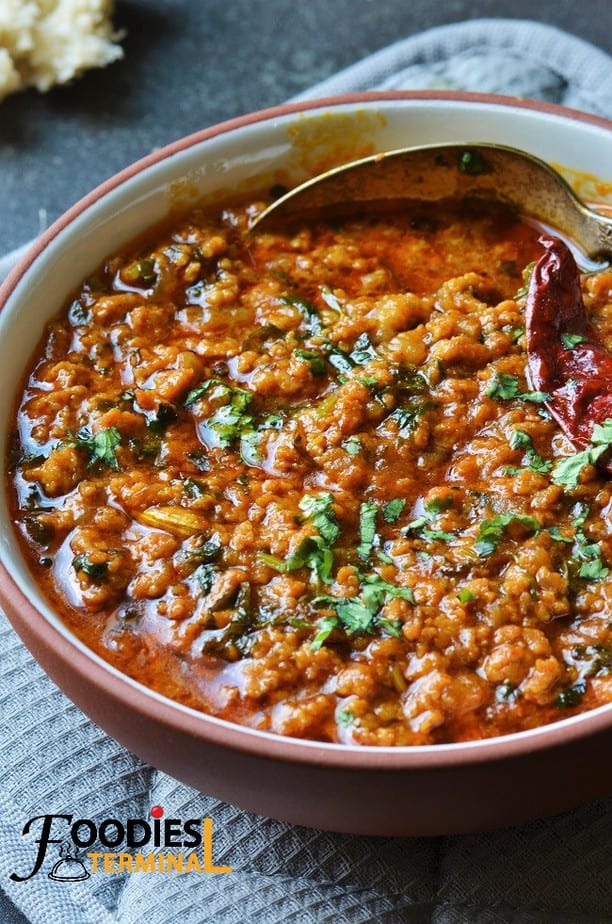 Chicken Keema Ingredients
For Today's Chicken Keema Recipe you'll need a few ingredients as listed below: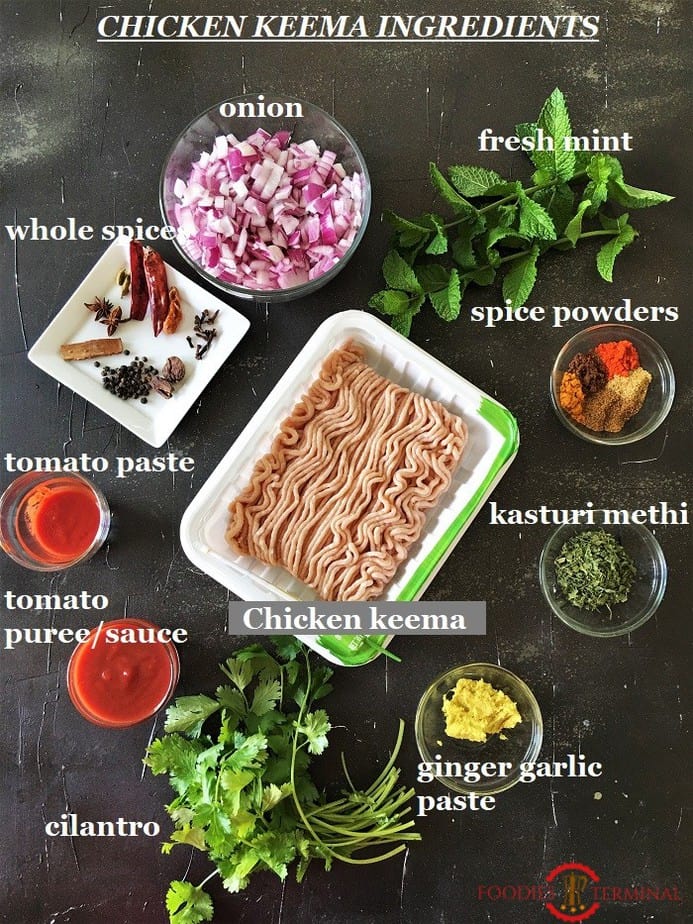 Chicken Mince or Chicken Kheema: The good thing about today's recipe is that you can choose lean chicken mince. Fine chicken Kheema works best.
Onion: Use finely chopped. You can use either white onion or red onion. Just don't use the sweeter variety.
Ginger Garlic Paste: I've got an amazing homemade Ginger Garlic Paste recipe for you that'll last up to 6 months! Just don't miss reading the tips & tricks. The homemade always has the best flavors to offer to any recipe.
Whole Spices: Mace, Star anise, green cardamom, black cardamom, cloves, cinnamon, black peppercorns, dry whole red chilies
Spice powders: Turmeric powder, cumin powder, coriander powder, red chili powder, garam masala powder.
Tomato: Both puree or sauce and paste. I used store-bought ones. They are just so handy & saves so much time. But you can use just homemade tomato paste. In that case, I would recommend to blanch the whole tomatoes, peel them & then make them into a puree. This gives amazing flavors to curries.
Cooking Fat: I used Mustard oil but you may use what you prefer.
Herbs: Chopped mint & cilantro (coriander leaves). I used these herbs fresh from my garden. And I used dry fenugreek leaves also known as Kasturi Methi.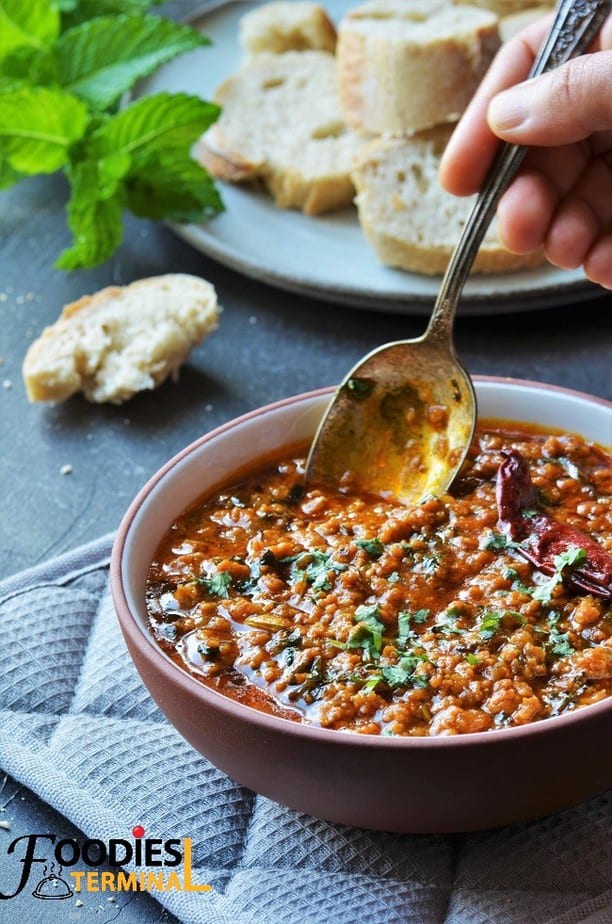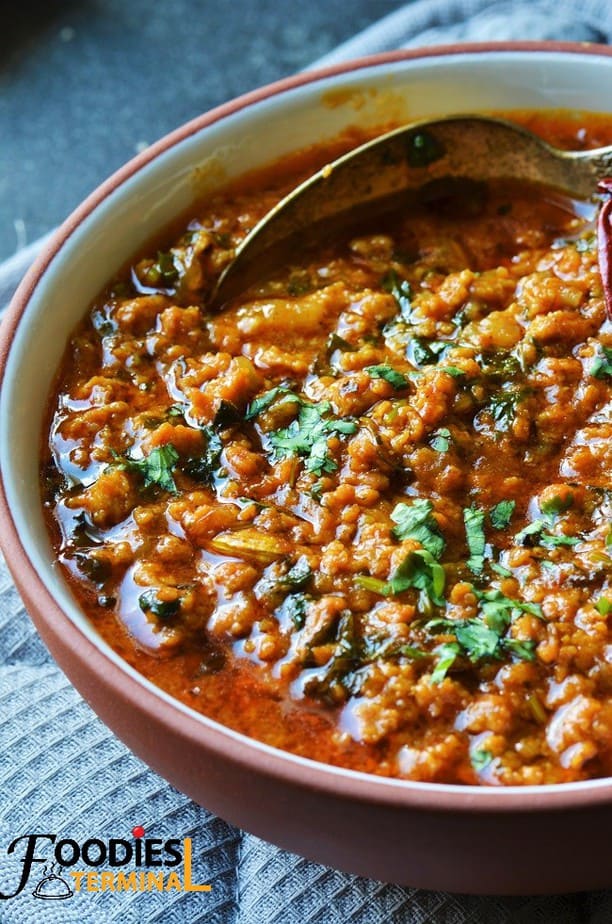 3 Tips to Make the Best Chicken Keema Recipe
Flash marinate the Chicken Kheema: This totally transforms this Chicken Keema recipe & shoots up the flavors of the dish. The best trick is to marinate the chicken mince with the tomato paste, the tomato puree & salt. Leave it that way until you are done frying the rest of the ingredients.
Fry or Bhuna well: For best flavors, you need to Bhuna or fry each ingredient for some time until the raw aroma disappears & oil leaves the sides of the pan. This is not a dump & go recipe & I just don't have any short cuts that can replace the Bhuna part 😀 The taste lies in there. So don't rustle up things.
Don't miss the Herbs: Use all of them and you'll know why, once you taste the delicious chicken keema recipe. The mint gives it a sudden burst of flavor that's so refreshing. The Kasturi methi gives the dish a certain buttery flavor.
Chicken Keema Curry serving ideas
Chicken Keema Curry tastes best with parathas, Chapathi or Naan.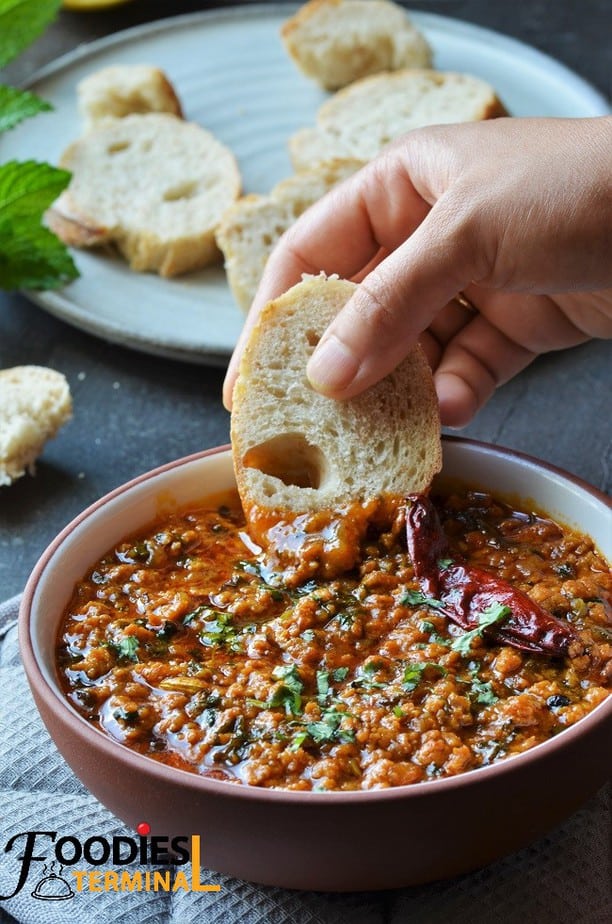 How long can you store Chicken Keema recipe?
Chicken Keema recipe remains good for 7 days in the fridge when you store it in airtight containers.
Pro Tip: The consistency of the chicken keema gravy in the fridge will become solid. The fat in the meat will solidify. But, as soon as you re-heat it will become moist & soft. Sprinkle a few drops of water & reheat the dish.
Can you freeze Chicken Keema curry?
Of course, you can freeze today's chicken keema curry recipe.
It's absolutely freezer-friendly & you can freeze it for 2 months in individual freezer-safe bags or containers.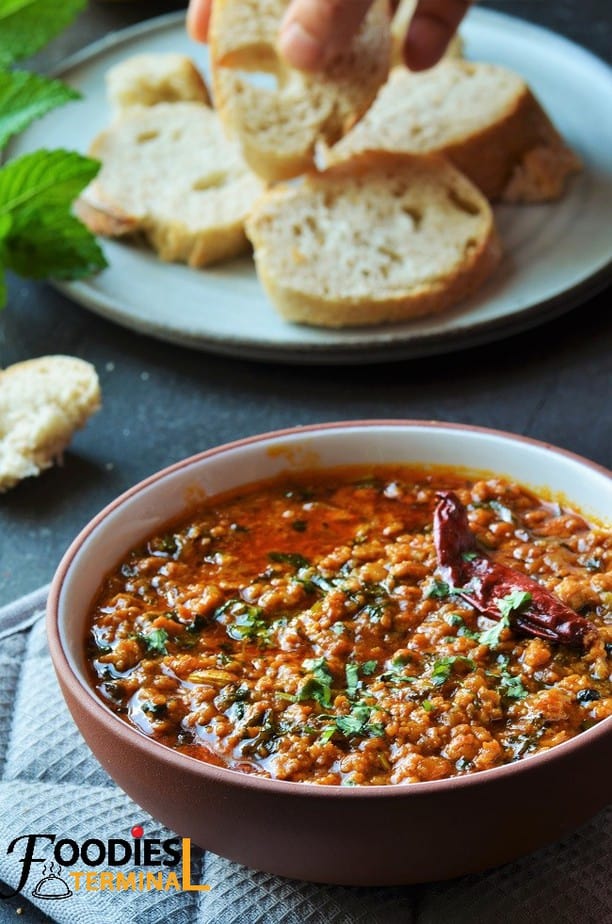 Re-heating Tips
This is how you may re-heat the frozen chicken keema & the fridge stored chicken keema recipe. Follow the steps below:
Stored it in the Fridge? Pop open the container & dump the chicken keema directly on a hot skillet. Sprinkle water & reheat over medium heat covered.
Did you freeze it? Do this instead: You may thaw the chicken keema curry in the fridge overnight & than reheat it following the above technique. Or you may directly dump the frozen curry in a pot, cover & heat it up on a stovetop. It will take a little longer to warm up.
Want to reheat in Microwave oven? Do this: Scoop out the cold Chicken keema gravy in a microwave-safe bowl, sprinkle water & warm-up for 4 mins on high. For, frozen curry we would recommend you to thaw it first & then warm it up in the same way.
Method
Steps in words below pictures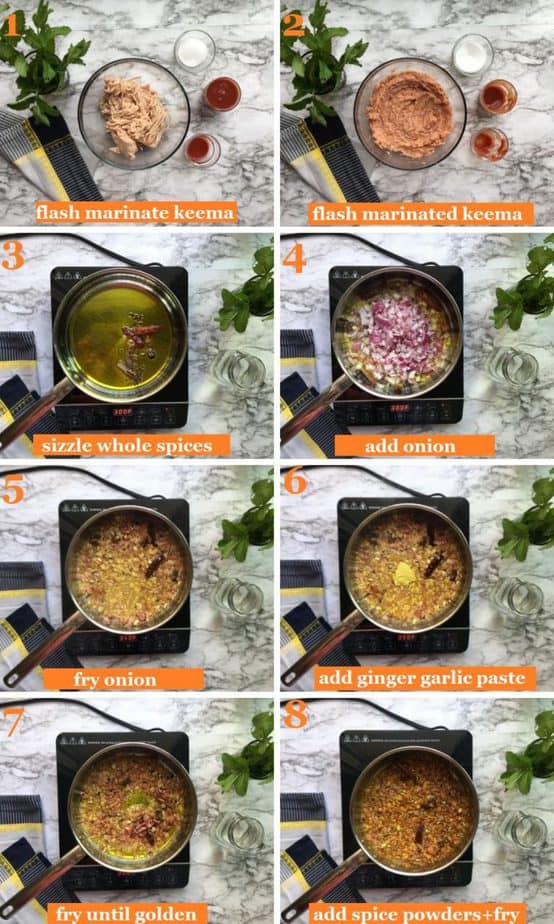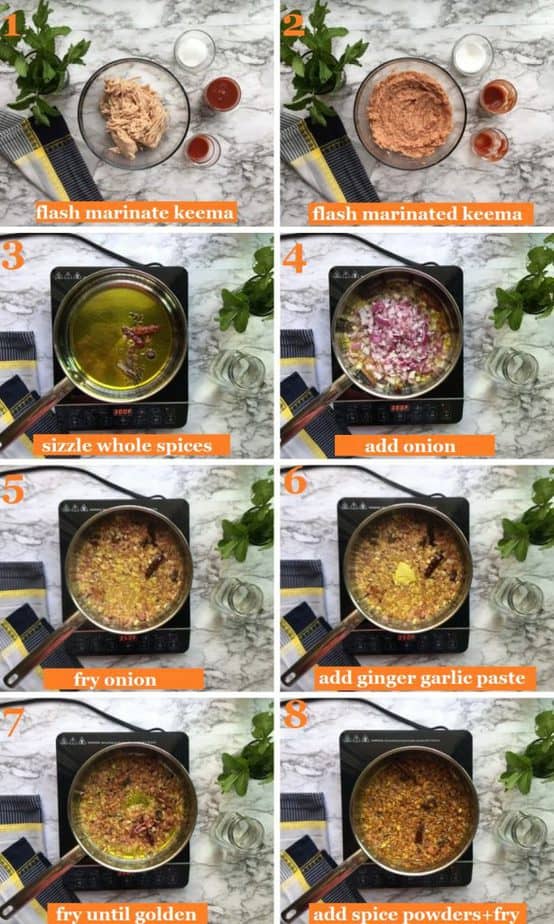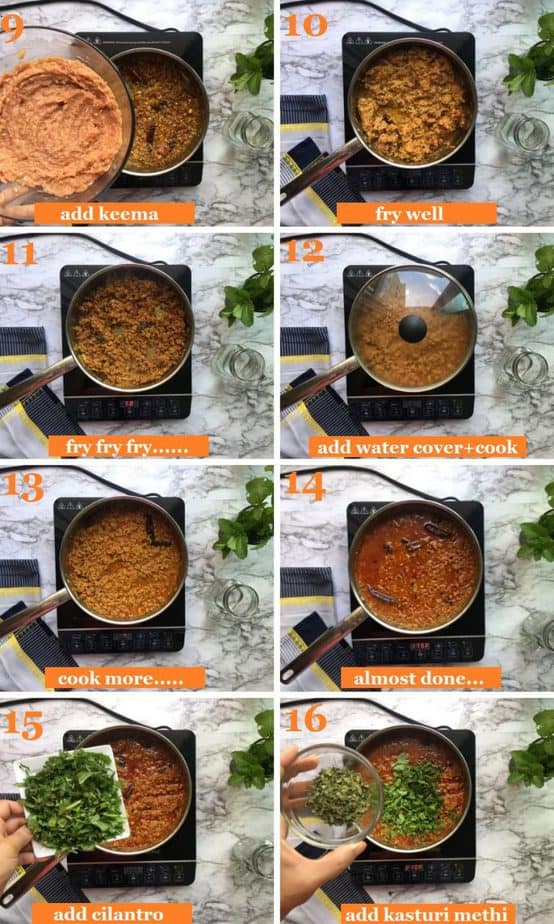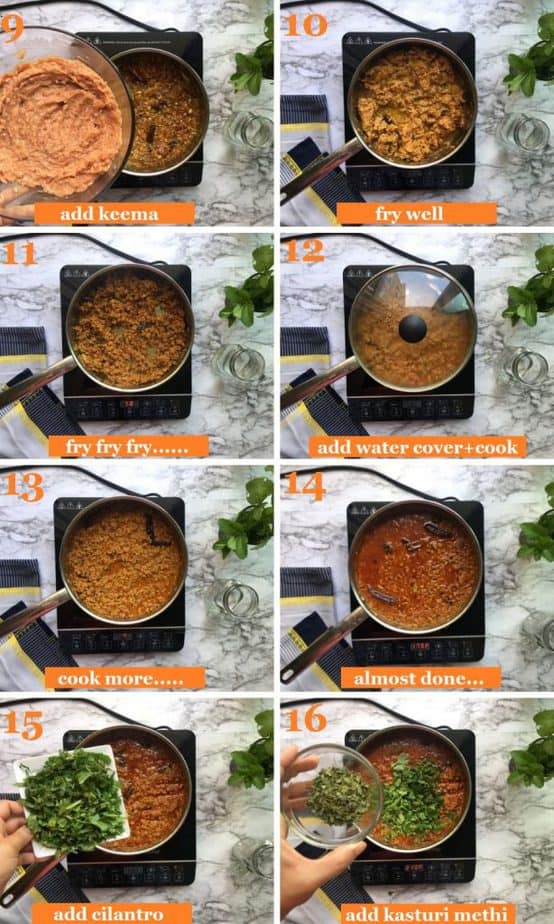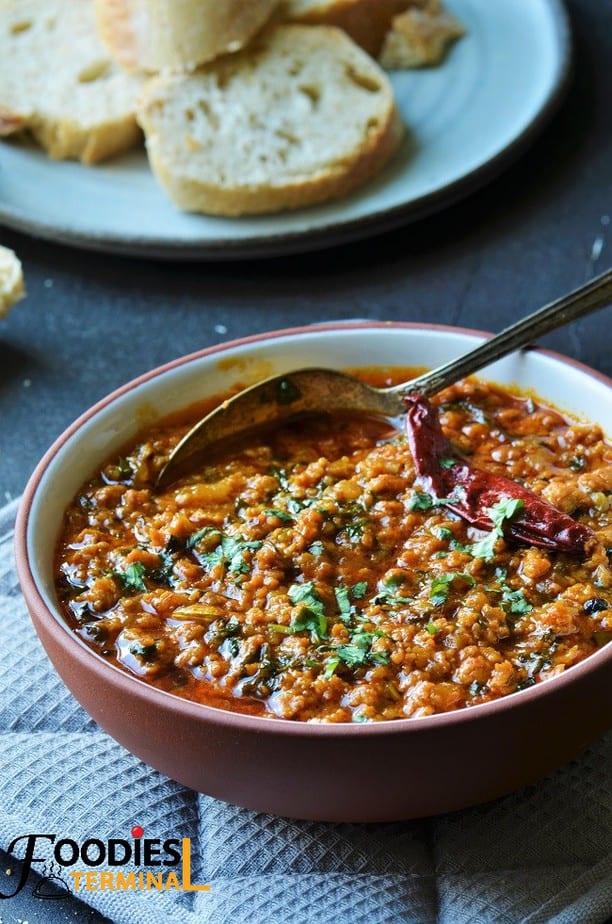 How to make Chicken Keema recipe step by step?
Flash marinate the chicken keema

Add the tomato sauce or puree + tomato paste + salt to the chicken keema. Mix well with hands or fork. Let it sit until you are done gathering the rest of the ingredients for the recipe.

Sizzle the whole spices

Throw in the whole spices in moderately hot oil & allow them to sizzle until fragrant.

Add the onion & fry very well

Throw in the chopped onion & fry until the edges of the onions become lightly golden.

Ginger garlic paste + fry well

Add the ginger garlic paste & fry until the raw smell of the paste completely disappears & oil becomes to leave the sides of the pan.

Add the dry spice powders + fry very well

After adding the spices bhuna well or fry until the raw smell disappears & oil begins to ooze out. The color of the onion + spices will become dark as you fry them.

Marinated chicken keema + fry

Now, add the marinated chicken keema & fry until chicken keema reduces in volume, becomes crumby & the juices from the keema completely evaporates. Oil begins to ooze out when the keema is fried very well.

Add water + cover & cook

Pour warm water, mix well with the bhuna keema. Cover & cook for 10 mins.

Mix the herbs + Serve

Add the chopped cilantro & the Kasturi methi also known as dry fenugreek leaves. Mix well. Simmer for couple more minutes & serve hot. Enjoy!
Love Chicken? Don't miss these delicious Chicken recipes from FOODIES TERMINAL.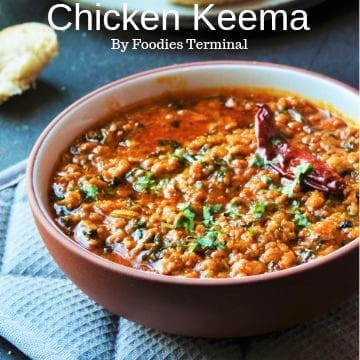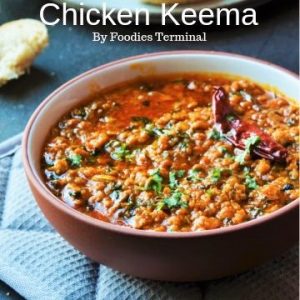 Chicken Keema Recipe
Print Recipe
Pin
Rate
Chicken Keema recipe Indian Style is a delicious mince chicken curry that's cooked in a medley of spices & a light fragrant sauce. You can cook this Chicken Keema Curry easily with simple pantry ingredients.
Ingredients
Want more Recipe Videos?
Check out our Youtube channel!
Instructions
How to flash marinate the chicke keema?
Add the tomato paste + the tomato sauce & salt to taste to the chicken keema and mix well with hands. Allow it to set until you prepare the rest of the ingredients.
How to cook the Chicken Keema Curry?
Set a skillet or kadai over medium heat. Add oil.

When the oil becomes moderately hot throw in the whole spices & allow them to sizzle for a couple of seconds until they are fragrant

Now, add the chopped onions & fry the onions until they turn lightly golden from the edges.

Add the ginger garlic paste & fry until the raw smell of the ginger garlic paste completely disappears & oil begins to leave the sides of the pan.

Now, add the dry spice powders. Give everything a good mix & fry very well until the raw smell from the spices completely disappears & oil begins to ooze out. You'll notice that the process of bhuna will make the onion + spices mixtures dark in color. It will begin to smell very good too.

Next, add the flash marinated chicken keema & give everything a very good mix. Fry the chicken keema very well until the keema looks crumbly & the juices from the keema completely evaporates. The keema will also change it's color from light to dark. Fry well until oil begins to ooze out from the keema.

Add warm water. Mix well. Cover & cook for about 5-6 mins.

Open the lid. Thrown in all the herbs. Mix well. Simmer for couple mins more.
Notes
Measuring units used, 1 cup = 240 ml & 1 teaspoon = 5 ml
Marinating the chicken keema for sometime will enhance the taste of the chicken keema recipe. It's highly recommended but, if you do not have the tomato paste or sauce handy you may skip this step. In that's case, add homemade tomato paste before you add the spice powders & fry well until oil oozes out.
The process of frying is known as Bhuna & there is no shortcut for this frying part. The intense flavors of the recipe & the extraordinary taste lies in how well you fry each & every ingredient.
The trick is to fry until the raw smell disappears & oil begins to ooze out.
DO NOT skip adding the mint leaves because it boosts the flavors of todays chicken keema recipe at an extraordinary rate.
You may sub the mustard oil with any cooking oil you want to.
Calorific Details are provided by a third party application & are to be used as indicative figures only.
Nutrition Facts
Chicken Keema Recipe
Amount Per Serving
Calories 446
Calories from Fat 288
% Daily Value*
Fat 32g49%
Cholesterol 93mg31%
Sodium 117mg5%
Potassium 537mg15%
Carbohydrates 10g3%
Protein 25g50%
Vitamin A 1220IU24%
Vitamin C 16.6mg20%
Calcium 51mg5%
Iron 2.1mg12%
* Read our privacy policy - Calorie information is provided as a courtesy only and should be leveraged as an estimate rather than a guarantee.Percent Daily Values are based on a 2000 calorie diet.
Nutrition
Calories:
446
kcal
|
Carbohydrates:
10
g
|
Protein:
25
g
|
Fat:
32
g
|
Saturated Fat:
6
g
|
Cholesterol:
93
mg
|
Sodium:
117
mg
|
Potassium:
537
mg
|
Fiber:
3
g
|
Sugar:
4
g
|
Vitamin A:
1220
IU
|
Vitamin C:
16.6
mg
|
Calcium:
51
mg
|
Iron:
2.1
mg
Pin it for Later!