Chicken Rezala - take a good whiff of this Mughlai chicken dish & you can't resist eating some right away. Juicy Chicken pieces doused in a fragrant thin white gravy that has infinite layers of taste. This is what makes a Bengali Chicken Rezala perfect. It's slightly on the sweeter side, subtly rich & slightly creamy but not silky & it's quickly made in an Instant Pot.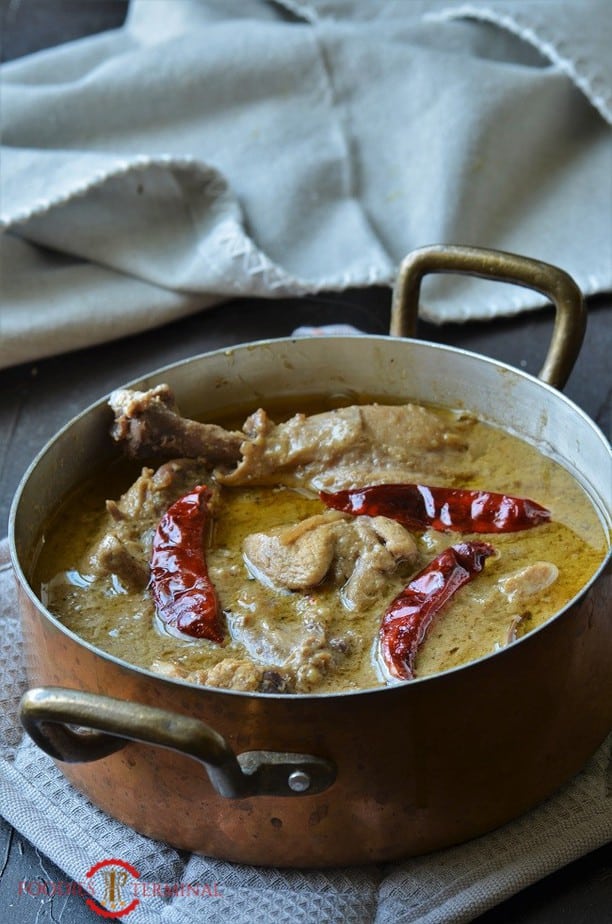 Bengali Chicken Rezala Recipe Video
Chicken Rezala Kolkata Style - Just like Aminia
This Chicken Rezala is an extraordinary Mughlai style chicken preparation in a white gravy that has outrageous flavors. It was brought in by the Nawabi influence in Bengal.
Popularly made during special occasions & feasts, Chicken Rezala is a typical dish from the Eastern State of India known as West Bengal & is certainly one of it's kind with quiet prevailing Nawabi notes.
This dish is all wrapped up in various layers of flavor that are complex, yet mild but quiet predominant.
The creaminess of the gravy comes from the use of cashew & white poppy seeds paste.
And it's subtle white color is due to the use of all white ingredients mainly yogurt & the nut paste.
Turmeric & red chili powder are not used in an authentic Chicken Rezala recipe ever & that's why it does not look like your regular chicken curries that you cook at home!
The dish is mildly hot & the heat is derived from the use of white pepper powder. It's meant to be on the sweeter side & that's how we made it today.
The magnificent aroma of the dish will fill up your whole house as you begin cooking this Mughlai style Chicken Rezala. And that thin white gravy with a layer of ghee floating on the top very iconic of an authentic Rezala will make you dig in right away 😀
Be ready to mop it all up with some hot, crispy Parathas & knead the dough with milk, malai & sugar 😉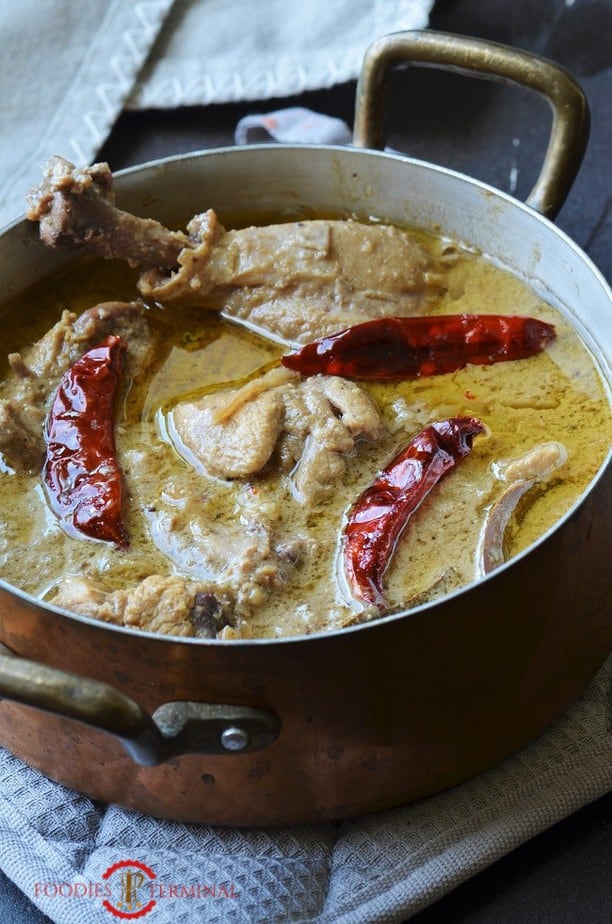 What is Chicken Rezala?
Chicken Rezala is a Mughlai preparation that's made with juicy chicken on bones traditionally slow cooked in an extremely flavorful & intensely fragrant, thin white gravy that's yogurt & nut based.
It's a rich, luxuriant, subtle chicken preparation that has outrageous taste.
The extraordinary flavors & the intense complex layers of taste is an iconic identity of an authentic chicken rezala recipe.
It's rich but it's richness can be best described as "Subtle Rich". 🙂
Traditionally a Chicken Rezala is cooked in a pot over charcoal fire & that's one secret cooking technique that gives the dish it's signature taste.
It's difficult to mimic that smokey taste at home when you cook it on stove top heat, but today's recipe is very close to the signature taste if not exactly the same.
I cooked the Chicken Rezala in an Instant pot or electric pressure cooker for convenience & it turned out delicious. You can do that too or choose a simple pot to cook it.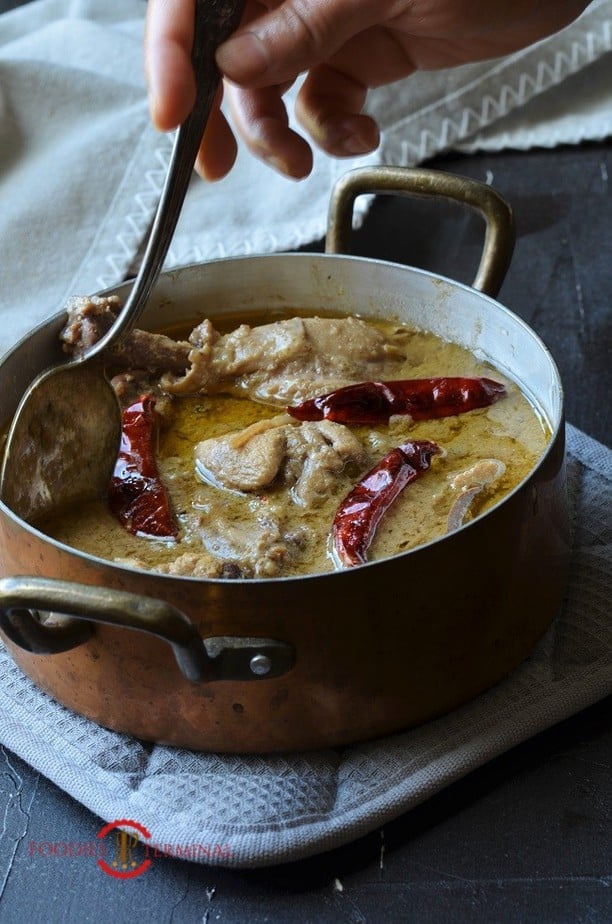 Chicken Rezala Ingredients
You'll need every single ingredient mentioned below. Missing out a single one will alter the taste of the Instant Pot Chicken Rezala recipe.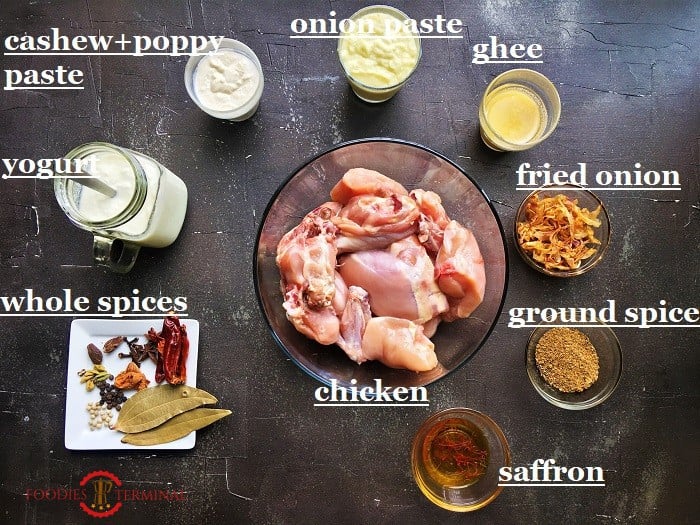 Chicken on Bones: This is a must for best flavors.
Dry spices: Star anise, Mace, black cardamoms, green cardamoms, white pepper corns, black pepper corns, cloves, dry red chilies, bay leaves. Don't miss any! Each spice contributes a lot to the Chicken Rezala.
For the dry Masala Powder: White peppercorns, cloves, black cardamoms, green cardamoms, mace. This is a must so don't miss out on the ingredients.
Yogurt: Use regular curd. You may use either homemade curd or store bought.
White poppy seeds + Cashew paste (exact ratio mentioned below in the Recipe Card). The paste lends an extraordinary creaminess to the white gravy & balances off the aroma of all the powdered & dry whole spices beautifully.
Onion paste made in a special way: Saute onion, garlic & ginger pieces together in few drops oil & later blend them in a mixer grinder to make a smooth paste.
Saffron: Soaked in warm water. The petals bloom & give out a gorgeous saffron color.
Birista: Deep fried onion slices. Slice the onion into thin slices & deep fry them in hot oil over medium heat until golden.
Ghee
Pro Tip: Soak the cashews & poppy seeds in warm water for 15 mins. The soaking will help to make a smooth paste.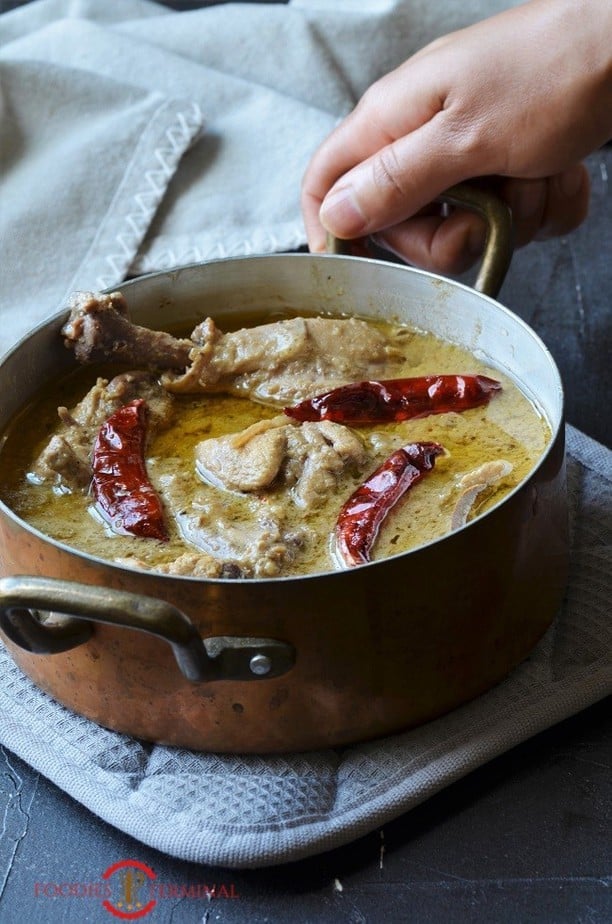 8 Tips to make the best Chicken Rezala
If you want your Chicken Rezala cooked in Instant Pot taste just like Sabir's or Nizam's in Kolkata do follow the below tips you won't regret the outcome 🙂
Choose Chicken on bones: De-skinned chicken works best for today's recipe. You may use any part of the chicken to cook it. We prefer cooking it with various chicken parts for maximum array of flavor.
Cook it in ghee: It really does matter! Ghee has a high smoke point & is a fantastic cooking fat. The taste of this chicken rezala will elevate once you cook it in ghee.
Longer marination = Better taste + Lesser cooking time. Marinate the chicken over-night or 24 hours for best results. I always marinate over-night and cook the Chicken rezala in Instant Pot the neXt day.
Fry the marinated chicken: This will pack such awesome flavors when done over high heat. The searing process will lock the juices in the meat. Do not skip this step even if you are in a hurry.
The Spices are very important: Do not skip them or sub them with something else. Substitutions just do not work for this recipe.
Saffron, dry spice powder, birista goes in the gravy later: Once, the pressure cooking is done in the Instant pot or regular pressure cooker throw in the saffron, birista, kewra water(if adding, it's recommended but I ran out so had to skip it) & dry spice powder. Simmer for 5 mins over low heat after adding them.
Use Regular whole milk yogurt: No greek yogurt. Thick yogurt will make the gravy extra creamy & milky. Use regular curd, yes you can use your home-made curd too.
Do not alter the proportions: The ingredients are very specific in today's recipe & they require the exact mentioned quantity. If you do not have something in your pantry keep this recipe for some other day.
Pro Tip: For the Birista deep fry 1 jumbo onion finely sliced over medium heat until golden & slightly crisp. It will yeild about ½ cup Birista.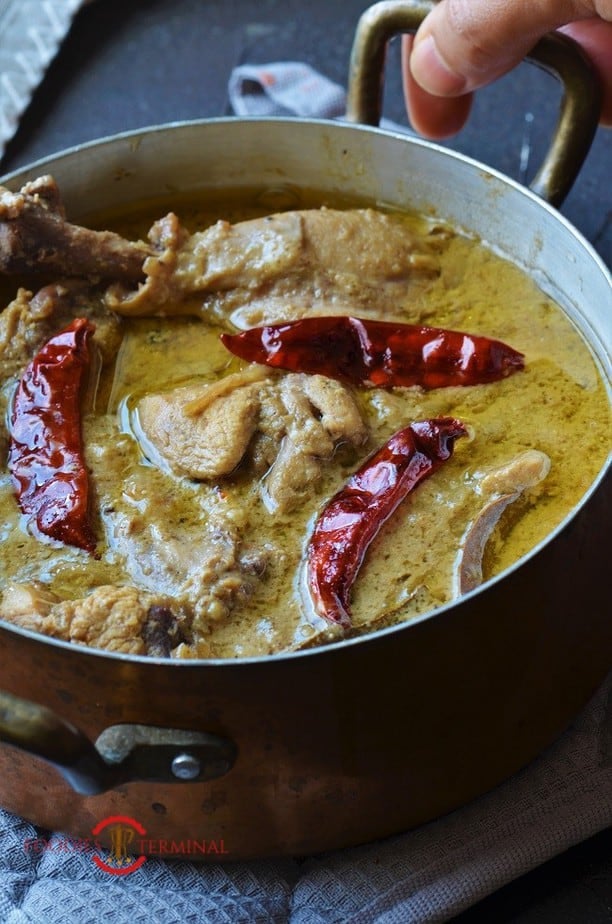 Serving Ideas
Whether you cook your Chicken Rezala in an Instant Pot or regular pressure cooker it tastes best with Parathas that are fried in Desi ghee.
And the Paraths that I make exceptionally to go with this Rezala gravy taste somewhat different with distinct flavor. The taste lies in the dough - I knead it with sugar, malai & milk. Recipe will be here soon.
I always make mine at home & plan to share it soon with you guys 😉
If you can't lay your hands in some crispy parathas do mop it up with roomali rotis. If you can't manage them too just get yourself some butter Naan. After-all Naan makes everything better 😀
Last resort - Home-made Chapathis or rotis or phulkas....call them whatever 😛
How long can you store Instant Pot Chicken Rezala?
It will last you for 5 days in the fridge when you store it right in a clean air tight container.
I've never tried freezing it!
Try Some these Chicken Starters from Foodies Terminal.
How to make Chicken Rezala? Step by Step
Steps in words below pictures followed by detailed recipe card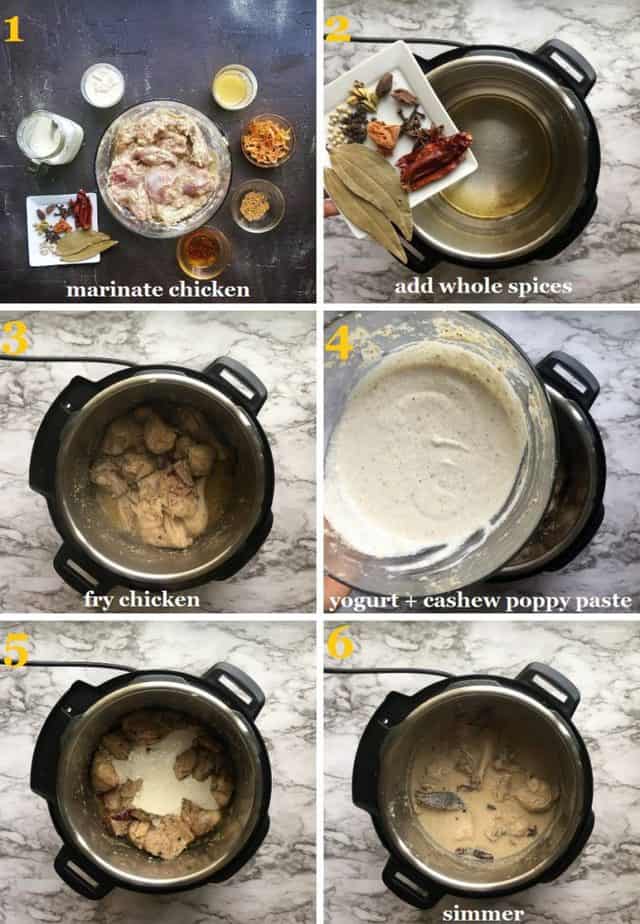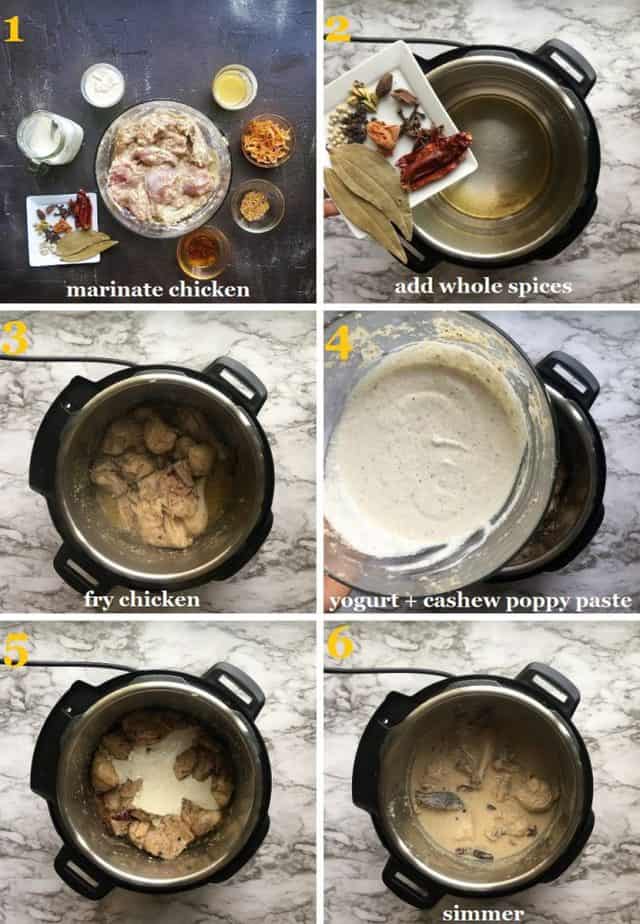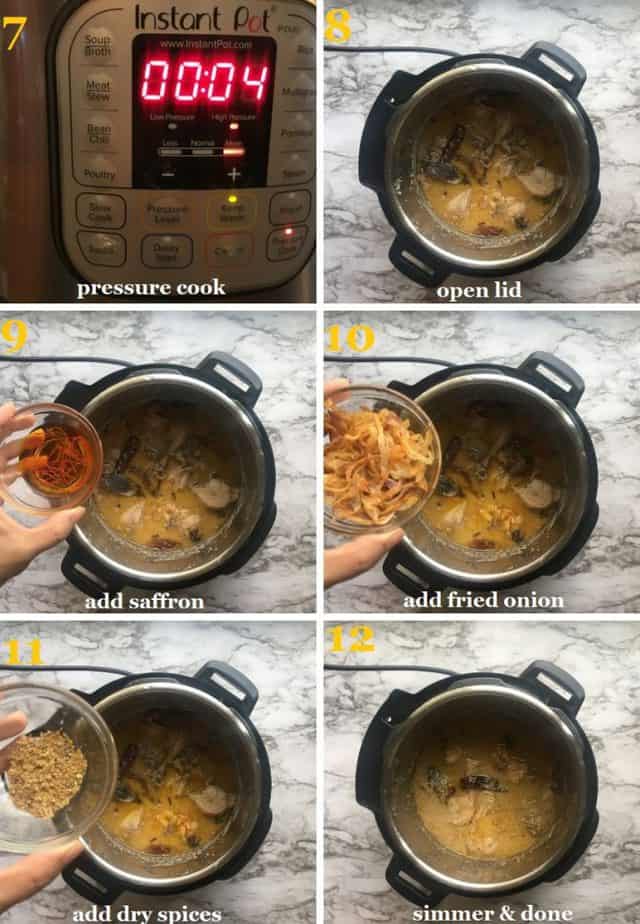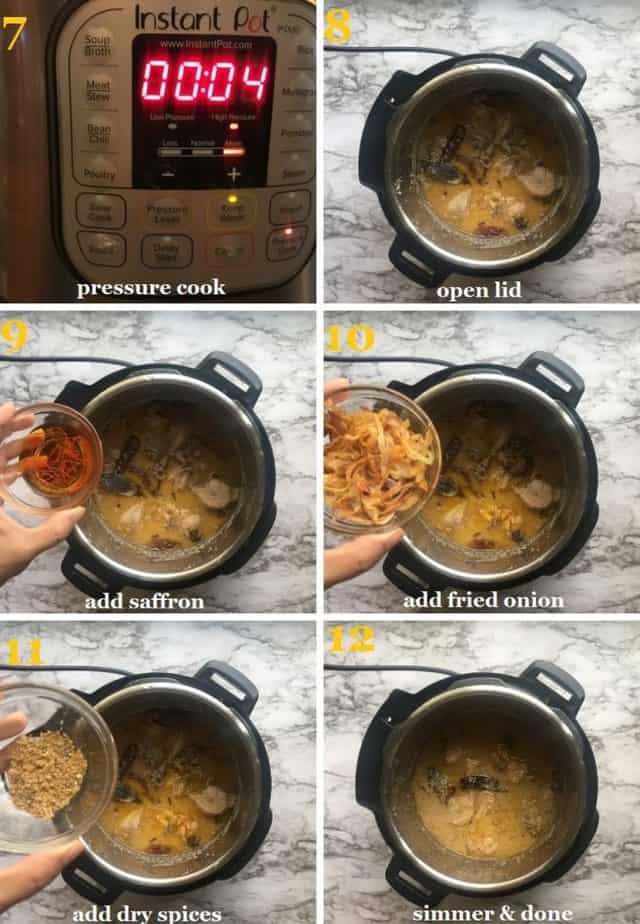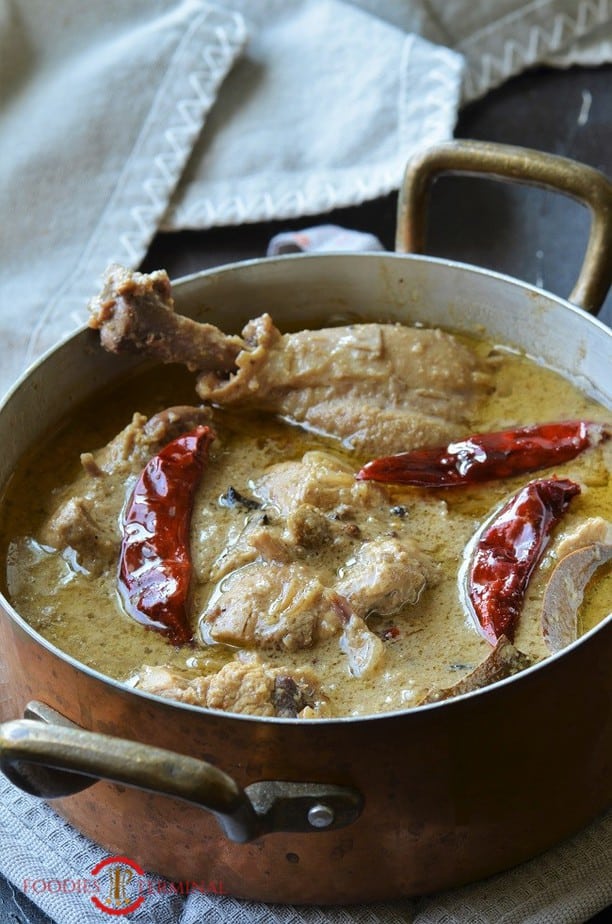 How to make Chicken Rezala?
Marinate the Chicken

Add 3 tbsp yogurt, the sauteed onion paste (also contains ginger + garlic), all of the spice powder minus ½ tablespoon & 2 tbsp ghee. Massage the chicken pieces well with this marinade & leave it in the fridge to rest for overnight or for 24 hours. I left it for overnight.

Sizzle the Whole spices or Khada Masala

On SAUTE mode kept on NORMAL in Instant Pot. Add ghee & sizzle the dry spices for few seconds until fragrant.

Sear or fry the Marinated Chicken

Shake off the excess marinade from the chicken pieces & fry them for 5 mins until lightly golden & fragrant. At this stage the chicken will release water. Fry until the water evaporates & you are left with only chicken fat & ghee.

Add the Poppy + Cashew paste

Whisk the rest of the yogurt along with the poppy+cashew paste in a bowl & add it to the pot.

Mix & fry

Mix well with the chicken pieces & fry for 2-3 mins. The color will change slightly from pure white to creamish.

Pressure cook

Add little water about ½ pr 1 cup. Cancel the SAUTE mode & press the PRESSURE COOK button, set it on high for 4 mins. Don't forge to seal the valve of the Instant Pot.

Add the saffron, dry spice powder, Birista

After 4 mins do a quick pressure release & open the lid of the instant pot. Add the saffron, rest of the dry spice powder & the birista. Mix well. Press the SAUTE set it on NORMAL in your Instant Pot & simmer the chicken rezala for just 2 mins. Serve hot. Enjoy!
Don't Miss these Chicken Recipes from Foodies Terminal.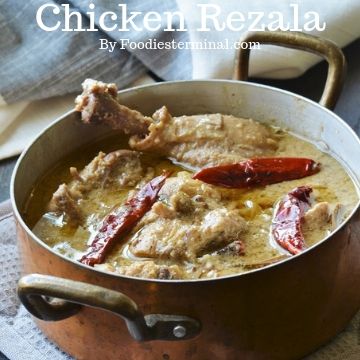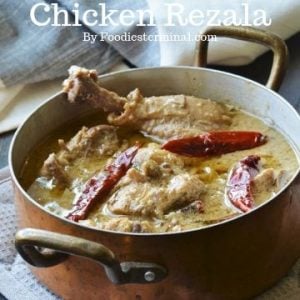 Chicken Rezala
Print Recipe
Pin
Rate
Chicken Rezala is an extremely flavorful Mughlai chicken preparation where the chicken pieces are doused in a fragrant nut & yogurt based white sauce that's thin & slightly on the sweeter side. You can make Chicken Rezala easily in your Instant Pot with a few quick steps.
Ingredients
Want more Recipe Videos?
Check out our Youtube channel!
Instructions
How to make the special spice powder or Masala powder?
Gather all the whole spices and grind them in a mortar & pestle or mixer grinder. Set aside. If you have some excess masala powder at the end you may store it in an air tight jar for later use.
How to marinate the Chicken?
Take the de-skinned chicken pieces in a clean dry bowl. I used about 2.5" chicken pieces & I used a mixed variety from a whole chicken.

Add all the ingredients mentioned above from the " For the Chicken Marinade" section and massage the chicken pieces very well until all the chicken pieces are uniformly coated with the marinade.

Wrap the bowl with a cling film & allow the chicken marinade to rest in the fridge for overnight or 24 hrs.
How to make Chicken Rezala in Instant Pot?
Set the Instant pot on SAUTE & set it on NORMAL.

Add the ghee. When the ghee is moderately hot throw in the whole spices & allow them to sizzle until fragrant.

Next, shake off the excess marinated from the chicken pieces & add them to the pot. Fry the chicken pieces until lightly golden & no more water comes out from the meat. While frying the chicken it will release lots of water, that's normal. The frying process should take you about 5 mind.

Now,, in a bowl add the yogurt & the poppy seeds+cashew paste (see NOTES below how to make it). Whisk briskly to mix them into an uniform paste. Add this to the pot. Reduce the heat from NORMAL to LOW before adding this mixture. In high heat the yogurt might split.

Mix well with the chicken pieces. Keep stirring & up the heat back to NORMAL again in your Instant Pot. Keep stirring for 2-3 mins. The yogurt mixture will change color from white to slightly creamish & become intensely fragrant.

Add about ½-1 cups water. Mix well. Put the lid of the Instant Pot & seal the valve.

CANCEL the SAUTE mode & press the PRESSURE COOK button & set it on HIGH for 4 mins (see NOTES for more info on the cooking time). Pressure cook the rezala.

After 4 mins when the Instant Pot begins to beep do a Quick Pressure Release (QPR). Open the lid.

Throw in the rest of the special masala powder, the birista, the kewra water(if adding any) & the saffron soaked in water. Give everything a very good mix.

CANCEL the PRESSURE COOK mode & press the SAUTE button & set it on NORMAL. Simmer the Chicken Rezala for 2-3 mins. A beautiful layer of ghee will float on the top & your whole house will become fragrant.
How to make Chicken Rezala on Stove Top?
Follow the exact same recipe and replace the Instant Pot with a normal Kadai or pot. Set it over medium heat.

Add ghee & when the ghee becomes moderately hot gently release the marinated chicken pieces shaking off the excess marinade. Fry them until lightly golden. The chicken might release water but as you keep on frying them the water will evaporate leaving behind the oil.

Next, add the simple mix of the rest of the marinade + yogurt + cashew popy seeds paste to the fried chicken pieces. Mix everything well. Simmer for few mins. You'll notice that the white color of the gravy will change into slightly creamish.

Now, add water. Give everything a good mix. Cover & cook over medium low heat until the chicken is cooked well & the meat comes off the bones easily. It should take you about 15 mins.

Open the lid of the kadai. Throw in the saffron soaked water + rest of the masala powder + the fried onion or barista and mix everything well.

Simmer for 2-3 mins more. Serve hot. Enjoy!
Notes
How to make the Onion paste? Heat 2 tbsp white oil or ghee in a skillet. Add 2 cups sliced onion + 6 cloves garlic + ½ tbsp chopped ginger. Sautee for 2-3 mins until the onion becomes limp. Allow to cool down & make a fine paste in a blender.
How to make the poppy seeds + cashew paste? Soak 1.5 tbsp white poppy seeds + 12 whole cashew nuts in warm water for 15 mins. Later make a smooth paste in a blender. 
How to make the Birista? Thinely slice onions & deep fry them in hot oil until lightly golden & slightly crisp.
Kewra water: It's recommended but not mandatory. I ran out of Kewra so didnot add any for today's recipe. But, if you have some do add a few drops.
Do not fry the chicken along with the marinade. Always shake off the excess marinade & than add the pieces to the hot oil.
For Best flavors 8 hrs marination is recommended.
Cooking time: 24 hrs marination = 2 mins on HIGH pressure in Instant pot. 8 hrs marination = 4 mins on HIGH pressure in Instant Pot.
Measuring cup used, 1 cup = 240 ml & 1 tablespoon = 5 ml.
Instant Pot used : 6 quart DUO.
Nutrition Facts
Chicken Rezala
Amount Per Serving (584 g)
Calories 561
Calories from Fat 405
% Daily Value*
Fat 45g69%
Cholesterol 136mg45%
Sodium 131mg6%
Potassium 558mg16%
Carbohydrates 12g4%
Protein 27g54%
Vitamin A 855IU17%
Vitamin C 67.7mg82%
Calcium 171mg17%
Iron 2.6mg14%
* Read our privacy policy - Calorie information is provided as a courtesy only and should be leveraged as an estimate rather than a guarantee.Percent Daily Values are based on a 2000 calorie diet.
Nutrition
Serving:
584
g
|
Carbohydrates:
12
g
|
Protein:
27
g
|
Fat:
45
g
|
Saturated Fat:
16
g
|
Cholesterol:
136
mg
|
Sodium:
131
mg
|
Potassium:
558
mg
|
Fiber:
2
g
|
Sugar:
5
g
|
Vitamin A:
855
IU
|
Vitamin C:
67.7
mg
|
Calcium:
171
mg
|
Iron:
2.6
mg
Pin it for Later!